Garden features can mean anything from a water feature to a dramatic flower pot or statue. Many people expect they can simply buy a feature and add it to their garden to enhance it. This rarely works without a good deal of planning and design to make sure all of the elements are in harmony. I trust the features in my garden integrate with the overall design and aesthetic, and also that they provide you with some inspiration.
---
Trained Fruit
I have trained many fruit trees into interesting forms on fences and walls throughout the garden. Learn about the techniques for fans, espalier and other shapes.
• Trained fruit page»
• Trained fruit forms»
• Trained fruit posts»
Pond
This pond is the central feature of the vegetable parterre. It has been developed over a several years and is now a really delightful part of the garden.
• Original construction»
• Upgrading the pond»
• Other pond posts»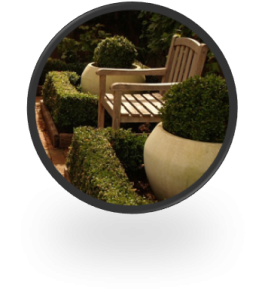 Clipped Evergreens
Clipped box, lonicera, yew and privet create formal structure throughout the garden. Hedges and topiary: all essential element of classic English design.
• A tour of my garden topiary »
• How to prune box balls and topiary»
• How to prune dwarf box hedging»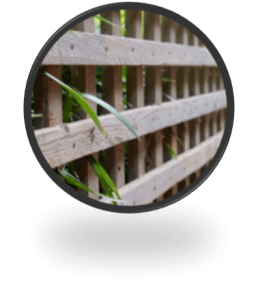 Trellis and Screens
DIY trellis can act as screens, gates, and parts of fences. Not just for supporting plants, but a quintessential part of garden design.
Decking Steps
These anthracite grey steps link our kitchen extension to the Lawn Garden. Their simple design employs a few tricks that ensure they are stylish and practical.
Vistas and Views
The formal layout provides several axial vistas which have been designed to enhance particular views. They are also quite photogenic!
Outdoor Kitchen
This is a compact outdoor kitchen with gas plancha BBQ, sink and tap. Designed to make eating outdoors a regular thing.
The Lawn
A central feature lawn is at the heart of our back garden. Hand sowed; A pleasure to keep looking its best as we look out at it every day.
The 'Sentry Box'
I built this little seating area early on in our time here. As well as being a visual focal point it is useful as a place for dumping garden tools.
Recent Comments
"Found the page at the right time. I was researching to buy a trellis. Instead I am now motivated to make one." – Nandhini (25th June)
"A really well informed, simply written article. Loved the photos and a great resource to use from someone actually doing it. Thank you" -Linda (21st May)