TRADITIONALLY, trellis is any open framework used to partition areas of a garden or support climbing plants. In principle trellis — which comes from the latin for "arbor" or "summer house" — can be made out of any suitable materials: Metal, wood or even pierced-brick-walling could rightly be called trellis, but for the purpose of this post I am going to look at simple timber trellis panels that can be used as screens, garden dividers or added to fences to increase their height. Creating a set of trellis panels is an easy weekend DIY project, which, given a little planning and care can produce very satisfying and durable results as well as saving money along the way.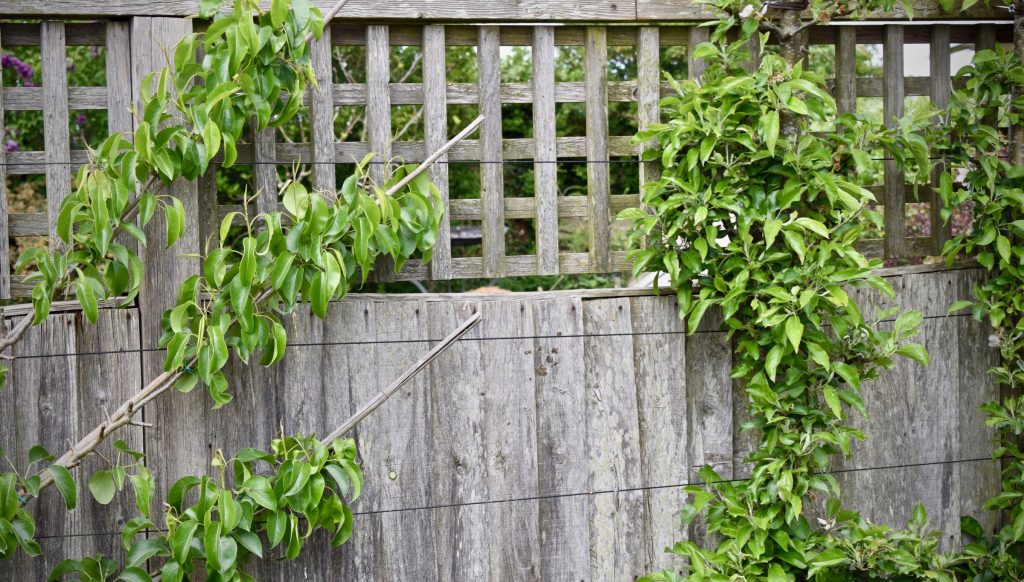 Weathered trellis panels (10 yrs old)
provide a perfect foil for wall-trained and climbing plants
Why DIY?
The limitations of pre-made trellis
If you can find pre-made trellis that suits your needs then there is little reason to go to the trouble of making your own. However, the typical timber trellis sold in garden centres suffers from a number of shortcomings which are avoidable if you make your own trellis from scratch:
FRAGILE Often made of thin, light-weight timber which will not last.
LIMITED SIZES Only available in a limited range of sizes. If you need trellis of different dimensions you will have to bodge something.
LIMITED DESIGNS Only available in limited design/proportions/timber dimensions.
EXPENSIVE Typical trellis panels are roughly twice the cost you could make them yourself.
Here is a typical example of a trellis panel from a UK garden centre…

The trellis above is made from the smallest dimension tile-batten (18mm x 36mm) which is cheap and easy to pick up from your local timber merchant. You would need 44ft in total (13.5metres), which is you can get for approximately 50p per metre. So DIY costs would be closer to £7.50, i.e. about half the cost of the pre-made panel.
DIY Trellis Using Tile Batten
Tile batten (aka timber roof batten) is a widely available treated timber, commonly used in the roofing trade to support roof tiles. As such it is a bulk product, reliable and cheap. You should be able to phone up your local timber merchant and purchase it in bulk. Alternatively, Wickes and other DIY stores can supply and deliver, although they tend to be a little bit more expensive than trade merchants.
When it comes to DIY, you can choose the lengths and dimensions of batten that will suit your project. This way you can make sure the finished trellis is exactly the dimensions and weight you want.


Typical Tile Batten dimensions
Dimensions (cross section), (mm)
[imperial equivalent, inches]
Typical cost
Typical lengths, (m)
[imperial equivalent, feet]
19 x 38 [¾" x 1 ½"]
25 x 38 [1″ x 1 ½"]
25 x 50 [1″ x 2″]

£ 0.50 /m
£ 0.80 /m
£ 1.10 /m
2.4 [8′]
3.0 [10′]
3.6 [12′]
4.2 [14′]
4.6 [16′]
5.2 [18′]
What to watch out for when buying tile batten
Tile batten dimensions are nominal. Batten can vary in size between suppliers by +/- 2mm so order all you need in one go.
Don't rely on imperial dimensions. For example, when builders or timber merchants refer to "10ft battens" these are actually 3m, i.e. 9.8 ft not actually 10ft.
Remember that each saw cut loses you a few millimetres; so, for example, you can't get 4 x 60cm lengths from a 2.4 m piece. If you try you will find the last piece will be closer to 59cm long.
Planning your Trellis
Slat spacing
Vertical and horizontal slat spacing will determine the look of the trellis. If the spacing is equal vertically and horizontally then the holes produced will be square. If the vertical and horizontal slats spacings are not equal then the holes will be rectangular, or even slits.
Overall, wider spacing will create a lighter look, allowing more sun and wind to pass through. Tighter patterns, with the slats closer together, create a denser, more textural pattern.
Another point to bear in mind is that the pattern looks different depending which side the trellis is viewed from (more on this below)
Effects of Slat Spacing on Light, Privacy and Sight-Lines
The open nature of trellis produces dappled shade when the light comes from certain angles. More open designs obviously allow more light to pass through the trellis, but the thickness of the structure means that this is only true when illuminated fairly straight on. At more oblique angles light penetration diminishes rapidly. However, at these angles the trellis itself can be illuminated dramatically.
In terms of privacy, trellis is never going to prevent views through. Nevertheless, it is only possible to see though when viewed from a narrow range of angles either side of straight on, because at more glancing angles the thickness of the trellis blocks the view.
Where privacy is paramount, a third set of slats can be fixed to the back, blocking the view through, but still letting air pass.
Effects of Slat Spacing on Wind Loading and Microclimate
The openness of the trellis determines the amount of wind that will pass through and the force exerted on the posts and panels. Trellis experiences far less force from the wind than the same area of solid fence because the wind can pass through it's multitudinous openings. The greater the percentage of "gap" in the design the less the force the wind will exert in a gale.
Another factor to consider is wind baffling. When air passes through openings the air flow is broken up, significantly reducing wind speed. Trellis can, therefore, improve the microclimate in your garden by slowing the wind. A solid fence is actually much less effective in this regard as air striking a solid obstacle it is forced to go over the top creating sharp turbulent gusts on the far side. A 50% openness is considered optimum for reducing wind speed as air that passes through is maximally disrupted and will most effectively reduce wind speed. Trellis with more than 50% 'holes' will allow more air to pass through and will slow it less. Likewise, below 50% more air will be forced over the top of the trellis causing gusts on the far side and increasing wind load on the panel.
Vertical and Horizontal Sides of the Trellis
Depending which side you view it from trellis will emphasis the vertical or horizontal slats. The two photos below are of the same panel of trellis which has simply been turned round.
This effect is most evident when viewed from oblique angles or when illuminated obliquely by the sun. In the photo below I chose to have the vertical slats forwards to harmonise with the vertical slats of the fence panels. As you can see the effect is quite subtle when viewed head-on.
Square trellis
Square trellis has a traditional look which is never out of place in the garden. Notice how the close-spaced designs produce a strong geometric pattern which looks quite different depending on the side that is viewed. This becomes gradually less significant as the slat spacing increases.
Horizontal Trellis
Keeping the horizontal slat spacing tight whilst moving the vertical slats further apart, leads to various forms of rectangular slot being created. Compared to the traditional square trellis this horizontal arrangement produces a more modern look, especially when viewed with the horizontal slats to the front (see the right-hand diagrams below).
Trellis Screen Designs
If the gaps between slats are made significantly narrower than the slat widths then the panels will look less like trellis and more like a continuous panel. Such designs work well as full height fence panels and produce a very modern look.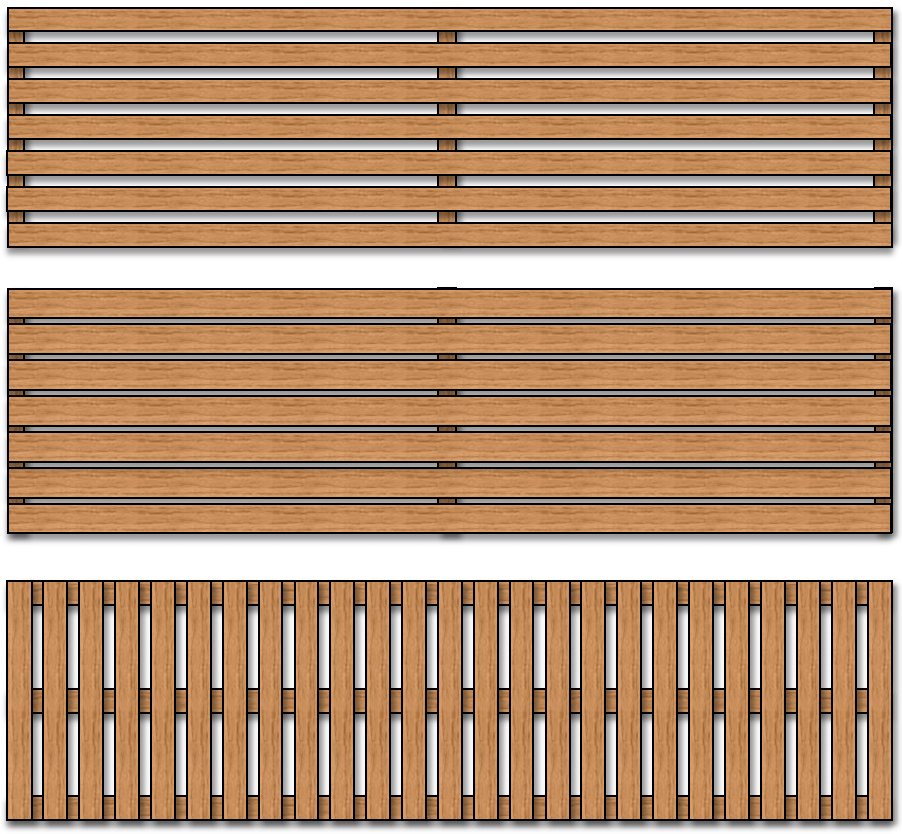 Made as full-height panels (e.g. 2m/6ft) these could easily be fixed to the front of existing fence panels to create a new, modern looking fence around your garden. Commercial versions of similar panels are often made from cedar and have a very high price tag. Tile batten is much cheaper and can be given a similar look if stained, painted or by sanding the front of the panel. If you decide to go down this route bear in mind that tile batten often contains knots whereas cedar is generally knot-free. Knots can be reduced by selecting sections of batten that are clear, although this leads to considerable wastage.
DESIGN IDEAS: Examples of slatted screening I found on Pinterest
Practical Considerations of Slat Spacing
The slat layouts above (square or horizontal) assume that your trellis panels can be just the right width and height to accommodate such slat spacing. Generally they will not and you will need to work backwards, dividing the width and length available to achieve approximately the spacing you want. Once you have worked out the spacing approximately you can find the exact spacing as you build the panels as shown below: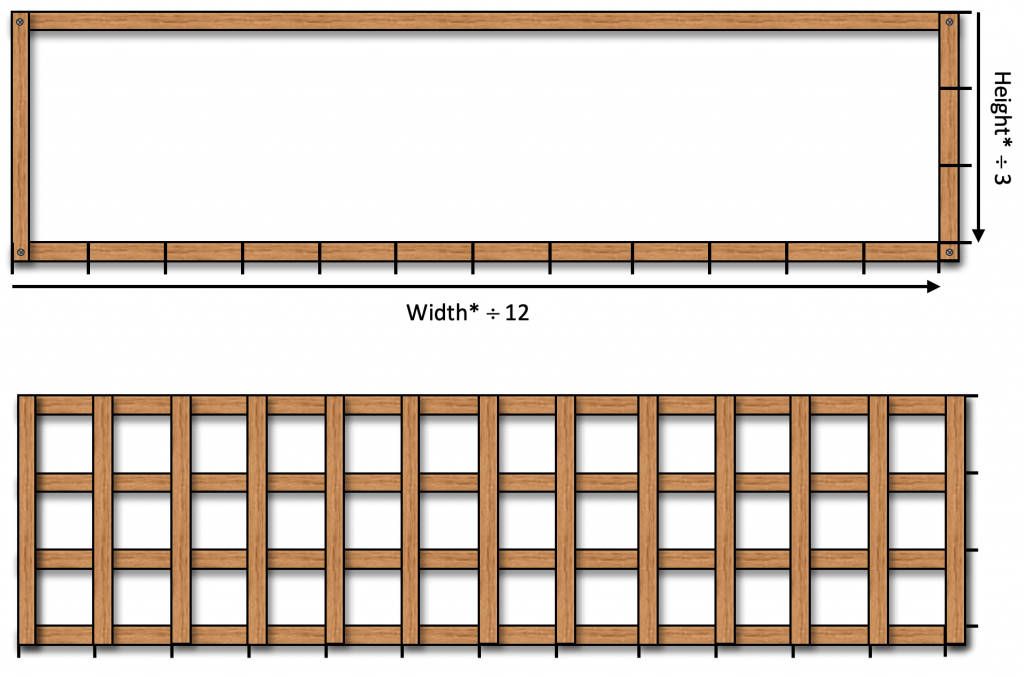 Measure and cut the top, bottom, left and right slats and screw/nail them together (Top diagram)
Check the frame fits the space required — it is easier to alter now before you cut and fit all the other slats!
Carefully measure the height from the top of the top slat to the top of the bottom slat (See * above)
Divide this by the number of "holes" you want vertically (3 in the example above)
Mark off these lengths as indicated.
Attach the horizontal slats using these marks to align their top edges
Repeat for the width of the panel, marking off equal spaces for the vertical slats
TIP: To start with only fix each slat around the perimeter of the panel. This gives you the opportunity to step back and spot any mistakes you have made. If everything is OK you can then fix screws/nails at all the other junctions.
Construction Tips
In this project below I used 50mm x 25mm batten which I ordered from Wicks who delivered next day. Their batten was stained a bright blue, but I intended to paint it, so that was no a problem.


1. Painting the Battens
If you are not painting your trellis skip this step!
If you intend to paint or stain your trellis it is easier to do so before cutting up the battens and much easier than trying to paint a fully assembled trellis panel. I used Sadolin Quick Dry Ebony stain.


2. Cut the Battens to Length
When making panels to fit existing structures (fence posts etc) it is better to make each trellis panel individually. Measurer the space carefully and leave a few millimetres so you can get it in without it being too tight: there is nothing more irritating than having to dismantle a trellis to cut a few mm off the battens that are jamming!
If the space is regular you can cut all of the pieces you need. If it is irregular (e.g. if the posts you are fitting them between are not quite parallel) consider cutting the outside battens only (top, bottom, left and right); You can assemble these and check they fit before cutting the ones that go in-between.


3. Assembling the Trellis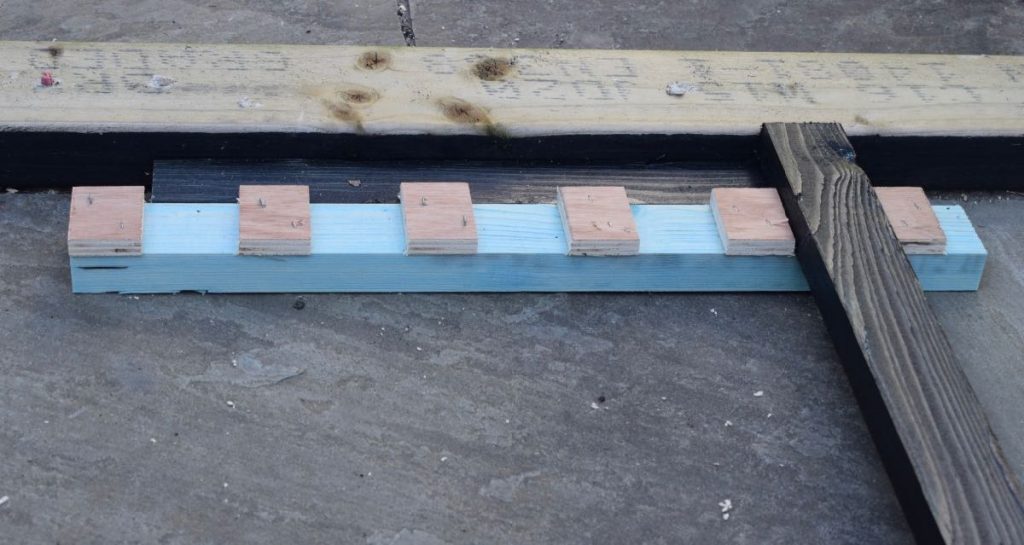 I created two jigs (see above) — one for each end of the panel — into which the long horizontal slats fitted, ensuring I maintained consistent spacing. The jig was made from an offcuts of tile batten (blue), ensuring that there was enough space to slip the shorter vertical slats beneath. A piece of 2 x 4 acted as a stop allowing me to get all the long slats in line.
I used narrow (4mm) stainless steel screws to fix the slats at every junction. Using narrow screws meant that pre-drilling was not essential, although I did drill pilot holes at the ends to prevent splitting. On other trellis projects I have used nails, but they are a pain to get out if you make a mistake.

4. Fixing the Panels Between Posts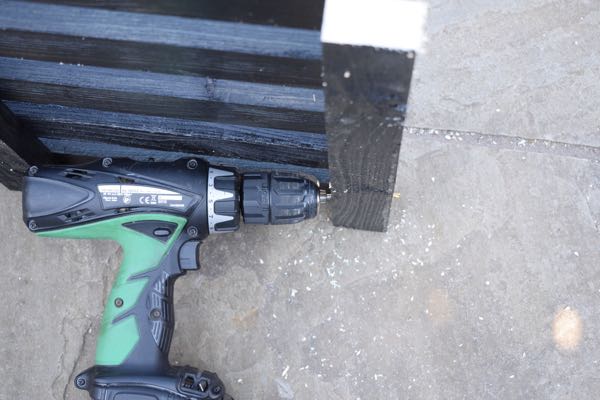 The two vertical end battens were drilled and 3in (75mm) decking screws driven partly through. The panels could then be offered up, clamped in place and the screws driven in.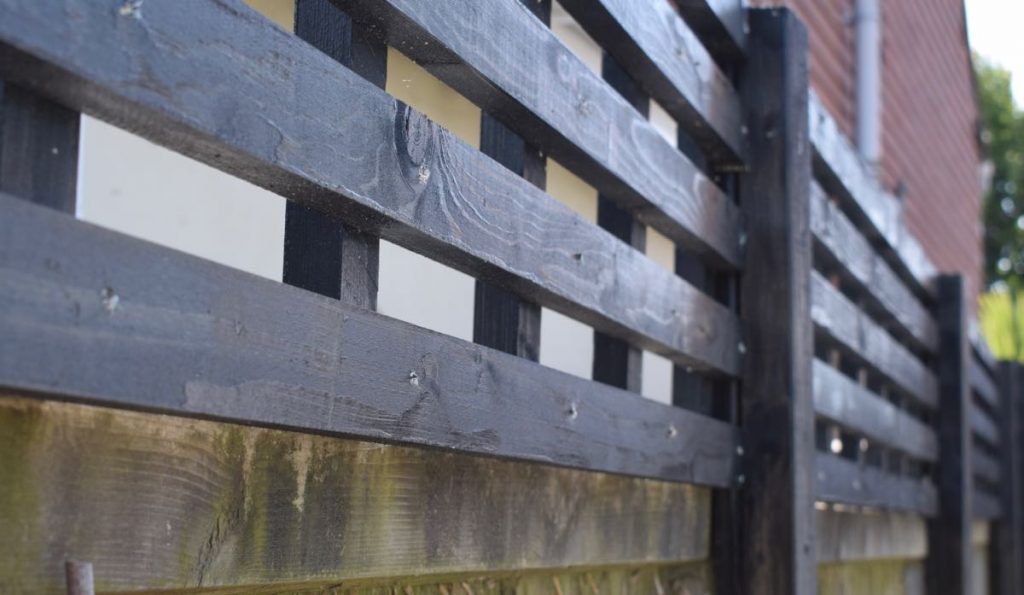 More privacy?
If you need more privacy then a second set of horizontal battens can be screwed to the rear of the panel visually filling the gap, whilst allowing air to circulate through the structure.
Up close you can see the additional slats fixed to the rear of the panel. From this unusual angle you can just get glimpses through the structure, but from most normal viewing angles the trellis effectively blocks the view as you can see in the photo below.