The Woodland Garden is designed to be a very practical and beautiful space at the front of our house.
LOCATION
This garden is situated at the front of Rosemary Cottage framed on two sides by a fence and woodshed, and on the other two sides by the driveway.
NEW – CHECK IT OUT!
Using Permaculture Principles
Permaculture is a set of horticultural principles used to design permanent and sustainable systems of food production. What sets permaculture apart from conventional agriculture is that it starts with observation of natural ecosystems and takes inspiration for the evolved solutions found there.
One of the most widely known permaculture models is the edible woodland garden. Based on the observed productivity of open woodlands such food systems use multiple layers to increase productivity: tree, shrub and ground cover.
My 'woodland' garden is centred on a single cherry tree that was here when we purchased the property. An adjacent Weeping willow, Japanese flowering cherry and, a little further off, a large Bay tree increase the sense of being in a woodland. This garden, however, really only needs the cherry as it provides the perfect canopy for a permaculture woodland garden casting dappled shade and producing fruit.
We carefully prune the cherry in the summer to ensure it keeps a low umbrella like shape that does not hang down too low. This makes the fruit easy to pick from a 6ft step ladder and ensures the shade beneath does not become too dense.
Design Structure
Raised beds with box edging
Three raised beds centred on the cherry tree provide the main structure, with brick paths running between them. Along the rear fence a staggered raised bed continues the geometry of the beds and paths. Part of the purpose of this design is to allow easy access to all of the beds and particularly to the trained fruit along the rear fence. Two white globular pots planted with box balls, provide further structure.
Fruit trained on fences
The low fence to the front and left hand side have wires on which fruit is trained.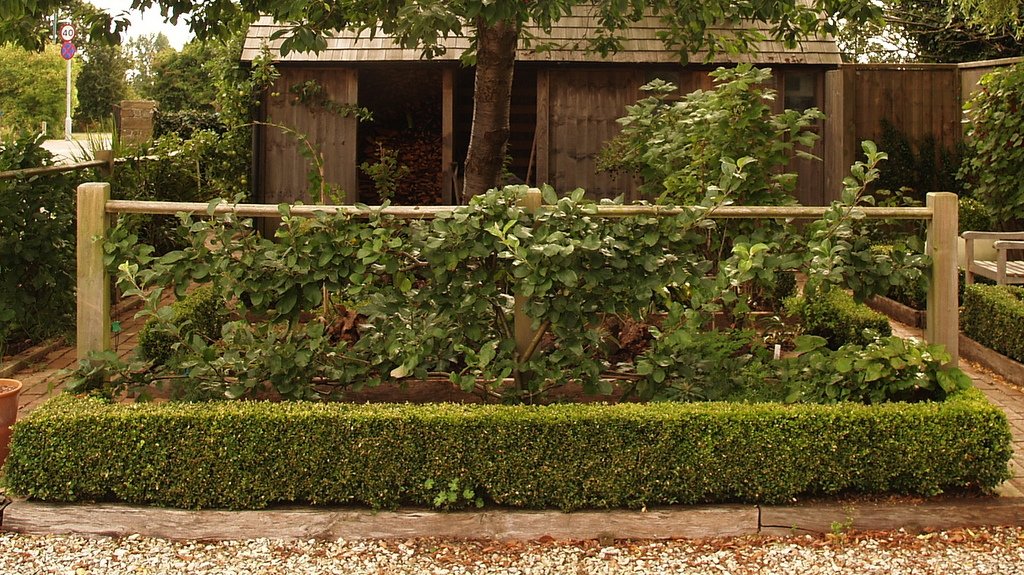 Ground level planting
The beds are filled with a rich tapestry of woodland plants, including ferns, bulbs, perennials and low growing shrubs. They form a continuously changing spectacle with something of interest in every season.

In a typical permaculture woodland one would aim for much of the ground cover being made of edible plants, but in practice there are few plate-worthy perennials and a lot of ground space to cover. I tried rhubarb for a few years, but it really needed more sunlight. The edibles that did succeed were mint (in a half buried pot to stop it spreading), alpine strawberries and sweet cicely. The shrub layer is where we gain most calorific value…
Shrub layer: Fruit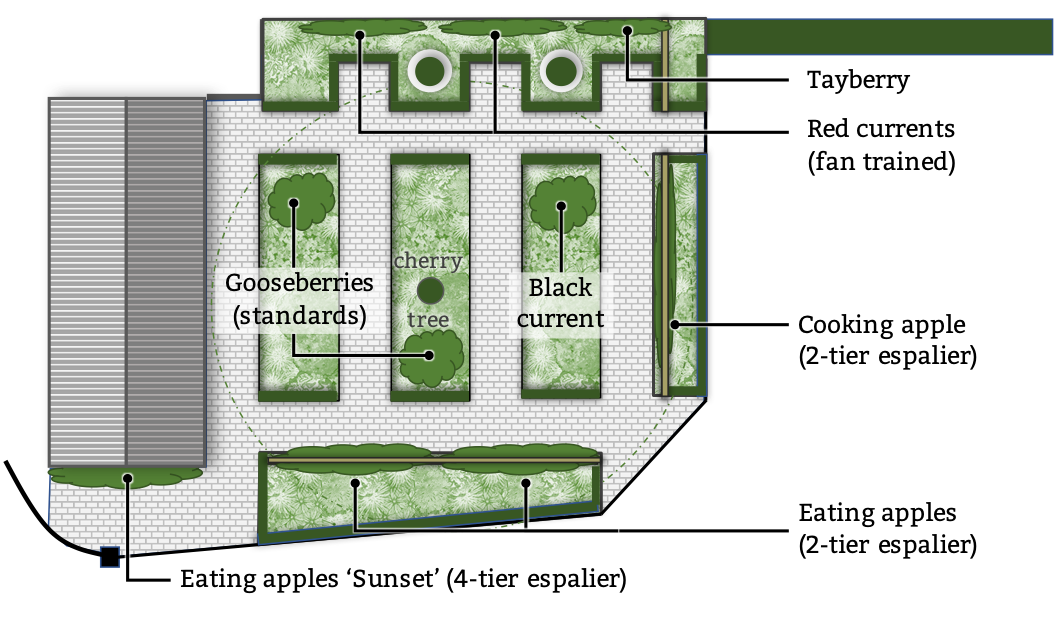 Soft fruit such as currents, gooseberries and tayberries grow well in partial shade, so make good shrubs for growing under the dappled shade of the cherry. I trained red currents on the rear fence in dramatic fans that look good all year round. The tayberry is grown on wires along the fence too. Black current grows as an open, spreading shrub, so this is at one end of a central bed. I also have two gooseberries grown as standards.
This photo shows how well fruit is integrated into the design.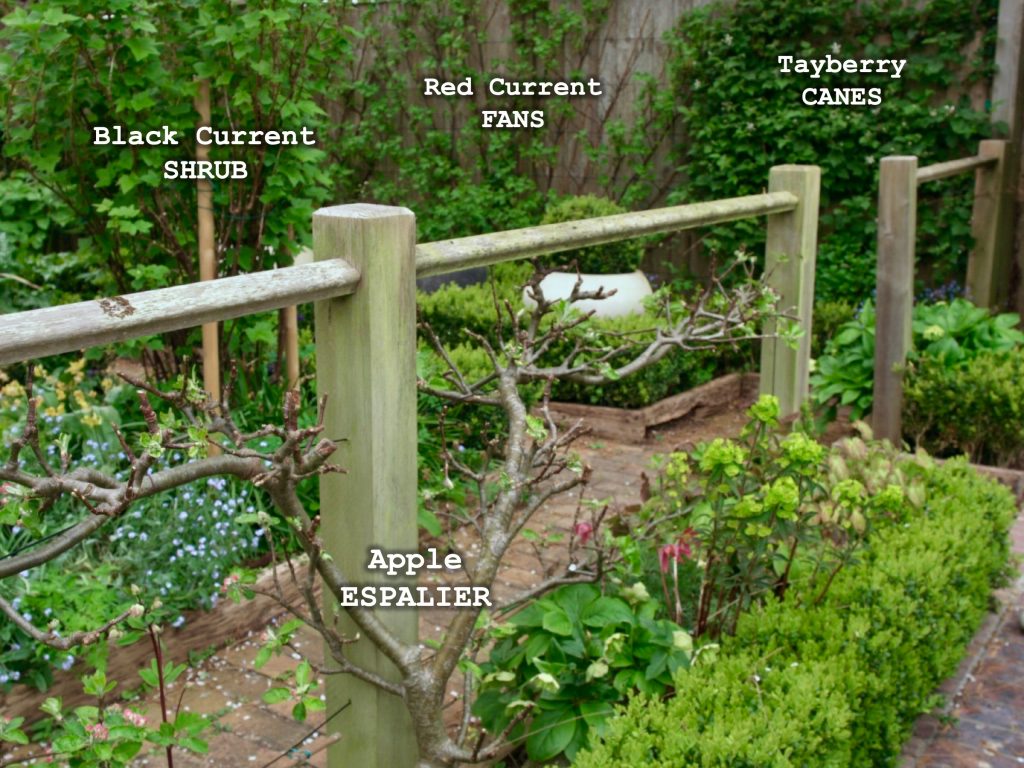 The harvest from this garden is significant. We pick fruit from here every week from May (gooseberries) until December (apples). Birds take some – mainly cherries. The red currents hang in good condition for weeks, so we avoid a glut by picking them regularly. We sometimes freeze the excess. The blackcurrants are delicious and seem to thrive in this location.
Red currents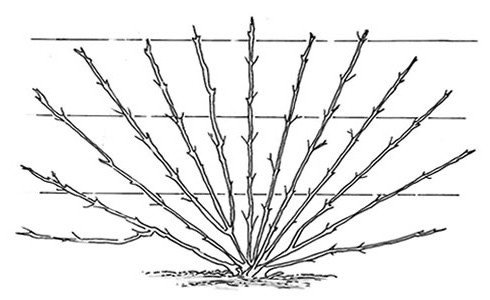 Gooseberries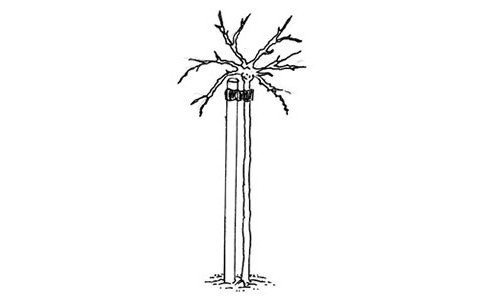 Apples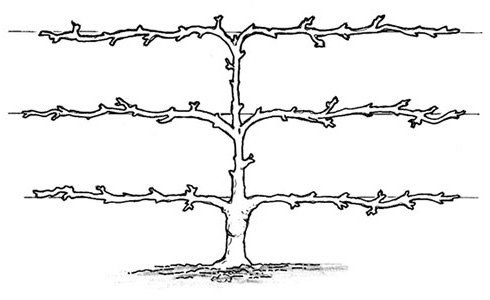 Cherries, Tay berries, Black currents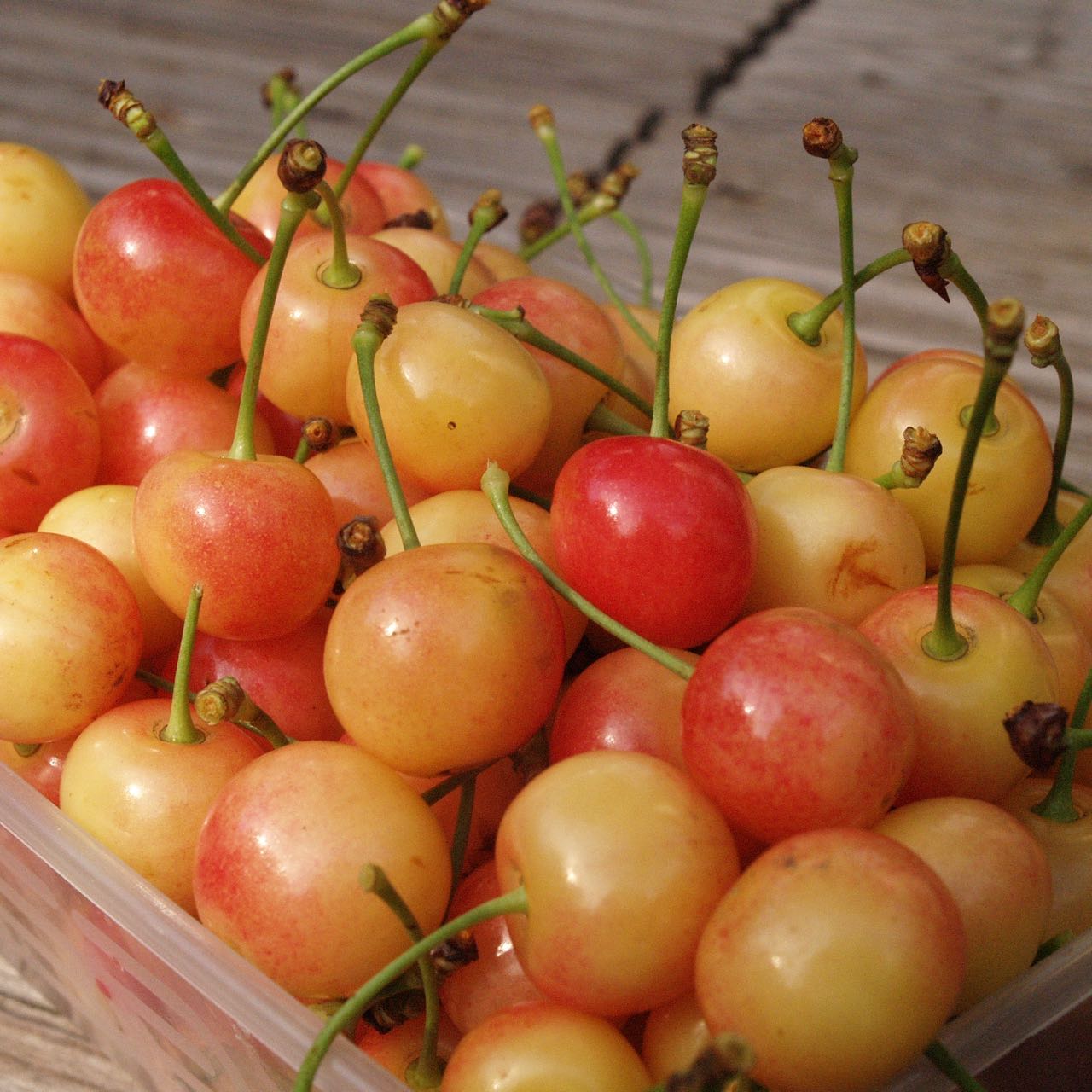 NEW – CHECK IT OUT!
Further Reading
---
Recent Posts on the Woodland Garden