The vegetable garden is situated between the Greenhouse and Cabin. We grow a wide range of vegetables and fruit here, as well as flowers for cutting and attracting beneficial insects. It consists of twelve 8'x4′ raised beds laid out in a formal pattern around a larger central bed (now pond). The fence bounding the north-west side supports trained fruit including apples cordons, pear and fig fans.
Design HISTORY
The vegetable garden was one of the first parts of the garden to be developed. In 2007 I created a series of oak raised beds set into the existing lawn. From the beginning it designed to have a formal structure, illustrated in the drawing above. The geometric layout provides strong visual axes, and these are aligned with focal points to draw the eye. The long axis (1) is towards the 'hole' in the hedge and a glimpse of the countryside beyond. The short axis (2) is towards an arbor seat that we call the 'sentry box' . The formal aspect is enhanced by a pair of standard gooseberries in the rear beds, and four clipped box balls around the central bed.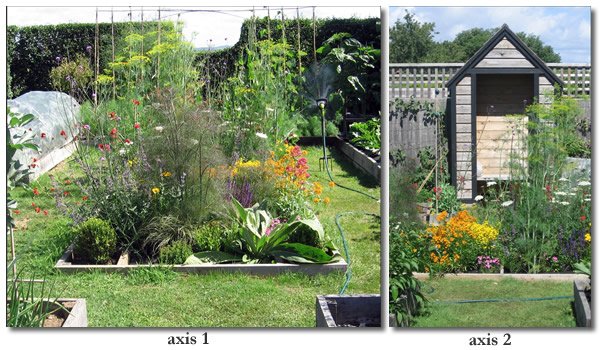 As the pictures above show the paths were originally grass – the left overs of the original lawn after the beds had been cut out. Although grass paths look nice in the summer when they are freshly cut and trimmed, they are very high maintenance and become a slippery mess in the winter. My plan was to eventually replace them with either compacted gravel or brick – time, money and energy would determine which and when.
UPDATE Aug 2014
I finally plumped for brick pavers. In 2012 after lots of uming and ahingI took the plunge and set about paving over the grass paths. The details of that little project can be read in the post called Paving the Potager. Then in 2014 I replaced the central bed with a pond, see: Formal Pond in the Vegetable Garden. The transformation made the vegetable garden far more practical. The frustrating and fiddly task of repeatedly mowing the narrow grass paths was gone, and the whole space became much easier to manage. The transformation can be appreciated by comparing the grass-path photo above with the one below:
Here is a photo showing how productive the vegetable could be: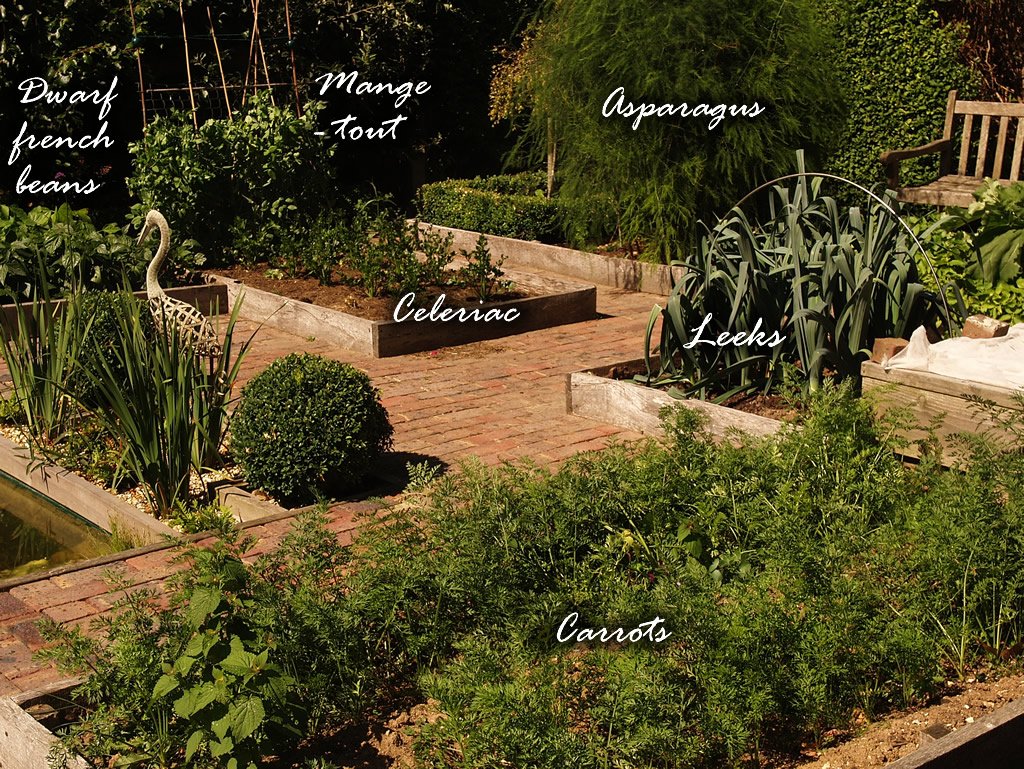 UPDATE 2018
In 2016 we replaced the timber edging of the pond with brick (see info page about the pond). The hedging has matured and the vegetable garden has taken on a mature air. The photos below are from 2017/18
Below is a birds-eye view of the 'finished' vegetable garden (as if any garden is ever finished!)
Learn more
Features of the Vegetable Garden
If you enjoyed this page, then please like and share or leave a comment below…