Background Ideas
I am in the process of repurposing and revamping the vegetable garden. It's not really going to be a vegetable garden anymore. I'll suppose that means I'll have to rename it. The pond-garden perhaps?
Why the change? Well, a couple of reasons: Firstly, the oak raised beds were beginning to deteriorate and needed replacing. Secondly, I'm a little bored of growing vegetables. After 10 years of major veg production I want to direct my energy elsewhere. Vegetable growing has always been the most time-consuming part of my gardening and I now want to grow more ornamental plants. Together, these two considerations have given me the opportunity to redesign the vegetable garden and turn it into a new space. Exciting!
The two 8′ x 4′ rectangular beds to the left (southern end) will continue to be used as vegetable beds. The four L-shaped beds around the pond will be planted with drought tolerant perennials (salvias, lavenders, iris etc) turning this into a much more ornamental (and low maintenance) garden. A new sitting area will be created by shortening the two beds to the right (north end) to just enclose the gooseberry beds (4′ x 4′). This will create a new sitting area where we may have a fire pit for evening socialising.
Replacing the Raised Beds
Before and After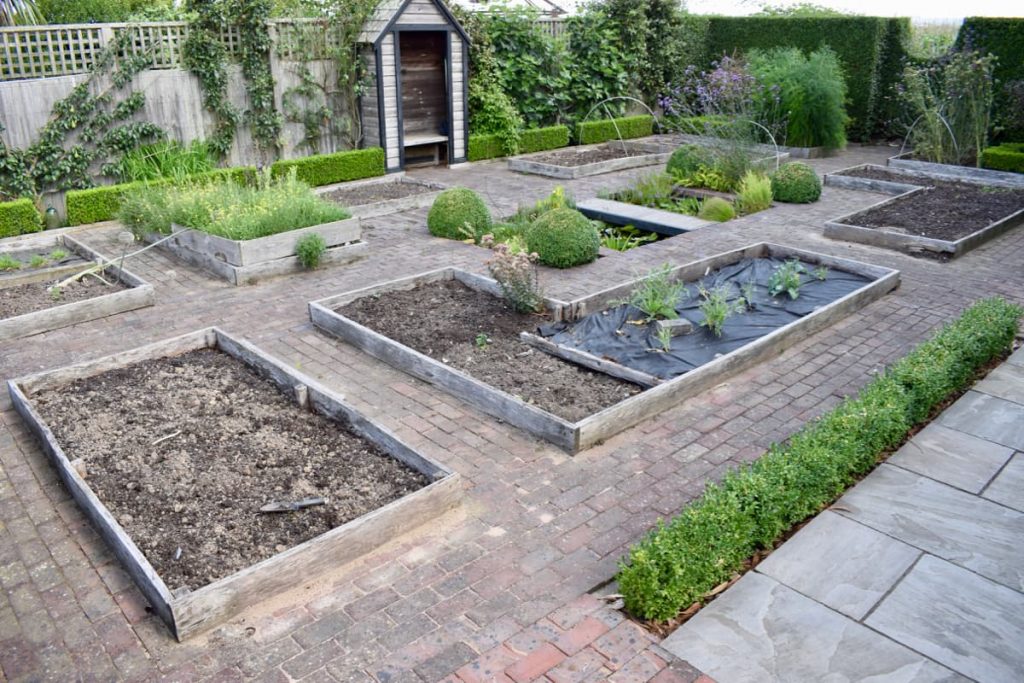 These two photos show the old and new raised beds. The old oak planks have been replaced with chunkier Accoya timber and the soil has been dug over and improved. There are several improvements:
Oak (lifespan 10+ years) replaced with Accoya (30+ years)
Boards are thicker (1¾" rather than 1¼")
Boards are deeper (8″ rather than 6″)
Old boards sat on surface. New boards sit below ground, so soil no longer 'leaks' onto paths
Some paving has been relaid/re-levelled to remove undulations
Paved areas have been widened in places
Problems with Oak
The oak beds were installed in 2007 using green oak purchased from a local sawmill. The price was good — only a bit more expensive than pressure treated softwood, but probably twice as durable in ground contact. One of the problems with English oak is that it does not grow very straight, so when it is sawn (especially into the long 12ft planks that I required) it inevitably includes patches of sapwood even though the majority is heartwood. The sapwood has minimal durability and rots in just a few years. If I had forked out for a better quality oak (100% heartwood) it would have cost me much more, but I guess the beds would have lasted a few more years.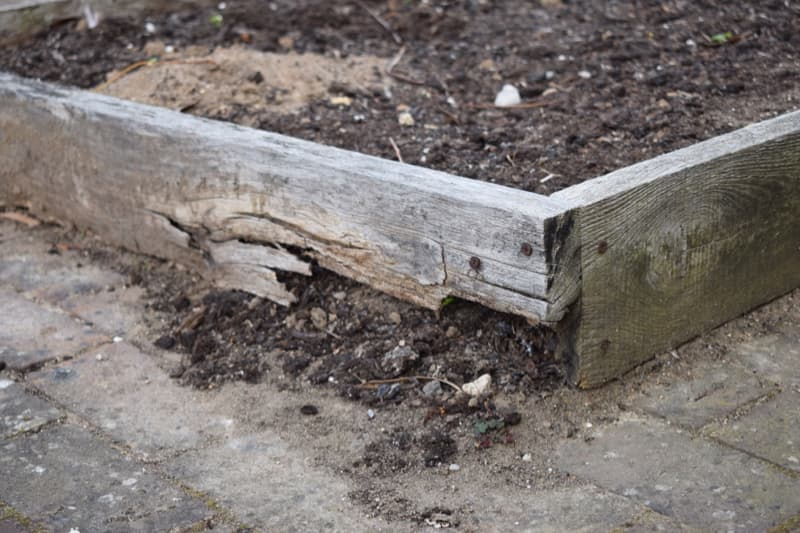 Green (fresh cut) oak is cheaper than seasoned (air dried) oak as the sawmill does not have to store it for the year or two it takes to dry. However, the downside is that green oak can warp as it dries out which a couple of my planks did (bottom right picture above).
Although the oak beds could still be used they were becoming increasingly ugly and a bit dangerous as the rotting stakes exposed rusty screws that could catch you when weeding.
Lessons learned from The Oak Raised Bed Design
One of the problems with the design of my oak beds was caused by my decision to use two planks: a lower plank to support the edge of the paving, and an upper plank to form the bed itself. There was some logic to this. The lower plank would rot first as it was buried, but the upper plank would last longer. Also, it was cheaper to purchase two narrow pieces of oak (6″ for the top and 4″ for the lower piece) than it was to get huge 10″ wide planks. In fact my sawmill could not get such wide boards from their oak logs in the 12′ lengths I wanted.
The downside to my two-plank design was that soil constantly washed out from under the top board onto the surrounding paving which was at the same level, not only making it look messy, but encouraging weeds to grow there.
In switching to Accoya I have been able to use a wider plank (8″) with the bottom inch acting as an edging for the paving, solving the problem of the leaking soil, and giving me a higher bed. Because Accoya is effectively rot-proof (it has a 25 year guarantee in ground contact) there is no issue of the boards rotting below ground.
Accoya: Cost vs Benefit
I calculated the timber I would need and ordered it from the local timber merchant. It cost just over £1300. This may seem like a lot of money, and it is approximately three times what it would have cost to do in tanalised (treated) softwood. However, the Accoya will last at least five times as long, and probably ten times. In the long run that is not just saving on repeated material costs, but also on labour. I am expecting these beds to last the rest of my life. They are a permanent fixture.
Another benefit of Accoya is that it is incredibly stable. It will not swell, crack or warp. If I wanted to stain it (which in this case I don't) it would hold the finish for much longer than any other garden wood.
The Process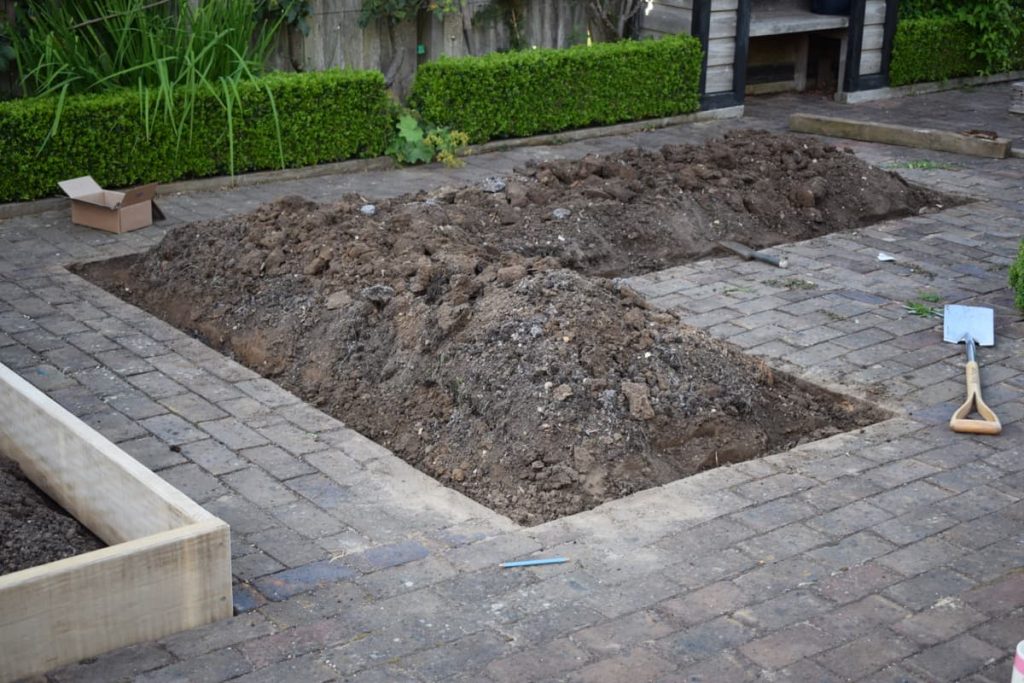 1. Removing the old raised beds
First I dug around the inside edge of the old bed and heaped soil in the middle so that when I removed the oak planks I didn't end up with soil all over the paving. As you can see it came out quite cleanly. I had to take care not to disturb the paving too much.
The old oak beds had been screwed together with 'dacrotised' decking screws. Fortunately, many of these were in good condition and came out easily simplifying dismantling of the beds. A majority of the recovered oak was chopped up for winter fuel and stacked in the wood shed.
2. Creating the new beds
I started by cutting end boards. I placed these in position and from here could measure up the side lengths. If this were a new project (rather than a replacement) I could make all of the beds identical, but that was not possible as I had to fit the new beds in between the old paving. In a couple of places it was necessary to lift and re-lay a short section of pavers, but this is a doddle with dry-joint block paving.
I used a palm router to ease the edges with a 45 degree chamfer. Adding a chamfer makes it less of a scrape if you catch your ankle on the edge of a bed, and it also reduced the chance of splinters forming along the edges if the timber receives a knock from a passing wheel barrow or spade. And it looks nice too.
3. Fixing boards
I joined boards by drilling and screwing using two 75mm decking screws in the corners. They were strong enough to self-countersink which saved a step.
4. Accoya stakes
The finished frames were quite heavy and I momentarily considerd leaving it to gravity to keep them in place, but I realised that it would only take a spade accidentally digging under its edge to move it, so I decided to stake it. I used a bench saw to cut Accoya offcuts into 1″ x 2″ stakes about 12″ long. The chop saw put a crude spike on them which proved more than adequate.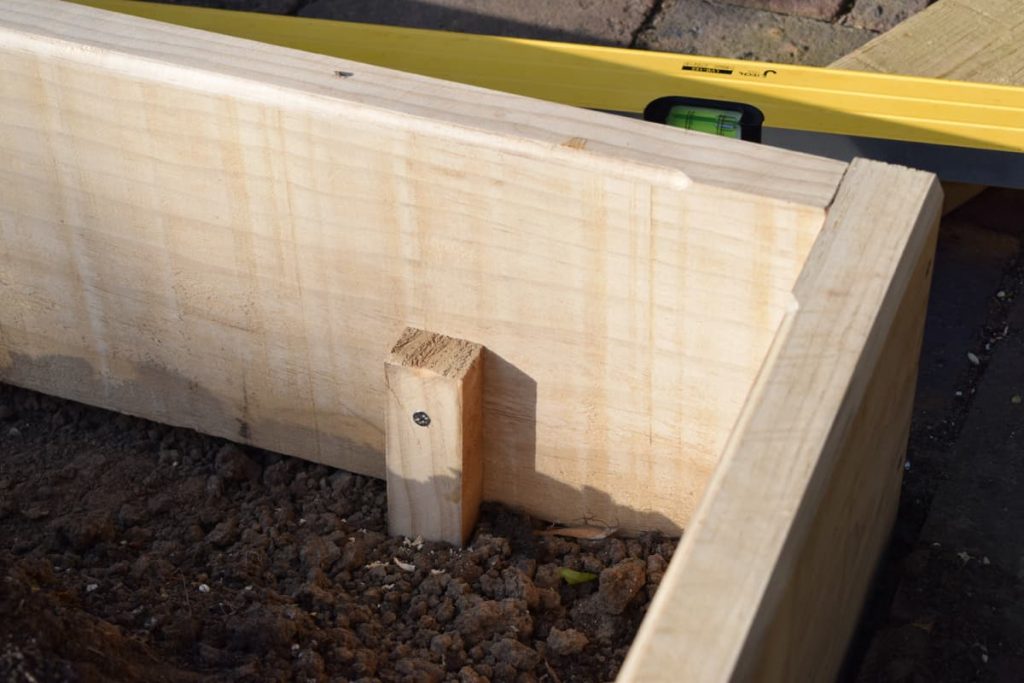 5. Levelling and staking
Before fixing the frames down I spent some considerable time positioning and levelling them so that the beds lined up visually, and reasonably consistently (with no real reference point, and else in the garden perfectly level or straight it was important to think this part through and make sure it all looked right)
Using a sledgehammer I drove my new stakes down the inside of the bed and fixed them with a stainless steel screw.
(Note the corner has not been chamfered. I completed these with the palm router in-situ at the end to ensure a nice finish)
6. Preparing the beds
After four days the beds were all installed, levelled and staked and looking good! The next job was to dig them over and prepare them for planting.
I am planning to grow mediterranean plants in the L-shaped beds around the pond and they dislike soggy feet in winter. (By dislike I mean they die). This is a potential problem as my soil is clay and prone to flooding in wet winters. Raised beds, therefore, are perfect for giving these plants a fighting chance by raising them an extra 6 inches above the sog. To help drainage further I decided to dig in several bags of sharp sand in each bed. I also added lime — which helps break up clay soild and increase the pH which many mediterranean plants prefer — and plenty of bone meal — which is a low nitrogen nutrient that encourages root growth (most mediterranean plants do better on a soil that is not too rich).
Digging is back breaking. It seems to go on for ever.
7. Finishing off
Once the digging was complete I spent a half day finishing the paving: adjusting some of the pavers and brushing kiln-dried sand in to the joints and gaps around the beds.
The whole space feels refreshed, brisker, smarter. A definite improvement.