This is a new part of my garden which has replaced the vegetable beds that used to be here with something more ornamental. The four L-shaped raised beds that frame my pond have been recently upgraded (see previous post: 'Renovating the Vegetable Garden') and I've now finished the planting. I have included many insect-friendly late-flowering herbs, perennials and shrubs to create a delightful, aromatic and bee-friendly space. The new garden is located right next to the patio dining area and outdoor kitchen at the far end of our garden, immediately outside our guest room (The Cabin). Below you can view a detailed planting plan and see photos of the finished garden.

– Keir Watson
Gallery
The Planting Plan
The plan above details all the plants that have been added to date. It won't be complete for long as I have some bulbs to add: Black garlic (Allium nigrum)and Sicilian honey garlic (Nectaroscordum siculum)
Planting Style
The planting style is loosely based on a dry Mediterranean meadow: aromatic herbs such as lavender, sage and thyme grow alongside spurges and bell flowers. Wild shrub roses scent the air and the hum of insects can be heard as bees and butterflies visit the late summer flowers.
Most of the plants are between 2 and 3ft tall, creating a waist-high sea of colour from July to October. The brick paving, surrounding hedges and central water feature make this an aromatic sun trap: somewhere to linger and watch the dragonflies darting.
Foliage and Flower Colour
The scheme is held together by silver-grey and blue-green foliage which works well with the palette of white, blue, pink and mauve flowers.
Here are some initial photos of the new plants. They are already attracting plenty of attention from the locals (bees and butterflies)!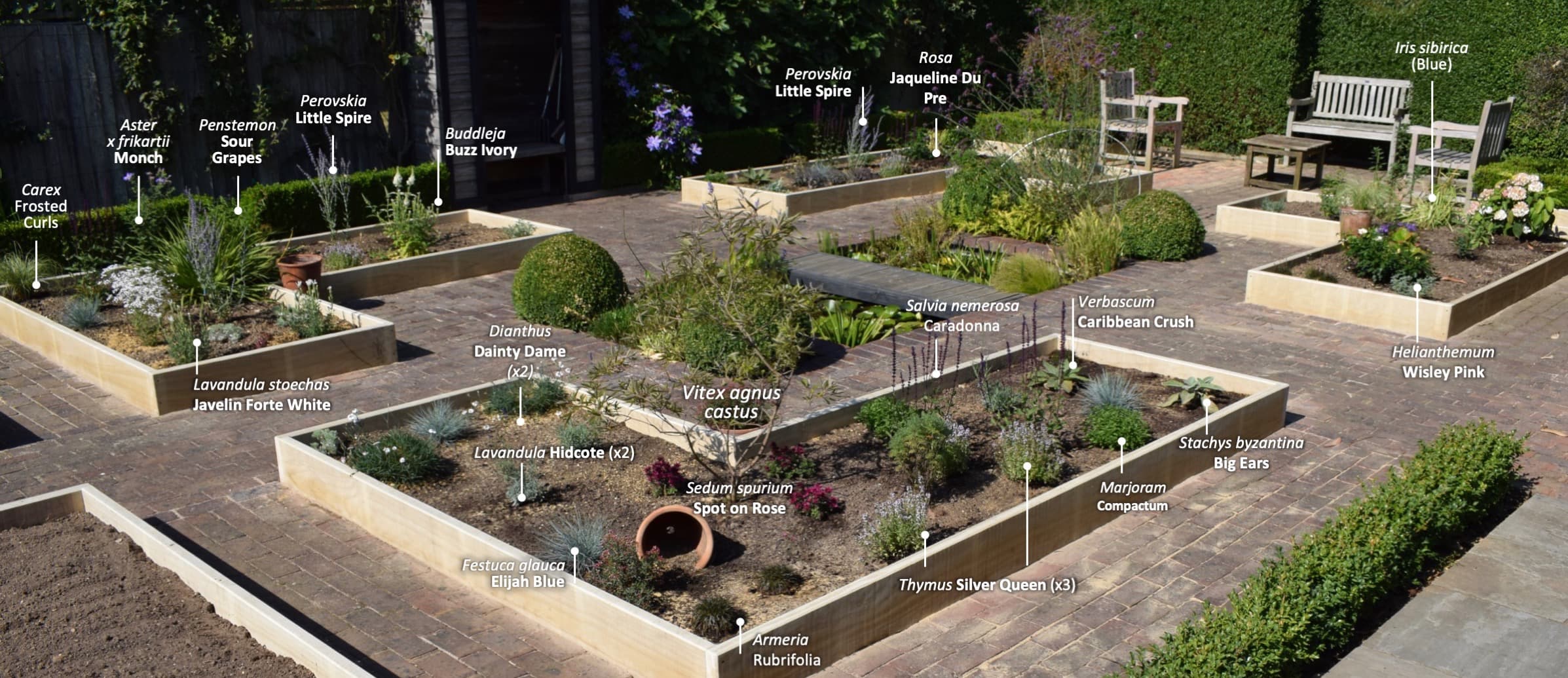 Update August 2020