In my last post (The New Pond Garden Planting) I showcased the shrubs and perennials that I have just finished planting in the refurbished beds around my pond. In this post I am going to outline some of thinking and considerations that go into designing a successful planting scheme. Although I'll mainly focus on the process I went through to decide on plants for my new Pond Garden, the principles I will be explaining could easily be applied to your own garden. In writing this post I was surprised at quite how many layers of consideration and analysis went into the planning process. As you read on you will see how every decision had a reason behind it.

– Keir Watson
⋮
The Planting Design Process
Here are the main steps involved in developing a successful planting plan. Each point is expanded on below.
Identifying the design objectives
Identifying the main obstacles and challenges
Finding a style or aesthetic approach that works
Analysing examples of other gardens
Selecting plants
Planning across time
Consider mixing perennials and small shrubs
Structure, Rhythm & Repetition
Symmetry and Asymmetry
The diagram below may be useful for understanding the relation of the new planting to other parts of the garden:
⋮
Good Design
Good garden design depends on a strong underlying rational which brings coherence to a project at multiple levels; these include style (underlying aesthetic continuity), function (how the space will be used) and situation (light, soil, adjacent buildings, views). When putting together a planting plan all of these considerations need to be taken into account. Let's start by listing the main objectives and challenges I faced in developing this part of my garden. After that I will move on to how I decided on a suitable aesthetic approach.
Key Design Objectives
It is important to keep in mind what you want the garden to provide or achieve. In my case this included:
Nectar Plants — I wanted to attract bees and butterflies to the garden
Late Season Interest — As this area of the garden is mainly used in the summer, so I wanted mainly plants that flowered from July to October.
Drought tolerant planting — Being quite a long way from the house it will be easy to forget to water this area, so the plants should be reasonably drought tolerant.
Herbs — By using a number of ornamental herbs in the design (lavender, salvia, compact marjoram, thyme) there will be a subtle link to this area's former use as a vegetable garden.
Colour — The lawn garden (close to the house) has a strong green and white theme — very classy — but I wanted to play with more colour in this new space, creating a distinct change in character as one arrives at this end of the garden. At the same time, this new planting must not detract from the white garden, so I need to include white flowers in areas that are visible from the house.
Key Design Challenges
Good design works within certain physical limitations which include soil, light and adjacent structures. My constraints included:
Narrow beds — 4ft deep; does not allow for much layering or depth of planting.
Narrow outer paths — at 2ft 6in there is not much space for plants to spill over the edge of the beds and still leave access.
Backdrop — the beds are backed by hedges, or fences with trained fruit trees. There is some existing planting (silver foliage and white roses) nearby, and wine-red rose and purple clematis on the fence.
View points and vistas: the garden has two major axis running through it. The beds surround the pond which is the main focal point once you are in the garden. The whole space is viewed from the adjacent patio dining area.
Light variation — All beds receive sun for part or much of the day in summer, but some spots are partly shaded, especially in summer
Existing adjacent planting — Much of the backdrop is dark green hedge or fence. Next to the cabin/dining area there is a large bed of all-white roses, hydrangeas and fuchsia, plus a small bed of silver foliage plants. These need to harmonise with the new planting plan.
Finding a Suitable Aesthetic
Good planting needs a unifying aesthetic: a theme or pattern that runs throughout the planting and provides a sense of coherence, purpose or meaning. Once you work out a clear aesthetic for your garden it becomes easier to select and reject possible plants.
Broad aesthetic categories include "Formal", "Herbaceous border", "English Garden", "Prairie planting", "White Garden", "Minimalist", "Naturalistic", "Rock garden" and so on, but you can drill down deeper, defining the key plant categories, colours, season etc. For example my "White Garden" (see right) is dominated by foliage texture. This meant keeping to simple mid green foliage but varying the texture, so I used balls and cylinders of clipped box with large clumps grasses, ferns, hosts, iris. Perennials with bold white flowers were chosen and planted in substantial and well-spaced clumps (foxglove, iris, dahlia, hydrangea).
The reason this design worked so well is because all of the elements contribute to this single unifying aesthetic. To be successful you have to be ruthless and avoid compromises. When I accidentally planted yellow antirrhinums (labelled white!) they immediately diluted the style, so were removed.
With a new garden space it is not always clear what the best aesthetic approach will be, so you have to spend enough time exploring the options and considering the pros and cons. This involves a lot of research and reflection which has to take into account the design objectives and the practical limitations of the garden. I am rarely able to see the best solution instantly, so, I spend a long time looking at the space and looking at planting ideas online and in gardening books; all the time I am asking myself questions about the pros and cons of different approaches, and groping my way towards a solution that will fulfil as many of my requirements as possible.
The section that follows outlines part of that process: how to analyse inspirational images so that you can extract the underlying design principles that make them successful.
Inspiration from Mediterranean Gardens
The four beds that surround my pond are bathed in sun for much of the day throughout summer and there is no lawn in this part of the garden. This led me to think about a Mediterranean style of planting. Having found some beautiful examples of such gardens online, I was tempted to recreate a classic minimalist Mediterranean style sticking to clipped silver mounds of Lavender and Santolina, contrasted with deep green rosemary and pencil pines (Cupressus sempervirens). Below are some of the images that were inspiring me. To get the most from such examples it is important to carefully analyse them to identify the features that make them successful. After extracting the design principles involved it is then possible to apply them to one's own situation without plagiarism (which, btw, is rarely successful). We can learn something from each of the images below.
---
△ Clipped mounds of purple Lavender and silver Santolina. Acid green euphorbias (Source: Flickr)
This image was the first that caught my attention when I was searching online. It owes much of its success to its minimalist simplicity and repetition: Two flower colours (purple and lime-green); two foliage colours: silver-grey and dark green; and the contrast of vertical and mounded forms. However, the setting is important here too: the surrounding stone buildings and gravel add greatly to the overall design. Would the planting be quite so compelling squeezed into four foot wide raised beds, with brick paths between, surrounded by hedge and fence?
△ Soft pastel blues and whites are set off against grey and dark green foliage. (Source: RHS)
This Mediterranean planting from the RHS relies on a much wider array of perennials creating a kind of informal meadow of a roughly uniform height. The pencil pines, wood panelling and background pine trunks add contrasting vertical elements. — nice but not essential to the success of the planting below that would be at home in any border. I can see this working in my narrow beds
△ Tightly clipped balls of Lavender and Santolina contrast the looser Olive and flowering Lavender (Source: Capecontours)
The third design makes considerable use of contrasting forms, specifically juxtaposing the tightly clipped mounds of Lavender and Santolina against the billowing cloud of the olive that hovers above it. In the narrow beds I am planting such clipped balls could end up looking regimented. And I have neither space nor soil (nor the money come to think of it) for such a beautiful ancient olive.
What I took away
After much reflection I decided that a true Mediterranean style looks best with rustic stone and gravel: Raised timber beds and brick paths just wouldn't cut it. I also realised that pencil pines (or indeed any tall elements) would look wrong in my narrow raised beds, especially as they would interfere with the strong symmetrical view from the house. I had thought to use rosemary as a background shrub for its strong upright evergreen structure, but it is fast growing and would quickly fill my narrow beds. Overall, my garden has more links to the classic English Country garden. The four L-shaped beds around the pond are like a formal parterre or herb garden. However, the mediterranean gardens have given me some ideas I can work with:

(1) A pastel colour scheme: silver and dark green foliage with flowers in shades of white, blue, purple, pink.
(2) Clipped Lavender; silvery domes will contrast with the clipped box around the pond: softer and floriferous in summer
(3) A drought tolerant 'meadow' planting with a maximum height of say 3ft, including Mediterranean herbs such as Nepeta, Allium, Salvia, Thymus, Marjoram, Euphorbia and Verbascum.
Choosing plants
With the aesthetic established I was ready to start pinning down the individual plants that would work in my design. This involved a lot of research online. Because of the limited depth of my beds and requirement that the taller plants flowered no higher than 3ft, I had to be careful to check the growth characteristics of potential candidates to ensure they would not get too large. I wanted plants that mature at round 2ft tall and wide, although they might have flowering spikes up to 3ft high.
One of the things that surprised me when I began looking carefully was how many of the plants I vaguely had in mind would actually be too big; sedum spectabile, for example, grows closer to 3ft across and high. This medium sized perennial would actually be rather dominating in 4ft wide beds. This led me to searching for dwarf forms of some of the plants that I had in mind. I found Euphorbia x martinii 'Baby Charm' which is like a miniature (2ft high) E. characias, capturing (I hope) some of the latters architectural structure whilst remaining in the confines of my narrow beds. Buddleja 'Buzz Ivory' is one of a new breed of dwarf butterfly bush that is claimed to grow to only 2ft (so they say — I have learned to take all such declarations with a pinch of salt) A great find was Salvia nemerosa 'Caradonna': a narrow upright sage with a very long flowering season, with striking electric blue/black/purple flower stems beloved by bees (see right). I used several of these in the design.
Once I had identified a range of suitable candidates that would work well I set off to visit as many local nurseries as possible, eyeing up, and sometimes photographing the plants available. It was helpful that I was able to do this during August as I got to see the majority of plants I might use in flower. I did not buy much the first time round as a I needed to know the full spread of what was available. That meant holding many possibilities in my head as I browsed. Over several days of repeat visits I gradually select plants. Back home I stood them where I thought I might eventually plant them. Gradually, as I work out which elements are going to be the most important I plant those first (key shrubs for example) then rearrange their immediate companions, only planting them once I am happy.
As this process continues (over a period of a few days) I begin to identify where I need more of one variety or where something is needed to fill gaps, create ground cover or harmonise colours in a certain spot. Armed with these new requirements I repeatedly returned to the nurseries over a number of days, until the planting is complete. The end result is — as far as I am concerned — better than I could achieve by thinking it all through at the start or trying to purchase all of the plants online in one go. There is something about actually seeing the plants in the nursery, seeing them back home in context, playing around with them and looking from lots of different angles, that helps with determining the best configuration. Also, if I find a plant doesn't work or isn't needed I can usually take it back to the nursery and swap it for something better. [Tip: keep your receipts].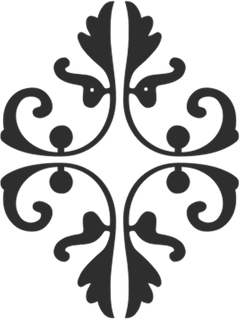 The Time Dimension
Throughout the design process, I am not only thinking about how the plants look now and how they work together in terms of height, colour and form, but also, how they are likely to grow and develop over time. This means understanding how each plant grows and changes during the season, as well as how it is likely to develop year-on-year. There are hundreds of considerations that go into a planting scheme, and this includes provisional thoughts such as placing a less important plant close to a more important one, so that in the future if the main one needs the space the lesser plant can be sacrificed. Another consideration is knowing which plants can be easily moved later on, and which resent disturbance. it is also important to know how plants spread: whether they are invasive or well-behaved, how easy they are to keep in bounds and so forth. On top of all this, there is every chance that some plants will inexplicably fail or grow unexpectedly large. No planting scheme is ever finished; in fact the pleasure for any real gardener is that each year one can influence how the design develops by moving, adding or removing plants and by encouraging or discouraging them through pruning, staking and division.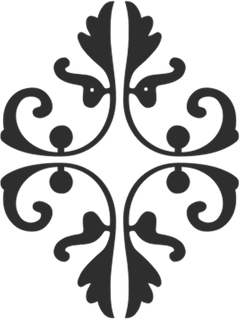 I am a fan of combining small shrubs with perennials: the judicious mix of the two can create a lively and natural looking planting. Whereas a traditional shrubbery can appear static and dull, and a typical herbaceous border lack structure in the winter a thoughtful mix of the two can remove these shortcomings.
⋮
Top Tip:
Mixing perennials and small shrubs
---
Below are some of the key shrubs and perennials that I have integrated into my planting scheme:
Primary Structural Shrubs
I have used at least one largish shrub in the elbow of each L-shaped bed to provide a structural anchor against which other plants will be seen. It was only once I had realised the importance of these shrubs to my design, that the remainder of the planting started to fall into place. Once these structural shrubs were located the other plants in the bed started to make sense. Here they are:
Chaste tree (Vitex agnus-castus) — Potentially the largest of these shrubs which I may may train as a small multi-stemmed tree. It may become quite a feature of the garden as a whole, visible from the house, where it will rise above the dead centre of the hedge that terminates the lawn. Potentially spectacular.
Libertia grandiflora — Grassy evergreen foliage, growing into a 1m wide clump. Small luminous-white flowers in June. It can be pruned hard if it starts to get too big.
Shrub roses 'Jacqueline Du Pre' — glossy leaved and stunning with single white scented flowers that open from peachy buds. It grows to 1m tall and flowers profusely.
White Hydrangea macrophylla — Ideas for the most shady bed; the flowers open pure white before taking on pink tints as they go over. All of these shrubs can be pruned as hard as needed to keep them in bounds.
Secondary Shrubs
Five Lavender 'Hidcote's' are dotted across three of the beds where they will be nurtured and pruned into dense rounded mounds. In time, the lavenders will make a major contribution to the character of the garden with their silvery domes of foliage, strong summer colour and exceptional bee and butterfly attraction.
Smaller shrubs
Helianthemum, Thymus and Armeria are evergreen sub-shrubs that produce flowering mounds at lower level. If looked after they can look attractive even when out of flower creating nice hummocks of silvery or reddish foliage, which will hopefully tumble over the edges of the beds softening the timber lines. Clipping them over after flowering will help this, as will protecting them from adjacent plants which will spoil their shape if allowed to flop over them.
Shrubby perennials
Russian Sage (Perovskia) 'Little Spire' is a dwarf (2ft) form of this scented, white stemmed, blue flowered perennial. It has a woody base from which new stems are thrown up each year. The three penstemons I have used are also shrubby in their character, and may even prove evergreen in mild winters. The Buddleja 'Buzz Ivory' is a new dwarf variety, supposedly growing to 2 or 3 ft. Strictly classed as a shrub, but cut back hard every year it will respond more like a woody-based perennial. Euphorbia 'Baby Charm' is a sub-shrub consisting of multiple woody based stems that are replaced by new growth each spring.
Smaller in-fill plants
At the front of the beds and between taller plants I have used blue creeping Campanulas, dwarf Sedums and compact Marjoram. These creep around the feet of taller plants so should adapt as their neighbours get bigger. Artemisia schmidtiana 'Nana' forms beautiful silky mounds of finely divided foliage, silvery-white, 6in high and 18in across (15cm x 45cm). Aromatic and tactile: you just want to stroke it! I have placed three of these to set off the Russian Sage, Lavender, Carnations, Gypsophila and Blue fescue grass, where the silver foliage will really enhance the look.
⋮
Structure, Rhythm & Repetition
Generally, beds should not be planted as if they are framed pictures: a single point of focus; a thing in themselves. A garden is a series of spaces that people occupy, not a row of paintings lined up in a gallery. Composing a garden requires one to constantly reflect on the vistas, views, spaces, focal points; as well as where people will walk, pause or sit. Regularly photographing gardens can help train one's appreciation of some of these aspects of good design, but the actual experience (which cameras cannot catch) is that people feel immersed in and surrounded by a garden; Again, one is crating a place to be in, not just a picture to look at.
Spaces within the pond garden
Spaces & Places
The eye notices open spaces (marked with oval outlines) as "places" and responds to the planting that surrounds those places. Consideration should therefore be given to unifying the planting around such places, by ensuring some of the same plants are found on either side – symmetrically or asymmetrically.
Entrances & Vistas
Entrances should be noted too. The pond garden can be approached from three directions (E). Thus the views from these approaches across the beds and along the paths are important to consider. There is also a long vista, visible from the house, that runs right through the centre of the garden (EV) to the far seating area.
Adjacent Areas
Lastly, there are three sitting areas close to the new beds (SEATING) from which one can view the planting. These look across or between beds, making these viewpoint particularly important to take into account.
Symmetry and Assymetry
To ensure that the beds have a harmony when viewed from all of the different vantage points and spaces within the garden there needs to be a degree of repetition: the same plants being used several times in different beds to create a visual link between them. This could be achieved by planting the beds entirely symmetrically. However, pure symmetry can be rather static with nothing to draw one in. A purely symmetric space can be understood too quickly leaving the viewer with the sense that they already 'know' how it will look from all vantage points. The trick, then, is to use symmetry sparingly and instead create an asymmetric harmony with a staggered repetition of plants, so that there is an endless play of different combinations and qualities: i.e. constant variation on a theme. Such gardens are harder to 'sum up' in the mind, so draw one in, to explore the variety of scenes as they are revealed.

Below are some of the repeated symmetric and asymmetric plant arrangements that will subtly affect the experience of my visitors. Much of this will happen subconsciously and will be experienced by them as a sense of delight and interest.
Lavender 'Hidcote'
There are five lavender Hidcote plants spread over three of the beds. I intend to grow these into large mounds, nicely clipped, covered in hundreds of purple flower spikes in the summer. They are key plants in setting the tone of the space, and should harmonise with the purples, blues and mauves of the tall perennials.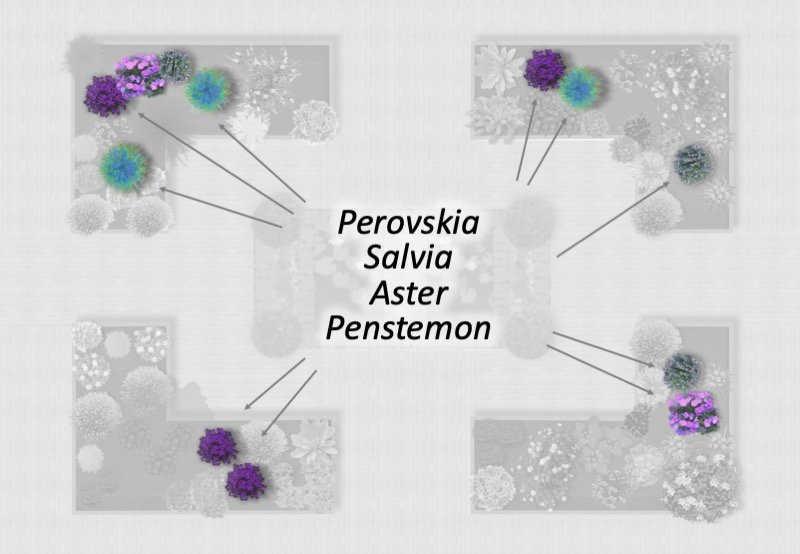 Tall Butterfly Perennials
These herbaceous plants are responsible for much of the summer colour, producing tall (ish) (3ft) spires of flowers over a long period and attracting bees and butterflies throughout the summer. Along with the lavenders they help create a meadow-like effect that wraps around the pond. Each bed displays them in different combinations and with different supporting plants, but, hopefully, the repetition produces a unifying theme.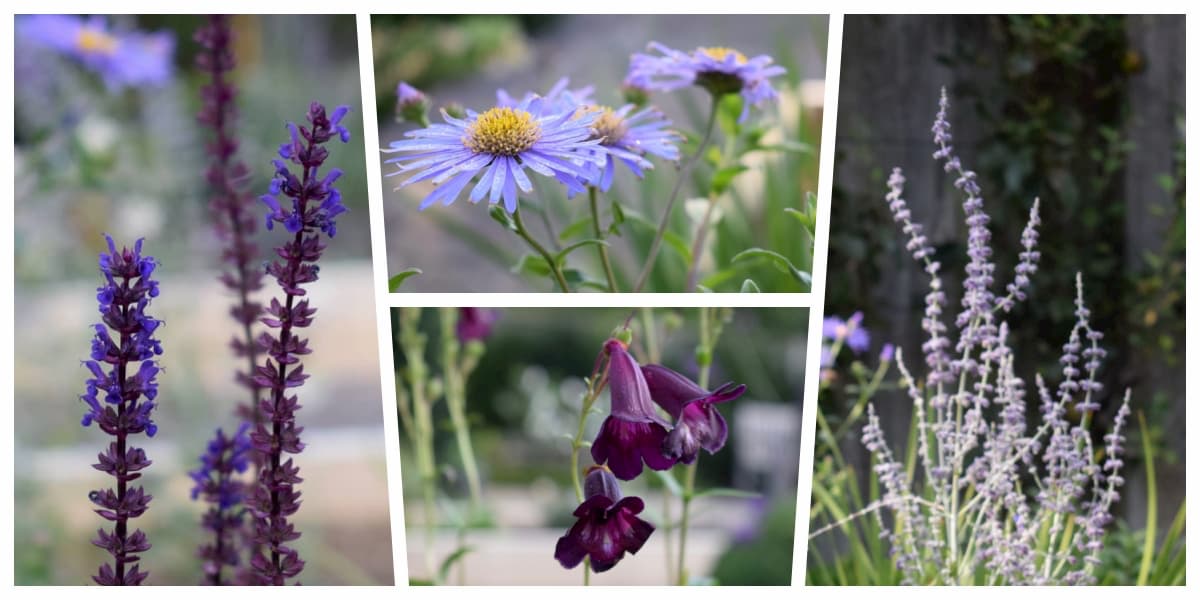 Small Feature Plants
These plants create focal points at different times of the year adding additional texture or exclamations to the main 'meadow' planting above, yet continue the Mediterranean theme, with their distinctive foliage and flowers.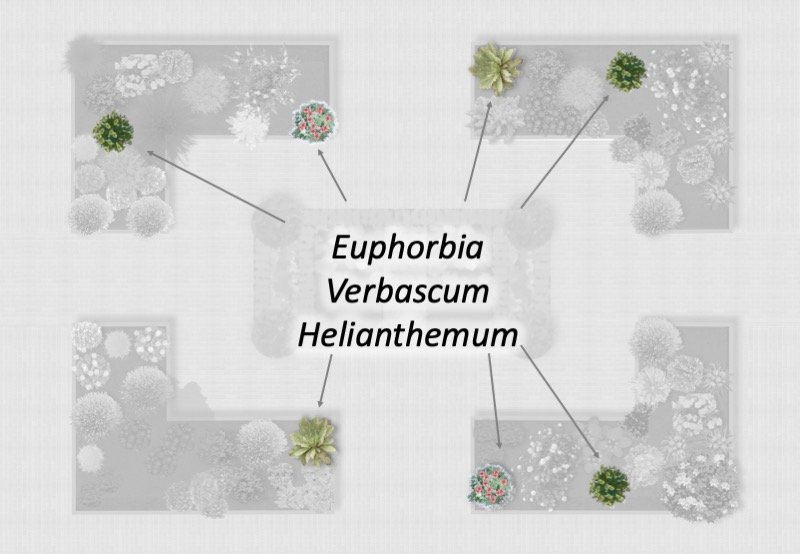 Euphorbia Baby Charm (x3)
This is a dwarf form of Euphorbia x martinii. It will potentially provide good background structure with its whorled stems. They have long-lasting heads of yellow-green flowers from early in the year before the main August flower show.
Verbascum Caribbean Crush (x2)
This biennial produces large rosettes of silver-green foliage hugging the ground. In the second year it throws up tall spires of flowers with the colour of crushed strawberries. Their diagonal placement introduces a nice asymmetry.
Helianthemum Wisley Pink (x2)
Soft grey mounds of foliage with pale pink flowers for weeks in May/June. They should soften the edges of the beds and create a diagonal tension across the short axis of the garden
Parts of the Garden Visible from the House
Long-Vista Symmetry
The longest vista in the garden extends from the house down through the centre of the pond to the dip in the hedge at the far end of the garden. This symmetry along this axis is emphasised by the standard gooseberry beds immediately behind the new planting. Consequently, I have arranged the plants here more symmetrically as indicated.
I like the way that I have successfully created orthogonal as well as diagonal vistas throughout my garden: it not only makes the space feel larger and more interesting, but increases opportunities for photography.
'White' view from the House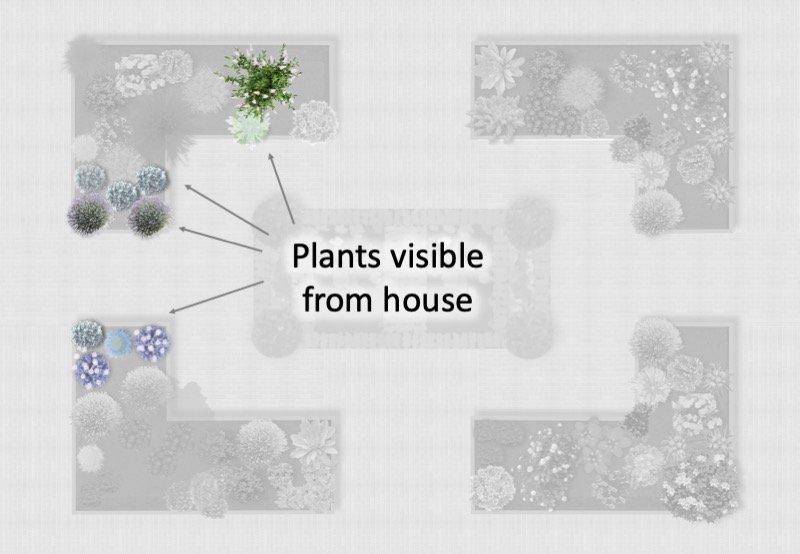 As previously mentioned, part of the new planting is visible from the house through the gap in the hedge that divides the back garden. As the area of garden near the house is based exclusively on green and white, I wanted to ensure that I did not introduce competing colours into the scene.
As you can see, I have arranged for white and silver plants to occupy the parts of the beds that are most easily seen from the house.
Winter Structure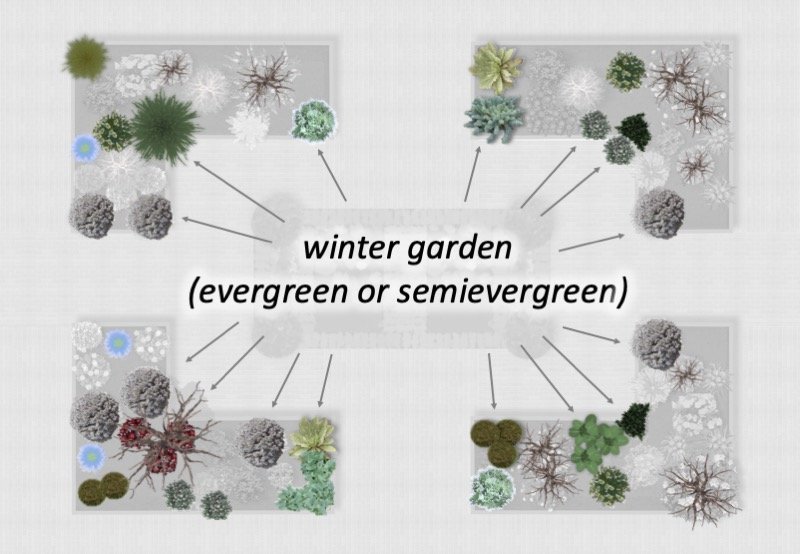 As well as summer colour, the look of the garden in winter is important too, so I have tried to include sufficient evergreens (and semi-evergreens) to ensure there is some structure in the winter. Although several of the perennials will die back completely there are sufficient evergreens and semi-evergreens including Libertia, Lavenders, Bergenia, Armeria, Helianthemum, Festuca, Carex, dwarf Sedums, Verbascum, Euphorbia, Stachys, Marjoram, Thyme.

Even the deciduous shrubs (Rose, Hydrangea and Chaste tree) will have a twiggy presence. Plants like the Euphorbias have stems that persist through winter, often clothed with foliage, and look dramatic when fringed in frost. The Russian Sage can leave striking white stems that persist during early winter. Clipped lavenders make dense cushions of grey twiggy growth. Iris sibirica has chestnut brown leaves which can look good for a time too.
Links to the Adjacent Dining Area
↑As you can see in the photo above, the adjacent dining area already has a raised Accoya bed with white roses and hydrangeas. The new beds in the foreground tone in beautifully, creating a harmonious composition.
↓Below, is the view towards the far end of the garden which is laid out quite formally. The beds just in front of this area have been planted symmetrically to enhance the vista across the pond's long axis.
Final Word…
I hope you have found some inspiration in this article. After years of designing gardens I take a lot of this planning for granted, making myself write about it has made me realise how much goes into the process. Let me know your thoughts below.