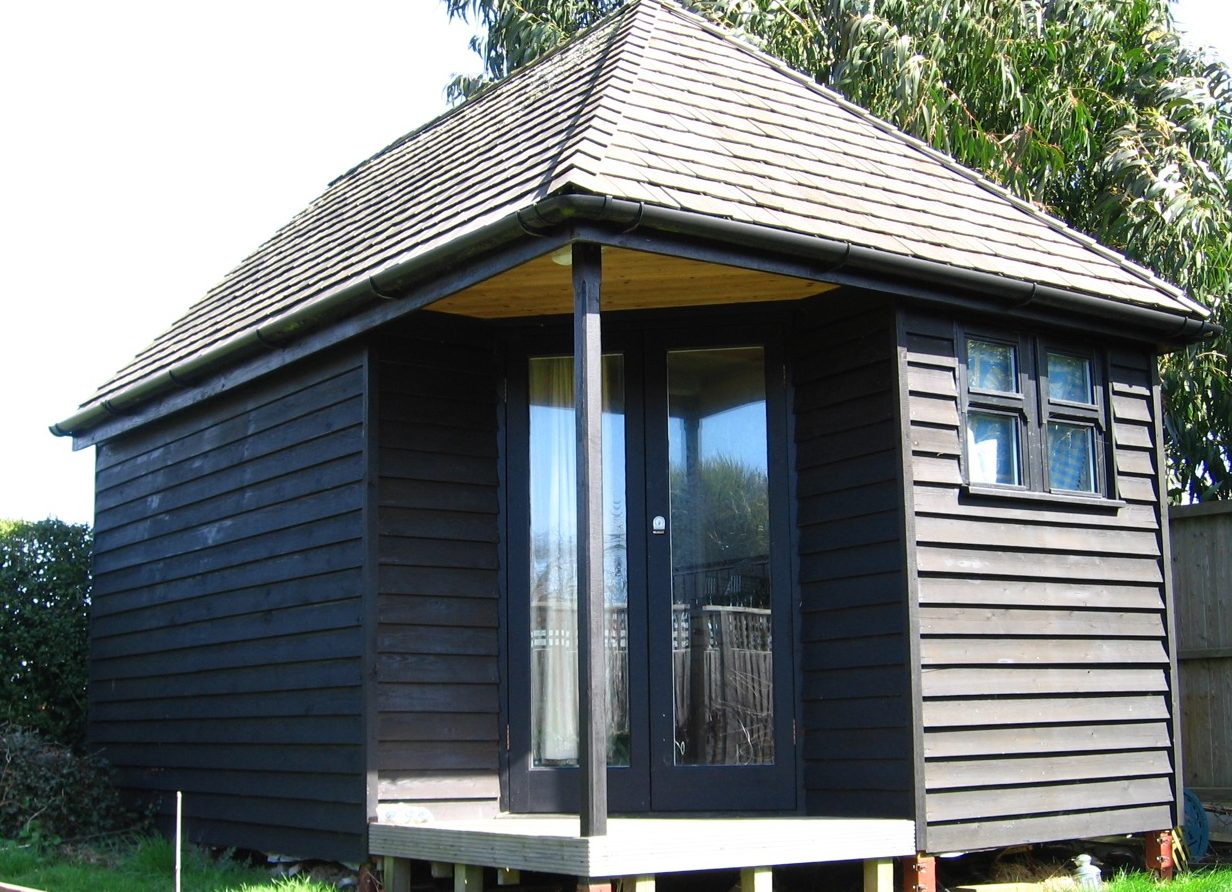 The Cabin (2010)
This sturdy garden building was entirely self-built on a tight budget and utilises several interesting construction methods.
PAGES IN THIS POST
Intro
---
We call this garden building 'the Cabin'. It was my first of several garden building projects that I started soon after we moved into our house which was undergoing extensive, self-build, renovation. The Cabin acted as a bolt-hole for us during the building mayhem that took place for 18 months while our house was gutted and rebuilt. That was in 2003, but since then it is regularly used for putting up guests, as a teen-den, a writer's retreat, and as a studio for music practice. One year, when we were renovating our kitchen we even cooked Christmas Dinner in here! Oh and it also acts as a sick room. When I get a cold I am often banished to this little den to prevent me infecting the rest of the family. Not such a hardship really since it has electricity, heating and — albeit cold — running water.
A Good Investment
A garden building like this a really valuable addition to a home – far cheaper than an extension, and more versatile in many ways. I reckon I spent no more than £2000 on this. Of course that's 2003 money, and materials prices have increased significantly since then, but this is still a great value for money option if you have the time to DIY.
At the time it was constructed it fell within permitted development so no planning permission was needed. Back then, you could build a pent roof (single pitch) 3m high or a double pitched roof – like this – 4m high. Now (2018) such a building this close to a boundary, would need planning permission. The change in planning regs affected another of my garden buildings – the Workshop – which had to have a flat roof. (See my rant about planning permission here)
Shepherd's hut?
This is the most family-friendly garden building I have built (see the Workshop, Woodshed, and Greenhouse too). Guests love it – especially children – as it has the charm of a secret den, a caravan or a shepherds hut. With it's little kitchen and bunk-bed sleeping platform children immediately see it as a house designed for them, although it can easily accommodate four adults, and we have even put up a film crew for a week! Staying in it is the ultimate in 'glamping', and being at the far end of the garden it feels secluded. The sense of being away from it all is enhanced by having the main windows at the rear. They provide a panoramic view over the countryside as you can see in the picture below. We have decorated it in caravan colours with wood panelling. Originally we were tempted to include a little wood burning stove, but when we inherited an upright piano that took precedence.
Read more about the Cabin's design and build
Introduction