Over the years I have ended up with a lot of topiary in my garden. A majority of this is in the form of clipped box (buxus sempervirens), although I also have formal hedges of box-leaved honeysuckle, yew and privet.

Strictly, the term 'topiary' refers to 'the art of clipping plants and shrubs into ornamental shapes', which would include the training of fruit trees into fans, espaliers and cordons. I have plenty of these which I have written about elsewhere, but in this article I am going to limit myself to examples of tightly clipped evergreens.

These include examples of geometric and naturalistic shapes such as balls, domes, columns, pyramids, mushrooms, spirals and bonsai-styles, as well as 'cloud-pruning' where several balls or domes join into a lumpy continuum.

I have arranged the tour by area, showing in each 'page' below, different use-cases, and reflecting on how topiary enhances the design in each situation.

The versatility of clipped box allows them to enhance a wide range of garden styles, whether that be formal or informal, shady or sunny, in borders or in containers. Hopefully, therefore, you will find something in what follows that inspires you and which you can relate to your own gardening needs.
Read On!
▼
Topiary – Close to the house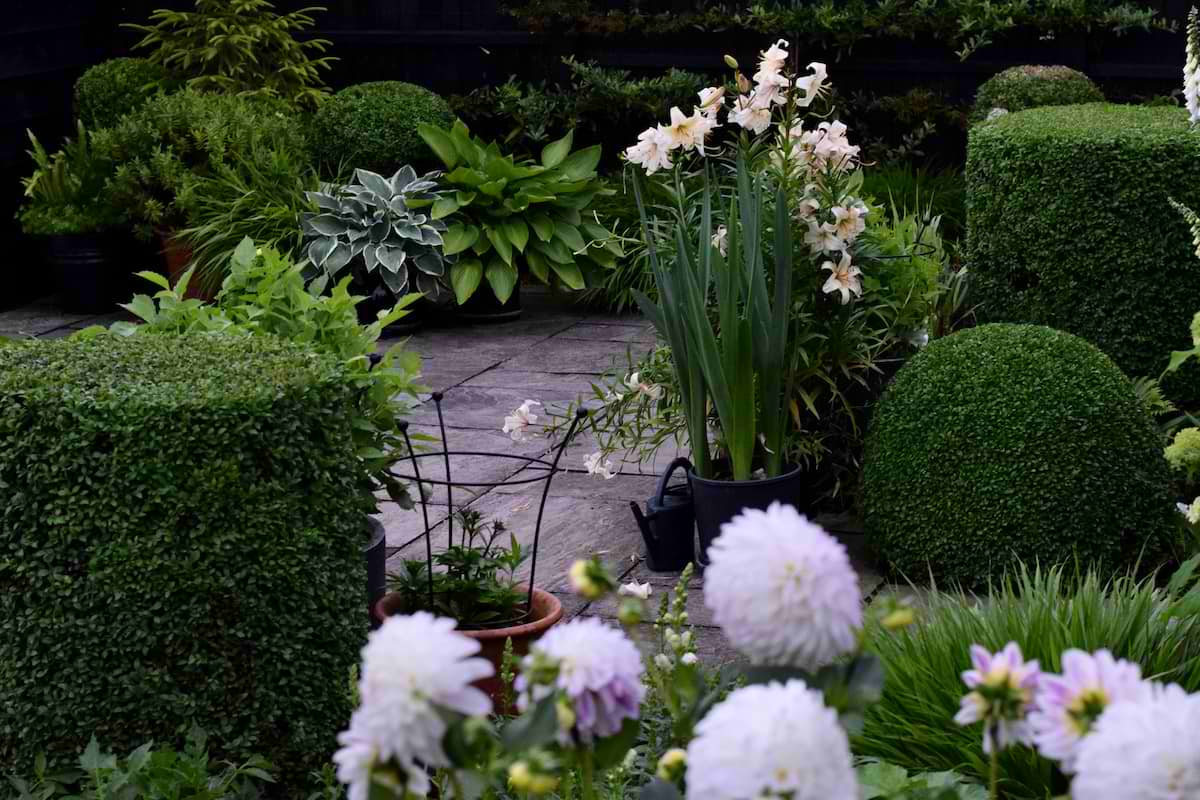 ▲ Above This is the north-east-facing patio immediately behind my kitchen-diner extension. Box cylinders create sculptural punctuations, while clipped box balls act as foils for large leaved plants like hostas and the fine blades of Japanese forest grass. Notice how the topiary helps anchor the scheme, providing an element of permanency and solidity. Visually, they act somewhat as the plant equivalents of boulders and stone columns.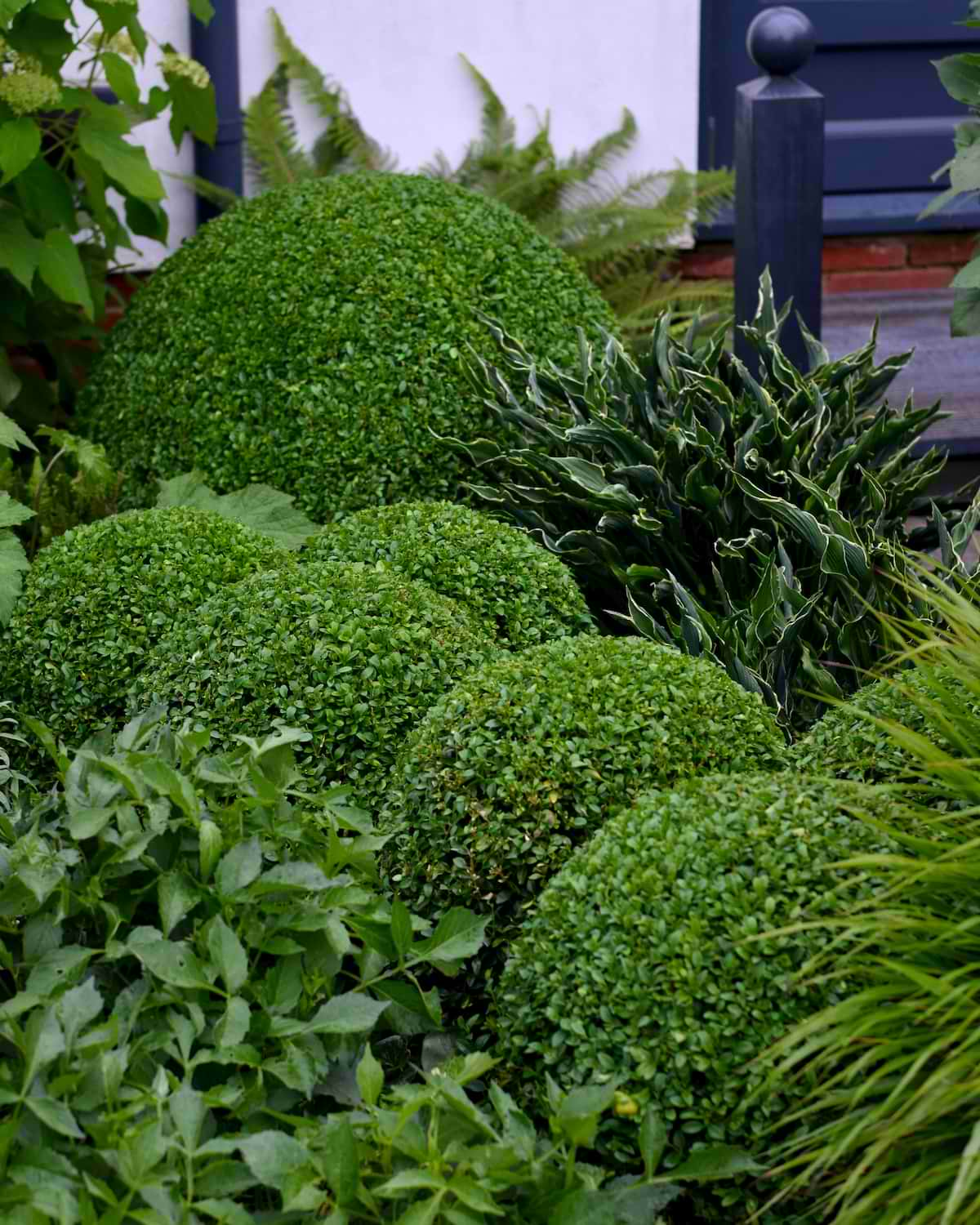 These seven cloud-pruned box balls form a central ribbon down the centre of this 10 ft square bed. The foliage of ferns, hydrangeas, Hostas, Dahlias and Japanese forest grass contrast with the tightly clipped forms.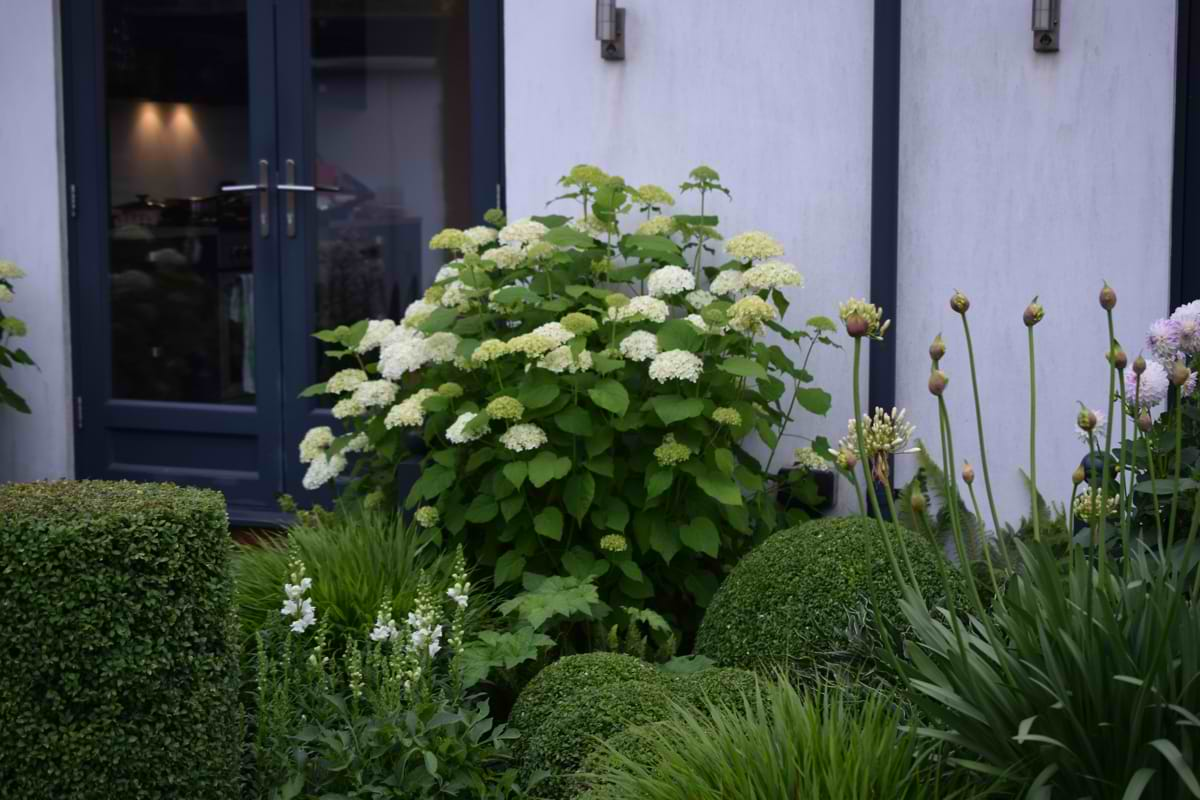 ▲ Above The architectural qualities of clipped box helps join the garden to the house. Geometric topiary provides an intermediate between the hard lines of the building and the softer forms of the surrounding plants.
▼ Below In this photo you can see how effectively evergreen box shows off white flowered plants such as these Antirrhinums. Behind them are white Dahlias that will flower all summer and right up to the first frosts.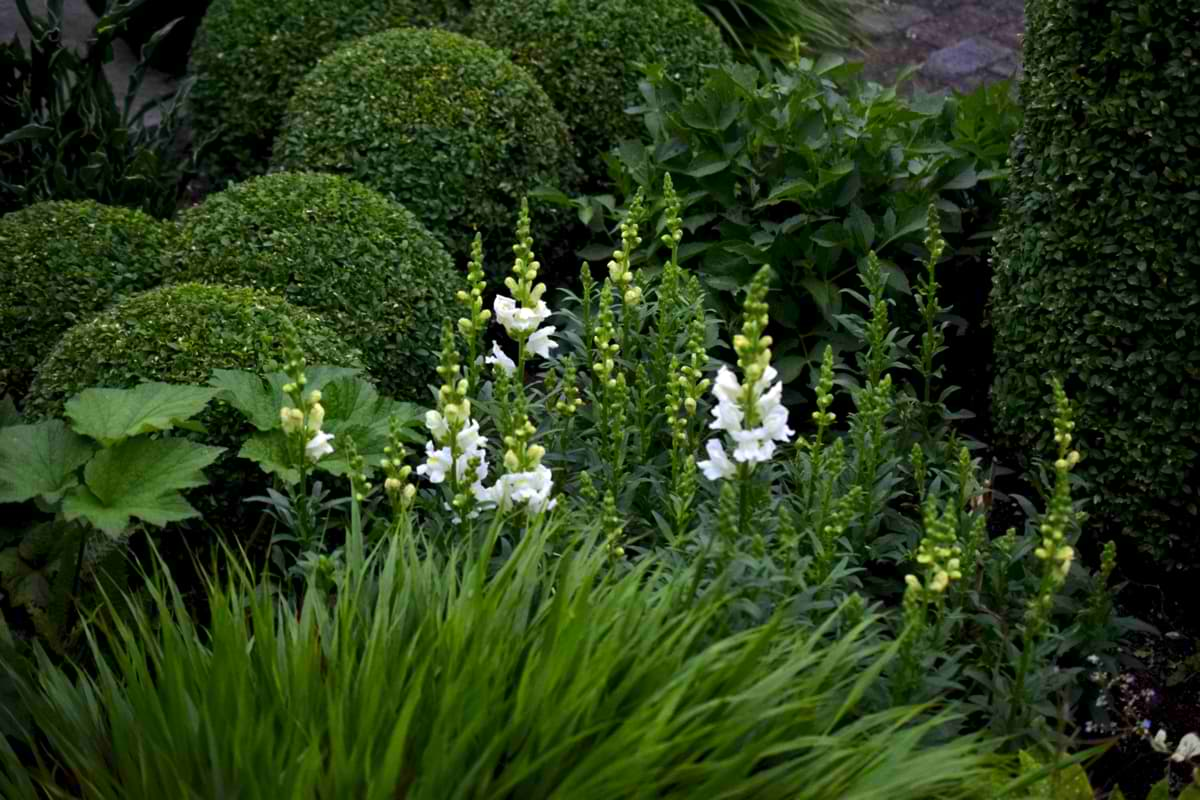 ▼
Box balls with a small tree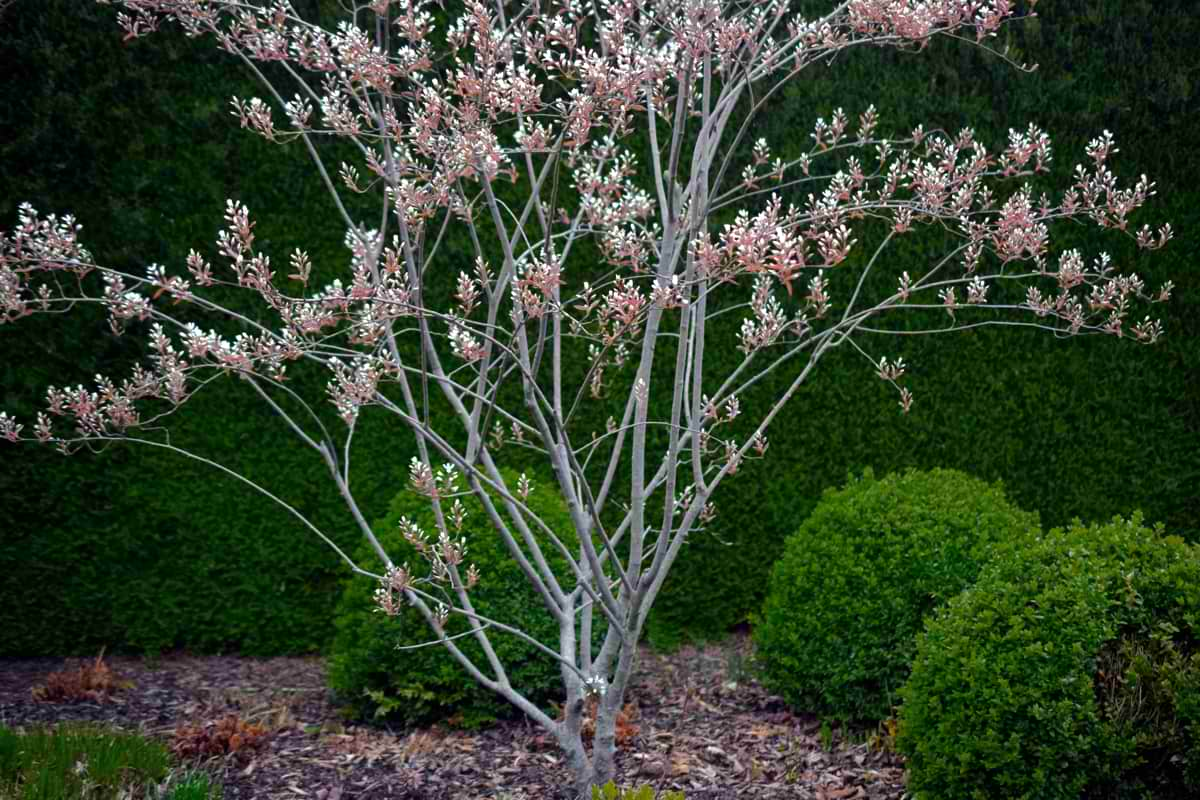 This one-tree woodland is right outside our dining room immediately in front of the folding sliding doors, so we see it every day. In winter and early spring, box balls create a minimalist composition while ferns and other perennials are dormant. A perfectly manicured lonicera hedge creates a smart backdrop for the luminous grey stems of Amelanchier lamarkii as it breaks into flower.

▼ Below The same bed a couple on months later. The box balls have been clipped creating clean outlines that contrast with the other plants.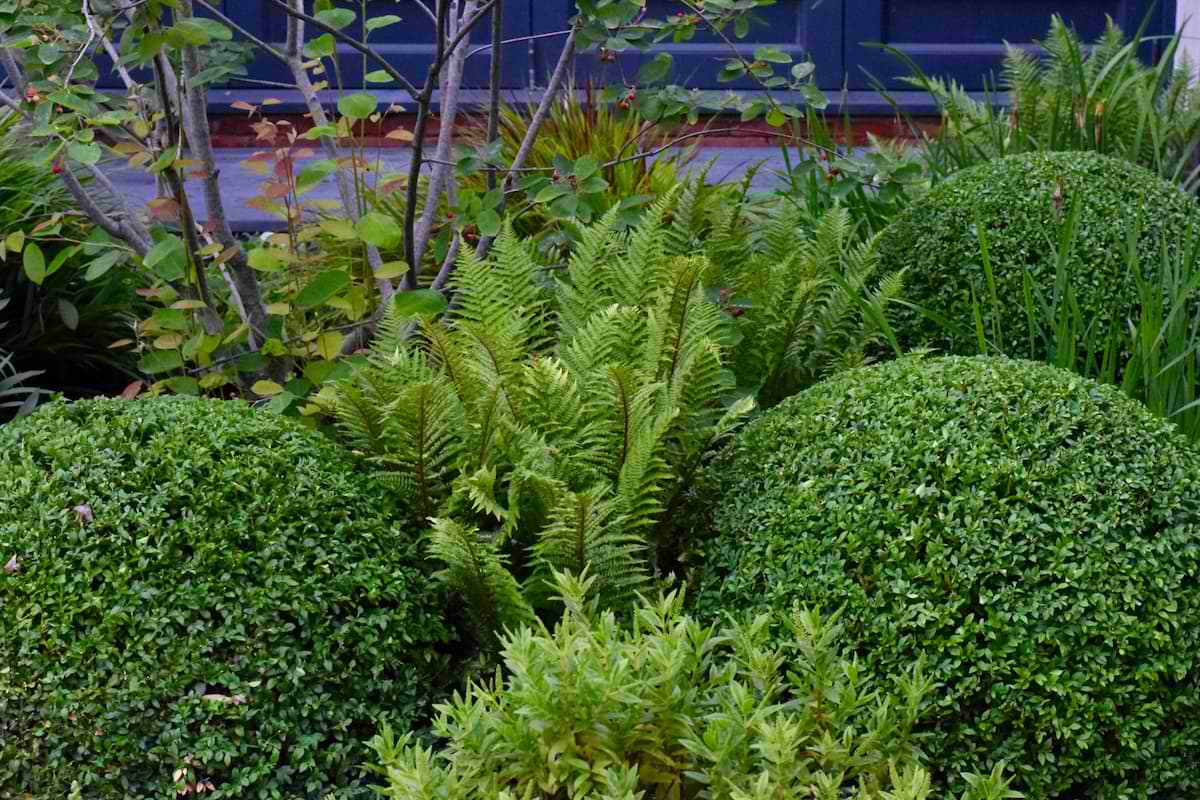 ◀ Right
The box balls provide a perfect backdrop for enjoying a spring show of white iris and ferns.
▼
Informal topiary in a narrow sunny border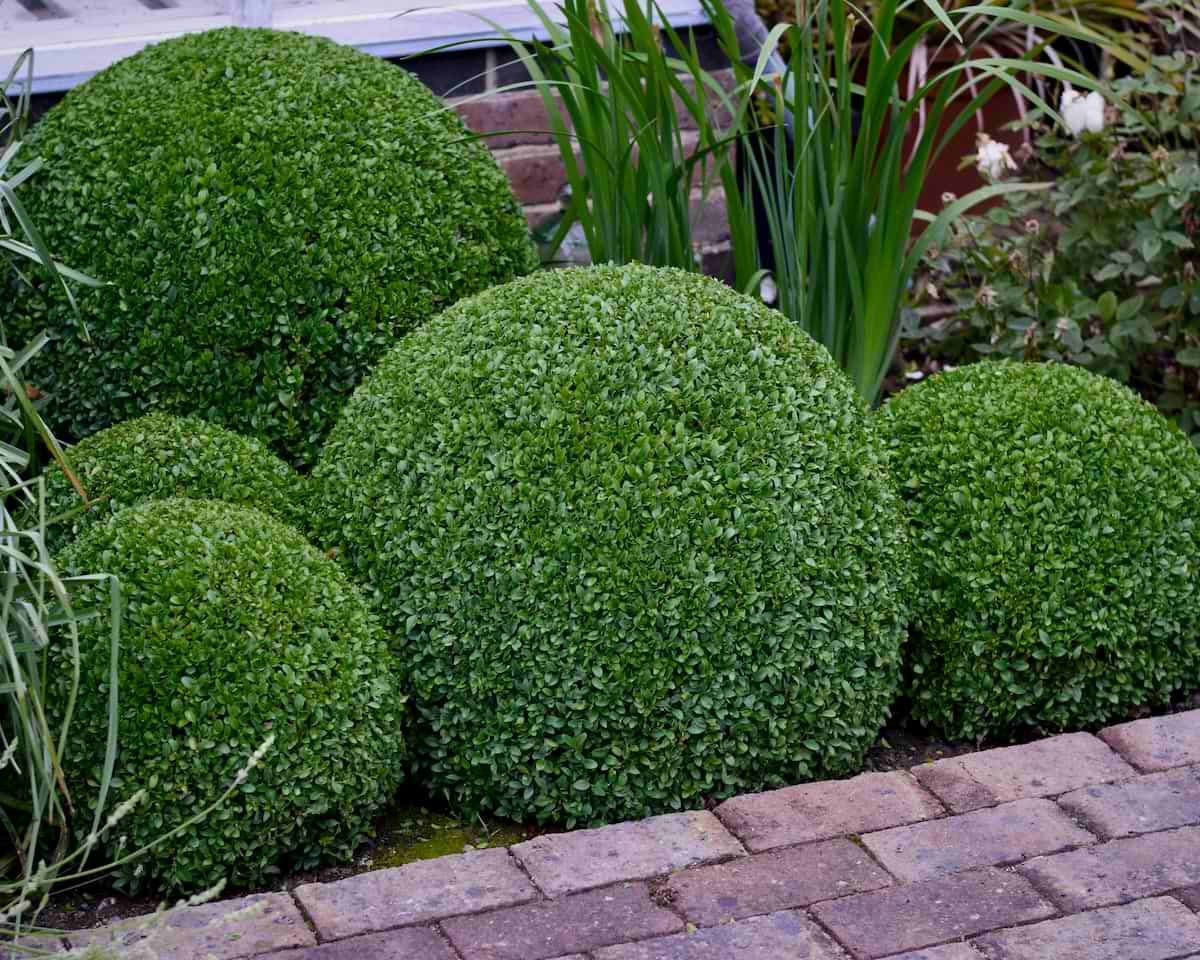 ▲ Above These five box balls make a beautiful geometric composition in the border in front of my greenhouse. To the right I have a white Siberian Iris and a white rose. To the left I have recently planted a second white rose and white Echinacea. The clipped box provides an excellent foil to view white flowers against and a strong architectural element in the winter when the perennials and roses are leafless.


▼ Below This part of the greenhouse border shows, along with the box balls, other evergreens that add to the look. the large, dark-green ball to the back left is actually clipped small leaved myrtle (Myrtus communis tarentina). I planted three young plants close together here and have found them very easy to keep clipped into a neat dome: a good alternative to box in a sunny spot. I think they would make good hedging too in a mild garden. Unfortunately, clipping tends to prevent the beautiful white flowers from forming, but the young spring shoots are beautifully infused with subtle coppery red tones. In the foreground, white thrift (Armenia maritime alba) creates soft evergreen mounds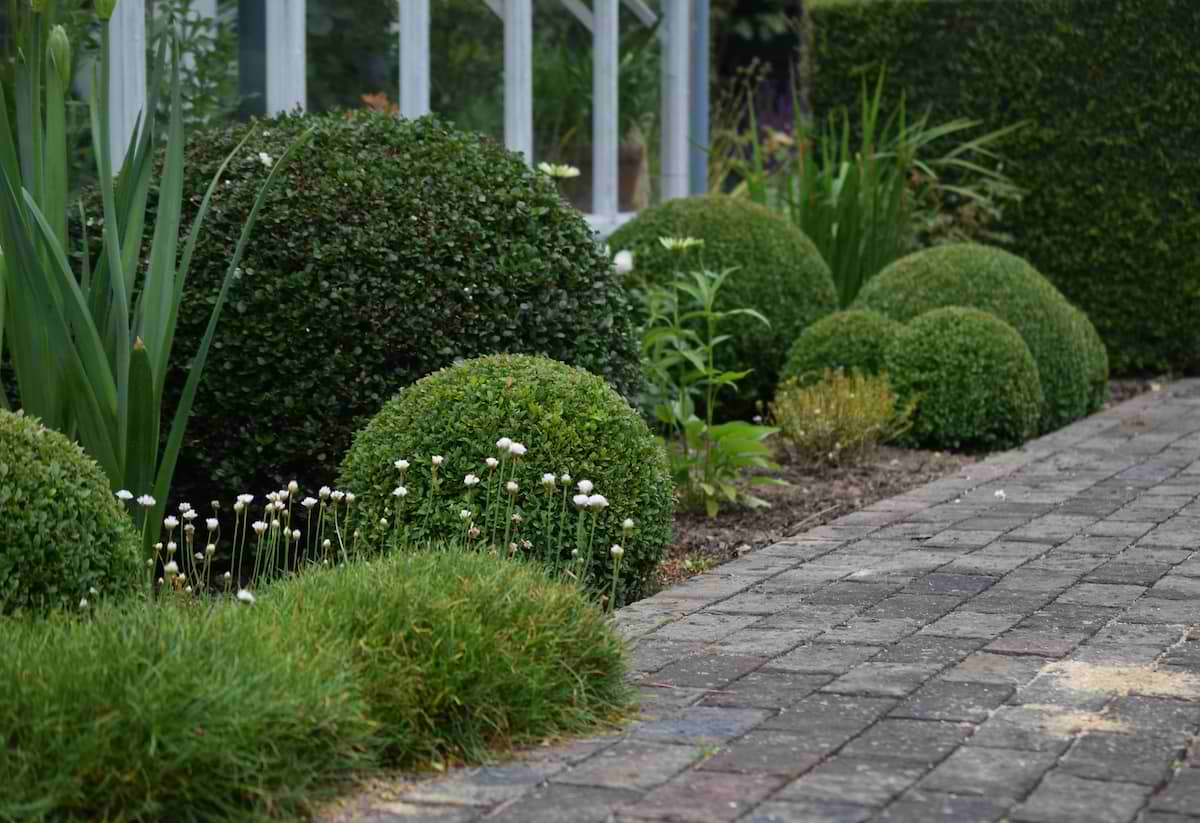 ▼
topiary in a formal Area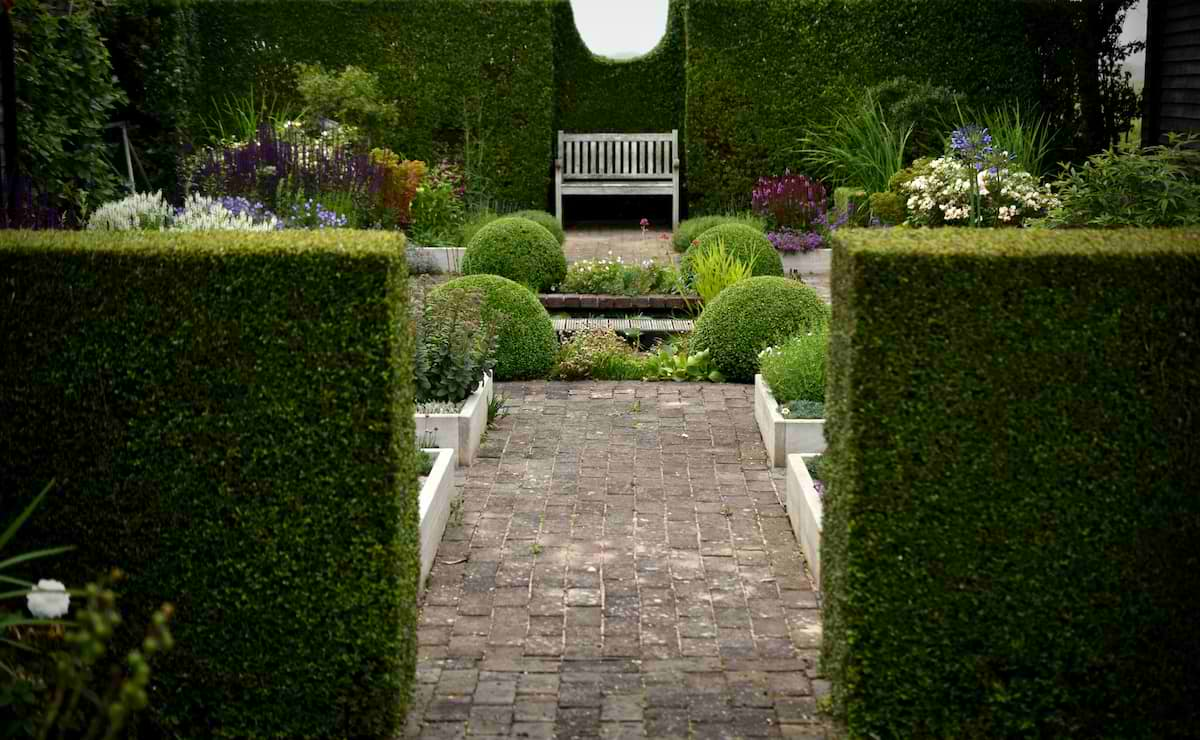 This area was originally my vegetable garden — hence the raised beds — but is now a formal mediterranean pond garden. The clipped hedges create a tight vista across the central pond which is marked out by four clipped box domes. The hedge in the foreground is bird's nest honeysuckle (lonicera nitida), whereas the hedge in the background is Chinese privet (Ligustrum lucidum). Keeping these really neat and square-edged helps set off the garden beautifully giving it to a mature, classical quality. The far hedge has further geometric work with the semi-circular window providing a glimpse of the countryside beyond. This is set in an alcove formed in the hedge where a little bench forms a focal point.
▲ Above At the far end of the pond garden I have two half-standard gooseberries. Each is neatly centred in a four foot square raised bed with a little clipped box hedge around it. The gooseberries are nearly twenty years old. I have used lengths of rebar (reinforcing iron) to support them as it complements their slim trunks.

▼ Below Looking back across the pond towards the house — the symmetry created by the hedges and clipped box domes is evident.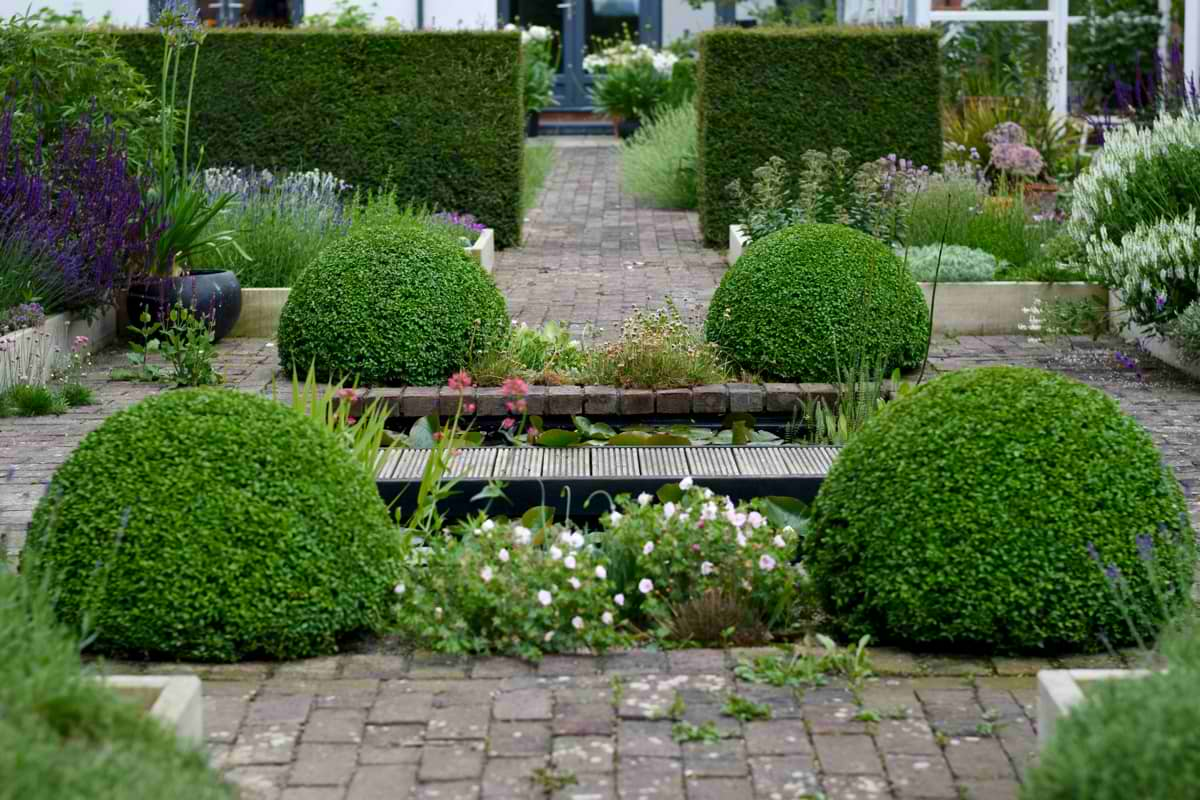 ▼
Topiary in pots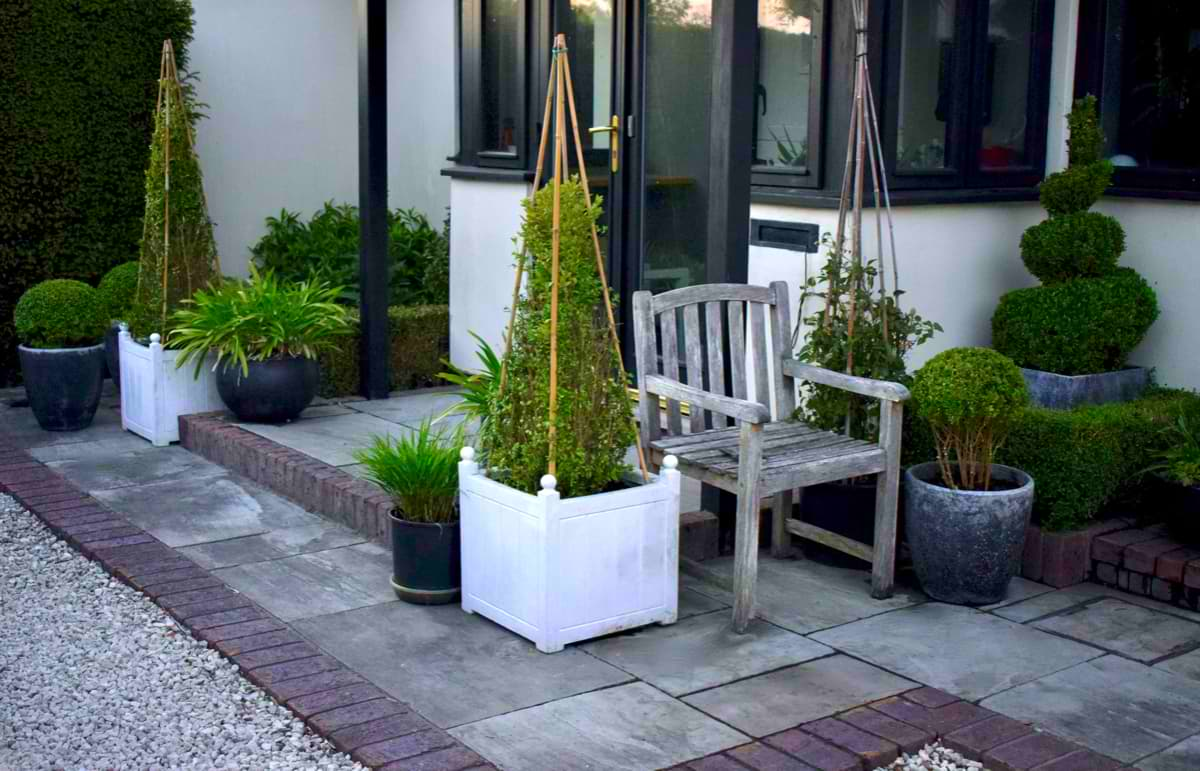 ---
Creative Pruning & Topiary Adventures
The commonest form of box topiary is the box ball. It is tempting to maintain the original shape, although over the years you are likely to find it is no longer as neatly geometric as it once was! Box is tough and regenerates well after hard pruning (although you may have to be patient as it is a slow grower), so if you are brave enough, it is possible to change the shape of box topiary to create something quite different and a little bit special. Below are some examples from my own garden.
---
▲ Above — Mushroom shaped In this first example, I took a pair of typical box balls which I had had for several years, and trimmed them into a more aesthetic dome-shape. The idea here is that the top follows a broad radius, while the bottom tucks under on a much tighter curve. In my opinion, the resulting 'mushroom' shape is more eye-catching and better suits the containers.

▼ Below – Bonsai treatment In this second example, an old box ball had gradually taken on an elongated shape, looking far too much like an egg in an egg cup for my tastes. Starting at the bottom, I gradually removed foliage and twiggy stems to create a multi-stem bonsai style shrub. My plan is to allow it to gradually increase in size until it is double the width, creating a distinct umbrella effect.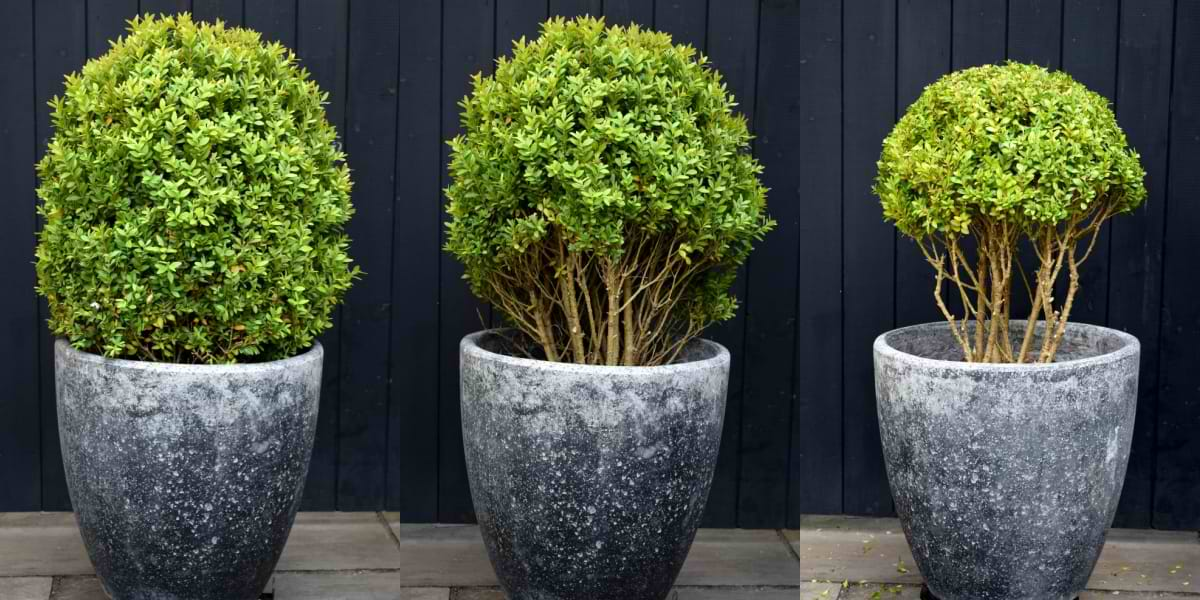 ▼ Below — Tall pyramids I took this large, overgrown box and hacked it back really hard in an attempt to create a narrow pyramid or obelisk (In fact I had two of these shaggy box plants in Versailles planters and both got the heavy prune treatment)

It looks severe, with lots of apparently dead stumps, but box can take pretty heavy renovation pruning (at least in theory) and sprout afresh from old wood, so I'm hopeful it works out in the long run.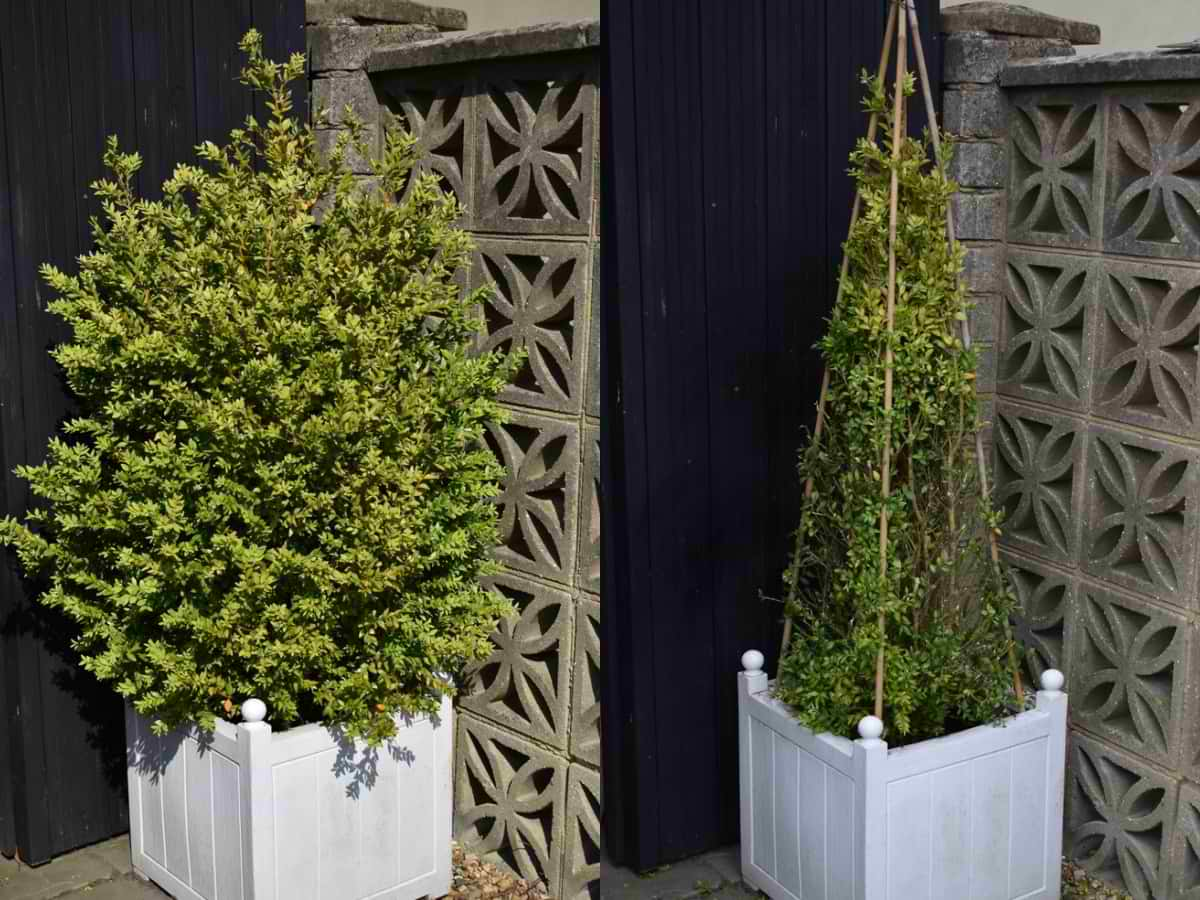 The idea is that the bamboo pyramid provides a straight edge to run the hedge cutters down simplifying maintenance. If this experiment works out I'll replace the bamboo with a stainless steel structure.

I'll post the results below in a year or two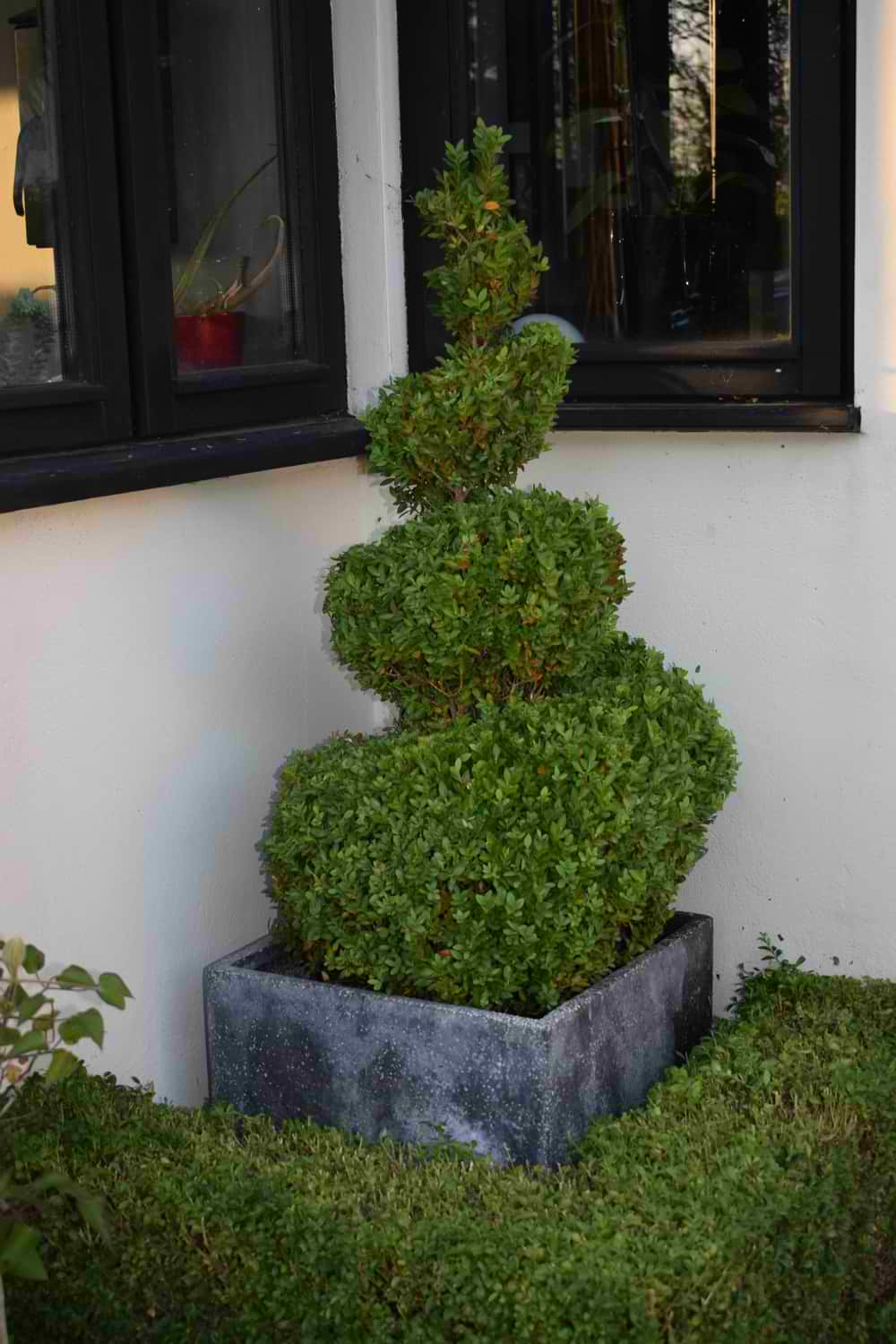 ◀ Last stop on my garden topiary tour!

This spiral was created from what started out as a box ball that had grown up into a shaggy mess. Instead of cutting it back to its original sphere I took the opportunity to shape it differently.

Despite its appearance, It isn't really a spiral at all as the groove is not continuous (they don't join up at the back). Instead, it is a series of angled balls, one on top of the other, but it produces a pretty good spiralic impersonation.
▼
RECOMMENDED
Further Reading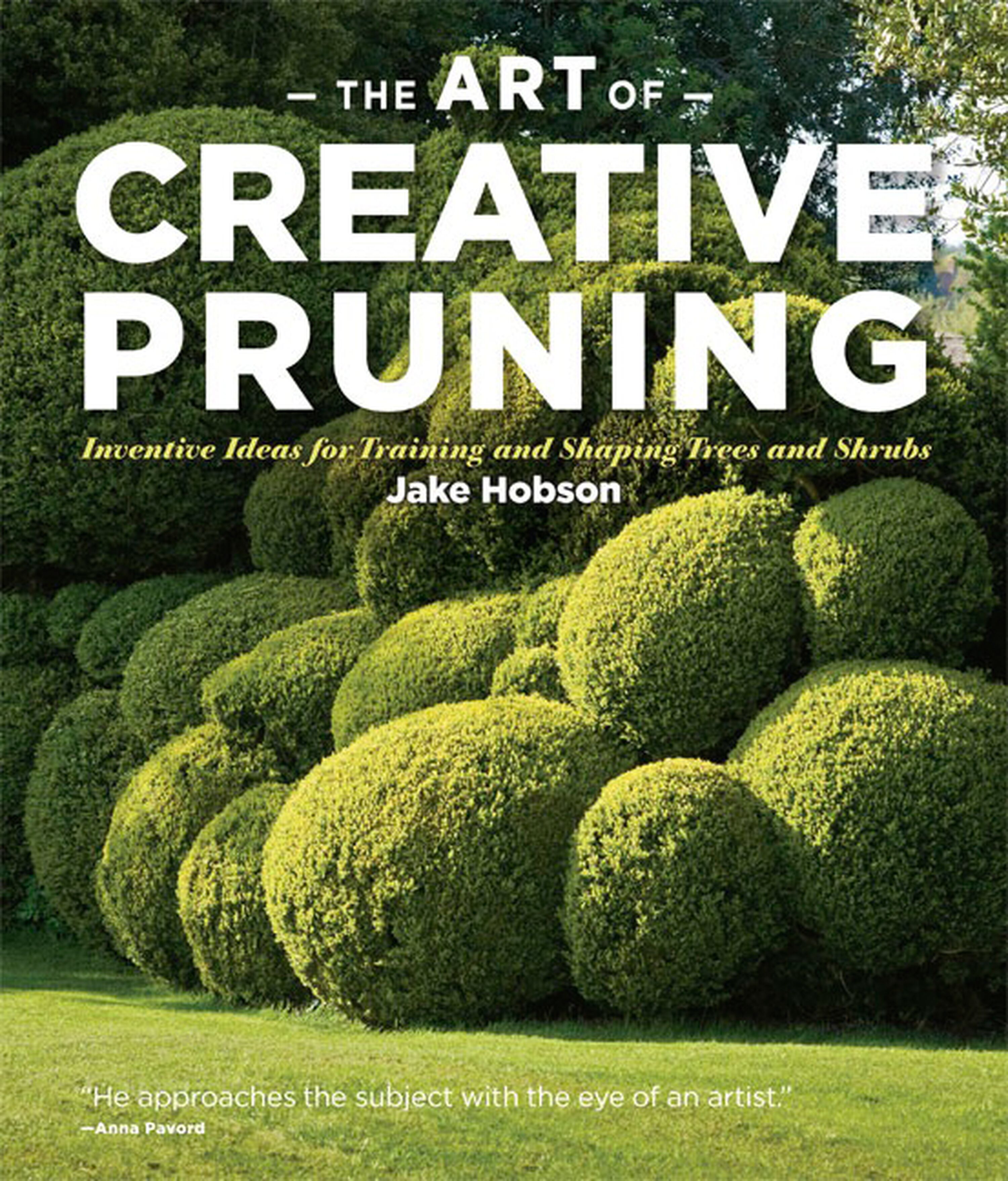 This is a great book by a guy who knows a thing or two about pruning. Check out:

The Art of Creative Pruning – Niwaki £25.00
Topiary Pruning Service
I have used Will's services to help me stay on top of my topiary. He works fast and with a great eye. Highly recommended. Contact him here.
Related Posts