This May bank holiday I went to East Sussex – the county I grew up in – and to my mind the most beautiful county in England. My destination was Great Dixter – the house and gardens designed by Edwin Lutyens, and made famous by the expert gardening of the late Christopher Lloyd. However, I was in no hurry to get there as the country lanes that wind endlessly through Sedlescombe, Bodium and Ewehurst towards Northiam are as picturesque as one could wish.
They certainly reinforced my childhood memories of an unspoiled human scale landscape of small fields, hedges and copses with footpaths and farm tracks leading off, invitingly, in every direction. The road plunging through tree-arched ravines, festooned on each side with fern-encrusted banks, only to rise again into the sunshine revealing cottages and converted oast houses with pretty country gardens, tucked comfortably into the land, as if they had always been there.
Great Dixter
The house and gardens at Great Dixter were created by Edwin Lutyens from 1910 for the Lloyd. Lutyens was reponsible for renovating and extending the mediaeval Great Hall that stood on the site at the turn of the 20th century. Having been a working farm the surrounding oast houses, barns and outbuildings were retained and the gardens designed to make the most of their architectural presence.
Christopher Lloyd's 50 years of stewardship has left a garden that is layered with age – from the heavy stone paving and yew topiary of the 20's, to the ancient trained fruit trees, mature topiary, great clumps of well established perennials right up to recently added annual bulbs and pot plants. The Great Dixter Nursery and current gardeners continue Christopher's tradition of constantly trying new plant combinations – often unexpected, always dramatic. There is a magic that can only manifest in a long-loved garden when this layering of the new and old fills every view with a harmony rarely found in other gardens.
This garden, perhaps more than any other, has informed my sense of garden design. Here we find an endless creativity of buildings, garden architecture, clipped evergreen structure and flamboyant perennial and annual planting. At every visit there is something new to learn, something to inspire, plenty to enjoy.
Christopher was a prolific garden writer. Many years ago I read his book Christopher Lloyd's Flower Garden from cover to cover repeatedly, attempting to absorb his wisdom and gain something of his eye for plant combinations, as well as his fearlessness when combining plant colours with such abandon!
Trained Fruit
Christopher talked about the importance of slow growing shrubs and trees – the quality of maturity they impart if we can only be patient. Trained fruit trees have this quality – improving with age and care.
Some of the trained fruit trees at Dixter – and there are many – are now ancient, lichen encrusted and quite magnificent. They might no longer be particularly productive – I don't know – but their design contribution is unquestionable. Pears, trained on the warmest walls, usually as espaliers, are knobbly and solid: permanent. Espalliered apples, also ancient, rise up on split chestnut frames, creating semi-transparent dividers in many areas. A huge fan-trained fig spreads magnificently along the wall of a barn at the back of the sunken garden.
In each case these trained fruit trees are given space to be themselves, but are an integral part of the surrounding planting – reminding us that they have a place in ornamental planting, not just in the orchard or vegetable garden.
In the photos above, you can see how comfortably each tree sits alongside the architecture of the buildings as well as the surrounding planting of shrubs, annuals and perennials.
Clipped hedges and topiary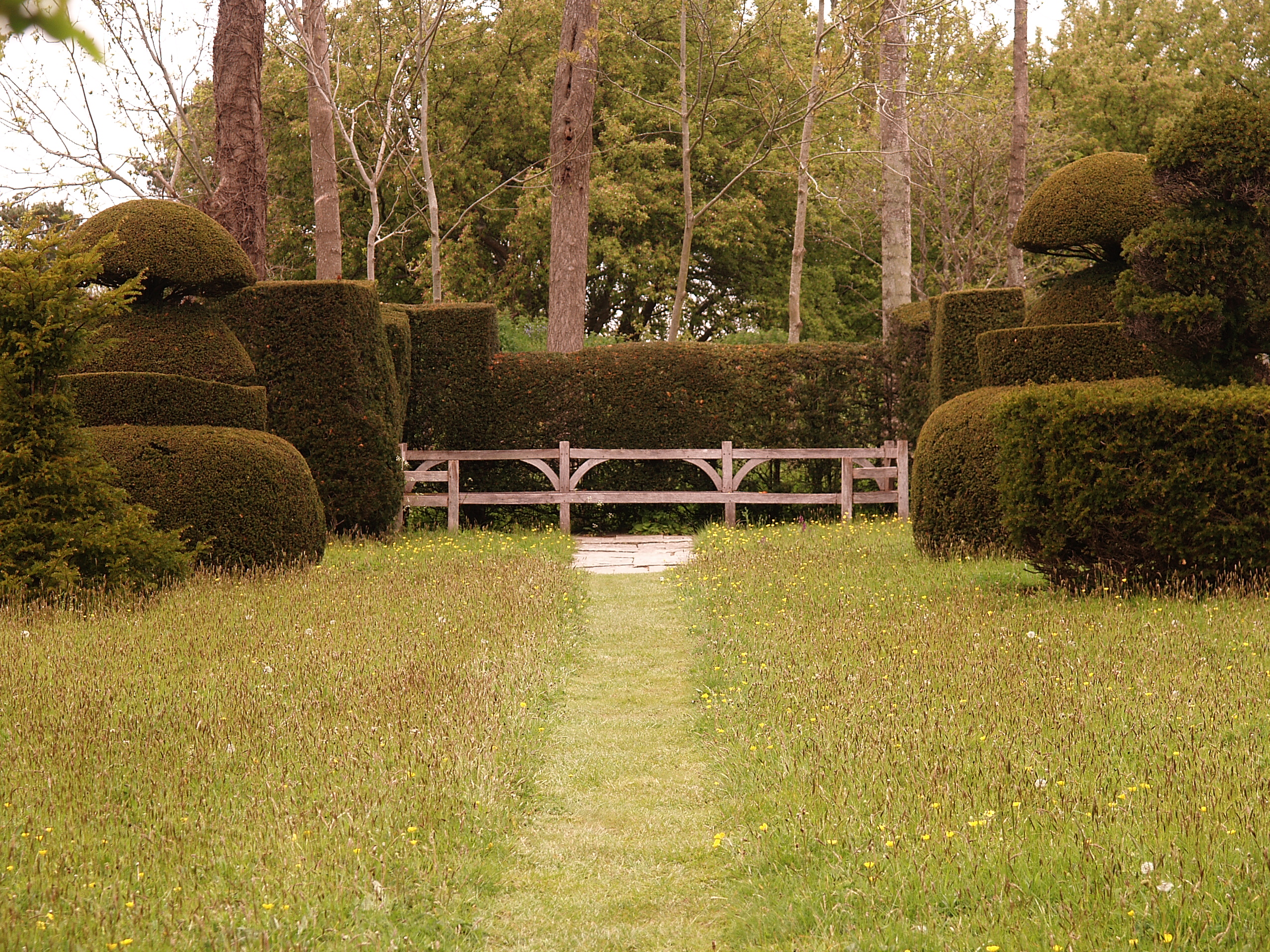 This view captures some of the excellent design at Great Dixter: structure is conjured with just two plants – clipped yew and grass. Formal but informal. Topiary without pomposity. Throughout the garden clipped box and yew hedges provide solidity around and between which plant experiments can come and go. I particularly like the style of the oak bench at the end – reminiscent of trusses and beam construction seen in oak framed buildings.
The sunken garden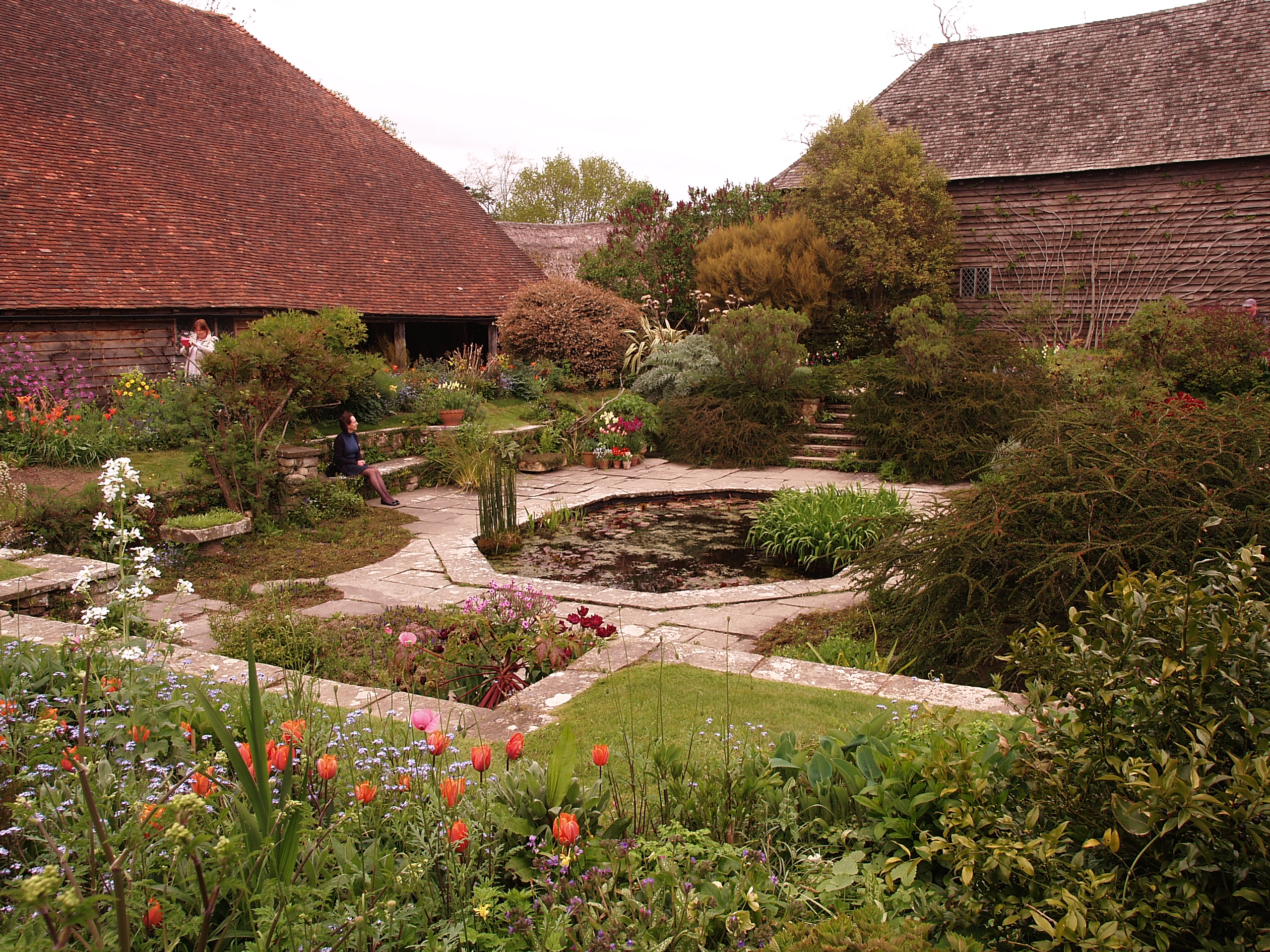 One of my favourite areas at Dixter is the sunken garden. Such gardens were trendy in the 20's and 30's, usually including rockeries with alpine plants. I find many of them quite tasteless, but the one at Dixter is on a whole other plane – thanks to the exuderant planting scheme of Christopher Lloyd.
It is centred on a formal octagonal pond, surrounded by stone paving and low stone walls. On two sides the barns create dramatic backdrops, another side is enclosed by tall clipped yew whilst the forth is walled. A path runs round the perimeter flanked by deep beds of shrubs and perennials. When down by the pond the planting rises up in layers on all sides – a real haven of tranquility.
The established planting gives the whole garden a sense of peace that comes with age, yet the fresh perennials, bulbs and annuals, along with well tended pots keep every view, every nook and cranny interesting and vibrant. Plantsmen will stop every few paces to admire a rare plant, gardeners will marvel at the planting combinations, and everyone will feel the calm and quiet that permeates the whole space.
Garden Architecture
Everywhere at Dixter, there is a perfect blend of architecture and planting. The heavy stone paving laid by Lutyens is 3 to 4″ thick, and provides sure footing and strong lines. Despite its solidity it is never harsh or dominating but supports and frames the mature planting perfectly – a reminder that a strong underlying structure to a garden is a great asset, even if it seems dominating when the garden is young. The flight of circular steps that lead from the long border to the orchard are now softened with great plantings of tulips and forget-me-nots, whilst climbers and large shrubs partly conceal the buildings.
Lots of other pics…
Enjoy strolling around the views below
Although the estate is currently held in trust it is prevented from becoming preserved in aspic by a number of successful business ventures that are a seamlessly and appropriately integrated on site. These include a woodworker who makes chestnut and oak goods in the old oast barn, a large thriving Nursery propagating and selling an excellent range of shrubs and perennials at good prices, a small coffee shop serving refreshments, whilst gardening and design courses are run regularly, with students residing in the house for longer courses.
If you have never been to Dixter I would thoroughly recommend a visit. I'm sure you will not be disappointed!