Unfortunately, I had to remove the fan trained plum that grew in this spot for the last five years. Although it was magnificent and had an excellent form, it suckered violently. One shoot came up through the fence panel, forcing the slats apart. It grew six foot tall and one inch thick in a single season! Removing it was quite a challenge and required access from the neighboring garden. Other suckers appeared up to ten feet away – in the middle of vegetable beds and even lifting the brick paving of the path. It was incorrigible. The only solution was to remove it. Lesson learned.
On the bright side – I now had a ten foot stretch of fence needing filling. So I decided to try a fig. Ficus carrica 'Brown Turkey' is a recognised performer in the UK climate: hardy, reliable, self-fertile and with good flavour – particularly recommended for growing against a sunny fence or wall.
Figs need to be planted with restricted root space to ensure they produce good crops rather than masses of foliage. I obtained a tall terrazzo planter in a sale at the garden centre, and buried it so that a majority was below ground level. I drilled a dozen additional holes in the base and added lots of gravel for drainage. I filled the rest with good soil enriched with compost and bone meal, then planted the fig in the top.
I chose a plant with several side shoots, facing roughly the right directions. Bamboo splints and plant ties allow the flexible young shoots to be gently forces in the right direction. By next year they will have lost their flexibility and 'set' in their new position.
I'll update the post as things progress…
UPDATE: Late Summer 2016
Summer pruning time! (Sep 24th)
18 months later… it grew!
As you can see the fig has put on good growth. The leaves are healthy and there are immature fruit on the branches. But it is getting bushy and growing forward away from the fence. It needs wrestling into shape.
Fifteen minutes later. Voila! All the branches that were growing forward have been tied to canes and trained flat to the plane of the fence. Previously trained branches that have elongated and curved upwards have been tied down so they are straight. I have also adjusted the existing canes to raise or lower the initially trained branches to make room for the new ones. It looks a bit funny in this photo as some of the leaves are angled away from the sun. Give it a week and it will sort itself out.
In the meantime, lets take a butchers at the fruit which are looking promising. The sunny fence really encourages fruiting. This is a happy fig. When they ripen they will make a happy gardener!
update AUG 2017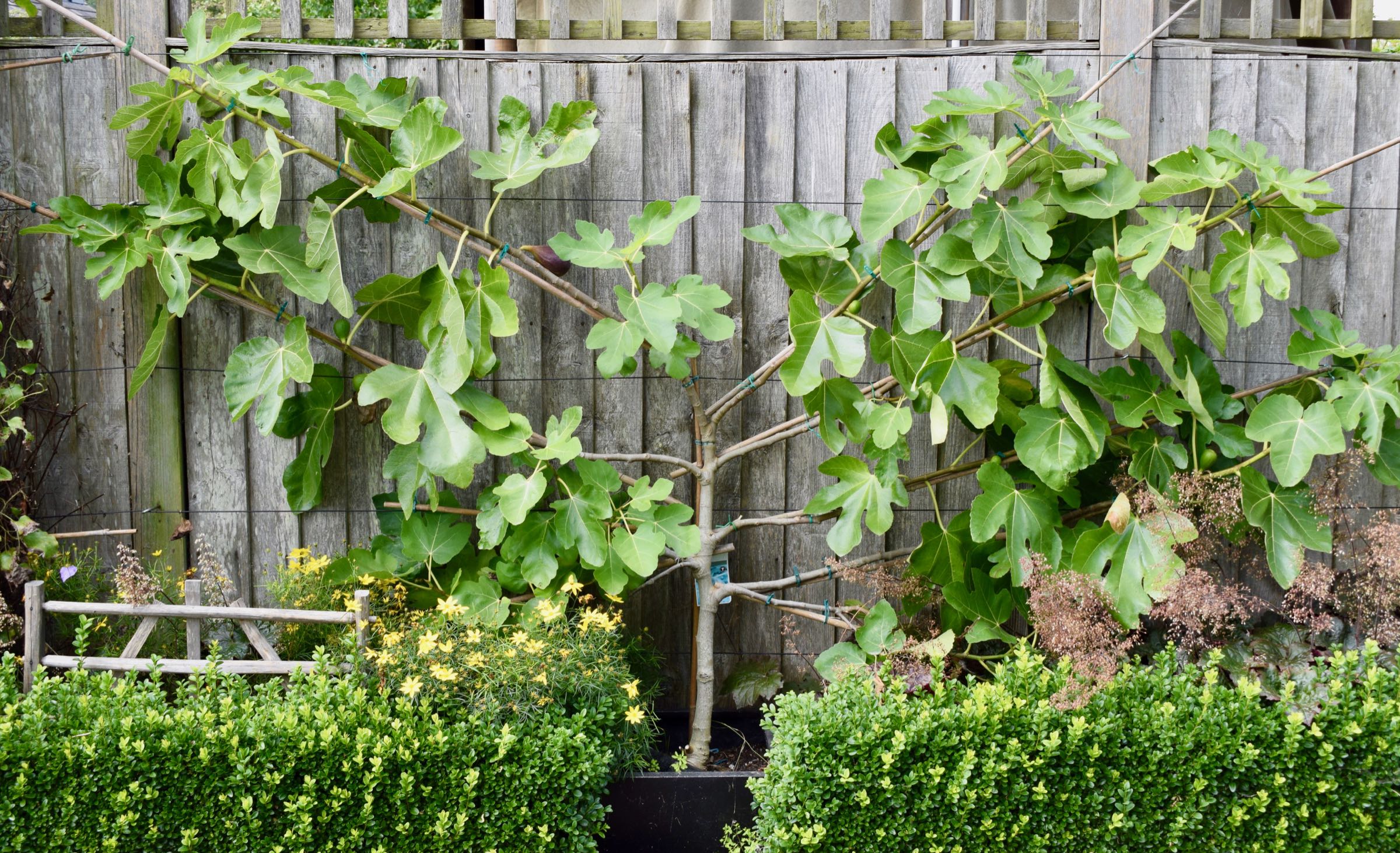 UPDATE APR 2018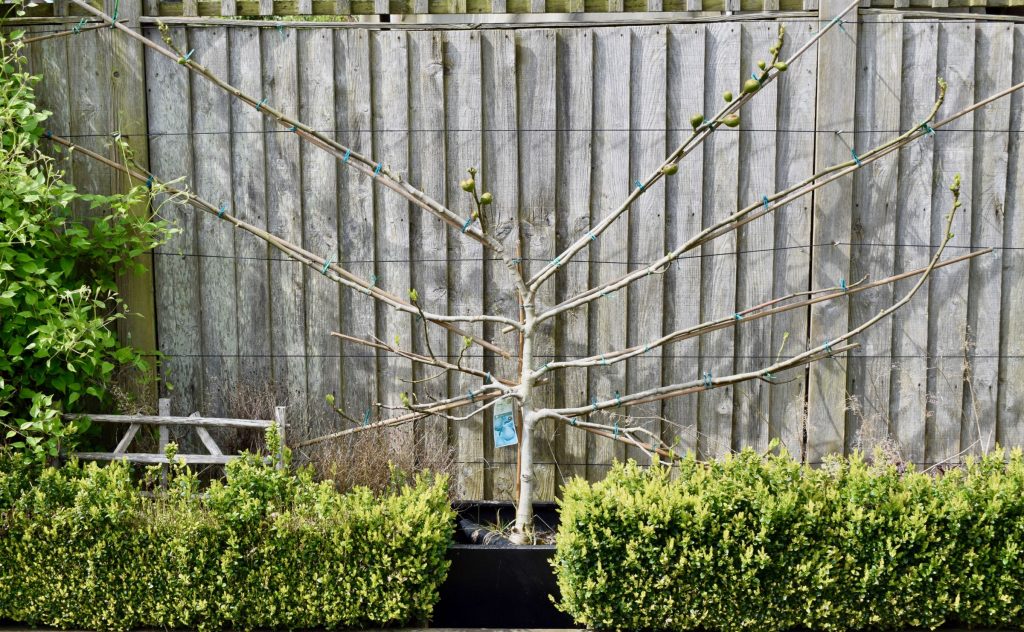 This is it in April 2018. I left pruning and training it until the middle of the summer. It was very happy and went on to produce a dozen large ripe figs that varied in flavour from "Wow!" to "Meh!" There were plenty of smaller ones which didn't quite ripen, even when brought inside. Pity.
⋮
UPDATE: Autumn 2019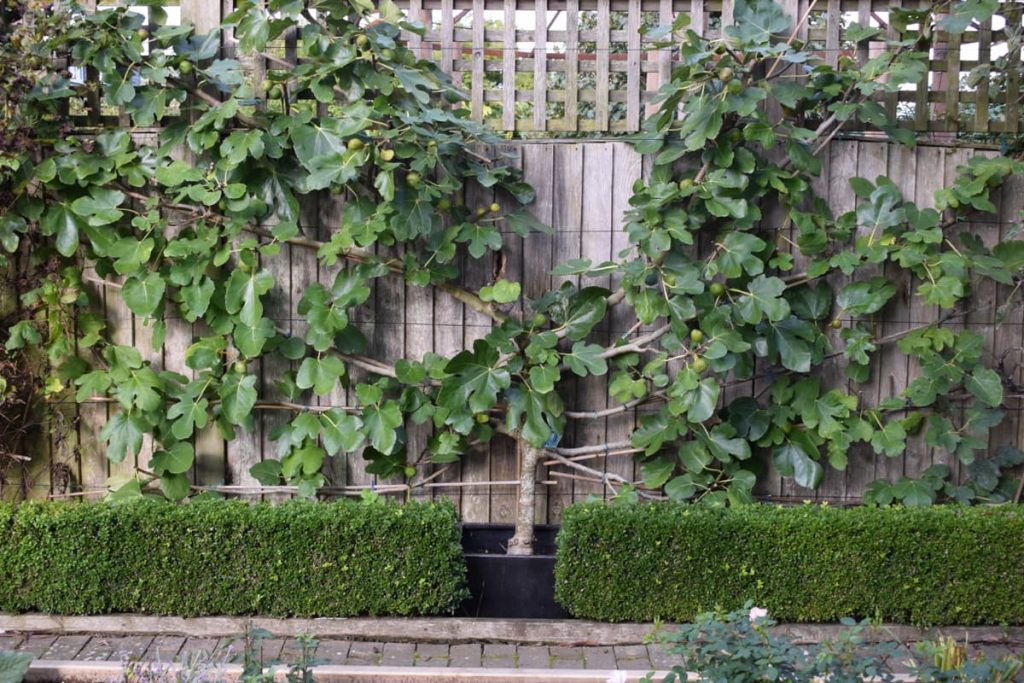 The fig is now a substantial trained fan. You can see several almost-ready-to-mature figs, but I fear it is a bit late in the season to expect any more to ripen. In August / September I enjoyed three large and perfectly ripe figs. Hoping for more next year.
⋮
UPDATE: Summer 2021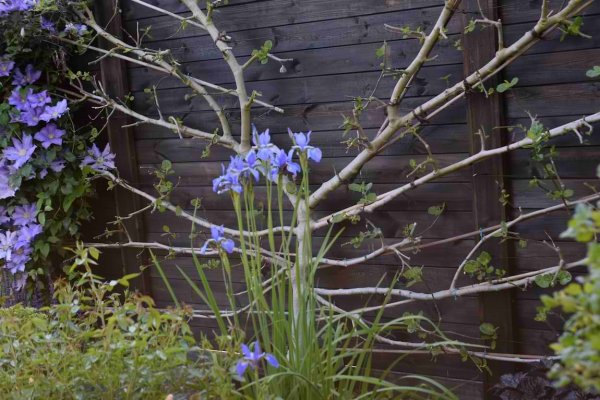 The biggest change in the photo above is the fence behind the fig: we replaced the whole run (14m of it) in May this year. The smart black panels really show off the bare stems well. However, the stems shouldn't be visible at this point!
Following a cold spring with many late frosts I thought the fig had died. Even by May there was no signs of life at all: no foliage, except one small leaf emerging from the base. It looked like all the top growth had been killed. Then, in the first week of June it started into growth!