Out and About in Sussex, England: musings on creative pruning
Most of the hedging in my garden is in the formal, rectilinear style, but I really like cloud-pruned hedges too. Here are a couple that are on public display, that I pass on my travels around Sussex…
The playful Honeysuckle hedge (Lonicera nitida) above had just been clipped. I drive past it every day on my way to work. It forms the boundary to a long thin garden of an isolated cottage near Chichester, West Sussex. It is all the more striking as the plot sits, bravely isolated, in a sea of featureless farmland.
The random curved mounds are interspersed with more angular forms, producing an effect reminiscent of the stone work of an ancient civilisation. I like the contrast with the looser form of the young oak tree that rises above like a storm cloud. Even the odd-length bleached wood poles add to the composition, whilst preventing drivers churning up the turf as they pass on the narrow lane.
This hedge is a few miles from where I live. It borders a large garden of a beautiful country house. Its undulating form reminds me of drifted snow; along the lower edge crumbling chunks appear to tear away as if under their own weight. It is always a surprise to round the bend and drive along it – I'm sure everyone who drives that route feels the same.
The hedging material in this case is a conifer, Leylandii perhaps? Probably not – it is notoriously difficult to keep pruned as it resents cutting back into old wood leading to unsightly dead patches. More probably, then, it is a Thuja species as they regenerate more readily – a much better candidate for a hedge. Although for my money, if I wanted a cloud pruned conifer I'd go with Yew.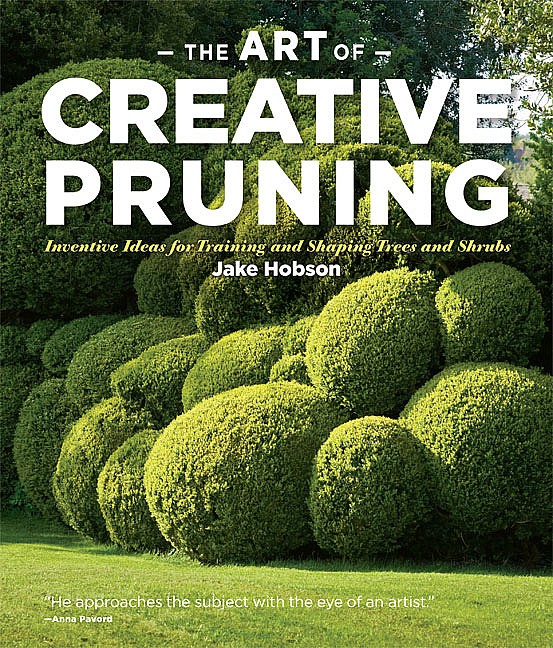 If, like me, you are interested in creative pruning, I would strongly recommend "The Art of Creative Pruning" by Jake Hobson. In this inspiring photo-rich hardback he gives clear practical and aesthetic advice on all kinds of pruning from topiary to cloud pruned hedges and, perhaps the pinnacle of the art – Niwaki: cloud pruned trees.
Hobson runs a pruning service, with expertise in traditional English and Japanese techniques. He also lectures on the subject and runs hands-on courses from time to time. He also offers a mail order service specialising in imported Japanese garden tools – well worth a look.
Read more about creative pruning at www.jakehobson.com
Topiary Whimsy
Creative pruning is a serious task, often requiring many years of patient work before a project reaches its zenith: not only is the basic material (evergreen hedging) usually slow-growing, but the regular pruning must be carried out with some consistency of purpose. The decision, therefore, to create whimsical or amusing topiary runs the risk that the end result may appear childish or crass.
When I was visiting Hastings, East Sussex, a few years ago, I spotted these playful topiary figures:
Like the cloud pruned hedge at the start of this article, these characters are clipped from birds nest honeysuckle – Lonicera nitida – which is a small leaved Box-like evergreen that benefits from good disease resistance and faster growth than Buxus.
I rather like these fellows, but still can't decide whether their creator has just managed to keep to the stylish side of the good-taste line or not. That said, I have neither the inclination nor courage to include such topiary in my garden. A cloud pruned hedge on the other hand… now that's a project I could make space for.
What do you think of these topiary figures? Stylish or silly? Daft or delightful?