The planting area (above) is opposite our kitchen patio doors, so is one of the main areas we look onto in the colder months when very little else is going on in the garden.

It is just one corner of our lawn garden which is styled around clipped evergreens, textured dark green foliage and bold white perennial flowers. Given the prominence of this bed, it makes a good study for its planting.

The photo was taken looking towards the east. Because of the adjacent workshop and house, this bed only gets part sun, with about four hours of direct sun reaching the right-hand side of the bed above in the summer. The left-hand edge gets just a couple of hours of direct sun in the late afternoon.

The main structural element here is the columnar Irish yew, which was planted to break up the corner of the workshop. White flowers look fantastic when surrounded by dark green foliage. The succession of flowers in this bed means each plant can be star of the show in its own time.
① White Willow Gentian
24in (60cm)
18in (45cm)
white
Sep
part shade
moist soil
bees
The white willow gentian (Gentiana asclepiadea 'Alba') is a plant of moist woodlands. It pushes up multiple two foot (60cm) long stems with narrow, pointed, willow-like leaves. In September it puts on a display of large white upward facing bell flowers, with speckled throats which bees love to visit. The downside is that it only flowers for two or three weeks.
② White Chryanthemum
24in (60cm)
18in (45cm)
white
Nov-Dec
part sun
average soil
cut flowers
Chrysanthemums are great autumn flowers, at their best in late October and November in my garden. The clump in this bed started out as two cheap florists pot 'mums that has been used as house decorations. After they had finished, I planted them outside where they have thrived for several years. Not all florist's mums are hardy, so I guess I got lucky! In the garden perennial chrysanthemums needs pinching out several times in the spring and summer to prevent tall, leggy plants. Pinching out the tips encourages branching, producing a more compact plant with more flowers. Even so mine have a tendency to flop over the path, so I use supports to keep them tidy. Such a large patch of flowers so late in the year is a real joy. One more tip: remove dead flowers quickly as they will rot in wet weather, quickly spoiling the look of the remaining flowers.
③ White Winter Heather
12in (30cm)
24in (60cm)
white
Dec-Apr
part sun
average soil
bees
My soil is neutral, so does not suit most heathers. Fortunately, the winter heather (Erica carnea), is lime tolerant. Winter heathers come in various colours, but E. carnea alba 'Whitehall' provided the good clear white that I wanted with dark green foliage suiting my theme. It flowers from December until March, covering the winter months once the other flowers in this bed have finished. Bees love this heather, as it provides nectar when little else is available. It is very hardy and unaffected by heavy frost or snow. The photos above were taken in February after two months of hard frosts. As you can see, mine has grown into a neat dome, one foot high and two feet across in five years (30 x 60cm). After flowering, I trim it over with shears to encourage bushy new growth.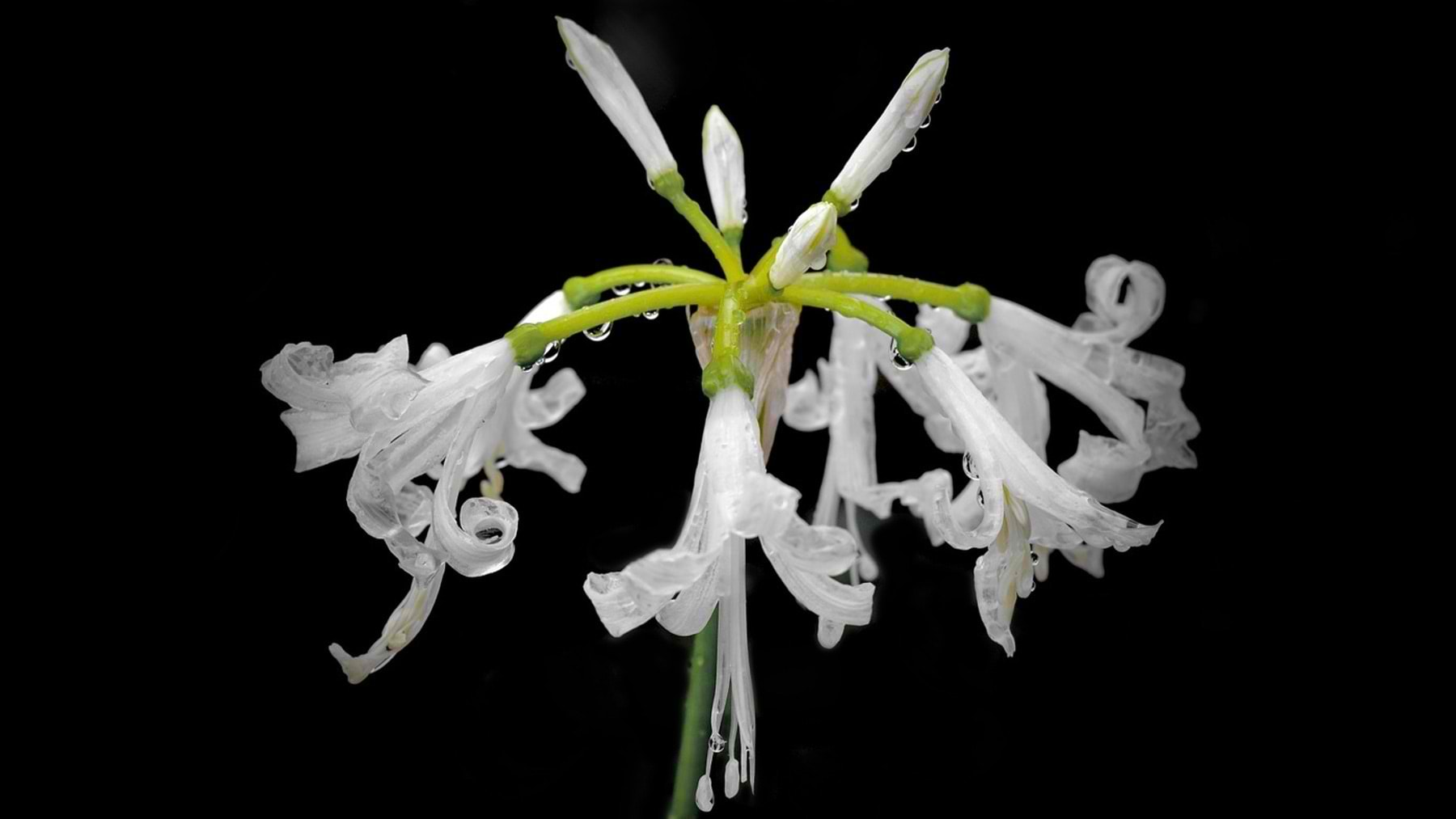 ④ White Nerines
16in (40cm)
6in (15cm)
white
Nov-Dec
full sun
dry soil
cut flowers
Nerine bowdenii 'Alba' is a hardy winter flowering lily relative (November to December). The photo above was taken in December: the frost has damaged the petals making them transparent! Nerines prefer a well drained soil in full sun. Mine have less than ideal conditions, being only in part sun and a cold clay-soil. Consequently, of a dozen I planted only two or three survived more than a year or two, but the ones that did have started bulking-up and creating more of a clump. As you can see I have planted them in the sunniest, most open spot. They have flowered here for at least four years running.
⑤ White Starflower
10in (25cm)
6in (15cm)
white
Feb-Apr
part sun
average soil
bees
This white starflower (Ipheion 'Alberto Castillo') is a great performer. Its main flowering period is in February and March, following on after the plants above have finished. I grow mine in a pot, as well as in the ground in other parts of the garden. It dies down completely in the summer, with new foliage emerging in late autumn. The foliage is a fresh bluish-green: lovely to see when other plants are dying down. One or two flowers begin to emerge in December. By early spring the plant is covered in 4cm wide flowers busily attended by pollen beetles and bees.