There is something particularly classy about white flowers when they grow in isolation from other colours, especially when set off by evergreens and foliage plants. Not only do they pick up the low sun so well, but in twilight or by moonshine they glow with a ghostly light.
Here, then, is a selection of stylish white flowers that are in bloom in my garden throughout autumn – a time when the garden can otherwise look rather forlorn. These gems can certainly lift the spirits as the nights draw in.
I have them in widely spaced clumps so that each is set off by the surrounding foliage and do not have to compete with each other. In my opinion white flowers are rarely complemented by other colours, so in this area of my garden there are only whites.
Dahlia
I have a clump of a large double flowered variety. The blooms are six inches across and make dramatic cut flowers. I like the spiral arrangement of their flamboyant scrolled petals. I also have a smaller variety with blooms a little over half that size which is much less interesting. They both flower throughout the summer and autumn. I hope to leave them in the ground over winter with a thick mulch to protect them.
Even when the sky is grey these flowers light up the garden. At certain times of the day the low sun catches the transparent petals making them glow from within. I particularly like this shot which is full of compelling detail. Click to view a full screen version.
Japanese Anemone
These classic flowers go on for weeks through September, October and into November. As they go over they scatter their petals around. The remaining bobble seed heads are interesting in their own right.
Most varieties of Japanese Anemone are mauves and pinks. A popular new variety is Aneomone 'White Swan', a white single with mauve reverse. However, I have Anemone x hybrida 'Honorine Jobert', a pure white variety which is angelic in its simplicity. Look it even has a little halo!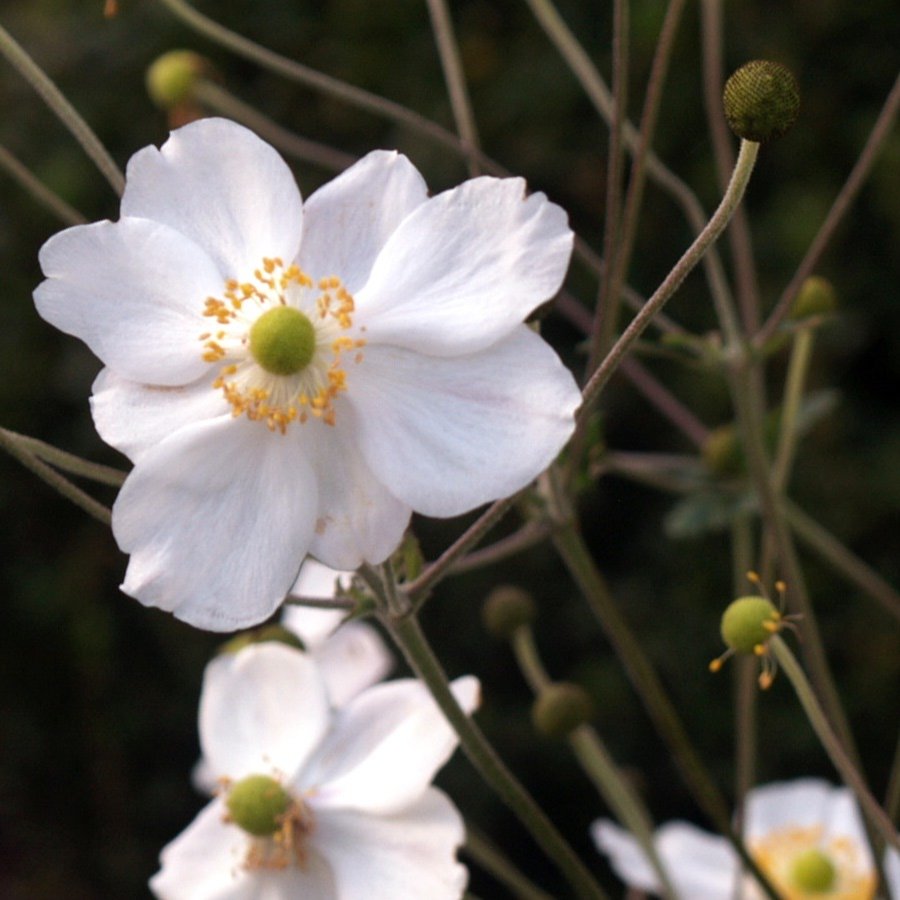 White Hardy Fuchsia
The common red variety of Fuchsia magellanica is something of a brute but this white variety is as delicate and restrained as ballerinas. Here are two of the girls dancing as slowly as Buddhist monks.
Despite being 'Alba' you can see the petticoats have just the faintest hint of pink about them.
White African Agapanthus
These flowered all summer, but then surprised us by pushing up two smaller heads at the last minute. I don't think this is really reliable though, as three other pots (blue and white Africanus varieties) finished flowering in September, so can't truly be classed as autumn flowering – I guess I was just lucky. Their are smaller hybrid Agapanthus varieties which flower reliably until the end of October. Personally, I don't like their flowers quite as much.
I grow my africanus in large pots that can be barrowed into the greenhouse for the winter. Despite not being entirely hardy, they are otherwise undemanding plants. Like many of the plants in this list, Agapanthus comes from South Africa.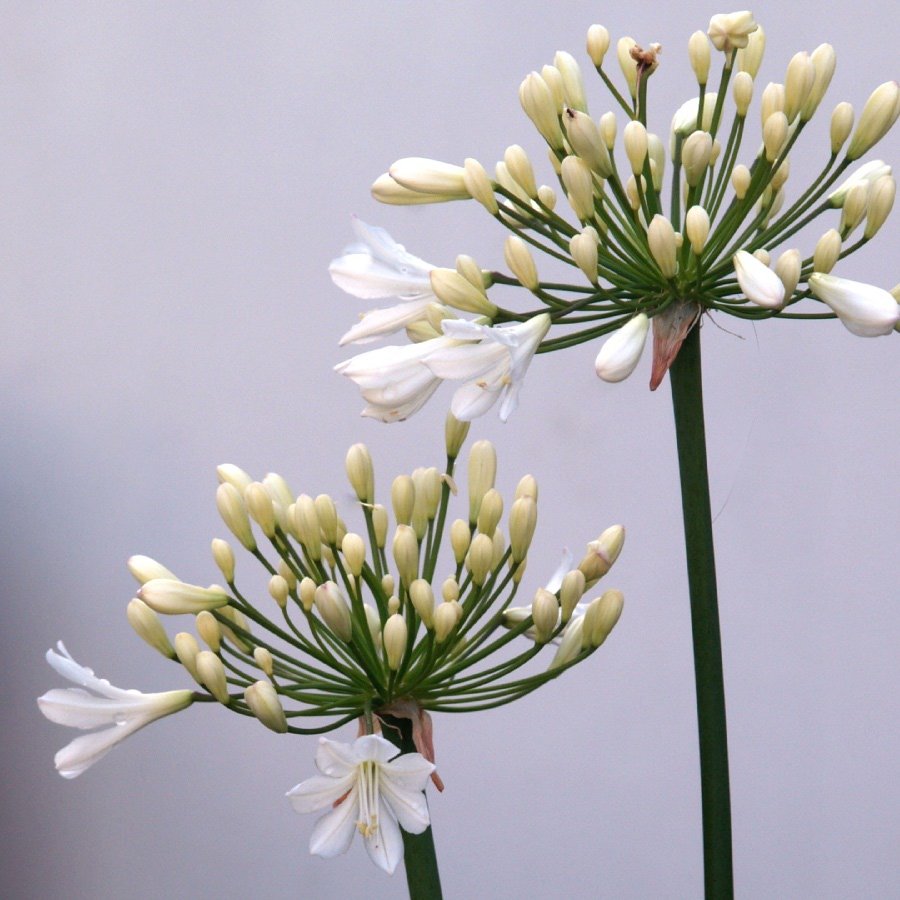 White Kaffir Lily
Our second South African plant: Hesperantha coccinea (syn Schizostylis coccinea) or Kaffir Lily comes in all shades of pink: crimson, candy and baby pink (my names!). However the white version is a thing apart: Its flowers are carried on stems reminiscent of gladioli or orchids. Their pendulous nature means they face the ground somewhat, but they are good for cutting, and in a vase you can really admire them.
Water Hawthorne
Although the white lilies in my pond stopped flowering at the end of summer the water hawthorn (Aponogeton distachyos) has just come back into flower and will continue as long as the weather stays mild. The flowers look like something from the tropics, but are in fact South African. They are fully hardy in British winters if their rhizomes are planted in deep water. Their flowers are only a couple of inches across, but are worth getting up close to, not only to better admire their unusual shape, but to inhale their musty sweet fragrance.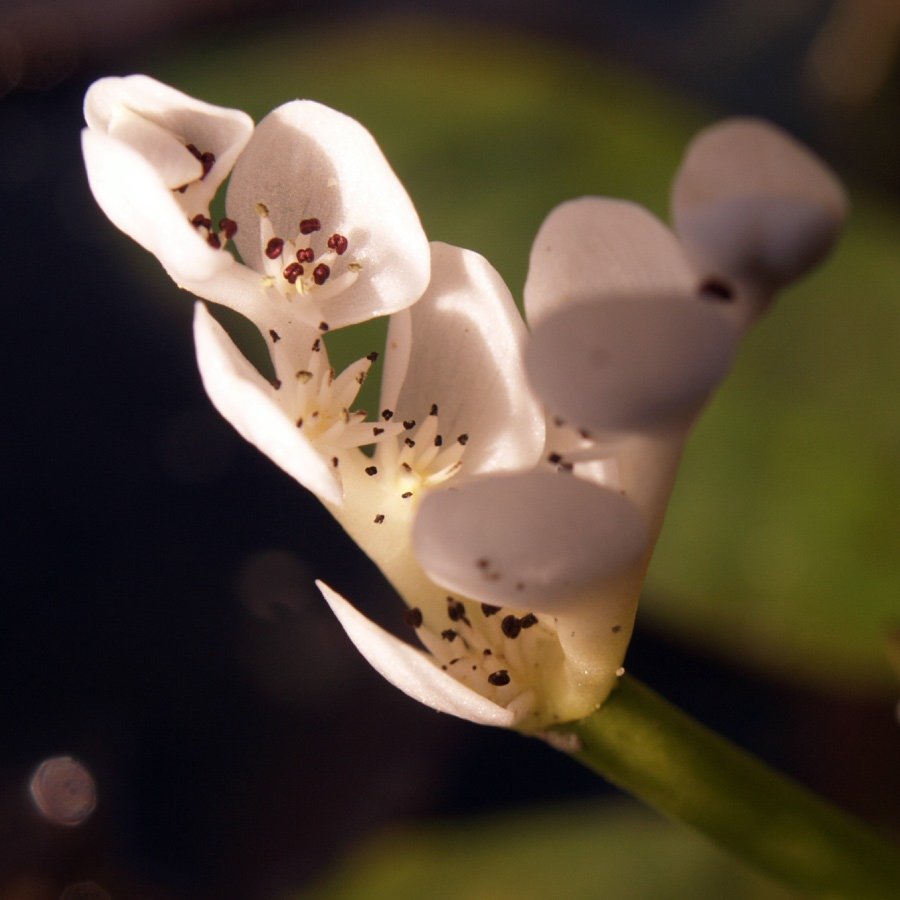 White Guernsey Lily
The last in this list is also the last to flower in my garden. Most of the above shots were taken in October, but I had to wait until mid November for the Guernsey Lilies (Nerine bowdenii 'Alba') to open. This is a South African bulb related to Amaryllis. I particularly like their twisted, reflexed petals.
Nerines like being planted shallowly and flower best when crowded; soil should be poor or at least not too rich: I have seen them growing very happily in shallow terracotta bowls. I got my plants from Beth Chatto Gardens earlier this year, so they have not had time to bulk up and become congested, However, they managed a couple of flowers this year and hopefully will continue to increase and create a good large clump with dozens of stems – then I can bring some in as cut flowers!
Most commonly Nerines are seen in shades of vivid pink – striking, certainly, even exciting but amongst the muted colours of a typical English autumn landscape they can verge on alarming. The white variety on the other hand has a ghostly presence that suits the frosty mornings and still cobwebby air of November days. 'Alba' is often hard to come by, and when you do find it the plants seem a little more delicate than their lip-stick coloured sisters.
Flowering times in my garden
I hope you have found some inspiration for your own garden here. If so, let me know your thoughts below.