In the second part of this photo review I focus on the late-summer planting in my mediterranean-style raised-bed garden; Hopefully, you will find some ideas to inspire your own garden design.
Missed Part 1 – Early Summer? You can read it here…
The pond garden
September 2021
1 Beginning of summer's end
By the end of August many of the summer flowering plants like iris, alliums, salvias, hyssop and lavender, have gone over and their seed heads begin to give the garden an end of summer feel. Some, such as the salvias, were cut back in August and will flower again in September or October, but there are still many plants that are just coming into their own, as you can see from the splashes of colour in the photo above. By incorporating many late-flowering plants the garden can continue to produce flowers and attract pollinators right up until the first frosts or beyond. Another factor that I will explore in this post is the use of evergreens to provide continuity and interest when the herbaceous plants have finished.
2 ▲ Late-season planting
This pink and purple scheme is in flower from August until October. In the background a large clump of purple-leaved Dahlia 'Melody Harmony'. Top-right, Rosa 'Desdemona'; Centre-left, Ruddy clover (Trifolium Rubens); Bottom-right, bedding verbena and leaves of common sage (salvia officinalis)
3 ▶ Purples and blues
Looking East across the lower end of the pond: Purples dominate the scene in September. In the background blue spires of the chaste tree (Vitex agnus castus). In the foreground, Verbena rigid 'Santos purple'
4 ▼ Late flowering perennials
As the season progresses new areas take on prominence. In the group below you can see the rounded flower heads of Allium senescens glauca; little violet spires of Verbena rigid 'Santos Purple' and the ruby reds of Sedum 'Plum Dazzled'.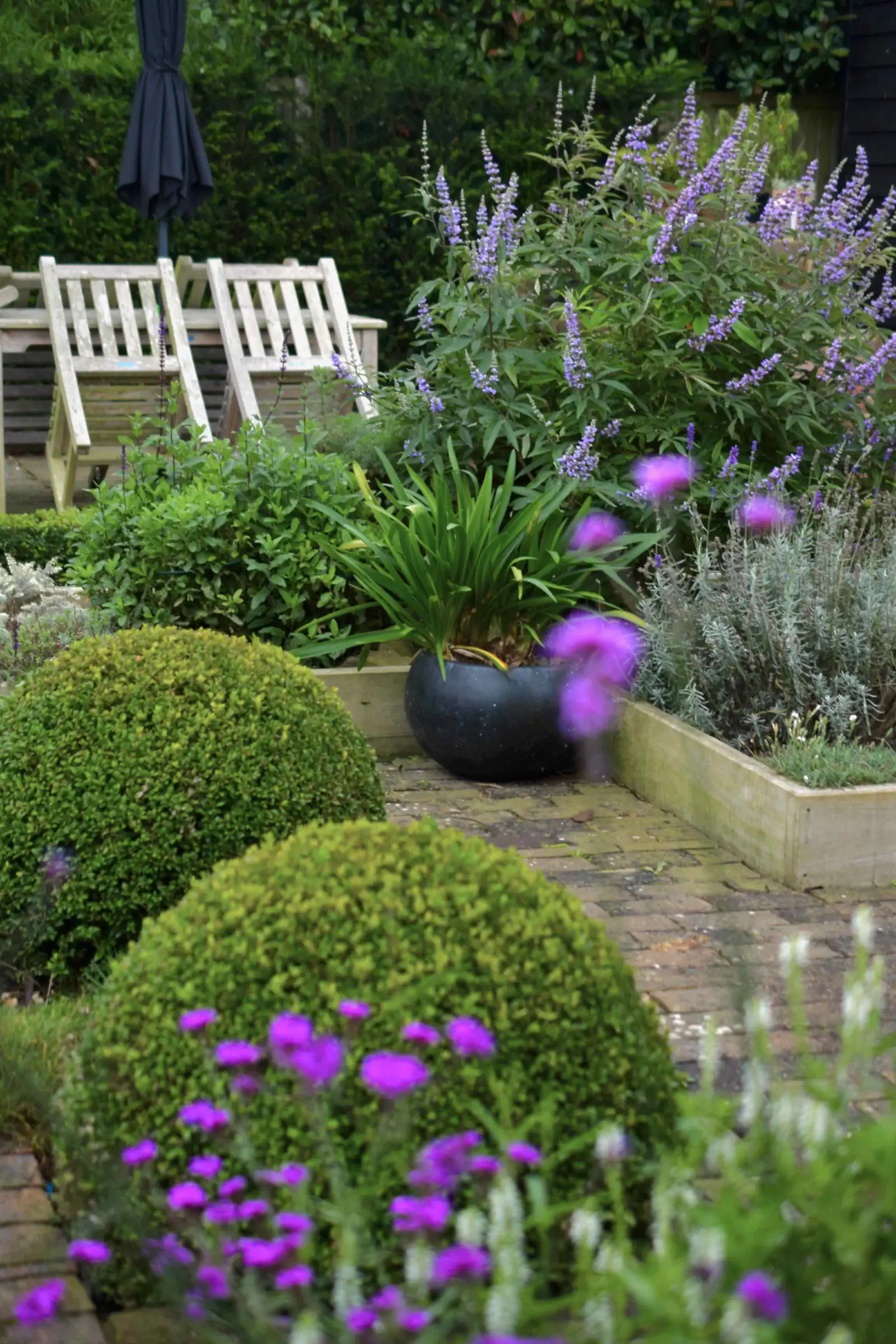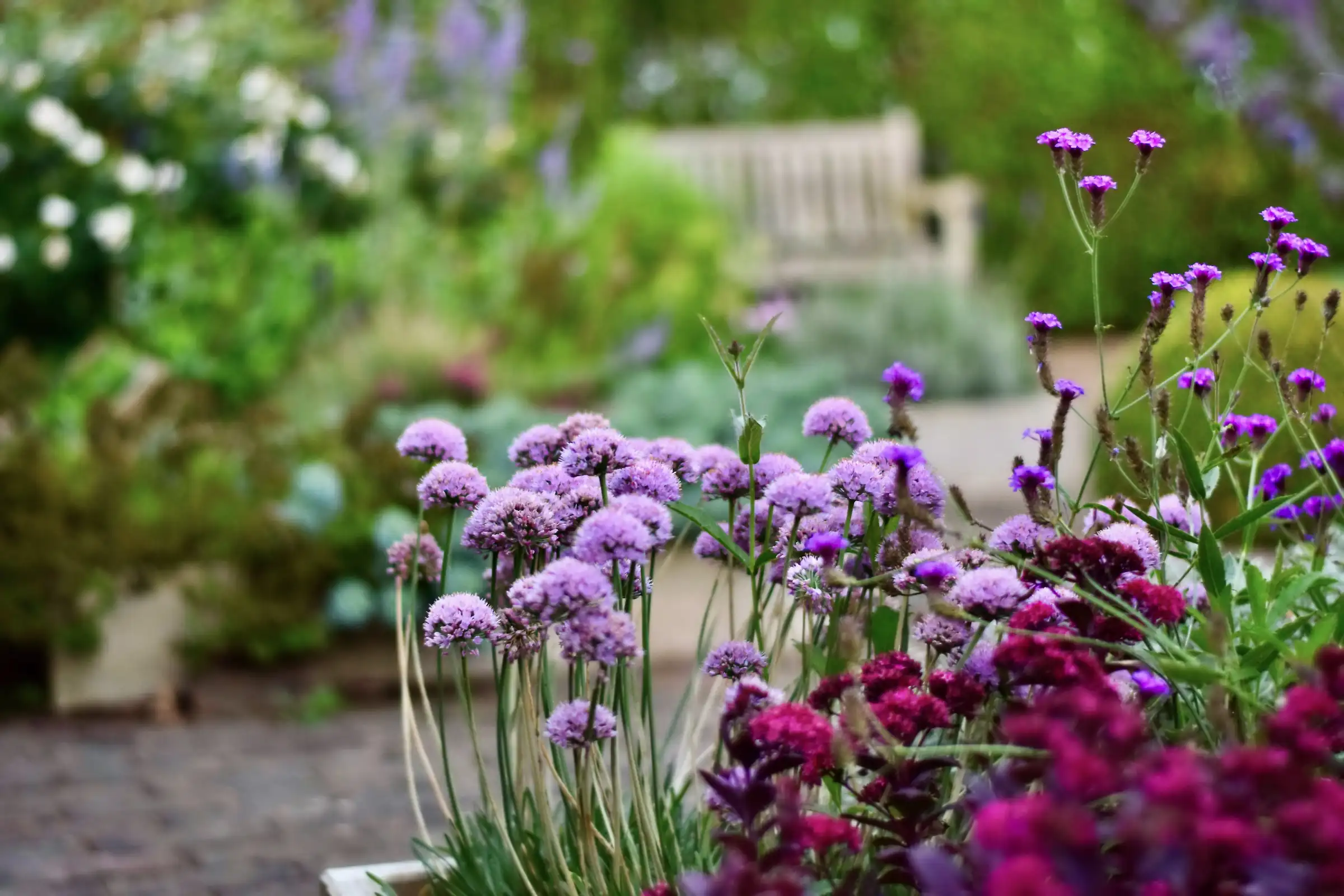 "Through careful choice of plants, flowering can be extended through late summer and well into autumn"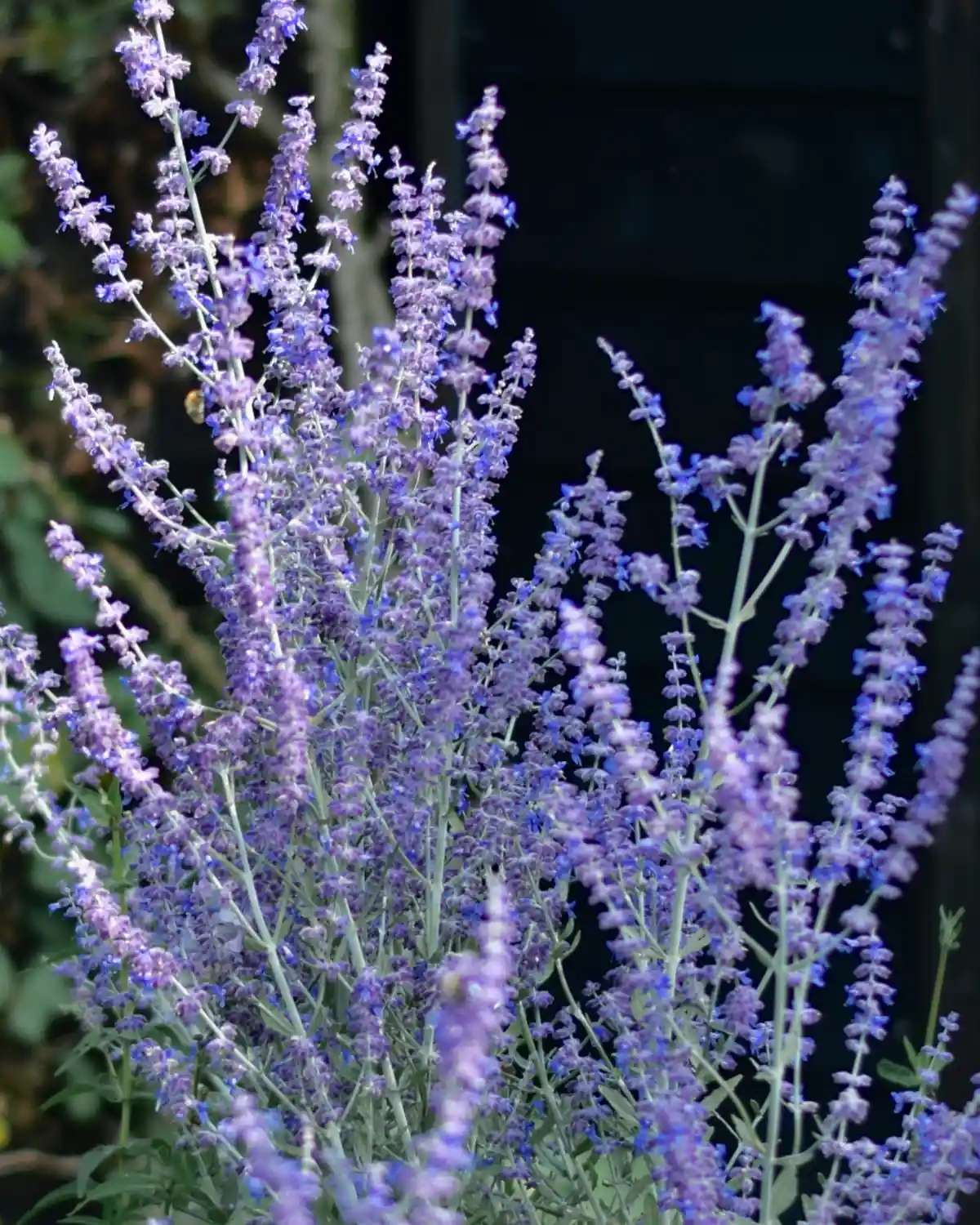 5 Late Summer Stars
Clockwise from top-left: Allium senescens subsp. glaucum; Perovskia atriplicifolia 'Little Spire'; Artemisia alba 'Canescens'; Vitex agnus-castus; Rosa 'Carefree days'; Penstemon Pensham 'Plum Jerkum'; Scabious 'Kudo pink'; Fuchsia 'Hawkshead'.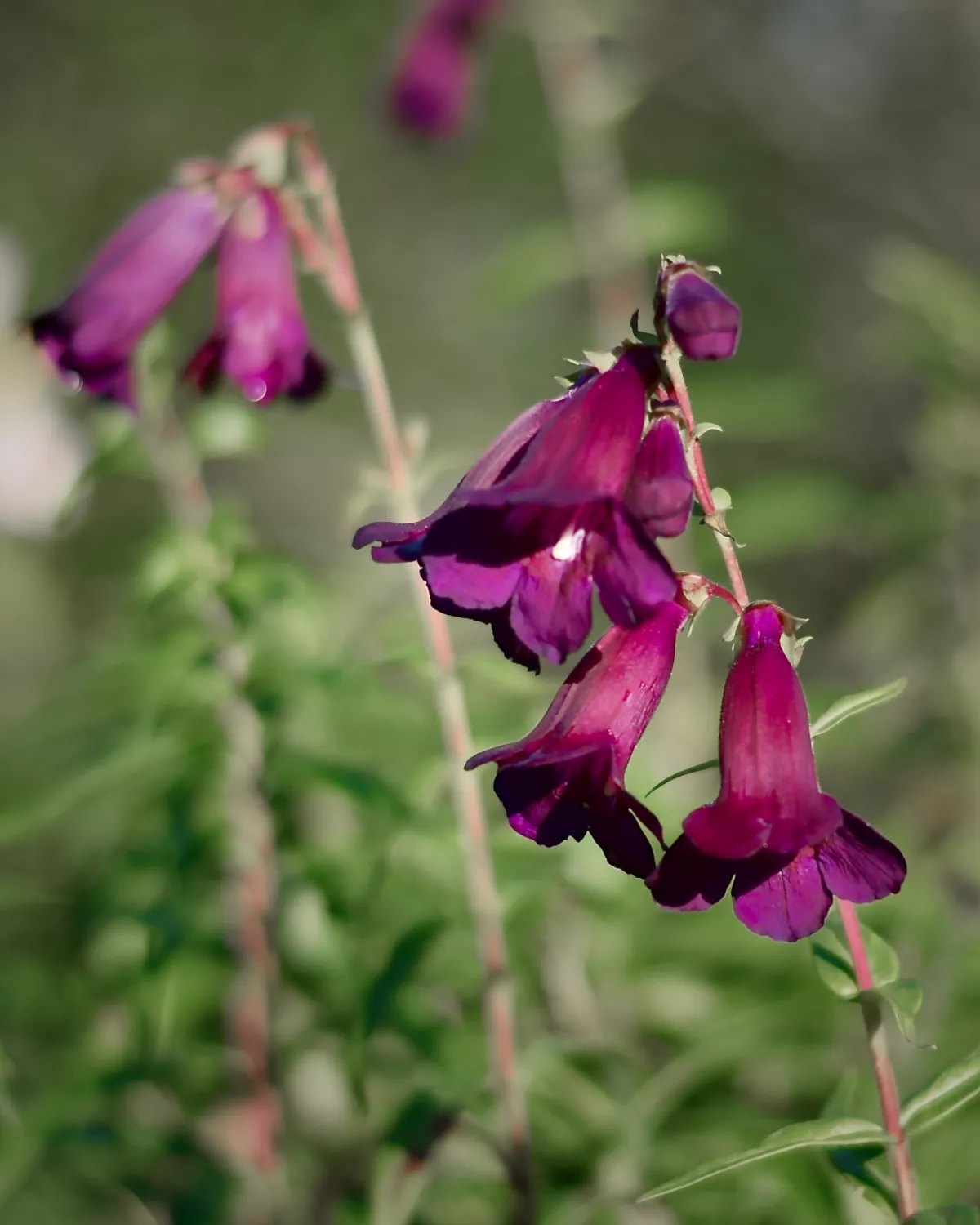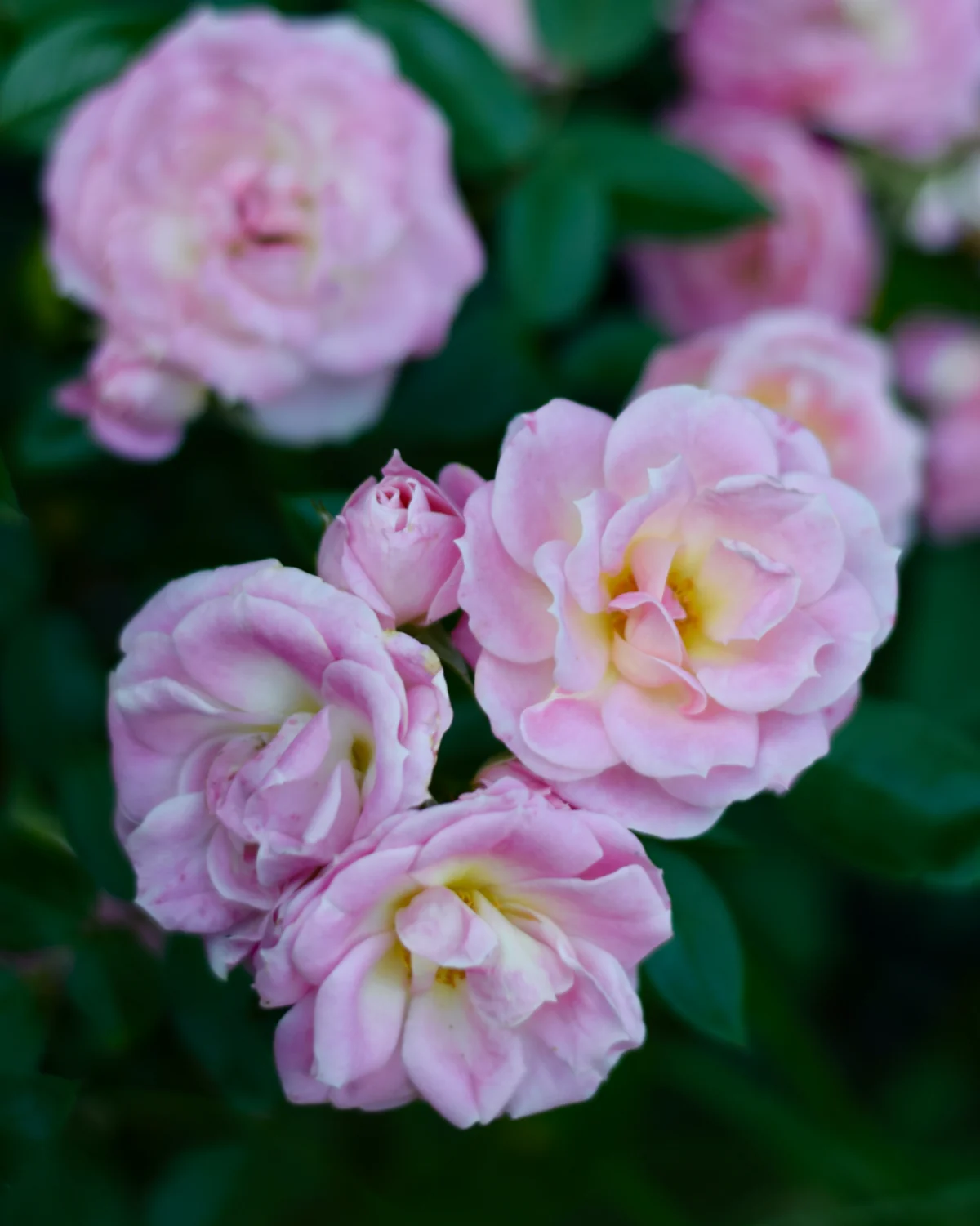 6 South-west bed
This bed is one of two which were only planted this year. Here is a pleasant late-flowering planting of a dwarf Sedum, with silver Artemisia schmidtiana 'Nana' and Snow-in-summer (Cerastium tomentosum).The white daisy is Rhodanthemum hosmariense.
7 Sedum 'Strawberries and Cream'
Beautiful creamy flowers with russet foliage. Loved by pollinators. Flowers in August and September, 60cm.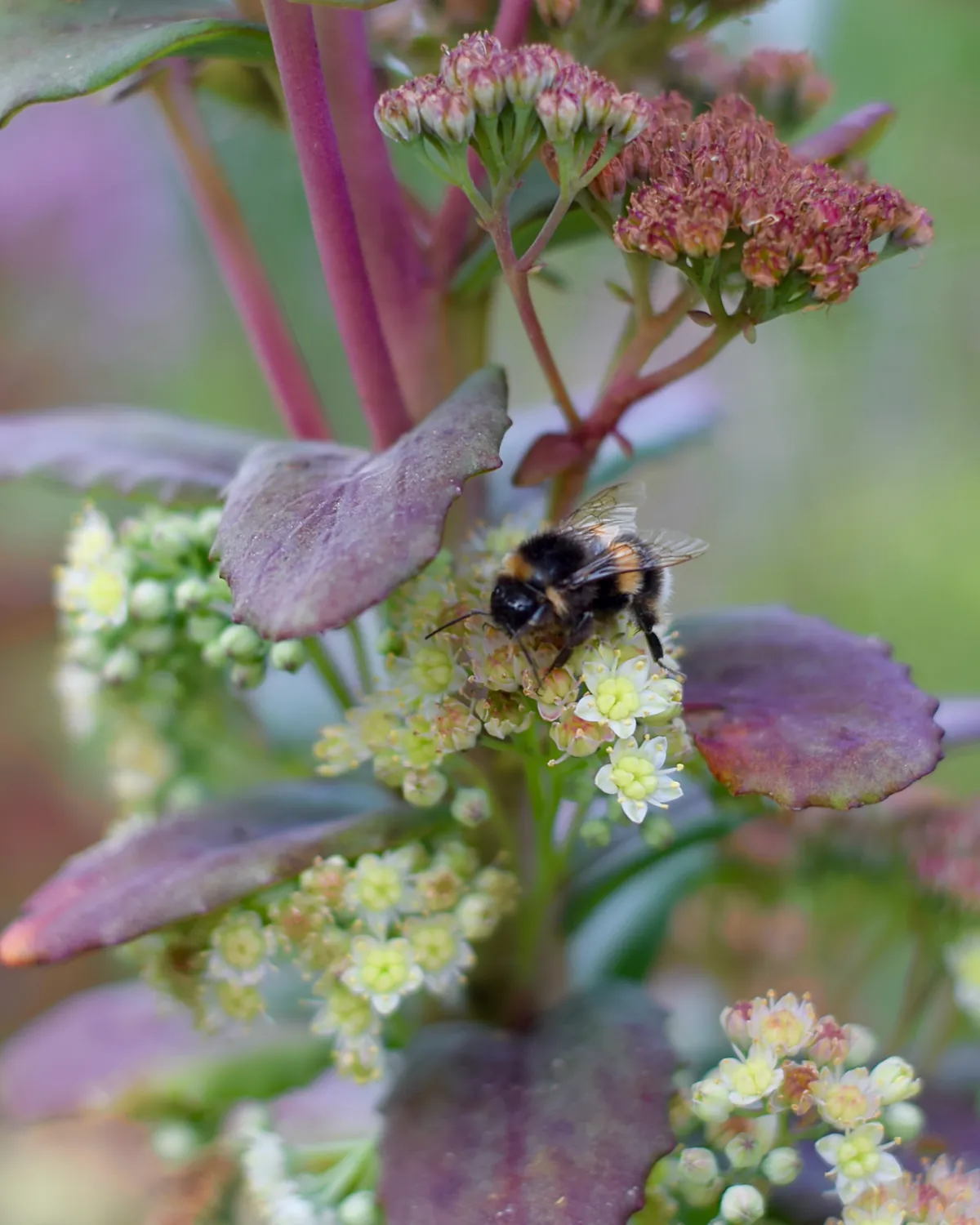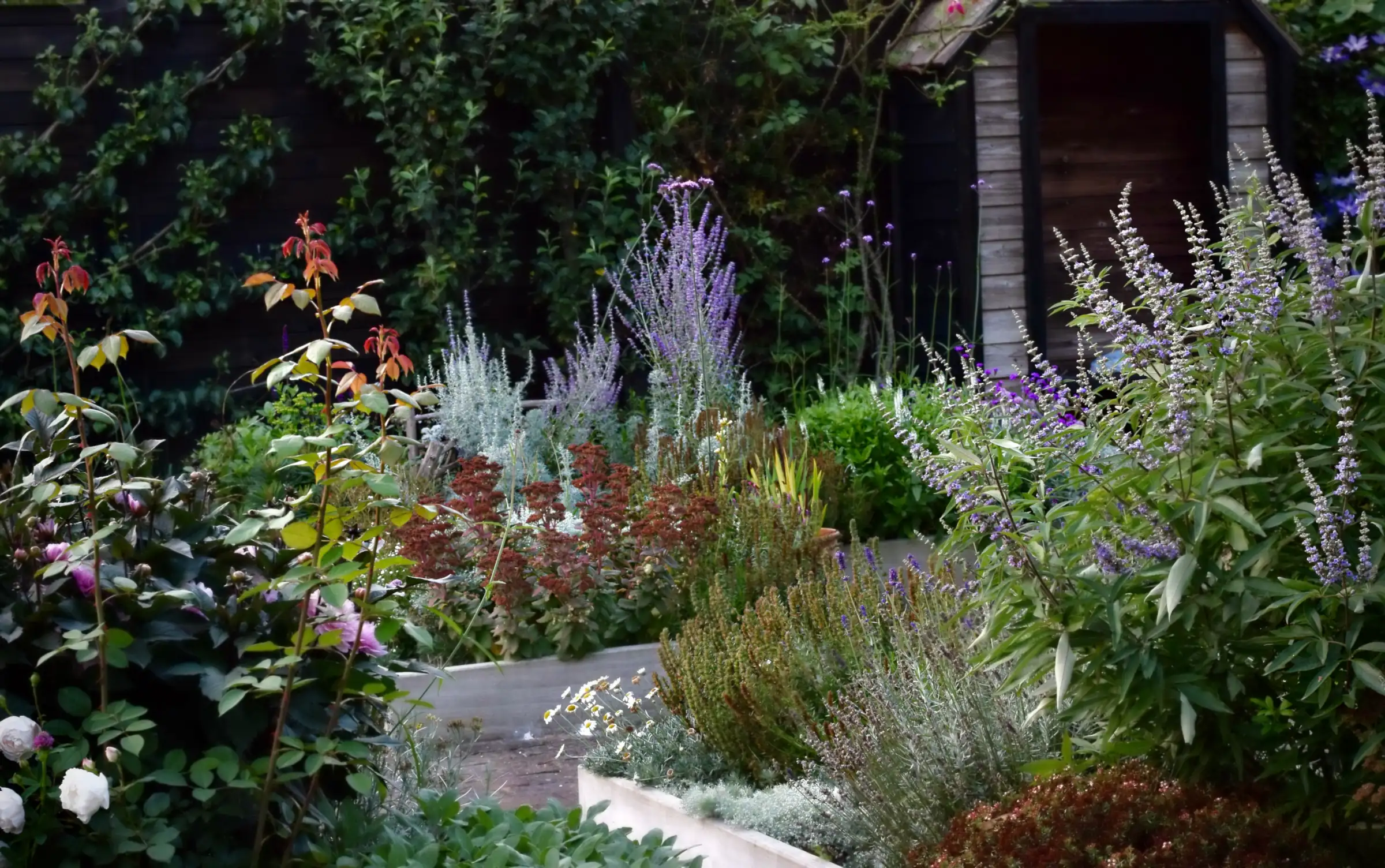 September 12th 2021
8 ▲ Seed heads of earlier flowering perennials merge happily with late-summer flowering plants to produce a distinct seasonal vibe.
THE LATE SUMMER GARDEN
9 ▼ South-East Corner
Looking along one of the paths towards the garden sink and brick barbecue. The raised bed to the right is newly planted. In the background tall foliage of Rosa 'Desdemona' rises above a large clump of magenta-tinged Dahlia 'Melody Harmony'. Back left: foliage of common sage; In the front of the bed purple society garlic. The left-hand bed is dominated by a large bush of Vitex agnus-castus.
September 26th 2021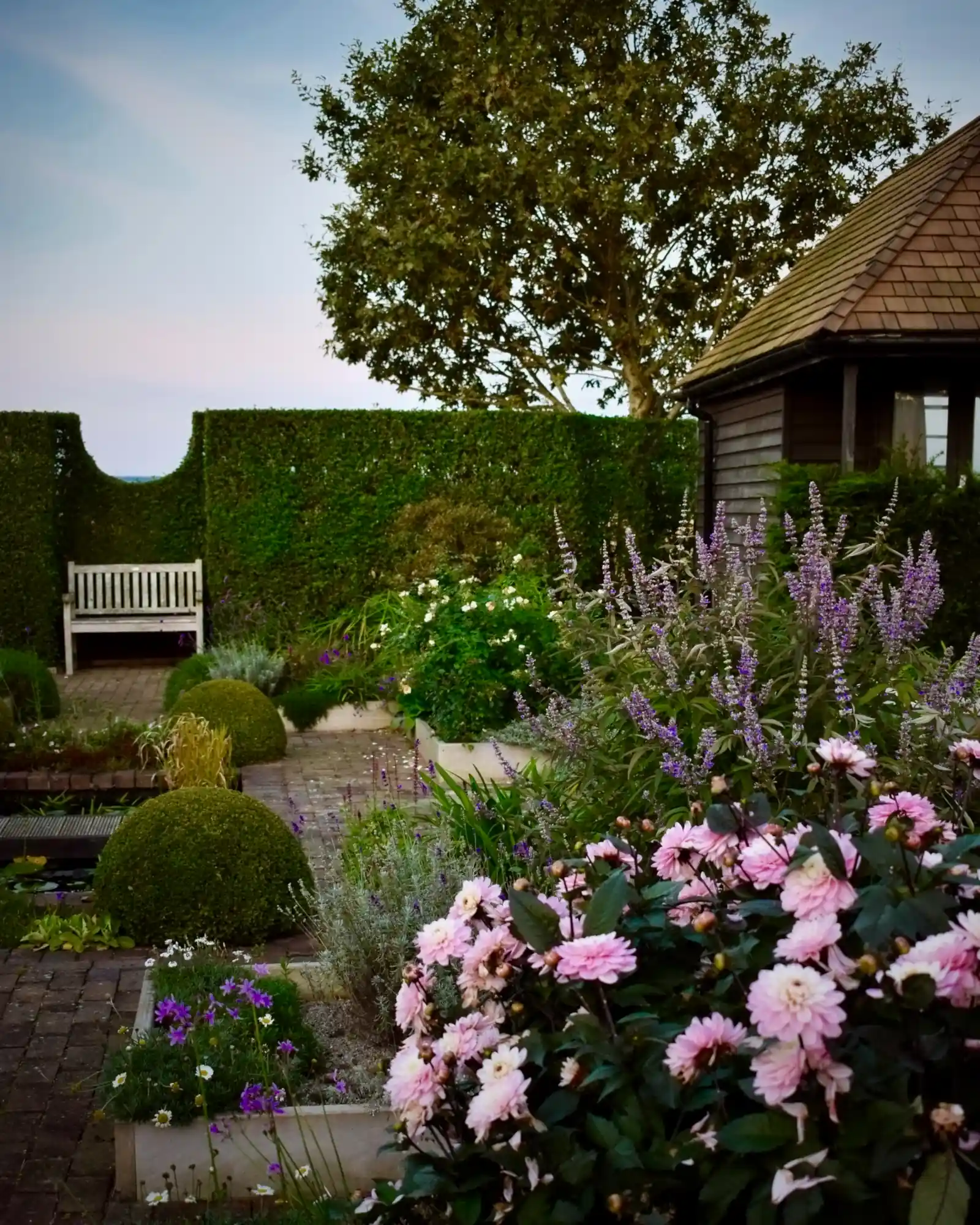 October 10th 2021
10 ◀ October border
Despite autumn being in full swing there are still plenty of flowers in mid-October. Most notably pink Dahlia 'Melody harmony' and blue spires of Vitex agnus-castus, as well as violet tulbergia violacia. At the far end white roses continue to open on Rosa 'Kew Gardens' and 'Jacqueline du Pré'.
11 ▼ Tulbaghia violacea
This wonderful bulbous perennial flowers non-stop through late spring until the end of autumn. Subtle and refined on tall stems.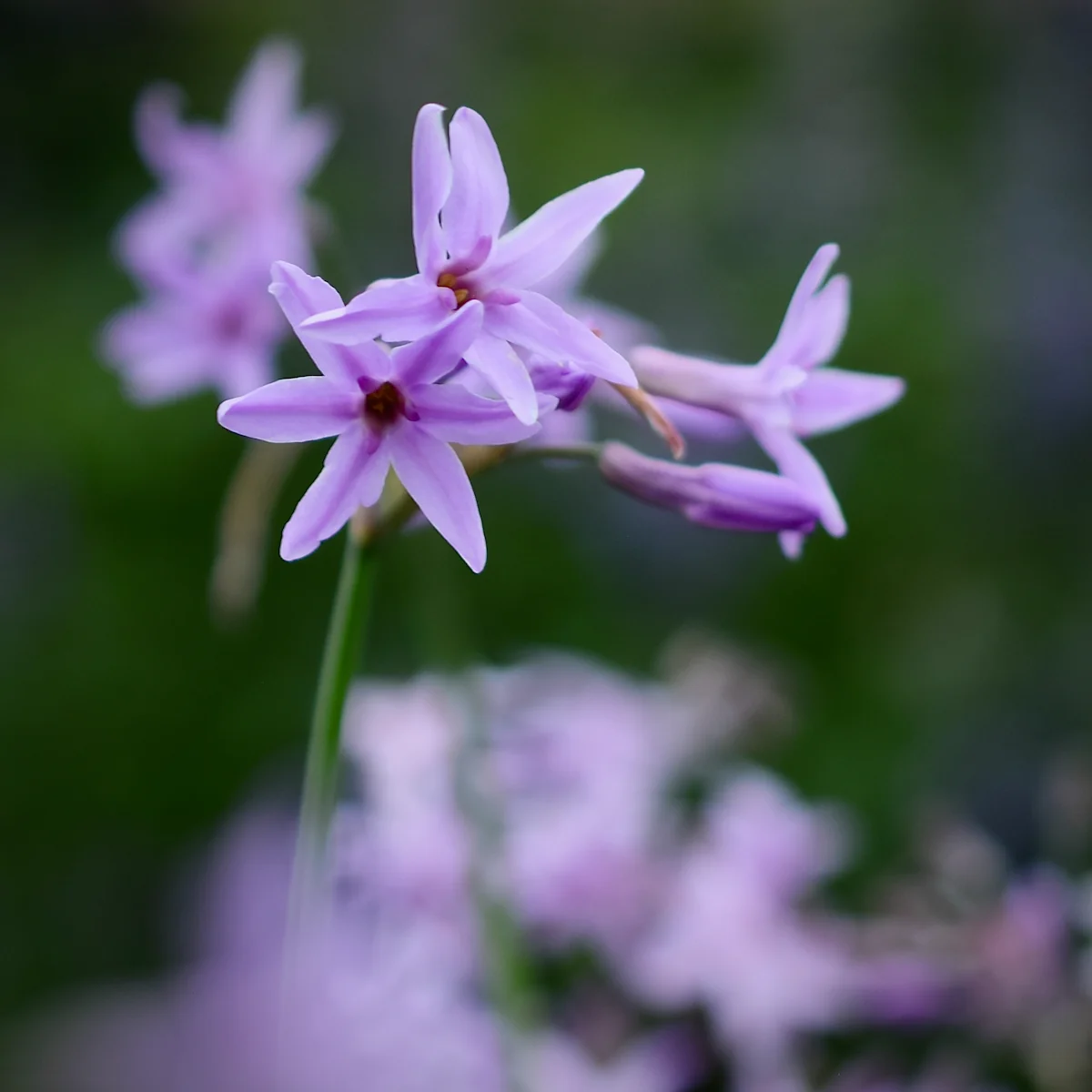 12 ◀ Blue-eyed grass (Sisyrinchium angustifolium)
A lovely little grassy alpine that flowers on and off all summer. Delightful in sunny spots.
13 ▶ Sea Thrift (Armeria marítima)
Self-sown clumps thriving in my path. They flowered throughout summer and early autumn.
14 Knautia macedonica
This vigorous scabious flowers its heart out from May right up until Autumn's heavy frosts. (Nov 2021)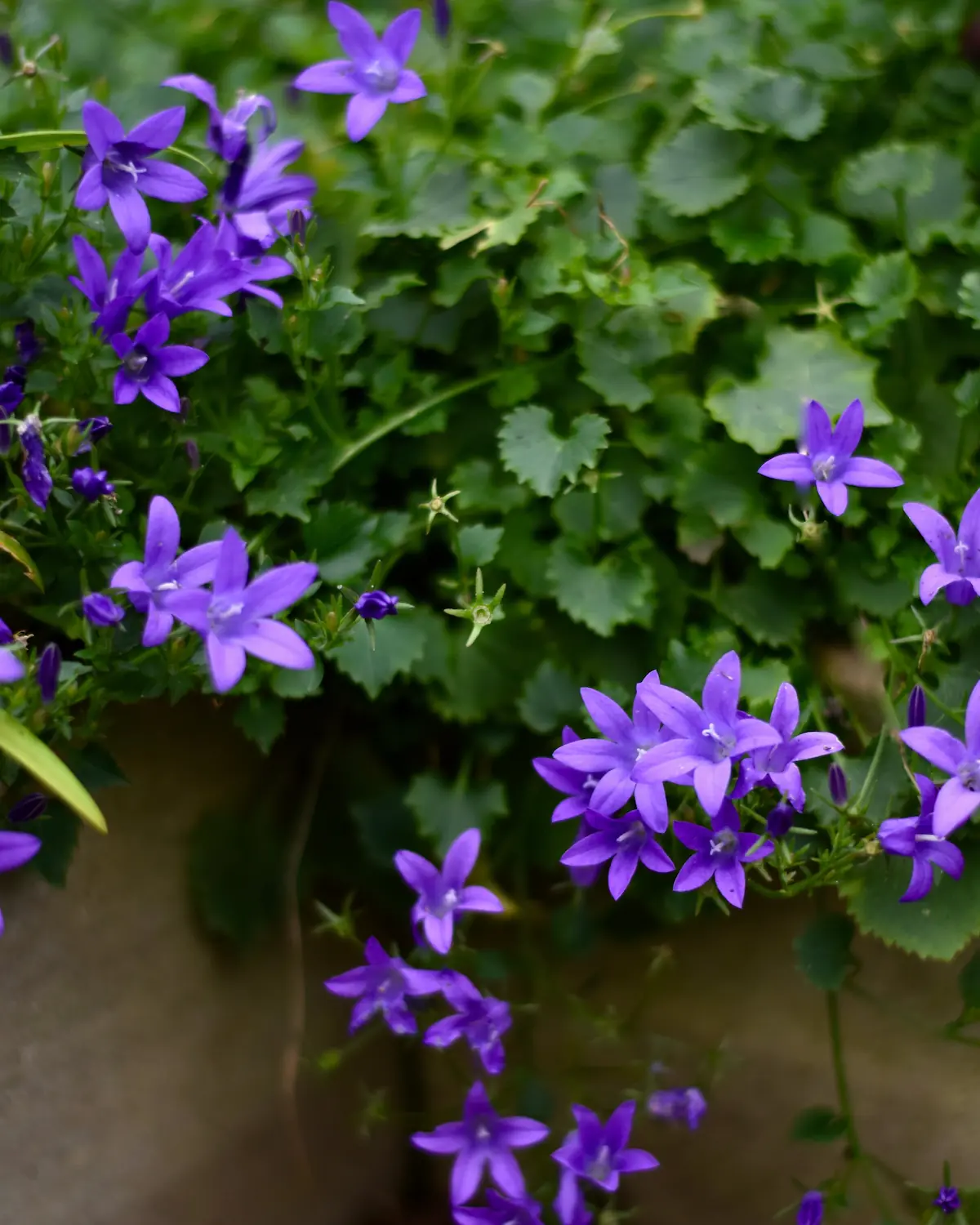 15 Campanula porten­schlagiana
This feisty bellflower has its first flush in early summer, but returns after a few weeks rest to flower from September onwards. (Nov 2021)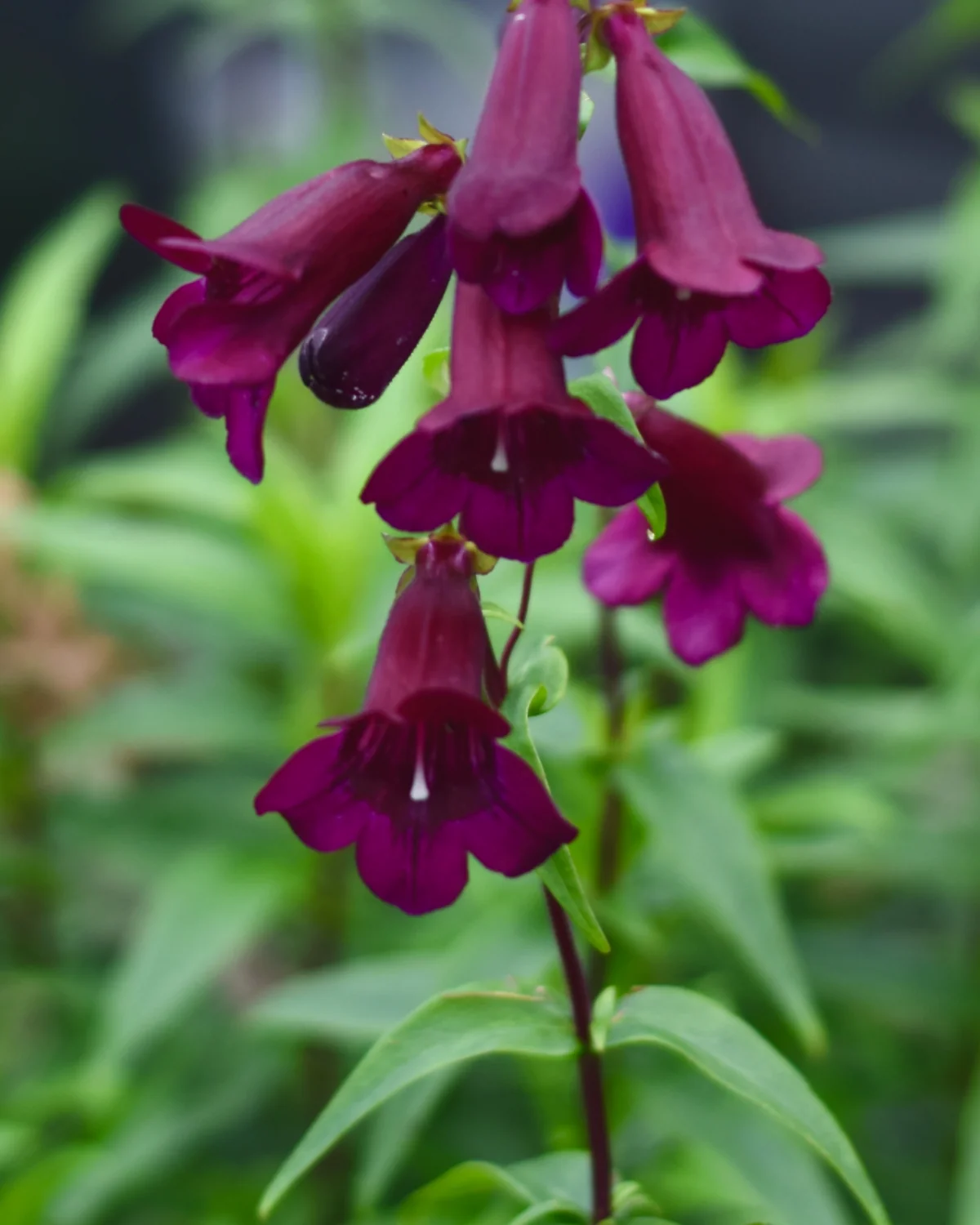 16 Penstemon 'Plum Jerkum'
Many penstemons will flower until the frosts stop them. This wonderful upright variety is deep plum red. (Nov 2021)
17 Dahlia 'Melody harmony'
Dahlias come in many forms and colours, and all flower reliably from late summer onwards.I prefer dwarf varieties that can be fitted in between ordinary perennials. Melody Harmony was an experiment, and a bit too large. Next year I will pinch out the shoots to create shorter stems.(Nov 2021)
18 ▼ Rosa 'Jacqueline du Pré'
Many repeat flowering roses continue flowering right into December, opening new buds on mild days. (Nov 2021)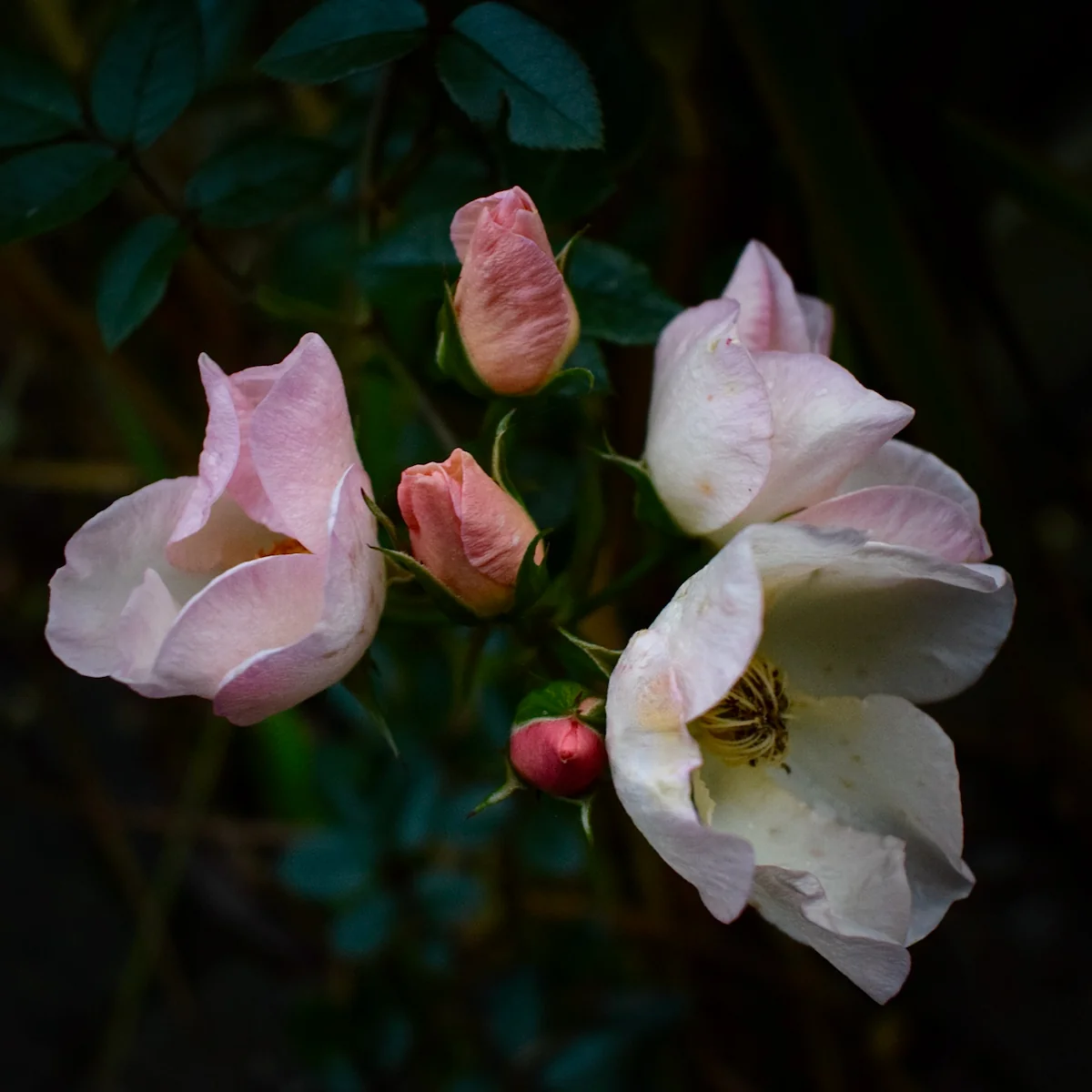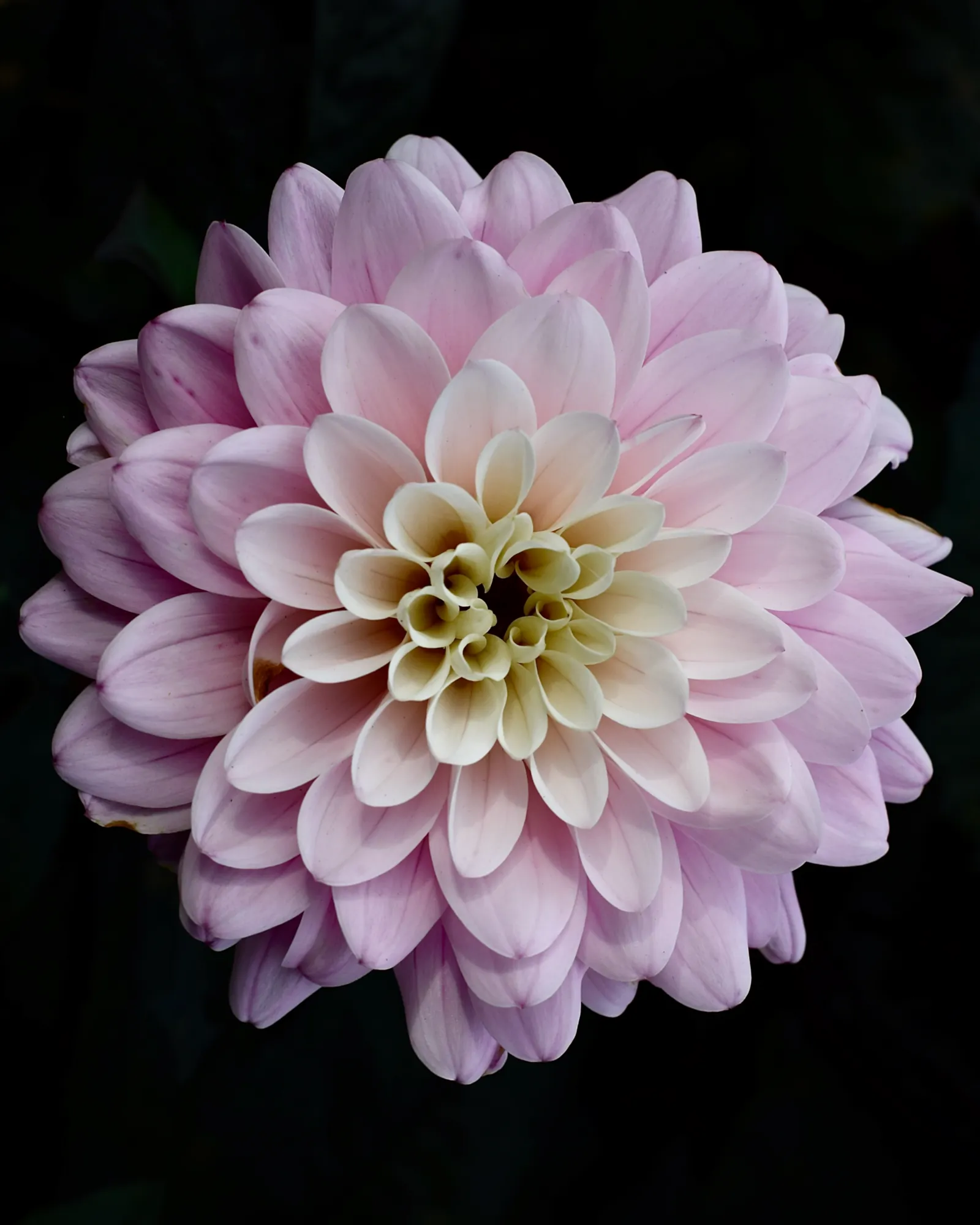 November 26th 2021
19 ▲ Autumn with evergreens
(Looking East) Although many plants have faded or taken on autumn tints, the composition is held together by the strong evergreen structure: The clipped box, hedge and the Euphorbia (which unaccountably decided to flower again!) provide a permanent backdrop for the dying perennials. Despite the frosts some of the roses, campanula and Spanish lavender struggle on providing points of interest.
20 ▼ Autumn texture
Textural evergreens such as this Euphorbia myrsinites provide foliage colour and strong architectural form, contrasting with the Sedum 'Plum dazzled' behind.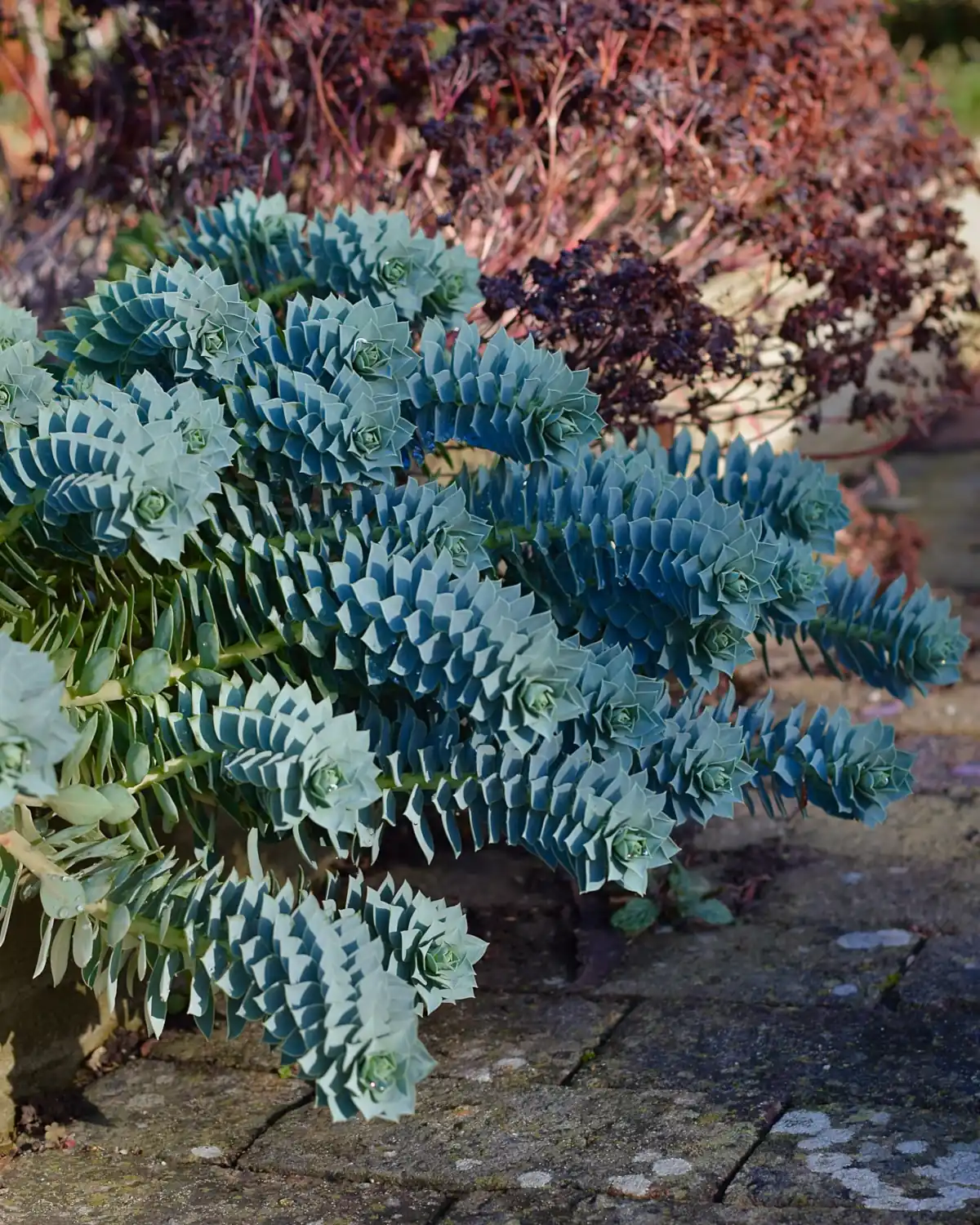 21 ▲ Sedum seed heads
The dried stems and seed heads of sedum 'Strawberries and Cream' are as fascinating and colourful in death as they were in life. They can be left standing until February.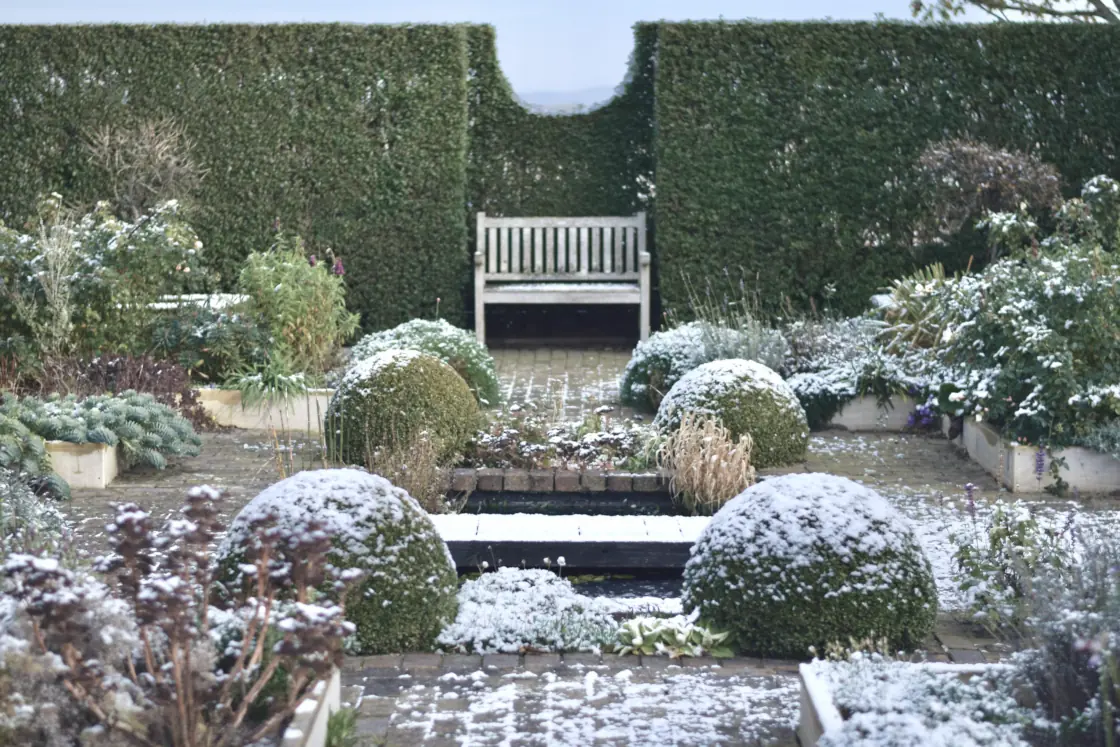 November 29th 2021
22 ▲ Frosts bring growth to a halt
The strong underlying structure of the garden helps it remain attractive when winter frosts hold the garden in suspended animation.
23 ▼ Winter
On mild days in December and January there were still signs of life, with penstemons and roses trying to open one last bloom.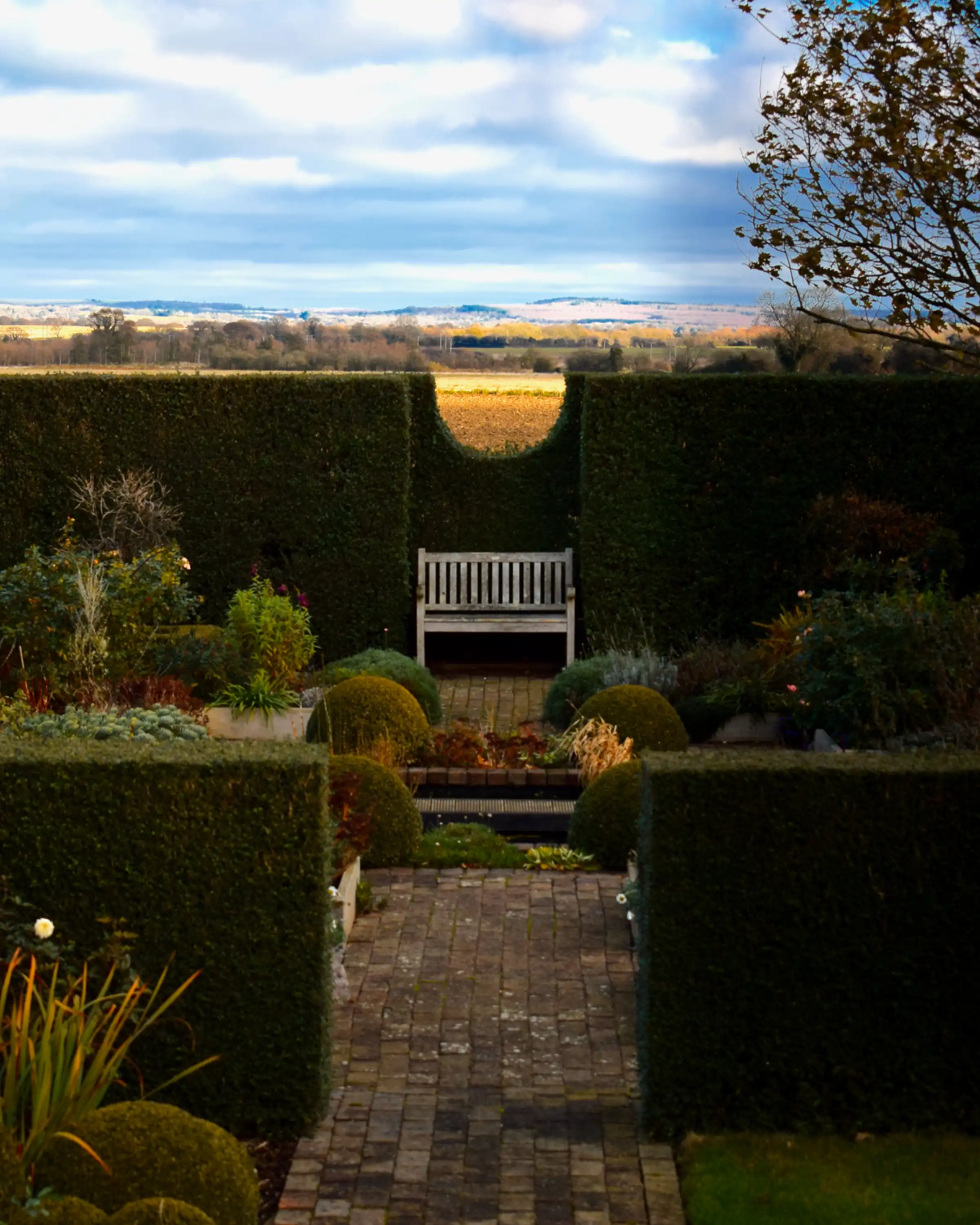 View of the Sussex countryside
over the Pond Garden
December 5th 2021
---
more about the pond garden