A photo showcase of my recently redesigned mediterranean-inspired raised-bed garden; Packed with planting ideas to inspire your own gardening adventures.
The photo above shows part of my Pond Garden at its high point in the summer of 2021. The area had previously been a vegetable garden, but in 2019, I renovated the beds and planted them with a range of summer flowering perennials, bulbs and alpines. In this post I am reflecting on how successful the planting design has been.
The main aims of the New Pond Garden planting design were (1) to attract pollinators to the garden – see post about my garden insects here, and (2) to create a beautiful flower-filled Mediterranean-style planting focused on early and late summer. How successful has the planting design been? I'll leave you to judge from the photos below…
Part 1 – Early Summer (May-July)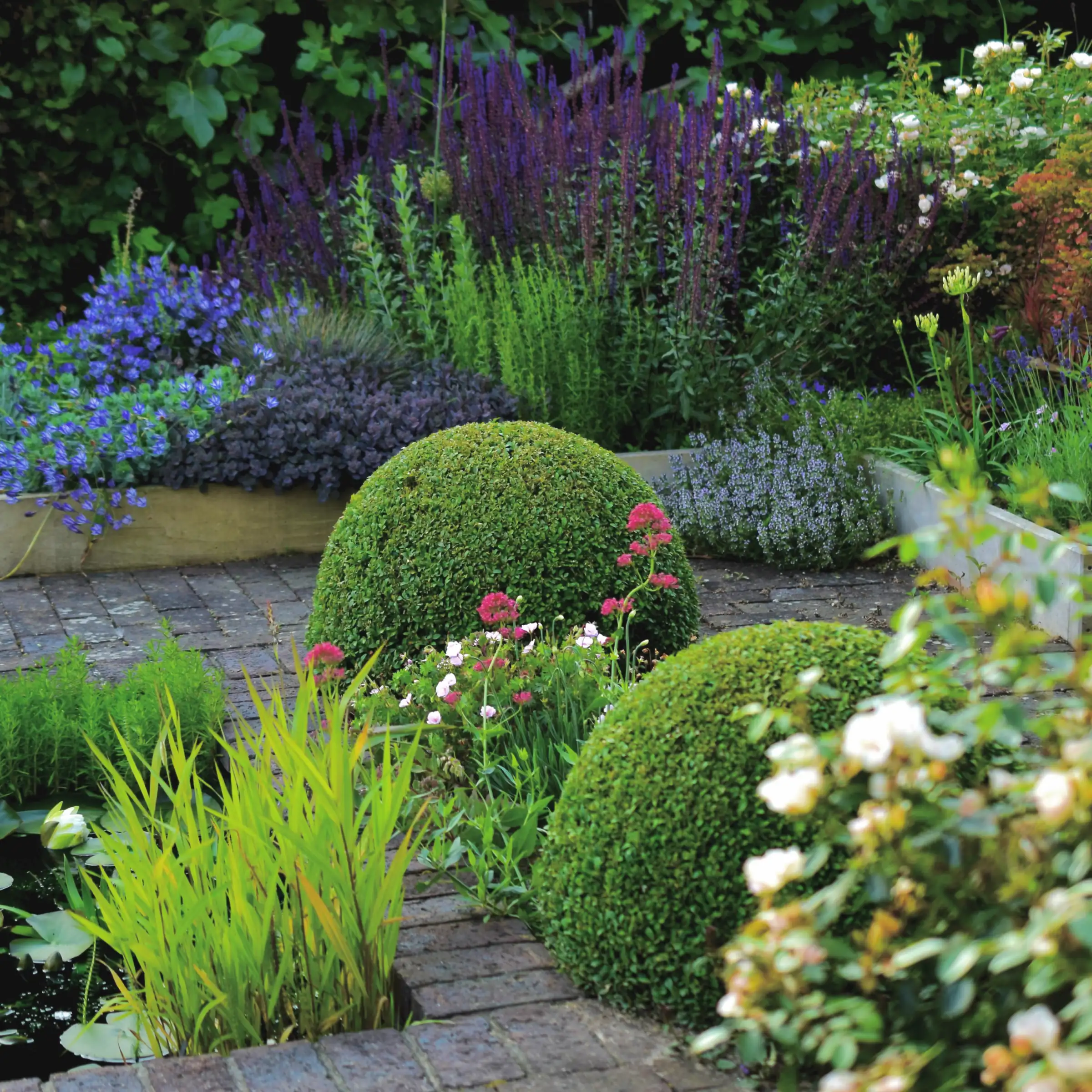 1 The North Corner
I am very pleased with this part of the design. It has an inviting and relaxed beauty. The clipped box balls provide solidity and set off the softer surrounding planting. The backdrop is a fig tree trained on a fence. The far bed contains (left to right): blue triteleia 'Rudy', purple foliage of Sedum 'Plum Dazzled', purple spires of Salvia 'Caradonna' with white flowers ofThymus 'Silver Posie' at its feet. To the right (back and front) the white shrub rose 'Jaquelin du Pre' flowers all summer. In the central bed, red centranthus rubra rises amid pale pink geranium sanguinium striatum. In the pond golden garter grass, water mint and white water lily 'Gonnere'. July 2021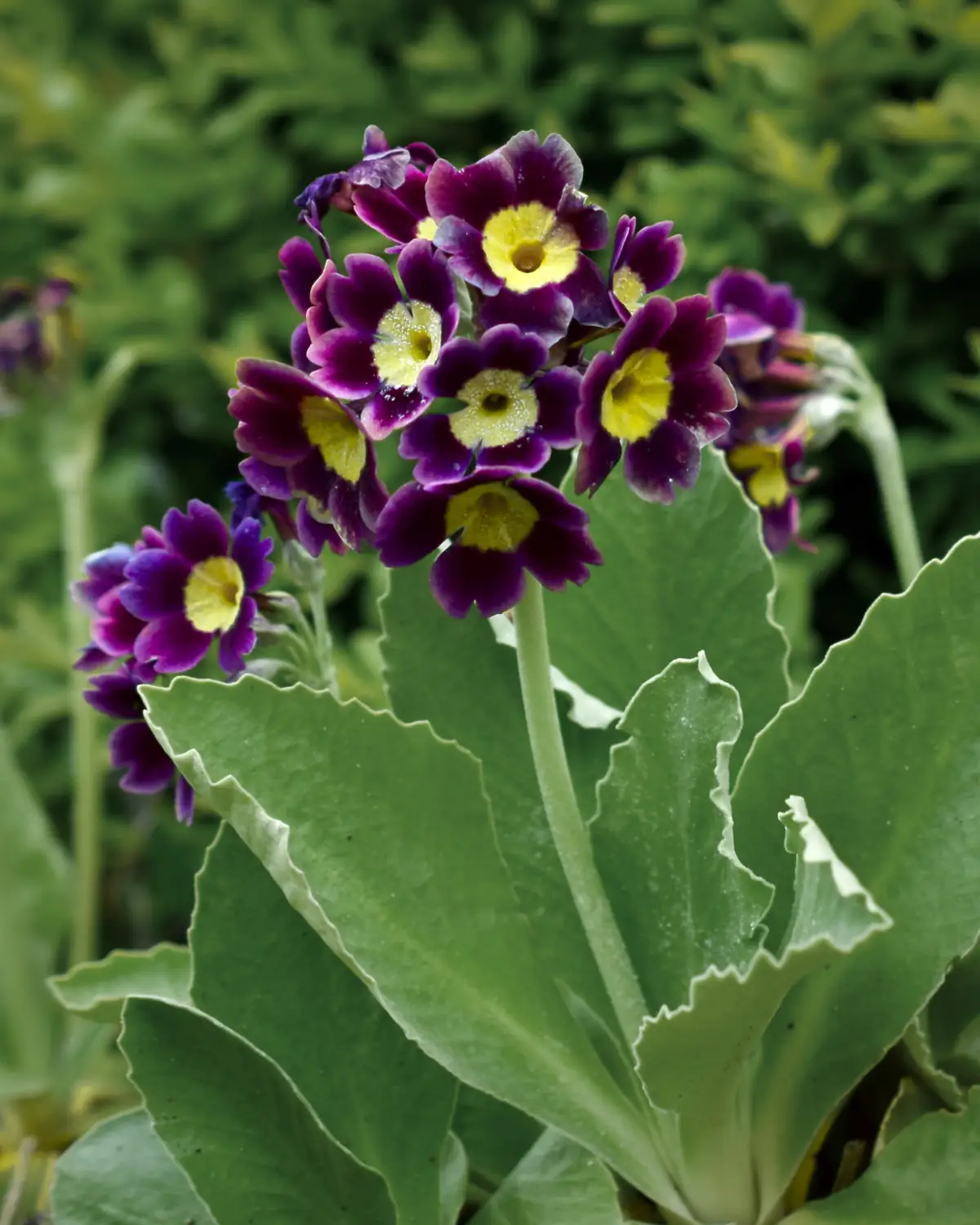 2 Primula Auricula
For over a decade a small colony of this colourful primula has flowered in the little bed next to my pond. Ideally it could do with a little shade, but it soldiers on in full sun.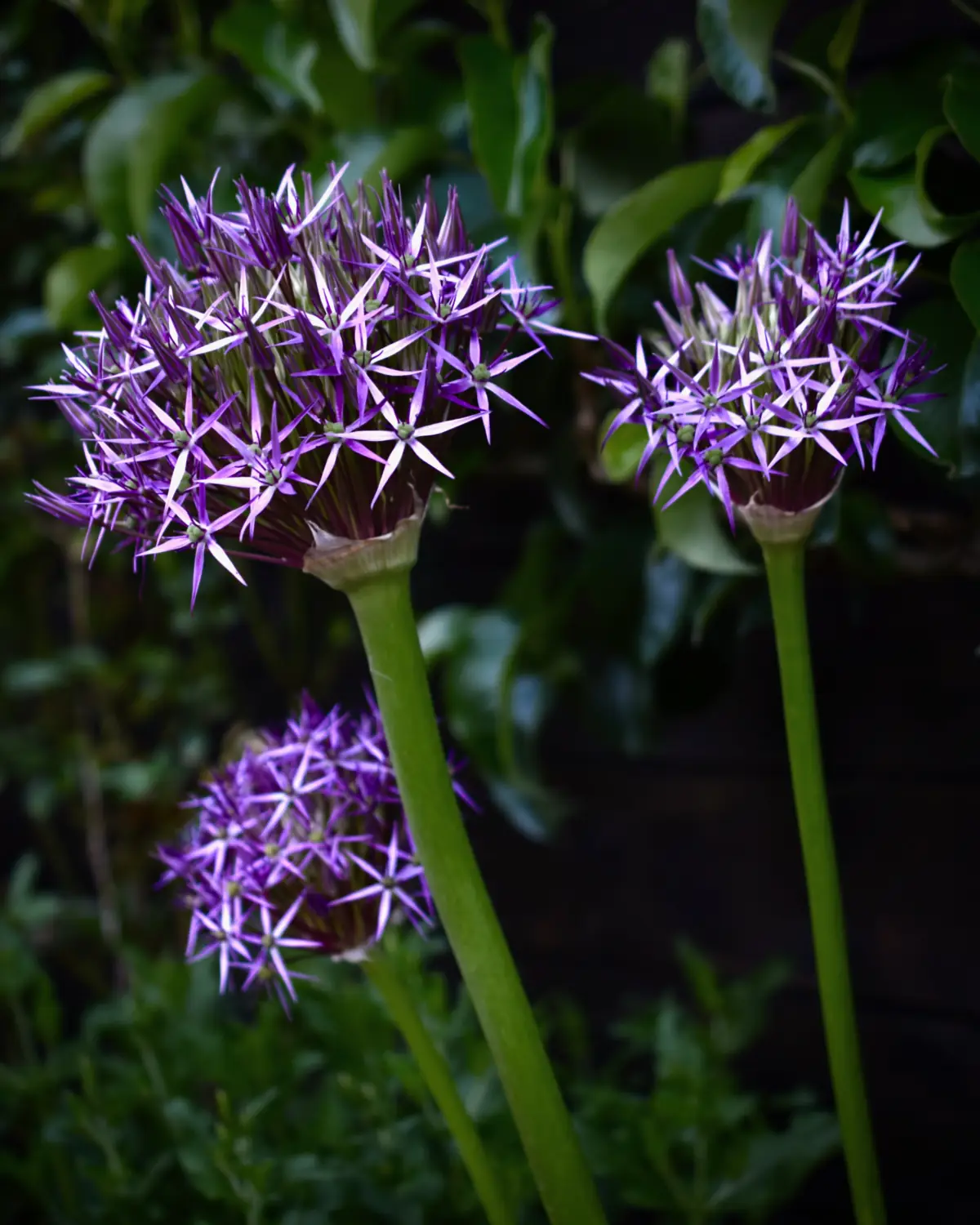 3 Allium christophii
These have been the most reliable alliums in my garden over the last twenty years, surviving and thriving. The three above started life as a single bulb over a decade ago. This year they were magnificent: stronger and larger than ever.
4 Tulbaghia violacea
This was new to me: 'society garlic'. I planted several clumps this year and they all flowered their hearts out through summer and autumn. Hopefully hardy enough in my raised beds to come back each year.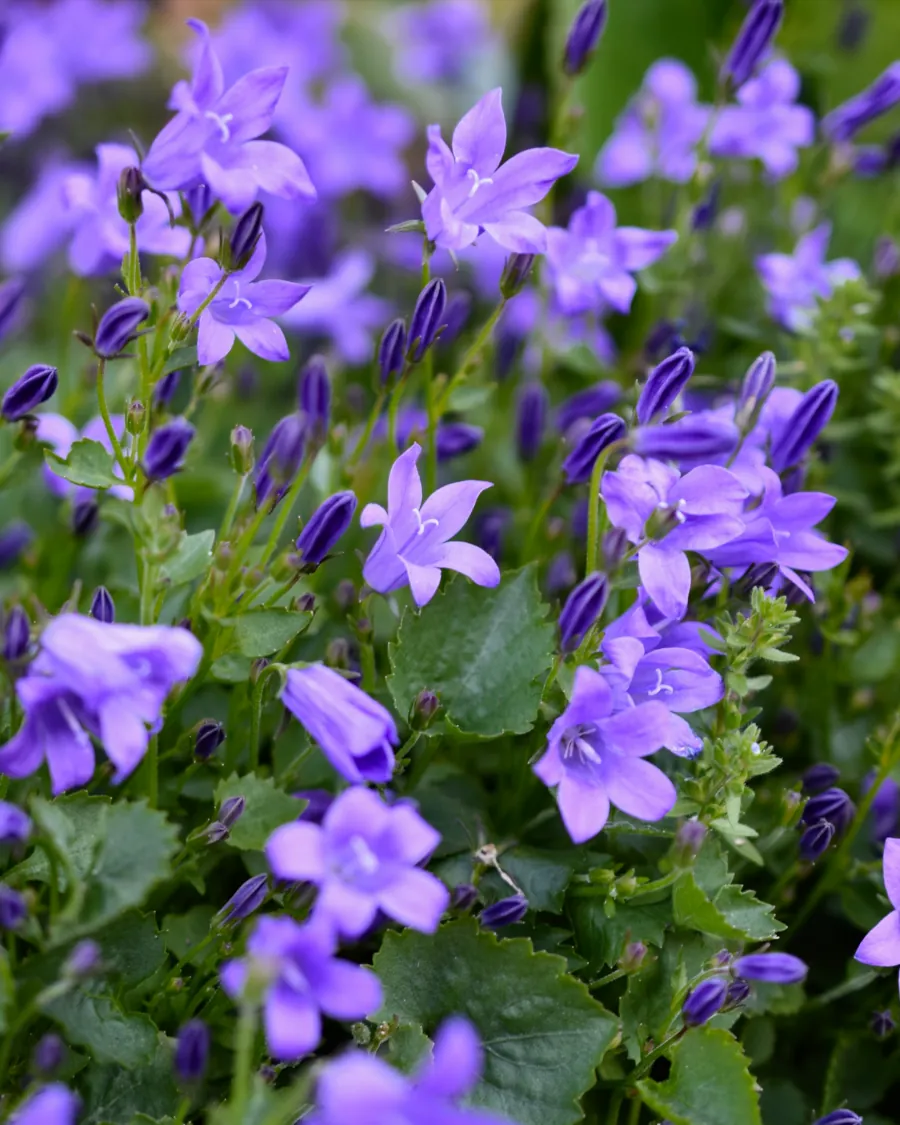 5 Campanula portenschlagiana
A hard-working little ground cover that I have planted in the front corners of two beds where it produces plenty of flowers in the summer then again in the autumn..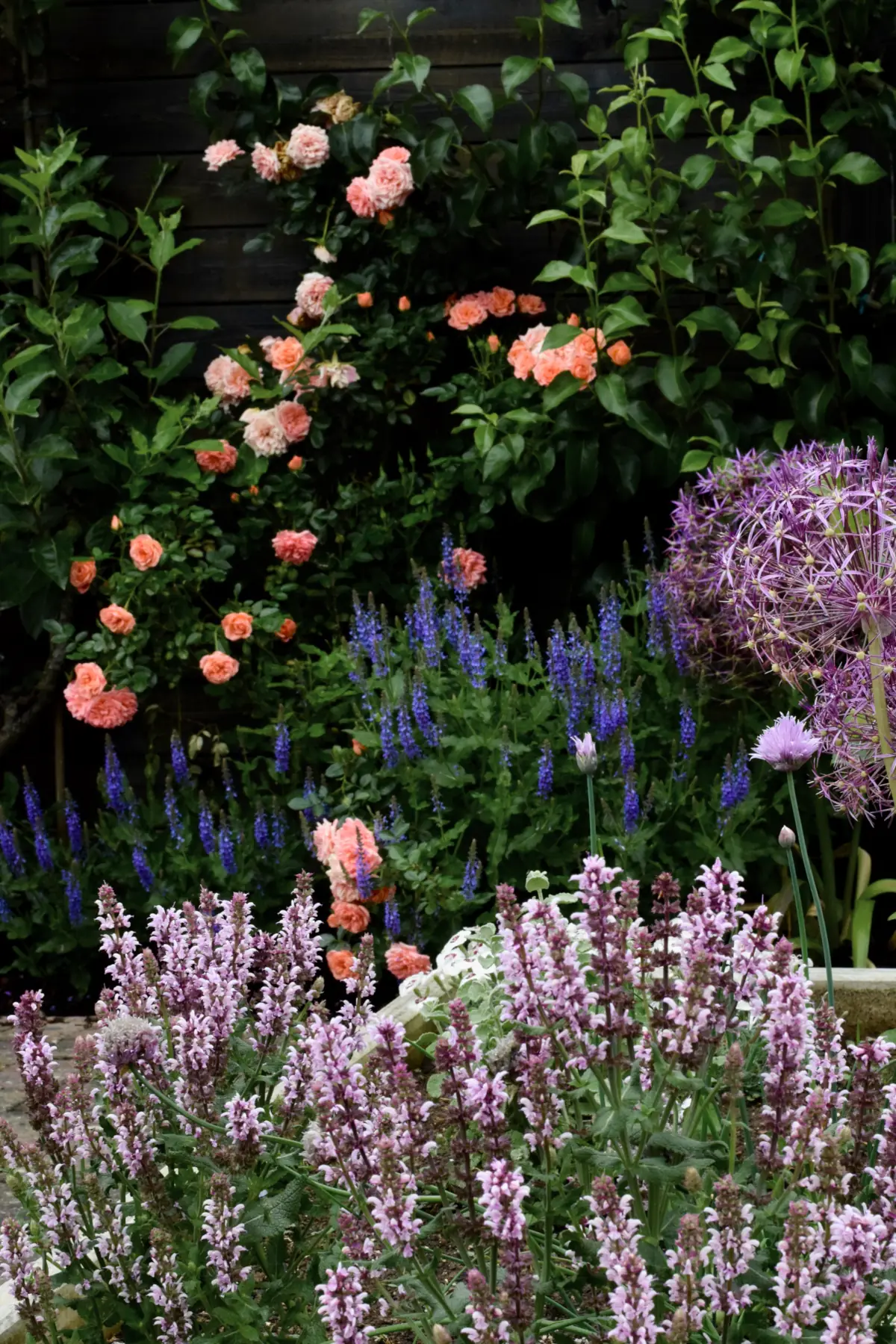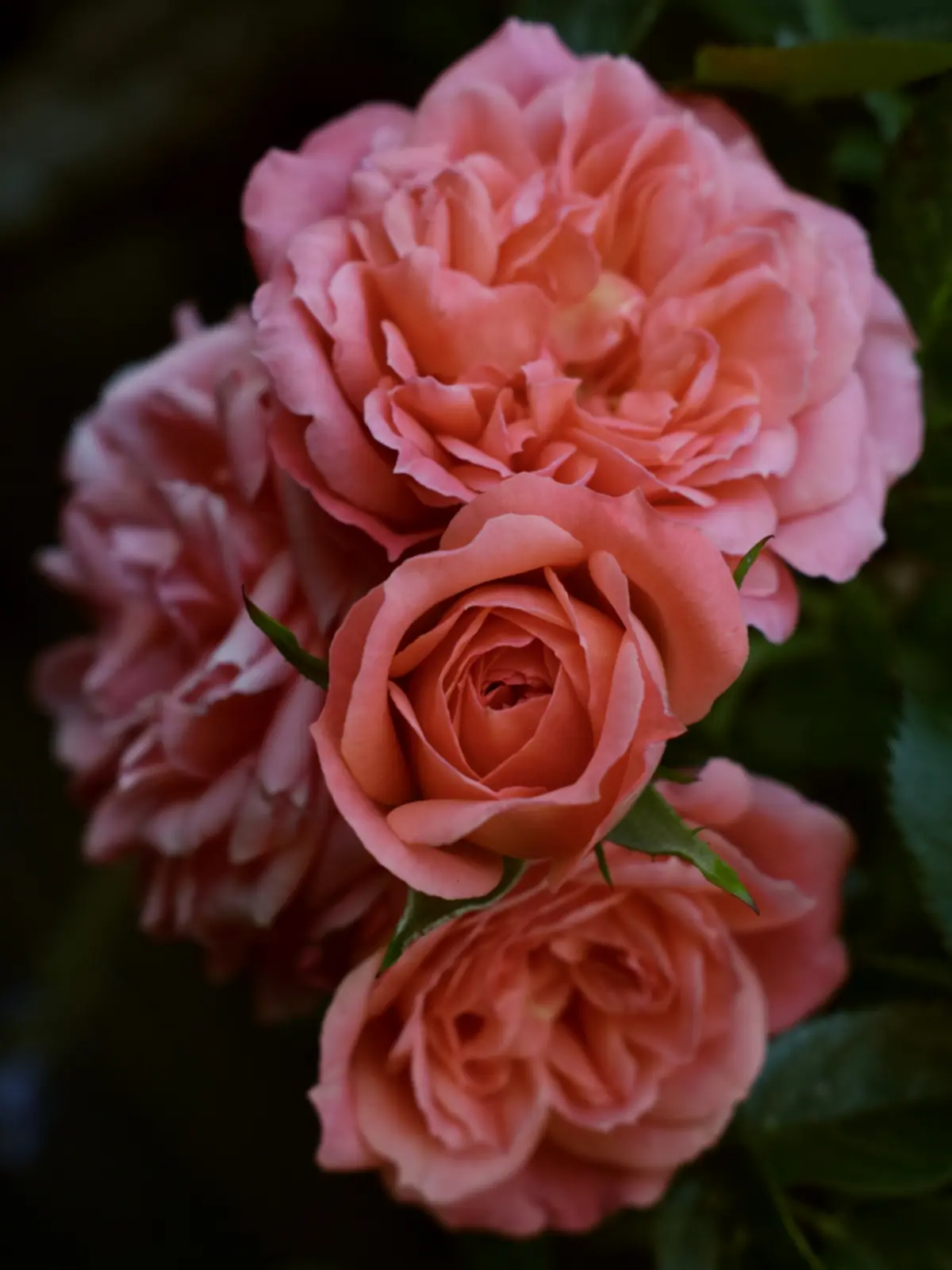 6 West Corner
A very successful display. On the fence a salmon patio rose 'Sweet Wonder' has been encouraged to climb through the fan-trained pear tree. At its feet blue salvia 'May Night'. In the foreground a new bed with salvia 'Pale pink', chives and Allium christophii. (June)
7 Salvia 'Sensation Deep Pink'
This is a dwarf compact salvia which flowers throughout early summer and again in late summer if deadheaded. Loved by bees.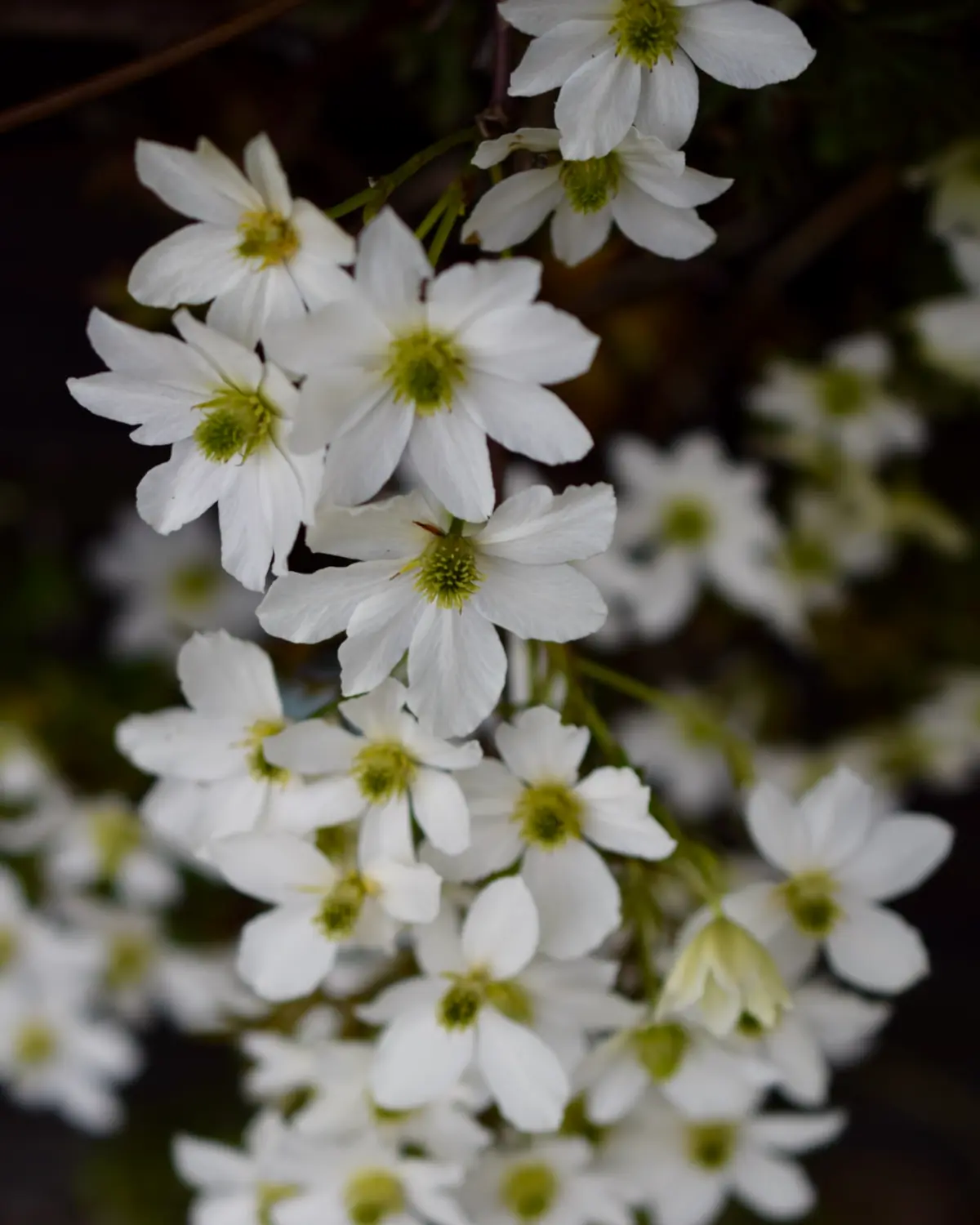 8 Clematis 'Early sensation'
This wonderful pure-white clematis almost lives up to its name, creating a sensational display in late May, June. But I don't call that 'early'.
9 Allium nigrum
Black garlic is a good white ornamental onion that flowers in May-June. The flowers are followed by green seed pods. 8cm across.
10 The recently renovated rose arbor
which is not only a lovely place to sit, but a handy repository for trowels and spades. In the foreground an eye catching display of Helianthemum 'Wisley Pink'. To the top-left clematis 'Early sensation' winds around the stems of a climbing rose. (read more about the Arbor here)
"The aim of the design was to create a knee-high planting of pollinator-friendly flowers around the central pond which would produce an ever-changing tapestry of colour from early summer until autumn"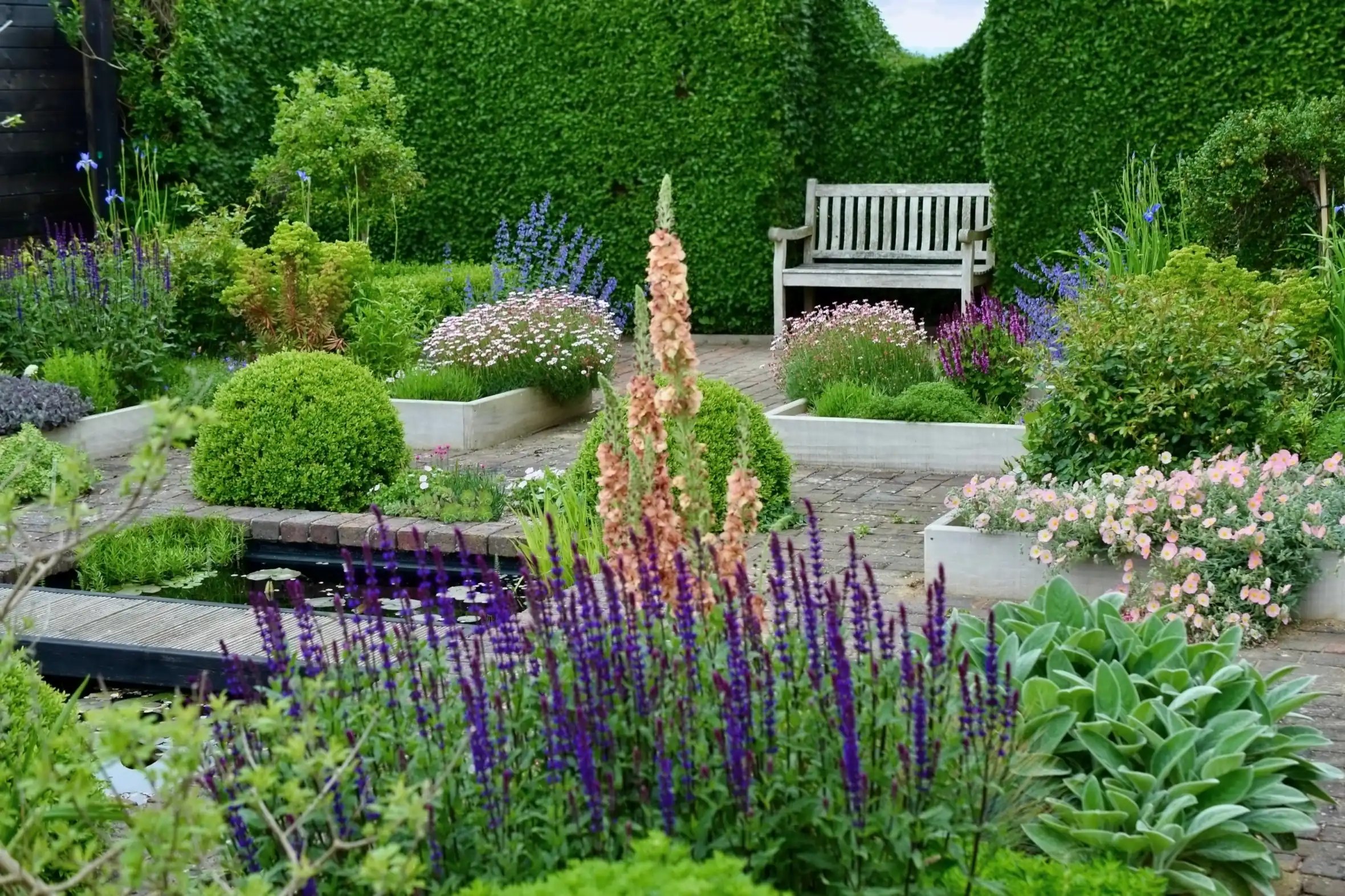 11 Looking north
The strong geometry and formal symmetry of the garden can be discerned but is softened by the planting. This photo, taken in early June, centres on the peachy spires of Verbascum 'Caribbean Crush' – a plant that has been so captivating that I have added more. In the background pale blue Iris sibirica and Nepeta 'Walkers Low'. Making pretty mounds either side of the path to the bench is the pink daisy Rhodanthemum 'Marrakech'. The pale pink flowers tumbling over the edge of the bed (right) is Helianthemum 'Wisley Pink'. The dark-stemmed purple spires in the foreground are Salvia 'Caradonna' which flowers for months.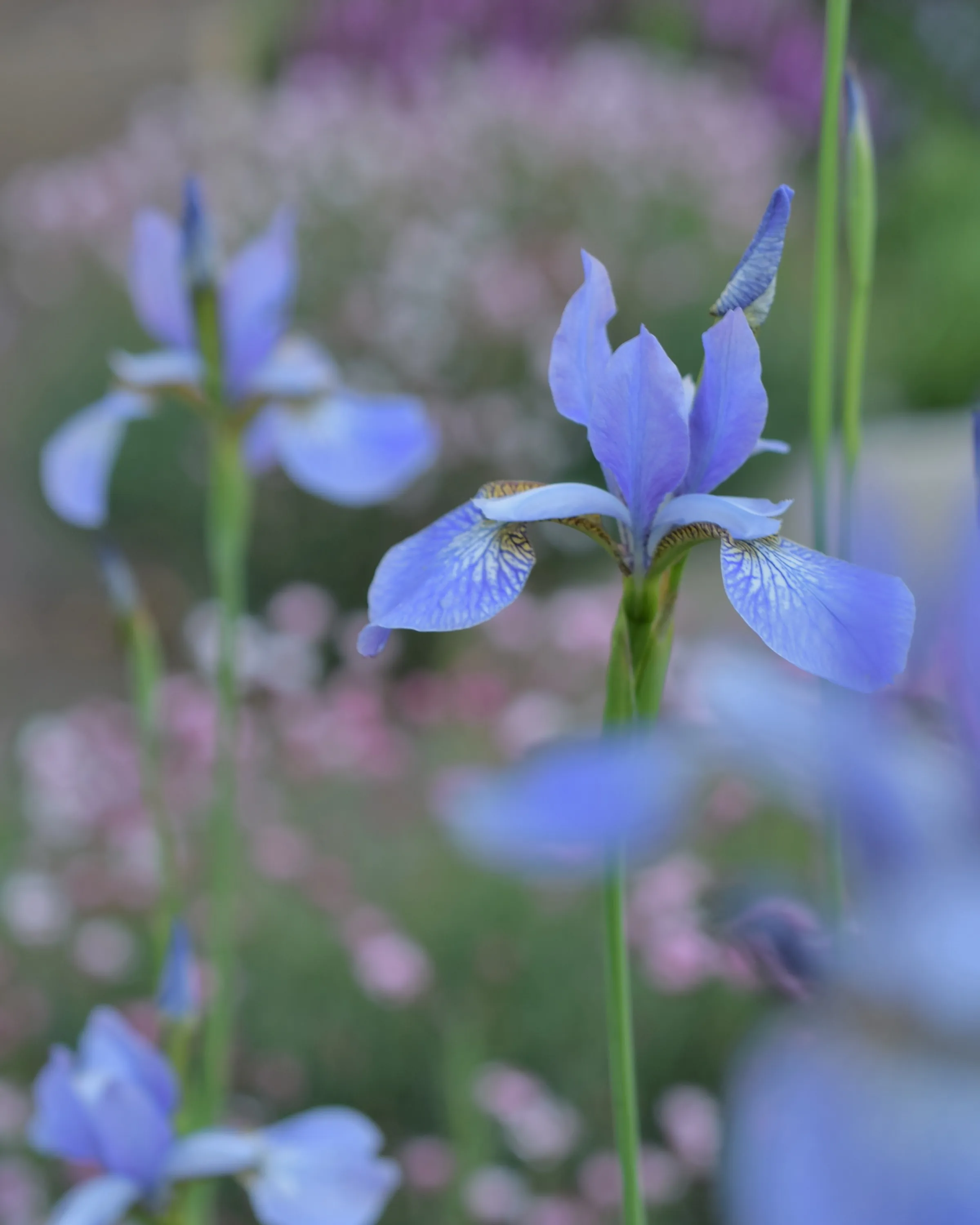 12 Dreamy blue Iris sibirica
These pale blue irises are held aloft as delicately as butterflies. In the background out-of-focus pink daises of Rhodanthemum 'Marrakech'.
13 Great support plant
For me, the star of this arrangement is the plant that looks like silver wire-wool towards the bottom of the photo: Artemisia alba canescens. It weaves its way between the other perennials and sets them off beautifully. TOP: Salvia 'Caradonna' and Allium nigrum. LEFT: Euphorbia 'Baby Charm'
14 Penstemon 'Sour Grapes'
This Cape Foxglove has beautiful flowers of an almost unnamable colour. It tends to sprawl in my garden rather messily, but I keep it for that colour.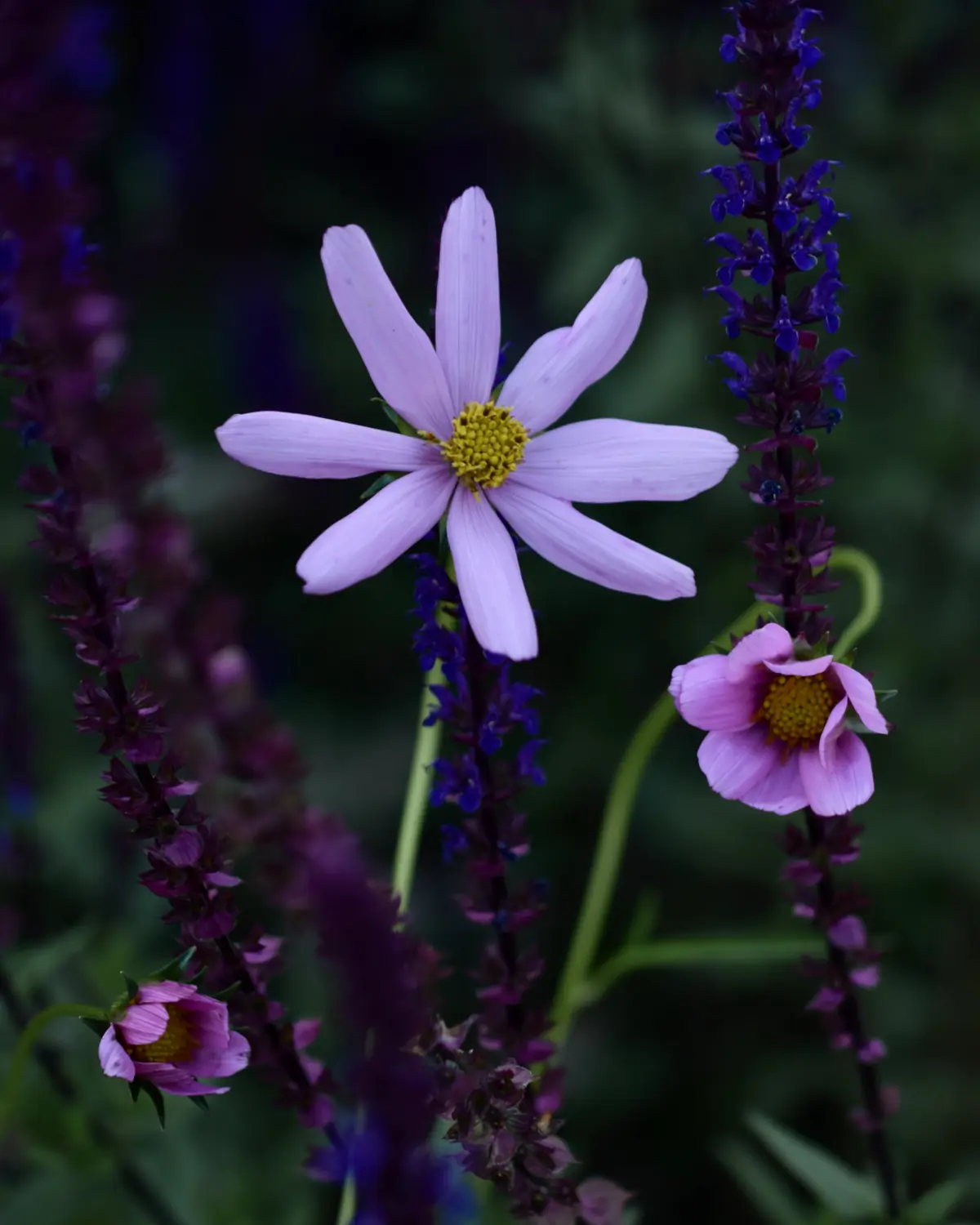 15 Cosmos peucidanifolius
A rare species of perennial cosmos which I acquired from Avon Bulbs in 2021. As you can see it is very beautiful, weaving itself among the purple salvia. Hopefully it will have survived the winter.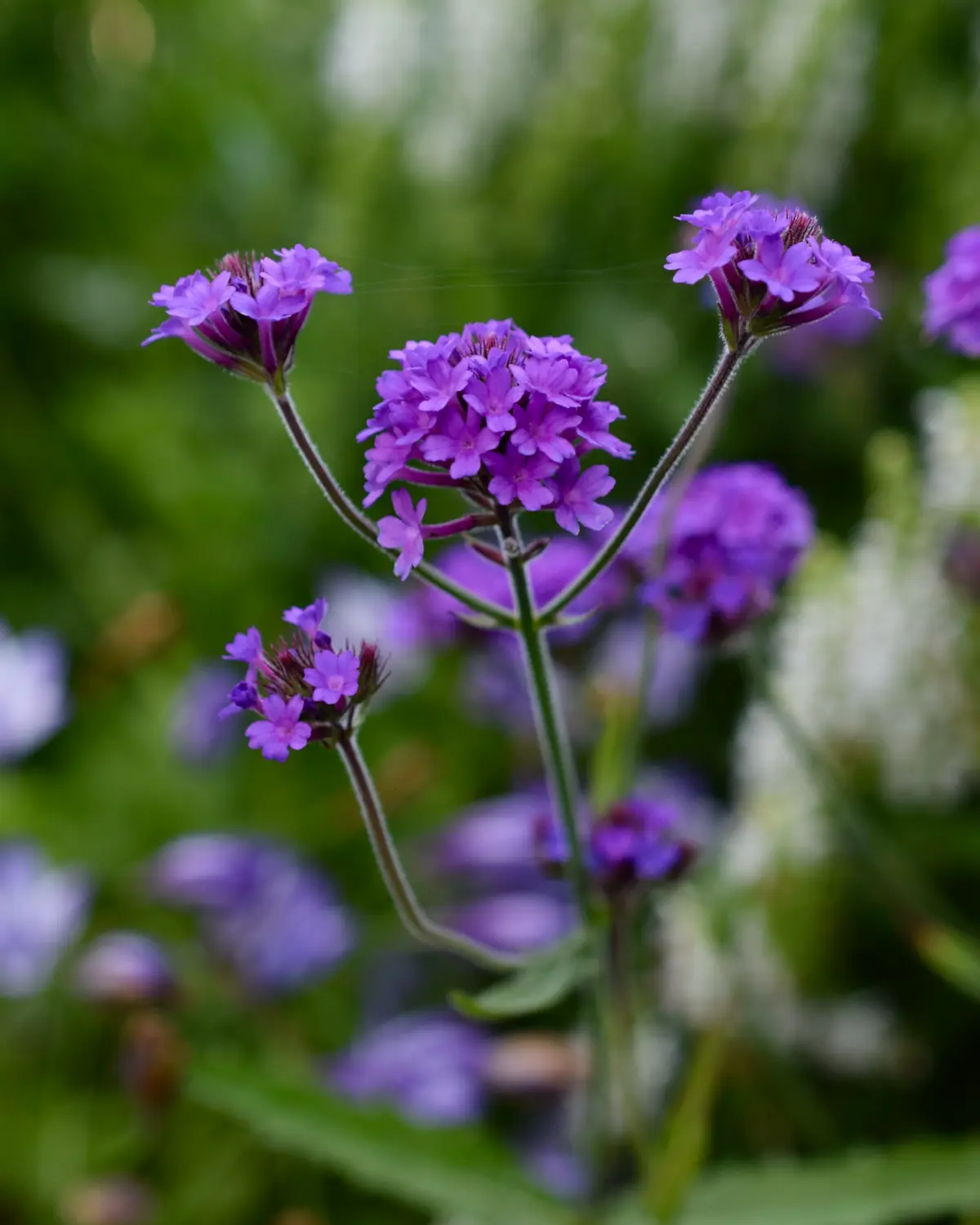 16 Verbena 'Santos Purple'
A pretty and well behaved little verbena which flowers for over six months. A bit on the tender side, but happily, it self-seeds readily in my garden.
17 South-West L-shaped bed
is full of interesting plants: Purple spires of Salvia 'caradonna' (left) contrast with copper-green heads of Euphorbia 'Baby charm'. Gypsophila 'Festival white flare' creates a pointillist white cloud (center). Behind it to the right, white spires of salvia 'Snow Hill' – a vigorous sage, loved by bees – and biscuit-yellow sisyrinchium 'Aunt May'. Finally, Sedum 'Strawberries and Cream' (front-right).
18 North-West corner bed
long-flowering plant combination. To the right, tall spires of magenta-purple Penstemon 'Raven' in front of orange-bronze flowers of Euphorbia 'Baby Charm'. Background: Purple-blue spires of Salvia 'Caradonna' Foreground: Pale pink Geranium sanguinium 'striatum' and blue Lavandula 'Hidcote'.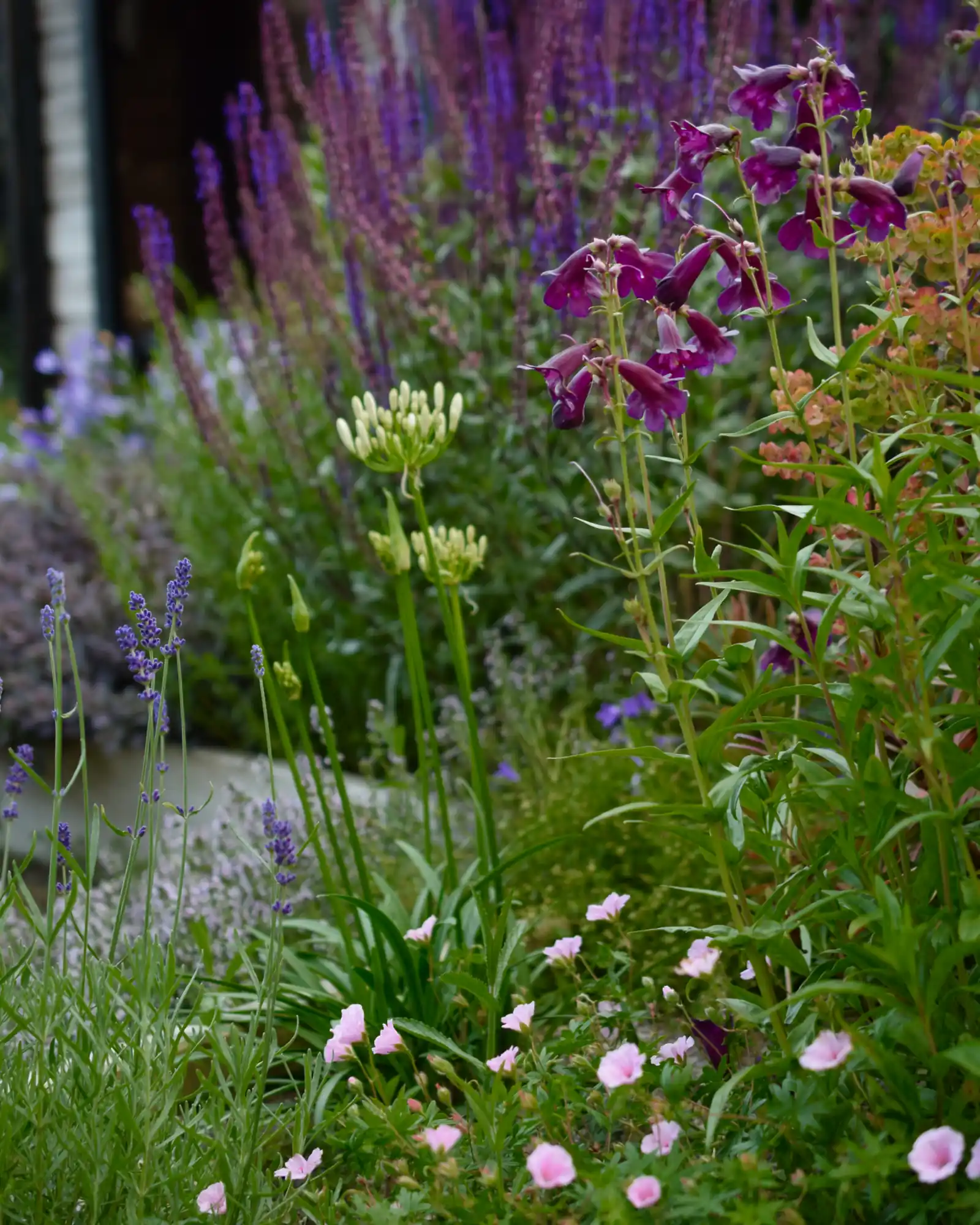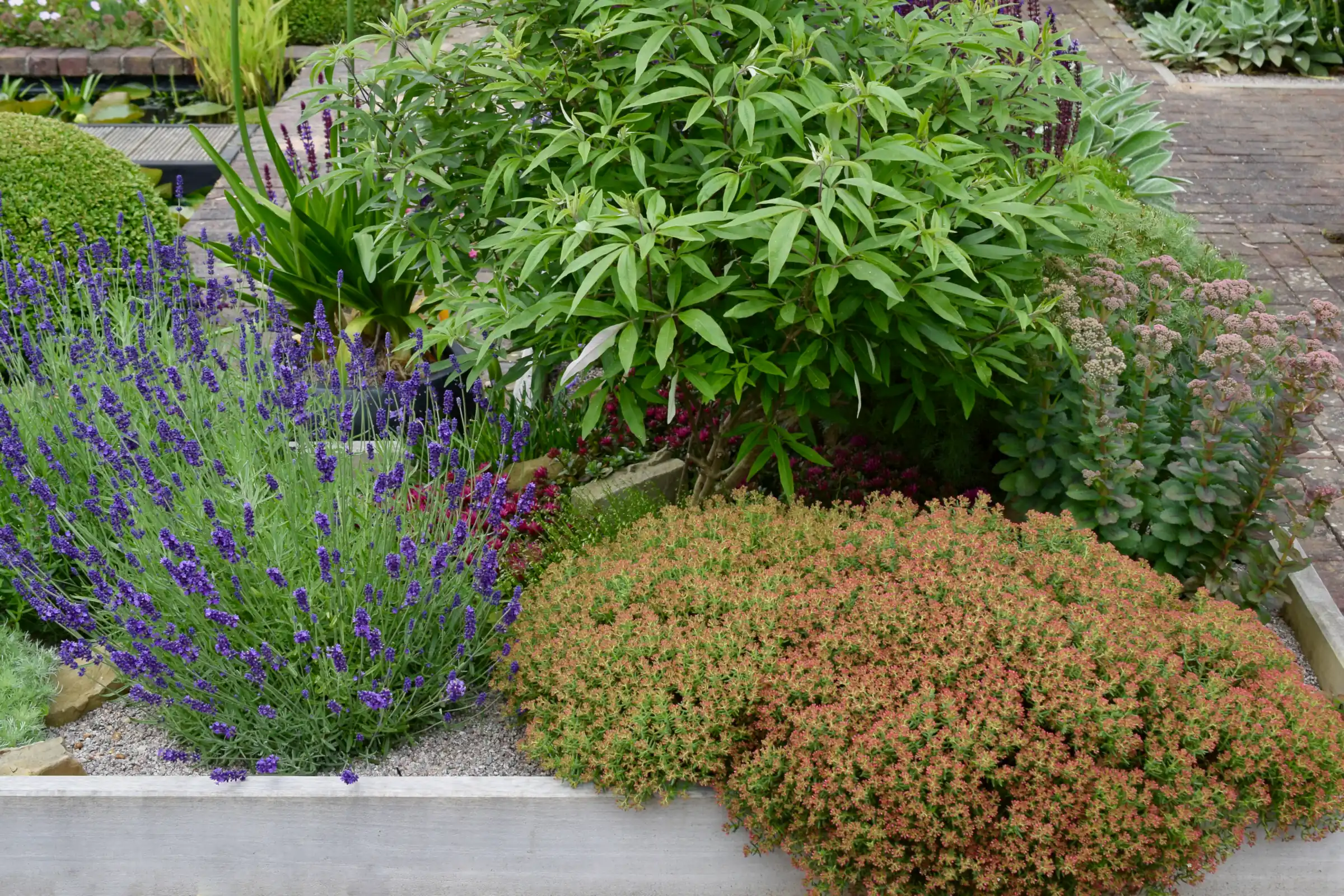 19 South-East corner bed
The main shrub with the divided acer-like leaves is Chaste tree, Vitex Agnes-Castus. It grows here with blue Lavandula 'Hidcote' and the amazingly hardy Crassula sarcocaulis which is just coming into bud. To the far right is Sedum 'Strawberries and Cream'.
"Gravel is used as a mulch between the plants. In some areas rocks have been added as a place to grow smaller plants such as succulents an alpines. "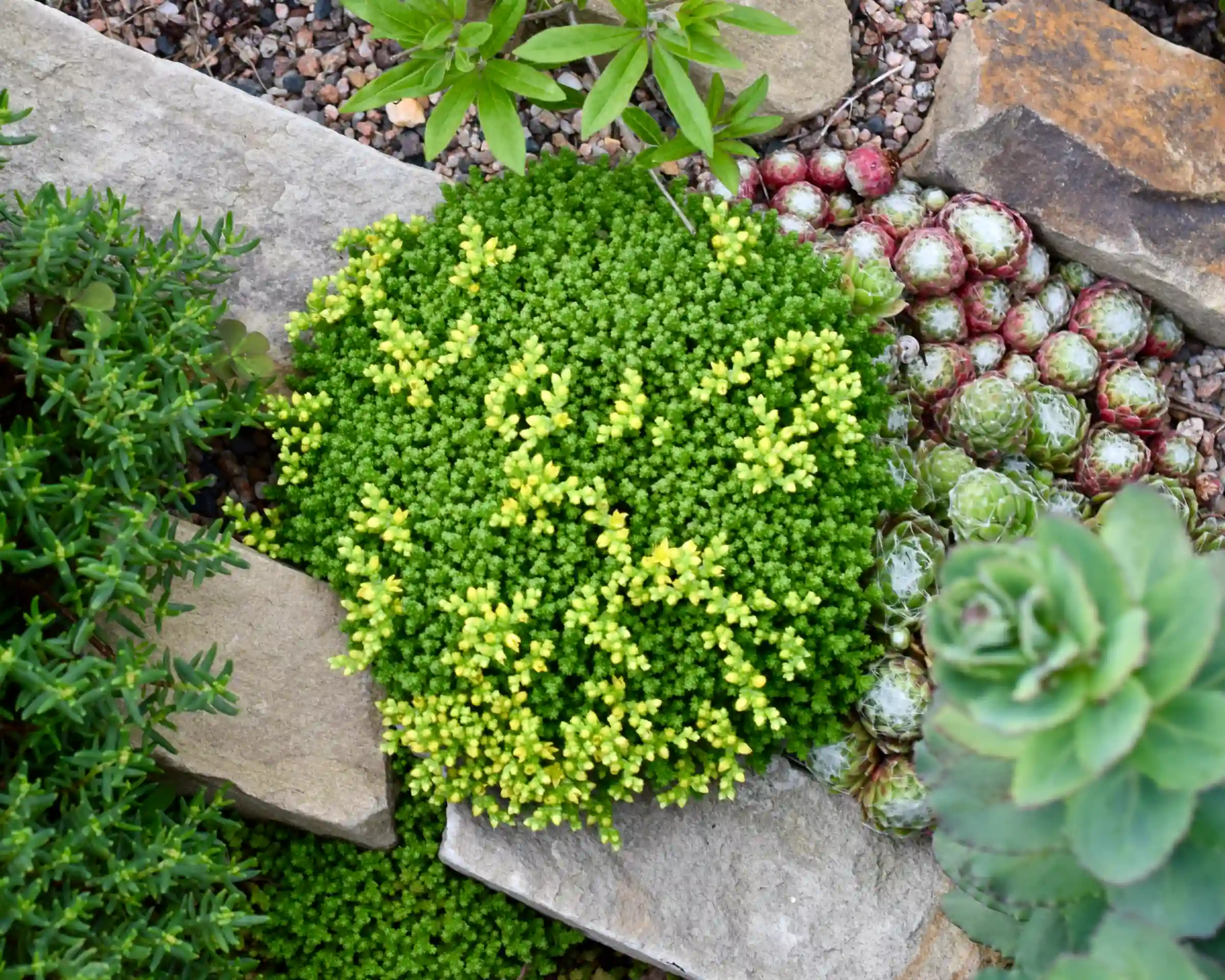 20 Succulent corner. In an open sunny patch several succulents grow: a central patch of golden stonecrop, Sedum acre, is surrounded by the red leaved cobweb houseleek, Sempervivum arachnoideum (right) and Crassula sarcocaulis (left) June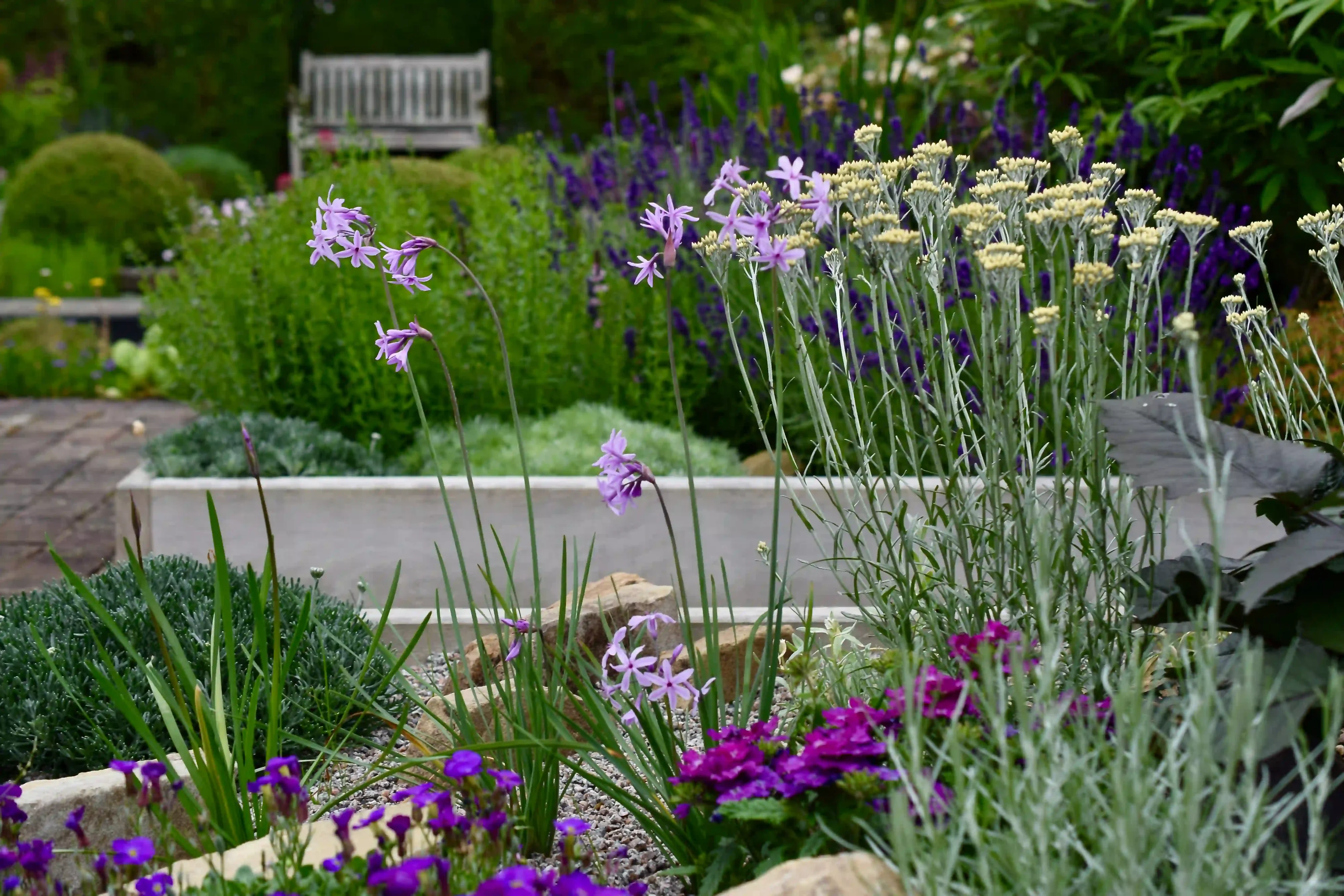 21 Alpines in gravel. This bed is one of two planted this year. It contains a number of alpines and herbs, including Aubretia, Verbena, Helichrysum italicum, Tulbaghia violacea and Rhodanthemum hosmariense. July

22 Sedum 'Spot on rose'. An amazing hardy succulent with cactus-like blooms.
23 Hyssopus officials 'Roseus'. I have three different colours of shrubby hyssop in this area: pink, white and blue. I like their interesting structure and aromatic foliage.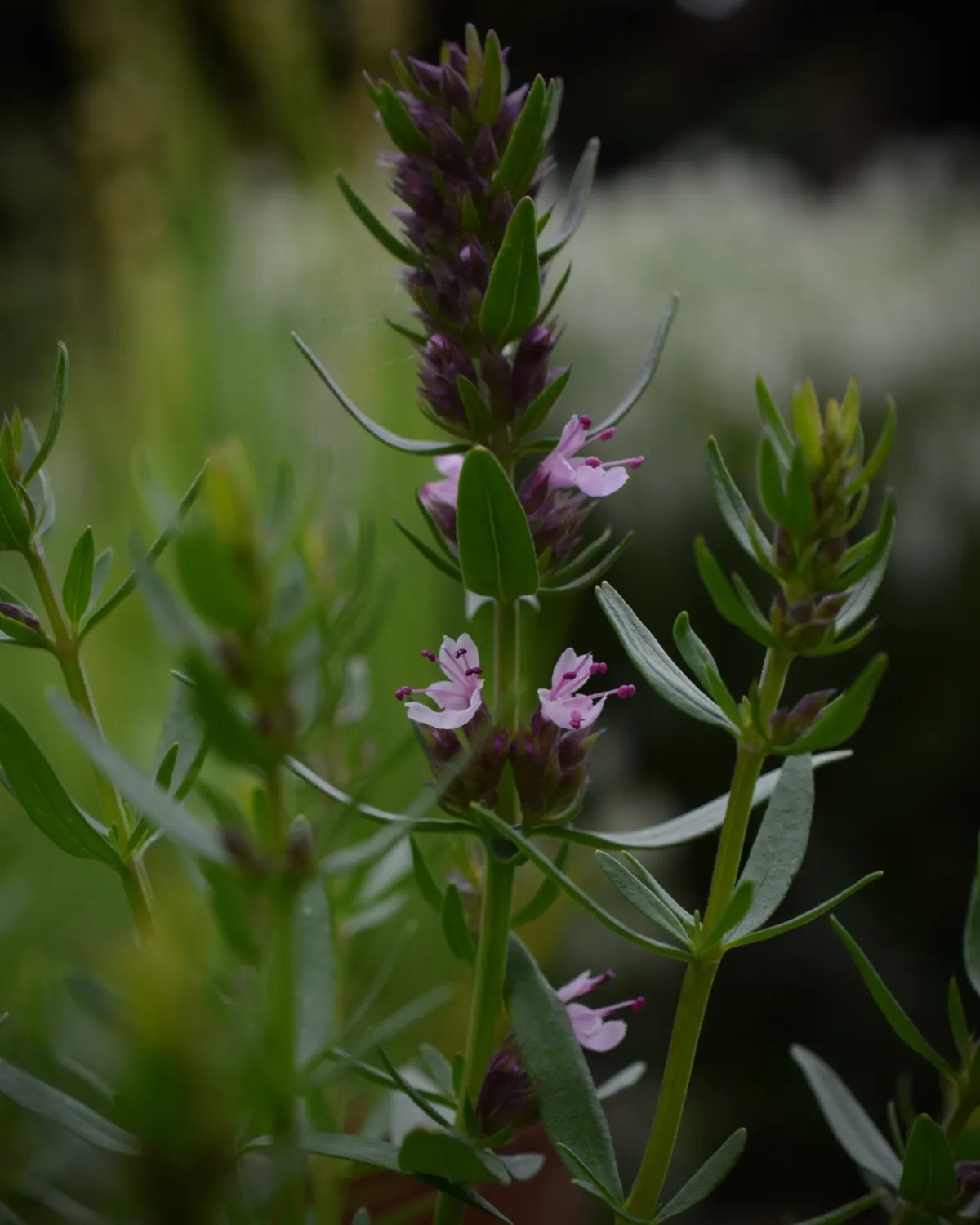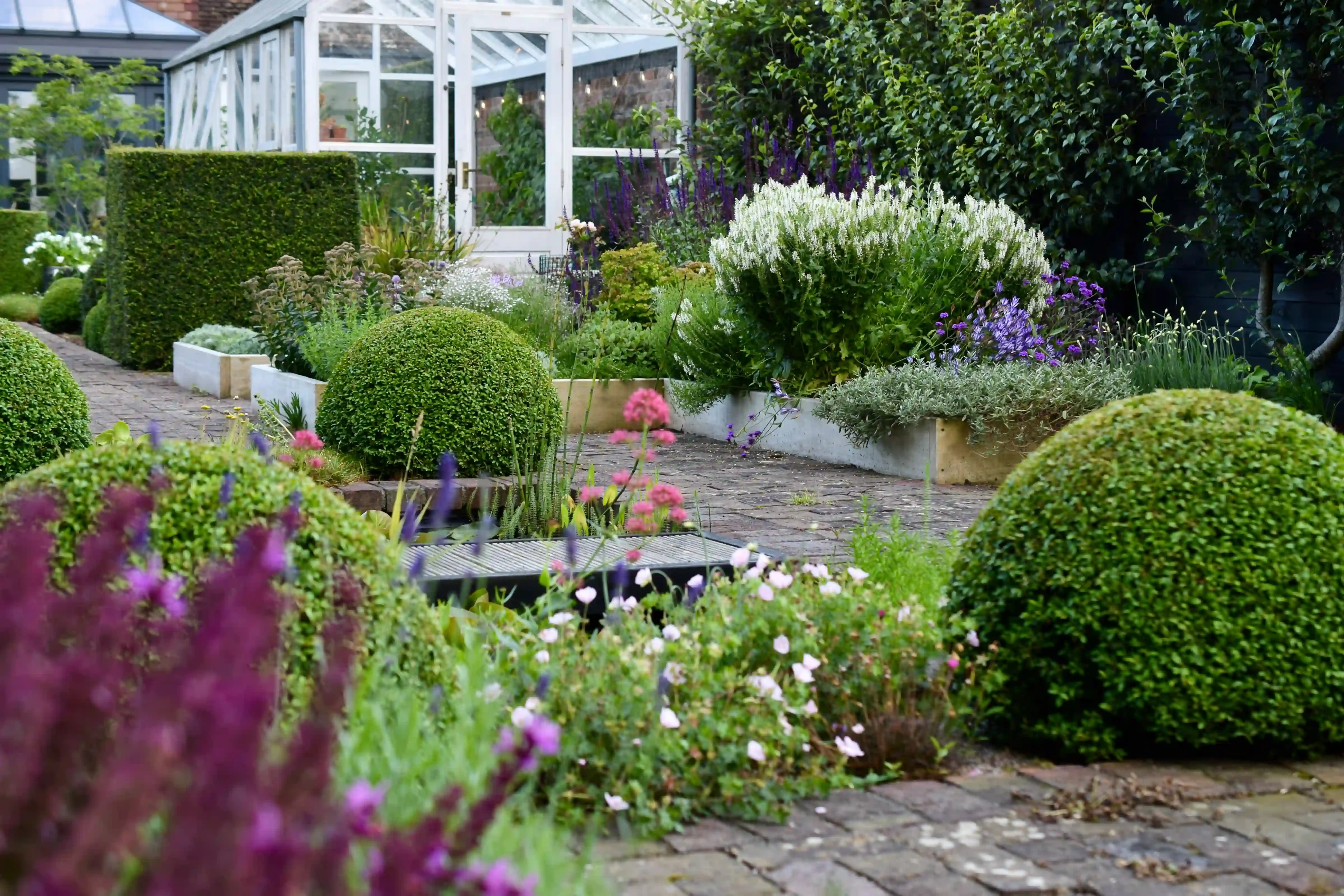 24 ▲ View towards the greenhouse
(Looking South-West) July, and the garden is in full swing. See how the clipped evergreens – box balls and lonicera hedge – provides an architectural counterpoint to the looser forms of the perennials.
25 ▼ View towards the dining area
(Looking South-East). Plenty of colour, especially from the self-sown candy-pink thrift. Left to right: White Rosa Iceberg; silver foliage of Stachys byzantinus Big Ears; violet Rudy; Purple Lavandula Hidcote; dark purple Salvia Caradonna and Electric blue Agapanthus.