Today (February 18th) was a storm-force gale and the power went down. I took advantage of the situation by popping out (between showers) to cut flowers in my little woodland-themed garden. Back in the dry, I set about photographing them on a white background. Here's the result: a photographic record of the February flowers in my woodland garden.
NOTE: Please update your browser otherwise some of the lovely images in this post will not display properly!
British winters are notoriously long, grey, wet and mild, and seem to go on for ever. Here in the south of the country, the temperature randomly drops below zero, damaging tender plants, right up until May. Spring creeps up on us intermittently, with the odd hour of warm sunshine cropping up here and there, getting our hopes up, only to be followed by a week of freezing rain. The garden, meanwhile, marks time in its own inimitable way. Undaunted by gale-force winds, lashing rain and weeks without a glimpse of sun, spring bulbs, perennials and shrubs respond through some sixth sense and emerge in an apparently orchestrated sequence. My shade-garden beds — planted with many kinds of woodland bulbs and perennials — are the first part of my garden to wake up and put on a significant show. And when, in February, it really gets going, it fills the heart with the promise of spring despite the weather. Here's a taste of what it has to offer…
The Hellebores
Below: Helleborus × ericsmithii flowering shoot with new and old flowers
The earliest flowering woodland garden plants must surely be the Christmas Roses. The clue is in the name, right? In my case this means the Eric Smith hellebore (or one of its related cultivars at least) which throws up its first buds in early January shrugging off even heavy frosts and snow. Like most of my hellebores, I cut back the majority of the previous year's foliage in late winter to better see the flowers which open on relatively short stems. My Eric Smith clump is a decade old and has grown steadily to about two feet across. Dozens of flowering stems shoot up, each carrying a multitude of buds which open in succession over a period of several months.
As you can see in the photo, the buds are blush-pink. The flowers open white with pink highlights but quickly develop maroon backs. They then fade through shades of green eventually becoming dark green and maroon once the seed heads form. By late February the plant is covered in a mixture of flowers at every colour stage – quite a sight when the slanted sun suddenly lights them up. The display continues until late April, with increasing amounts of the older maroon flowers providing a dark backdrop as the last few pearly-white flowers make a dramatic appearance. By this point, the new leaves have emerged: blue-green serrated and veined in silver. An easy to recommend perennial for anyone with a shady border.
Like the other hellebores (below) my Ericsmithii thrives under the dappled shade of a spreading cherry tree. It grows to a height of 40cm (14 inches) and, in time, spreads to 80cm (2ft 8in). It needs little attention growing happily in my clay-based loam. Even in hot summers, it has never complained, even when less tolerant plants begin to die in the heat and force me to water them.
For companions, ferns of various kinds work nicely with hellebores. The evergreen Euphorbia amygdaloides var. robbiae is a tough evergreen subspecies of wood spurge which likes similar conditions to hellebores and grows to a similar height. In the photo you can see the euphorbia's flower spike emerging. Its main flowering season is March-June, overlapping and extending with that of the hellebore. Its bright lime-yellow flowers last a long time fading to copper as the summer progresses. It is a lovely plant, popping up here and there in various parts of my garden; but be warned, it can quickly become invasive as it runs at the root. In the two places where I initially planted it this happened, leading me to dig up the rapidly expanding clump. Inevitably, a few roots remained, but they have never quite shown the original vigour. It is these remnants that have provided pleasure in my garden for years now without getting out of hand again.
Following the Christmas Rose comes the Lenten Rose, also known as oriental or hybrid hellebores. Helleborus orientalist and Helleborus × hybridus provide an endless variety of colours and forms, including this gorgeous double cream variety I grow in my garden.
Among hellebores there are hundreds of named forms and hundreds more "seedlings" that are produced from random crosses. Being so fertile and ready to interbreed even named varieties (which should look identical) often vary in colour and form between nurseries. This one is Helleborus × hybridus "Double white spotted" – a descriptive name if ever there was, yet if you look it up, you will see subtle differences that will make you start to doubt its identity.
LONG LASTING FLOWERS ▷ The visible parts of Hellebore flowers are composed of sepals rather than petals. Generally, petals are more delicate and tend to wither once fertilisation takes place, whereas sepals remain. This is why hellebore flowers last so long.
LEATHERY LEAVES △ The divided leaves are, tough, glossy and evergreen, although it is best to cut back the previous season's foliage each year in January to reduce disease build up and better see the emerging flowers
I also have some single flowered Lenten Roses. They all came from an original plant which I purchased at a garden fair (unlabelled). I now have several growing in different parts of the garden thanks to its propensity to self-seed. Each plant is subtly different from the other. Here is a sprig from one of them: Bicolour pinkish-purple and apple-green. The effect is very soft and appealing when a whole clump is in flower.
Natives and Near-Natives
I love growing plants that have that "wild-flower" charm about them. This can include actual natives such as bluebells, cowslips, herb robert, primroses, native ferns, foxglove and wood spurge. But with care, close-to-wild non-natives can work effectively too, such as dwarf narcissi, hellebores, pulmonaria cultivars, and brunnera.
One of the first bulbs to emerge in the spring in my woodland garden is the snowdrop. It is so familiar, demure and unassuming that many would think it a native wild flower, but it is probably a 16th century Introduction from the continent. Whatever its origins, it is a perfect example of near-native naturalism.
As well as flowering perennials, my woodland garden is kept alive in the winter months by the inclusion of evergreen shrubs. Of the two below, butchers broom is a native. The cultivar 'John Redmond' is an excellent free-fruiting dwarf cultivar which is clothed in bright red berries for half the year. The second, Sarcococca confusa, is native of China. Even so, it has such an easy naturalness that it fits right in alongside our true native plants. Apart from its healthy glossy foliage, its main contribution in January and February, are the tiny sweet-smelling flowers that dangle from its axils. Later in the year it will carry black berries.
Evergreens like these provide solidity and a sense of permanence contrasting with the fleeting forms of bulbs and perennials as they come and go. Their somber dark foliage of these evergreen shrubs provides a neutral backdrop against which the finer plants can be viewed. They are good for breaking up the line of a fence or informally dividing a bed into areas where different kinds of perennials can be grown.
Ruscus aculeatus 'John Redmond' ▷
This is a wonderful dwarf cultivar of the British native plant Butcher's broom. 'John Redmond' is not only compact and east to grow even in dry shade, but it is very free-fruiting, carrying bright red berries for much of the year. It looks especially good at Christmas.
Self-seeding
Both of these evergreen shrubs produce seedlings which pop up here and there in the garden. These are very welcome as they provide free plants. It is easy to dig them up and plant them somewhere else, or grow them on in pots. The Butcher's broom, though, is unlikely to come true from seed, so I expect the offspring to produce less fruit.
Sarcococca confusa ▷
This is also known as Christmas box, as it has smallish evergreen leaves reminiscent of buxus. Although it is very tolerant of pruning, it is not a great subject for topiary as it produces long shoots. The flower, which come in winter, are fragrantly scented. I grow one next to my front door so we get a waft every time we enter or leave.
Other evergreens that provide structure in my woodland garden are clipped box (although the dreaded box moth caterpillar has made that less appealing of late), small-leaved rhododendrons (azaleas), the native woodrush Luzula sylvatica, various semi-evergreen ferns and the grassy tufts of Liriope muscarii.
A notable evergreen ground cover is European ginger (Asarum European) which forms a dense mat of kidney shaped leaves just four inches (10cm) high. It is one of my favourite plants and a UK native to boot! Finally, I recently added the wonderful navelwort, Omphalodes cappadocica 'Cherry Ingram', which along with it's exceptionally long season of pretty violet-blue flowers, has attractive evergreen leaves.
Naturalistic woodland perennials and bulbs
Included among the more naturalistic spring-flowering plants in my woodland garden are varieties of Brunnera, forget-me-nots and aquilegias, but these do not flower for another month. By the end of February, however, several March-flowering plants begin to bloom, including various lungworts. I grow several varieties of lungwort (Pulmonaria) for their striking foliage and flowers. At the same time, in other parts of my garden, snowflakes (Leucojum) are opening their first little white blooms which hang like dainty lampshades, each petal tipped with a green spot.
Snowflake, Leucojum aestivum 'Gravetye Giant' ▷
These lovely bulbs are only just beginning to put out their first flowers in late February in my garden, but they will continue to flower for months before finally dying back in summer and going dormant.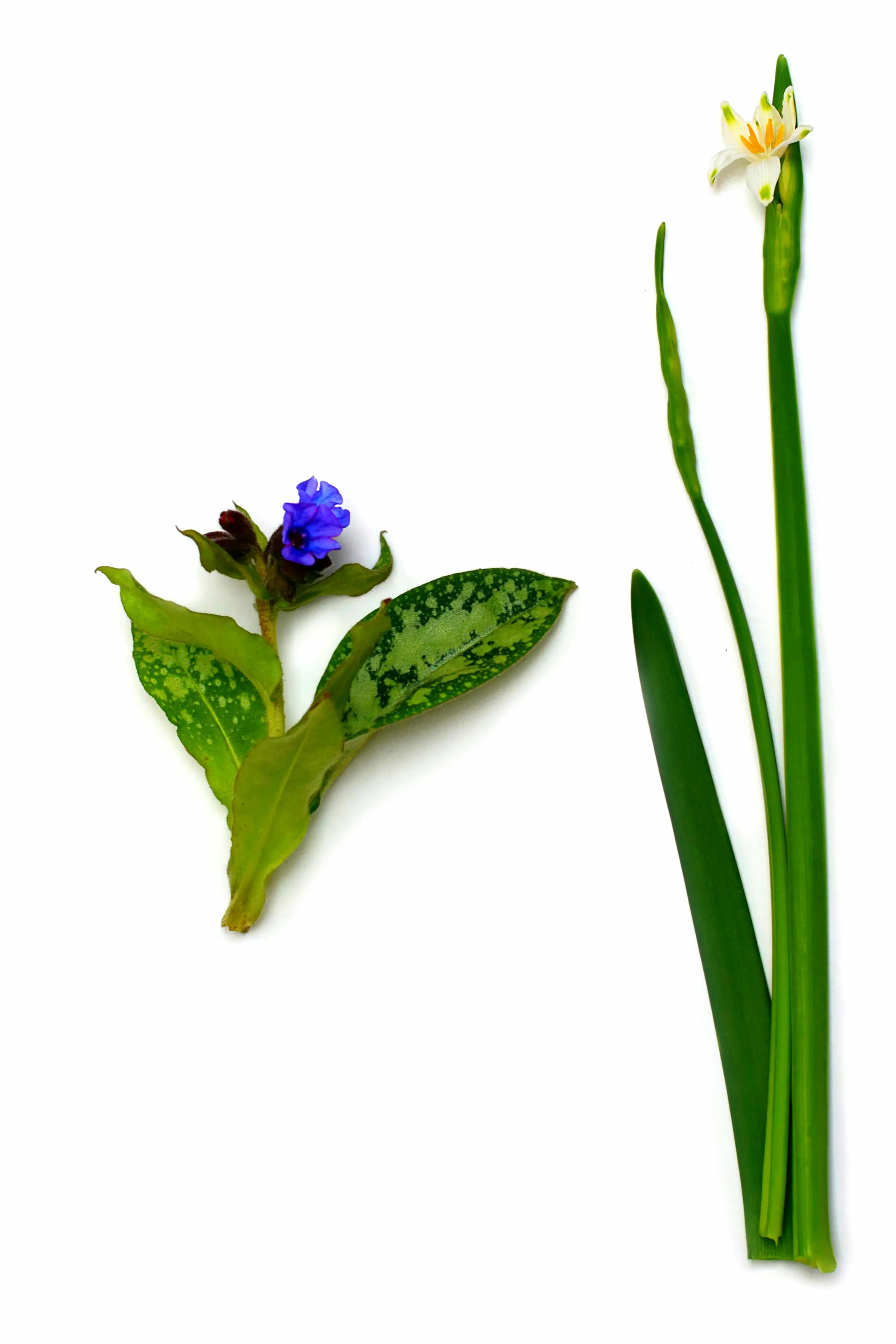 △ Lungwort, Pulmonaria saccharata
These quintessential cottage garden plants are so at home in the dappled shade of my mini-woodland garden.They self-seed happily without becoming invasive, and their late February flowers are very attractive to early pollinators. Although the flowers above are blue, they will change to pink, producing a bi-colour effect on the plant throughout March.
I have several cultivars of lungwort with different leaf patterns. P. saccarata, above, has the typical silver blotches and makes clumps up to 18 inches across. Its flowers are a mixture of blue/purple/pink. Another species, P. longifolia, is a native with long, narrow leaves with silver spots and all-blue flowers. Finally, I have a hybrid lungwort P. 'Silver Shivers' with predominately silver leaves and mixed pink/blue flowers..
Snowdrops dominate the show in early February with their drifts of snowy whiteness – but by the end of the month they start going over and are followed by clumps of golden dwarf daffodils. The previously cool scheme with whites and pinks (courtesy of the hellebores) starts to take on a warmer tones with golden yellows dominating the scene.
For impact, I have restricted my planting to a single variety of Narcissus: the ever popular 'Tête-à-tête'. Its trumpets are just slightly darker than the surrounding petals which, as the season progresses, bend backwards a bit like the reflexed petals of cyclamen. Being a dwarf narcissus, is fits in better with a naturalistic planting. To get an idea of just how small the flowers are, compare them to the primroses below, which were photographed together in a single shot. It seems almost impossible that they have flowers of comparable sizes!
◁ Dwarf Narcissus
In my woodland garden I only allow this one variety, Narcissus 'Tête-à-tête'.
Common primrose, Primula vulgaris ▷
Despite there being many colourful primroses and primula hybridst available, the simple wild species is always a joy. Mine start flowering in December and reach their zenith in late February and March.
Another thing that surprises me whenever I photograph primroses is just how pale they are. Everyone knows primroses are yellow, but it is the palest, softest creamy-yellow imaginable — really almost white in a lot of my photos.
One clump of primrose in my woodland beds has persisted in the same spot for over 15 years thriving with almost no attention. It is now 15 inches across and carries hundreds of individual flowers.
My woodland beds are the first area of my garden to come alive each year which makes them so exciting. They go on to provide a succession of flowers right up to midsummer. Following on from the February plants mentioned above will be various Euphorbia, Erythronium, Cardamine, Omphalodes, Myosotis, Brunnera, Azalea, Ribes, Aquilegia, Hyacinthoides, Gallium, Paeonia, Saxifrage, Lilium and Digitalis, to mention just a few – each spectacular in their own right and providing me with many months of photo opportunities. But February stands out as the month that breaks the ice, so to speak, as it heralds the new gardening year so clearly and joyously. The cold, damp leafy soil in my woodland beds suddenly comes alive with all the plants in this post, weeks ahead of any other part of my garden.