---
March
---
△ Grape Hyacinths
These have persisted for over a decade, surviving drought and frost. They self-seed, but never become a nuisance. Here they are in March providing a great colour contrast with the chartreuse flowers of the Euphorbia.
△ Euphorbia myrsinites
The photo above shows the original specimen that I planted several years ago. In the harsh environment of a green roof, surviving in just three inches of sun-baked soil, it remains relatively dwarf, spreading out no more than 18 inches from its planting point. It has self-seeded too, with its distinctive little seedlings popping up prettily here and there.
▽ Pasqueflower
This year some of the pasqueflowers opened early. These increasingly rare native plants flourish in the conditions provided on my green roof. In fact I have to cut off the seed heads before they ripen in May as they self-sow everywhere. In the background, the pink flowers of viburnum 'Dawn' provide a perfect complementary colour.
▽ Viburnum bodnantense 'Dawn'
This arrowood forms a backdrop to my green roof (It is actually growing in my neighbour's garden.) This wonderful shrub flowers throughout the winter, but puts on its best display in March, just before the new leaves emerge.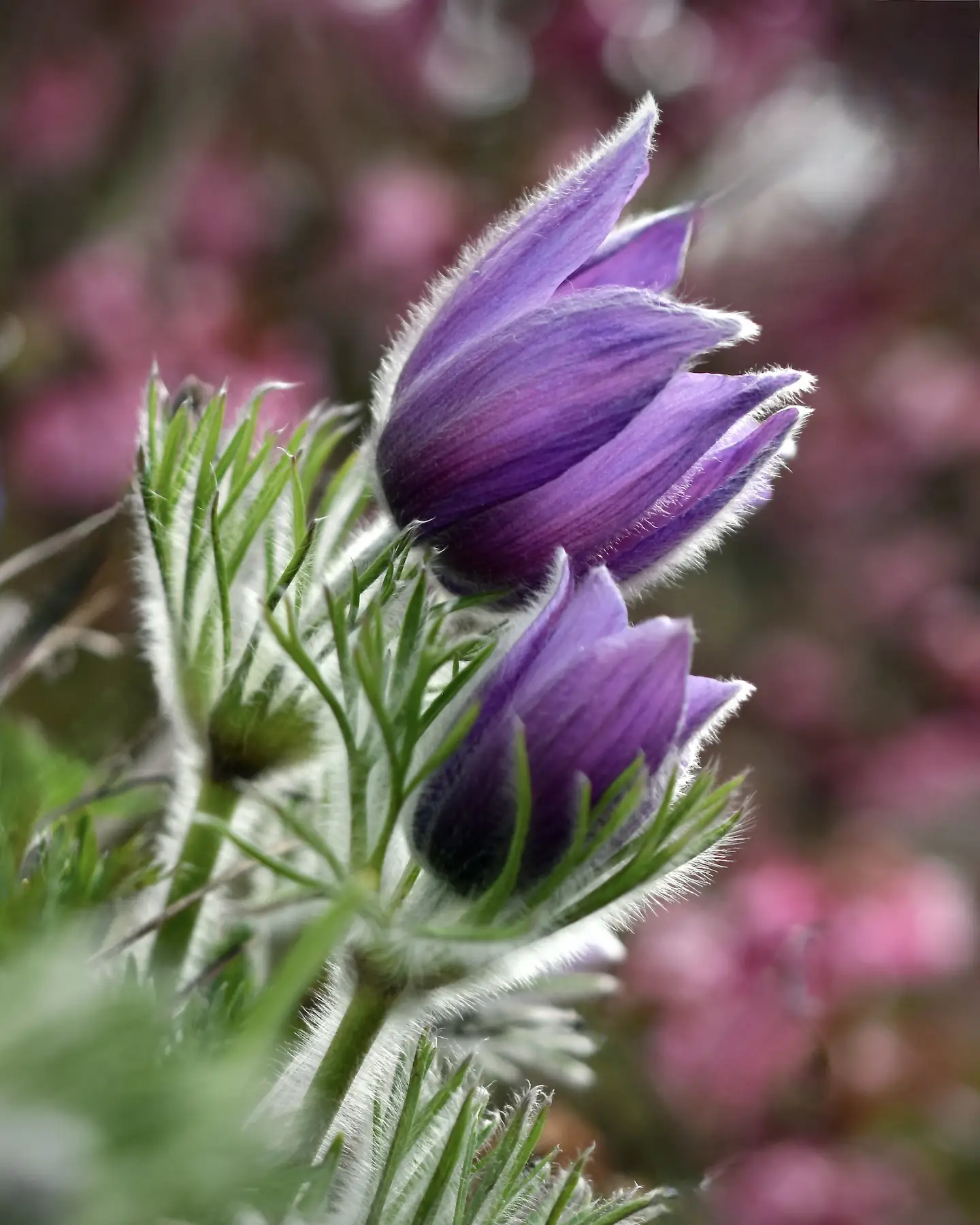 APRIL
---
△ April showers
I love the atmosphere in this photo. These red pasqueflowers look so beautiful as the rain drops fall on them from the dark April sky. I got a lot of great pasqueflower shots this year – they deserve their own post!
▽ View over part of the green roof
The grape hyacinth and Euphorbia, now joined by white pasqueflower, continue to dominate the scene through April. Meanwhile, the rest of the planting is just waking up, putting out new shoots and greening up.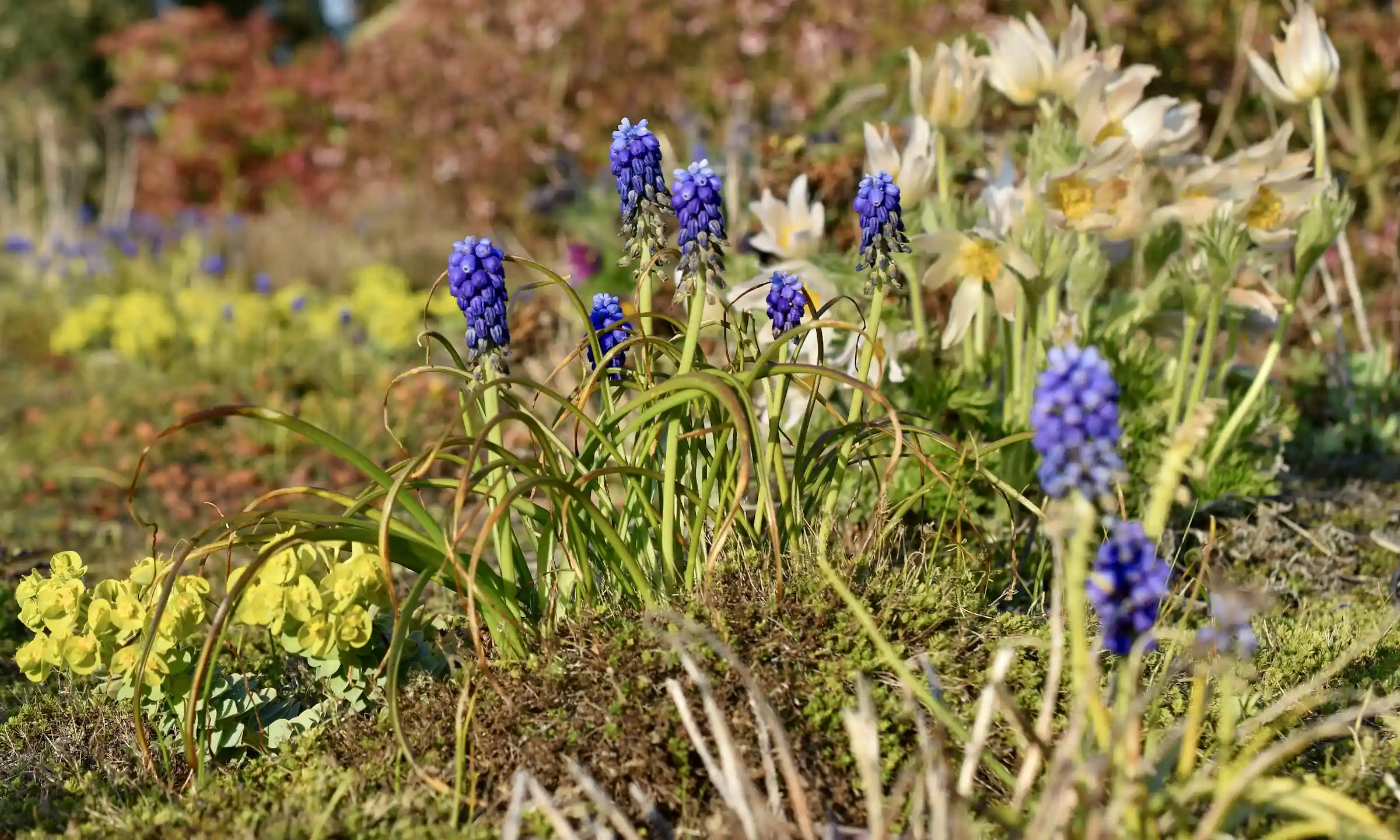 May
---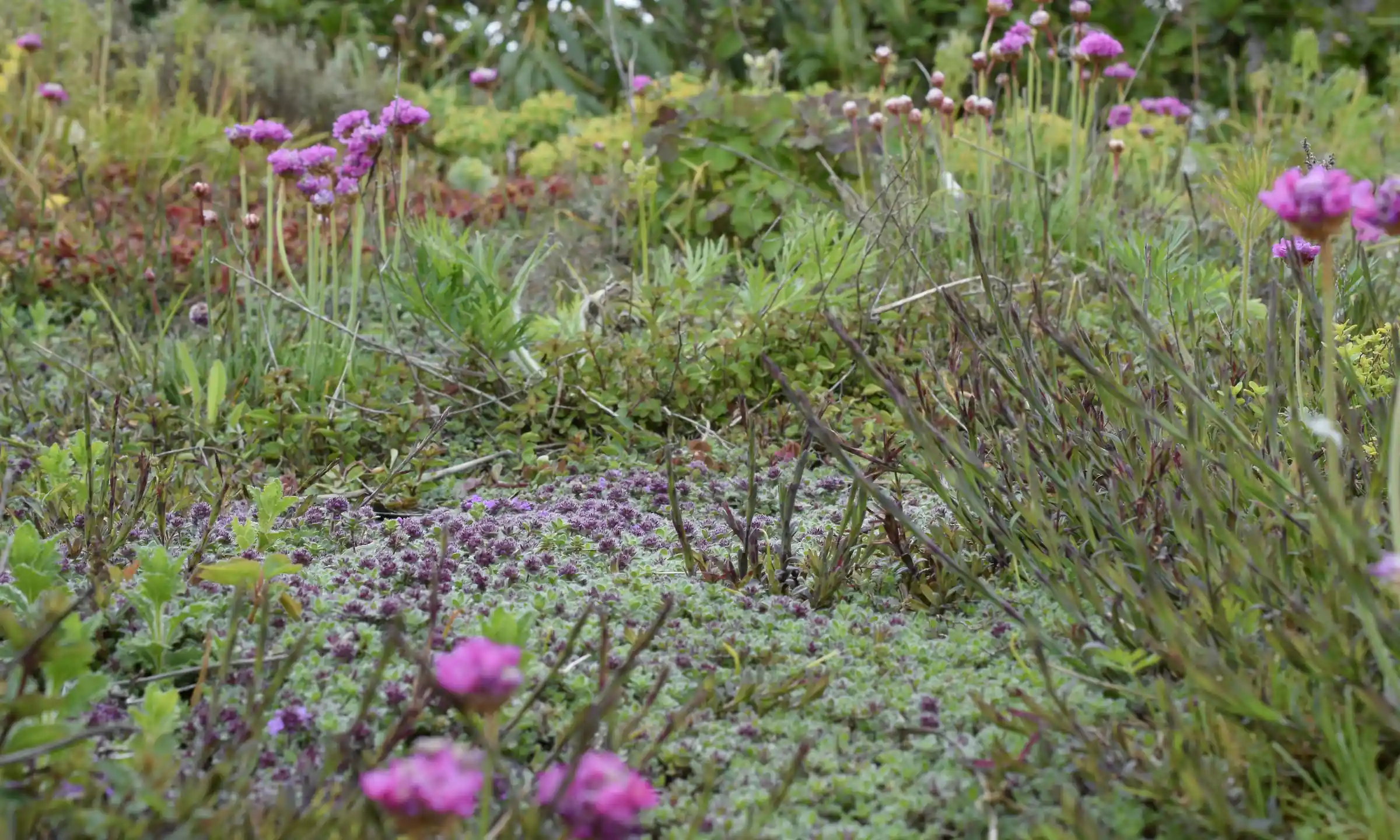 △ Self-sown Thrift
In May there are many little pockets of thrift flowering their hearts out. Most are self sown seedlings, which, for some reason only develop for a few years, before giving up and dying off. Somehow, the ecological balance ensures they maintain a presence in the rich tapestry.

▽ See also photo below
△ Thyme carpet
The little purple burrs in the centre of the photo are clustered buds of various creeping thymes (thymus serphyllum and pseudolanuginosus). These wonderful ground-cover plants have formed a tight 1 inch carpet across much of the roof, covering all the open spaces They now act as a seed nursery encouraging self-seeding.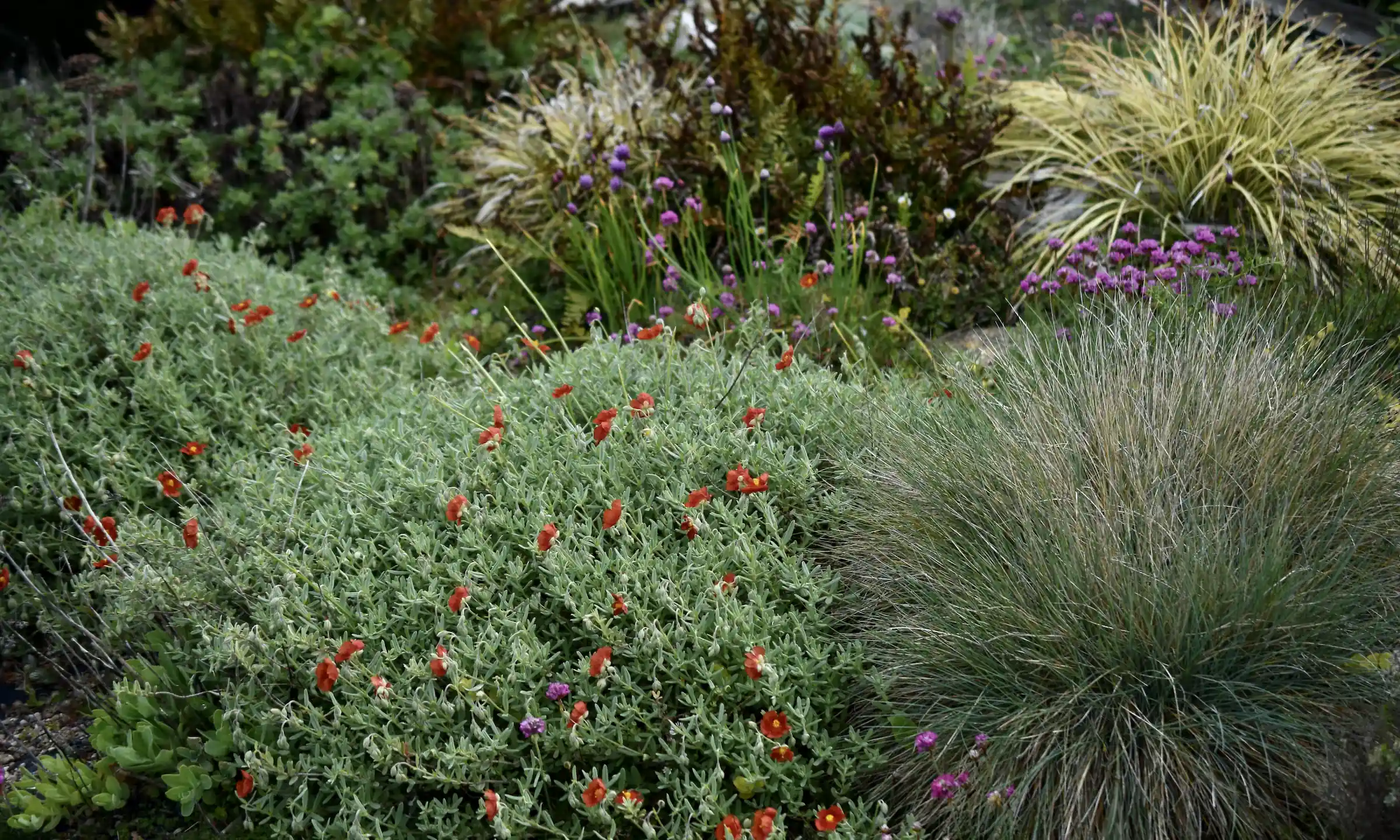 △ Helianthemum 'Henfield Brilliant'
This fantastic sub-shrub is just getting going. The orange-red flowers are individually fleeting, but numerous. They look stunning back-lit by the sun – paper-thin. The grey-green foliage remains healthy all year round. Not as drought tolerant as some of the other plants. I have to keep an eye on it in the summer.
△ Grasses
Foreground a blue festuca. There are two of these on the roof, each has grown into a large clump, 18 inches across. I tend to remove the flower heads before they set seed. Background the golden blades of Carex oshimensis 'Evergold'. This sedge has proved long-lived and drought tolerant.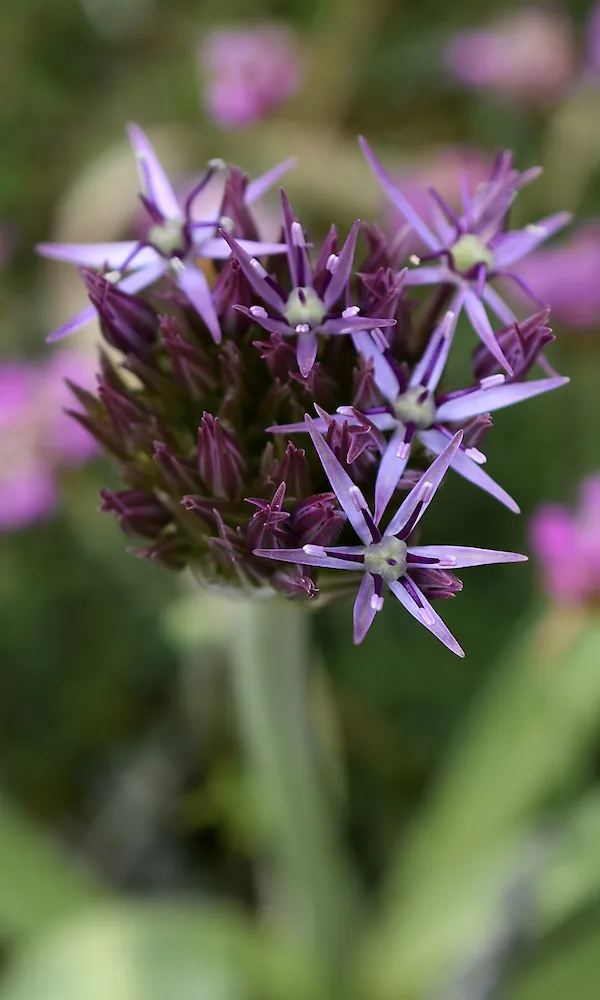 June
---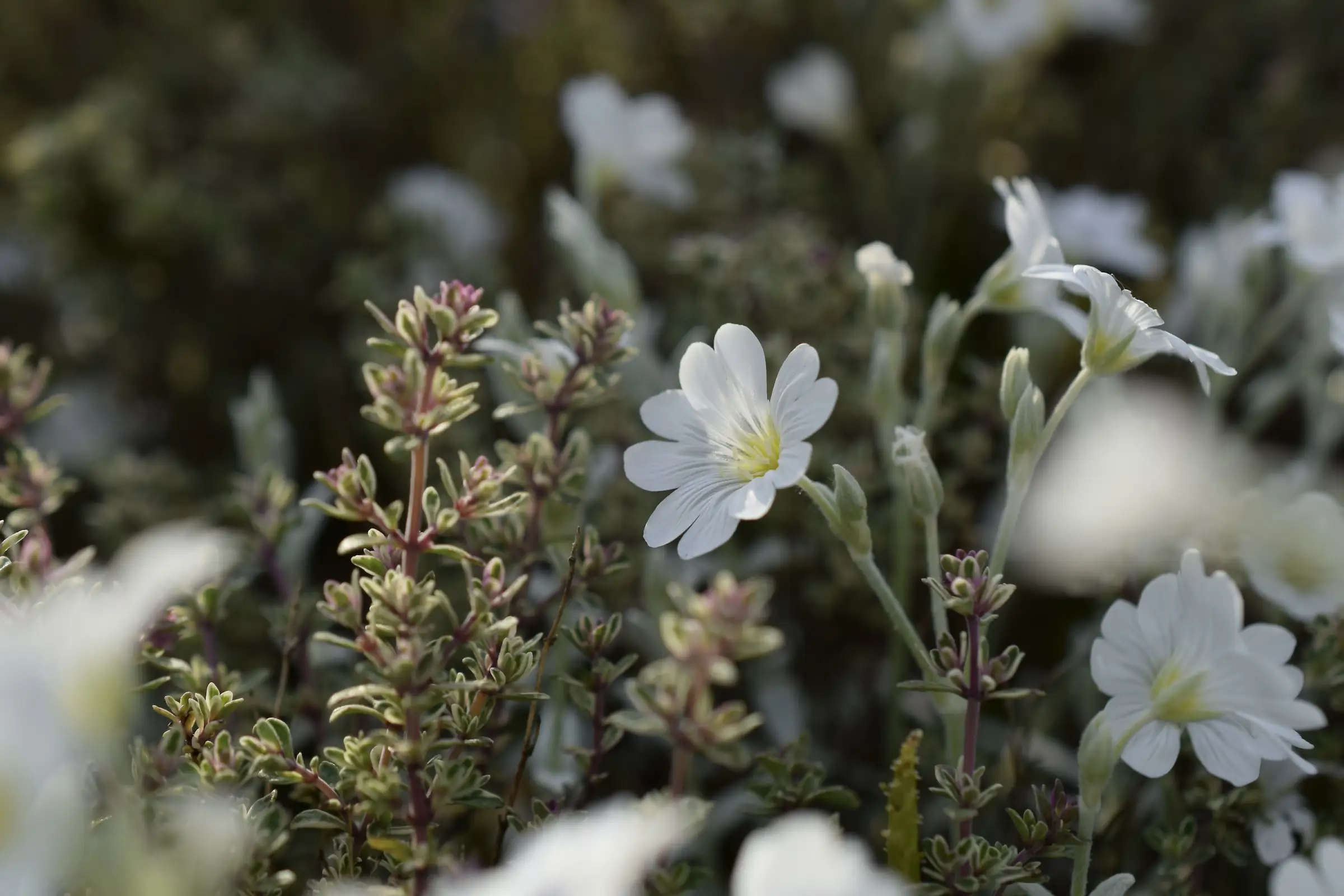 △ Thyme 'Silver Queen'
The two plants in this photo make a compelling combination. The little evergreen sub-shrub Thymus 'Silver Queen' creates a grey haze where it grows on the roof, especially from a distance.
△ Snow-in-summer
The brilliant white Snow-in-summer (Cerastium tomentosum) absolutely shines – even from a distance – through June and July. It blends perfectly with the silver thyme.
▽ Seed heads
The seed heads of the myrtle spurge (Euphorbia myrsinites) are as good as any flower. Other good green-roof seed heads include the papery bracts of grape hyacinths and the feathery plumes of pasqueflowers (not shown).
▽ Gate crashers
Many plants – wanted and unwanted – self-seed on the green roof and I have to undertake thorough hand weeding three times per year to maintain the alpine-wonderland look. Several aquilegia have arrived. Mostly, I let them stay, as they are not too thuggish here (so far!)
July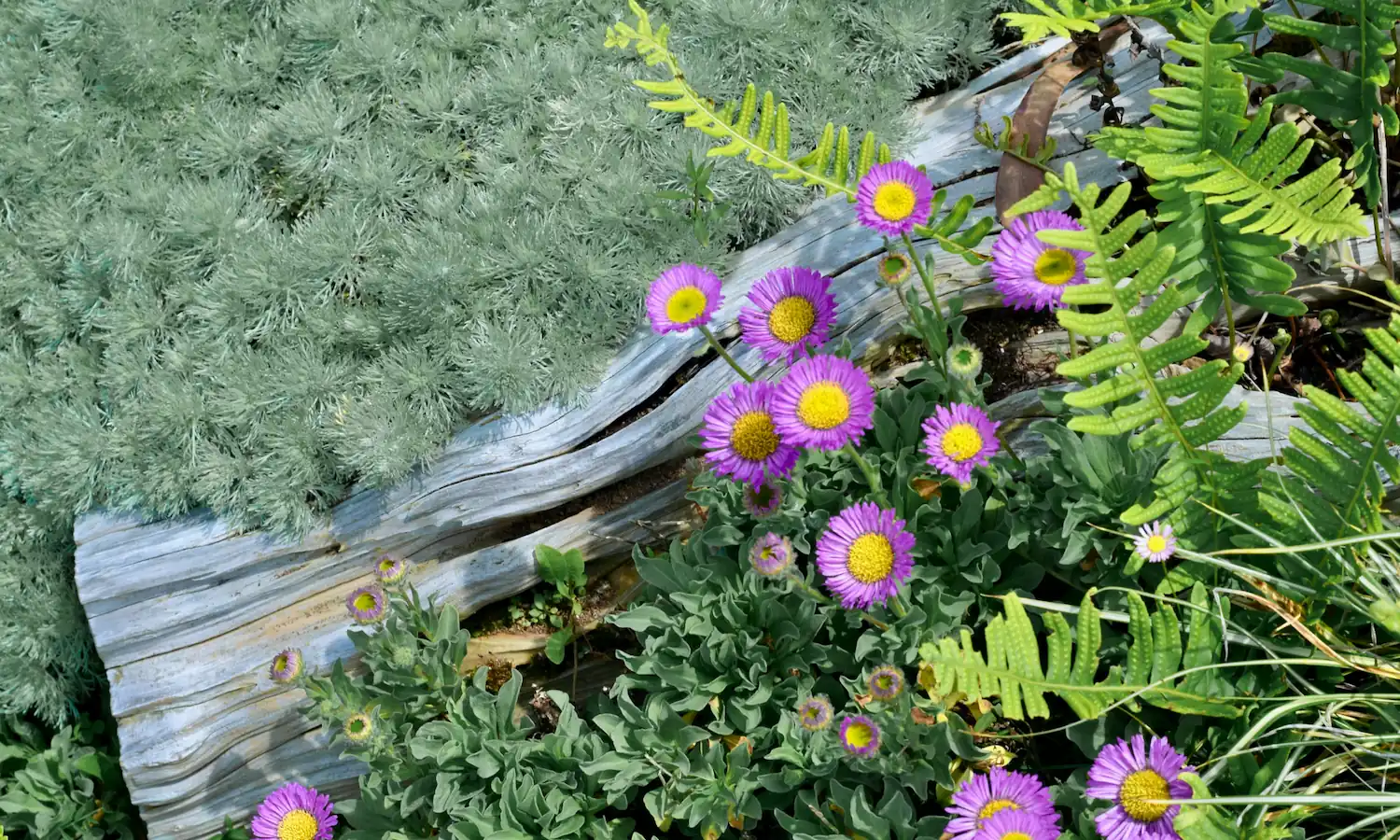 △ Driftwood log
II like this part of the green roof. The log provides a distinct focal point that divides the planting on each side while providing an extra layer of texture. Left: soft grey foliage of Artemisia schmidtiana 'nana'; Center: Bright purple and yellow buttons of Erigeron glauca 'Sea breeze'; Right: Fronds of Polypodium vulgar.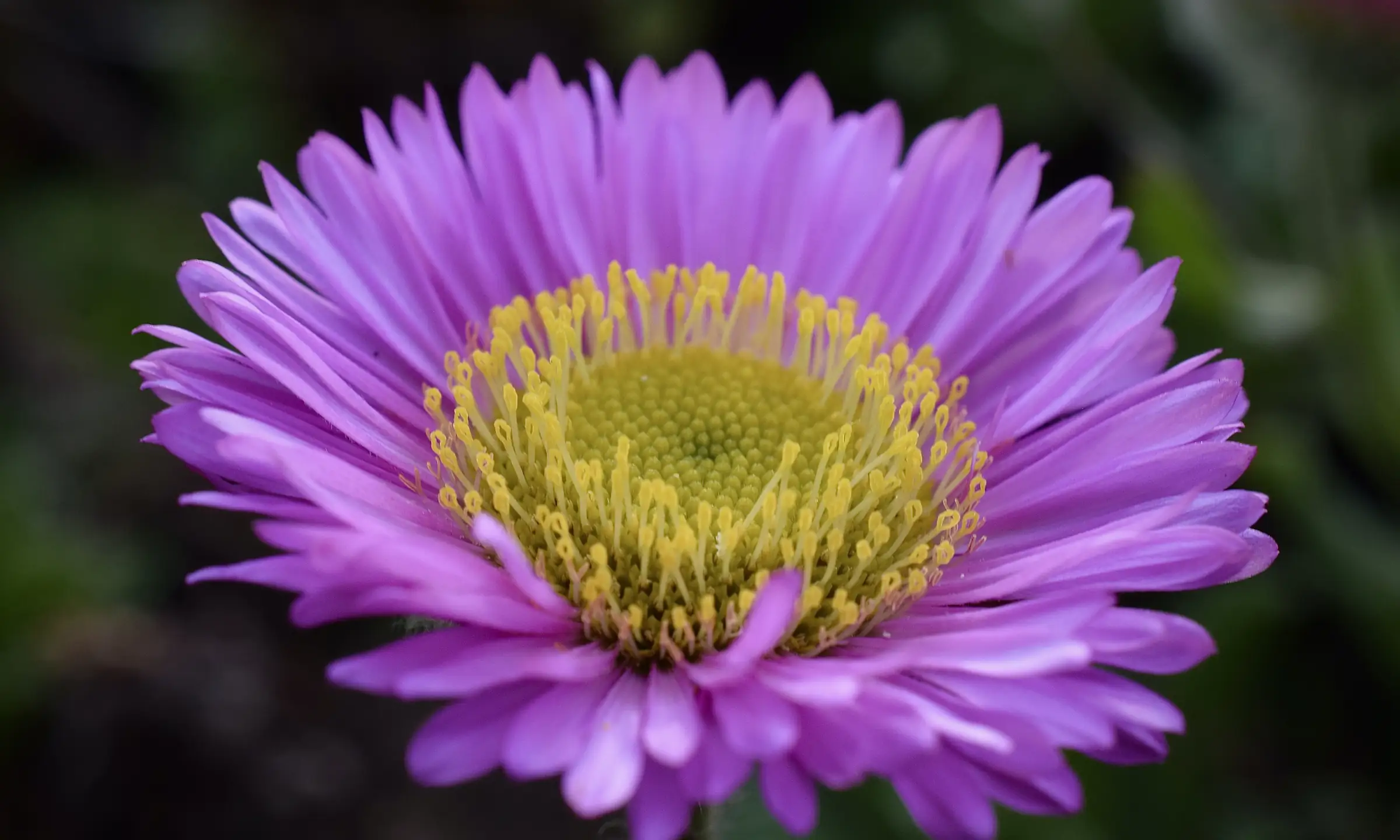 △ Fleabane
I planted several clumps of this fleabane (Erigeron glauca 'Sea breeze') on my green roof, where they have been very successful. Although it is one of the few plants that does not seed everywhere (unlike its Mexican cousin), it does spread by stolons under the weed-membrane popping up in the middle of other plants. So far, tolerably, but I've got my eye on it.
▽ View along the roof
To get up to the green roof, I use a ladder. Before I reach the top I get a plant-level view which often makes wonderful photographs like the one below.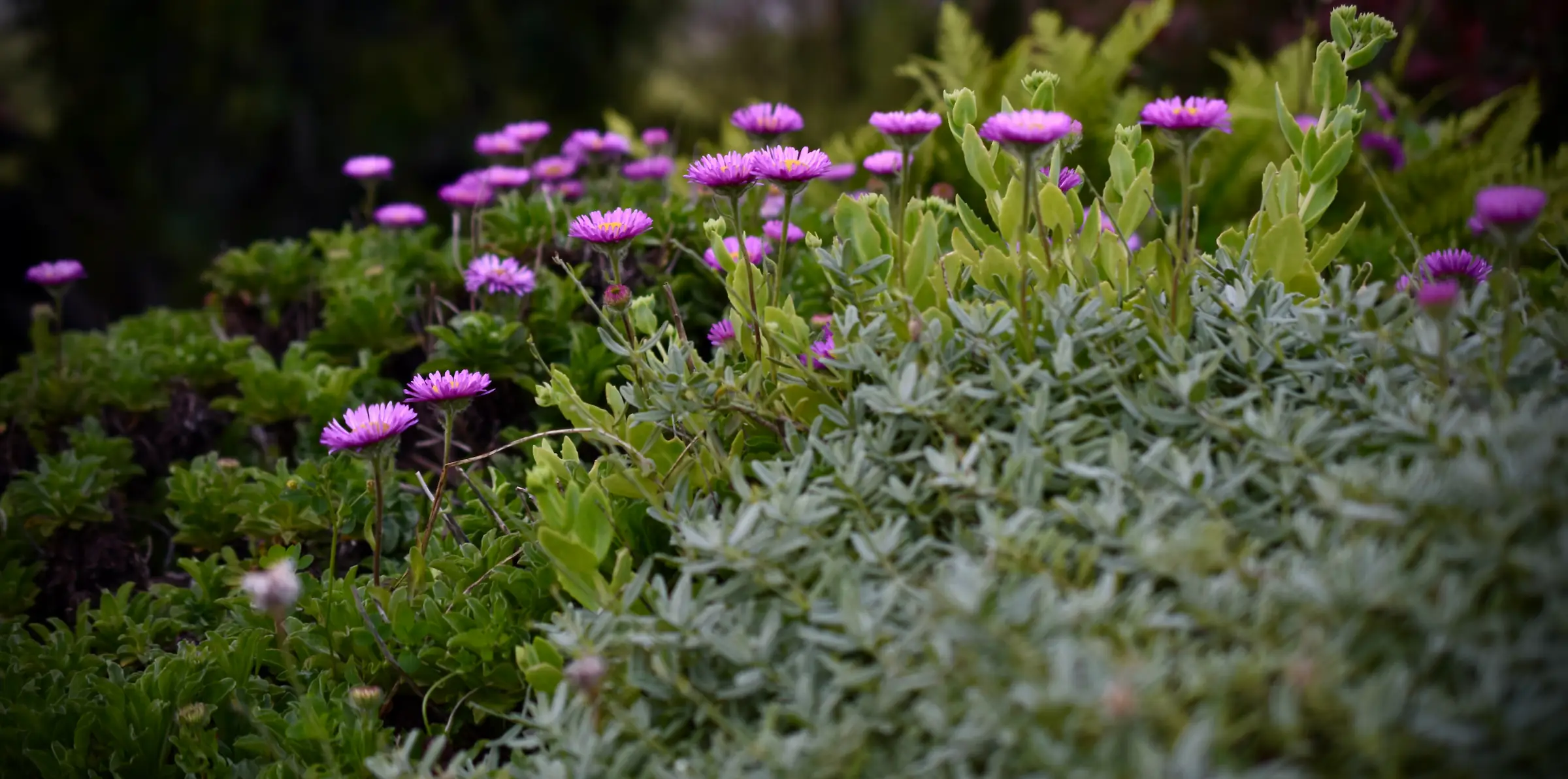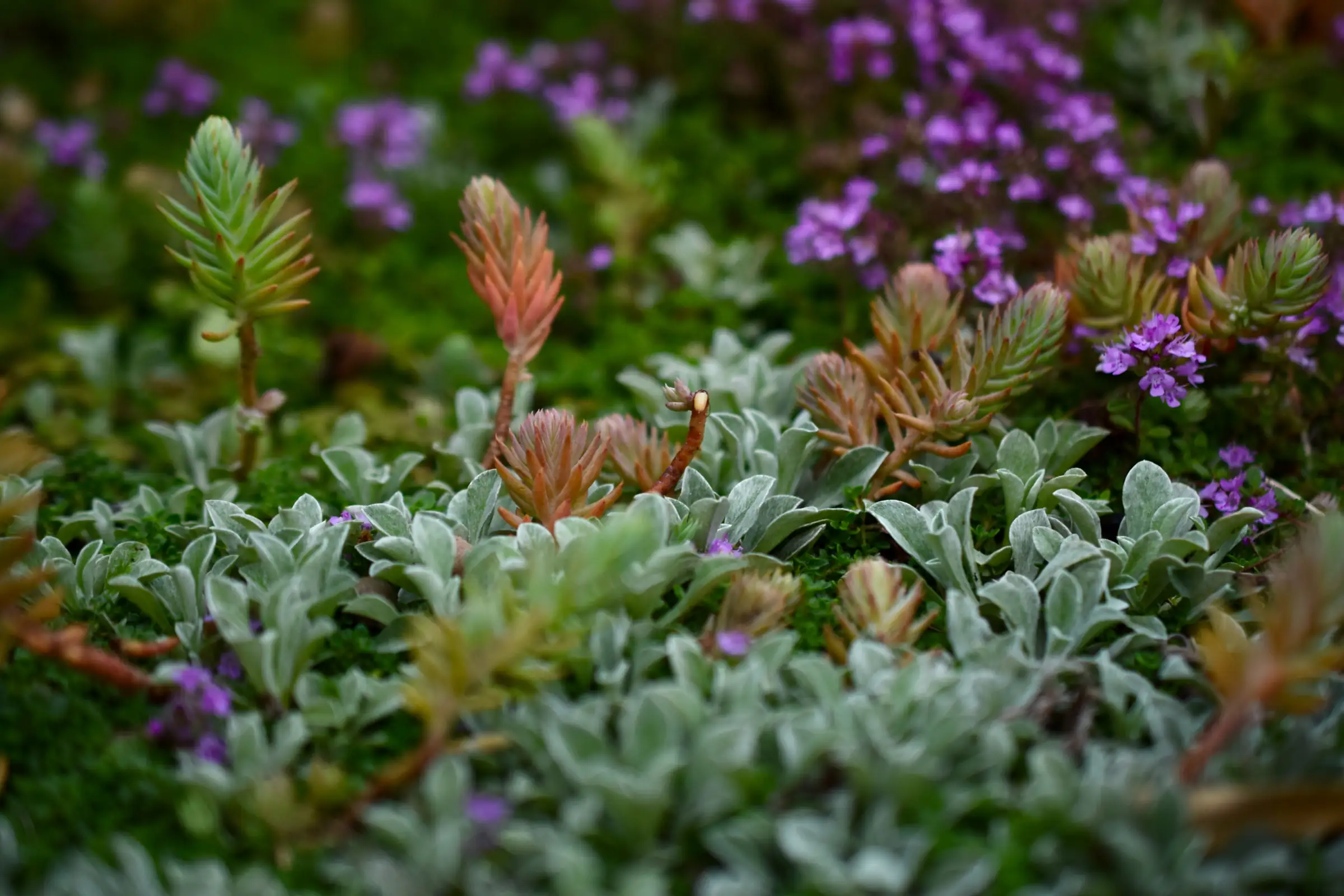 △ Tight-knit community
In this corner of the roof sedum and thyme weave together, but the plant that I particularly want to mention is the little silver leaved ground cover that has persisted here for a decade: Mountain everlasting or Pussy toes (Antennaria dioica). I am so impressed with this little plant. It would probably do well in a stone sink.
▽ Fairy Garden
These little alpine tapestries are the perfect fairy-gardens. The floral carpet below is just one inch high (2cm) with a sedum 'tree' rising just three inches. The little tuft of grassy blades in the middle of the picture is a self-sown thrift plant.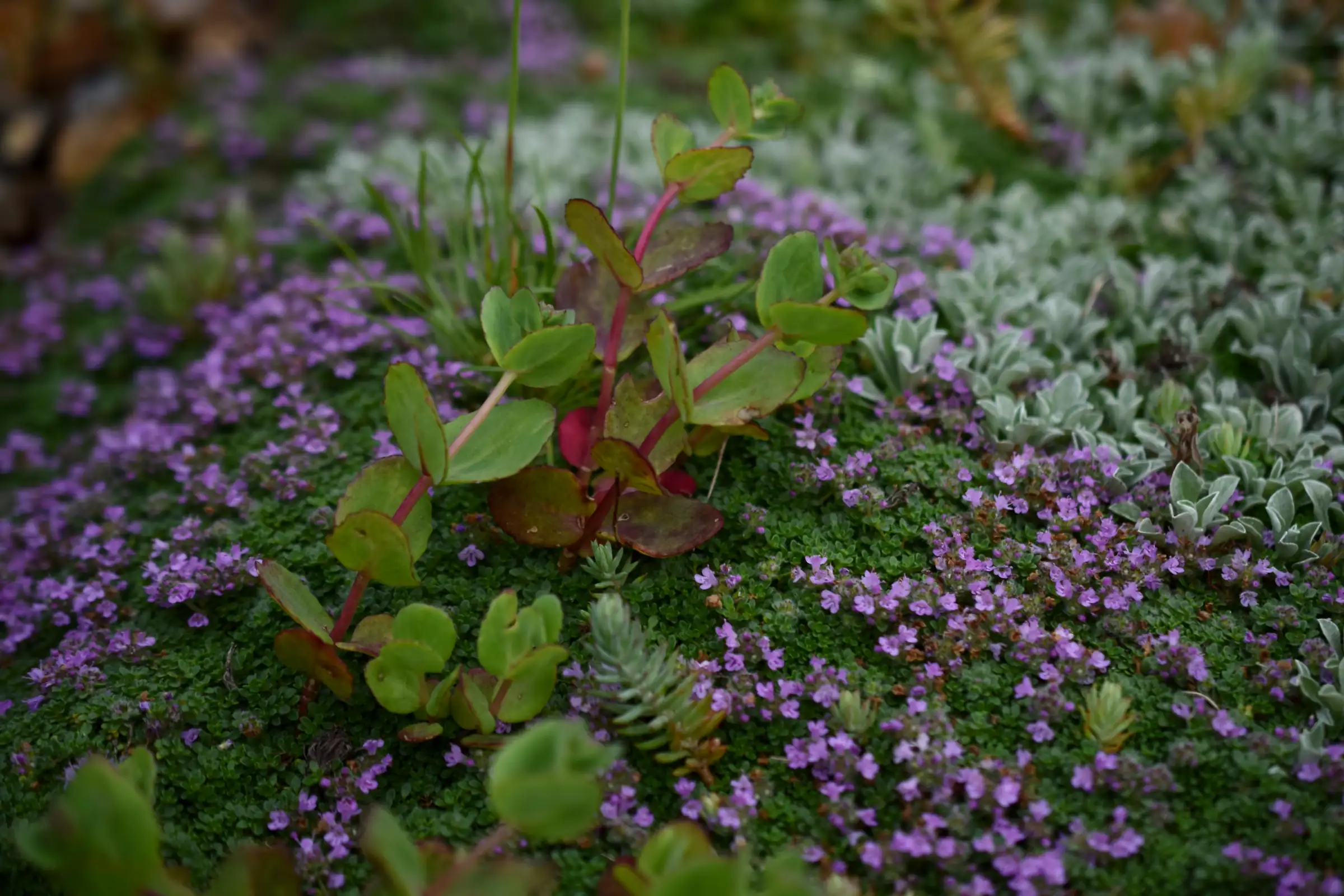 ---