△ This Hellebore × ericsmithii 'Winter Moonbeam'
has flowered reliably in my woodland garden since 2013
helleborUS ×
Long lived, free flowering & reliable
The hybrid or oriental hellebores (Helleborus x hybridus) are some of the most reliable performers you can grow in a shady garden bed. Attractive to early pollinators, they also seed freely, often hybridising in the process. In my garden I have gained several interesting new plants from such self-seeding.
In this post I am going to share the hellebores that have succeeded in my garden.
Given a cool soil in dappled shade these wonderful perennials flower for months on end from late winter, sometimes beginning as early as December. Once settled in, they can be extremely long-lived and reliable.
height spread
flowering time planting year
My oldest hellebore, planted
in 2008, is still going strong.
This unnamed seedling has
produced several offspring.
① Double White Picotee
Super-pretty, this double flowered variety has beautifully fine outlining to the petals. To my eye, it looks more pink than white, but there is a lot of variation within named hellebore varieties, so don't expect yours to be identical.
I only planted this one last year, so this is the first time I have seen the flowers.
14in (35cm) 20in (50cm)
Feb-Apr 2022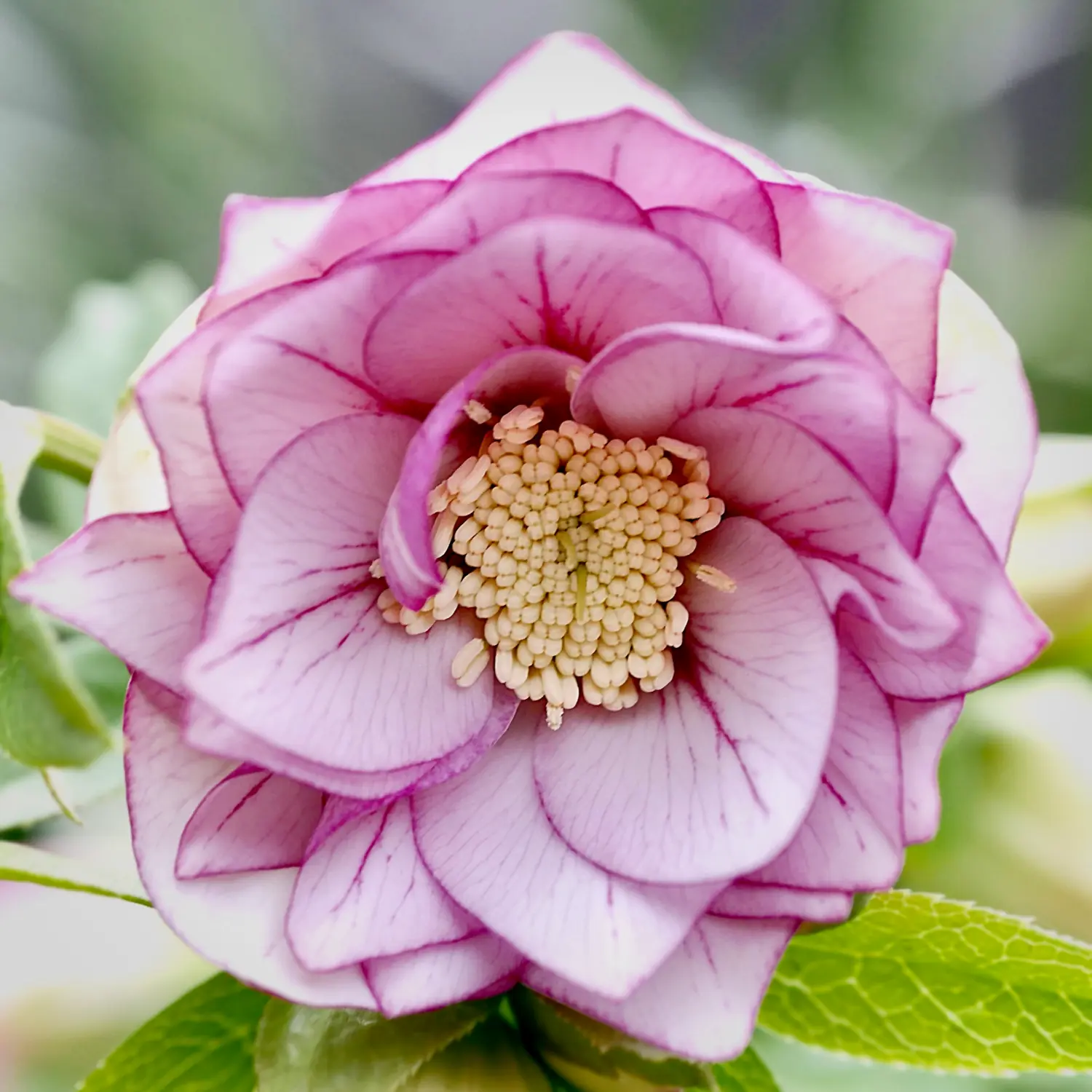 detailed flowers, gorgeous buds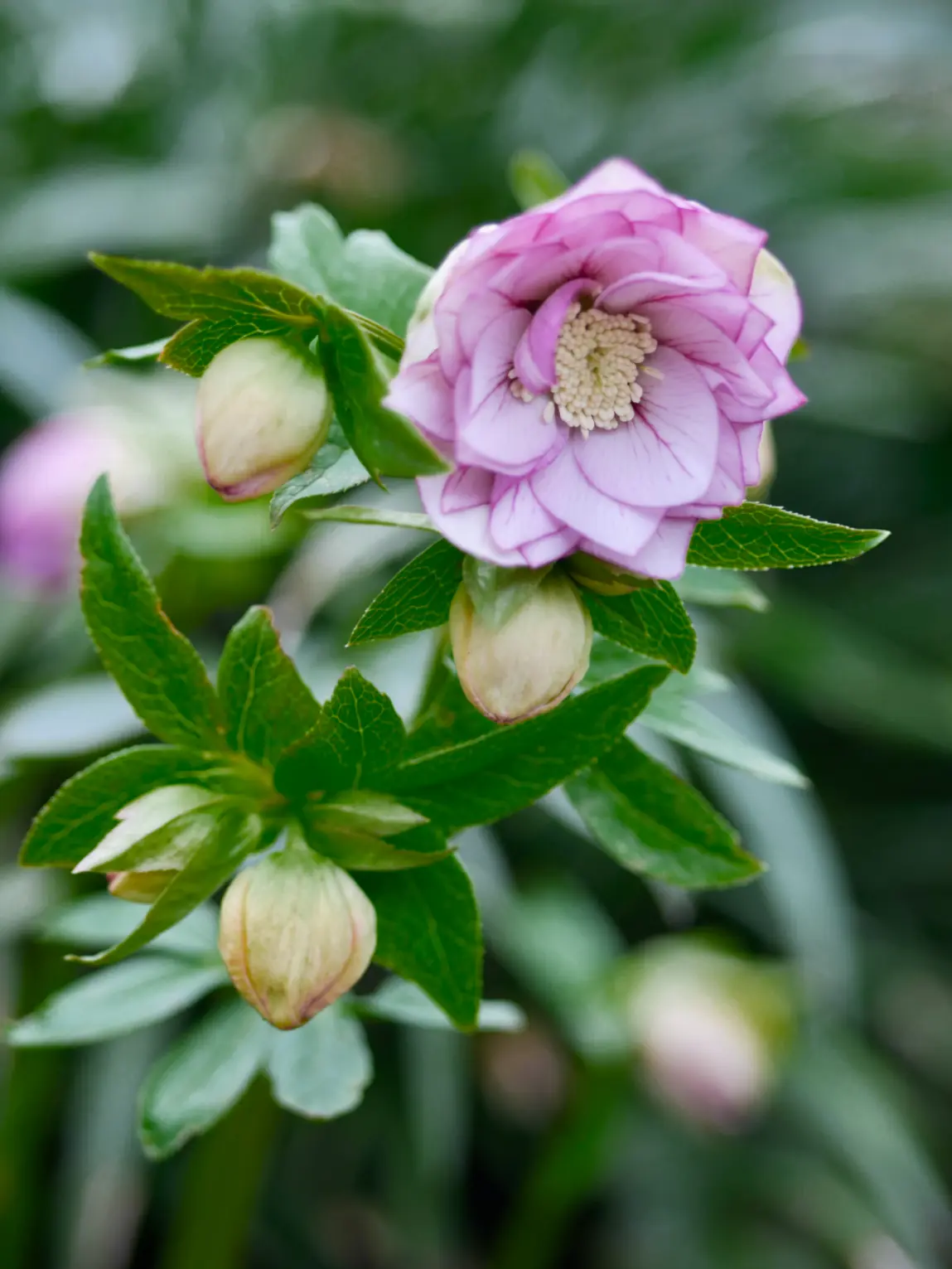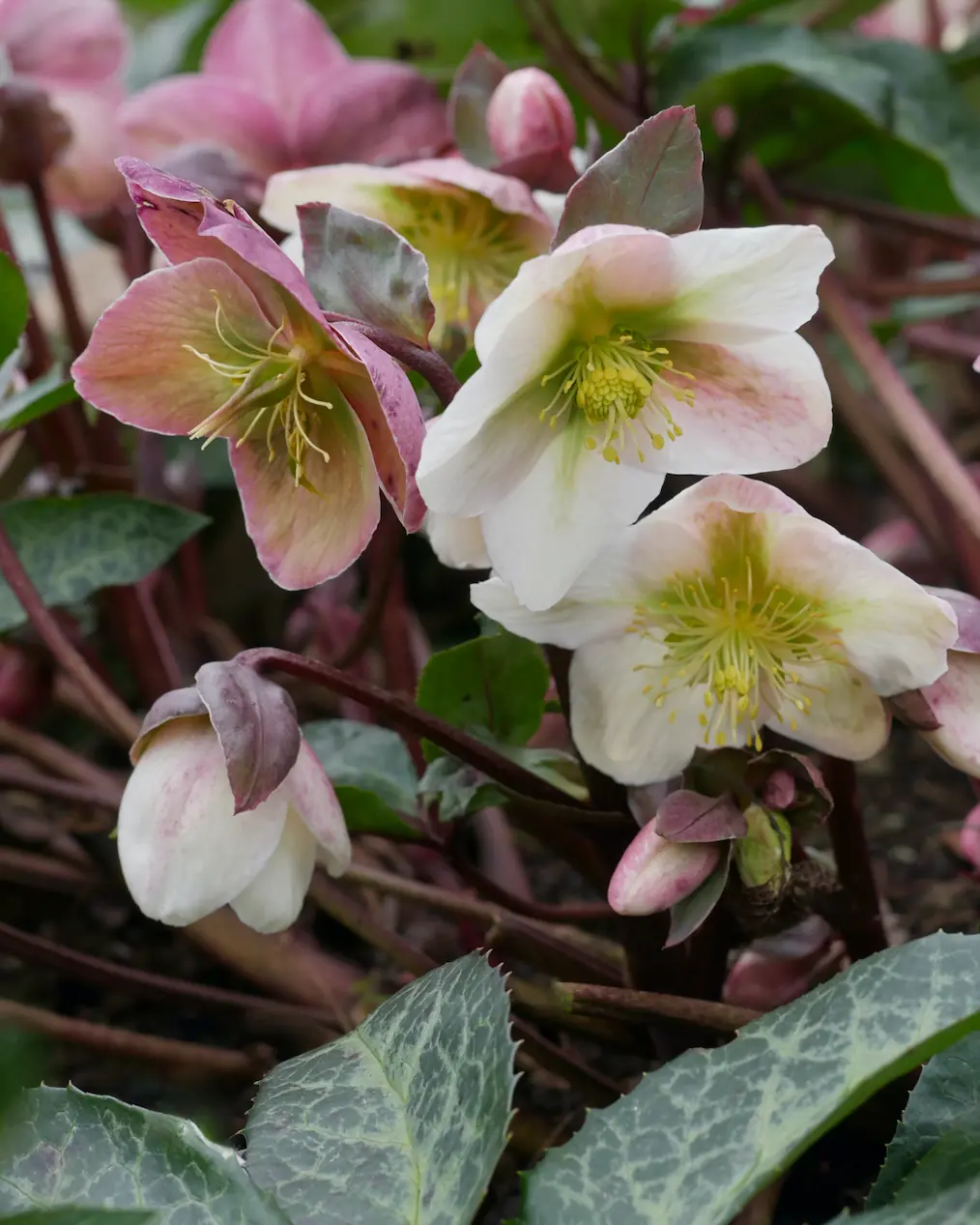 ② Winter Moonbeam
This is an Eric Smith hybrid (Helleborus × ericsmithii) which is a cross between two wild species.
From H. x sternii it gains the handsome teal and silver marbled leaves that look so lovely with the maroon-pink flowers. While from H. niger — the Christmas rose — it inherits hardiness and early flowering. I have recorded blooms in late November in some years, although January is more common.
"Moon Beam" has lovely white flowers with pale pink backs that fade to maroon. Given space, it forms a broad clump three foot across. However, it does not like disturbance, so cannot be easily moved.
14in (35cm) 40in (75cm)
Dec-Apr 2007
Handsome foliage, early flowering
③ Self-Sown Seedling №1
This self-sown seedling appeared in my garden over a decade ago. It has now formed a strong clump with dozens of flowering stems.
It is always the first of my oriental hybrids to come into flower, opening its buds in early January.
It has a couple of special characteristics. Firstly, the young flowers are an inverted tulip shape. Secondly, it has lovely bicoloured mauve petals, although they look distinctly purple here, photographed at dusk.
14in (35cm) 24in (60cm) Jan-Apr c.2016
Exquisite tulip shaped flowers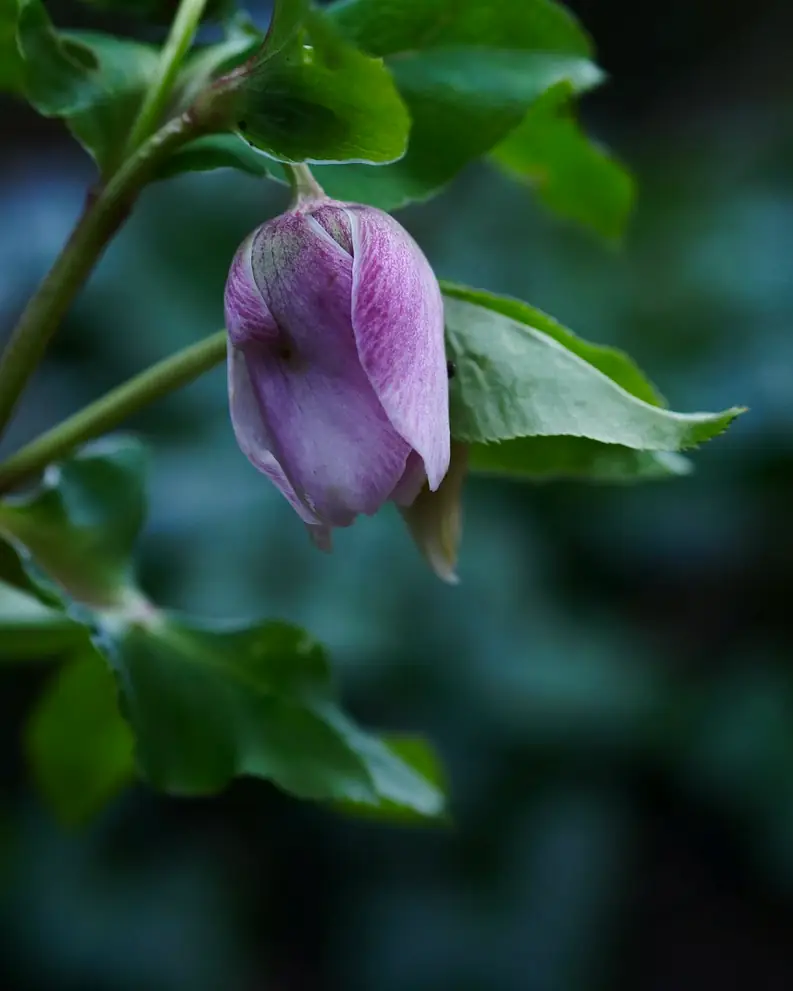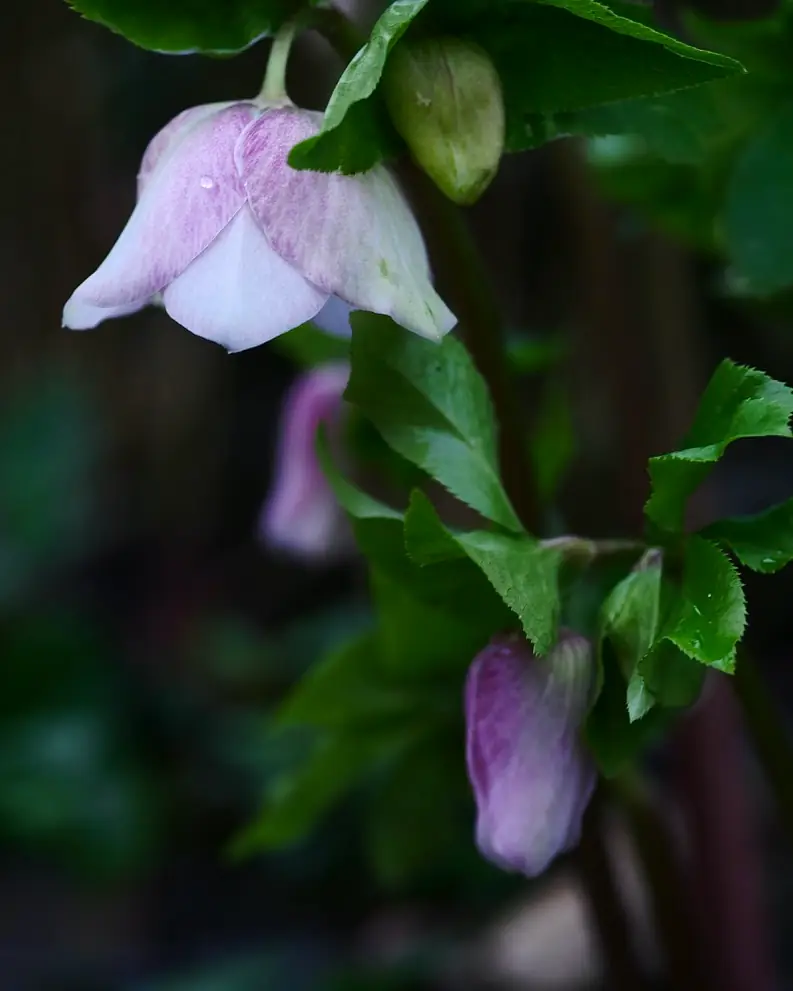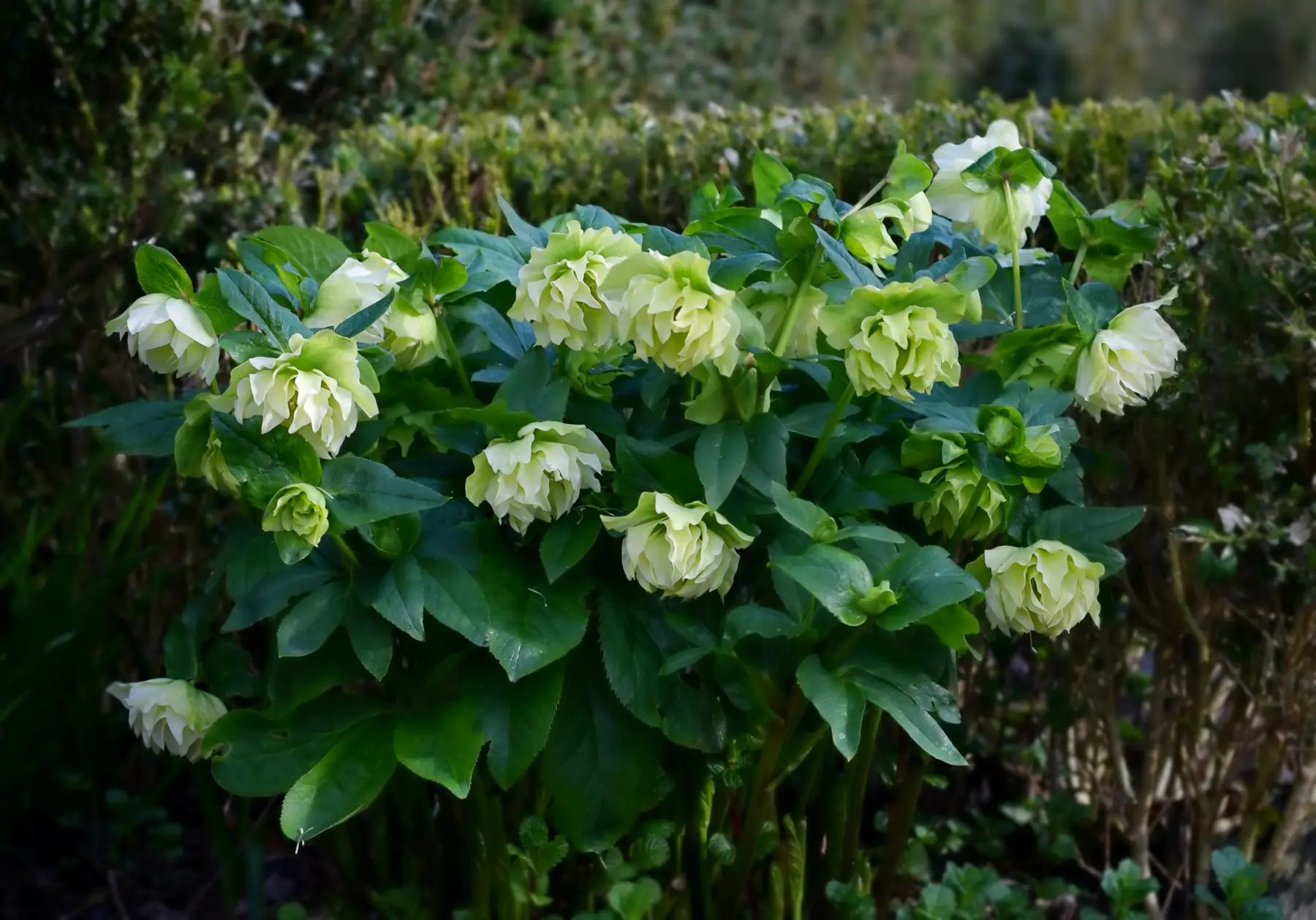 ④ Golden Lotus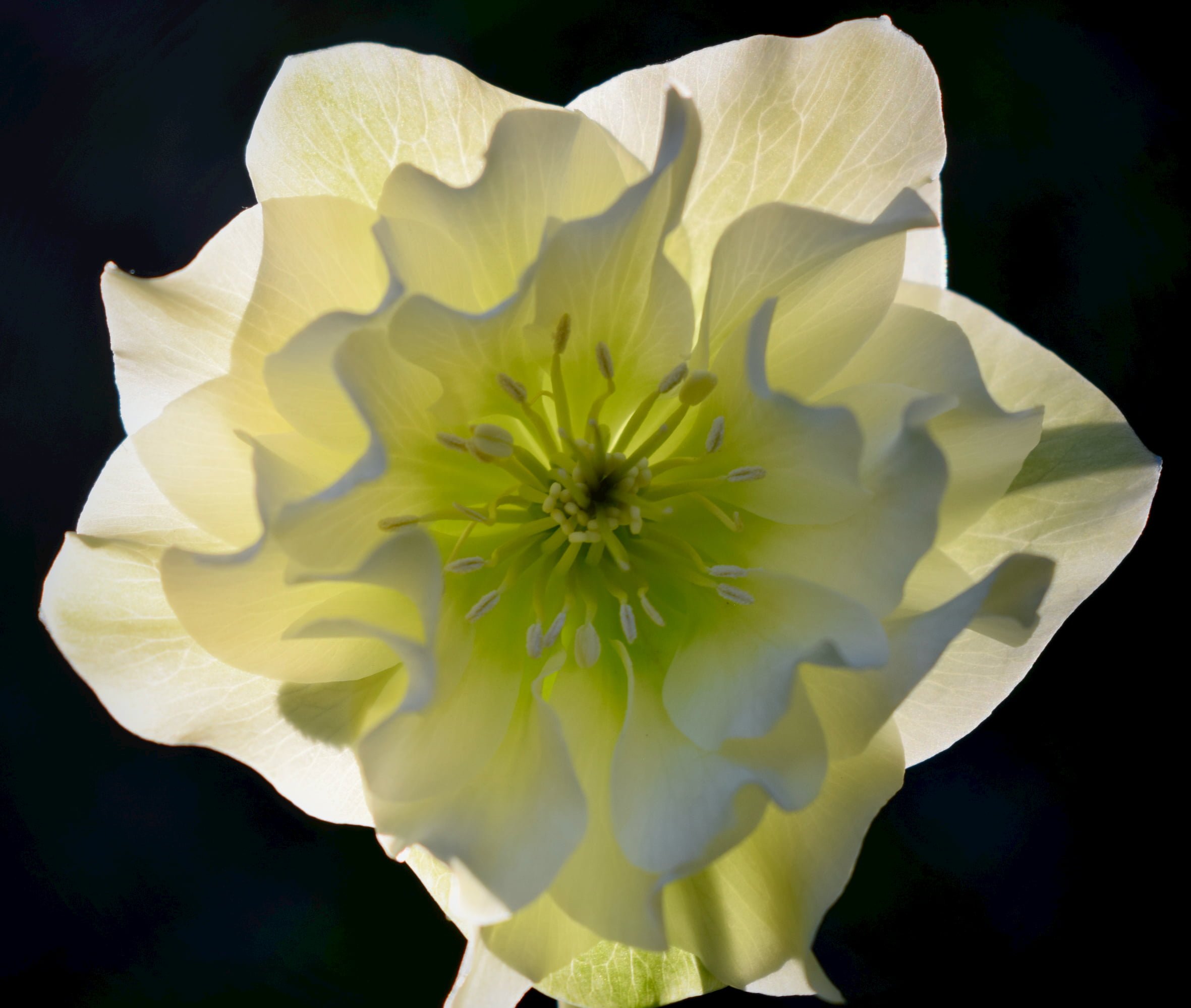 Incredible flower shape

This is one of my most prized hellebores. Its large flowers open a soft pale-green, becoming more creamy white as they mature, before fading to green. I'm not sure, but it may be 'Golden Lotus' or another of the Winter Jewel Series.
16in (40cm)
24in (60cm)
Feb-Apr
2008 divided 2022
⑤ Double Purple
I purchased this in the spring last year, so this is only the second time I have seen the flowers. The main photo is a top view. Hellebores tend to hold their flowers downwards, so you need to get down to their level to see their faces… like this…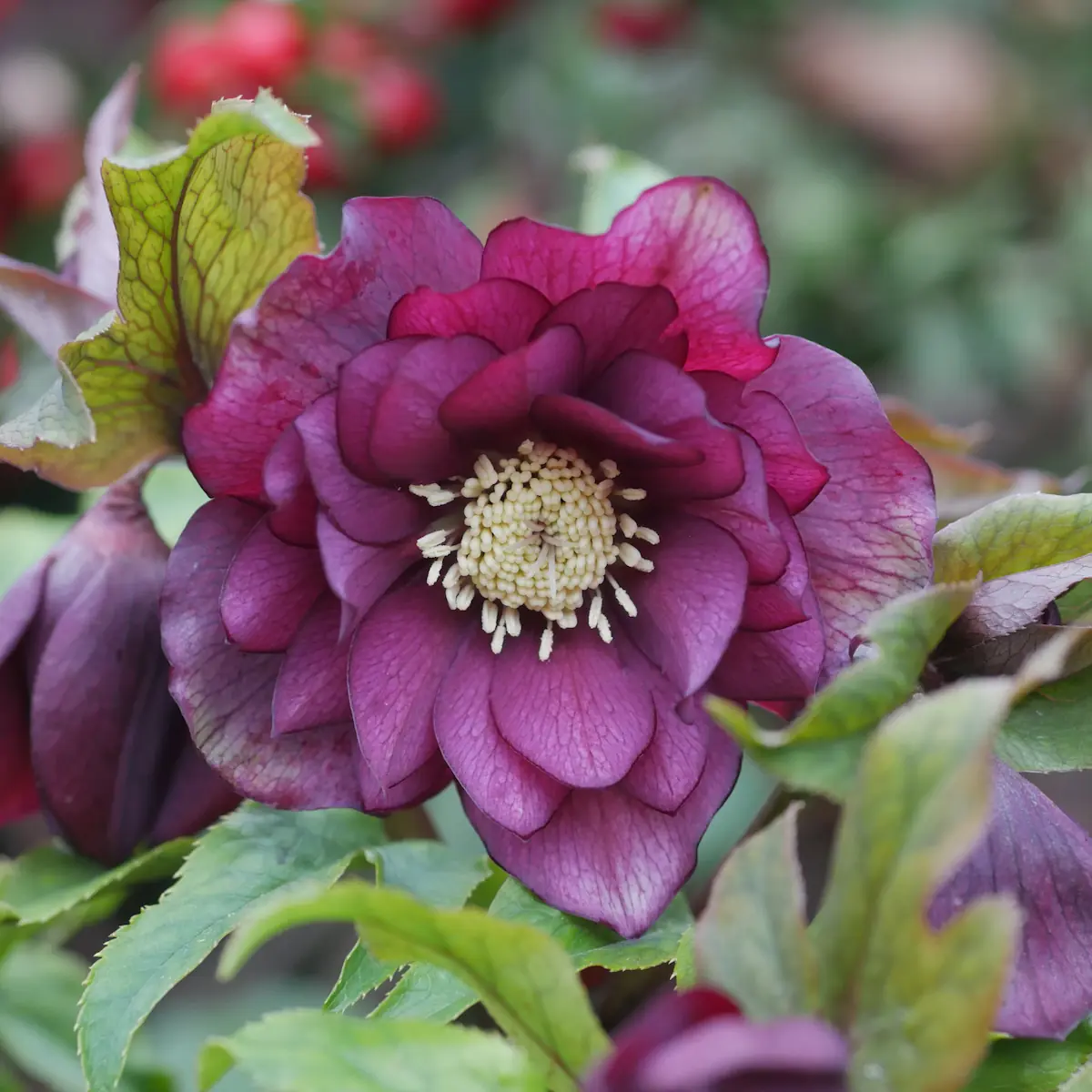 14in (35cm) 24in (60cm) Feb-Apr 2022
Rich plum colour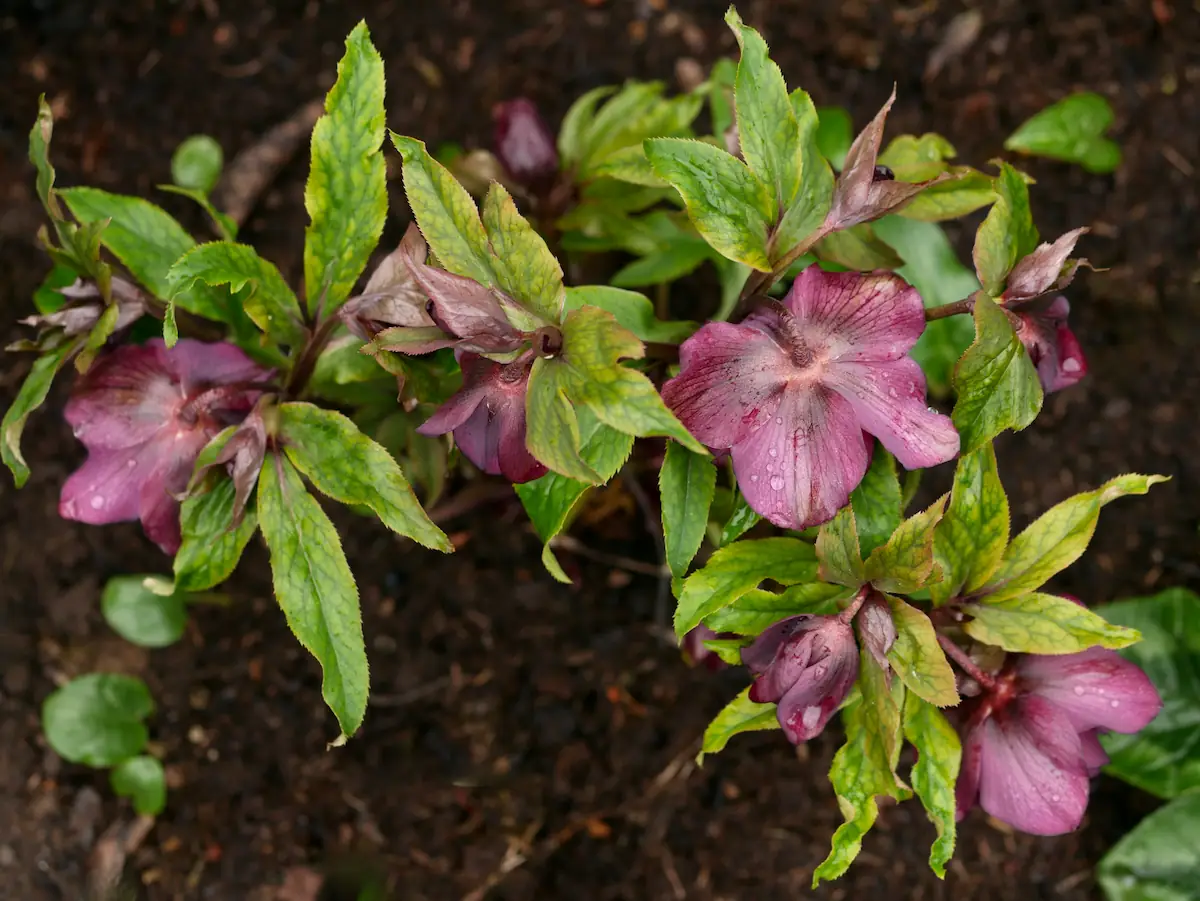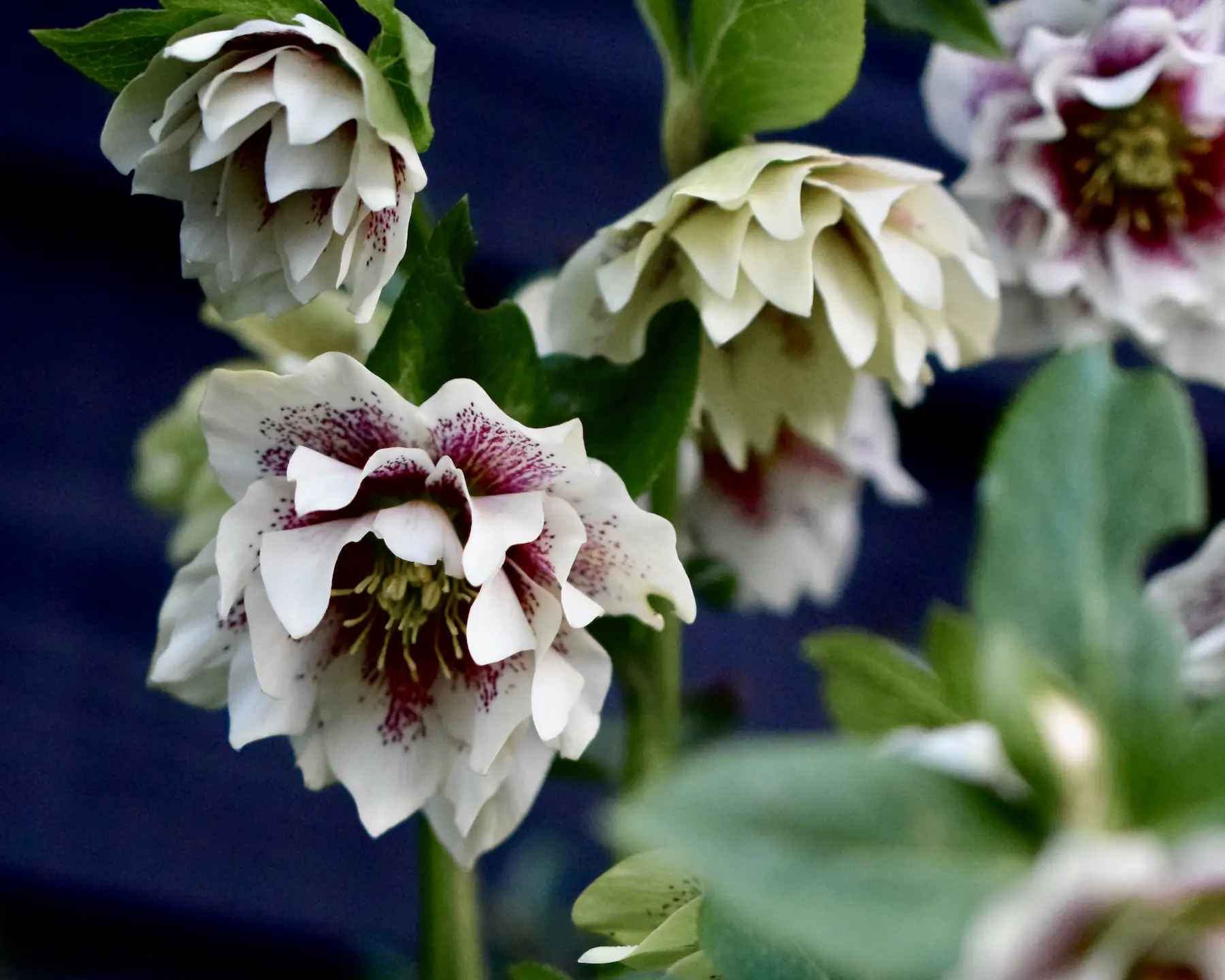 ⑥ Double Ellen white spotted
Dangling frilly white cups with purple spotting on the inside of the petals. The flowers are on the small size. Mine opens quite late — possibly because I grow it in a cold north facing bed — but the flowers are lovely up close.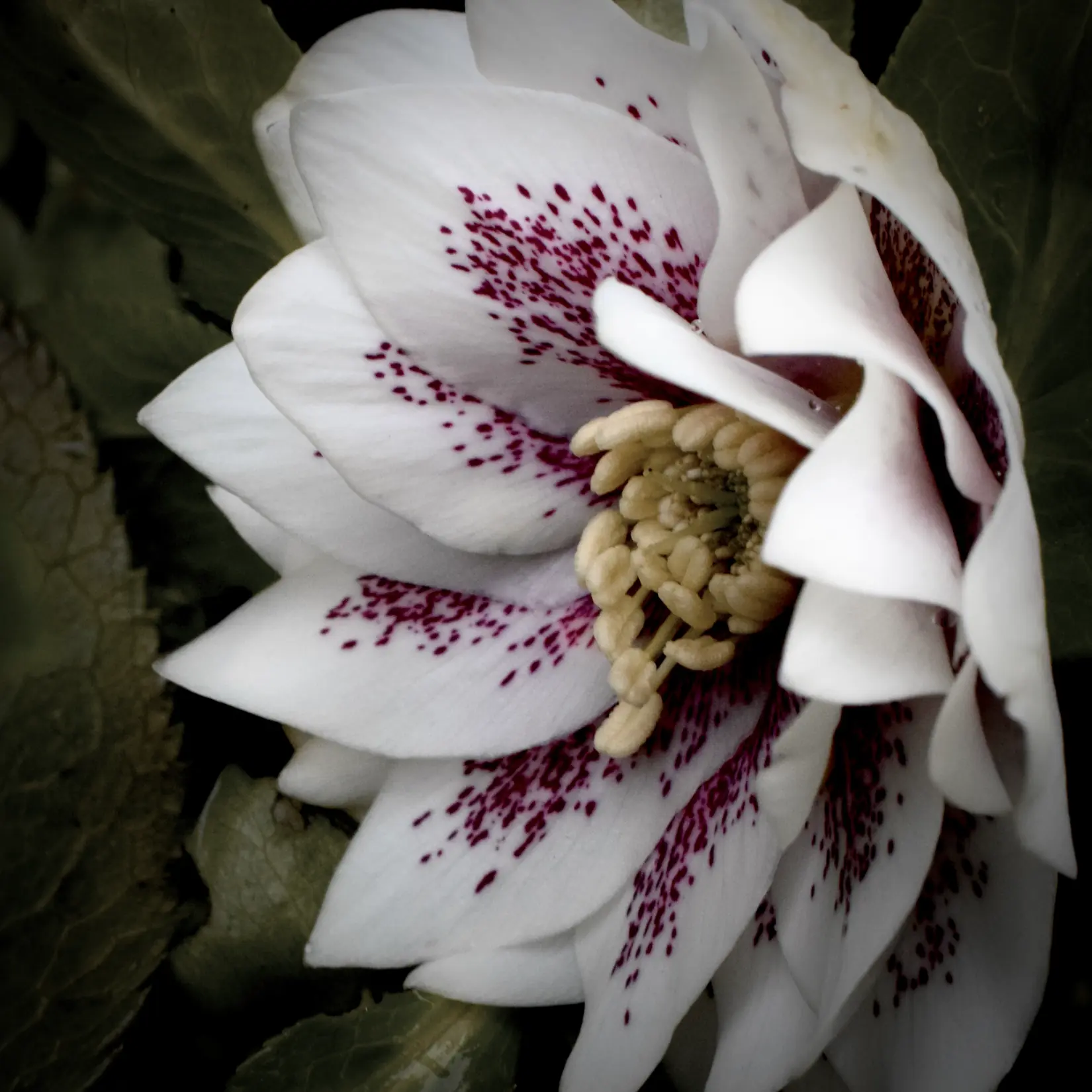 16in (40cm) 14in (40cm)
Feb-Apr 2009
lovely double flowers
⑦ Penny's Pink
This hellebore is a recent addition, only added this month, but already I can see it is a cracker.
Penny's pink is one of the 'Rodney Davey Marbled Group' and you can certainly see the wonderful patterns in the leaves.
What I was not expecting was the purple colouration in the foliage. I suspect this will not be present in the mature leaves, but it is very attractive.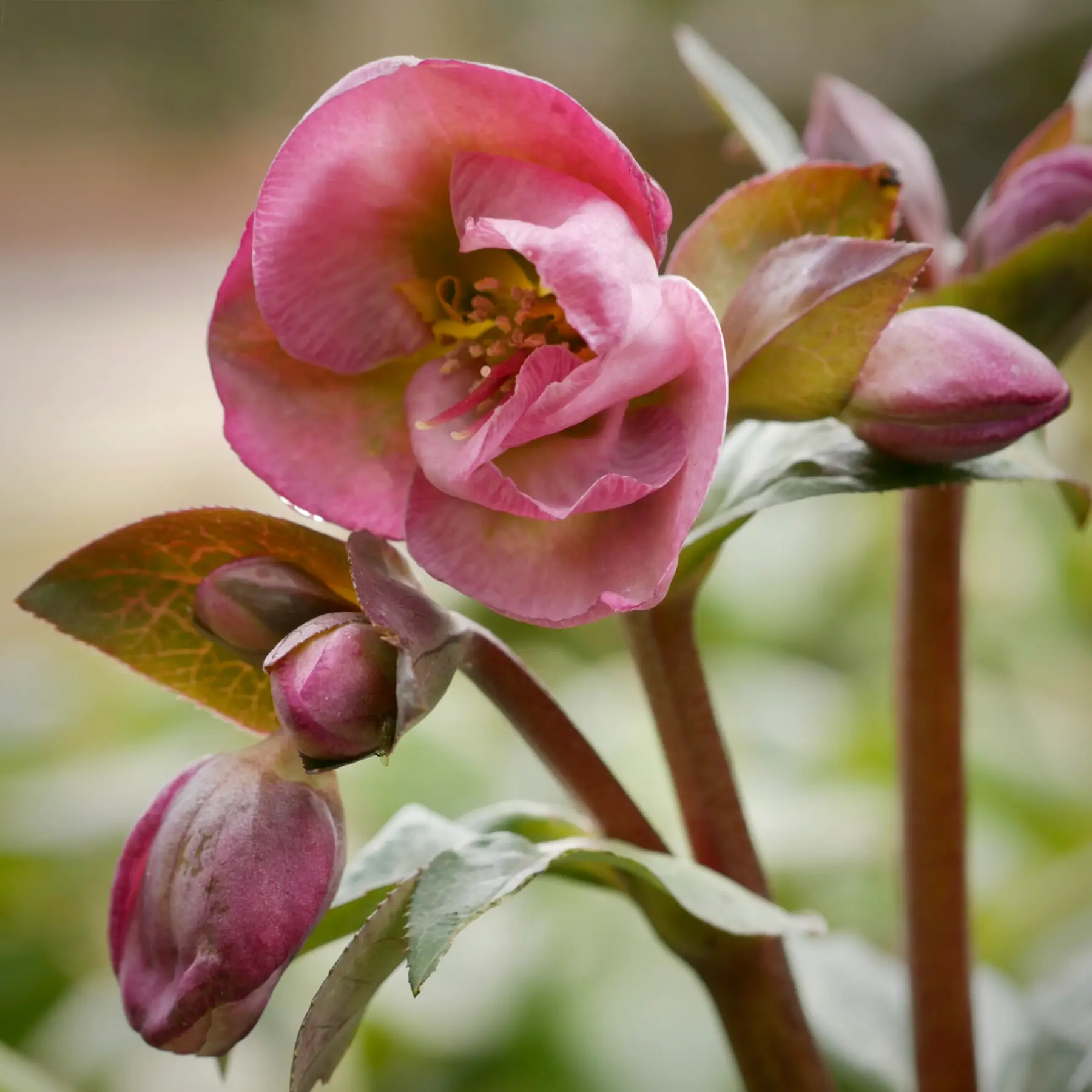 12in (30cm) 24in (60cm)
Jan-Apr 2023
Marbled foliage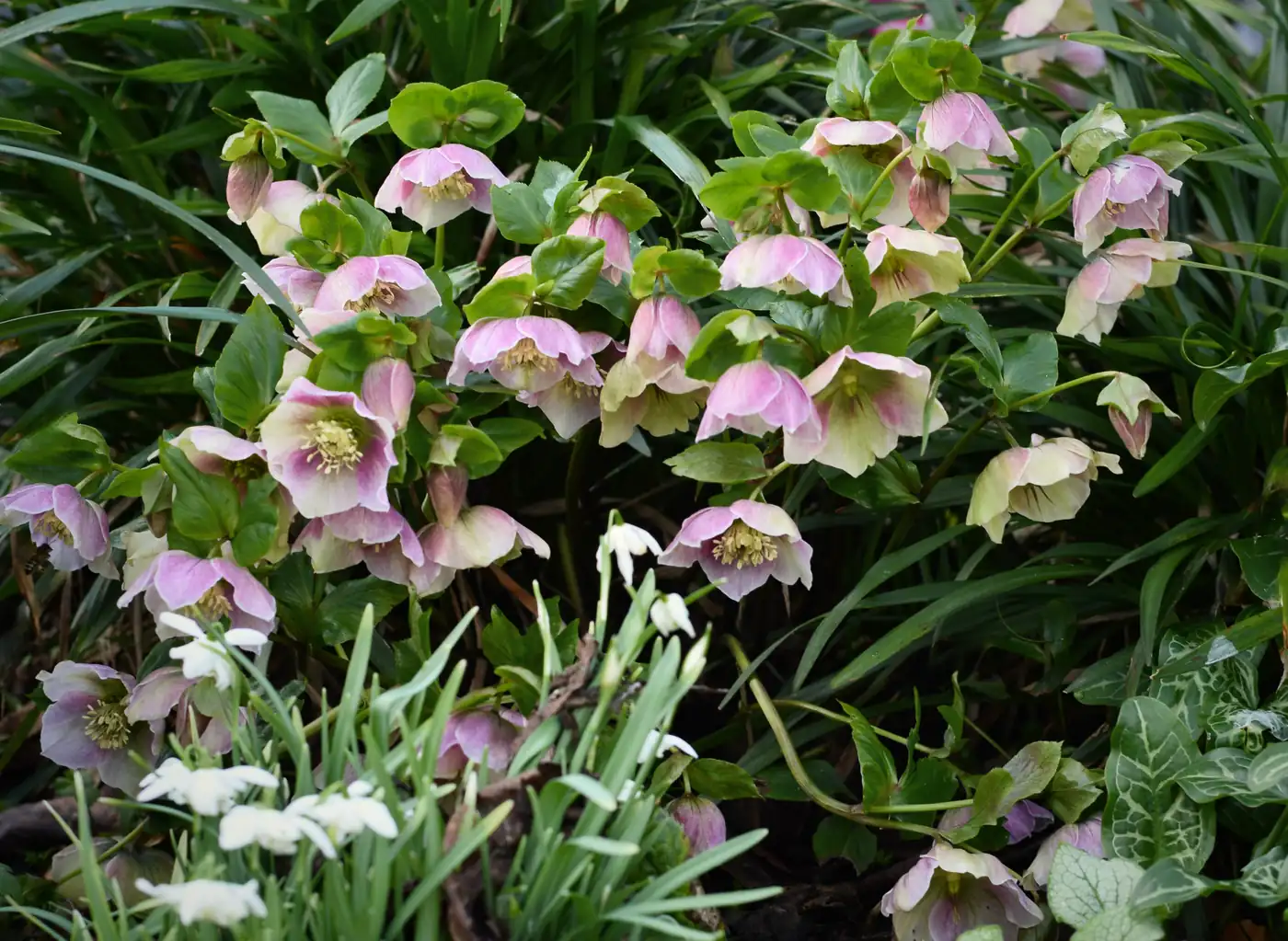 ⑧ Self-Sown Seedling №2
This self-sown seedling appeared in 2013, so the clump is now a decade old. Last year it reached its zenith producing over three dozen blooms.
Like many self sown plants it didn't choose a nice open spot, but parked itself on the edge of a clump of liriope. Unfortunately, it has started to lose out in terms of light and nutrients, which became evident this spring with a marked reduction in flowers.
14in (35cm) 24in (60cm)
Feb-Apr 2013
pink and green lampshades
Hellebore – Photo Gallery