My garden is divided into various areas each with a different theme and style of planting.

What I call the White Garden (also known as the Lawn Garden) is the area immediately behind my house. We look out onto it every day from our kitchen-diner extension, so it is a very important part of the garden. You can read about its design and construction here.

It is now five years old and has changed very little, save for the addition of a Snowy Mespilus tree in 2019. However, this year I have replanted part of the long sunny border that runs along the front of the greenhouse.

The planting theme around the lawn is white and green. What I have found works best are bold white flowers interspersed with dark green architectural foliage (clipped box, ferns etc).

The sunny border in front of the greenhouse is viewed obliquely from the house. It too has white flowers and evergreens, but here they create a series of mounds: a kind of cloud-pruned effect, with flowers popping up between them at different times of the year. In the photo below you can appreciate the importance of these domed evergreens which remain attractive even when the flowers have finished.

Below | Most of the clipped balls are box, but the large sphere with the darker foliage is Myrtus communis Tarentina – an excellent alternative to box. Although a bit less hardy, it is immune to the diseases and pests that plague Buxus these days.
---
Old Plants out…
---
ASPHODEL | The white asphodel has been a great feature plant – and an unusual one – with its towering spires of flowers in May. Unfortunately, its foliage was always rather tatty and
CISTUS | One shrub shrub to get the chop was Cistus corbaroensis. Although perfectly fitting here with its splash of bright white flowers, it was simply getting too big. Unlike the box and myrtle it can't tolerate hard pruning. Also it only flowers for a few short weeks.
LAVENDER I also removed four white English lavenders. The problem was that their summer flowers (as beautiful as they were) flopped all over the place, and being so close to the greenhouse they grew at an angle. A further weakness was that the small flowers which lacked the punch that suits the style of the rest of the white garden.



---
…NEW Plants IN
---
After removing the lavender, asphodel and cistus, I had some good sized planting areas. In these I planted a variety of herbaceous plants with the aim of creating a longer flowering season. I looked for plants that would be better suited to growing between the clipped evergreens: smaller, more upright and neater, so they wouldn't swamp the evergreens. To extend the season further, I planted bulbs which die down in the summer. Below is a walk through the season beginning in February with Star-flower and finishing in December with roses and Kaffir lily.
Starflower (Ipheion 'Alberto Casillo')
These wonderful little bulbs are easy to grow and flower early in the year. Their foliage dies down completely by the end of spring allowing late perennials to take their place.
(February/March)
White tulips
These are dramatic for weeks in the spring. Their bold splashes of almost pure white fit in with the theme of the white garden perfectly.
(April/May)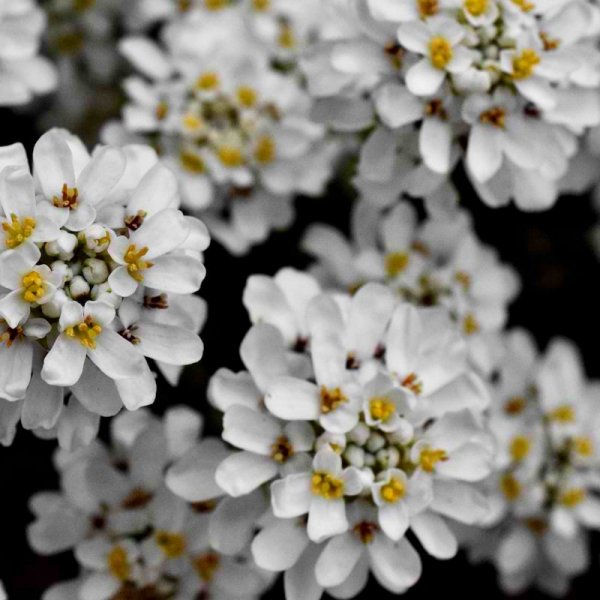 Candytuft (Iberis sempervirens)
I have these planted at the front of one area where they will grow over the edge of the path. White Echinacea take over the show later in the season.
(May)
Amaryllis (A sonatini 'White Rascal')
I planted three bulbs of these hardy Amaryllis, but only two came up. If they survive the winter I'll plant some more.
(May/June)
Iris (Iris 'White Swan')
I have had a clump of these in this bed for a few years and they are doing very well. They tie in with adjacent beds where they also grow.
(May/June)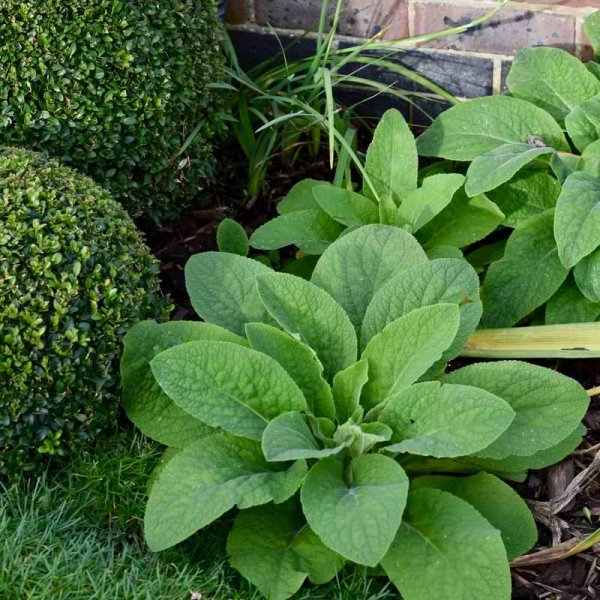 Foxglove (Digitalis purpurea 'Alba' )
These classic flowers are used throughout my White Garden and self-seed reliably. They fit into this border perfectly. These rosettes will flower next year.
(June/July)
---
Galtonia
---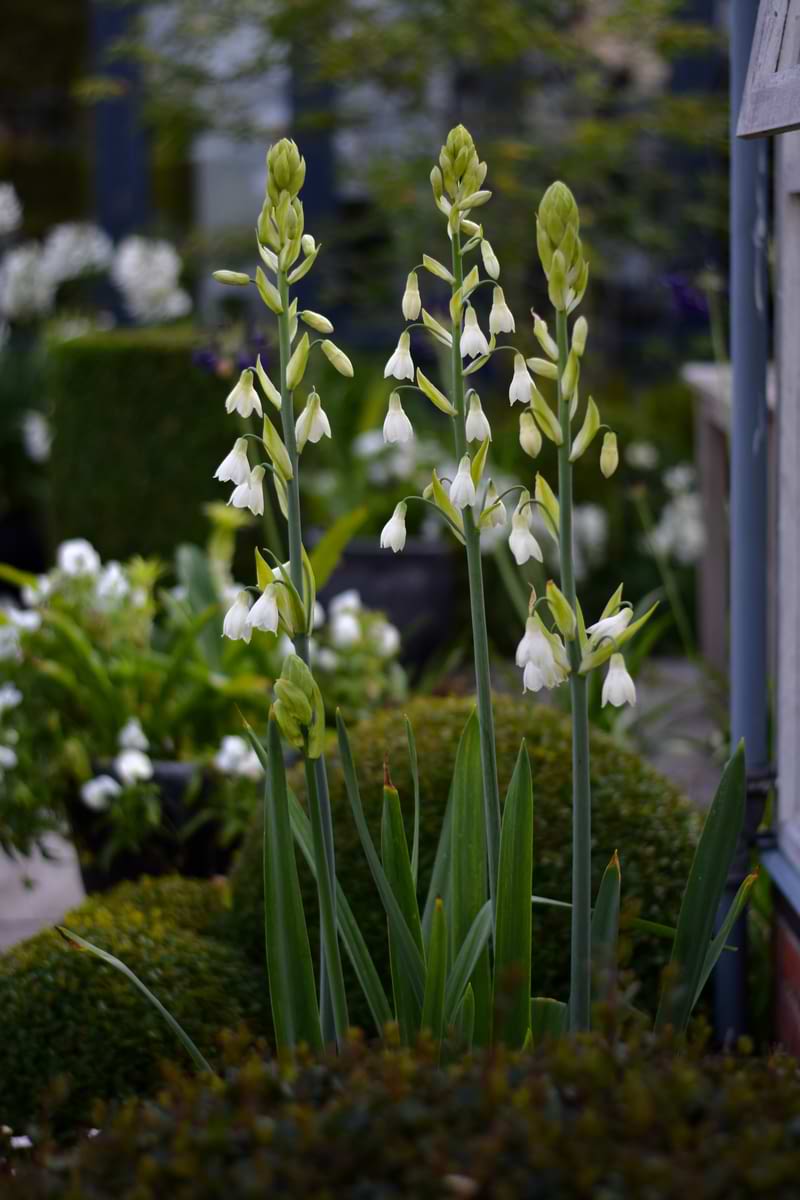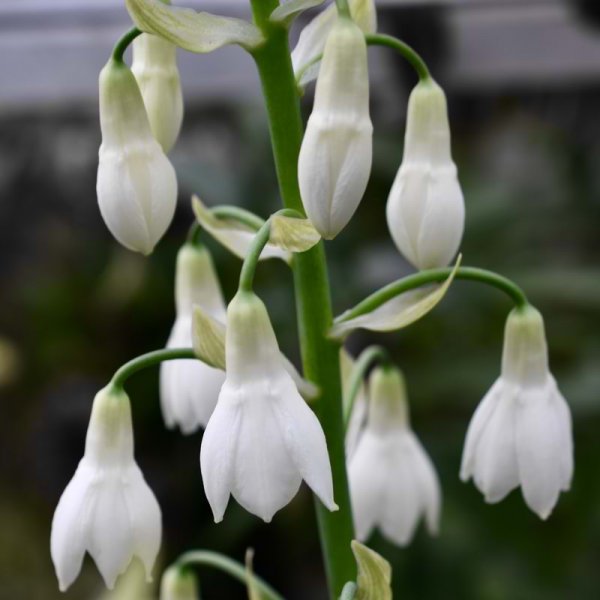 Summer Hyachinth
(Galtonia candicans)
I started off these beautiful bulbs in the greenhouse and planted them out in June.
They have been given a good mulch of bark to help them survive the winter: (fingers crossed).
They suit this location as it is hot and sunny. Their spires rise above the clipped box dramatically in the summer. (July/August)
---
Echinacea
---
Echinacea White Swan
These late-season perennials provide a burst of white from late summer. They initially open with pure-white ray-florets as in the photo, but the older flowers become browned and shabby spoiling the effect a little. I'll try them for a couple of years to see if they are keepers or not (July/August/September)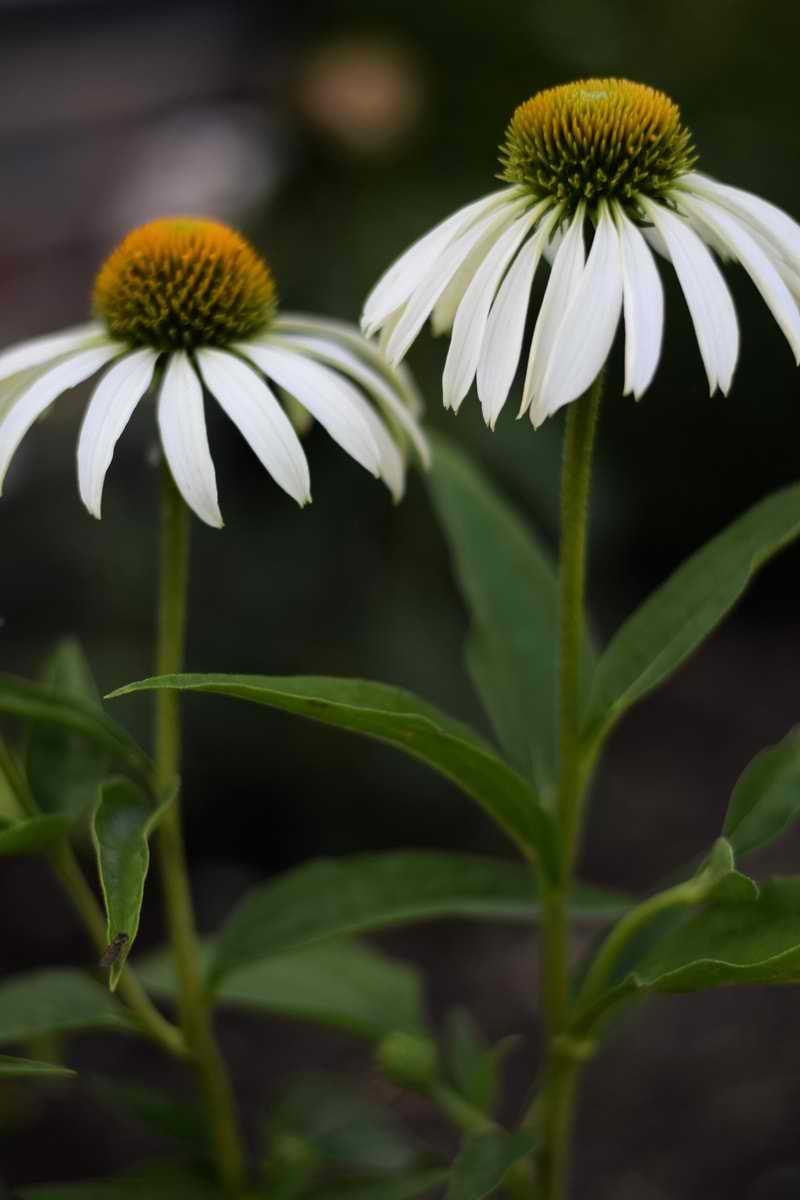 ---
Keepers
---
After re-planting, the border still looked great thanks to those clipped evergreens.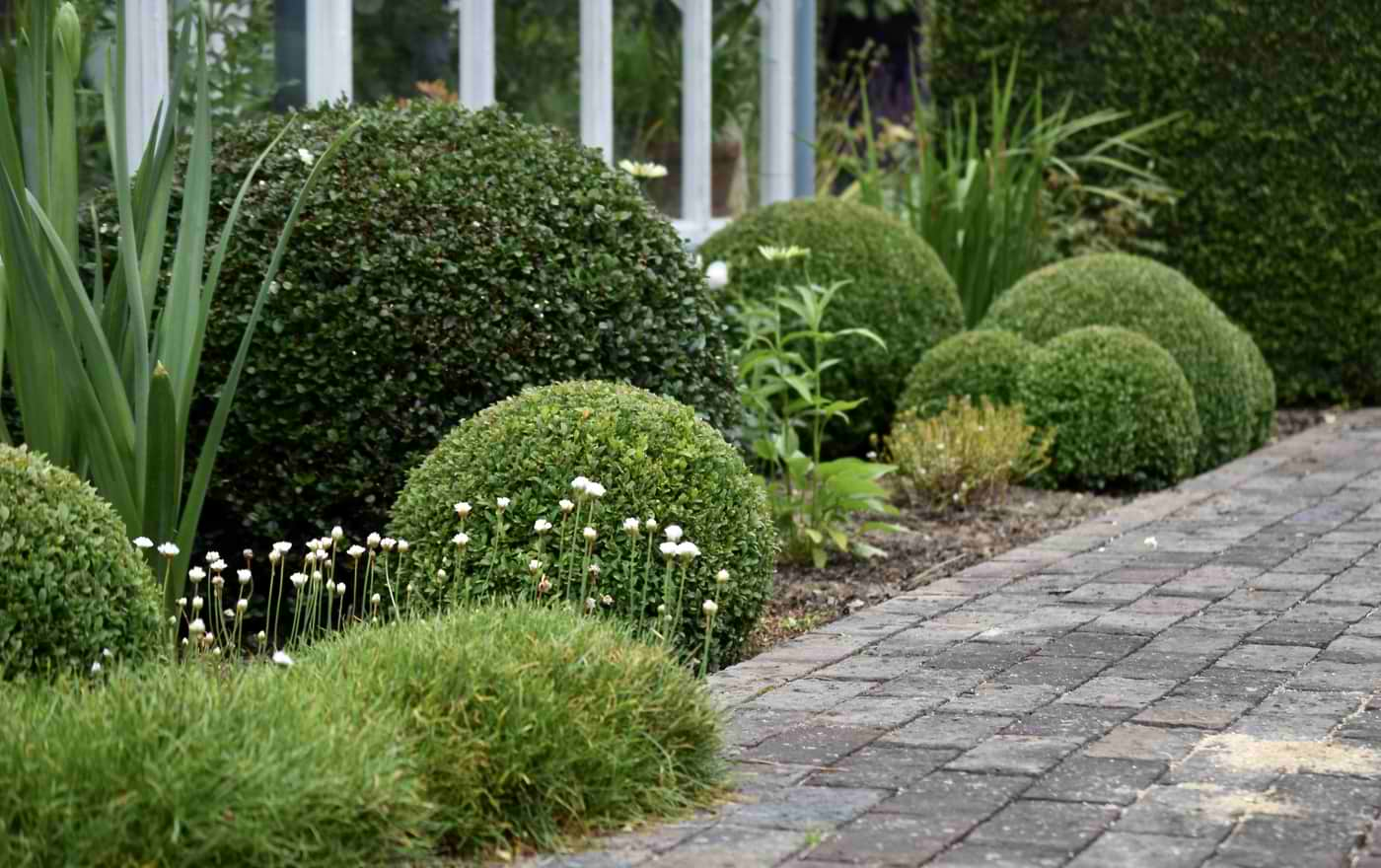 Looking good soon after replanting | July 2021
Below are some of the plants that have done well over the years, so have been retained.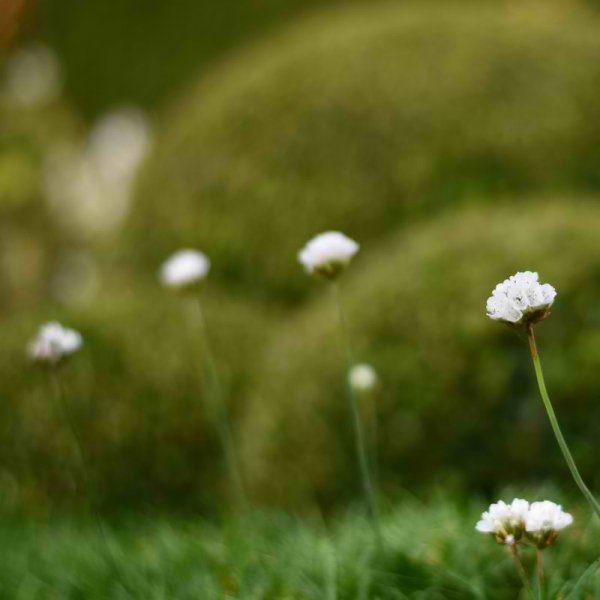 Thrift (Armeria maritima alba)
I love thrift. It has neat mounds of grassy foliage, and flowers that pop up all year round. The picture above was taken in November. Unfortunately, it doesn't really like my heavy soil and several clumps have died off.
(April/May/June+)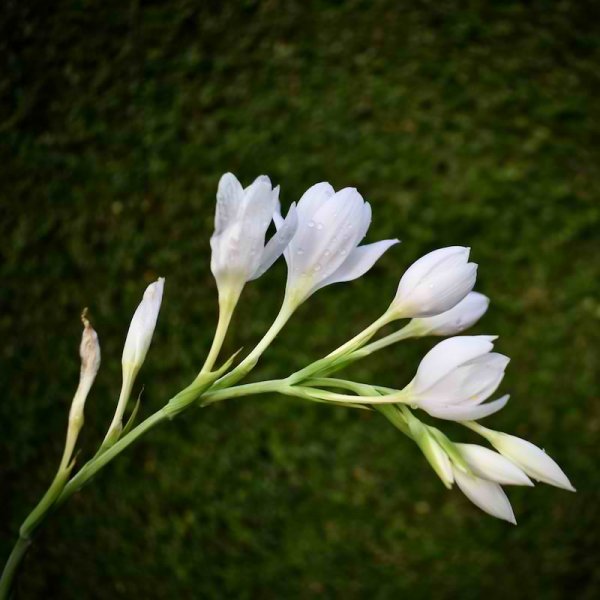 Kaffir Lily (Schizostylis coccinea 'Alba')
Schizostylis flower in the autumn. The picture above was taken in December! The while variety is beautiful, but the plant does creep around, popping up some distance from its original spot.
(October to December)
White roses ('Susan Williams-Ellis' )
I have two shrub roses in this bed, at the far end, where their flowers can be seen against the dark hedge. They are still quite young, but should make a significant contribution to the overall picture in future years.
(May – November)