ALLIUMS
With their striking forms and bold colours, ornamental onions are the stars of the show in the early summer garden. Being easy to grow these bulbs are understandably popular, and with their distinctive shape and narrow leaves they have a small footprint allowing them to be tucked in between other plants so easily.
In this article I am going to share my experience of growing Alliums with photos taken in my own garden. I've laid out the article in a magazine-style which looks especially good on desktop or tablet devices. Hopefully you can find some inspiration and practical ideas here.
1
Allium Purple Sensation

This is a selection of Allium hollandicum (Dutch garlic) which has an excellent rose-purple colouration creating a neat tennis ball sized head in early summer. The foliage dies back by flowering time, so is best planted where surrounding plants hide its base.
(May-Jun, Height 20-40in | 50-100cm)
Allium Purple Sensation looks good with silver or purple foliage such as lavender, and sage. It partners beautifully with yellow Sisyrinchium striatum which flowers at the same time, or Erysimum Bowles Mauve which can be seen in the background of these images.
Zen and the art of flower arranging










ORNAMENTAL ONIONS 
make stylish cut flowers.
Paired with a pebble vase
these leek flowers make
a perfect Ikebana
arrangement in a
contemporary setting.
Cut Alliums should look
good for two weeks.
ANTI-GRAVITY DEVICE
Used for ikebana flower arrangements, these Kenzan (pin holders) replace floral foam. The brass pins can hold woody or soft stems. Nikawi from £8.00
IKEBANA-A FRESH LOOK
Normal & Cornell, 2007
A good introduction to the art of Japanese flower arrangement with lots of practical examples.
Softback from £14.00
3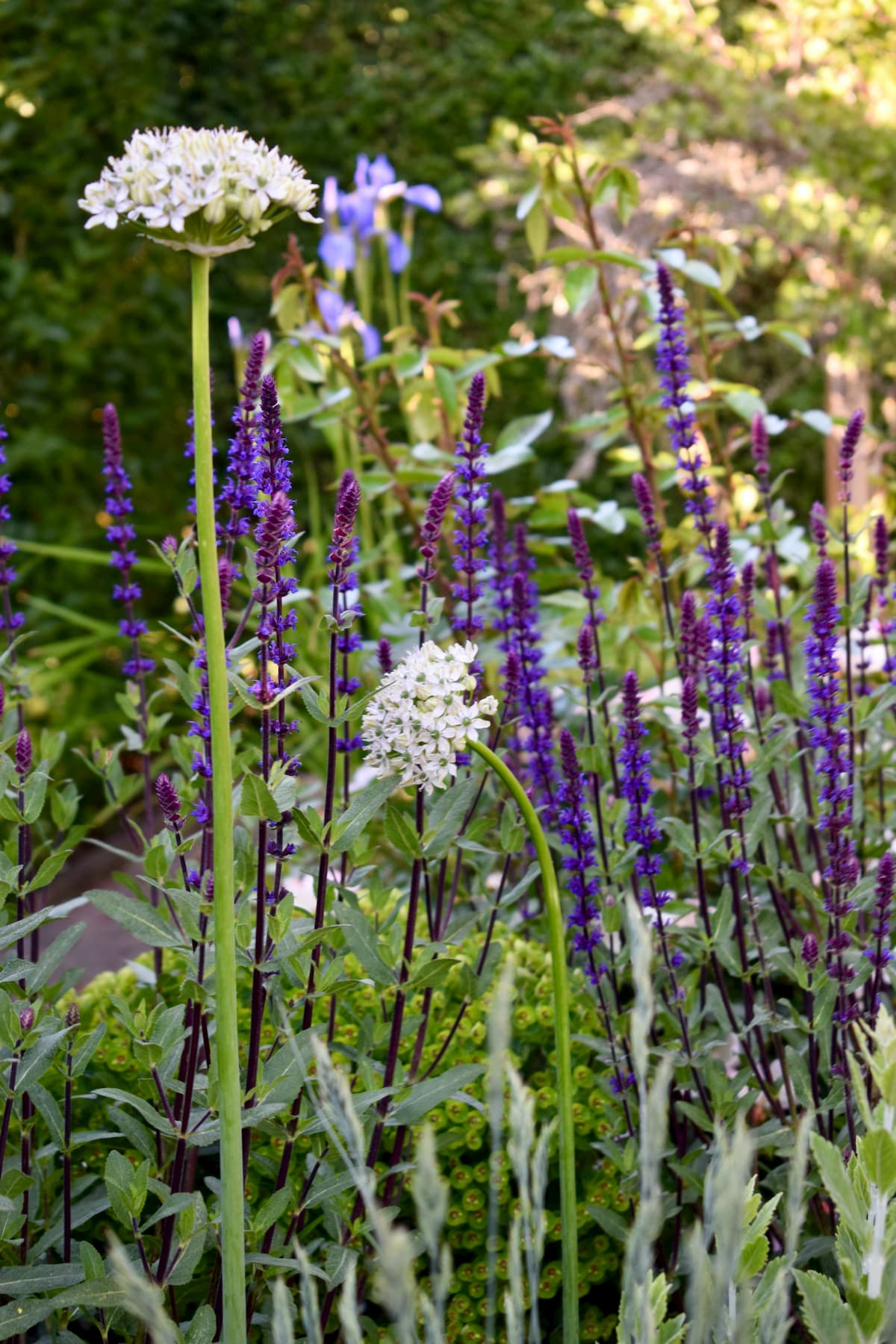 Allium nigrum | black garlic
A classy, white flowered onion which flowers in June & July, followed by dark green seed pods. It combines well with mid-height border perennials, such as Salvia 'Caradonna', shown here, as well as silver and grey-leaved plants.

(Jun-Jul, Height: 18in | 45cm)
Plants that go well with Allium nigrum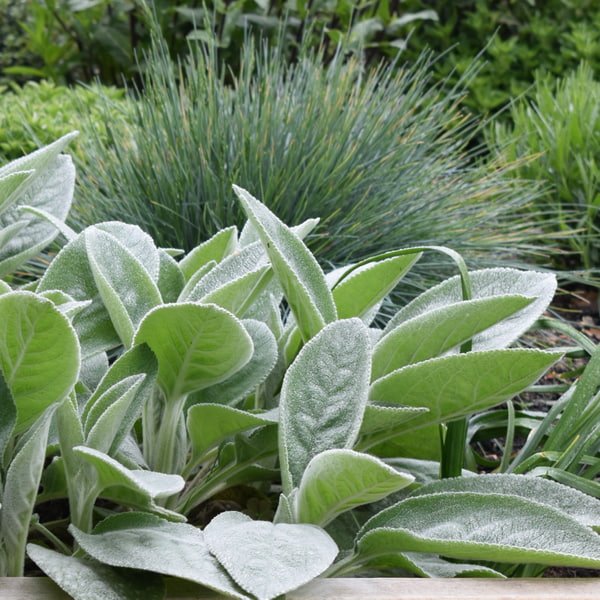 Silver-grey foliage
Artemisia sp.
Stachys byzantina
Festuca glauca
Contrasting forms
Clipped box
Lavandula sp.
Origanum sp
Pastel colours
Helianthemum Wisley Pink
Phlox douglasii Eva
Campanula Portenschlagiana
Plant Allium nigrum bulbs between autumn and spring
4″ (10cm) deep in groups, 4-6″ (10-15cm) apart
4
Allium christophii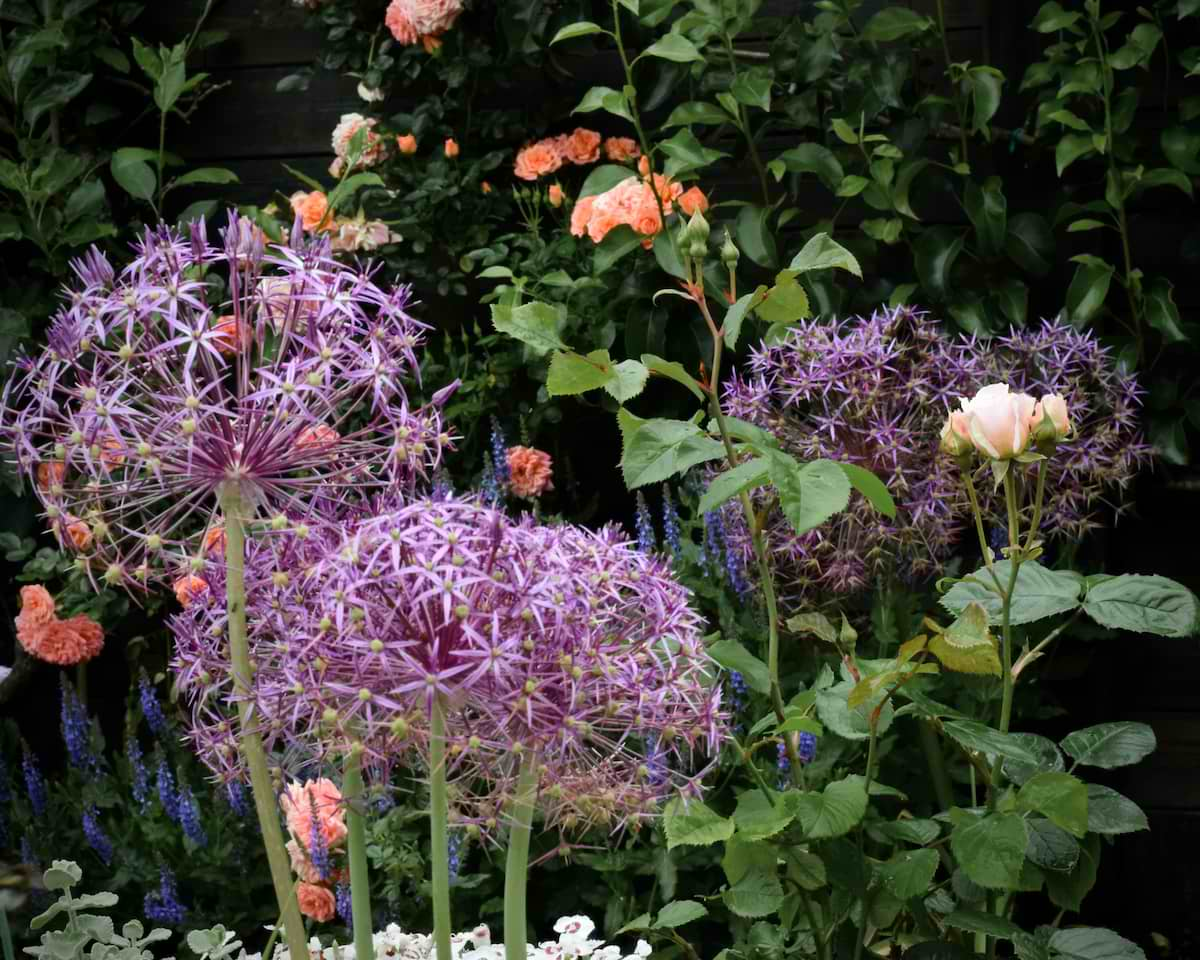 Beautiful with pink roses and blue salvia

One of the best ornamental onions. Flower heads are up to 8 inches (20cm) across, with hundreds of fine, starry, almost metallic-purple flowers. Possibly the easiest and longest lived bulbs in my garden, thriving in pots and borders alike. So good I have planted dozens more this year. The seed heads remain impressive for the rest of the season. (May-Jun; Height 2ft | 60cm)
5
Allium senescens glaucum

A. senescens ssp. glaucum is a late season onion. This species extends the allium season into late summer, continuing to flower well into September. It is clump forming, with dozens of flowerhead loved by pollinators. Another bonus is the narrow blue-green foliage which looks good throughout the season and does not die back as is the case with so many other onions. Good for the front of border, or in rock, gravel or alpine gardens.

(Aug-Sep; Height 10in | 25cm)

6
Allium tripedale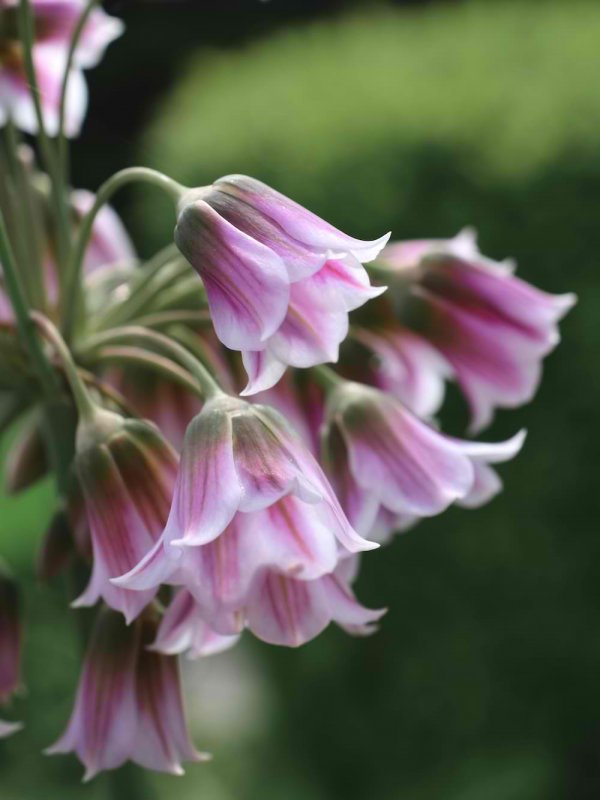 Old name: Nectoscordum tripdale. This was a great surprise for me. A very beautiful and fascinating Allium, with dangling green and pink bells. As each flower goes over it becomes erect and points skywards. Bees visit the flower for weeks as a succession of flowers opens.
Grows easily in sun or part-shade in a bed or pot. Highly recommended. (May-June, Height 3ft | 90cm)
Chives and Garlic Chives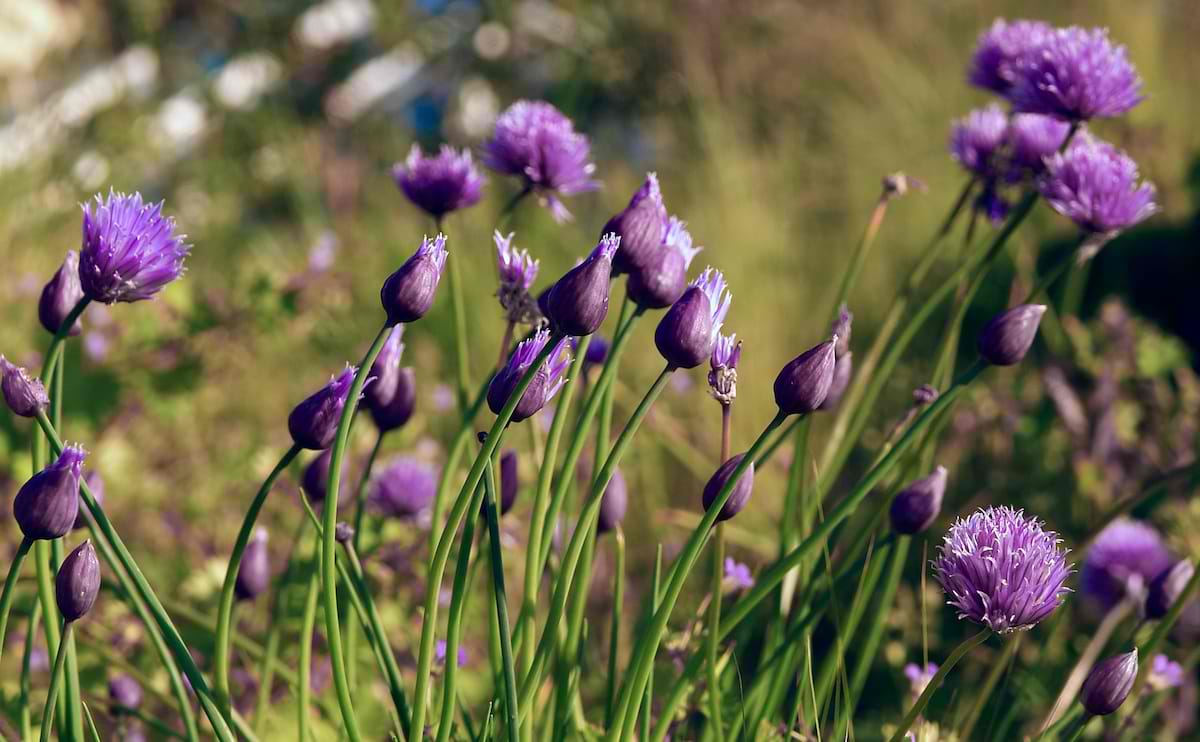 Allium schoenoprasum
Common chives create a tight clump of narrow grassy green leaves. Not just for the kitchen garden, I use them in the border with pink salvias, as well as on my green roof. In the gravel garden they look good with small geraniums and sedums. The purple flowers are very attractive to pollinators. Cut off the seed heads if you don't want them to seed everywhere.
(May-Jun, Height 16in | 40cm)
Allium tuberosum
Garlic chives are similar to common chives: They, too, are edible but with a distinct garlic flavour; The leaves and flowers are taller and open later than common chives, in August. They have a easy-going natural look which fits in with plants such as lady's mantle, yarrow or around the feet of roses.
(August, Height 2ft | 50 – 60cm)
8