#rockgarden #mediterraneangarden #drygarden #gravelgarden #pastelshades
Here are four less common perennials currently in flower in my new Pond Garden. They are highly floriferous, easy-care and flower for weeks from late April right through May and into June. Amazingly, all four are evergreen so contribute to the structure of the garden all year round. Their colours harmonise beautifully with the typical dusky-grey foliage of drought-tolerant plants such as artemisia, allium and salvia.
Early May Showers
I took these pictures immediately after a light shower.
1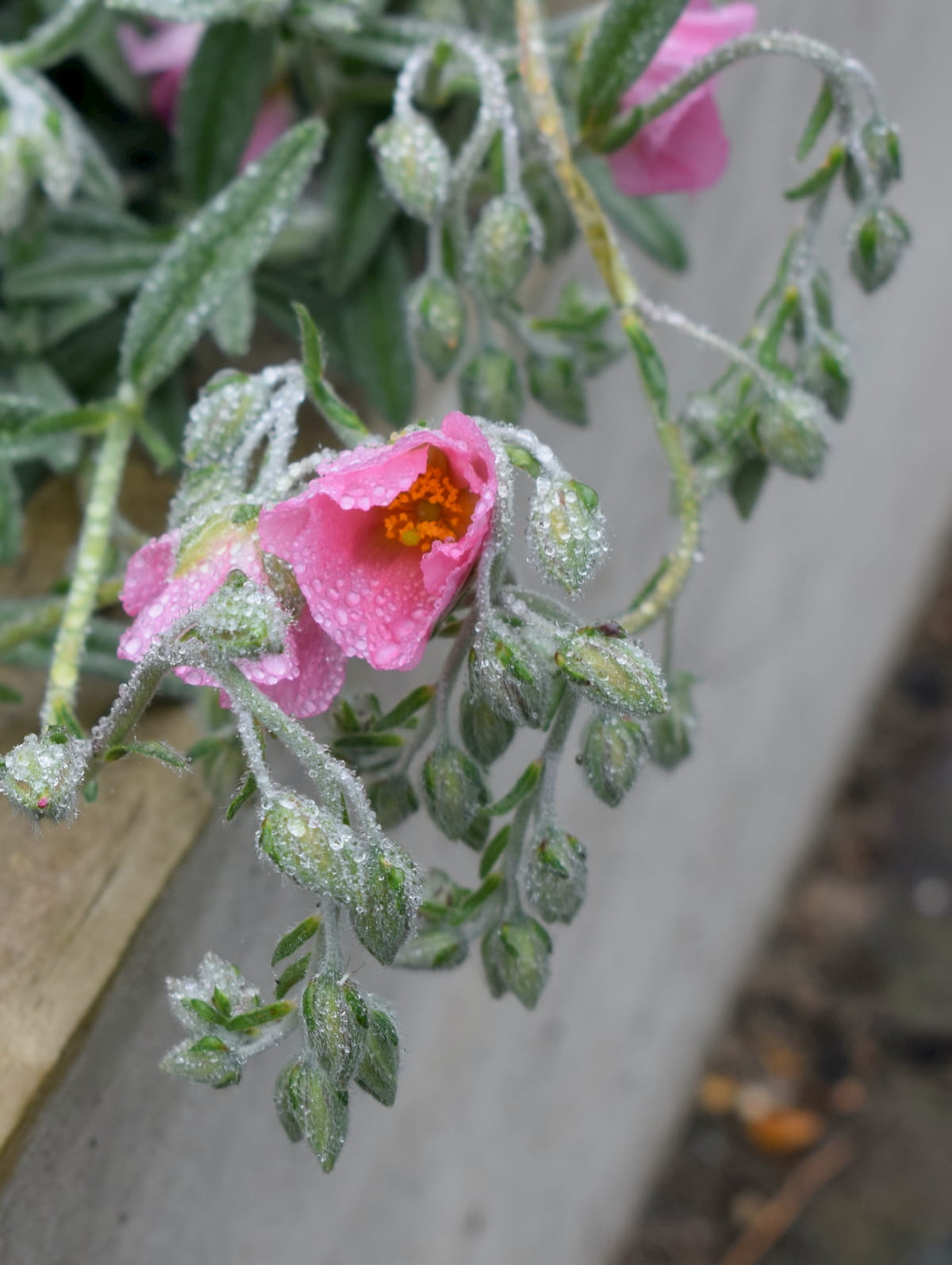 15in (37cm)
20in (50cm)
salmon pink
May-June
full sun
free-drained soil
silver-grey foliage
Helianthemum nummularium 'Wisley Pink'
This variety of the common rock rose forms an evergreen spreading sub-shrub made up of a mat of fine silver-grey foliage on wiry stems. In late spring single pink disc-shaped flowers open in succession from arching racemes covered in buds. (The species name 'nummularium' is latin for money changer – perhaps because the flowers are coin-like) This garden-worthy rock rose is very drought tolerant once established., and reliable as long as soil is free draining. Good for a raised bed, gravel garden or front of a well drained border.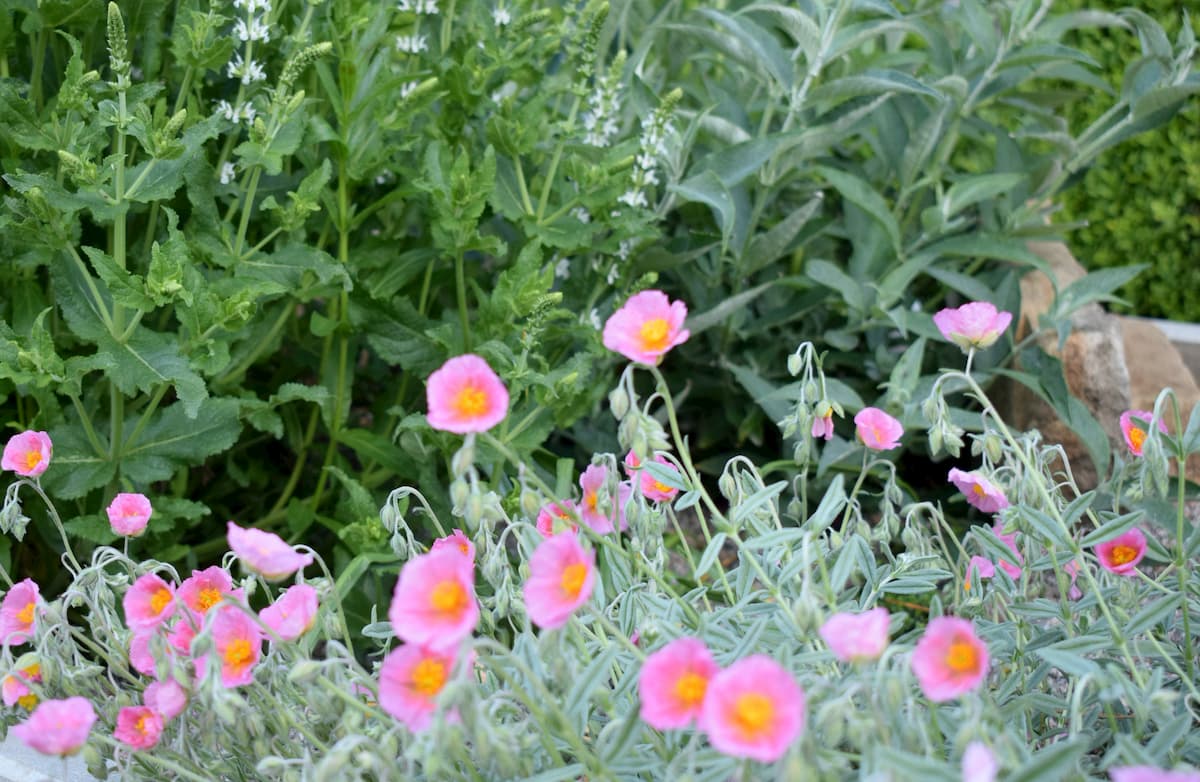 Helianthemum Wisley Pink in front of white Salvia nemorosa and dwarf white Buddleja
2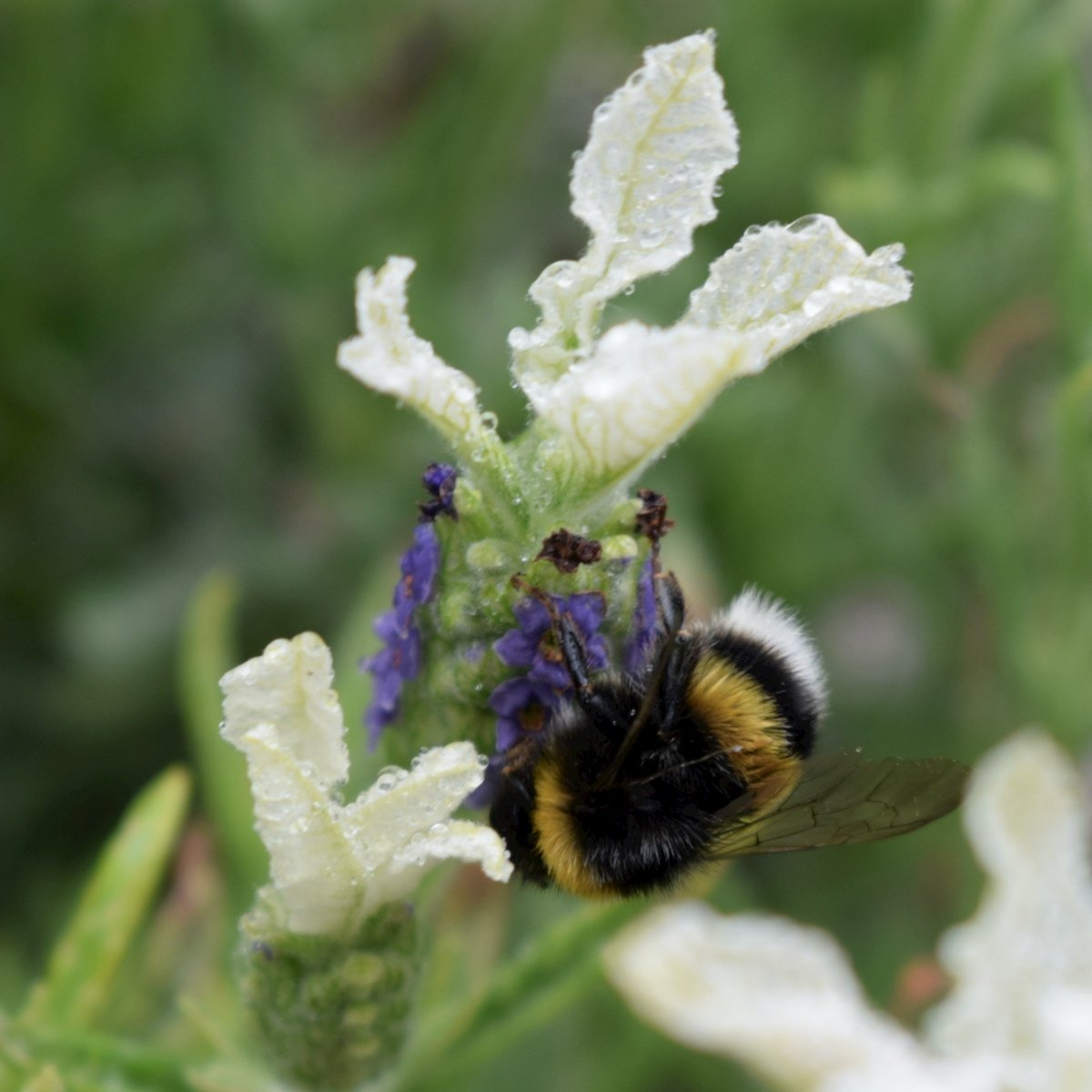 15in (45cm)
15in (45cm)
white, 1½in (4cm)
April-June
full sun
free-drained soil
fragrant, loved by bees
Lavender stoechas 'Javelin Forte White'
This is a new variety of Spanish lavender: stronger, branching and more tolerant of English winters. I grow mine in a well-drained raised bed. It came through the winter better than the English lavender, and started flowering in early April. The flowers are topped with showy white flags with green veining. The fertile flowers below are tiny and purple, attracting a continual stream of bumble bees.
Lavender stoechas 'Javelin Forte White' with Artemisia schmidtiana nana. White thrift (Armeria maritima alba) in the background.
3

6-10ft (2 – 3m)
6ft (2m)
white, 3in (7cm)
April-June
sun or part shade
free-drained soil
evergreen climber
Clematis 'Early Sensation'
This is a darling clematis, sporting small, finely divided, glossy evergreen leaves. The flowers which open from early to late spring are numerous and long lasting: pure white petals with a green centre. The nodding buds are parchment coloured. I grow mine through a rambling rose on a South-East facing fence. Although hardy its new shoots can be damaged by late frosts, so a sheltered spot is preferred.
Clematis 'Early Sensation' growing through a rambling rose against a fence; showing the glossy foliage, buds and open blooms
4

4in (10cm)
18in (45cm)
mauve, ¾in (2cm)
May-June
full sun
free-drained soil
scented
Phlox douglasii 'Eva'
This is an alpine species, creeping just 2-4 inches (5-10cm) above the soil, in a slowly spreading, robust mat. In mid spring it is covered in dozens of ½ in (15mm) mauve flowers. The foliage is bristly even a little scratchy on the skin, but it produces a long, dense display of scented flowers. A classy alternative to the ubiquitous Aubretia. Tough enough to grow at the front of the border or , as I have, between rocks in a gravel bed.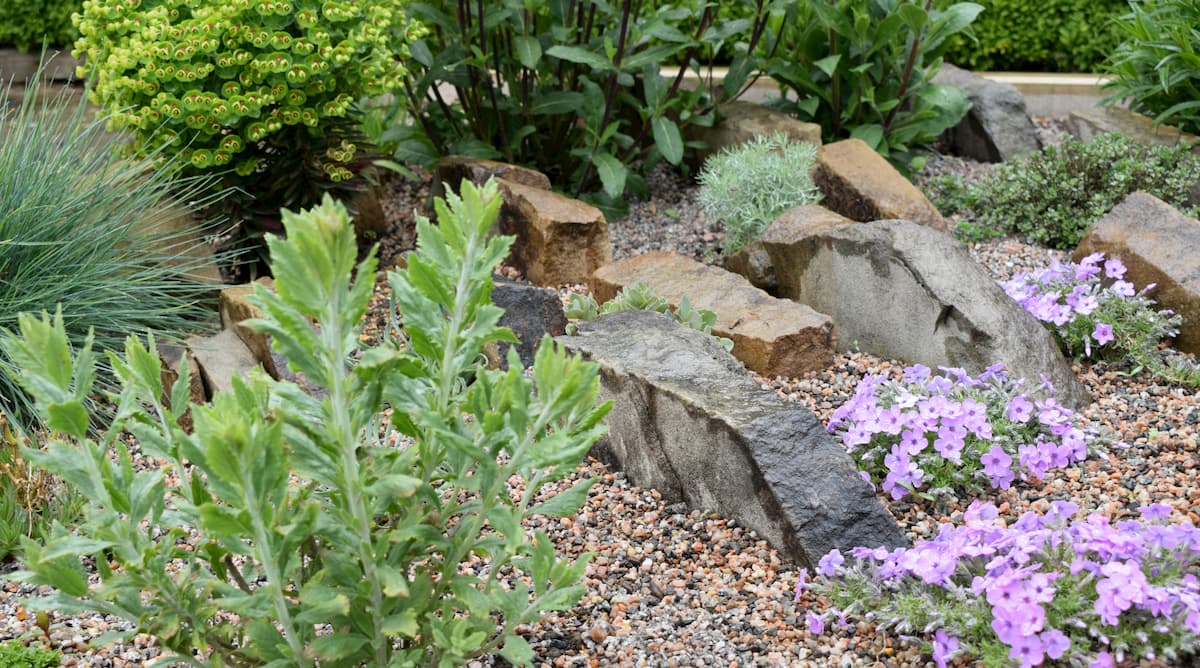 Phlox douglasii 'Eva' (right) creeps between the rocks. Perovskia, Festuca glanca, Euphorbia, Sedum, Salvia and Artemisia grow nearby.
5