Unlike the culinary sages (Salvia officinalis) with their grey or purple evergreen foliage, the hardy perennial sages (Salvia nemorosa and Salvia x sylvestris) are herbaceous perennials primarily grown for their vivid flowers which have an exceptionally long season from May to October.

These hardy Salvias die down in winter but as long as they are not waterlogged they come back reliably year after year. The Balkan Clary or Wood Sage — as their wild counterparts are known — have been bred and hybridised by nurserymen to produce a huge range of garden-worthy cultivars. They mostly come in shades of purples and violet-blues, but white and pink varieties are available too. Their visual interest is enhanced by the colour of the long-lasting bracts which surround each of the small labiate flowers, significantly adding to the colour variation found among different cultivars.

Perennial Salvias prefer a free-draining soil in full sun or light shade and once established are drought tolerant and reliable. These salvias make great border plants for your garden, working especially well with Mediterranean, gravel and prairie-style designs. Hopefully there is something in this article to inspire you.

Graphic/Web Design: In this post I am experimenting with a magazine-style layout which should look especially good on a desktop or tablet. I hope you enjoy browsing this format as much as I enjoyed creating it!

— Keir Watson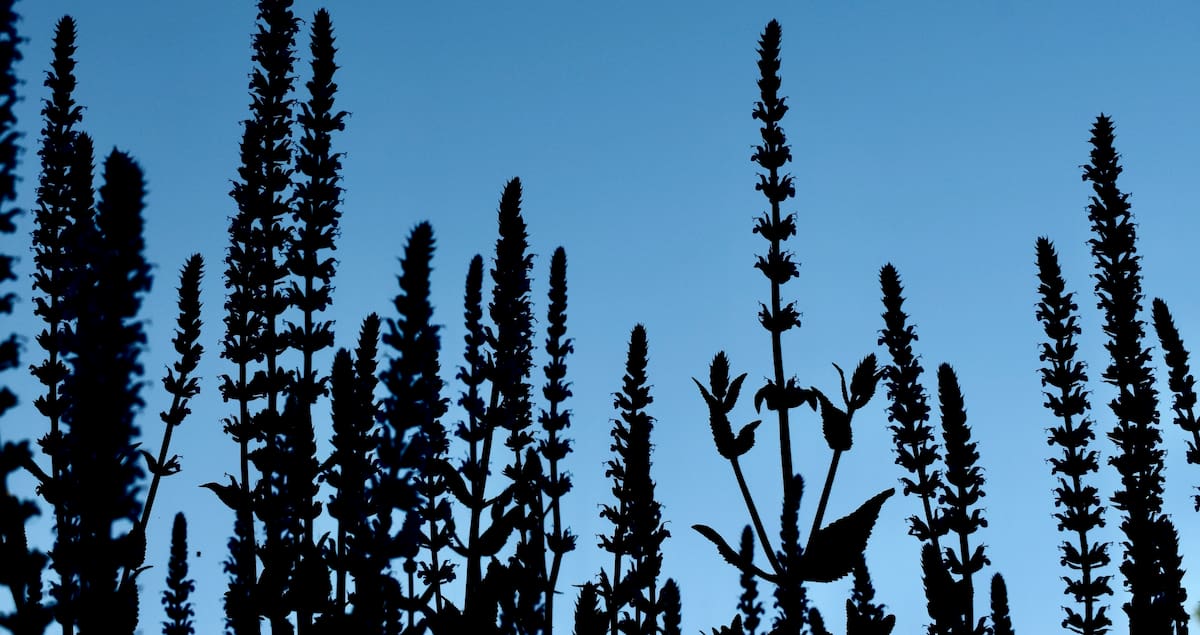 Perennial Salvia characteristics
1-3ft (30-90cm)
Flowers May – October
Trouble-free, reliable perennials
Pink/Purple/Blue shades
Need full sun & well drained soil
Attract bees & butterflies
#1 Salvia nemorosa May Night
.
Ten years ago I was looking for a few plants to squeeze into a narrow (14 inch) wide bed at the foot of a fence, behind a dwarf box hedge, between two trained fruit trees… on a clay based soil.
It was a tall order, but I found an patio rose someone had given me which had double apricot flowers, an Allium christophii bulb going spare and two small Salvia nemorosa May Night plants in 9cm pots. I shoved them in, then pretty much forgot about them.
Remarkably, all of them have flowered reliably year after year ever since. The salvias have been the real stars of the show producing continuous heads of vivid violet-blue flower spikes for months on end throughout the summer.
I came to appreciate their resilience and tolerance of neglect — I never feed them and almost never water them even in a drought! On top of that they are very low maintenance. At the end of the year they die back to the ground and I simply cut away all their old stems to within a couple of inches of the ground. I am surprised the slugs don't get them, because I never give them any protection, yet they repay me reliably with a beautiful display.
---
Salvias are my kind of plants! Tough, reliable, free flowering, low maintenance
---
And then there are the insects: salvias are first-rate pollinator plants, attracting all kinds of bees and hover flies to the garden.
It was from these small beginnings that I learned to appreciate Salvias and grow more of them in my Garden. In this post I will share with you three others I have grown and rate highly…
.
#2 Salvia nemorosa Caradonna
Flowering stems of Salvia Caradonna, backlit by the evening sun, take on a magisterial dark-purple glow
Salvia Caradonna is a very distinct and garden-worthy sage which can flower from May to October given a bit of deadheading along the way.

The whole plant is robust and elegant, emerging early in spring and quickly developing a mass of scented grey-green foliage. By May flower spikes begin to form and flowers soon follow.

What makes Caradonna stand out from other cultivars of S. nemorosa are its tall narrow flowering stems which appear almost black. The violet-blue flowers are arranged in whorls spaced well apart along these stems creating an elegant baroque spire which continues to lengthen and flower all summer.

The flowering stems have a lot of space between them allowing adjacent tall plants to intermingle, while allowing plants behind them to be viewed through their purple veil.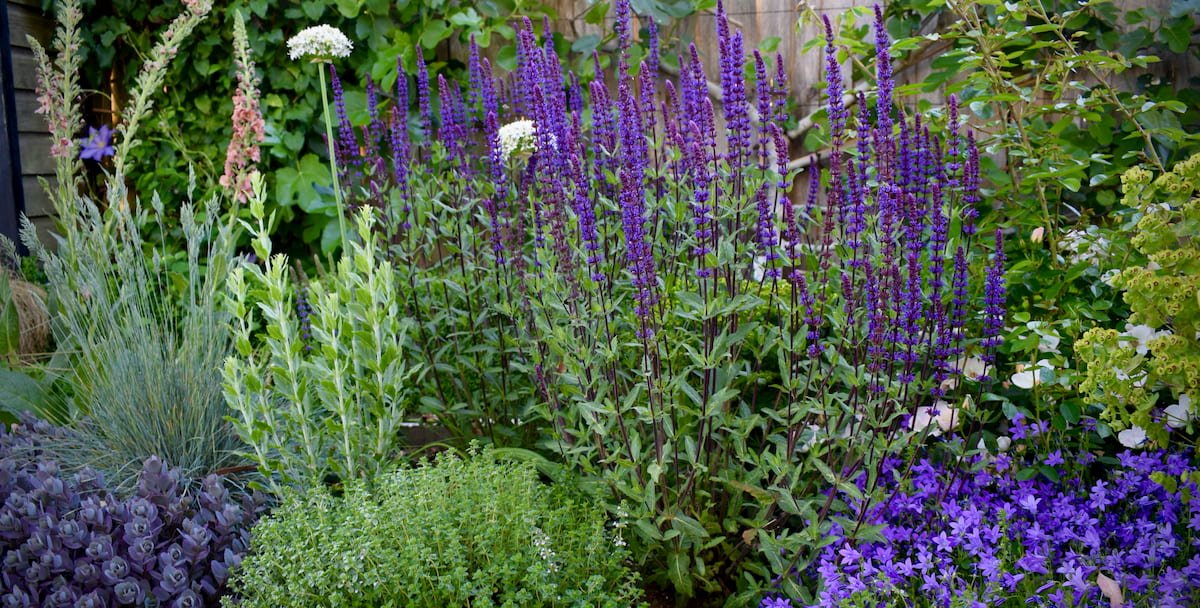 #3 Salvia Snow Hill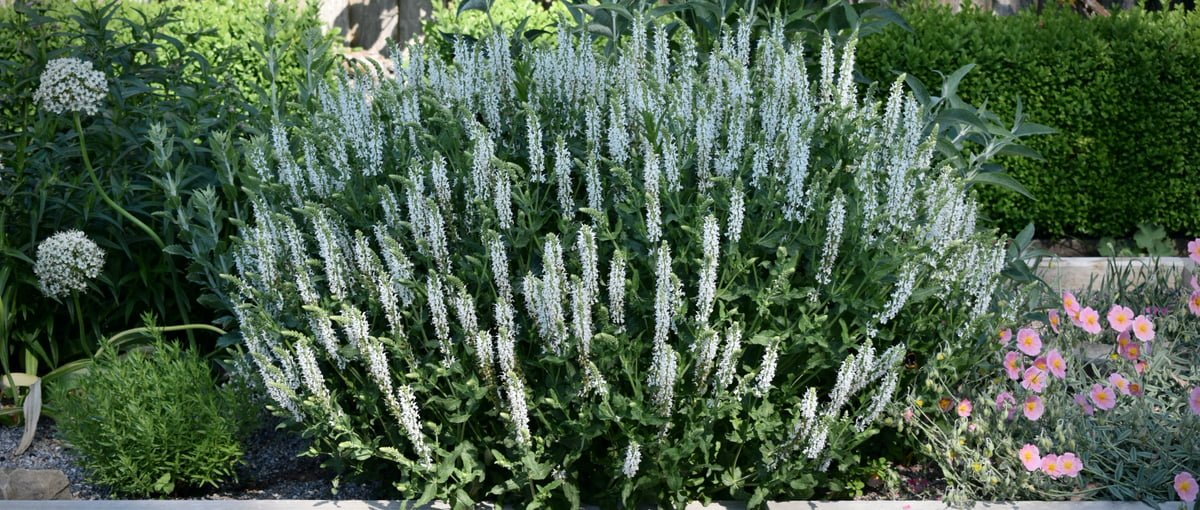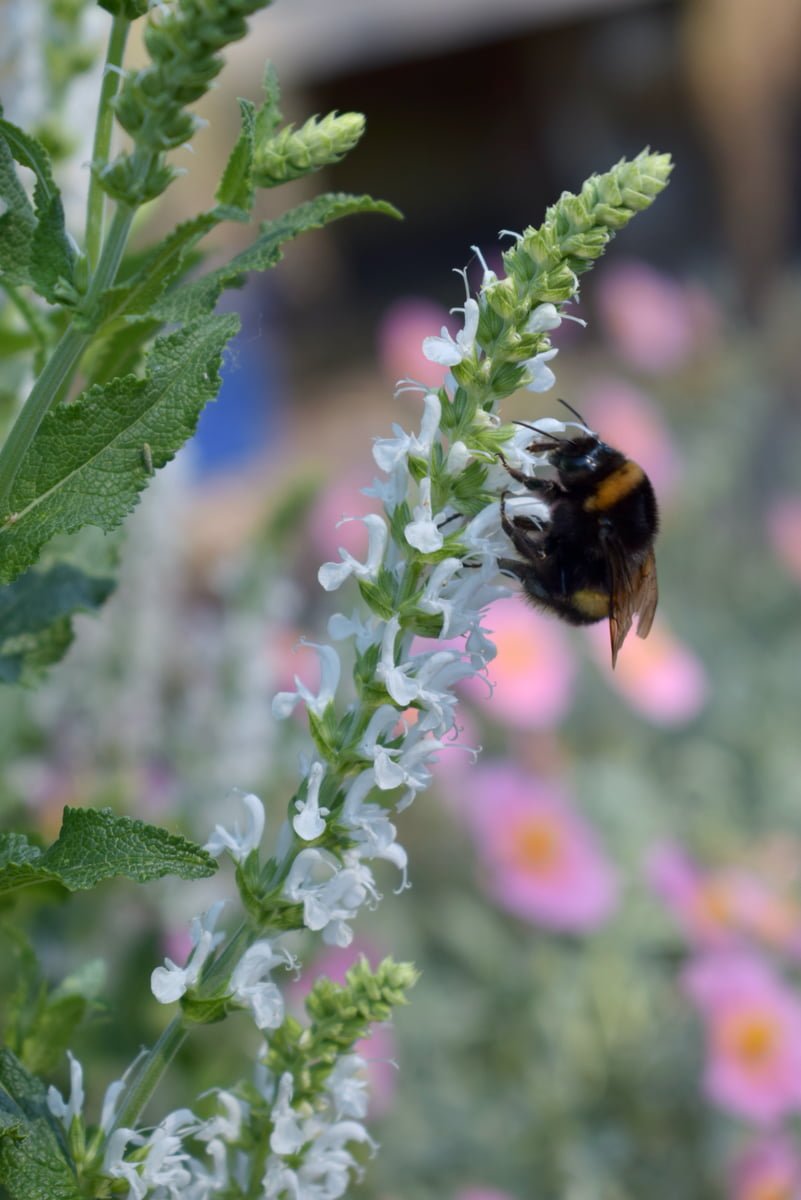 ---
Salvia Snow Hill is sometimes sold under the species name S. x sylvestrisrather, rather than S. nemorosa, which shows how prolific interbreeding has left modern cultivars with somewhat uncertain nomenclature.

Either way, this beautiful white Salvia is a vigorous and robust variety growing into a beautifully domed clump, 2 ft (60cm) high and 3 ft (90cm) across. The one in the photo above was only planted the previous summer and has put on an incredible growth in just one season.

The branching stems carry grey-green foliage which is aromatic, releasing its scent every time you brush past it. These end in a 4 – 6 in (10-15cm) spire of clear white flowers which are constantly visited by bees and pollinating insects.

This Salvia goes well with alliums, white and purple lavenders, purple, blue and pink flowers and silver foliage. I have planted mine (below) with purple Salvia Caradonna, silver Artemisia Alba Canescens, Allium nigrum, pale blue and silver Perovskia Little Spire, deep-blue flowered Hyssopus, dwarf white Buddleja and, in the background, pink Verbascum Caribbean Crush.

All of these plants share the same cultural need: a free draining soil in an open sunny position. My raised beds suit them well, but If your soil is on the heavy or sticky side, digging in plenty of sand and compost may help.

Removing spent flower heads can extend the season, keeping Snow Hill flowering right into the autumn.
---
#4 Salvia Rose Marvel
A dwarf pink perennial sage
just 1ft x 1ft (30cm x 30cm)
Rose Marvel is a beautiful dwarf variety of S. nemorosa with large, showy flowers in a deep rich pink. It forms a dense clump just one foot (30cm) high and wide, making it a great choice for the front of the border, or to add interest at the base of taller plants. Like all salvias it is a first-rate nectar plant attracting bees all summer long. The papery calyxes, which are a deep burgandy tone, contribute much to the look of the plant, setting off the candy-pink flowers so well, and providing colour and form before and after the flowers (below)
---
As you can see in this picture, I have planted two clumps of Rose Marvel in front of Aster x frikartii Monch which has lavender-blue flowers from June. In the foreground is the grey-leaved, pink and white Rhodanthemum hosmariense Marrakech, in the background violet-blue bells of Campanula portenschlagiana (aka C. murals) form a carpet, above which lime green heads of Euphorbia Baby Charm rise to complete the picture. [view full size image]
5