Below I'll show you ten tricks that refreshed my woodland garden and transformed the drab late-summer muddle of seed heads and dying foliage into a crisp, minimalist space, calm and stylish…
By late August many of the plants that have provided colour throughout the spring and summer have finished, and their seed heads are brown, their leaves tatty: The garden looks tired and uninspiring. It generally stays that way until the autumn tidy-up. This 'August Gap' is particularly notable in the shade garden as most woodland plants flower in the spring before the canopy closes and light levels fall. There are very few shade plants that flower in autumn.
Without great drifts of colour to dazzle the eye the garden will be predominately green – so let's work with that: Think foliage and form, pattern and line; give the garden's architecture a chance to shine. Instead of a chore see it as a creative activity. Be bold. Don't just 'cut back' – sculpt. Don't merely clear up – create new spaces and places.
But first, lets start with some plants that will provide late shade flowers…
1. Late-season flowering plants
One of the obvious ways to extend the season is to use plants that flower later in the year. For the shade garden there is a limited pallet to choose from. Above are some of my August flowering plants. On the left is what I think is a variety of Selinum, then self-seeded Yellow Fumitory (Corydalis lutea). Orpine (Sedum telephium) is a surprising one – being a succulent you would think it needed full sun, yet it is a British native and where found wild is an indicator of ancient woodland. Just emerging at the end of August are cyclamen (right).
These four are all happy to flower in August and September under the shade of our cherry tree. Compared to the swathes of spring and early summer flowers that preceded them, these late-comers have a delicate understated effect – little highlights of colour – which fits well with the otherwise green theme.
For a more dramatic effect, two late-flowering woodland plants that I would like to grow are Lilium martagon album and Gentiana asclepiadea alba. Both are striking, and have architectural form and foliage too, but they are difficult to source. Whenever I think to search they are always out of stock. Another late flowering plant, which I do have, is liriope muscarii, and this flowers later in the Autumn.
---
2. Plan for late season interest
As there are a limited number of late-flowering plants for shade gardens, make sure you include species that have other desirable characteristics such as berries or architectural forms.
The Butcher's Broom, above, is a dwarf hermaphrodite cultivar (Ruscus 'John Redmond') that produces reliable crops of red berries. Its stiff prickly stems are striking all year round, whilst the red berries come into their own in late summer. This cultivar has berries all year round – you can see plenty of green berries waiting to ripen.
Close to the Butcher's Broom a Hart's Tongue fern and clusters of green Partridge Berries (from Arum italicum var. pictum) carry on the theme of interesting forms. This arum is a strange and rewarding plant – its foliage dies down completely in late spring, leaving its spires of berries poking out of the bare soil. These will ripen to vivid orange in September, then when most plants are reaching the end of their season, the arum unaccountably throws up fresh new silvery patterned foliage, which will last through the winter and into spring: Invaluable!
---
3. Trim hedges and edges
Tidying up hedges and edges, sweeping paths, mowing and edging lawns immediately creates a sense of order and contributes more than anything to the beauty of the garden at this time of year. Even if you have cut your hedges earlier in the year, clipping them a second time in August will bring back a sharpness that will last well into autumn.
---
4. Dead-head perennials and tidy up foliage
By removing the spent flower stems, and cutting back the dead leaves that had accumulated around its base this Pulmonaria has been given a second lease of life. It's speckled foliage now provides an attractive focus. Such attention is comparable to creative pruning – as with all good pruning the gardener's aim is to bring forth the best qualities of plant, revivifying our interest and awareness at the same time.
---
5. Care for evergreens and slow growing plants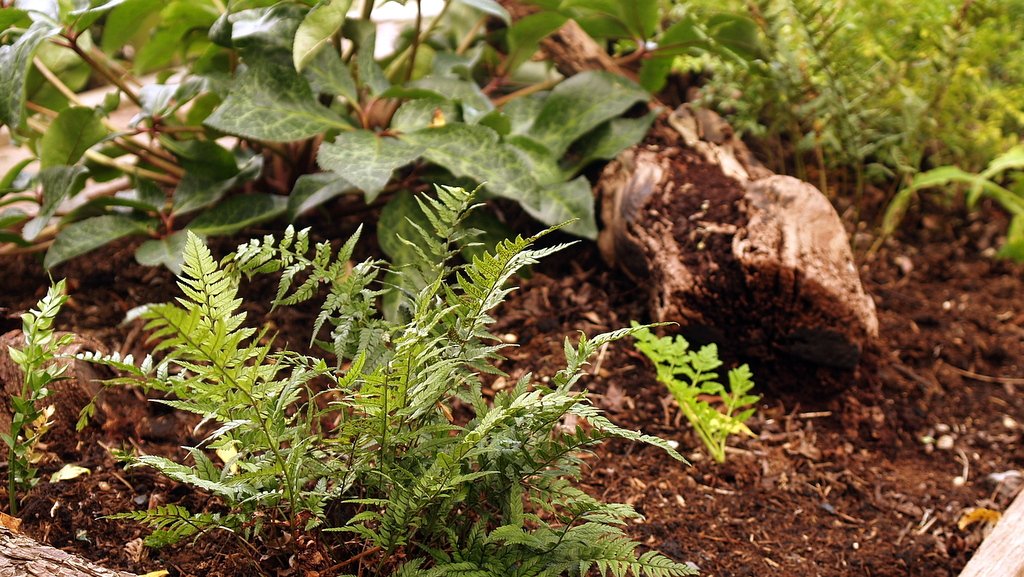 In the long-term much of the character of a garden derives from slow growing plants and evergreens. As they age they gain a certain presence and dignity that faster growing herbaceous perennials cannot match. The fern and Hellebore in the view above are good examples of this. By mid summer, both had become jostled and crowded by blowsy Aquilegias, Campions and Sweet Cicely. If these had been left the fern and Hellebore would have suffered. Cutting back the early perennials has created space and light for these choice slow growing plants to bulk up through the rest of the year. Obviously you need to know your plants: the ones I cut back are as tough as old boots and will bounce back fine next year, shrugging off a summer decapitation. Some self-seed, anyway, with abandon, so there are always new plants arising to fill in the gaps. You can just see the Cicely re-emerging to the right of the fern.
---
6. Rescue delicate plants
Amid all the growth of lush spring perennials smaller specimens can become buried. If left they face an untimely death – now's your chance to rescue them! As you sort out your beds move these casualties to a position where they can develop un-assaulted. I rescued the slug eaten specimen above in the nick of time – it's Asarum splendens and should look something like this when allowed to grow properly.
---
7. Artistic weeding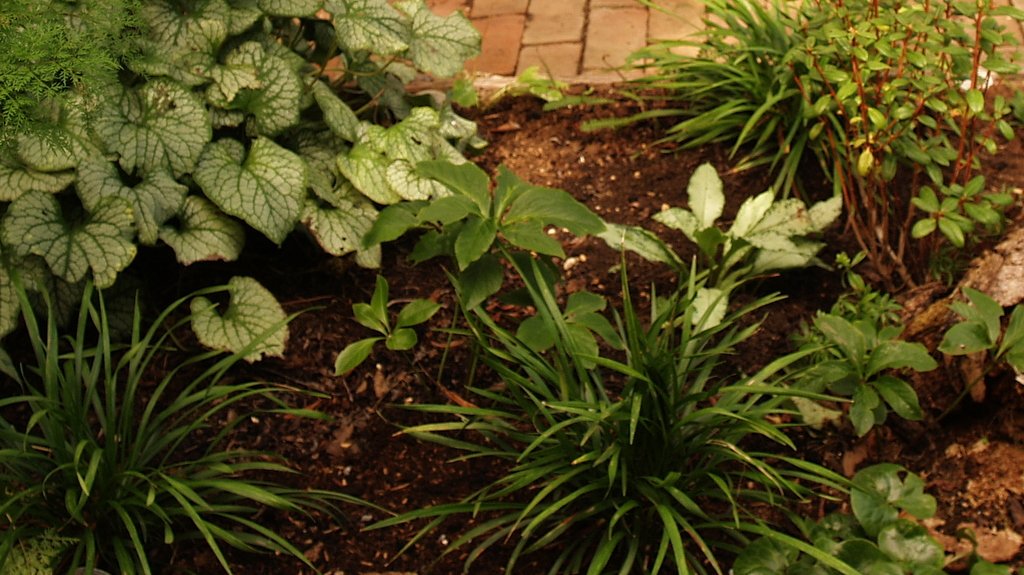 As a garden becomes established weeding reduces the numbers of rank weeds, making way for self-seeded garden plants. Deciding which seedlings to remove and which to keep becomes a creative pursuit in itself. For example, in the view above, I decided to leave two Hellebore seedlings for their attractive leaf shapes.
I know they are not well placed as they will smother the Liriope in time, but they can be moved or removed next year. For now they are serving a purpose – the composition would be less interesting without them. Similarly, the Asarum, bottom right, is a volunteer, but it can probably be left long-term as it is no threat to the main plants, and provides dramatic contrasting form.
---
8. Mulching
After the steps above, applying compost or fine bark to mulch the soil between plants helps the newly tidied clumps stand out, showing off their individual and contrasting forms. It is a good time to water the garden now, especially if it has been a dry summer: The mulch will help keep the moisture in as well as supplying nutrients for the rest of the season, and supressing weeds. It is surprising how satisfying mulching can be. I really enjoy this part of the process. It's not the utilitarian task many people think – it is as much a part of the creative process as decorating a wall on which you hang paintings – the dark mulch really brings the plants into focus.
---
9. Fruit – a late summer bonus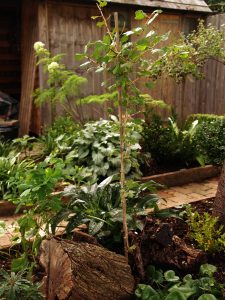 August is the perfect time for summer pruning, and will make trained fruit look their best. The current fan, above left, creates a wonderful pattern on the fence and provides delicious fruit from August to November.
The new Tayberry canes, above right, have been tied in and will fruit next year, (the old spent canes having been cut to the ground).
Gooseberries thrive in the dappled shade of my woodland garden. This year I have begun training two previously young bush-gooseberries into standards. This was only possible as in the spring they each threw up an exceptionally long new shoot. Seizing the opportunity I tied these to bamboo stakes, cutting away some of the lower growth.
Next year I will trim off the remaining lower growth leaving a clear stemmed half-standards. One such is shown in the foreground of the photo (right), whilst in the bed behind it is a mature standard gooseberry.
10. Dead heading and staking
Staking and supporting perennials is looked down upon in some circles, yet those same people may respect staking and training fruit. Could we see fruit-training as a set of transferrable-skills applicable to the short term improvement of perennials?
In the image above I have removed the seed heads from this woodland Peony. Removing seed heads conserves a plants energy, encouraging stronger growth in the following year. I also used canes to stake the stems which had flopped forwards over the box hedging. I arranged the stems to maximise the display of the foliage, ensuring clear space around each leaf. Not only is the resultant display more attractive, but it maximises the light reaching the leaves, and improves air circulation. The box hedging benefits similarly.
The iris foetidissima to the left in the picture has been tidied up too, with all the damaged leaves removed. The contrasting foliage of the three plants is much more pleasing as a consequence.
11. Move plants and replant
Don't be afraid to move plants around. As long as they are not too large or delicate, many plants can be moved, even in summer, as long as you take a big enough root ball, and keep them watered in their new spot. I did this with a Sweet Box (sarcococca confusa) that was outgrowing its space between the two current fans on the fence. I moved it to a corner where is can fill in a bare patch (above right). In its place I have added two new plants – an evergreen fern and rush, Luzula sylvatica (left). Earlier in the year this location is somewhat overgrown by the early foliage of the currents, so I have chosen tolerant plants that will look striking once the currents have had their summer prune.
Oops! That was eleven tips not ten. Time to stop. Below is a montage of the final result: the woodland garden after its August TLC.
---
RELATED POSTS