Spring is finally underway in the woodland garden after the longest and coldest winter for thirty years, but you have to get down on your hands and knees to properly admire the emerging delights…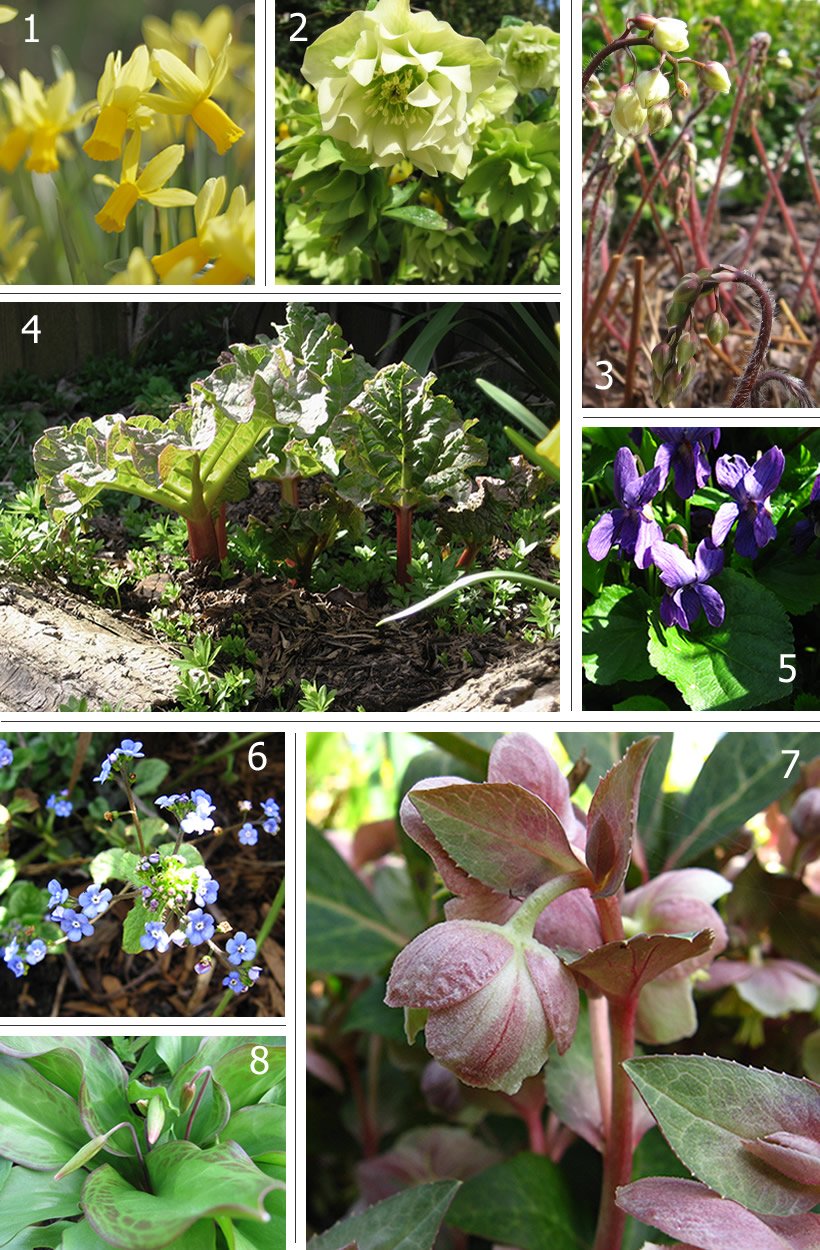 Narcissus 'Jetfire'
This dwarf narcissus has reflexed petals and is just delicate enough to appear natural and wild, yet vigorous enough to return reliably year after year. It typically sports two or three flowers per stem – hence the name 'head to head'.
Helleborus orientalis – double green/white
I don't know if this is a named clone or not, but it is one of my favourite plants in the woodland garden. The double flowers are pale green-white, and when newly opened are perfect models of ruffled symmetry.
Epimedium x versicolor 'Sulphureum'
This epimedium has good autumn colour, and although it is semi-evergreen the unfurling flowers are best seen if the old foliage is cut down in the winter. The new leaves will start to open as the flowers reach their zenith, creating a hazy delicate display.
Rheum rhaponticum (Rhubarb) 'Victoria'
The first leaves emerging puckered and runkled glowing with the dappled light in the woodland garden. Sweet woodruff (Galium oderatum aka Asperula odorata) runs around its feet competing charmingly with the shade cast by the rhubarb later in the year. I think the rhubarb looks much more comfortable in this natural setting rather than the vegetable garden, don't you?
Viola odorata (Sweet violet)
Vivid colour and delicate scent. Sweet violet runs around via stolons across the surface of the soil and seeds about too. It is charming but if it gets too rampant just pull it out.
Brunnera macrophylla 'Jack Frost'
Delicate forget-me-not flowers that need a moment of close attention to fully appreciate their beauty. The silver-spotted 'Jack Frost' leaves are large and heart-shaped when they emerge later. But sprays of the spode-blue flowers continue to emerge on and off throughout the summer.
Helleborus lividus
This is a smaller and more refined hellebore and its silvery-green marbled foliage is evergreen too. Despite being listed as borderline tender, all three plants in my garden have come through the recent hard winter with only a little leaf damage.
Erythronium (Dog's tooth violet) 'Pagoda'
The emerging leaves are rich and wavy edged, marked with leopard spot blotches in a subtle reddish colour. The promisy flower buds rise like swan necks and will burst open in a few days time. To me they have the architectural merit of hostas, but look far more natural in a wild setting.