Why paint a cedar greenhouse? In my case it was mainly for aesthetic reasons. It fits in with the style of the rest of the garden and, I believe, gives it a more substantial look akin to the great classic Victorian greenhouses.
Arguably, it will also protect the timber and extend its life – I'm planning on upwards of 50yr lifespan, so every little helps. When you start considering carefully where water collects – at the edges of the glass, on the horizontal ledges and so on, the appeal of an extra protective layer makes sense.
Before you consider painting a greenhouse, however, think long and hard – the two images above hide the enormous task involved. There are thousands of surfaces and it takes days and days of patient and careful work. And then you realise despondently you need to do the second coat!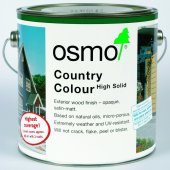 The paint we used is an excellent product by OSMO called Country Colour White. We have used this (and the One Coat Only range) all over our house, inside and out. What makes these paints different to ordinary gloss or eggshell, and far superior in many situations, is that they never crack, peel or blister; They don't need an undercoat and can be overpainted at any time without rubbing down or prepping first. So they are a truly low maintenance finish. Note, however, that they have a silk-matt rather than gloss finish, although OSMO offer other equally low-maintenance ranges if you prefer a gloss look, but I have not used them.
---
Greenhouse Construction details: