PART 3: Assembling the greenhouse timber framework.
Once the contractors had finished the base work we started on the DIY task of assembling the greenhouse. It was supplied by Gabriel Ash, a semi-bespoke design based on their model called 'The Eight'. It arrived in several preassembled panels that cut down on the erection time:
2 end panels with doors
2 side panels
1 ridge vent
4 roof panels
All necessary fittings and instructions
These screw together with the supplied stainless steel screws bolts and fittings, all of which are supplied. The entire structure sits on a rot-proof aluminium base (which rests on the dwarf wall in our case).
As we assembled the panels we discovered the dwarf wall was not quite level, but there was enough tolerance and 'give' in the greenhouse that it didn't matter, thankfully. As the provided detailed instructions were for the standard structure (as opposed to our bespoke modification) there was a bit of head scratching from time to time, but to their credit Gabriel Ash were always available on the end of the phone and gave excellent advice and support – even posting out a few extra fittings that we needed.

The stages shown in the photos above took a little over two days. Standard designs would go up quicker, no doubt, but there was a lot of sealing to be done between the timber and the brickwork. Also I prefer to do things well, so spend a lot of time measuring up, checking for square and considering later stages.
In the middle image above you can see the long timber sub frame for the ridge vent – an excellent feature that sets Gabriel Ash greenhouses apart from the competition. This is a very heavy unit which required two of us to lift it into place and fix it.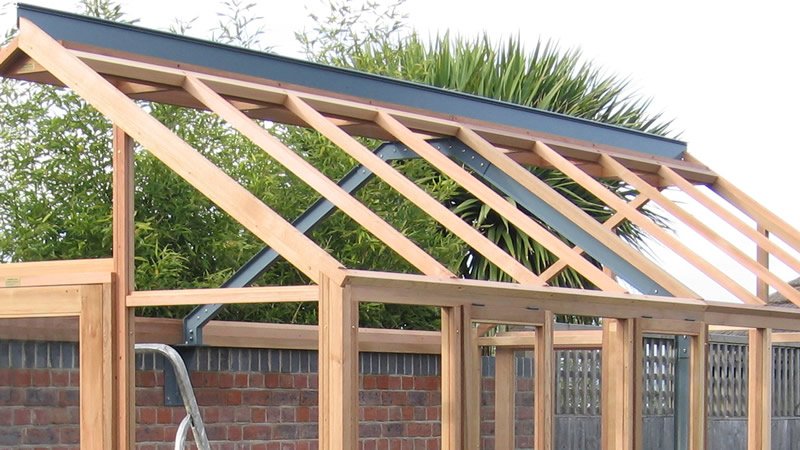 Structural Strength
As the greenhouse is long (~16ft) it has an aluminium I-beam which gives it strength midway at the point where the timber panels join. The I-beam bolts together and, in my case, bolts to the rear wall, making the entire structure very solid. Running along the top you can see the aluminium ridge piece which as well as strengthening carries the innovative ridge vents (see: Building the greenhouse – the roof)
---
Greenhouse Construction details: