The White Garden | January 2021
12 months of interest
The beds immediately along the back of our house form part of the White Garden that surrounds our lawn.
The house lies to the south-west of the garden, so these beds only get sun for a couple of hours in the morning before falling into the shadow of the house.
the planting here is dominated by textured green foliage including Buxus, clipped into domes and cylinders, along with various ferns, clumps of soft Japanese forest grass and ground cover plants courtesy of Epimedium and Asarum. As you can see in the photo above, the structural elements – especially the evergreens – helped the garden look great in the frosty beginnings of 2021, long before any flowers emerged.
The hedge in the background, by the way, is lonicera nitida – an excellent small-leaved evergreen that tolerates tight clipping. It is only 30cm deep, but covers a 6ft fence panel. Even in the bleakest of months, this hedge helps the area feel like a proper garden. Its simplicity enables the plants in front of it to stand out clearly, especially the bare grey stems of Amalanchier lamarkii.
As the year progresses, various white-flowered shrubs, perennials, bulbs and annuals come into their own, creating a continually changing tapestry. In this post I am going to review one full year, from spring through early, then late summer, into autumn.
[See previous post about the white garden, part 1: the long sunny border that runs in front of the greenhouse.]
Location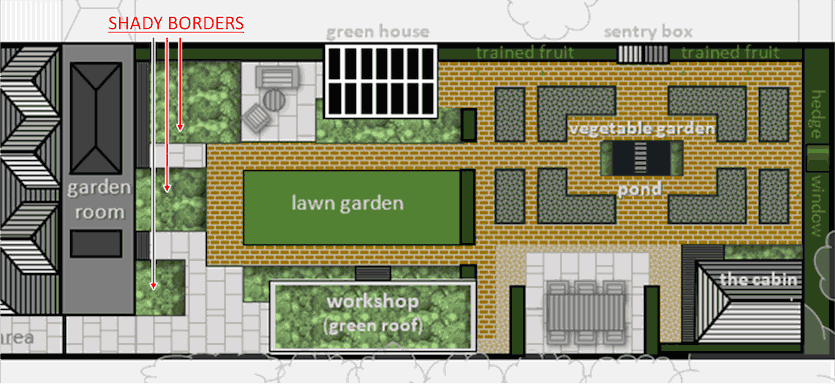 ⋮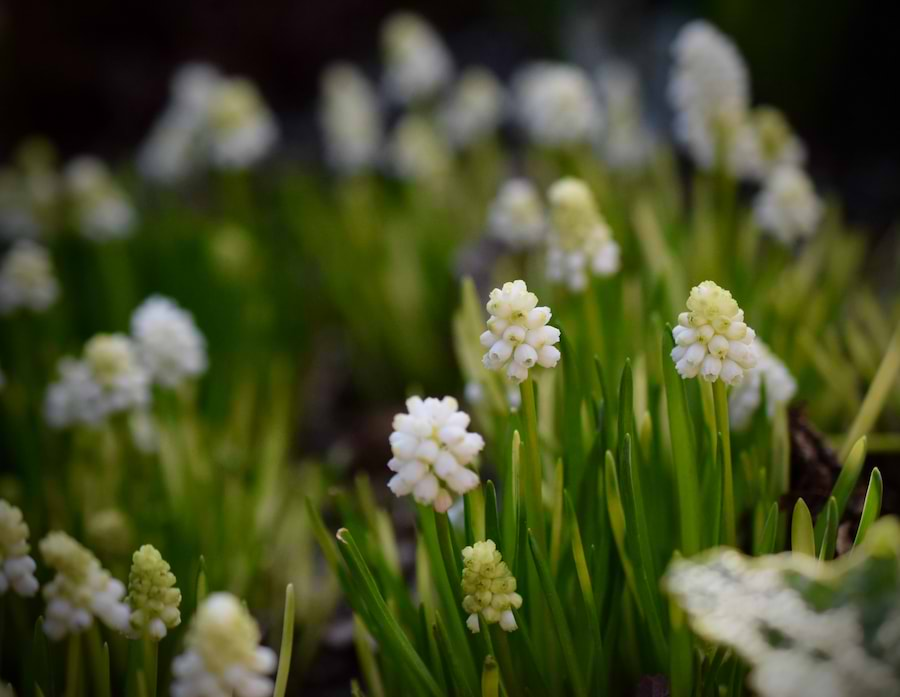 White grape hyacinths – March/April 2021
⋮
Spring
Spring flowers in the White Garden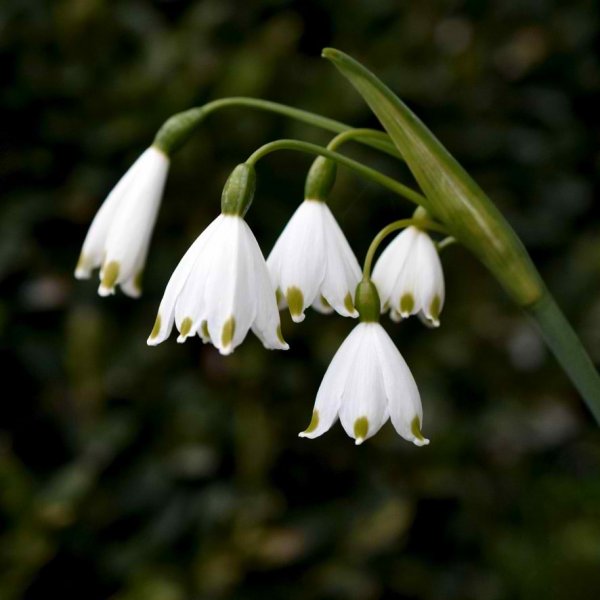 Leucojum aestivum 'Gravetye Giant'
These wonderful bulbs flowers from March to May. Very photogenic.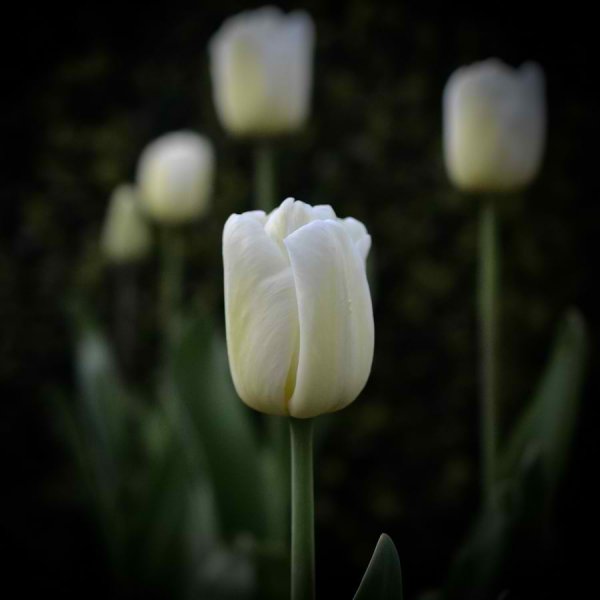 Tulip 'Purissima'
A perennial tulip. The colour is "ivory white", meaning it has a hint of yellow in it. Looks great for weeks (April/May)
Narcissus 'Thalia'
I have these in pots that I move into place in April/May.
Pots of white hyacinths and ranunculus
help brighten the grey days of spring.
What all of these flowers have in common is a bold white presence. I have found that large, clean white flowers look particularly good when isolated amongst dark green foliage.
I have two black planters (one shown above) which add to the scene. Each contains white dahlias. but as they are very late into leaf (only emerging in late May) it is possible to plant them with winter and spring flowering annuals. At various times I have had violas, cyclamen and ranunculus.
Late spring, early summer
Paeonia officinalis plena alba
I have two of these white peonies, which flower in late May/June. This is the first year either of them has produced more than one bloom! They are long lived plants, but their flowers only last a few weeks. Their foliage is beautiful for much longer, though.
---
Digitalis purpurea alba
This white form of the wild foxglove is more charming (to my eyes) with its one-sided flowering spike, than the overblown hybrids. It self-seeds, usually coming true, but I have to pull out the occasional purple reversions.
⋮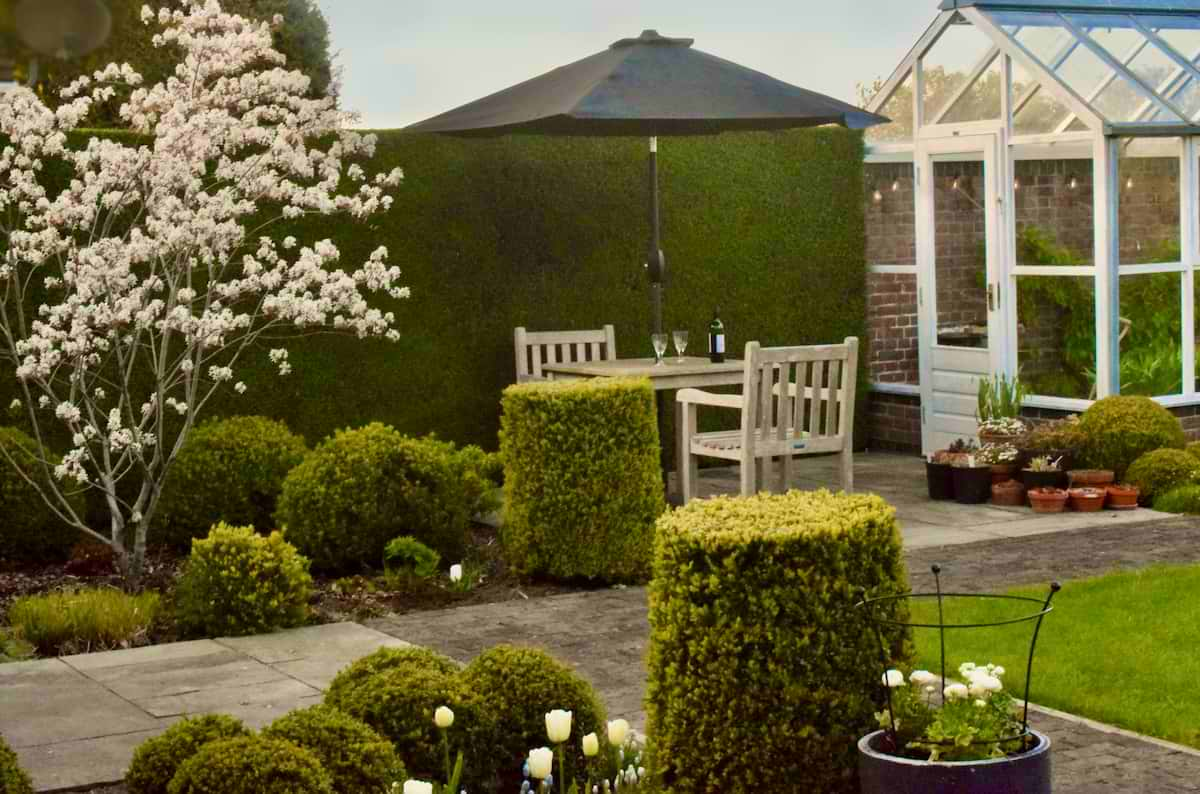 The Amelanchier flowering in April 2021
⋮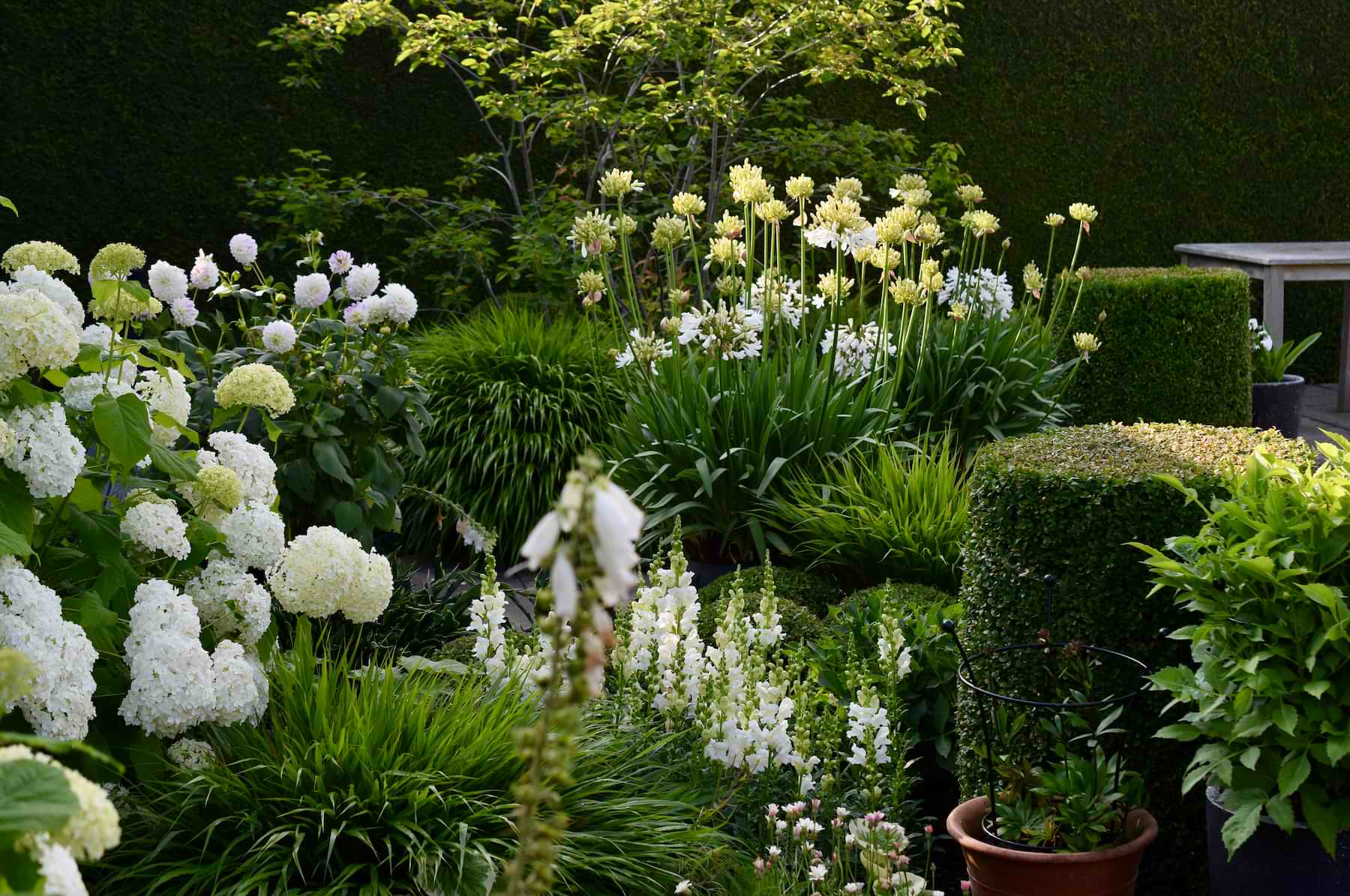 The White Garden | July 2021
Summer
From June to September the White garden comes into its own. The scene above is just stunning, with flowers coming from shrubs (Hydrangea 'Annabelle'), perennials (Agapanthus), biennials (Digitalis purpurea 'alba'), annuals (white Antirrhinum) and tubers (White Dahlia)
But see how important the foliage is in making this such a successful design. The regular geometry of the clipped box contrasts with the soft grassy mounds of Hakon grass. Likewise, the tightly clipped hedge provides the perfect backdrop for the irregular branches of the Amelanchier.
Summer flowers in the white garden
---
▽ Iris sibirica 'White Swan' | I have planted this in the bed with the Amelanchier, where it looks wonderful with the box and ferns. It only flowers for a few short weeks in May/June, but looks stunning. It would do better with a bit more sun than it gets here.
▽ Hydrangea 'Annabelle' | One of the best white hydrangeas. Parchment-white flowers open from green buds over a long period throughout the summer. They fade gracefully to a good autumnal golden-brown. Best in part-shade with some support.
△ Lilium 'Sparkling Joy' – Growing perennials and bulbs in pots allows them to be moved into place when they are at their best. These lilies were started in the greenhouse (keeping the dreaded lily beetle at bay) then moved into the garden in June.
△ Agapanthus 'Polar Ice' – I grow these in two large round black pots. They begin flowering in July and continue throughout August, often sending out one or two late flower heads in September. Hardy, but I overwinter mine in the greenhouse to protect the pots.
What makes the design successful?
With any garden, the temptation is to fill a space with blooms. But too many different flowers can lead to a sense of restlessness. One of the chief factors that makes my White Garden so successful is the predominance of simple green foliage. In the photo below, you can see how the leaves provides a great variety of interest and texture: The small leaves of clipped box contrasts with the big foliage of Hostas; the fine needles of the spruce, the grasses, shrubs and bulbs all add foliar texture. Among this calm oasis the large white blooms of the lily stands out, drawing the eye. The trick, then, is not to have lots of flowers, but to have distinct clumps in good succession. This creates a set of continually changing focal points throughout the year.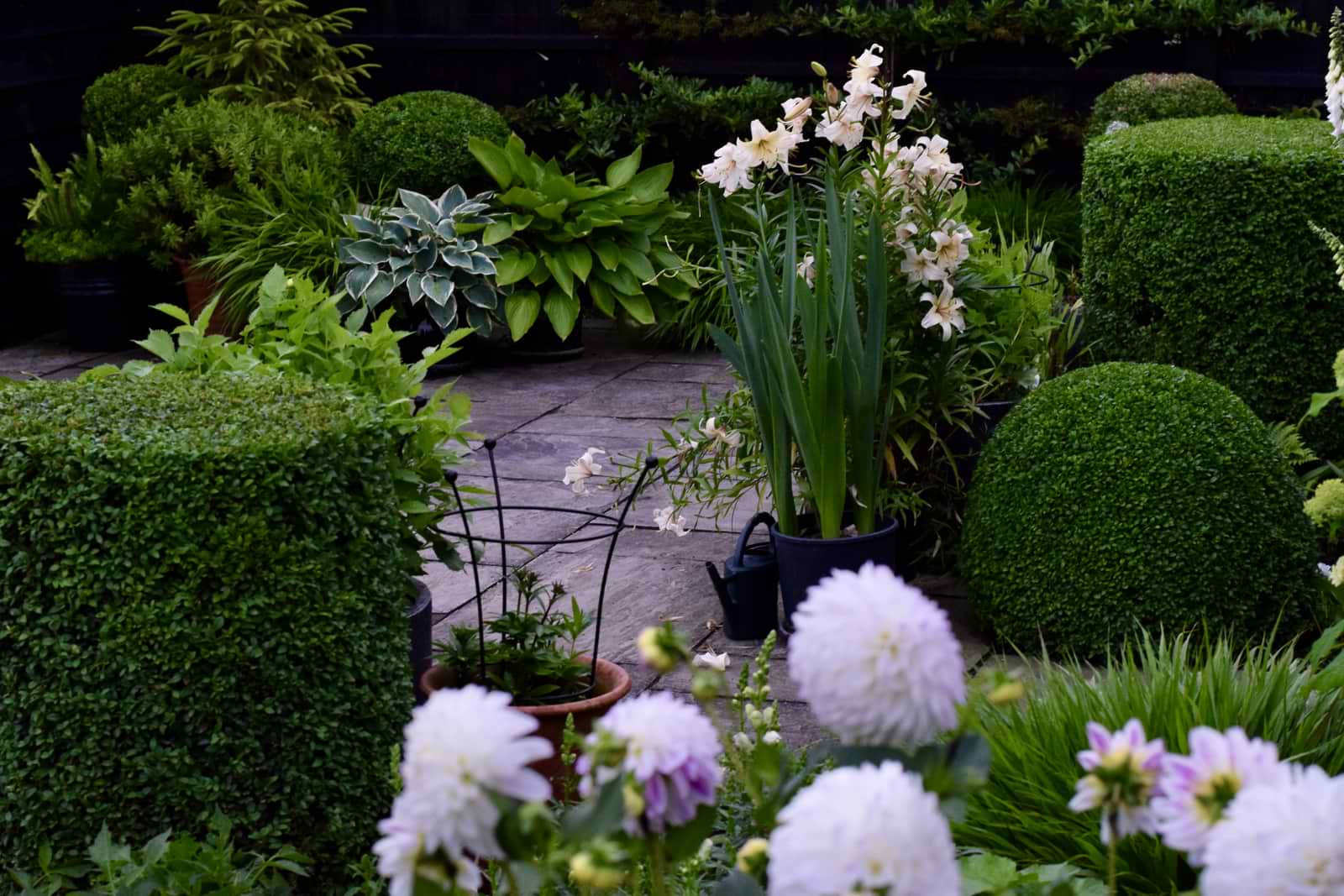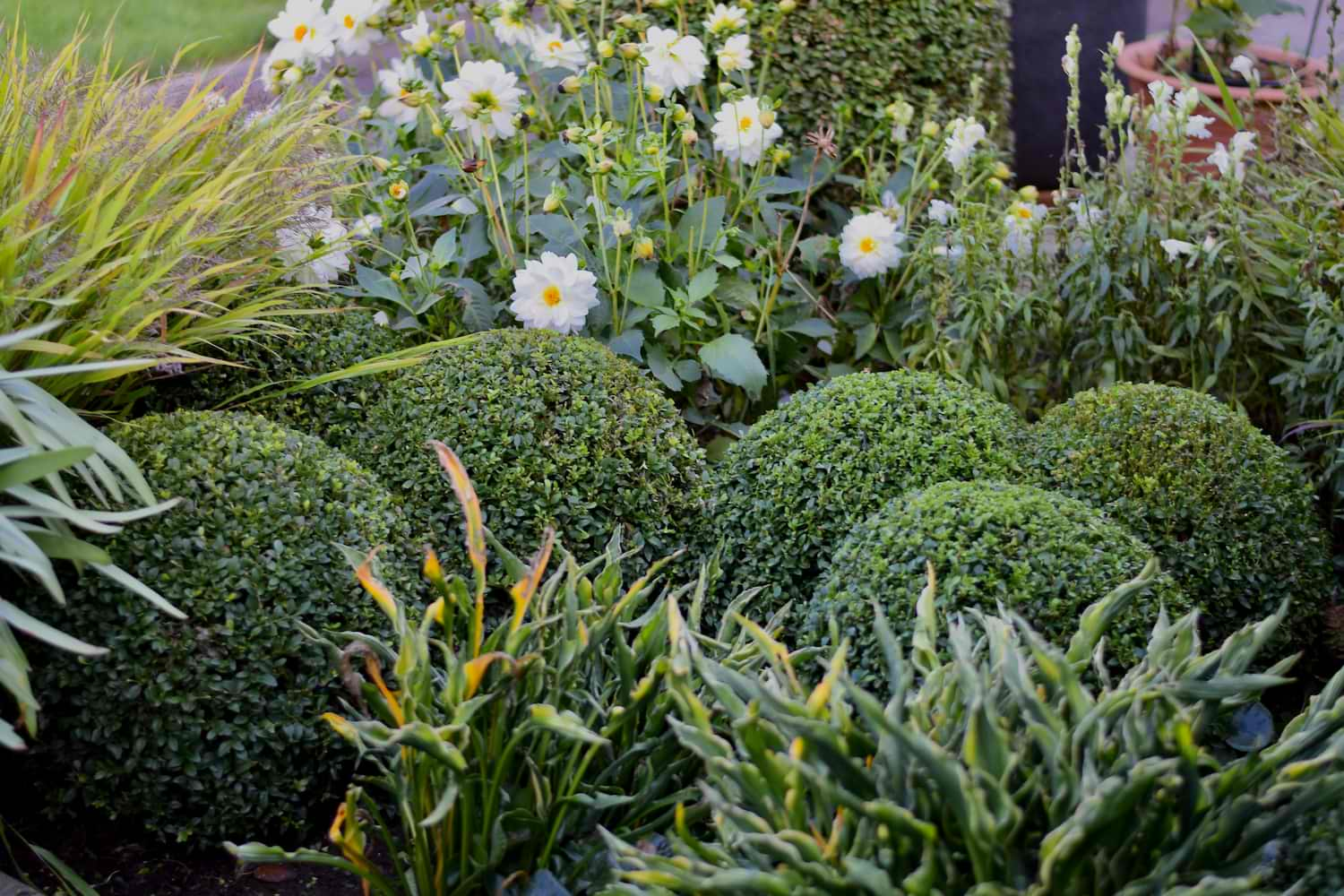 The White Garden | September 2021
Late Summer
The dahlias come into their own by August flowering through until the first frosts. In September, Japanese anemones steal the show. I also grow pineapple lilies in pots, underplanted (this year) with white pansies. These three plants are such good photography subjects.
Late Season Flowers in the White Garden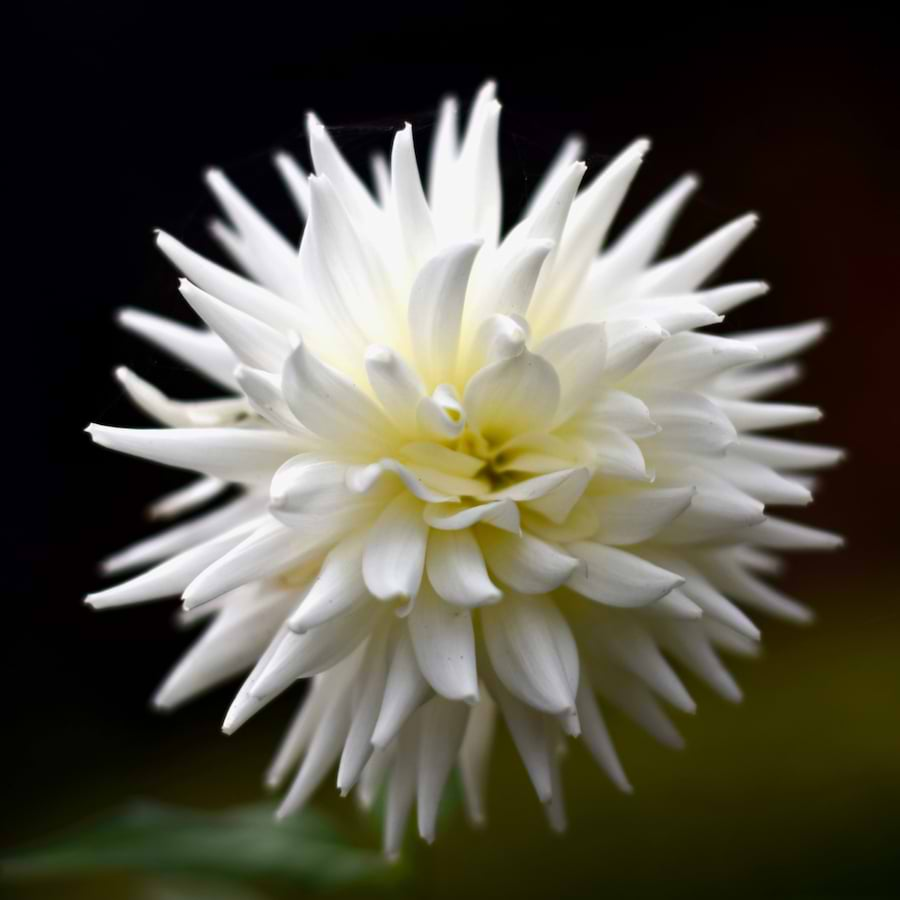 Dahlias
Stars of the late summer border. I grow dwarf varieties in the ground and in pots. They seem to survive our southern UK winters just fine. (Unknown varieties).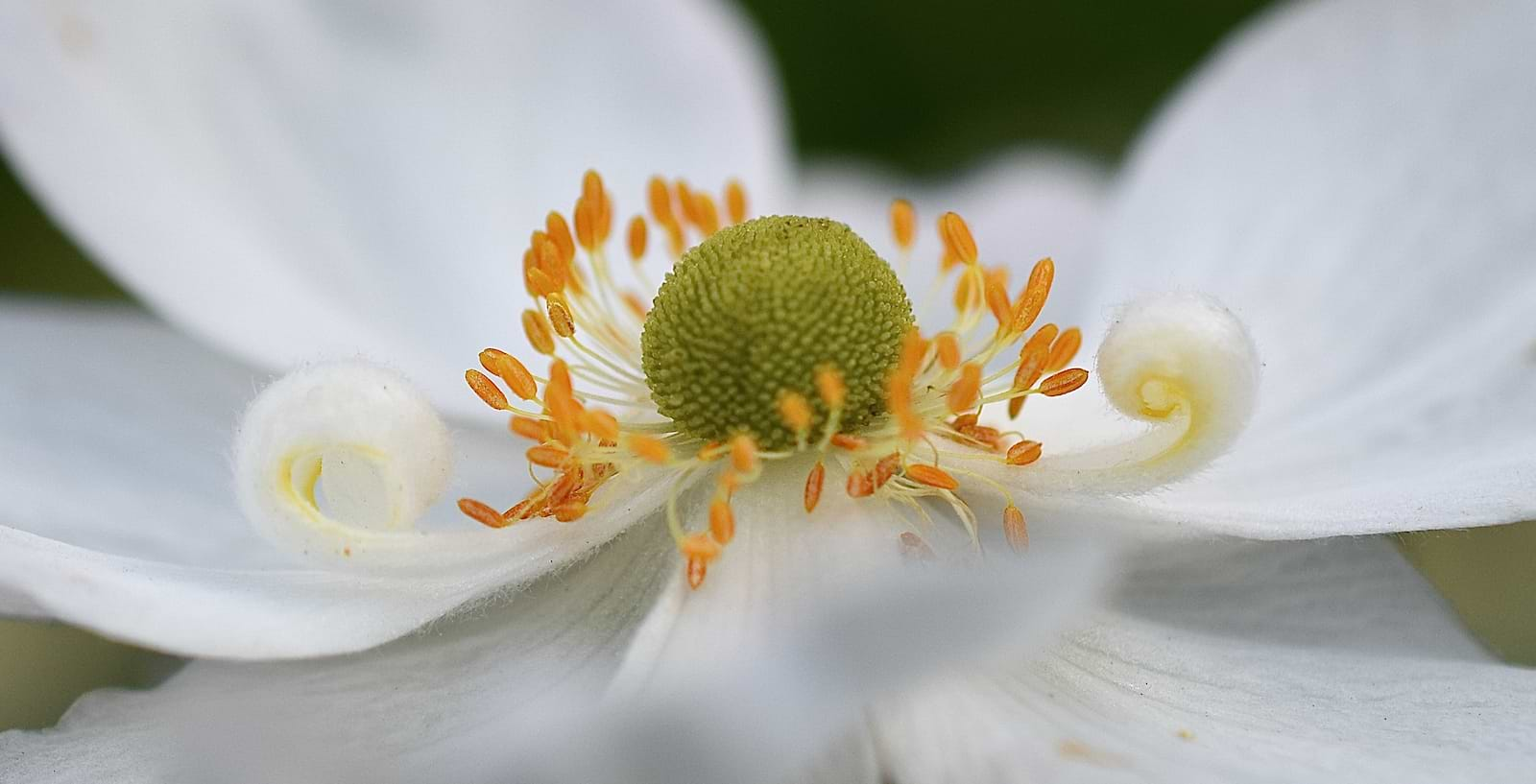 Japanese anemones
Japanese anemones come into their own in September, opening their cheery bright faces when many other flowers are passing over. They are rather invasive, so I have to take the spade to mine to keep them in check.
Pineapple Lily
Eucomis autumnalis. I have two pots of these wonderful autumn-flowering bulbs. As they emerge late, the pots can double up for winter and spring flowers.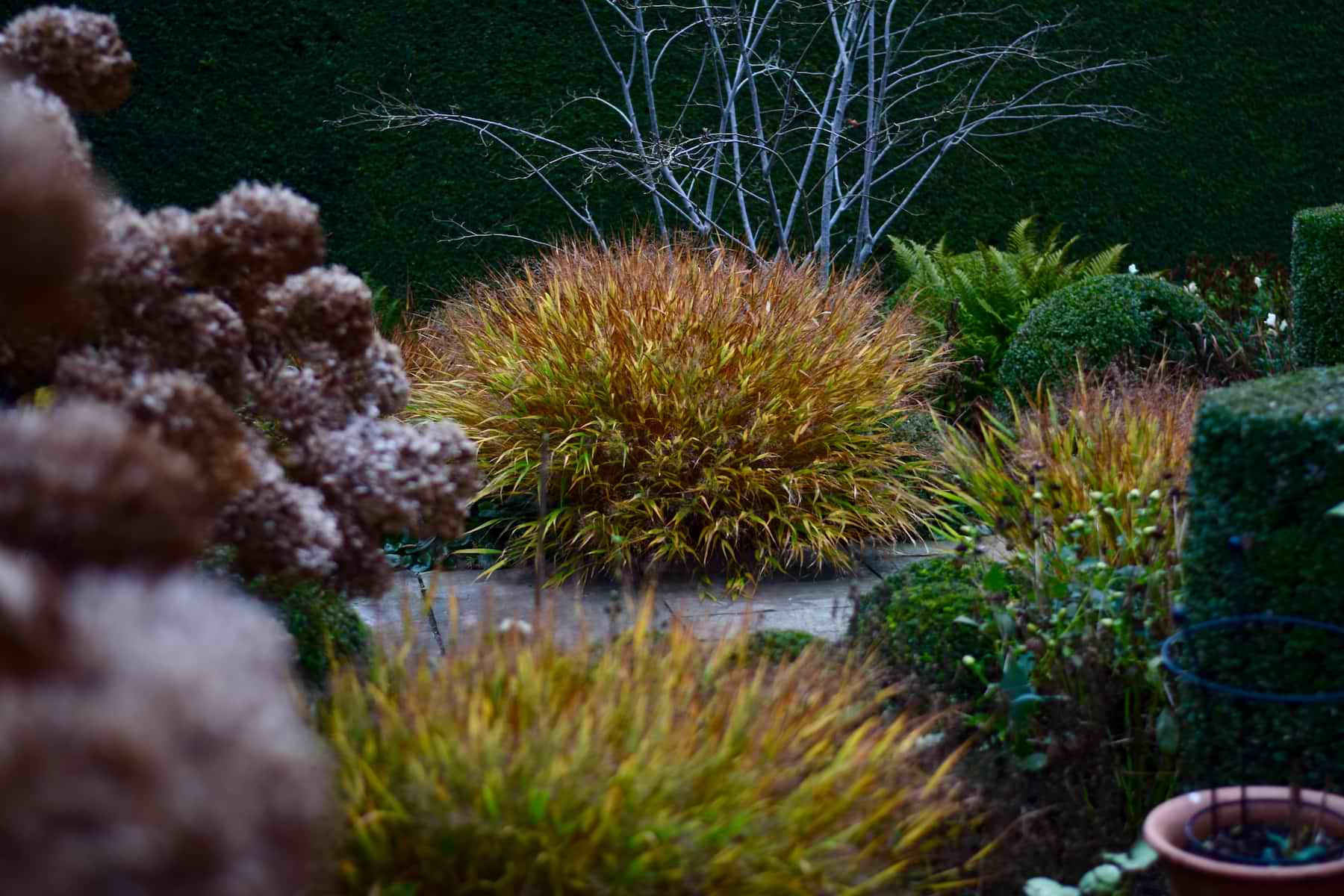 The White Garden | November 2021
Autumn
As the summer flowers come to an end the Anemone and Dahlia form interesting seed heads. The Japanese forest grass turns fiery shades and sways in the slightest breeze. The flower heads of hydrangea 'Annabelle' turn an attractive tan-brown, and the shape of recently clipped box stand out.
As temperatures fall, snow and frosts highlight the plants. The last few late-flowers continue to delight: cyclamens and star-of-Bethlehem. In an adjacent bed, chrysanthemum and nerines continue the show of bold white flowers right up until Christmas. [See previous post: White Planting Scheme – September to March]
End-of-season delights
Star of Bethlehem
(Ornithogalum thyrsoides)
I have grown these beautiful bulbs for the first time this year, in a pot. They started blooming in August and continued right into December. Hope they come back next year with cold greenhouse protection.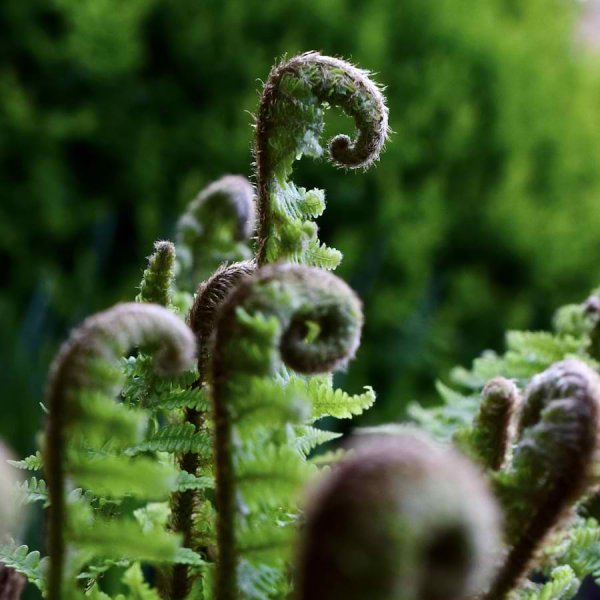 Golden Male Fern
(Dryopteris affinis)
Several varieties of ferm contribute to this planting. The golden male fern is particularly successful and turns golden yellow in early winter. At 2ft tall, it is tough and reliable.
Hardy Cyclamen
(Cyclamen hederifolium album)
Planted this spring, these hardy beauties are doing well under the geranium. I planted pot-grown plants rather than corms as they establish much more quickly.
Seed heads
(Anemone japonica)
In the autumn, the seeds heads of of Japanese anemone, Hydrangea 'Annabelle' and dahlias all add to the charm of the garden.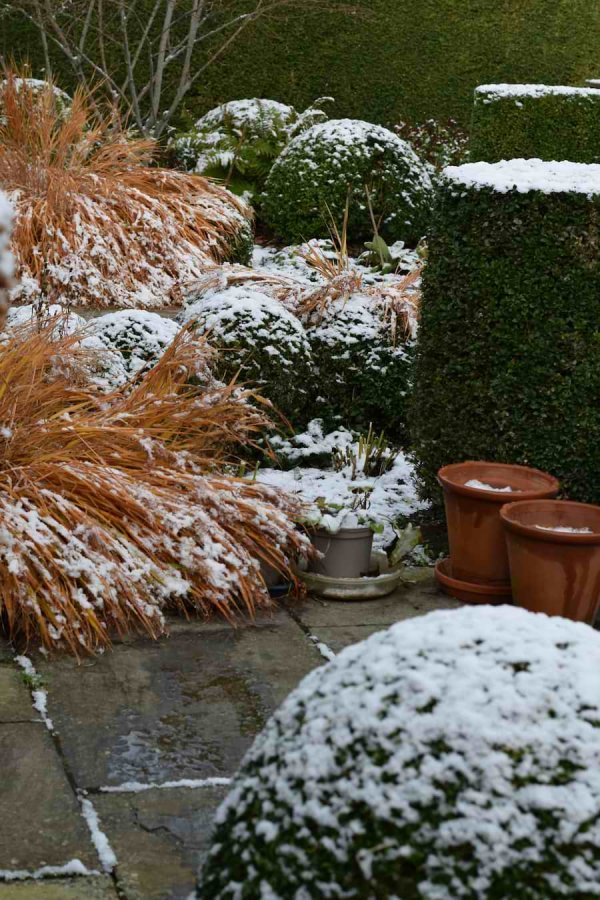 First snow of winter | Dec 2021
Final thoughts…
The most difficult aspect of maintaining the White Garden is keeping the box plants free of box blight and box-moth caterpillar at bay. Apart from that, as the area matures, there is little maintenance needed beyond weeding and cutting back the remains of perennials in winter.
Hydrangea 'Annabelle' is spreading gradually by suckers, so I may need to go around her base with a spade to limit her spread. Likewise the Japanese anemone is invasive if not kept in check. One method is to plant them in large bottomless pots to curtail their running roots. I have solved the problem of the Japanese forest grass (Hakonechloe macrantha) – which also spreads by stolons – by circling it with vertical root membrane.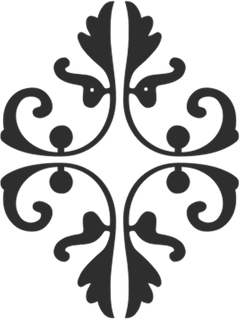 We have gained a great deal of pleasure from this part of the garden in 2021. I hope you find some inspiration here for your own garden. Happy New Year!
– Keir Watson