PART 3: Building a concrete base
« Design | The Workshop: 1 2 3 4 5 6 | Walls & Rafters»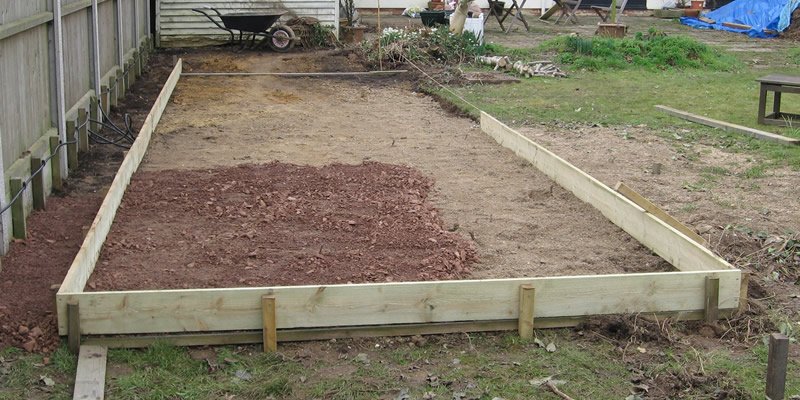 Creating the base
As this building was to have a concrete slab base, the first job was to clear the ground and level the site. I then marked out the perimeter carefully and edged it with treated 6×1 boards held in place with stakes. I took time checking the frame was square and the edges level – you can't easily correct irregular concrete later!
Type 1 sub base (MOT) was then barrowed in and raked level. This was was then compacted with a vibration plate until it was rock solid. As the ground beneath was sub soil I only used 2in of sub base, if the ground had been softer I may have needed a greater depth or a layer of hardcore first. The compacted sub-base was then blinded with a thin layer of builders sand and whacked again.
Next I covered the whole area with a single sheet of polythene as a DPC, folding it up the inside of the boards, creating a huge waterproof 'tray' ready to take the concrete. Placing a couple of additional boards across the site divided the base into three areas – the idea being that the concrete slab is less likely to crack if there is any settlement or expansion.
I reckoned the concrete needed pouring in one continuous operation – a job I did not trust myself to do alone and complete in one day. So I employed a team of local builders who mixed, barrowed, poured and levelled the concrete for me in a few hours!