PART 6: Timber and rear cladding
«The Green Roof | The Workshop: 1 2 3 4 5 6 | Surrounding Landscaping »
The cladding is Douglas fir from a local saw mill (English Woodlands). The planks are 8″x0.8″, sawn, and work out at about £13 per m². Douglas fir is one of our cheapest UK grown timbers yet has many characteristics that make it superior to standard softwood. UK grown Douglas fir is classed as only slightly durable – apparently our weather makes it grow too quickly, hence it is often recommended that it is preservative treated, but this is not necessary if the design and detailing are good. An excellent example of untreated Douglas fir external cladding can be found in the ecological building of the Scottish Renewable Energy Office for Natural Energy.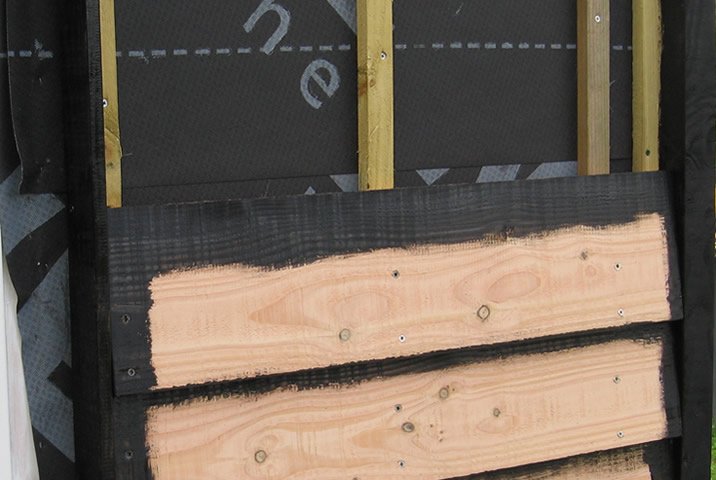 Design features to ensure longevity of the cladding:
Ventilation is provided behind the boards by fixing them to tile battens. An air gap is left at the top and bottom of the cladding so that air can flow freely behind them
Water repellent stain keeps moisture from penetrating the wood – OSMO One Coat Only ebony stain is highly water repellant and was applied on all edges before installing, and on the front and back of the overlapping sections as these will be impossible to paint later. The end grain received additional attention.
Stainless steel screws prevent rusting. Note that the screws on one board are not covered by the board above, so it is possible to replace a board without having to remove those above or below. Screws were pre-drilled to reduce splitting.
End stops terminate each run, reducing exposure of the vulnerable end grain.
Roof water is carefully directed away from the cladding via downpipes so that water does not cascade down the boards. Good overhanging eaves help too.
The above detailing should ensure a very long life – in excess of 30 years I trust. Maintenance will consist of replacing any cracked boards and occasional touching up of the stain. Re-staining is easy with OSMO One Coat Only – it does not peel or flake and you can just put another coat straight over the top at any point.
Back of the building
As the back of the building is rarely seen and difficult to access for repairs I have used a maintenance free cladding – Coroline bitumen corrugated sheets. These were fixed with screws and special rubber/stainless steel washers to the tile battens. They overlap to ensure they are water proof. They are certainly not lookers, but they should never need painting!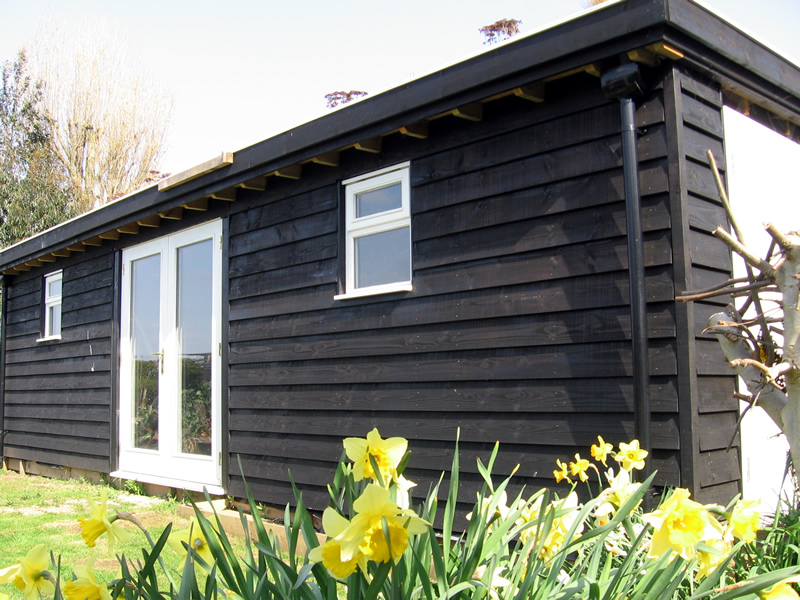 The finished building
Here is the finished building… well, almost finished. The cladding and colour help it fit in with the other garden buildings, and it is a damn sight better looking and better constructed than the tumble-down sheds it is replacing!
«The Green Roof | The Workshop: 1 2 3 4 5 6 | Surrounding Landscaping»