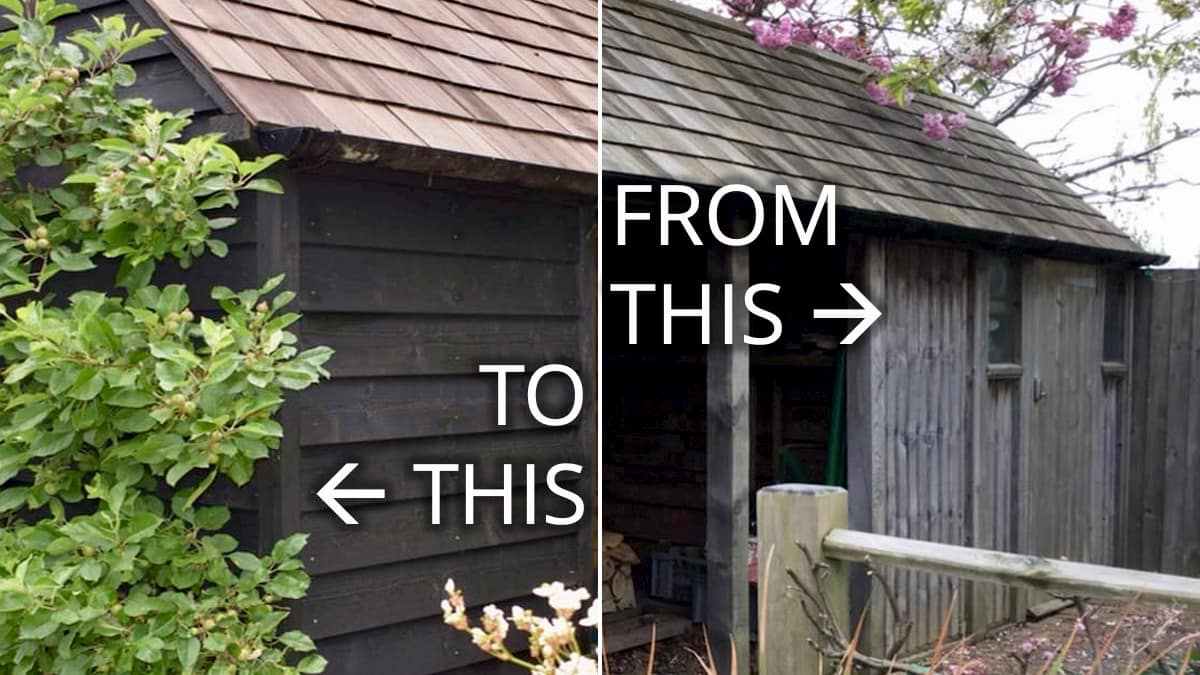 In this four-part post I detail how I renovated a 14 year old rustic garden building, giving it a new lease of life and a smart modern look.
The woodshed that I built in 2006 was designed to be simple to construct and easy to repair. It was built around a simple post and panel design using two rows of 4×4 fence posts concreted in the ground to create a grid, with fence panels between then for the walls. Its overall dimensions were approximately 20′ long by 6'6″ wide (6m x 2m), with two thirds (6'x12′) used to store wood, and one third (6'x6′) as a bike shed. The full post detailing its original design and construction is here.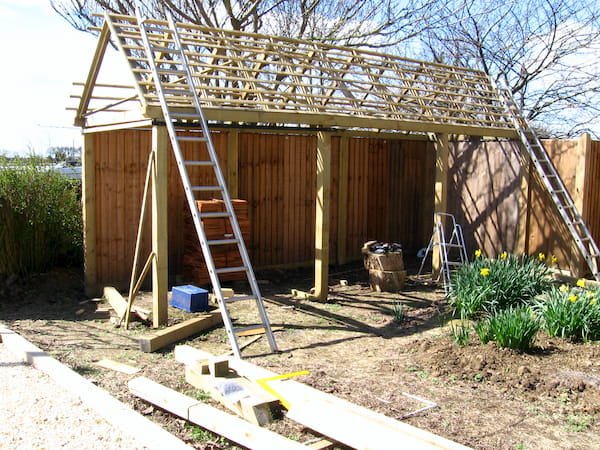 △ Here it is part way through construction in March 2006

At the time I was well aware that the posts would eventually rot through at ground level — concreted timber posts always do. It was just a question of when. I wasn't too bothered at this prospect as I had found actual fence posts easy to repair when they rotted off: in those cases I just bolted a concrete spur to them concreting it in at their base, so I figured I'd work something out when it came to it. In the end the posts lasted 14 years which wasn't bad considering.
#1 Structural Repair
By spring 2020, it became apparent that the East end of the building had started to sink into the ground. The posts at this end had failed first, rotted through and were in the process of descending little by little with each passing month. As you can see in the photo below, this end of the shed had sunk six inches (15cm). Water in the gutter now flowed the wrong way, pouring out around the base of the posts in heavy rain which only made matters worse.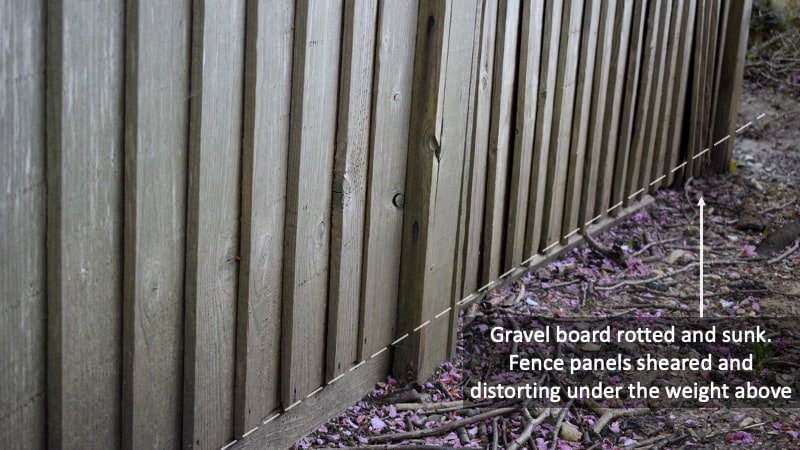 It is testament to the flexibility of timber buildings — and cedar shingle roofs — that they can bend and twist out of shape without collapsing. That said, as the second picture above shows, as the foot of the post and gravel board rotted away and the building sunk, the fence panels became crushed and distorted. They were never supposed to support the weight of the building above them!
It was time to sort things out.
Jacking up the structure & Re-Footing the Posts
I was expecting to have to hire acrow props to complete this job, but then a friend who owns and maintains sailing boats pointed out that I could do it with a car jack and bits of timber. What a brilliant idea! Below are some of the arrangements I used:
Having trialled various methods for lifting the corner of the building I was able to jack it into its original position, which lifted the decayed post clear of the ground and got the line of the eaves back where they should be.
Creating rot-proof post pedestals
The posts needed a new base that would last longer than the original. I used Accoya for this, creating a 50cm high plinth base from 1 ¾ in (40mm) planks for each post which was screwed to the outside of the old post, thereby taking the weight, while the bottom sat on an enlarged footing. The steps involved are shown in this illustration:
The pedestal was given a bit of decorative treatment using a 45 degree chamfer with a router to soften its edges. It was stained black in keeping with the cladding which was to be fitted next. Here is how they look in the finished building: