Here's how the cedar shingle roof was cleaned and stained, and the ridge capping replaced. …Oh, and how (and why) I added a cupola.
#3 Roof Renovation
The existing cedar shingle roof was not in too bad condition. There were a couple of places where early decay had stated, but it had not advanced too far. Most of the tiles were showing signs of UV ageing, algae and some lichens. I realised that the adjacent cherry tree on the south side was overhanging and casting heavy shade. There was more algae and general wear under its shade. Some of its branches were rubbing against the roof too. I took the loppers and saw to these branches, cutting it back dramatically whilst still managing to keep its overall look.
After removing the overhanging branches I gave the roof a dry scrub with a stiff broom to remove the loose algae and lichens. It cleaned up nicely and did not require the lengthy cleaning that my other, older cedar roof required.
See my post: Cedar Shingles: How to Clean and Restore them
The ridge of this shed had been finished with a 'rustic' selection of oak offcuts. Many of these were rotting, so I removed them. The shingles underneath were all in good condition.
Another problem area were the skylights. Leaf litter had accumulated along the top edge trapping moisture against the shingles. There was evidence of early stages of rot, but this was less than I expected. I didn't come up with a solution to this apart from regular clearing.
Treating the shingles: Preservative Stain
To protect the cedar shingles I gave them a thorough coat of an oil-based preservative stain. The water repelling properties of this stain will reduce the absorbency ensuring the shingles remain drier. Along with the preservatives this should help increase their life expectancy dramatically.
For more details see my post: CEDAR SINGLES #5: TREATING AND STAINING A CEDAR SHINGLE ROOF
This is how it looked after staining: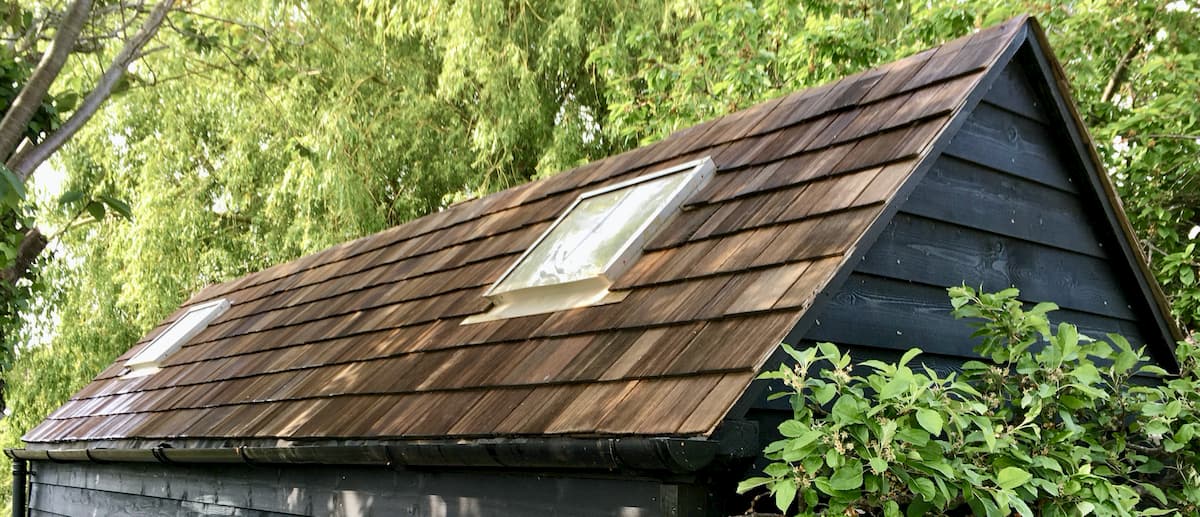 Ridge cap
The last part of the roof renovation needed something to cap the apex of the roof. I decided to use black PVC corner profile. To fix it down I used screws with rubber backed washers. These are often sold for fixing corrugated or polycarbonate roofing.
The caping was only just wide enough to create a weather-proof seal, but in this context that is fine. From a distance it cannot be distinguished from lead, and it certainly does not look 'plasticky' or cheap. It came in lengths of 3m, but the shed is 6.1m long, so there was a gap in the middle. Was that a problem? No. It was an opportunity…
Simple decorative cupola
Using various offcuts: some Accoya, decking board and a bit of arris rail, I knocked up this little cupola. Proper cupolas have an important function which is to provide ventilation for the roof of a building. The decking board panel in the sides of my purely decorative pergola give a nod to louvre vents. It's only function is to cover the gap between the two PVC ridge pieces, but you wouldn't guess.
Here it is installed, with its own little cedar roof and a coat of the stain I used on the main roof.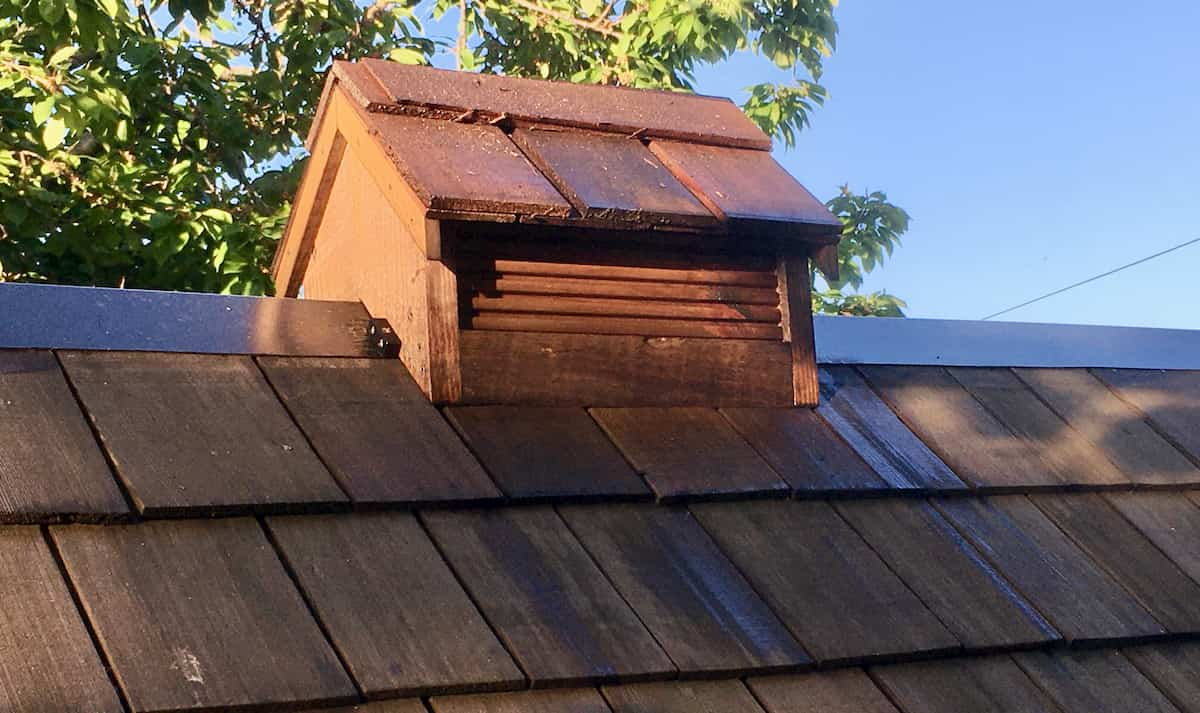 The finished renovation