Cedar Shingles,
I now realise, need some basic maintenance to ensure a long service life.

In the first post in this series I look at how cedar shingle roofs have weathered in my garden over 15+ years, and how maintenance could extend their useful life much further.
#maintenance #rot #problems #solutions #longevity
Cedar shingles have been my preferred choice for roofing on several of my DIY building projects. They are easy to install, long lasting and fit into a relaxed garden aesthetic better than any other roofing material in my opinion. However, their longevity depends on maintenance — something that is easy to forget as they weather gradually and gracefully over the years. You can see in each case they have developed a patina which sits very nicely in the garden design.

In the photos above and below you can see three examples of garden buildings where I have used cedar shingles. They are all well over ten years old and have received zero maintenance in that time: a testament to how easy cedar shingles are to live with. Unfortunately, in the case of the oldest building – The Cabin, which is now 17 years old this lack of attention has masked a gradual deterioration that almost certainly could have been avoided if I had given a bit more attention to maintenance. In this post I am going to share the lessons I have learned from living with, neglecting and restoring cedar shingles.
Why use cedar shingles in the first place?
The most expensive part of my garden buildings — per square metre — is the roof. That's fair enough as it is the roof that protects the building below. Failure of a roof means failure of the entire building, so you want to get that right.
Cedar shingles are not cheap. However, the more you look at the alternatives the more reasonable they become. What else has the potential to last for 40 years? What is as light-weight, accommodating and easy to handle? What looks as natural and classy in a garden building?
When you take all of their virtues into account cedar shingles begin to make sense, at least on projects where you have a sufficiently steep roof pitch (they are not so good below 25 degrees)
The economics of roofing include not only the initial cost but also the projected lifespan, and time, inconvenience and cost of maintenance and repair.
If your cedar shingles only last 20 years the calculation becomes less favourable. It turns out that some minimal maintenance is necessary to get the best out of cedar shingles. Unfortunately I had to learn this hard way, having neglected my Cabin roof for 17 years. This series of posts is about the lessons I learned, and how I fixed the problems I caused by failing to maintain the roof properly. It turns out that the maintenance that would of prevented these issues would have amounted to less than a couple of hours per year, so reaching that 40 year life expectancy might be possible after all.
How long do cedar shingles last in the garden?
Many online sources, including manufacturers such as Marley, indicate that cedar shingle roofs can last up to 40 years. The important point in that statement is that little word can.
Part of the longevity caveat is down to the initial design and construction of the roof. It needs to be done right and have sufficient air flow above and below it (I have covered cedar shingle installation in garden buildings here and here if you are interested). The rest I now realise, is down to maintenance.
The problem with cedar shingles from the gardeners perspective is that they weather very slowly and beautifully over the years. it is easy for time to pass without maintenance being considered.
So what happens if, like me, you just leave them for 17 years without any attention? Well this does: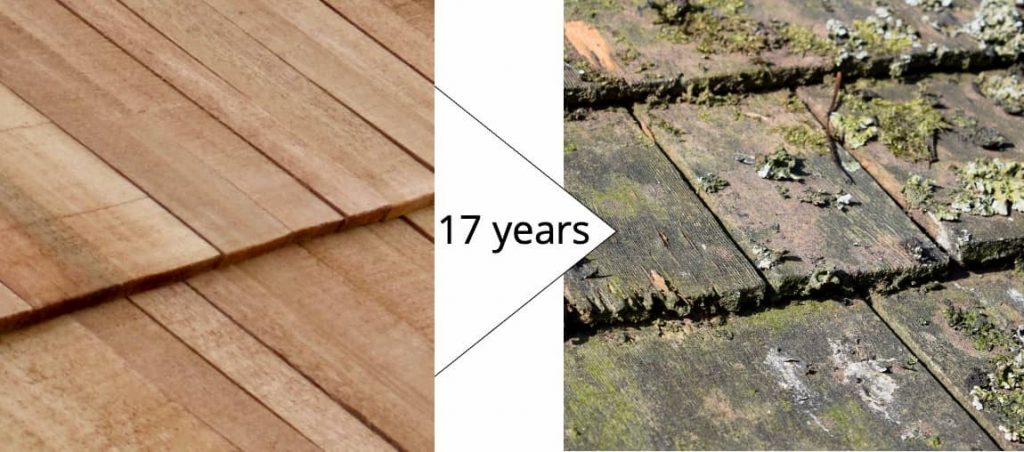 From a distance this mess of algae, lichens and moss appear as an attractive rustic patina. But when you get up close you realise things are getting ugly and the shingles are starting to suffer.
Here is how my Cabin roof changed visually over time…
cedar shingles – 15 years of weathering
In the first few years after construction the shingles weather to a calm grey colour, their golden colour returning every time it rains.
By seven years lichen and algae started to accumulate. Especially on this north-west facing slope, beneath the ridge where pigeons kindly provided nutrients.
At ten years old the shingles took on a distinctly green colouration in the wetter months. The neighbour's awful Eucalyptus tree has grown rapidly and now overhangs half the roof, shading the rear (south-east).
By fifteen years of age the lichen had spread extensively. In the shade of the tree (to the rear) moss and algae had taken hold.
A closer examination this spring (2020) — when the roof was 17 years old — revealed that there was quite a bit of damage. On the open, north-westerly side a lot of lichen had built up. On the shaded, south-easterly (and hidden side) the shingles were covered in green algae, with patches of moss. Areas of rot were developing — who knows for how long — and I had not spotted it happening.
What it looks like up-close
Although a weathered cedar roof takes on a kind of rustic charm as it weathers, when you get up close you realise that the shingles themselves are suffering. While the mosses and lichen look nice from a distance, they are actually shortening the life of the roof.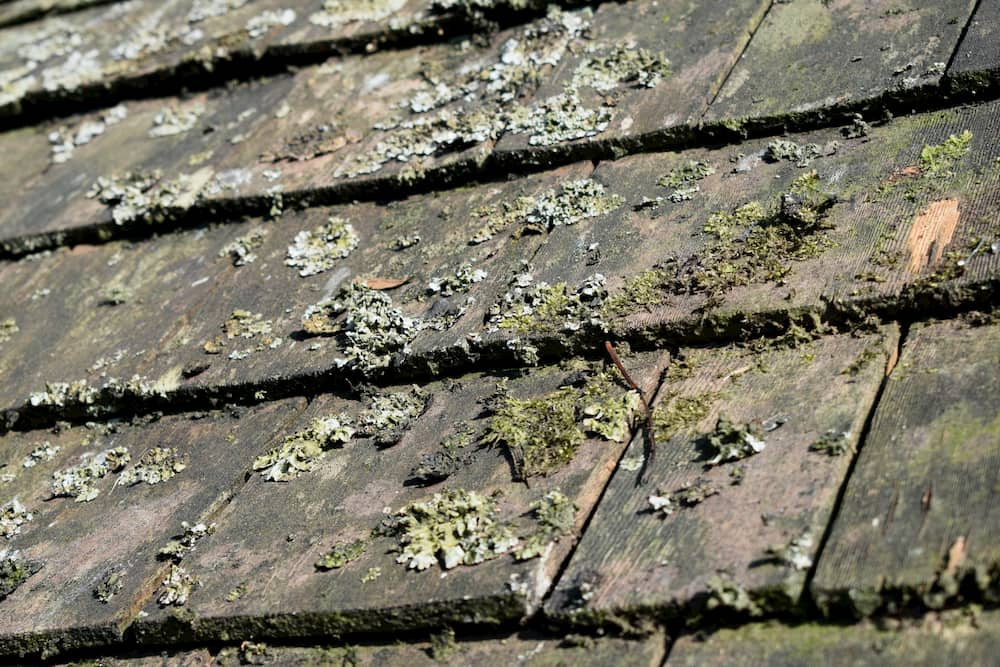 In this photo from the north-east side of The Cabin you can see the beginnings of erosion and water damage. Despite their durability cedar shingles left like this will fail to reach their potential 40 year lifespan. This leads to two questions:
What would it have taken to prevent this?
What can be done to repair this?
In the following posts I will look at how these shingles can be cleaned, restoring much of their youthful appearance and colour, and then analyse the causes and prevention of this damage. I'll look at the maintenance that would have prevented it going this far, and show you how I replaced failed shingles and restored the roof, so, hopefully, it will survive a further 20+ years.