Alpine plants weave together
creating miniature landscapes fit for fairy-folk
Mid May
This series of photos was taken at dusk between May and July 2019, up on the roof of my Workshop where I have a well established Green Roof. The beautiful colours and textures of the planting were enhanced by the low light creating a magical atmosphere. I particularly like plantings where different species live side by side, not in separate clumps, but interweaving, growing and changing together. There is a certain dynamic balance when the whole arrangement knits together and looks so natural and easy.
My Green Roof continues to produce beautiful tapestries of interwoven foliage as plants grow together creating unique little communities. In this photo a carpet of red-edged sedum Dragon's Blood is punctured with the silvery branches of a self-sown sedum Blue Carpet. The strange seedheads to the right are the bracts and pods of the broad-leaved glaucous spurge Euphorbia myrsinites; its straggling succulent stems are, in places, green-pink and bare, whilst other sections are clothed with whorls of regimented blueish leaves. The seed heads to the left are the remains of grape hyacinths (Muscarii) and remain looking architectural in their skeletal form for months.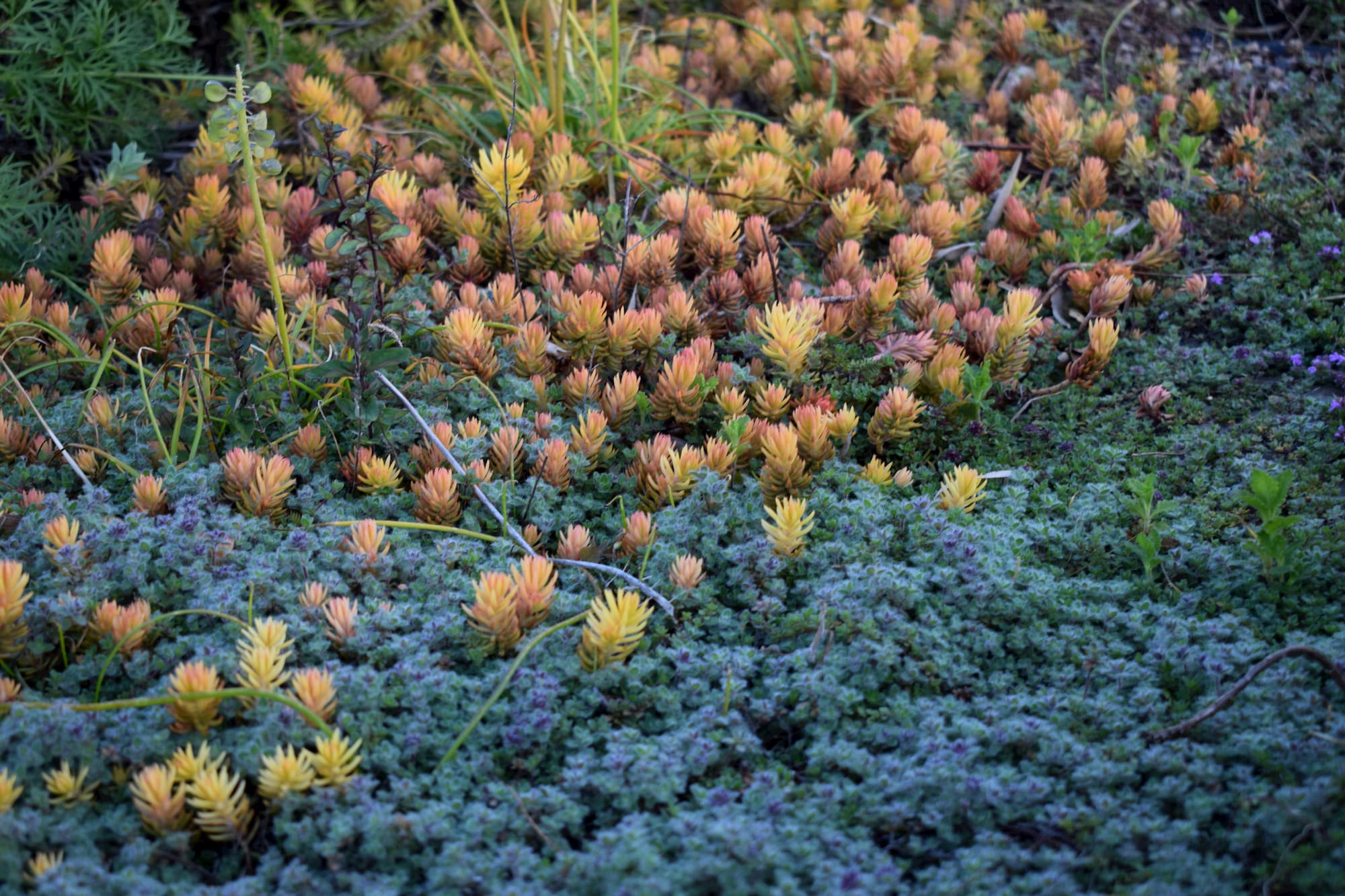 Some of the most successful plants that I have introduced to the Green Roof are the creeping thymes. In the above photo Wooly Thyme (Thymus pseudolanuginosus) creates a foamy blue sea through which colourful spires of Sedum reflex Aureum create a tiny forest for fairy folk. Other species adding to the charm are feathery foliage of Pasqueflower (top left), little green spires of Wall Germander (Teucrium chamaedrys) and a tiny sprig of Origanum laevigatum.
↑ A little landscape of thyme creeping over pebbles. The spiky 'shrub' to the right is thrift.
Seedling of thrift and dianthus Flashing Lights growing in the gravel on the Green Roof ↑
↑ An overview of the southern end of the Green Roof with various Sedums and Thymes, Thrift, Aquilegia, Marjoram, Germander and translucent grape-hyacinth pods.
Late June
Midsummer..and the roof is in flower: purple, mauve and pink… In the foreground creeping thyme attracts dozens of bees; to the right succulent mats of trailing Ice Plant (Lampranthus spectabilis) holds its vibrant flowers closed, waiting for the sun. Above it a colourful stonecrop forms a succulent clump: grey-green-red; in the distance a purple haze of seaside fleabane (Erigeron glaucous Sea Breeze)
↑ An almost underwater scene, the Lampranthus open like so many sea-anemones, their succulent leaves a little coral reef at the edge of the green roof
Common polypody fern (polypodium vulgare): young fronds fresh green, the older leather-brown, like mediaeval scrollwork frame a miniature world. The Mexican daisy, Erigeron karvinskianus, pink and white; Mauve flowers of creeping thyme spill over the timber edging. The ferns have grown here for over ten years — some of the toughest plants for a green roof, putting up with drought and competition from nearby plants. The fleabane seeds around rather too freely, but it is easy to pluck out the excess.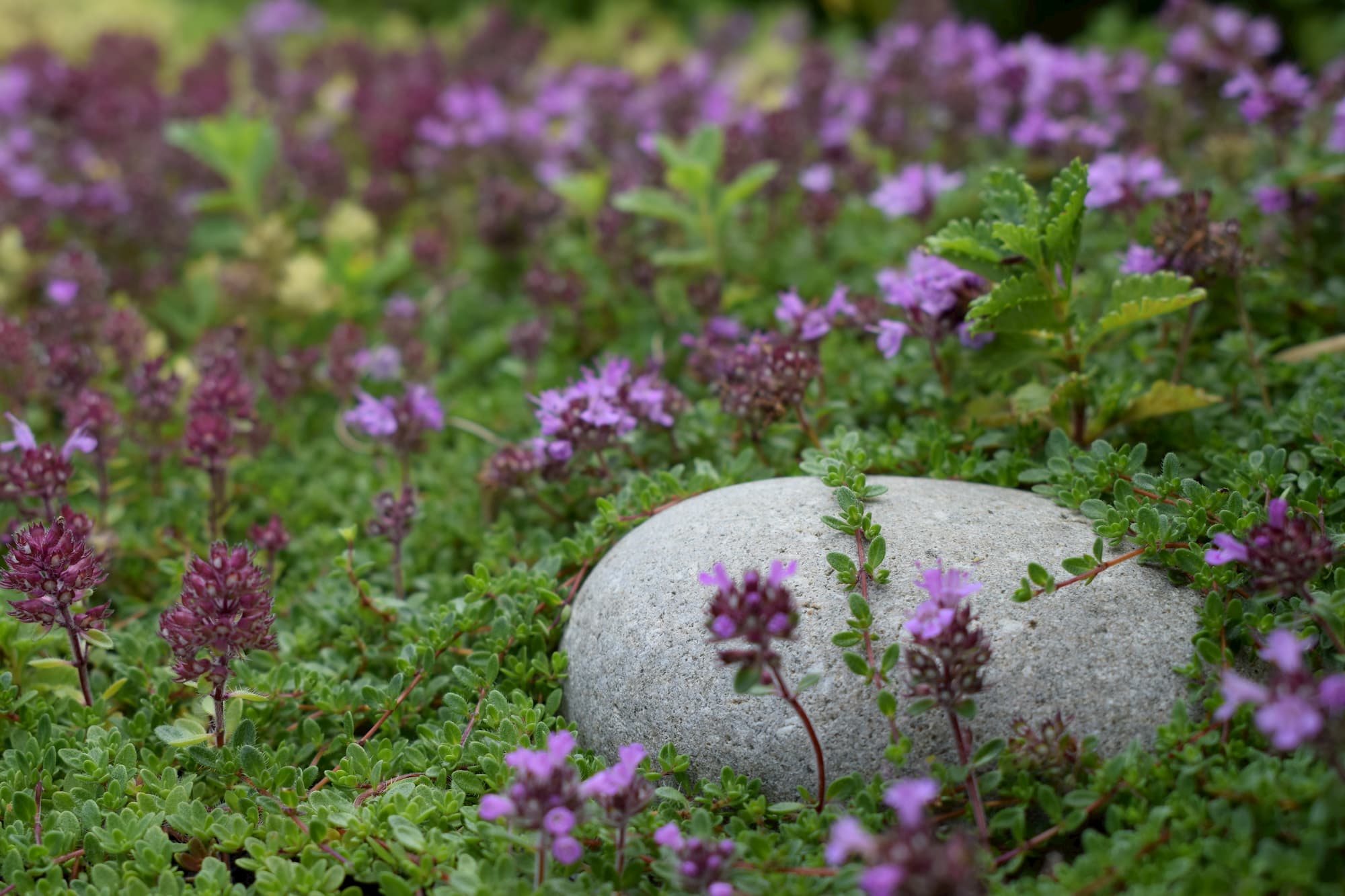 ↑ A pebble surrounded by creeping thyme which is sending up flowering spikes like little exotic trees.
↑ A self-sown seedling of glaucous spurge (Euphorbia myrsinites) leans like a tiny tree on the edge of a micro-meadow of white and purple flowered thymes.
↑ This bees-eye view of thymus, lampranthus and sedum Dragon's Blood are almost other-worldly; an alien landscape on a far-away planet perhaps.
↑ You have to get down on your knees (or up on your green roof!) to discover the intriguing beauty of these tiny purple flowers of thyme just 2cm high.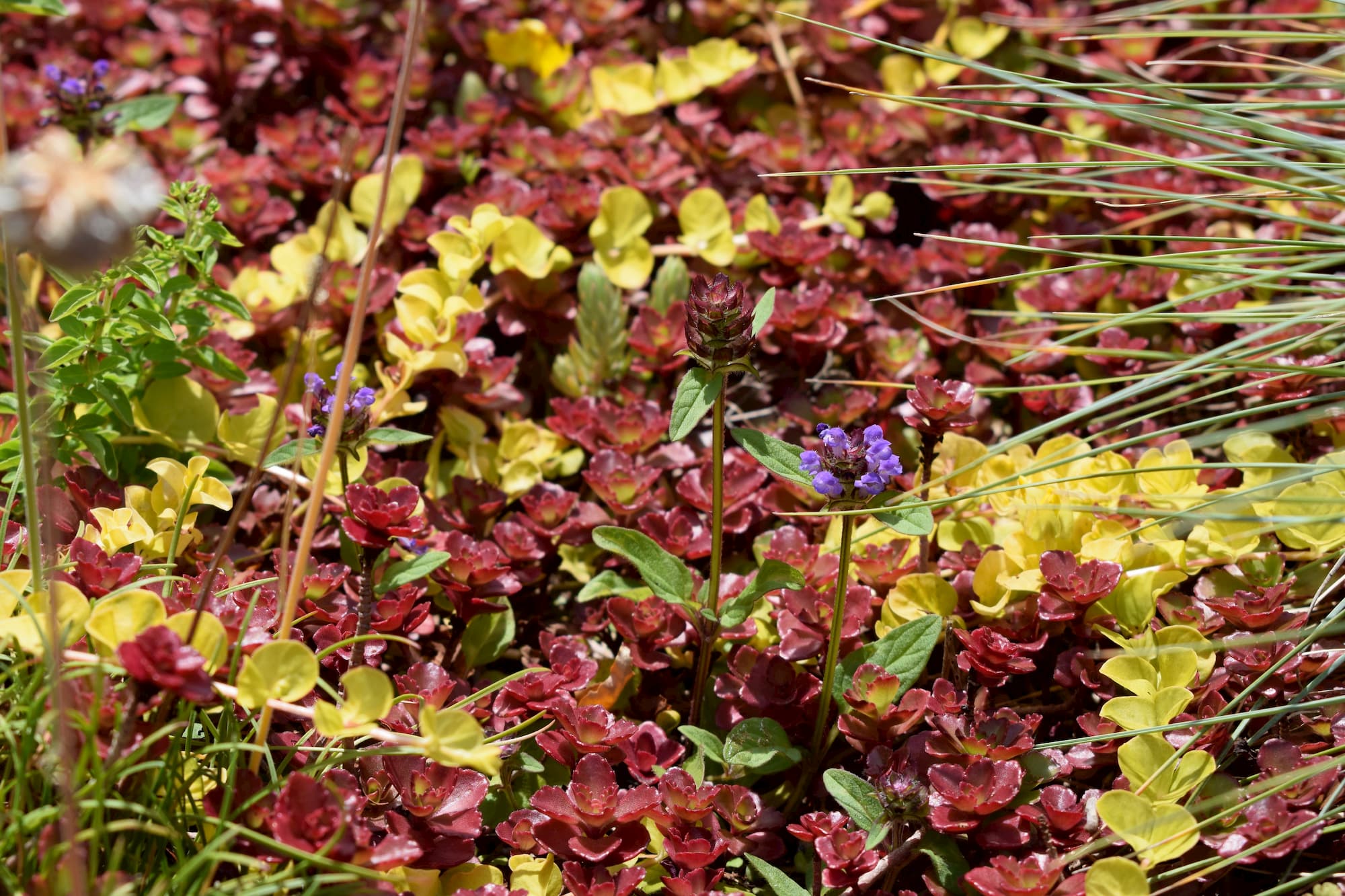 ↑ Golden creeping Jenny (Lysimachia mummularia Aurea) contrasts with Sedum Dragon's Blood. The little stems with purple flowers are self-sown selfheal (Prunella vulgaris); blades of festuca glauca intrude from the right.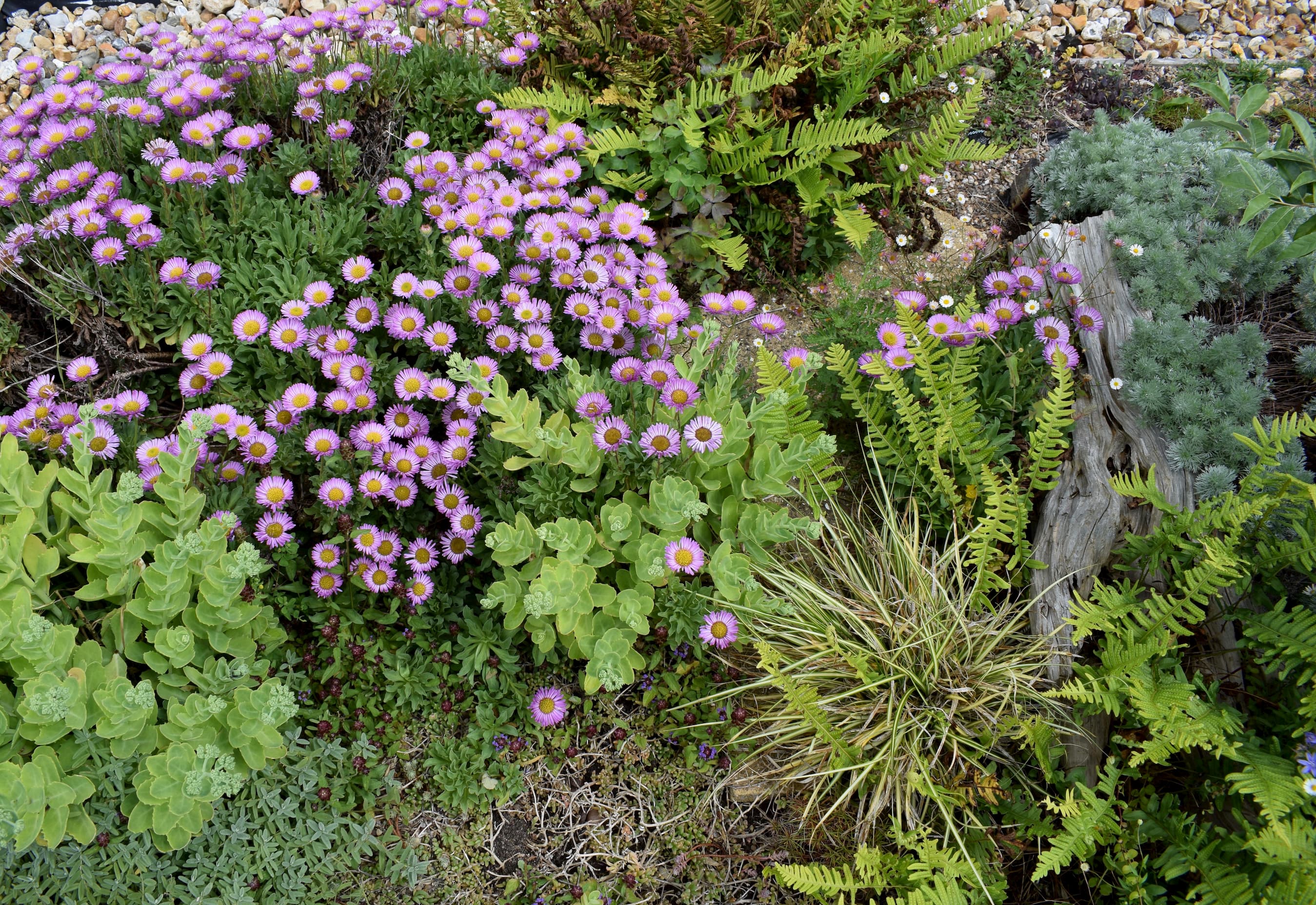 Green Roof Planting
A rich tapestry of flowers and foliage (click to see whole image)