This is the latest bed I have added to my garden. It is made out of a new kind of wood called Accoya which is effectively rot-proof. But before I talk shop, here is a bit about the design ideas…
Design Considerations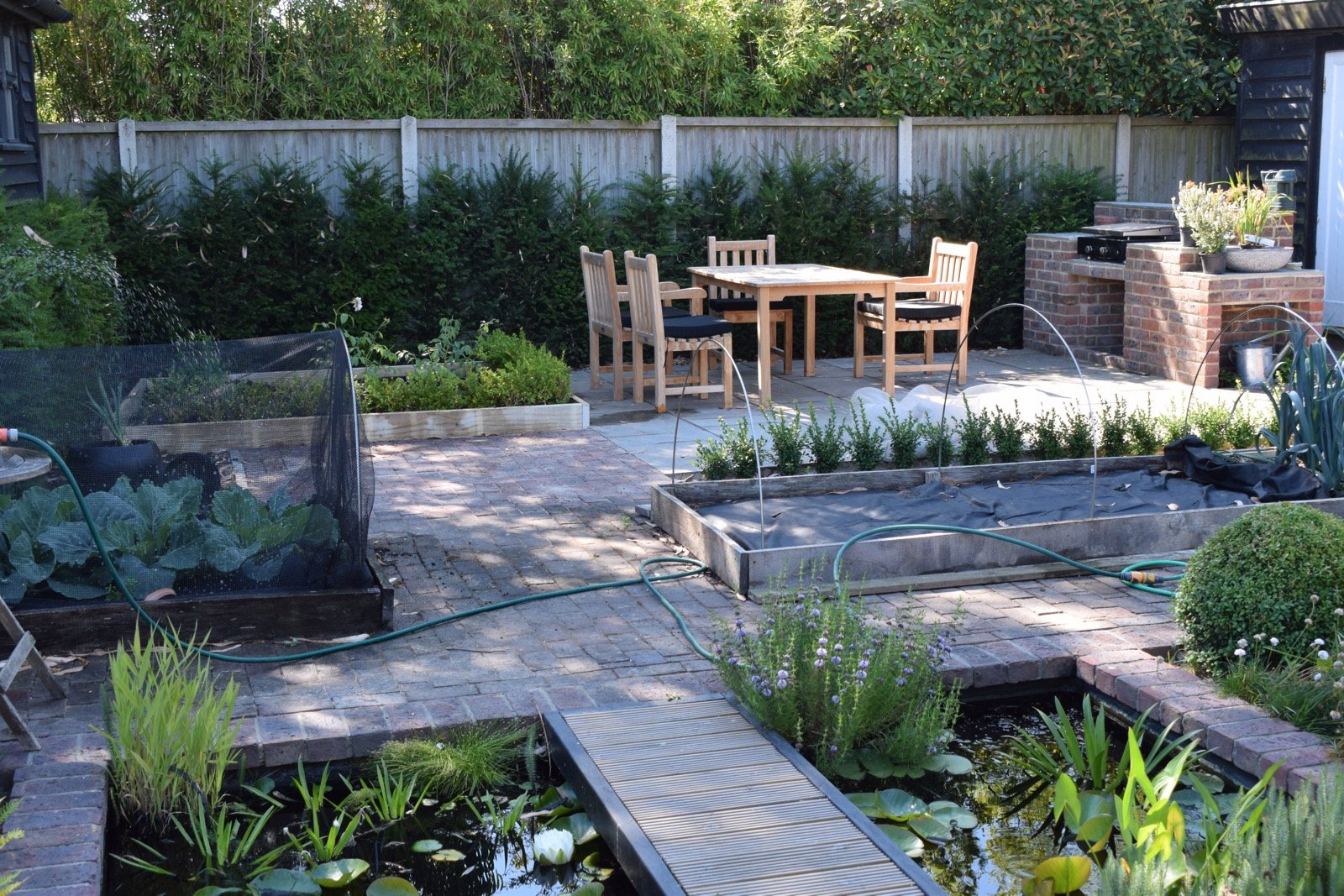 The new bed is right next to our garden dining table – as you can see in the shot below, looking, across the pond in the centre of the vegetable garden.
The new raised bed is in keeping with the oak 6″ oak plank vegetable beds. And the dwarf box edging planted around the edge of the new bed carries on a theme used in the rest of the vegetable garden as you can see in this view, below, taken earlier in the year.
Planting
The planting doesn't look much yet. The box hedging is pretty unhealthy, having survived in troughs (window boxes) for a couple of years, so I am feeding it and watering it like mad, hoping it will come back into vigorous health.
The two roses planted behind it are R. Iceberg, a beautiful repeat flowering white floribunda, which will form a shrub about 1 meter high. The flowers have a little pink blush to them. In the back corner is a white fuchsia (f. magellanica alba) which also has the most delicate hint of pink in its blossom. The rear of the bed is framed by a young yew hedge, which will eventually be clipped into tight formal compliance.
The gaps in the planting, front-left and back-right, will be filled with lace-cap hydrangea, which I plan to move in the autumn from the main Lawn Garden. I'm moving them because they were sold to me as white (and the Lawn Garden is a white garden) but… they aren't white. Rather, they are a whitish-mauvey-pinkish mix of colours. Quite lovely in their own way, but not white. However, I think they will go very nicely with the roses and fuchsia. If there is space I may plant blue geraniums in between them.
These plants were not only chosen for colour, but also because they flower throughout summer when we are most likely to be eating outside.
Construction
Accoya – an incredible new timber product.
The bed is made out of 6″ x 1½" planks of Accoya timber. Accoya is a relatively new material, or rather a new process as it can be applied to many different timbers. That said, most Accoya products are softwoods. Fast grown, sustainable Southern Hemisphere softwoods for the most part.
You can see the wide spacing of the annual rings on the end grains showing that it came from a fast growing specie. Like normal treated softwood this makes it very easy to work with. It saws, sands and screws with ease. The difference is that Accoya does not depend on preservatives for its longevity. Instead it undergoes a non-toxic treatment that actually alters the chemical structure of the wood. This has several remarkable benefits. The wood becomes indigestible to fungi and wood-boring insects. That means it does not rot. So confident are the manufacturers that they give it a 25 year guarantee if used in water contact. It has been used for revetments for canals, and despite being submerged for decades has been removed in almost perfect condition years later. If installed above ground (even when exposed to the elements) they give it 50 year guarantee! Nice.
Another benefit of the treatment is that it prevents the wood absorbing moisture, so it does not shrink or expand with changing humidity. This means that is you paint it the paint stays in place for much, much longer than on normal timber. Early adopters have been joiners with painted accoya windows and doors providing a real low-maintenance alternative to PVC. (We have had several windows, doors and our conservatory made from it – it is really a remarkable material)
Accoya, I predict, will transform garden design. Wood has always been a favourite material for fences, furniture, raised beds, sheds etc. but we have all seen such timber structures rot within a decade, especially where it makes ground contact. Accoya, changes all that, and means designers can be far more creative with timber structures, knowing they will last a lifetime.
In the video below you can see how Accoya is being used in bridges and walkways that are partially submerged in a water.
Build
I purchased four 8 ft planks of sawn Accoya, which cost me just over £100. That's about twice what you'd pay for tantalised timber, but it is more than worth the extra. This stuff has a durability better than teak!
My bed was 8ft x 7ft, so I used the offcuts from two of the planks to make stakes. You can see one of them in the corner below. The only problem I found was that hammering Accoya on the end-grain tended to make the stakes split, but it wasn't too serious and I just stopped hammering once it started breaking up. I then cut the stakes off on a chamfer with a jigsaw.
I used 7 cm decking screws to join the boards together. One thing to mention here: The treatment process that makes Accoya so durable leaves a residue inside the timber: vinegar. You can smell it when you cut it. How this will affect the screws long-term remains to be seen.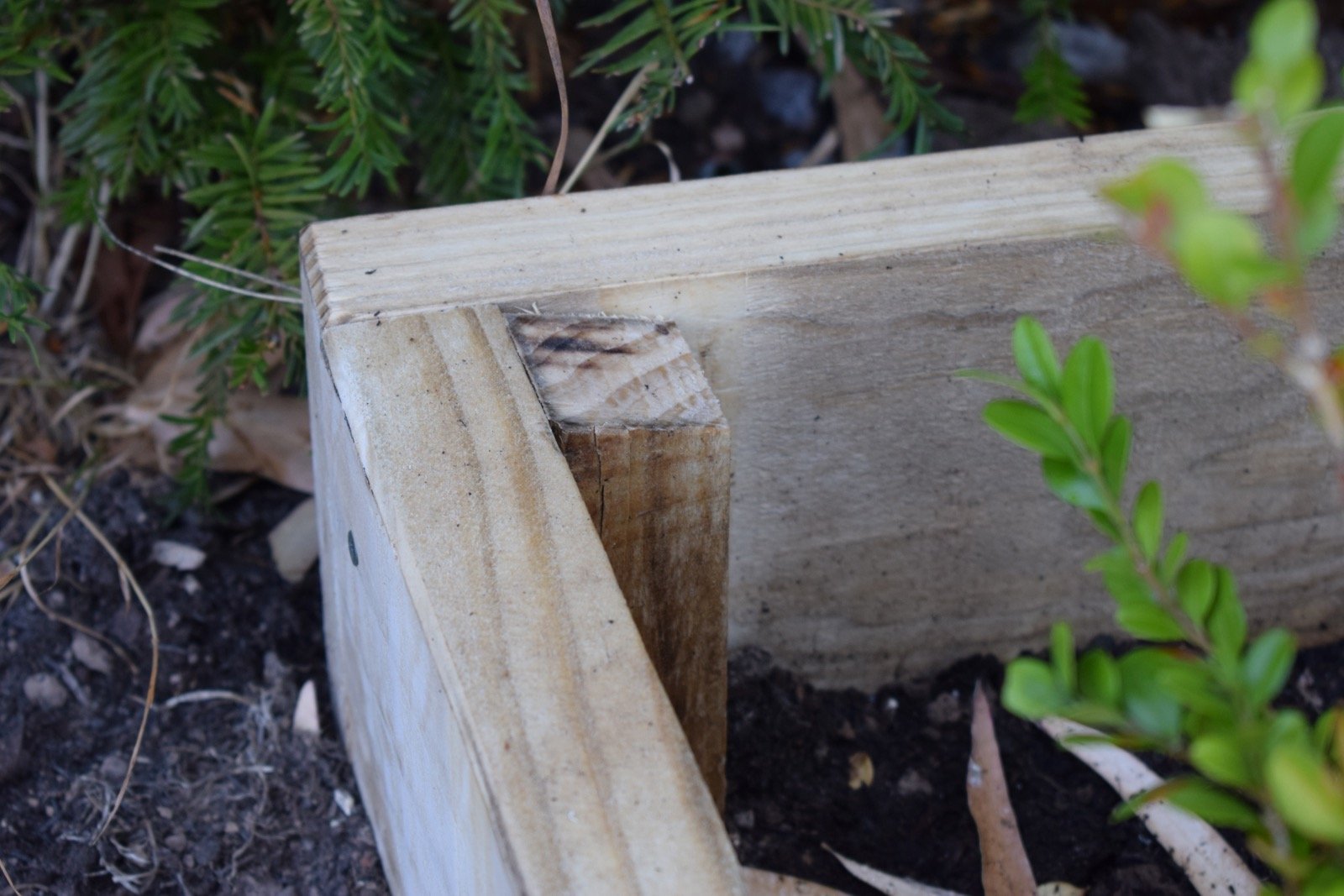 This is the far edge of the bed. You can see a footpath – gathering eucalyptus leaves… thank's neighbours! – which provides access to the side of the Cabin where I store… stuff. Important stuff… OK Rubbish, but I need to get to it! I have placed a weed-suppressing membrane down the path and will add bark clippings. Or perhaps bricks. Yes… A bricks path will make it easy to sweep up all of these damn leaves!
So that's it. What do you think?
SaveSave