The photo above shows the veg garden at the height of its growth in July this year. Vegetable growing is a tricky business. Plants need a lot of coddling; the weather tries its best to thwart you and half the animal kingdom is in a race to eat your crop before you can. So now it's autumn, and time to take stock.
Here's the layout of the veg beds. I'll take them one at a time…
1 Standard Gooseberry (green)
I have five gooseberry bushes and this one is my favourite variety, producing hundreds of small green 'gogs with the sweetness of grapes. Unfortunately, it has had a tough year. First, a pair of courting wood pigeons frequented it for breakfast, eating all of the under-ripe berries; Second, saw fly larvae ate virtually all of its leaves (hopefully late enough in the season to not kill it); thirdly, recent winds broke its stake, leaving it lurched. Better give it a bit of TLC me thinks. The box edging looked good May to July, but I think I clipped it too early, so it has lost its definition again.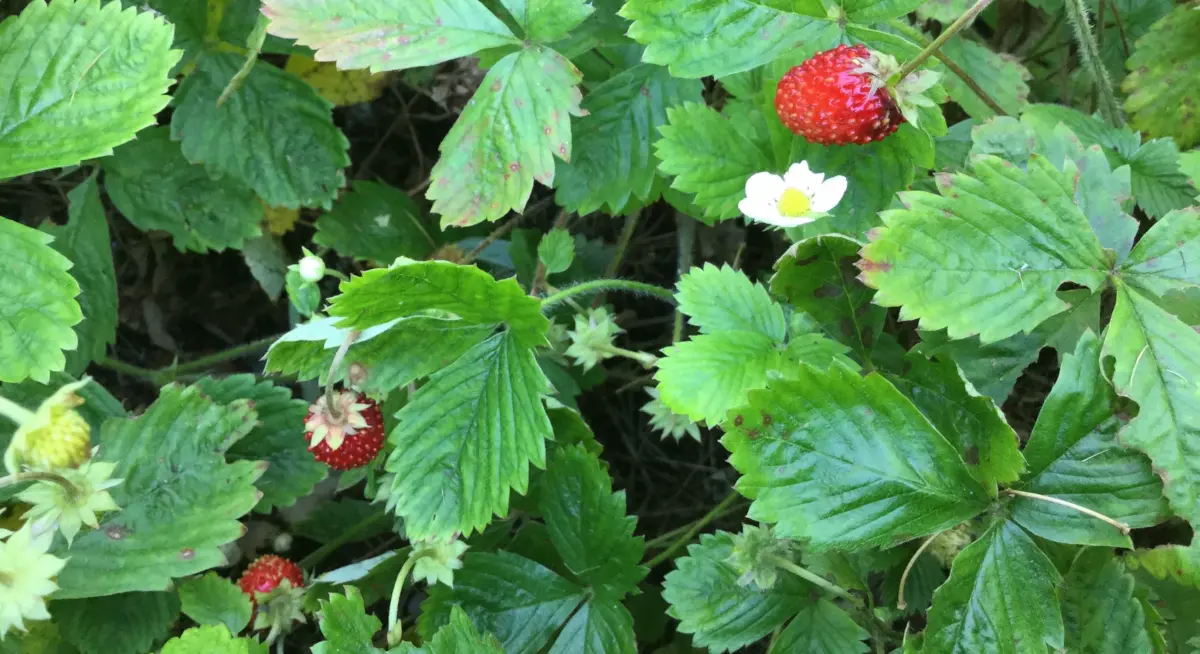 The alpine strawberries at its base have grown here more or less happily for at least six years. I'm not sure which variety it is, but it is easy to manage as it does not produce runners. The crop is sporadic and more of a treat as one walks by, offering a few little gems most days throughout the year.
They could do with more consistent watering in dry weather, but this bed is furthest from the tap. So… They don't.
2 Asparagus Bed
This is highly productive from late April until June when I stop cutting it and let it grow. The ferns create a huge, unruly cloud two meters high which spills onto the paths and gets in the way. So I tie them up with string and then give them a trim with the hedge cutter when I'm cutting the hedge. Last year I was quite brutal, making a neat topiary cube out of them. I was kinder this year, but now regret it as the fronds are taking up too much room again! Note to self: be brutal.
I discovered that the clippings hold up well in water for many days making good foliage for flower arrangements.
3 Experimental Onions
I find that my summer harvested onions rarely keep as well as I would hope with many being lost to rot in storage. However, in winter months I have often found an odd onion or two that got left behind, or has popped up in an unexpected place, and to my astonishment they are always fresh and healthy. This got me wondering if it is possible to plant onions in succession, so that there are always onions in the ground ready to be picked.
This year I decided to do an experiment and held back some of my onion sets in the spring, keeping them in the fridge to stop them sprouting. My intention was to divide the bed above into three strips, and plant onions every few weeks from mid June until mid August. In the event, I missed the July planting, so the bed above contains two thirds August planting on the left, whilst on the right June planting.
The June ones have gone over and died back. The bulbs are 3 to 7 cm across i.e. a bit small to just right. I'm going to leave them to see if they start growing again, and will only lift them when I run out of summer harvested bulbs.
The August ones probably went in too late. They have healthy foliage and are clearly still growing, but I can't see them bulbing up by winter. Hmm. It looks as if July may be the optimum time for planting onions for winter harvest.
4 Standard Gooseberry (red)
This gooseberry fared much better. I managed to net it from the pigeons, who spent a few days strutting around it indignantly, and it lost fewer leaves to sawfly.
I planted alpine strawberries around its feet this year to match up with the other side, but I didn't keep them well watered, so they have not come on as well as I hoped.
5 Salad bed
Colourful cut-and-come-again salads, including Green and Red Salad Bowl, Lollo Biondi, Lollo Rossa, oak leaved Cocarde and peppery wild rocket. The mulch is grass clippings which help keep in moisture and reduce soil splashing onto the leaves.
6 Yellow Courgette
Spilling out of its bed and making its way down the garden… This has been a very productive plant this year. The weed suppressing fabric I put down to suppress the weeds (!) didn't. It's so thin, they are just growing underneath it. 🙁
7 Green Courgette / Marrow
We had lots of good courgettes off this plant which grew for most of the summer almost vertically because two neglected courgettes growing into marrows acted like stilts. Unfortunately, a couple of weeks ago the wind put its tripod growth to the test. And won. It looked quite handsome previously.
8/9 Swede & Cauliflowers
This eight foot bed is netted with 'soft butterfly netting'. It's the first year I have used this product and it is proving to be a winner. To the left are swedes, and to the right winter cauliflowers. The caulis went in rather late. I had purchased them as small plugs and then several wet weekends prevented me getting them in. Also, this is a shady bed. Not a very propitious start for these four plants, but they are looking quite bonny if little on the small side. We will see what they can muster come April next year.
10 Celeriac
These are coming along nicely, but are not as large as I would like. After removing They still have another month or two of growth, but it will be slower as the temperature drops. Also, I think it has been a bit dryer than they like. Strangely, one of them had a viral infection, and its leaves were variegated so I removed it – hence the empty space to the left. Again: this bed is in shade for most of the morning. I think I should reserve the three beds next to the cabin (8,9,10) for shade tolerant plants like salads.
11/12 Cauliflowers and Calabrese 'Iron Man'
This bed had garlic and onions in earlier in the year, so Brassicas are a good one to follow on with. The four winter caulis on the left were squeezed in the end of this bed, and are fighting against the netting to get out. They are part of Organic Plant's Winter Cauliflower Programme which provide you with two each of five different winter cauliflowers. These mature in succession starting in late February/March and continue with the last ones being harvested in early May.
The smaller plants to the right are Calabrese Iron Man – a vigorous variety that produces the standard green 'broccoli' heads sold in supermarkets. Only home grown. So miles better.
The netting is Agralan's 'Enviromesh'. It has very small holes so is supposed to stop even the smallest insects from getting in. It is tough and reusable, but can be stiff; also when bugs do get in they have a field day as the netting keeps out their predators too. The Soft Mesh Butterfly Netting (from Harrods Horticulture) I am using in other places has proved superior in all respects. It is easier to handle, lets in more light, but keeps out caterpillars and moths. I also think it looks nicer than the white Enviromesh.

13/14 Red Cabbage and Sprouting Broccoli
Four red cabbages along the front, with four purple sprouting broccoli plants pushing up the netting at the back. These have grown really well and are ready to start harvesting. The frame was the one that featured in my video HOW TO MAKE NETTED CROP FRAMES USING BAMBOO CANES.