15/16 Vacant Plots
The far bed had the first round of cut and come again salad which came to an end a month ago. They were planted though the weed suppressing matting which keeps them clean and weed free. The near bed had dwarf French beans which were highly productive and went on all of July and August. They have only just been cleared. They were mulched with grass clippings. Not sure why there are THREE trowels in there. Guess they like to get together for a social now and then.
Here is the same two beds back in June with the salad crops peeping over their protective 'box', and the dwarf French beans just coming into flower, and you can see the Red Cabbage and Sprouting Broccoli bed freshly planted, behind.

I will plant these two vacant beds with winter onion sets as soon as they are available. They will be ready for harvest in May.
17 Butternut Squash 'Hunter F1'
This variety is trumpeted as being 'an early maturing Butternut Squash which has been specifically developed over the last 10 years to suit the UK climate. It is very hardy producing strong plants that will give 6 – 7 squashes.' Well, my two plants produced just two squashes each. And rather small ones at that.
I generally think I have a pretty good soil, but I didn't really go to town on enriching it for these plants which are famously greedy, so it's probably my own fault. Note to self: next year dig a ruddy great hole and fill with manure and compost before planting.
18 Maincrop Carrots
Carrots are one of our real success stories as you can see from the photo above. This is actually two sowings. The near end of the bed was sown first (in March or April?) whilst the far end was sown in early June. The Spring sowing has been providing us with excellent carrots for a month and the two beds will keep us in carrots right through the winter and spring.
19 Brussels Sprouts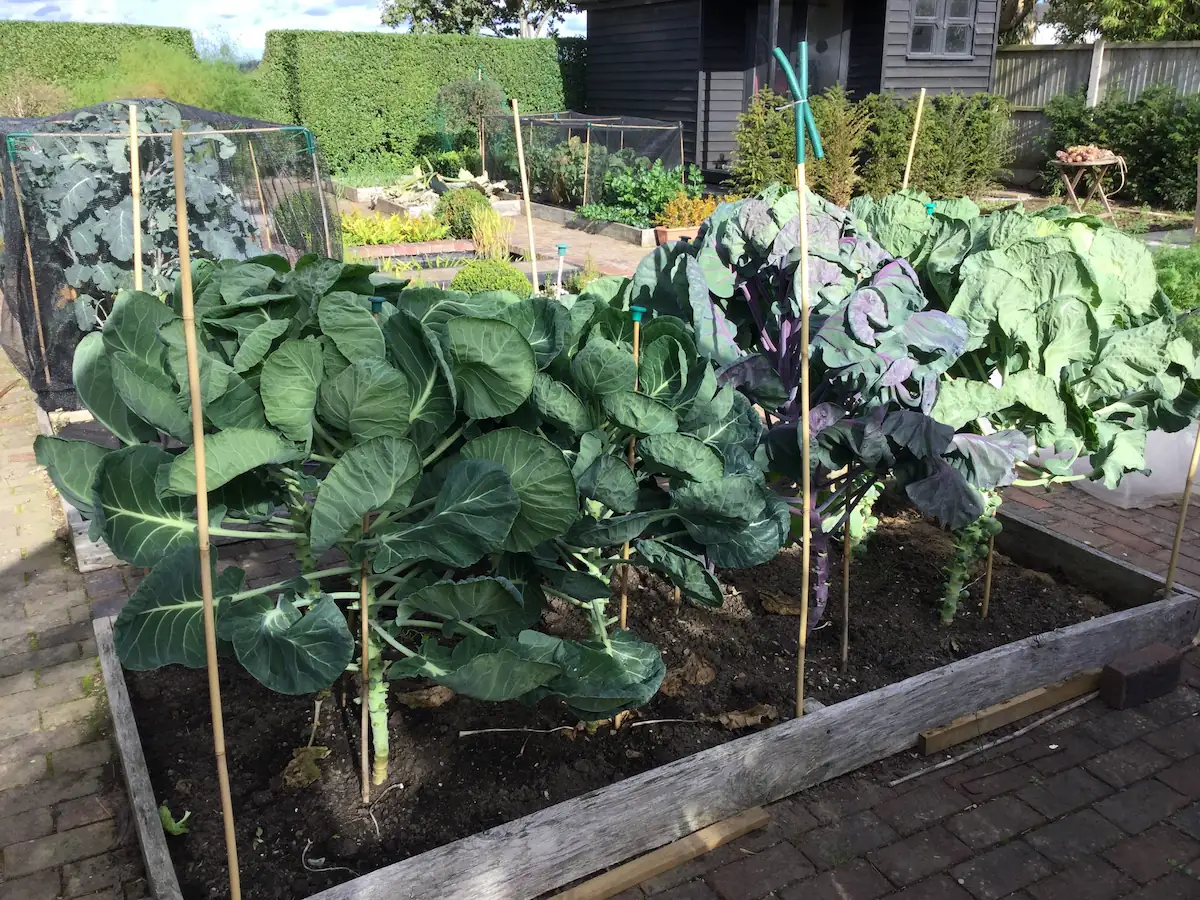 This bed previously carried our winter onions, which were all harvested by late June. These eight plants are Brussels sprouts – Dawn's collection from Organic Plants: Two each of four varieties to ensure a longer season and avoid a glut. In this picture, taken a few days ago, I am making a new netting cage as they had outgrown the lower hooped one, and at the same time I took out the tops and removed the lower leaves (Both of which should direct energy into the sprouts, making them bigger than otherwise).
We had our first mini-harvest tonight. Four sprouts each. Delicious.
20 Strawberries
These were planted from strong runners collected from the greenhouse strawberries last autumn. I am surprised that they have not done better. Yes, they have produced an irregular supply of rather so so strawbs, but they have not thrived as I would have expected. As you can see the plants are rather scrawny and weak. We had a very hot dry patch in mid summer, and I was very busy at work, so they probably could have done with more watering, but even so… I'm not impressed.
I usually grow these in pots in the greenhouse, where they are very prolific, and produce the best strawberries you ever tasted. The variety is 'Elan', an ever bearer, which will produce fruit from June until the frosts. The problem in the greenhouse is keeping them free of pests, but in all other respects they have been superior to this outdoor experiment.
Do I give them one more year? or do I dig them up and go back to the greenhouse method?
Summary
I've given each crop a star rating based on the degree to which I feel I've succeeded. (I've only included the crops that I've harvested or are close to harvesting)
Carrots ★★★★★
Lettuce ★★★★★
Dwarf French beans ★★★★★
Asparagus ★★★★☆
Cabbage ★★★★☆
Brussels sprouts ★★★★☆
Celeriac ★★★☆☆
Swede ★★★☆☆
Onions ★★★☆☆
Courgettes ★★★☆☆
Gooseberries ★★☆☆☆
Strawberries ★☆☆☆☆
SaveSave