IN THIS MINI-SERIES

POST #1: joys and pains
POST #2: genes & variation
POST #3: more examples
Previously, I looked at how self-sown seedlings of desirable garden plants can be encouraged, and how they can bring a new aesthetic to the garden. In the second post, I looked at the way that some species' seedlings can "come true" while others tend to produce new variants. Understanding the possibilities and proclivities of your own garden plants can open up opportunities for creating something special: plants that are unique to your garden.

In this post, I want to share examples of self-sown plants in my garden — some strange, some beautiful, some quietly curious. Each, you will see, has its own story.

Let's start with the vignette above: Here, a self-sown seedling of lungwort (Pulmonaria) has inter-seeded with rock fumewort (Corydalis lutea) which together with some June-drop apples create a perfect rustic scene. This little combination is so pleasing, so natural, yet utterly impossible to contrive. And best of all, it was free. The only 'work' required from me was to recognise the seedlings when they first appeared and take precautions not to weed them. Such is the easy-going delight of self-sown gardening.
Self-sown Butcher's broom
I grow a rather splendid variety of the native evergreen Butcher's broom: Ruscus aculeatus 'John Redmond', which is a dwarf, compact cultivar famed for its exuberant fruiting. My main plant is now more than two feet across and tall, and is invariably covered in bright red berries, which are especially prominent in winter. To my delight, several seedlings have appeared in nearby beds, some of which I have allowed to remain. They take a few years to grow big enough to fruit, and while I waited I was worried that they might have lost the free-fruiting nature of the parent. Thankfully, the first seedling has now fruited and matches 'John Redmond' in fruit size and quantity. As you can see in the photo above, the seedling placed itself graciously right in the middle of a clump of ferns and snowdrops, where it nicely fits.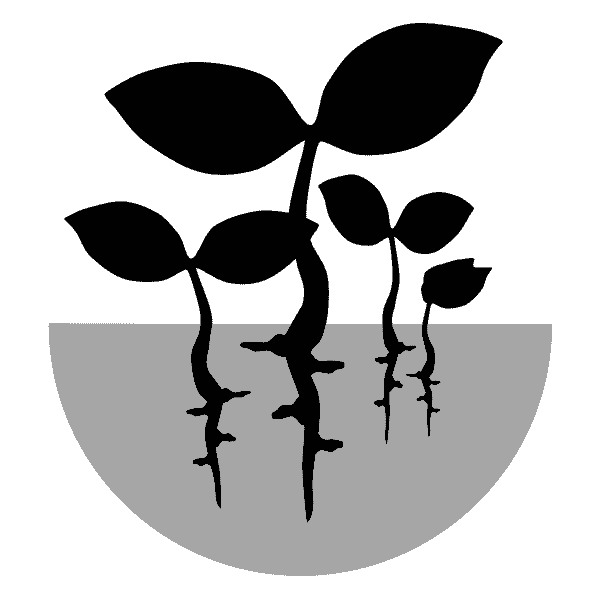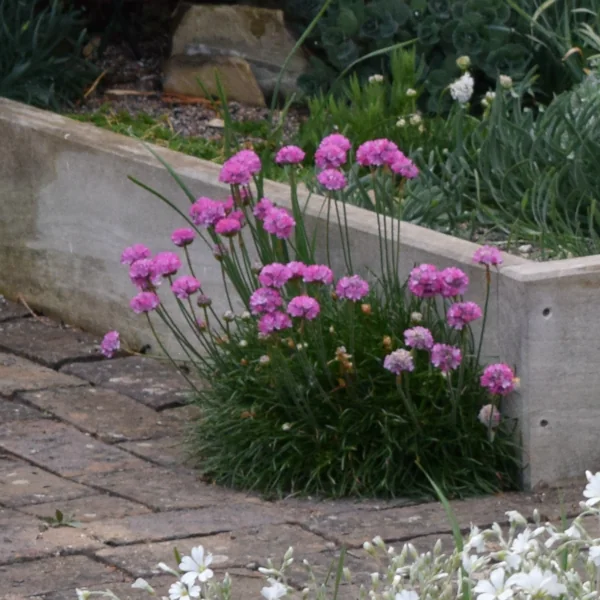 Thrift and Alliums
These are two of the raised beds in my Mediterranean Pond Garden. You can see here a good example of self-sown Sea thrift (Armeria maritima) growing in the brick path at the base of a bed. I love the way it breaks the line of the bed, softening the hard edges. Growing next to it, also in the path, are self-sown Garlic chives (Allium tuberosum) a late-flowering white allium with edible leaves. I say late flowering, but long flowering may be more apposite. These first opened in July and are only just going over now, some 10 weeks later!
I'm unsure why they have only started seeding now, as there's been a clump of them at the foot of the fence (top left) for nearly two decades. You can see another self-sown clump in the right hand bed poking through the chestnut hurdle, and yet another new clump, in the foreground (out of focus) where it has taken up residence with salvia and tubaghia. Their new-found interest in reproduction is a bit worrying, so I'm removing the seed heads as they ripen as a precaution.
BTW, the pink pom-poms in the main photo are heads of Allium senescens glaucum – another late flowering Allium. The grey leaves in the front corner of the right-hand bed are self-sown clumps of these alliums, but they are a bit too young to flower this year.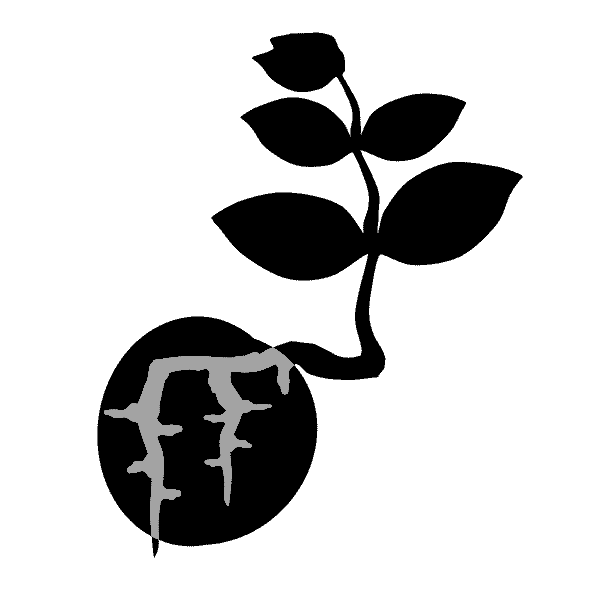 Agapanthus
The round black pot on the table, above, contains a self-sown agapanthus. The pot used to be next to the front door at the front of our house, where it had lemon balm growing in it. Over the last couple of years, the lemon balm gradually died off, but in its place this agapanthus sprouted. I'm not sure which the parent is, as I grow two different blue Agapanthus near the front door, and a third that was next to this pot when I moved it into the back garden last year. This is the first year it has flowered. Looking forward to a bigger display next year.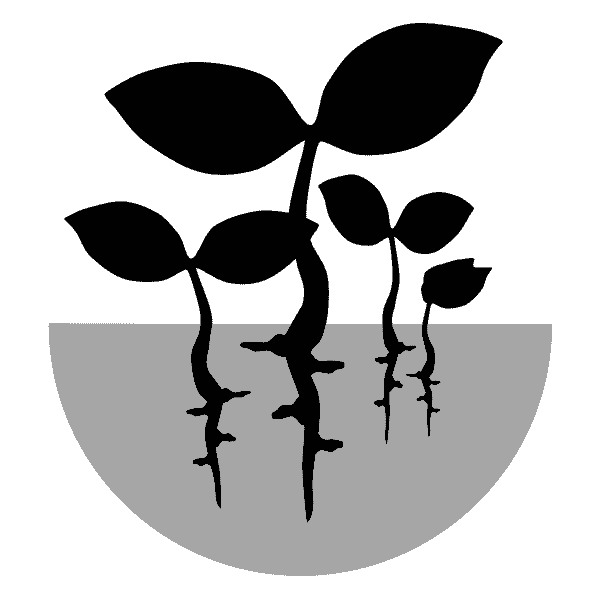 Cerinthe – a tale of serial survival
Yes, it's that same black pot: The one that used to house lemon balm but now sports a self-sown Agapanthus. Well, in between it was home to this self-sown Honeywort, Cerinthe major 'Purpurascens'. The story behind this plant is fascinating. I first purchased a single honeywort plant five years ago, which I planted in a tub near our front door as part of a one-off, summer display. At the end of the year, as expected, it was killed by the frosts and I thought no more of it. The strange thing is that every year since, a single seedling has emerged somewhere nearby. And over time, it has migrated to the back garden.
The first year it sprang up in a large pot of agapanthus near the front door. The second year in a different container. The third year it appeared in the pot above, ten feet away from the original position, competing with the slowly dwindling lemon balm. This year (above) it reappeared in the lemon-balm pot, alongside a young agapanthus seedling.
Cerinthe seedlings have an unfortunate habit of germinating very early (January) and then being scorched by spring frosts. This year I was quick-witted and moved the pot into the greenhouse for protection, so this year was one of its best. Although the seedlings start out with quite plain green foliage, by May, the deep purple bracts develop.
Although this self-sown Honeywort died sometime near mid-summer this year, the Agapanthus seedling that shared the old lemon balm pot with it, came into flower shortly after. Two self-sown plants back-to-back in one pot! Amazing! And to cap it all, I recently noticed a new Cerinthe seedling growing in the paving near where the old one died. It is just remarkable how this hardy-annual has persisted through five generations of self seeding, but only with one plant growing at any one time. What will happen next?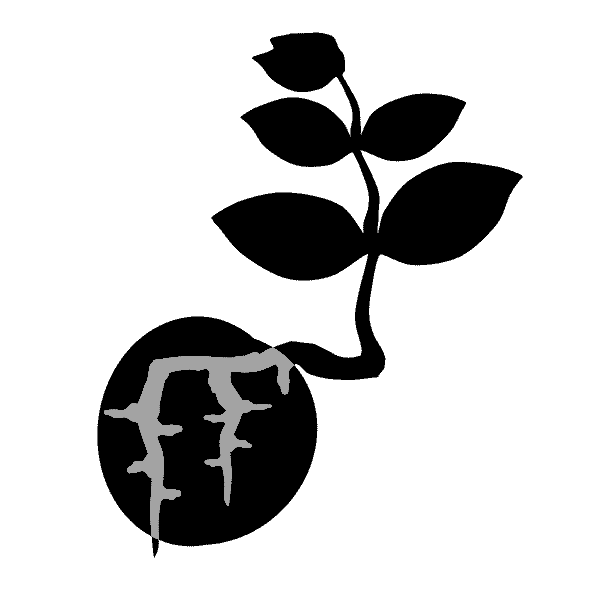 Wood spurge (Euphorbia amygdaloids)
A plant that has been in my little woodland garden for nearly two decades is the common wood spurge, Euphorbia amygdaloids. This may be an unfamiliar plant to many gardeners but it is a British native. The typical nursery varieties are E. amygdaloids var. robbiae — an evergreen that appears quite different, and E. amygdaloids "purpurea" which has deep red terminal bracts. I grow both of these, but purpurea is often short lived and robbiae can be rampant and invasive. The simple wild type has a natural charm that I admire. It pops up here and there, quietly minding its own business. It is evergreen, so has a calm presence even in winter. I find the young shoots (shown above) very appealing, more so than the flowers — cloudy heads of small yellow flowers from May to August. But I'm glad it is there.
The seedling, above-left, sprouted this spring. At the time, I wondered if it might be a hybrid with E. a. 'Purpurea' as it had some red-tinge in the terminal buds. Later in the year, however, it went on to look much more like the wild type than the colourful cultivar, but that's fine by me.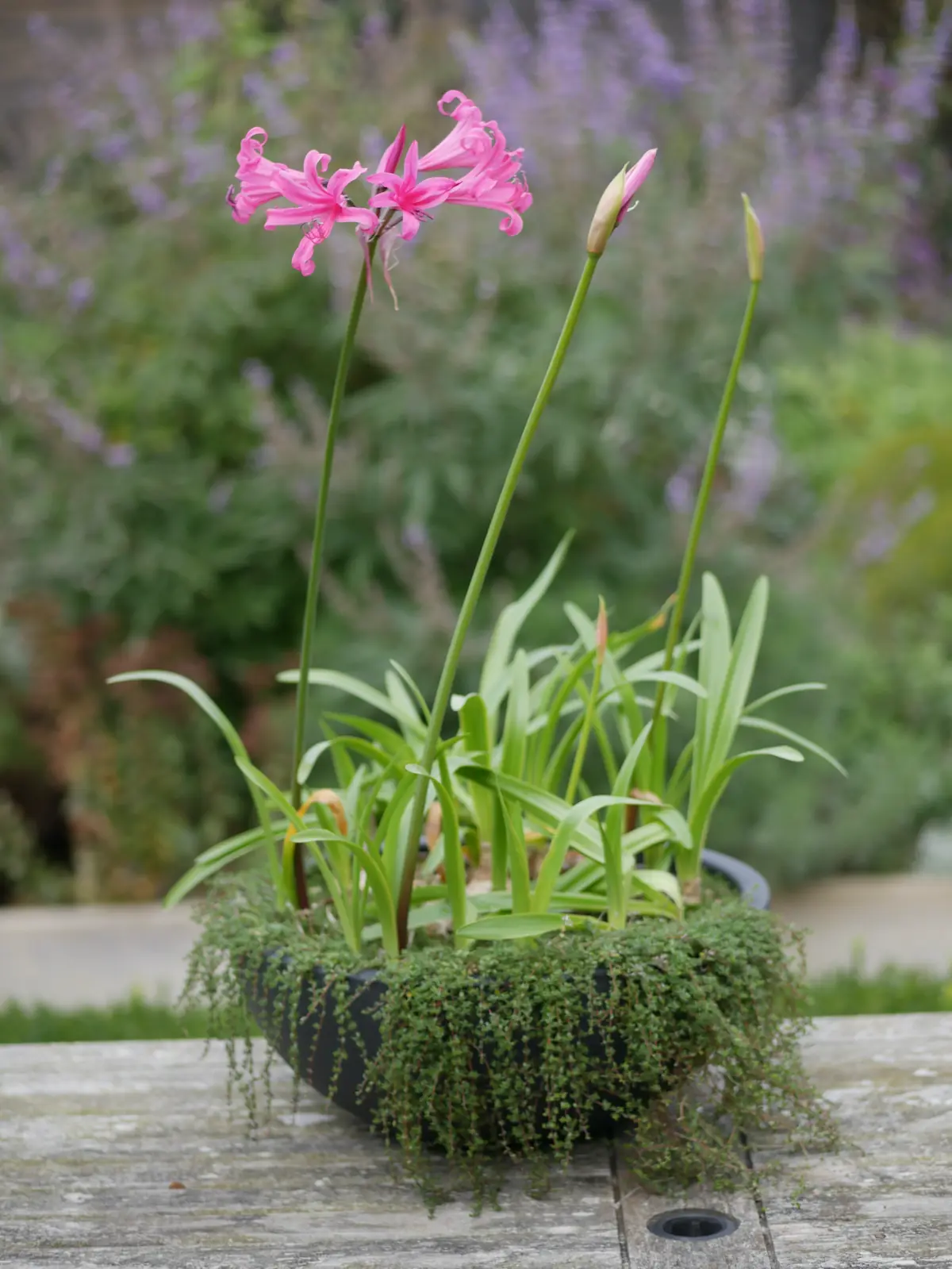 Thyme
This bowl of pink Amarine bulbs acquired this ruff of creeping thyme all by itself.
It's a good combination, as the thyme should flower in June, when the bulbs are dormant. I love doubling up the potential of a container, but it can be difficult to work out which plants will work well together. Sometimes serendipity lends a hand.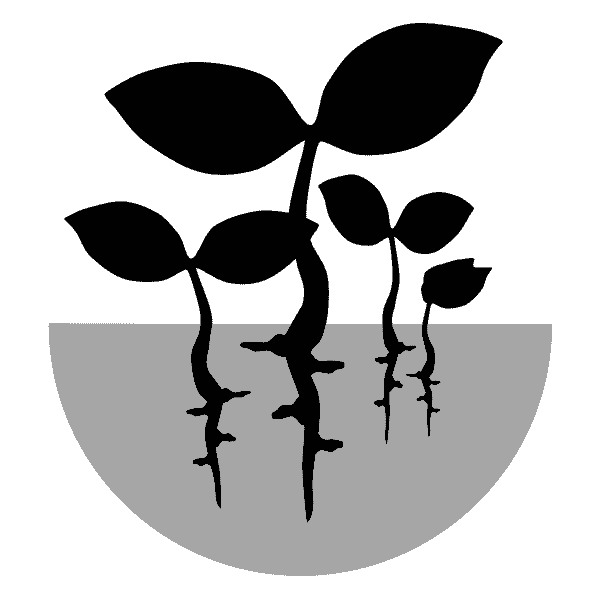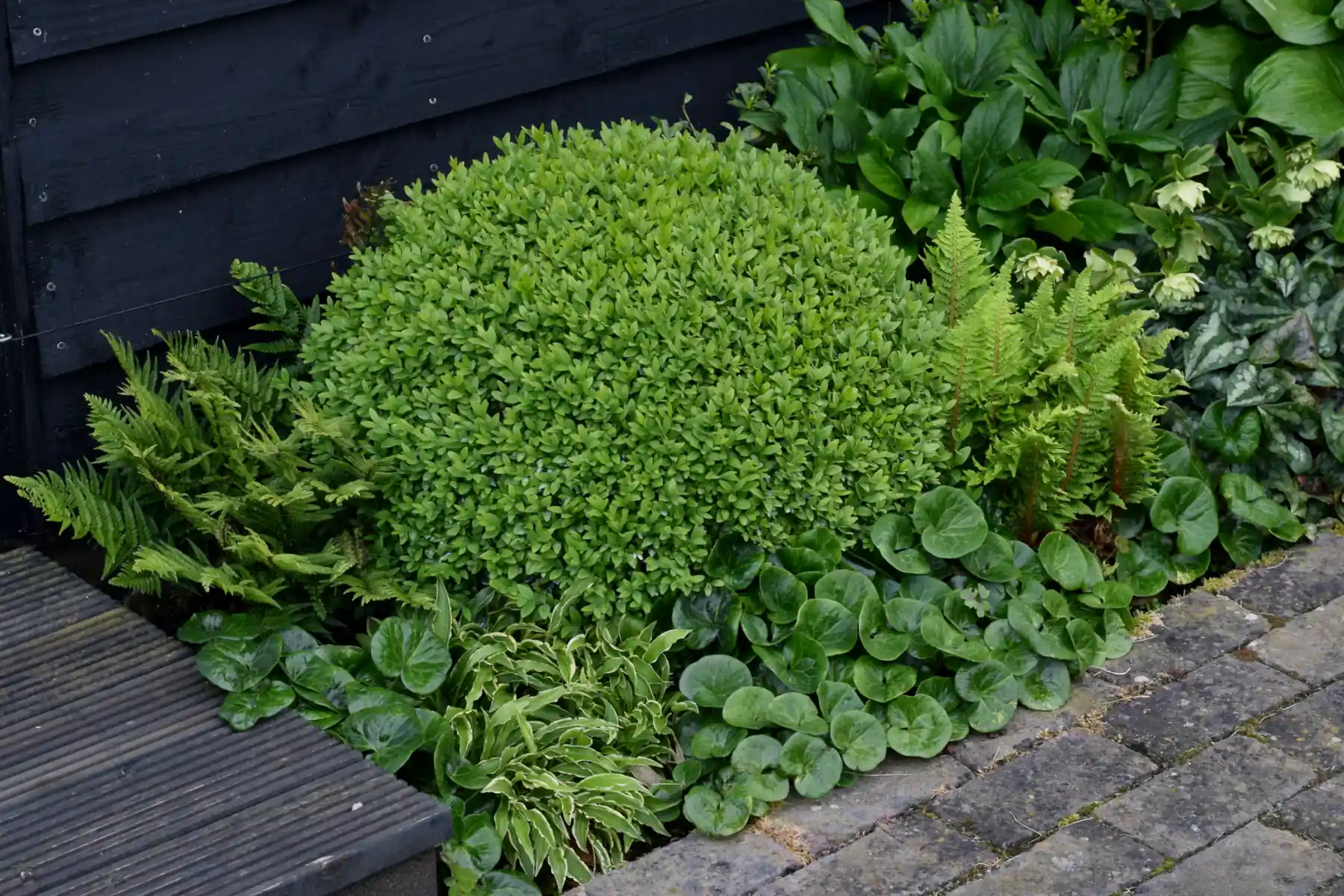 European ginger (Asarum european)
a self-sowing ground cover
What makes the planting above so pleasing? The mix of textures — certainly. But notice the rounded leaves to the front and left, that hug the base of the box.
These are the leaves of Asarum, European ginger. This evergreen plant is one of my favourite ground covers for shade. Given space, each plant gradually spreads to cover a patch a couple of feet across.
However, once established, it starts seeding into every little nook and cranny. It will slowly colonise all the available space between taller plants. The only downside is that it can swamp small plants, but as it grows only 4-6 inches tall itself, most are safe. In the photo above, only the miniature Hosta (bottom-left) is threatened.
Pasqueflower seedlings
On my green-roof I grow several colours of Pasqueflowers (Anemone pulsatilla) which seed around enthusiastically. To stop them taking over, I have to cut back their fluffy seed heads soon after flowering. A few get through of course, which is fine, especially as occasionally I get a new and unexpected colour like the pale-pink one shown above.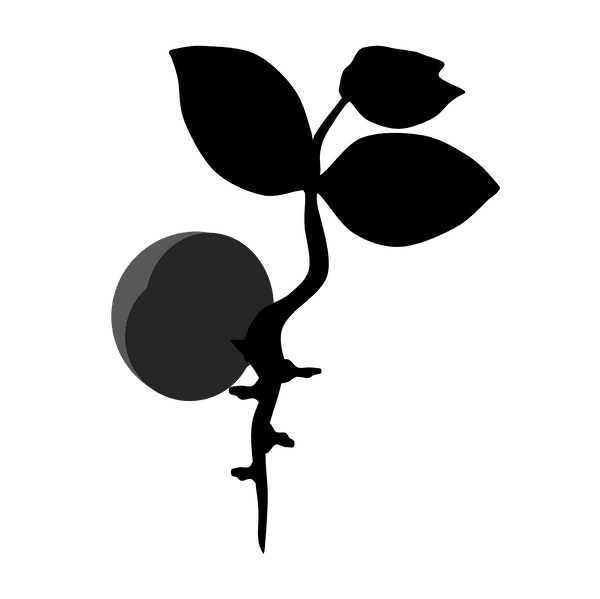 Ivy leaved Cyclamen
The photo above shows the end of one of my woodland beds in September. The clump of pink is Cyclamen hederifolium which are sprouting from a huge corm. Planted eight years ago, this one plant has increased in size every year and is now six inches across.
I would like to add more Cyclamen as my woodland garden has little in flower at this time of year, but the plants are expensive and can be hard to source. Taking another look, I spotted something interesting… Do you see that stray pink flower to the right of the main clump? It's a seedling which flowered for the first time this year. I hadn't spotted it previously. So now I move to plan B. Instead of buying more corms, I will just let it self-seed and colonise that way.*
[Also in this bed, self-sown Greater Celandine (far-left) and Wood spurge (left). In the centre is a new Hellebore I purchased back in the spring. It will end up producing seedlings, too. In the foreground is a seedling of Aquilegia that I have decapitated, but need to dig out.]
*UPDATE: Before publishing this article, I came across some six-packs of C. hederifolium (large plug plants) in flower in the garden centre at a very good price, so I will be adding those after all. Pot-grown plants are better than dried corms and will establish much quicker.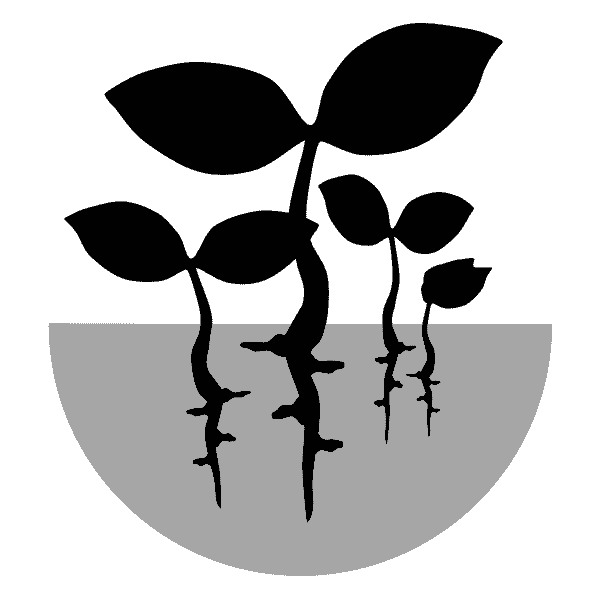 Bugle, resurrection in a shady bed
As you can see in these pictures, Bugle (Ajuga reptans) is growing nicely, spreading its little rosettes between the other plants. What you can't tell by looking is the strange story behind its presence here.
By the time I spotted it in March 2022, this seedling was just a small rosette, tight to the ground. Over the summer it quickly spread, covering two square feet, weaving itself around the feet of the taller plants and tumbling over the edge of the bed.
The story of how it got here is intriguing, as I have not grown Bugle for many years. However, I did try to grow one here more than a decade ago. If I remember rightly, it was Ajuga reptans'Catlin's Giant', which has large brown-purple leaves. For some reason, it struggled to get established and despite my nurturing and regular watering, it died off in the following summer's heat. I guess it left behind seed which has been sitting in the soil ever since, waiting to germinate. Why it waited so long, and what triggered it into growth, I'll probably never know.
It certainly seems more robust than my original plant and thrived despite this summer's record heatwave. It just goes to show that self-sown plants can be far more robust than nursery-bought stock.
Hellebore seedlings
Hellebores seed freely. In fact, they produce so many seedlings – often right under the main plant – that most of them will need to be weeded out. As the seedlings take a few years to flower, it's quite a wait to find out what they are like. In the foreground of the photo above, you can see one such seedling that I allowed to grow on, and in the mid-ground it's parent plant. As you can see, the flowers are quite similar: pink and yellowish-green. Not much variation.
However, in another part of this garden is another seedling that I kept (see below right). Although very similar to the parent and seedling above, this one has some subtle differences: Firstly, it opens several weeks earlier (December), which is nice as it helps extend the season. Secondly, the opening buds are different, being shaped like inverted tulips. Furthermore, the fully opened flowers have a more distinct bi-colour petal structure. Not strikingly different, perhaps, but sufficiently interesting for me to keep.
I have since planted a couple of new varieties in other parts of these beds: a double purple and 'Double Picotee White'. Although double flowers contribute less pollen, I'm still hoping that the injection of new genes may lead to some interesting hybridisation in future.
A fast-growing, self-sown mini-garden (April 2022)
In my previous post, I discussed how several desirable plants seeded into one of my brick paths, creating an entire mini-composition. As you can see in the photo above, sea thrift and euphorbia myrsinites are already in flower. Look a bit closer, and you will see self-sown lavender (left) and Salvia Caradonna (right) which is already forming flower spikes. I return to this area again, as its speed of growth is quite remarkable. Despite only germinating at the end of 2021, you can see how quickly it has gone on to grow and flower.
As shown in the pictures below, these seedlings grew very fast. The salvia has proved to be exceptional: strong and upright, with a very long flowering season. I regularly cut back the spent stems which encouraged more flower spikes to develop, keeping it flowering all summer.
(For comparison with the parent plant, see Self-Sown Plants #2 – Making the most of genetic variation)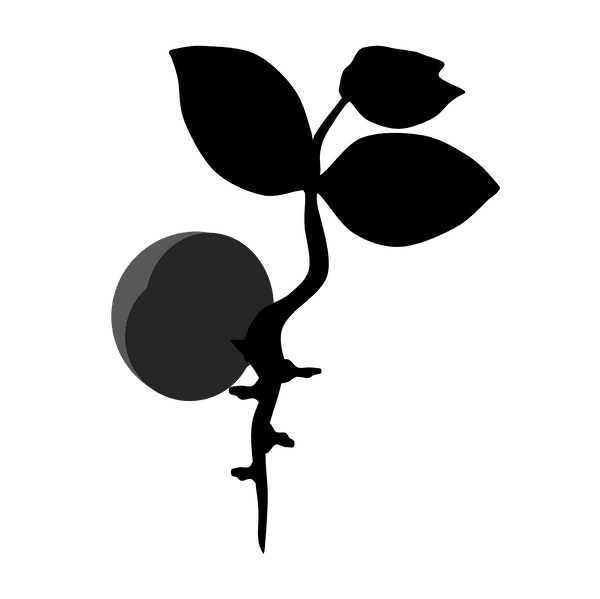 List of Self-Sown Plants by Area
(not exhaustive)

Woodland Garden
My little Woodland Garden has a very natural feel to it and includes several native plants and wild flowers. Self-seeding fits right in with the look and feel here.
Brunnera macrophylla 'Jack Frost'
Comes true. Nice silvery, heart-shaped leaves
Pulmonaria
Both the broad leaf P. saccharata and the narrow-leaved P. longifolia seed successfully.
Sarocococca
I have a seedling of Christmas box growing under my Peony. I will have to transplant it if I'm going to keep it.
Herb Robert
Geranium robertianum is a bit of a weed, but so pretty I always allow a few to grow on each year.
Greater celandine
Chelidonium majus is a bit weedy for my liking. I grew it once, and now always have seedlings.
Pink Campion
I don't grow it now, but when I did it was lovely, but seeded prolifically.
Aquilegia
I have A. vulgaris which produces highly variable seedlings: pink, white, blue, purple, single, double etc. A real lottery. I remove almost all the seed heads to stop it taking over. I also grow A. alpina 'Blue star' which seeds less readily and as far as I can tell has not hybridised with vulgaris.
MEDITERRANEAN POND Garden
The gravel topped beds and brick paving in my Mediterranean Pond Garden provide a good substrate for self-seeding, most of which is welcome!
Sedums
The most freely self-seeding are the larger sedums (now called Hylotelephium). I have a few self-sown plants growing here and there, some even thriving in the shade. I have potted up a couple of smaller ones. So fan, none of the seedlings has proved as garden-worthy as the parent.
Red Valerian
My initial Centranthus ruber plant arrived on its own many years ago, positioning itself perfectly on the edge of my pond. The deep-pink colour is welcome in May/June. I generally remove its fluffy seed before too many are scatter by the breeze. This year, for the first time, offspring have sprung up. One is even on the other side of the house. I'm tempted to keep many of the seedlings, but may live to regret it.
Geranium nodosum
A tough little shade-loving cranesbill. I planted one, and now I see seedlings in plenty of random places. None of them have flowered yet.
Alchemila mollis
Two clumps of this plant have spread by seed to create a second patch a few feet away. Free plants, in a good spot. What's not to like?
Blue Eyed Grass
Sisyrinchium angustifolium, has sown itself in several spots where it adds it's cheerful mauve-blue summer flowers.
Campanula portenschlagiana
This little alpine bellflower has produced just a few seedlings. I have potted some up, and left a few in paving cracks where they might look good.
GREEN ROOF
My Green roof is the most naturalistic area of my garden, where plants grow together in a haphazard community. For better or worse, self-sowing plays a major role in shaping the look of this area.
Eleagnus
The only proper shrub on the green roof is an Eleagnus that appeared on its own (from where?) Somehow it manages in just three inches of soil. I keep it pruned to a compact dome.
Grape hyacinth
These bulbs have been on the green roof for over 15 years. They seed into new spaces nicely, never too much.
Dianthus 'Flashing Light'
This original nursery-bought plant I added to the roof struggled on for a couple of years before dying out. Seedlings now spring up all over the place in a very naturalistic scattering, flowering in one season. Much better than the original clump.
Euphorbia myrsinites
I have written about the main clump here. Seedlings continue to pop up far and wide. Pretty. Never a nuisance.
Sea thrift
Produces dozens of new little tufts each year, but these never become too large or dominant, unlike, for example, chives which threaten to quickly take over.

White Garden
My white garden is based on large blocks of green foliage interspersed with bold clumps of large, pure white flowers. Apart from two notable exceptions, self seeding does not work well here as the odd seedling appearing randomly spoils the simplicity.
White foxgloves
These biennials work well in this design and I rely on their self-seeding to provide a continual presence. (See post 2) I cut the stems once seed has formed and shake it over the ground where I want them.
European Ginger
Self-seeding is helping me establish this wonderful ground cover throughout the shady beds in the White Garden. (See entry above) I have to remove just a few seedlings that threaten small plants.
White pansies
A few small-flowered white pansies pop up here and there each year, but often look a bit weedy, so I remove them.
White snapdragons
Some years I plant these in a single large block which is very effective. However, they produce a few seedlings but these are not effective enough, nor well located, so I remove them.
White Camassia
When I added this bulb I thought it would perfectly fit in with the style of my white-garden. I couldn't have been more wrong: The flowers are a translucent white and fade too quickly, giving the plant a rather weedy appearance. They also are prolific seeders, creating thousands of tiny grass-like seedlings that are difficult to remove. I have removed them, and continue to curse their seedlings.
---
This post will be extended in the future as more self-sown adventures appear!