A self-sown mini-garden of
Thrift, Clary, Euphorbia, Lavender and Thyme
reveal a range of genetic variation
IN THIS MINI-SERIES

POST #1: joys and pains
POST #2: genes & variation
POST #3: more examples
The photo above shows an area of my garden where several garden plants have self-seeded into one of my brick paths, creating a charming natural composition. What is not immediately obvious, perhaps, is that these seedlings demonstrate the range of genetic variation. In some cases, the seedlings are identical to their parents, while others have different characteristics. Learning which plant's seedlings tend to stay the same and which produce variation can help you make the most of this free resource.
Among the seedlings above, the euphorbia, lavender, and thyme appear identical to their parents. Plants which reliably produce seedlings similar to themselves are said to "come true" from seed. Knowing which plants come true allows you to increase stock of such plants just by letting them seed around. Excess seedlings can be transplanted, potted up or passed on as gifts. Forget-me-nots, European ginger (Asarum), vervain, red valerian, along with many herbs and several allium and geranium species all come true in my garden.
In contrast, the Sea thrift and Balkan clary, pictured above, show some variation. They have lost some distinguishing characteristics of the parent plants, but have gained other, desirable traits. The thrift seedlings, for example, have lost the red-tinged foliage of their parent (Armeria maritima 'rubrifolia'), but have kept the vivid pink flower colour. They are also quicker growing and have larger flowers over a longer period — partly, I suppose, as they have less light-blocking red-pigment in their leaves.
In the case of the Balkan clary, the seedling has lost the dark stems and narrow leaves of the parent, Salvia 'Caradonna', yet it flowers for longer and with larger, more intense violet flowers. For me, one of the main drawbacks of the classic Salvia 'Caradonna' is that its narrow stems are weak, causing the clump to flop outwards on to adjacent plants. This seedling is much stronger and does not flop at all. In many ways, I prefer it to the original cultivar.
In this article, I will explore the kinds of genetic variation that one might come across in the garden and consider how such understanding can be applied.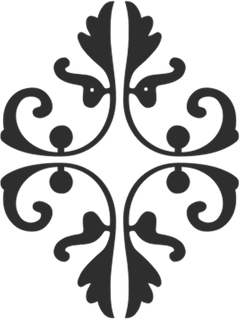 Genetic Variation
Paying attention to the variation in characteristics of your own self-sown seedlings can help you get the most from them. As a practical gardener, there is little use in studying the underlying genetic science. Instead, an appreciation of some general principles, and tips on what to look out for in your own garden will be more useful.
There are really only four things that can happen when your garden plants self-seed:
They can maintain the traits of the parent (i.e. "come true" from seed like the euphorbia and thyme, above)
They may lose a special trait (e.g. the thrift losing its red foliage)
They may gain an in-between trait or a watered-down version of the desired trait (like the clary sage losing the narrow leaves) or
They may gain a new desirable trait — something that no one has seen before — the holy grail of gardeners and plant breeders!
These are not hard-and-fast categories but cover the spectrum of possibilities you may observe in your seedlings. For example, blue forget-me-nots might produce blue seedlings for years, until one day — 'out of the blue' — you may suddenly get a pink one. These unexpected events only add to the sense of adventure.
Plants that come-true from seed
Plants that reliably produce seedlings with the same traits as the parent plant might not seem especially interesting, but you can make good use of their reliability to cheaply increase your stock. All you need is patience and a good eye when weeding.
For example, I manage to keep the half-hardy Verbena bonariensis and V. rigida (above) in my garden, as they seed around so easily. Any excess seedlings are simple to pull up or transplant to better positions. Because they come true from seed, I know I will have a lovely display of purple flowers every summer.
In a shady part of my garden, I allow wild ginger (Asarum european) to spread by self-seeding. It is gradually forming an evergreen ground cover between taller plants. Seedlings even appear in corners and narrow gaps where they would be difficult to plant. This kind of self-sowing is a cheap and easy method of propagation.
Plants that show a lot of variation
At the other end of the spectrum of genetic-variation are plants that are highly unpredictable. Perhaps the best example in my garden is the cottage garden favourite, Aquilegia vulgaris. In my garden, the seedlings are highly variable, coming up in a wide range of colours with different flower forms. It really is pot-luck how any seedling will turn out. This uncertainty adds to the excitement, but increases the chance that plants need to be moved if they look out of place.
Understanding what is going on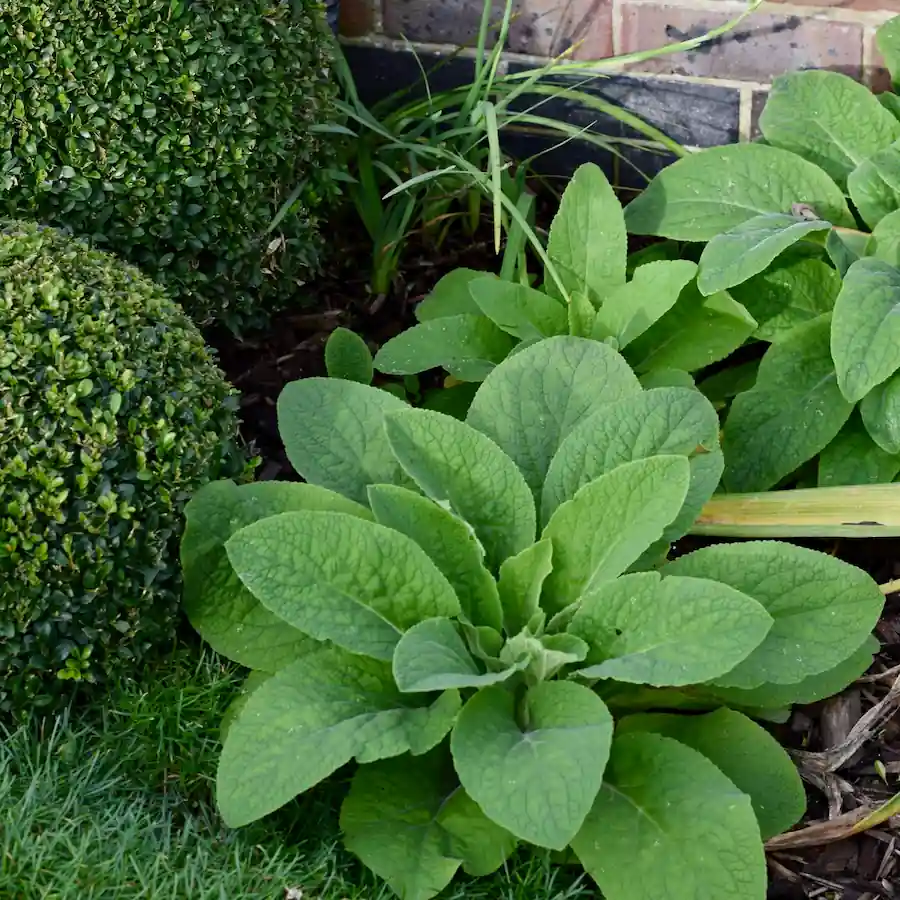 Prior to forming seeds, pollen is carried by insects or wind from one plant to another. Most plants can only be pollinated by their own or closely related species. During pollination, genes of the two plants are mixed, leading to variation in characteristics among the offspring.
In general, the closer a plant is to the wild species (the less highly bred it is) the more likely it is that its seedlings will be identical to the parent (i.e. 'come true'). The verbenas, asarum and euphorbia, mentioned above, are all good examples of this.
On the other hand, highly cultivated breeds are more likely to produce variation in the offspring, perhaps losing one or more of the parent's unique characteristics, as we saw with my self-sown 'Caradonna' and 'Rubrifolia' thrift seedlings.
Hellebores are examples of plants that easily interbreed. Closely related species readily cross pollinate (hybridise) producing seedlings with a wide range of flower colour and shape. The more varieties of Hellebore you have in your garden, the greater the variation you are likely to find among their seedlings.
Hybridisation: White foxgloves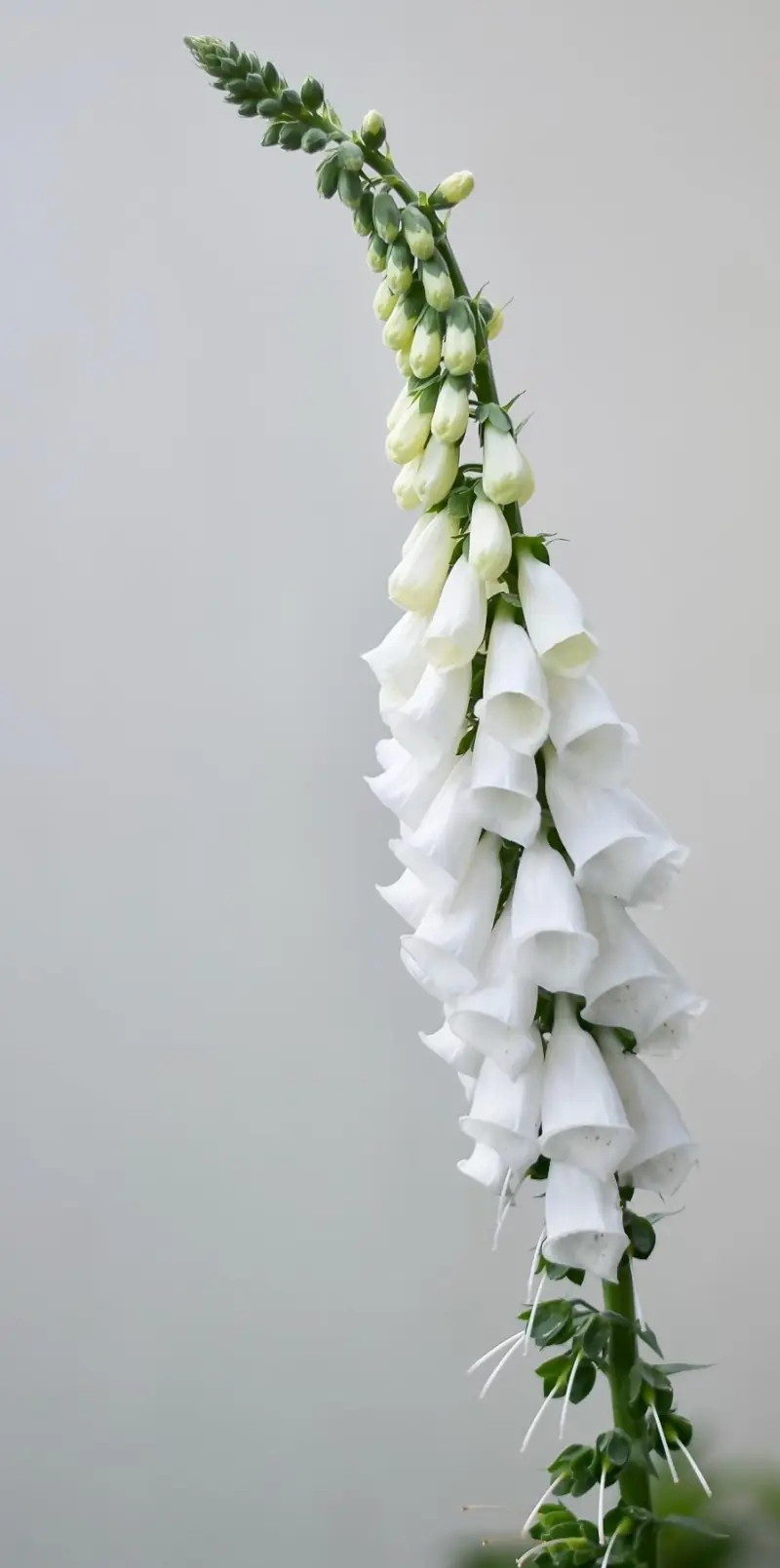 An example, right in the middle of all this genetic complexity, is the white foxgloves (Digitalis purpurea Alba or 'Albiflora'). This beautiful variation of the native purple foxglove is said to come true from seed — so the offspring seedlings should also be white. However, there is a twist: If the bees that pollinate your white foxgloves have visited any purple foxgloves first, they may fertilise your white foxgloves with purple foxglove pollen. If this happens, then the seed will contain a mixture of white and purple foxglove genes. Roughly fifty percent of the seed your white foxglove produces will give rise to purple foxgloves. In a white-themed garden like mine, this is undesirable. So, what can we do?
The first hedge you have against such genetic contamination is, in fact, a hedge. That is, make sure that you keep purple foxgloves far away from your beloved white ones, then it is more likely the bees bring only white foxglove pollen to your white foxgloves. I do grow purple foxgloves, but only in small numbers and on the opposite side of my house. The White Garden, therefore, produces predominately white seedlings.
The second tactic you can use to ensure you have only white foxgloves in your garden is through selective weeding. The seedlings of purple varieties are subtly different in leaf colour. They have more purple pigment in the leaf stalks. This becomes more evident as they get closer to flowering, but it is sometimes possible to identify it in young plants and remove them.
I do this, and it works 95% of the time. Inevitably, an occasional purple one gets through and has to be removed once it is flowering. This can lead to an unfortunate gap in the border, but on the whole this management strategy works for me. This year, I had well over a dozen self-sown white foxgloves in flower. Not a single purple one got through.
If you or your neighbours grow other varieties or species of foxglove, then the chance increases that your foxglove seedlings will show even more variation than just purple or white.
In extreme cases, the cross-pollination of different species can produce hybrids that have quite distinct characteristics. An example of this is the strawberry-pink Digitalis x mertonensis which is a hybrid between the native purple foxglove and the yellow flowered Digitalis ambigua. This hybrid has the best features of both parents. If you grow these two species in your garden, then sooner or later you may find the hybrid d. x mertonensis seedlings appearing.
In my garden, I see interesting hybridisation occurring between different primrose relatives.
Hybridisation: Polyanthus
In my woodland garden, native cowslips, primroses, and commercial hybrid polyanthus cross-pollinate, sometimes producing seedlings with intermediate or mixed characteristics. The photo below shows two such hybrids that arose in my garden, each displaying a unique mix of traits inherited from the parent plants. At first, I thought these might be hybrid Oxlips – the British wild flower that occur naturally in places where cowslips and primroses grow together. However, neither have the right characteristics, suggesting that there may be some hybrid polyanthus genes in the mix too.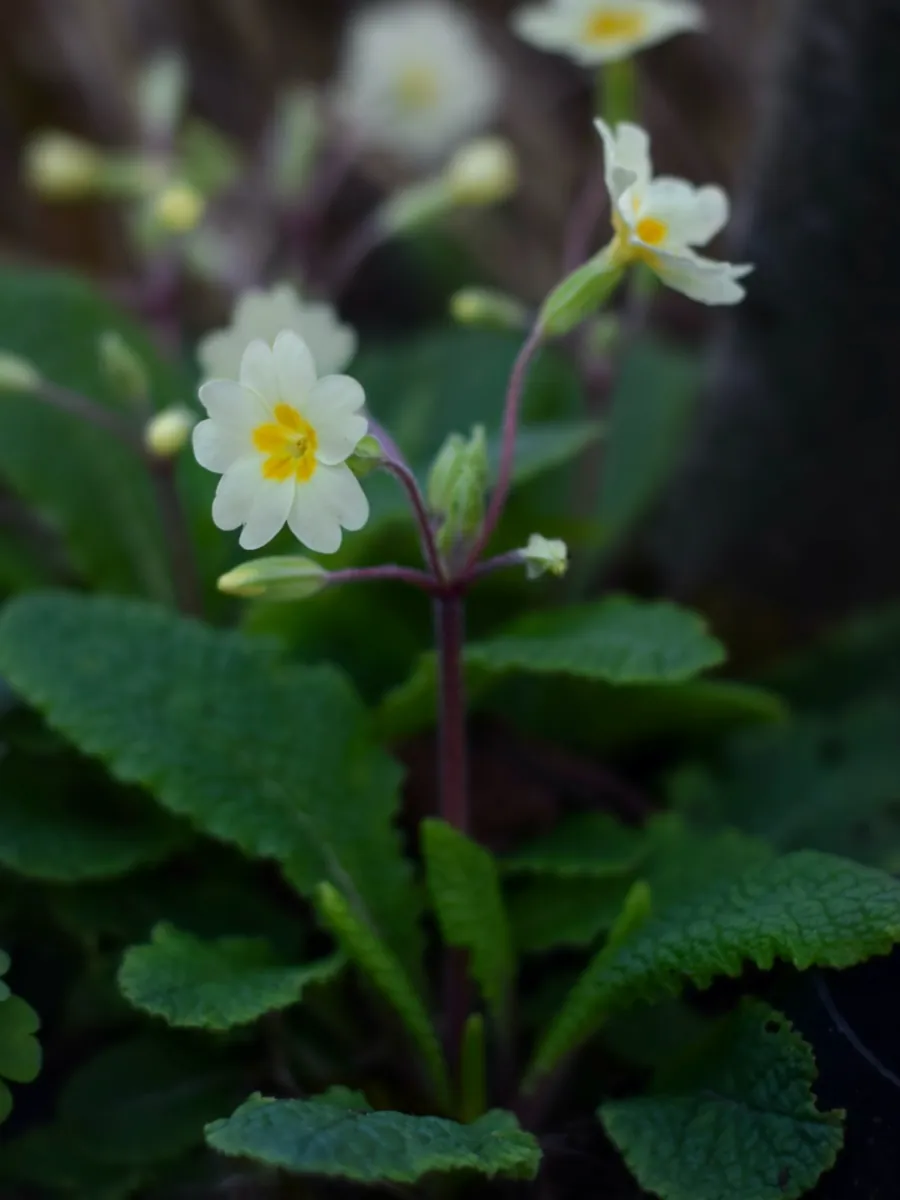 While most of the hybrid polyanthus I have planted over the years have died out, the wild primrose and cowslip in my woodland garden have persisted. The cross pollination of those less-robust cultivated hybrids with the much-tougher wild-natives may be what is responsible for these two interesting seedlings. I look forward to seeing how they do over the next few years.
Seedlings to treasure
There is no doubt that one of the most exciting aspects of self-sown plants is discovering something extra special: A seedling that is better than the parent in some way, or at least sufficiently different to be desirable. The polyanthus, Balkan clary and sea thrift seedlings I describe above, all have some special characteristics which you cannot just go out and buy. They are unique to my garden, and I kind of love them for that.
Another benefit of self-sown seedlings is that they are often more robust than the original cultivars from which they came. They may flower for longer, have brighter colours, grow more vigorously or simply be healthier than nursery-bought cultivars. This could be due to a couple of factors. First, the introduction of wild-type genes during pollination: Wild plants are often better adapted than artificially bred nursery stock. A second factor is natural selection taking place in your garden. Seedlings that appear in your garden are almost certainly better adapted (better "fitted" in Darwin's terms) to your soil and microclimate than a plant brought in from a nursery. Each nursery-bought plant is a one off experiment: will it thrive, perform sub-optimally or die. On the other hand, when a plant seeds in your garden, there may be thousands of genetic variants put on trial. Only a fraction get through the germination and seedling stages, so those that survive are likely well adapted to the micro-climate of your garden.
End Note
Each of the plants above has its own story which reveals a particular aspect of self-sown gardening. Hopefully this series of posts will help you become a more creative weeder and start to enjoy the spontaneous seedlings that appear in your garden.
In the next post I will look at other examples of self-sown plants in my garden.
---
COMING SOON!
Post 3: More examples of self-sown plants
---