These plants are the ultimate garden work horses, flowering for at least five months straight.
Some of the most popular garden plants such as lilies, peonies, iris and foxgloves impress with their fleeting magnificence, each flowering for just a few weeks. But equally impressive are those less-showy plants that go on flowering for months, quietly keeping the garden beautiful without shouting about it.

These marathon-runners of the plant world help the garden remain interesting while the sprinters come and go. Carefully chosen and positioned they can prevent a bed looking bare when the main stars have finished.
Although the obvious choice for summer-long colour might be annuals most of these are tender and need replanting every year. Fortunately, there are shrubs and perennials that can beat annuals at their own game, flowering their socks off for five or more months, some even through the winter.

In this article I am going to share six plants that have been outstanding in my own garden for their record-breaking flowering period. Hopefully, you'll find something here to use in your own garden.
▼
#1
Eric Smith Hellebores
Helleborus × ericsmithii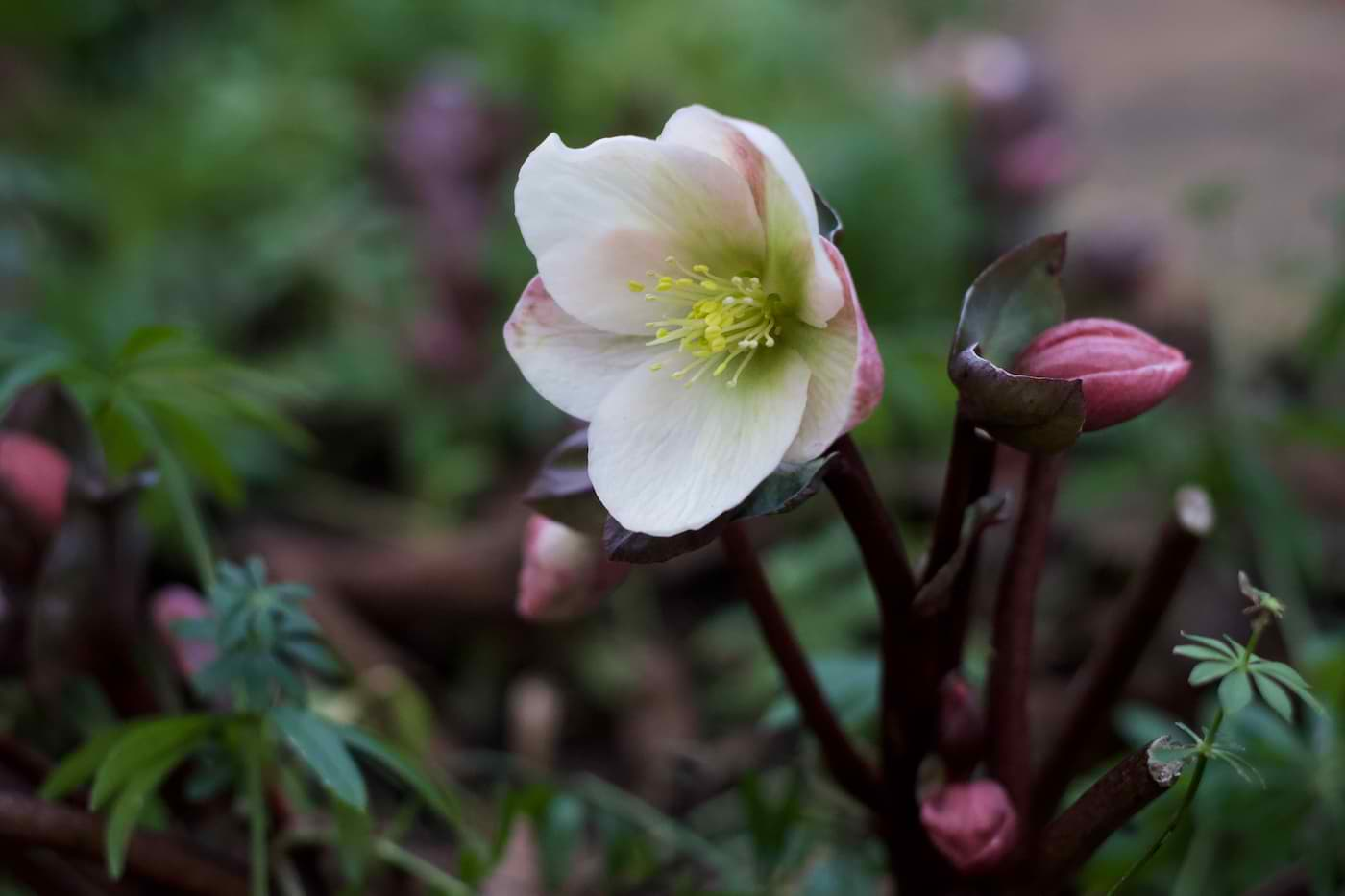 Helleborus × ericsmithii
Type: Herbaceous perennial
Height: 18in (10cm)
Spread: 30in (75cm)
Light: sun / shade
Features: evergreen
This is a fantastic Hellebore which flowers for absolutely ages throughout winter and into spring, remaining splendid through rain, frost or snow. It is a hybrid of H. niger (the Christmas rose) and H.sternii, gaining the early flowering and hardiness from the former, and the dusky pink coloration and grey-green foliage from the later. The foliage is tough, leathery and evergreen. The leaves are palmate, dark green with silver marbling.
Helleborus × ericsmithii
Extensive breeding and selection has produced many worthwhile, named varieties, including:
'Pirouette' – Early, prolific, flowers fade to soft pink
'Winter Moonbeam' – Early, prolific, flowers fade to soft pink
'Pink Frost' – Strong grower, pink flowers, red tinges in foliage
'Marlon' – Cream flowers with more yellow in them
Many varieties are produced under the 'Helleborus Gold Collection' label (HGC) which can be viewed here: https://helleborus.de/en/
Eric Smith Hellebores are very easy to grow. They prefer dappled shade, but will also grow in sun. They need any good soil that is not waterlogged. Once established they are likely to be happy for many years and need very little special attention.
A good policy with most Hellebores is to cut off all the foliage in late Autumn. There are two reasons for this. First, leaves can become infected with a disease and pass this on to next year's leaves, so removing them will help next year's foliage look its best. Second, the flowering stems that emerge in mid-winter are much easier to admire without the old leaves crowding their view.
Although diseases are rare and Hellebores are generally tough, this guide can be helpful: 'How to Fight Common Hellebore Flower Diseases'
Planting ideas
In a larger garden, Hellebores can be planted to great effect in drifts. In smaller gardens, plant them where you can see them in the winter months. They can also thrive in pots on a shady patio.
Plant them 80cm apart so that each plant has space to develop. Depending on the variety they typically grow to 60 to 90 cm across, and stand 30 to 50cm tall at flowering time.
Being woodland plants they look good with ferns, snowdrops or the colourful evergreen foliage of Heucharas.
▼
#2
arrowwood 'Dawn'
Viburnum bodnantense "Dawn"
Viburnum bodnantense "Dawn"
Type: Deciduous Shrub
Height: 10ft (3m)
Spread: 6ft (2m)
Light: sun / dappled shade
Features: sweet scent
Viburnum Bodnantense "Dawn"
This is a beautiful, large, winter-flowering shrub. From November until March or April, it carries hundreds of tightly packed clusters of pink or pinkish-white, scented flowers on bare stems. These look beautiful backlit by the sun in mid-winter, providing colour when little else is flowering. If planted close to a walkway or front door, the sweet scent of the flowers can be easily appreciated.
The foliage is dark-green and corrugated set off with red stems. Although deciduous, the winter flowers usually appear before the leaves fall in the autumn, and re-emerge in the spring before the flowering finishes. As a bonus, the leaves can produce some good autumn colours too: typically orange, yellow or gold.
Planting ideas
As already suggested, Viburnum bodnantense 'Dawn' looks fantastic backlit by the sun in winter. Alternatively, the flowers could be set off against a solid green background of a tall clipped evergreen hedge or in front of black-stained fence or dark wall. I have seen them planted as a little flowering grove – open and well-spaced – underplanted with spring bulbs and ferns. It could also be used as part of an informal flowering hedge. In the shrub border it can be planted under taller open trees, such as white-stemmed birches. As a winter garden it would work well, underplanted with Eric Smith Hellebores.
Viburnum bodnantense needs little maintenance, although I have seen it 'pruned up' to emphasise its multi-stemmed base (by removing all the twigs below one metre). Alternatively it can be trimmed into a dome-topped bush. If necessary, it can tolerate hard pruning to rejuvenate it.
▼
#3
Michaelmas Daisy 'Mönch'
Aster Frikartii "Mönch"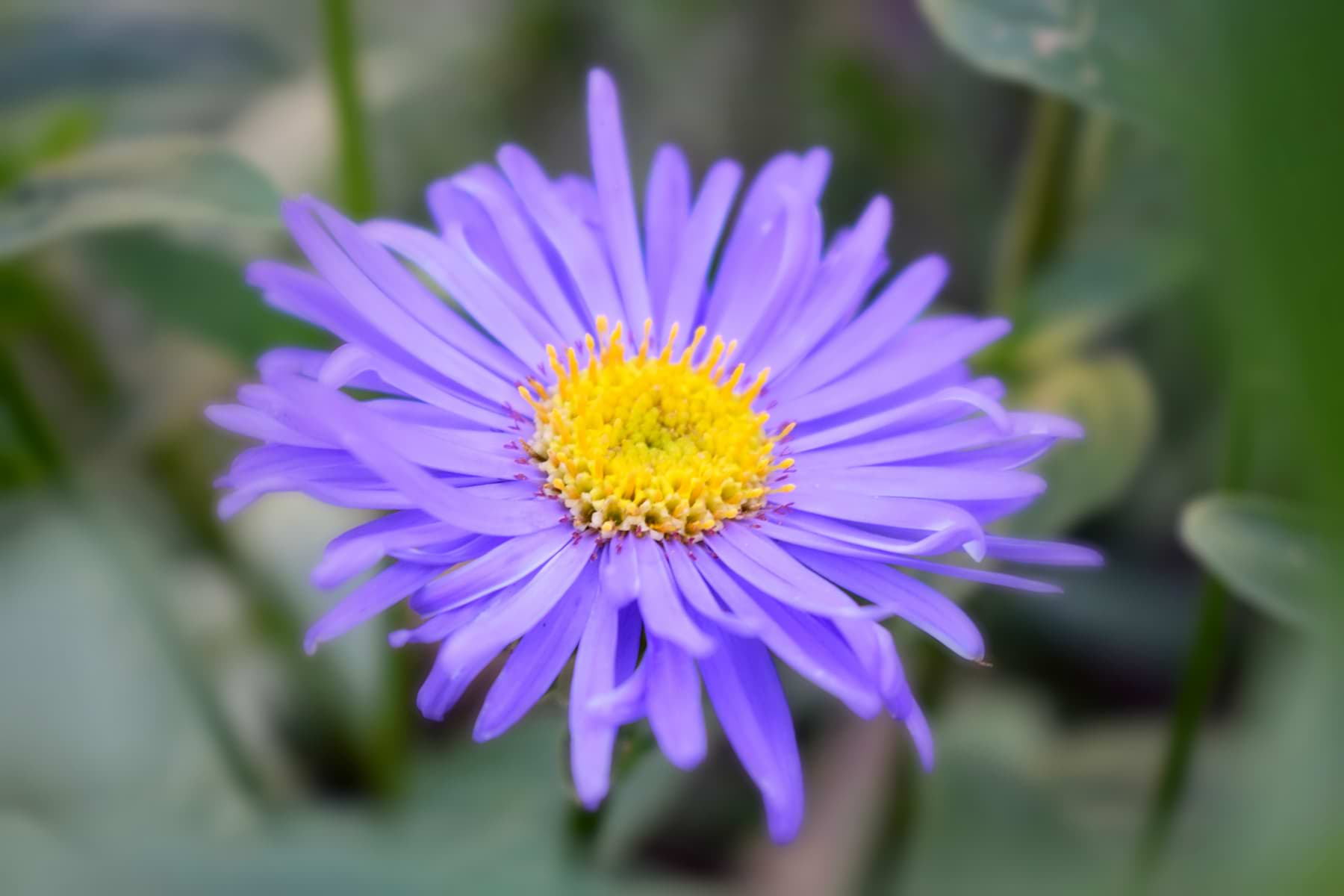 Aster × frikartii "Mönch"
Type: Perennial
Height: 32in (80cm)
Spread: 24in (60cm)
Light: sun / part shade
Features: butterflies
Aster × frikartii "Mönch"
Asters are well known for their autumn daisies, which typically flower from September to November. The hybrid Aster × frikartii Mönch, however, can start flowering as early as June. Add to this its easy-going nature and resistance to pests and diseases, and "Mönch" becomes one of the most desirable Michaelmas daisies any gardener could wish for.
The flowers are a good soft lavender – not too wishy-washy – with a clear yellow central boss. The foliage is green and slightly rough. Being quite a tall plant it tends to flop unless surrounded by supporting plants, twigs or stakes. Unfortunately, I ended up taking mine out as it was too tall for my herbaceous beds. I am currently trying a variety that supposedly only grows to 60cm, Aster × frikartii "Jungfrau", although it is a deeper purple than "Mönch". I will let you know my thoughts next year when I see how well it performs.
Planting ideas
Aster × frikartii Mönch works well with other large herbaceous perennials, ornamental grasses, large salvias, rudbeckia, echinacea and other prairie-style plants. It prefers a well-drained soil that does not dry out.
▼
#4
Repeat Flowering Roses
Roses are some of the most beautiful garden flowers, but you need to choose carefully if you want to have them bloom for the longest period. Look for repeat-flowering varieties. Modern English Shrub Roses are especially good medium size plants (1m to 1.5m), as are many patio roses (0.5m).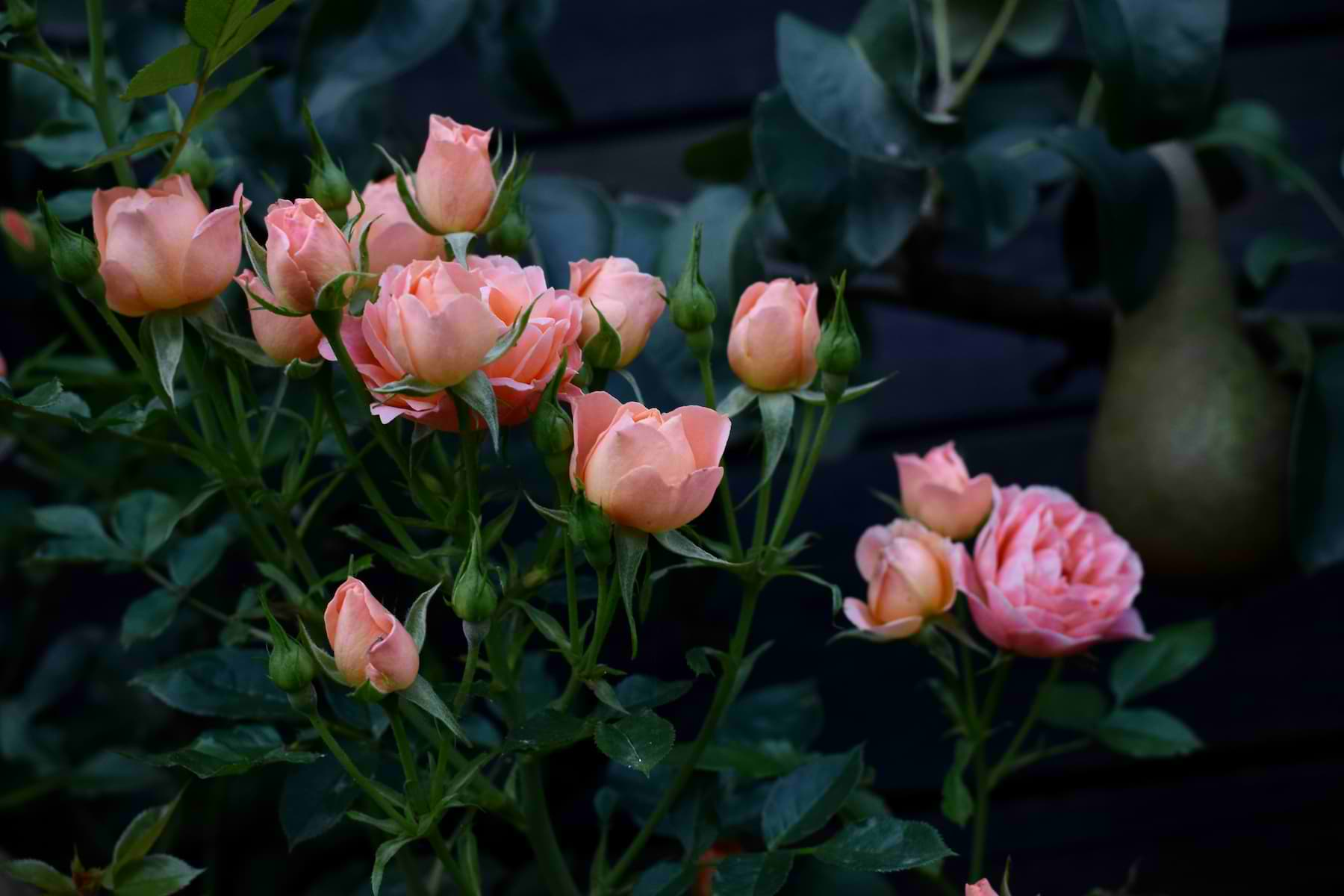 Rose "Sweet Wonder"
Type: Patio Rose
Height: 2ft (60cm)
Spread: 18in (45cm)
Flowers: 2in (5cm)
Light: min 4hr sun
Features: scented
Rose "Sweet Wonder"
A real gem in my garden: long lived, floriferous and repeat flowering. There is hardly a week between April and November when this little star is not flowering. It produces several trusses per stem over the season and sends up new stems from the base each year. The trusses contain 8 to 14 buds which open a beautiful soft salmon-pink fully double flowers. The fading blooms turn to a parchment colour and are best dead-headed, although the old petals tend to dry and fall rather than turning to mush. Patio roses naturally form a low mound. Sweet Wonder is somewhat upright – usually 60cm tall, however, I have trained mine up a fence to 120cm.
Planting ideas
I grow mine on a fence with contrasting blue salvia nemerosa and Allium christophii for a summer-long display.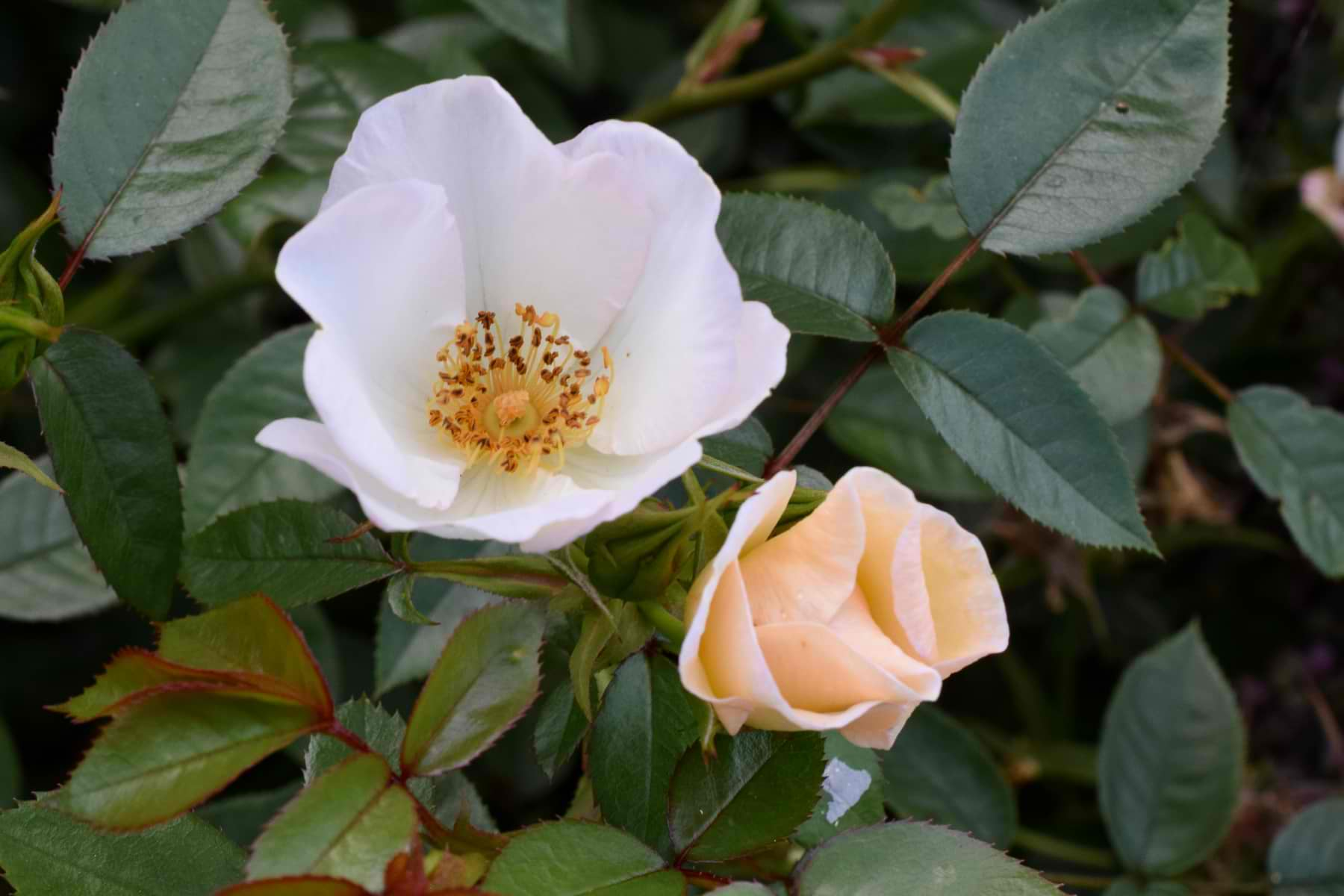 Rose "Jacqueline du Pré"
Type: Shrub Rose
Height: 3ft (90cm)
Spread: 4ft (1.2m)
Flowers: 2in (6cm)
Light: min 4hr sun
Features: bees; hips
Rose "Jacqueline du Pré"
This shrub rose flowers in continual waves, looking good from April until the frosts in November. Its flowers are single and produced in large numbers, loved by bees and other pollinators. The buds are peachy pale yellow, opening white with pink and peach blushes. Regular dead-heading encourages repeat flowering. If left, bright orange hips develop. This shrub rose produces a neat mound with healthy glossy foliage 0.9m high and 1.2m wide. Pruning is easy to keep it in bounds. I bring the pruned branches in for a short-lived display in a vase.
Planting ideas
I grow my Jacqueline du Pré shrub rose in a couple of places in my Mediterranean-style garden. It looks good with most pastel perennials: blues, pinks, purples. I have planted pink-flowered, silver leaved Helianthemum 'Wisley Pink' in front of one which you can see in the photo above.
Rose "Iceberg"
Type: Floribunda
Height: 4ft (1.2m)
Spread: 3ft (90cm)
Flowers: 3in (8cm)
Light: min 4hr sun
Features: cutting
Rose "Iceberg"
This floribunda rose flowers in continually in my garden from spring until the frosts. The flowers are almost pure white with a subtle yellow inner-glow, although some pink shades are often present in the buds and markings. The foliage is bright green but suffers a little with blackspot. My three icebergs were planted in a bed that was overhung by a eucalyptus. This has caused them to grow at an angle and not really thrive. The Eucalyptus has now gone, so I expect them to perform better in coming years. There is also a climbing version of Iceberg, which I have planted on a fence (see last photo above).
Planting ideas
I am growing my icebergs in a white-themed bed, underplanted with blue hostas and silvery ferns. Behind them is the silver variegated form of Euphorbia characias "Silver Swan", and a white flowered fuchsia ("Hawkshead"). The adjacent area has silver lambs-ears and Airtemisia "Powys Castle". The whole area is backed with a dark-green yew hedge.
▼
#5
Moroccan Daisy "Marrakech"
Rhodanthemum 'Marrakech'
| | | | | | | | | | | | |
| --- | --- | --- | --- | --- | --- | --- | --- | --- | --- | --- | --- |
| J | F | M | A | M | J | J | A | S | O | N | D |
| (❁) | (❁) | ❁ | ❁ | ❁ | ❁ | | | (❁) | (❁) | (❁) | (❁) |
Rhodanthemum "Marrakech"
Type: Sub-shrub
Height: 14in (35cm)
Spread: 24in (60cm)
Light: sun
Hardy: -5C
Features: evergreen
Rhodanthemum "Marrakech"
Moroccan daisy Marrakech is a low-growing woody-based perennial with finely-divided foliage that forms a soft, evergreen mound. In late Autumn, a scattering of pink-tipped white daisies rise on slender stalks held 6in (15cm) above the foliage. Flowers continue to be pushed up until spring, when by mid-April, the whole plant is covered in a mass of 1in (3cm) flowers. In my garden these continued until midsummer. in July I trimmed off the old flower stems and clipped the foliage into a neat dome. After a summer rest, a few new flowers emerged in October beginning the cycle again.
To thrive it needs a free draining soil. A raised bed with sandy soil is ideal. Only marginally hardy, it is more likely to survive winter if it is not waterlogged.
Planting ideas
Rhodanthemum needs an open situation with plenty of sun. It looks best where it is not crowded by adjacent plants so that it can form a beautiful neat mound of foliage. It will look good in the front of the border, especially in a raised bed where it will tumble over the edge. It goes well with other alpine plants, including sedums, artemisia, gypsophila, germander, sisyrinchium and the shorter alliums.
▼
#6
Cranesbill
Geranium sp.
There are many cranesbills (geranium species and varieties) that are garden-worthy, but not all have a long season. Some flower for only a month or two, while others provide colour for well over six months. Below are three of the longest flowering varieties that I grow and rate highly. These herbaceous perennials are fully hardy and easy going. Not quite stars in their own right, but great planted between more dramatic, shorter season plants such as lilies, agapanthus or roses.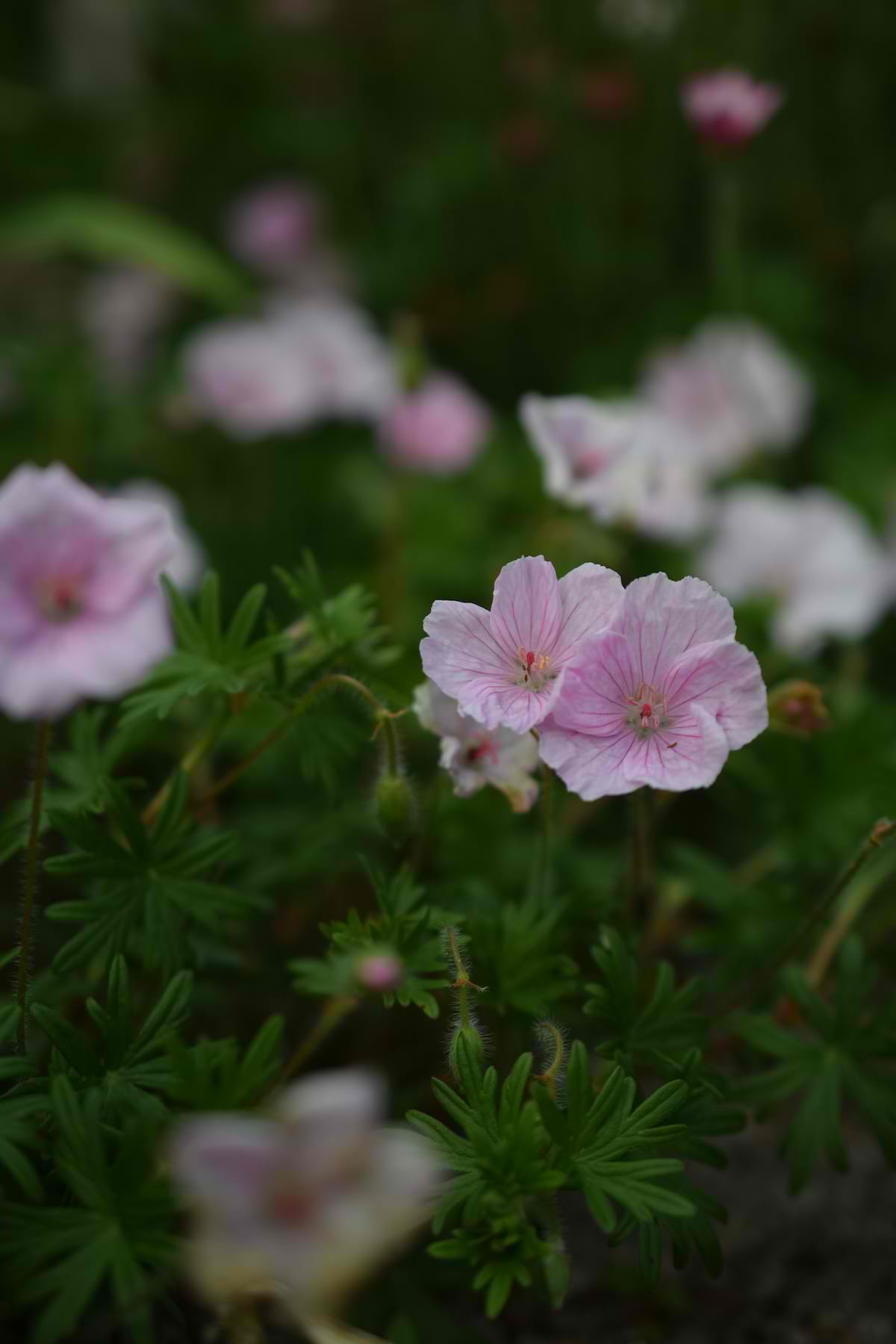 Geranium sanguinium striatum
Type:Perennial
Height: 12in (30cm)
Spread: 16in (40cm)
Light: full/part sun
Hardy: fully hardy
Features: reliable
Striped bloody cranesbill is a gentle, refined geranium with small pale-pink flowers over neat, finely divided foliage. In my garden it flowers from May until the frosts. The short stems scramble between adjacent plants contributing their understated charm all summer. Good as a filler between small and medium perennials and larger alpines, such as centranthus, agapanthus, sedums and alliums. The species plant (Geranium sanguinium) is a much stronger colour with magenta-pink flowers.
Geranium nodosum
Type:Perennial
Height: 16in (40cm)
Spread: 18in (45cm)
Light: shade/partshade
Hardy: fully hardy
Features: dry shade
A native of woodland. Geranium nodosum is easy to accommodate in a shady spot where is forms mounds of glossy leaves with small, one inch (2.5cm), silvery lavender flowers from spring until autumn. Excellent in a wild garden, hedgerow, or odd corner. There is a white version G. nodosum "silverwood".
Geranium "Roxanne"
Type:Perennial
Height: 20in (50cm)
Spread: 26in (70cm)
Light: sun/part shade
Hardy: fully hardy
Features: bees
Popular and deservedly so, "Roxanne" is a tough and reliable cranesbill that forms a large, open clump of sprawling stems which weave through adjacent plants. It bears large 2in (5cm), purple-blue flowers from spring until the frosts. These look fabulous back-lit in the evening.