There are two types of squash. Winter squashes that are hard and starchy, harvested in the autumn once they are ripe, and stored for winter use (e.g. butternut). They tend to form large sprawling plants and need plenty of room in the garden. Summer squashes, on the other hand, are produced and harvested throughout the summer and into autumn.
Summer squashes are used fresh as they only store for a week or so in the fridge. The common courgette and marrow are the most familiar of the summer squashes, but there are many other weird and wonderful varieties.
Courgettes are easy to grow but ridiculously expensive in the supermarket, especially for the organic ones, so growing your own makes sense. However, rather than grow the boring supermarket varieties you have the opportunity to try some really interesting varieties you won't see elsewhere.
Here are the one's that I grew this summer:
Satellite is a spherical courgette. It is similar to Eight Ball, a variety that I grew a couple of years ago. The fruit start small but quickly swell to larger than tennis ball size. Whilst many think the flavour is best when small, we often eat the larger ones as the developing seeds remain soft and edible. They are great sliced and fried in butter with salt and pepper. Taste is half way between courgette and marrow. The bush has serrated, dark green silver splashed leaves like normal courgettes.
Green tiger is a beautifully striped courgette, which looks striking even when sliced. Nice tight bushy plants with typical courgette leaves.
Romanesco is a heavily ribbed courgette, slightly prickly skinned when raw. Sliced pieces look like cog wheels! They grow quickly, and you inevitably end up having to deal with some overlooked ribbed marrows! The plant forms a slowly creeping vine.
Sunburst is a patti-pan squash, flying saucer-shaped with creamy white flesh. It grows into a large bush of rounded leaves – not much like a typical courgette. Picked as baby fruits they can be steamed whole and served with butter for a gastronomic treat. When medium-sized they can be sliced or diced. Once plate size… (I'll leave you to decide what to do with those beauties!)
Here are some more images of my plants…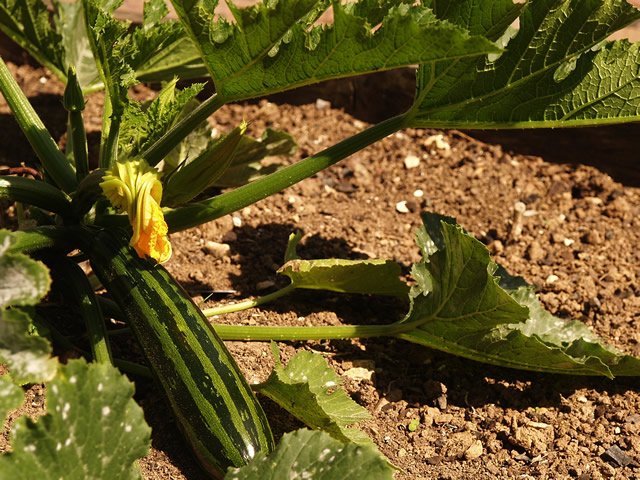 HOW TO GROW
You can grow courgettes from seed, but if you want to try a range of types you will have to buy lots of packets and only use a couple of seeds from each. The unused ones should keep for a couple of years, but in my experience after that germination becomes sporadic.
A better idea is to buy young plants or plugs. Garden centres only tend to stock the common-or-garden varieties, so I get mine from Organic Plants (Delfland Nurseries) who provide an excellent postal delivery service. You can buy individual varieties in 3 packs, or a 'collection' that includes one each of five different varieties. Brilliant!
PLANTING
Only plant once all danger of frost has passed. Make sure the soil is rich as these plants are gross feeders – lots of compost and manure will help. They need moisture and protection from strong wind. Keep them well watered in dry weather, avoiding wetting the leaves which encourages mildew.
PROBLEMS
Slugs and snails will destroy young plants – use an organic slug control method.
Mildew can run riot through your beds, encouraged by too much moisture on the leaves and not enough at the roots. This summer has been great – dry and warm – and mine have only suffered a few small patches. as you can see in the pictures above. So Keep plants well watered and the leaves dry; Pick off infected leaves to reduce spread. Some people say spraying the leaves with milk will control mildew too. I have not tried that yet, have you?