This apple tree is a bit of a curiosity. [Update: mystery solved – see end of post]
The label from the nursery said "Discovery". I don't think so! Discovery is an early-season apple, ready to eat in July or August and with a distinct red blush (see here for comparison). Whereas this one is distinctly unripe and bright green in late August. Hmm. It looks a bit Granny-Smithish to me.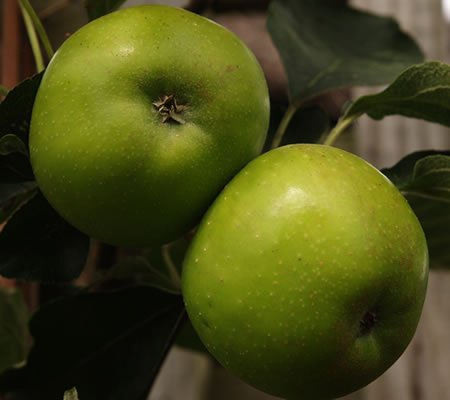 Another odd thing is the way it came to me. It was sent by accident along with several other fruit trees which were supposed to go to someone else. When I informed the nursery of their mistake they promptly sent me the correct trees, but kindly let me keep the mistaken order.
In keeping with this tree's enigmatic status I decided to train it into an unusual form…
Ladder Form
The tree was supplied as a 2-year-old double cordon. But the two uprights of the 'Y' were an unnecessarily long way apart. So as I trained it up the fence I filled in the central space with alternate horizontal branches, creating a ladder shape (left). As its only a few years old the branches are still very thin, so in the photos below the form is not very distinct yet. But over the next few years the permanent framework will thicken enhancing its striking form.
Four years after planting in April 2012

Coming into flower

Fruit in August
Update: October 2012
During september the apples changed colour – clearly they are not Granny Smiths as I suggested above… interesting. I decided to get some help identifying them, so…
Last week I went to 'Apple Affair' at West Dean Gardens, their annual apple extravaganza where expert apple growers display hundreds of different varieties. Two veterans provide a free apple identification service – the main reason I had gone! What was so impressive is that when I showed them one of my enigmatic apples they were pretty sure they knew what it was a t first sight! Before they revealed what they proceeded to poke and prod it – first they cut it in half, briefly examining the core in cross-section – each apple variety has a distinct star-pattern made by its seeds. Sage nodding… They then gave it a good sniff, looking at each other – yes, it had the tang of its daughter the famous Coxes Orange Pippin. I was eager to know what it was, but they were not finished yet – they cut a slice and tasted it, frowning disapprovingly – it wasn't at its peak of perfection! I'd picked it too early. A bit unfair really as I'd brought it for identification not for eating!
So what is it? Well, it's a Ribston Pippin don't you know? Apparently, an 18th century variety from Yorkshire which is best kept for a month before eating. Interesting eh?
Update 2016
Update August 2017
Before summer pruning (August 10th 2017)

After summer pruning (August 14th 2017)
Of all of my trained apples, this one continues to be an enigma. For no obvious reason it is the most vigorous and least productive. As you can see in the left hand image above, it sends out vast amounts of vegetative growth every year — far more than any of the other apples I have trained.
Summer pruning restores it to a reasonable shape, but doesn't seem to reduce its manic growth in subsequent years. My other apples have fallen in line, accepted their lot and now make much less effort at escape!
If you compare the pruned image to the one from 2016 you will see that I have removed the spurs that were growing from the horizontal branches at the bottom. This was to reveal the trained form most clearly which is increasingly the main asset of this tree.