Sweet Cicely, (Myrrhis odorata) is a wonderful but underrated umbellifer, native to the UK and central Europe, that thrives in part shade. It is edible, both the leaves and seeds being used to impart a sweet aniseed flavour to cooking or salads. It is particularly useful when added to stewed rhubarb or apple, as it reduces the tartness allowing less sugar to be used (especially helpful if you are on a low carb diet!). All stages of its growth are charming, with a gentle architectural quality.
Below we explore its varying charms over the summer in documentary format… Lights!, Action! (Whirr of cameras)…
Scene 1 – Resurrection: Sweet cicely emerges rather late in spring from a thick rootstock, unfurling from large knuckle-like buds with extraordinary energy – not elegant, menacing even – strong, determined, soft, silky.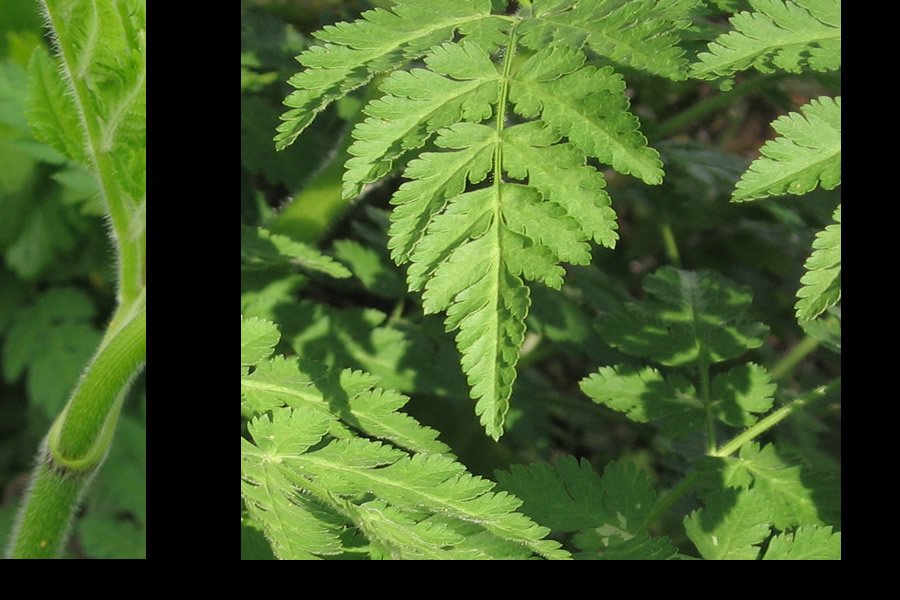 Scene 2 – Foliage: The leaves are fern like, finely divided, soft and aromatic when crushed. They contrast well with large leaved plants such as foxgloves, hostas, bergenias and hellebores. The young stems are pubescent with a reddish mark at the node of each branch. A mature (three-year old) plant grows to 80cm tall, and as much across.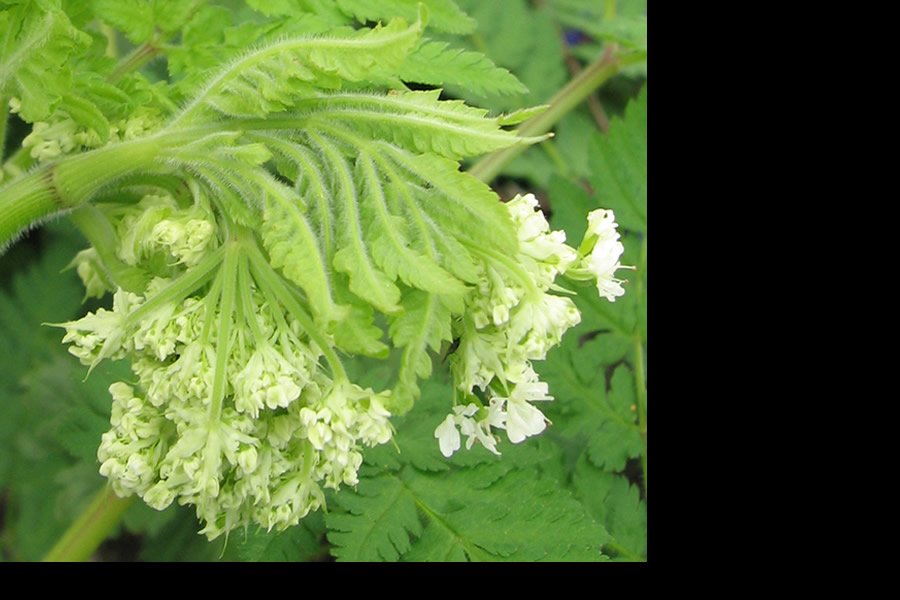 Scene 3 – Flowers I: In May the flowers appear. Some start to open before the head has had time to fully unfurl and turn them up the right way.
Scene 4 – Flowers II: Eventually the flower heads adopt a more or less upright posture, with individual flowers arranged in circles of circles atop umbrella-spoke stems. The tiny inflorescence are lopsided with one petal longer than the others, and at this stage they are attractive to a wide range of beneficial insects including bees and hoverflies.
Scene 5 – Seeds: Seed pods rapidly form behind the pollinated flowers and grow quickly, so that mature and immature seed pods, as well as the last of the flowers appear all over the plant together for a time in June. Eventually the pods dry to a dark brown and can be picked and dried at this time. If left they seed about. The seedlings are strong and quick to take advantage of bare soil.
Conclusion: A plant with considerable garden merit and culinary value, and one I would rather not be without.