What makes a pink flower pink? Seems like a silly question, but it turns out to be more complicated than it first appears. Let's start with the easy bit: all "pink" flowers have a dominance of red in their coloration. The complexity starts when we consider the full 'spectrum' of pinks. These are created when yellow or blue pigments are present alongside the red. The addition of yellow creates warmer apricots and salmons. Whereas the more blue is present, the cooler the shade of pink becomes all the way through mauve and magenta to lilac-pink. At the coolest end the amount of blue is slightly greater than the red and whether such flowers appear "pink" to the eye depends on their context.
Take, for example, magenta flowers. Are they too blue to be classified as pink? Place them among warm-pinks, yellow or orange flowers and they look decidedly blue. However, the same flowers growing among deep blues or purples will stand out as unquestionably pink. I included the purple clematis petals to the floral collage (above) for this very reason: the presence of the purple makes the magenta flowers appear pink. You can see this effect in the following diagrams which have the same magenta flower in the centre. It helps to cover up one side so you can focus on each image in turn. Ask yourself: is the flower in the middle pink or not?
While hue is important, it is not the whole of the story. Pink flowers can be lighter (paler) or darker (deeper coloured). They can be clear or muddy, single or multicoloured. They can look different when in full sun or on a cloudy day, or when illuminated from the front or backlit. Many pink flowers have coloured bracts, stems, centres, or they progress through a sequence of colours between bud and finally fading; or they change colour with the season. Finally, some, like hydrangeas, change colour in different soils. All this makes the classification of "pink" perennials rather tricky.
In this post I do my best to group flowers that have similar colours in my garden, but as we have seen this is not a definitive science. If flower colour is critical to your design, my advice is to always purchase plants when they are in flower so you can see what you are getting. Once home, stand them in your garden so you can assess the effect in-situ. Even then, be prepared to dig them up and move them if they turn out to clash or look out of place later in the year.
That caveat out the way, I hope you enjoy the following colour galleries and find therein some inspiration for your own garden…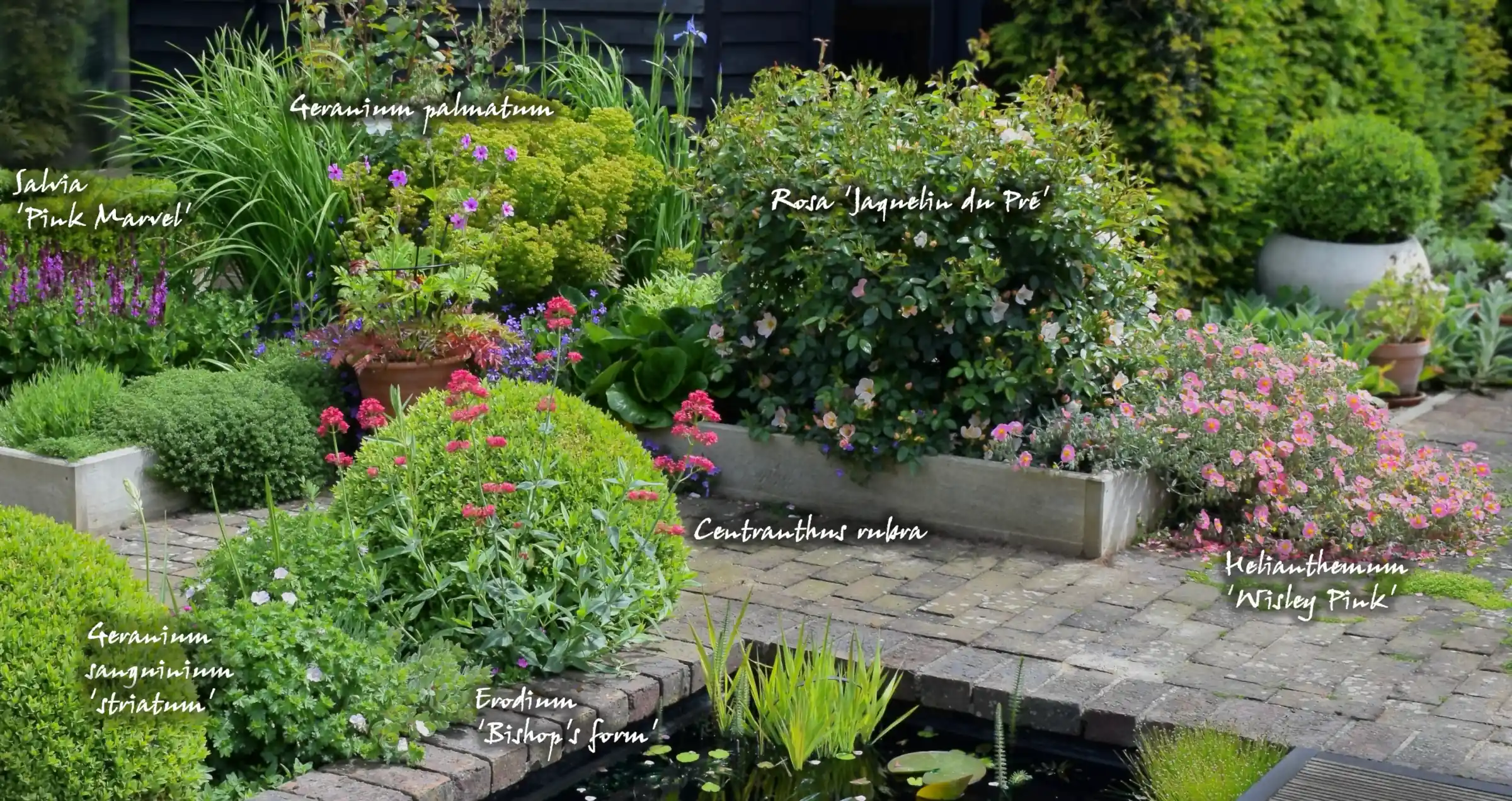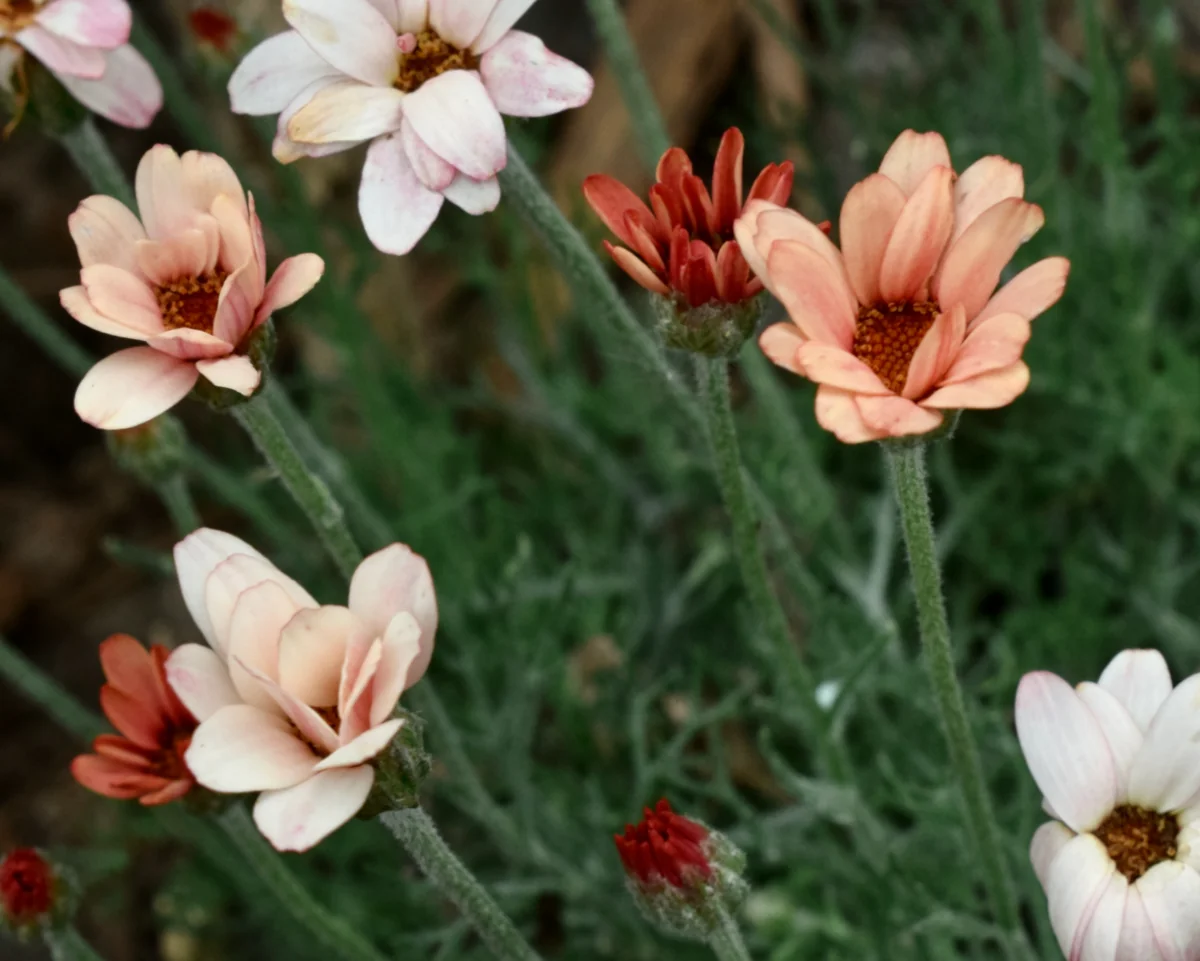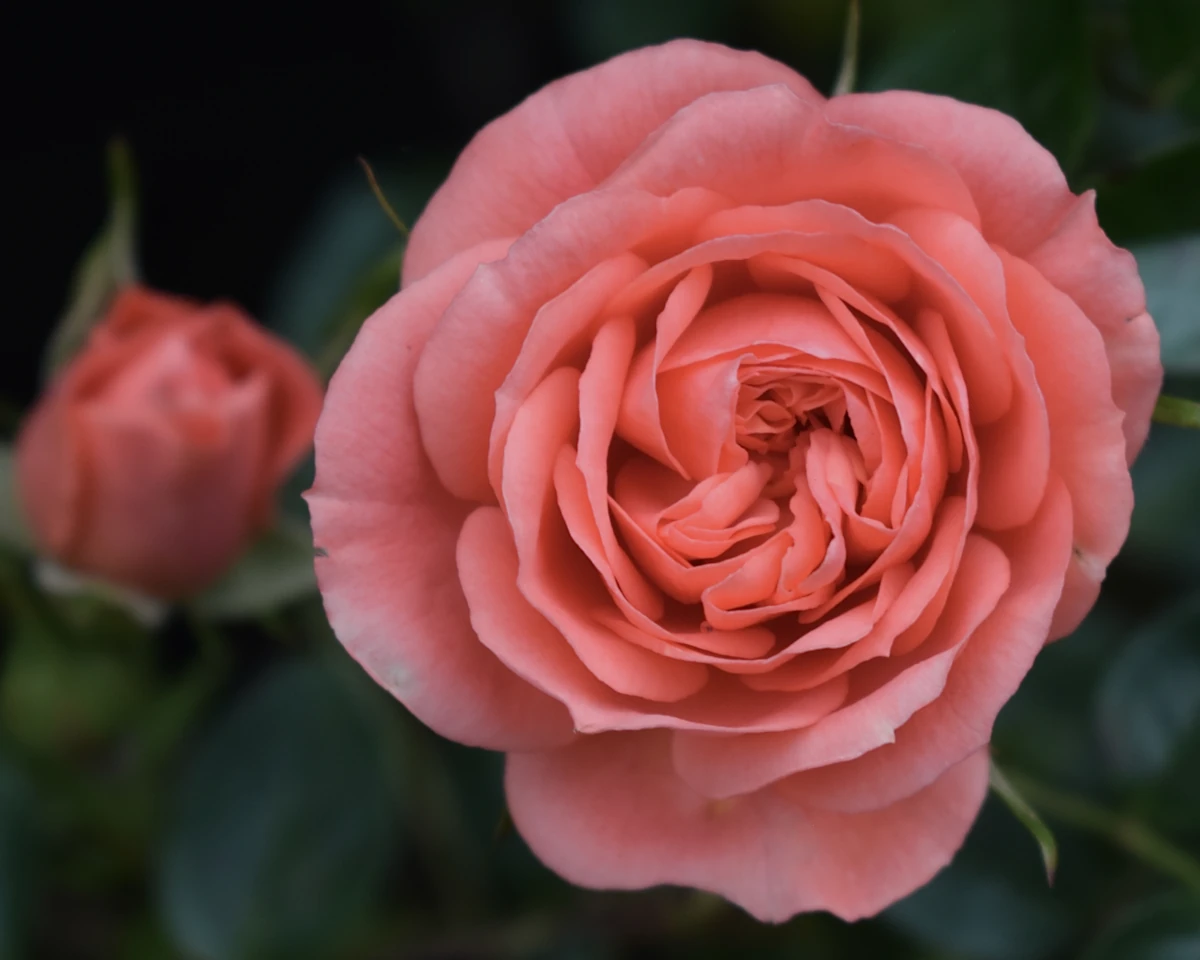 Salmon is pink with orange or red undertones. A good salmon has no hint of blue or mauve in it. Flowers from this warm end of the pink spectrum are rather rare and can be hard to combine with other colours. They can be especially jarring with the cool-pinks. Combine instead with oranges, rusts and dark burgundy, or contrast with deep blues and violets.
Verbascum 'Caribbean Crush' contains a complex palette of warm artsy colours. I find it holds its own among grey leaved and silver plants, and contrasts nicely with blue and violet salvias. It is a short-lived perennial, requiring a well drained soil and open sunny site. From a basal rosette of grey-green felted leaves it sends up several tall spires which make a dramatic statement in the garden.It sometimes puts on a second display in late summer. Height: 90cm, Width: 30cm, May-July
Rhodanthemum 'Zagora Orange' is a half-hardy alpine which forms neat mounds of grey-green foliage. Numerous buds start out orange but gradually fade through salmon to pale pink as the flower opens. Grown in a sunny, sheltered spot in free-draining soil it may survive a mild winter. Height 30cm, Spread 40cm, May-July; Oct
Patio rose 'Sweet Wonder' is the most pure representative of salmon in my garden where its two-inch blooms provide a delicious warmth despite lacking scent. The blooms fade to an acceptable buff and are easy to remove. Height 70cm, Spread 50cm, May-Oct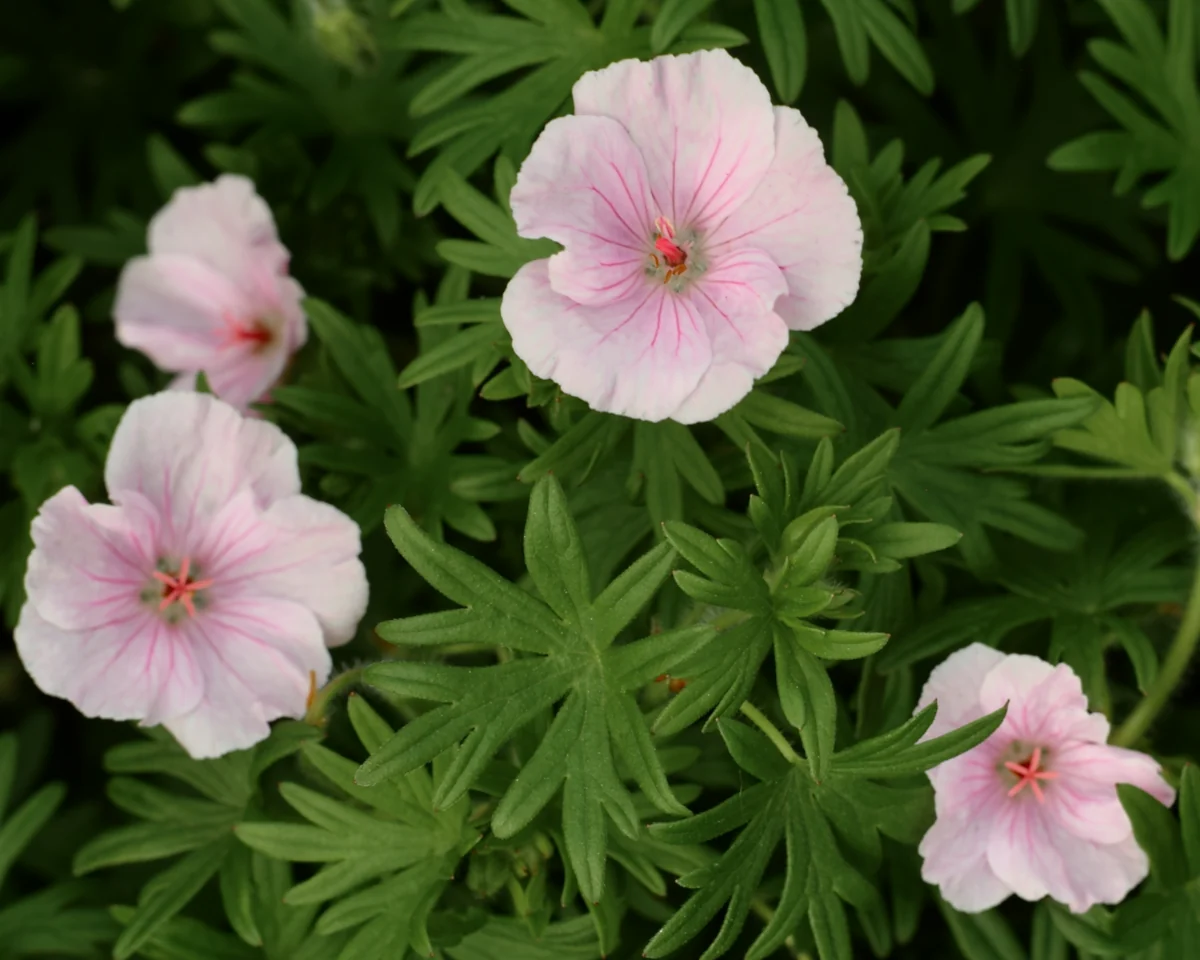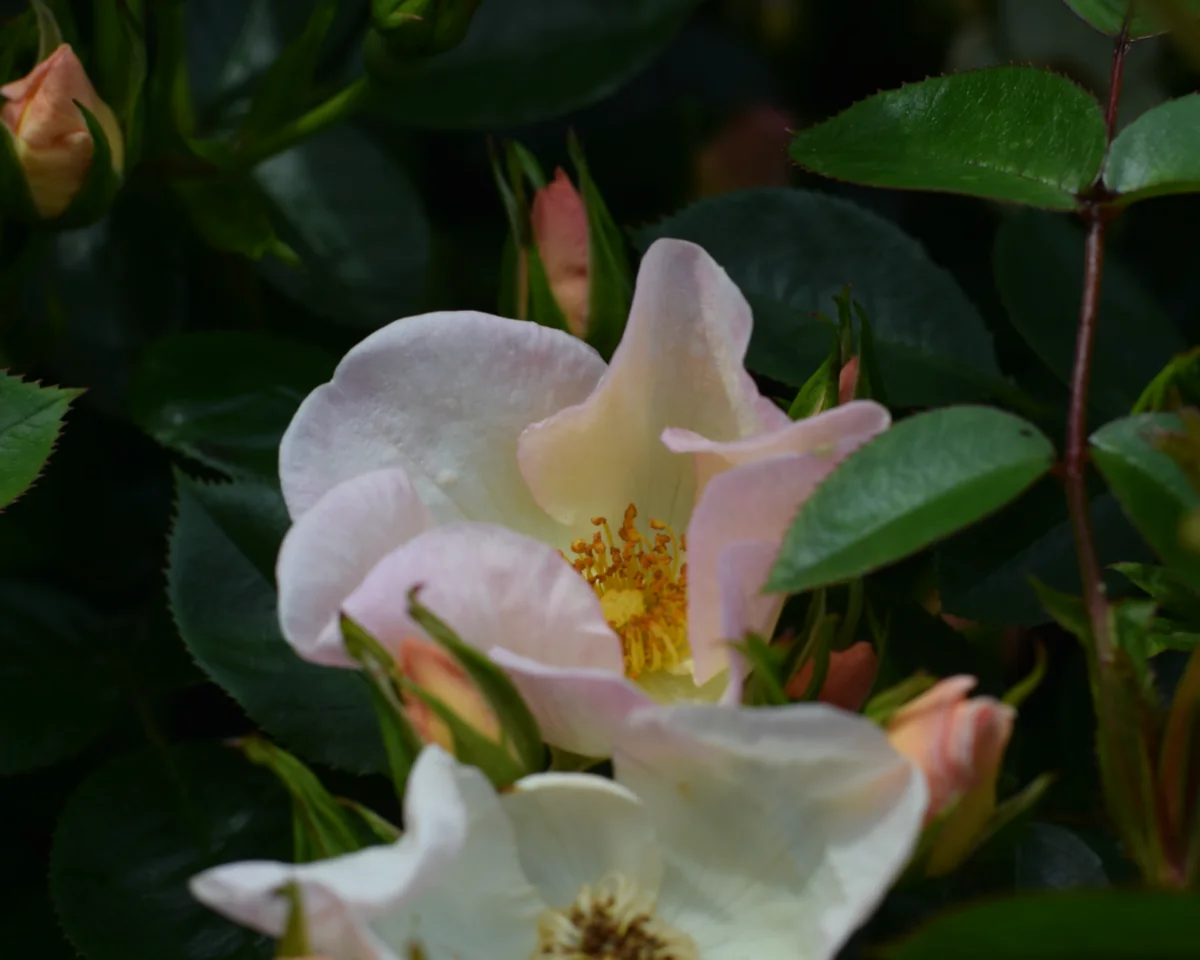 The palest pink flowers are almost white. Some open pink but quickly fade to white. Others just carry the faintest blush, hint or streak of pink. In the garden, even such a small trace of colour is evident to the eye.
Rose 'Emily Brontë' is a modern shrub rose from David Austen. Super healthy and fragrant, the large (3in) flowers are somewhat flat with the softest apricot pink fading to cream. Height 1.2m, spread 1.1m June-Oct
Paeonia officinalis 'Alba Plena' should be a double white peony, but various degrees of pink sneak in when it first opens. A few days later it turns pure white. Like most peonies it is spectacular, with a painfully short flowering season. Height 70cm, Spread 50cm, May
Geranium sanguineum var. striatum is a low-growing cranesbill which produces the palest pink flowers all summer. Delicate and demure, it is easy to grow forming low mounds between other plants. Height 30cm, Spread 40cm, May-Aug
Shrub rose 'Jacqueline du Pré' is a healthy, strong, dense shrub rose that produces abundant white flowers over a long period. The buds are a soft pinkish apricot, whereas the petals of the flower are at times tinged with mauve-pink making it an ideal partner for more decidedly pink perennials. Height: 1m, Width: 1.2m, May-Nov
Rose-pink is a soft, full-bodied pink. Although predominately red, there is just a little cooling blue. Is this the colour of true love?
Helianthemum 'Wisley Pink' is a prostrate sub-shrub for full sun. Ideal for the rock garden, it has long lax stems with tiny pointed silver-grey leaves. It produces hundreds of 1.5 inch rose-pink flowers from May into June, which each last less than one day. By mid-afternoon thousands of petals are scattered like confetti all over the ground Height: 40cm, Width: 120cm, May-June
Climbing rose 'Strawberry Hill', is a beautiful, clear pink, scented rose with darker buds. Good for a sunny fence where it can be trained to cover a whole panel. (Height 3m, Spread 2m, May-Nov)
Astrantia major 'Pink Pride' Hattie's pincushion is available in a number of pink shades, including rose, maroon and pale pinks. To my eye the colours are always a bit muddy, best used as fillers or in naturalistic settings. Height 60cm, Spread 45cm, May-July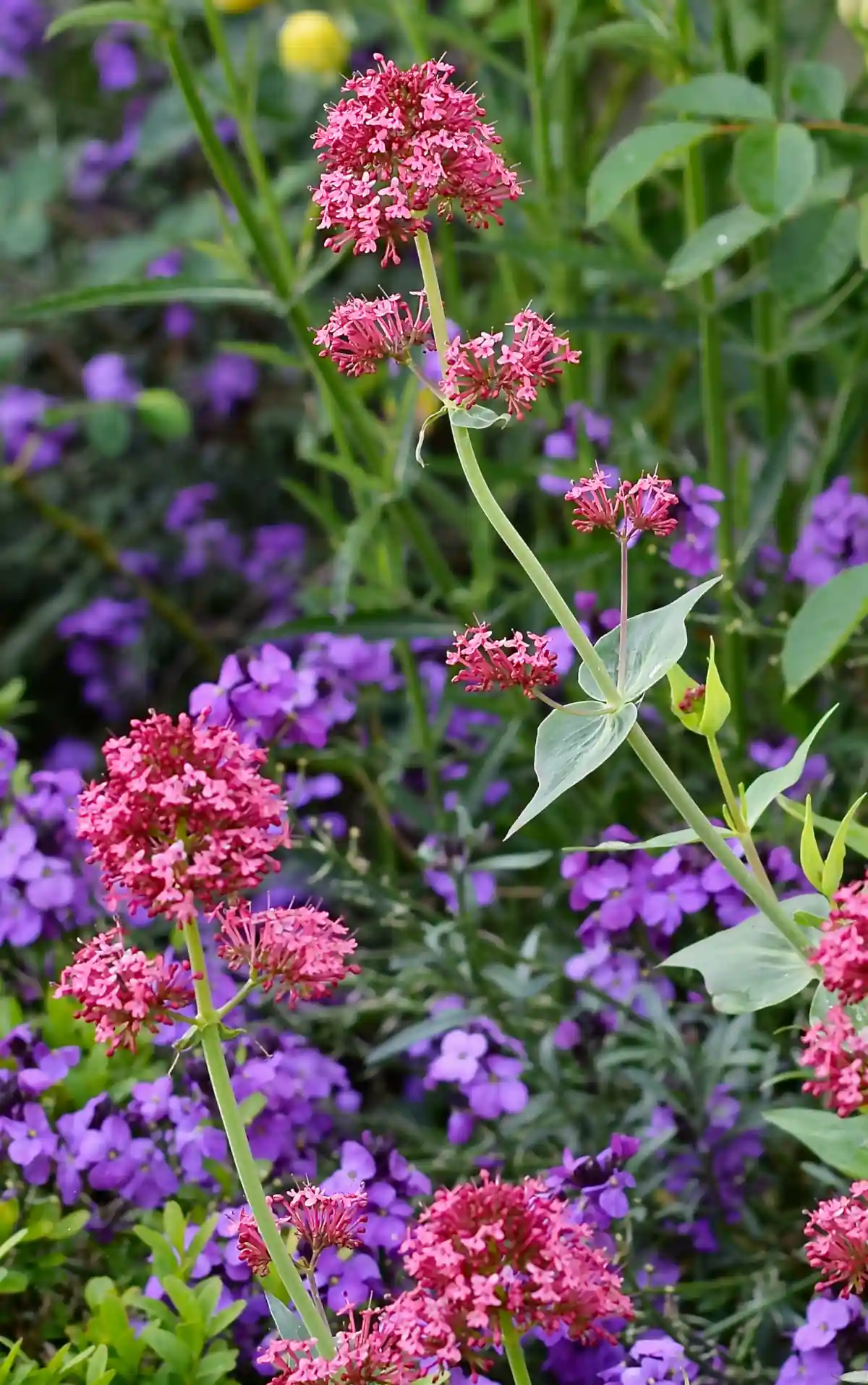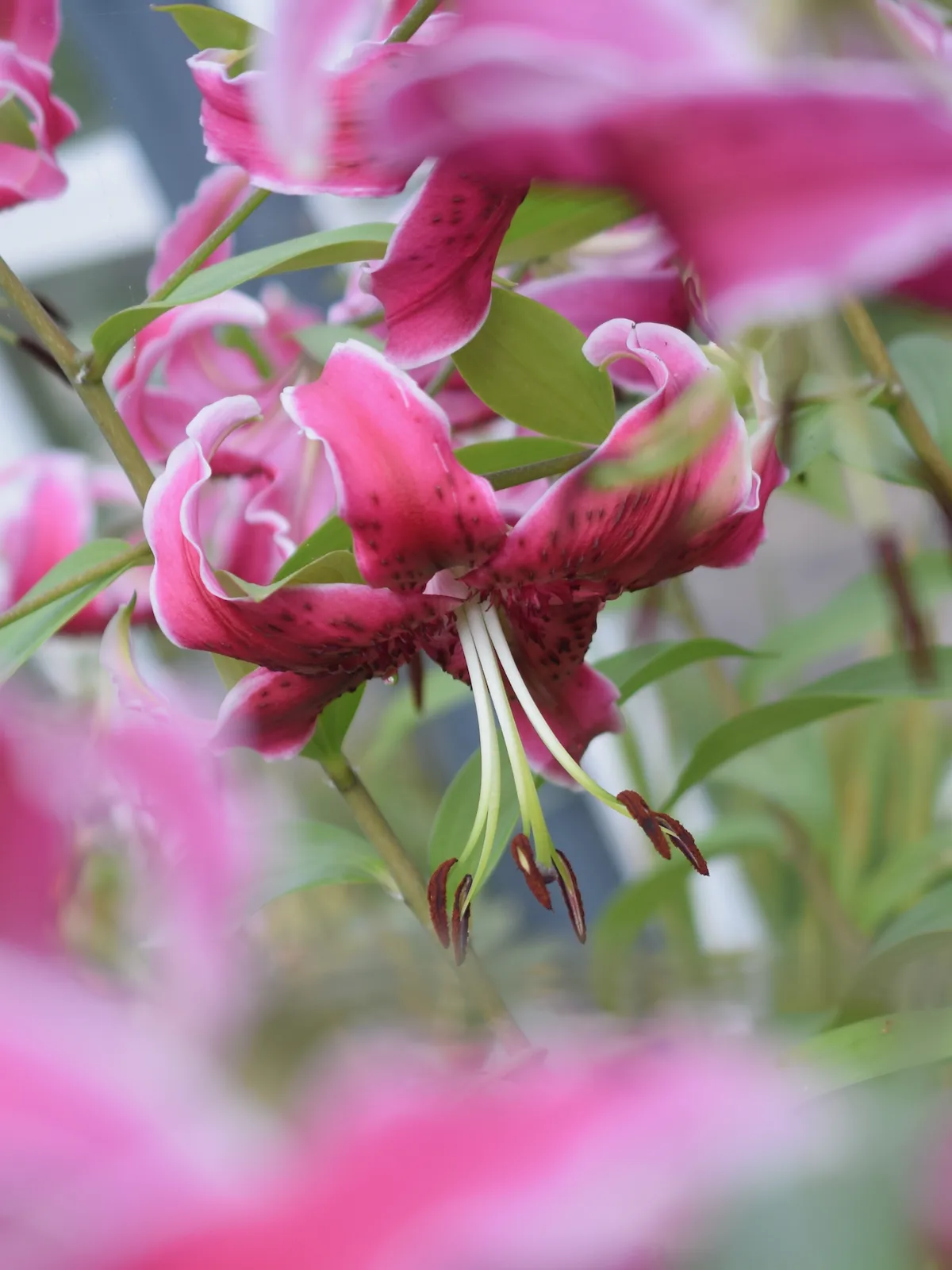 A vibrant pink with roughly twice as much red as blue. Darker than candy, redder than magenta, unquestionably pink. The effect is enhanced by darker red markings in the throats, calyces or petal ribs. Contrasts well with blues and purples.
Calla (Zantedeschia) comes in many shades of pink. I grew this one from a bag labelled "blackberry mix". Height 40cm, Spread 30cm, May-Sep
Centrantus rubber, (Red valerian) looks ruby from a distance, but up-close you can see that the petals are candy-pink with the remaining red coming from the buds and calyces. Easy to grow in a dry soil or rocky wall. Seeds prolifically. Pink and white forms available. Height 50-60cm, Spread 40, May-Aug
Armeria maritima 'Splendens' forms dense grassy evergreen mounds above which are held 2cm pom-pom flowers in bright pink. Pinker and taller stemmed than the wild-type. Needs free-draining soil to thrive. Height: 30cm, Width: 60cm, May-Jun+
Lilium 'Miss Feya' is a spectacular tree-lily. The bulbs produce tall, strong stems, which in June sport huge deep-pink flowers with recurved white-edged petals with maroon spots in the throat. Great in a large container. Height: 1.5m, Width: 40cm, Jun/Jul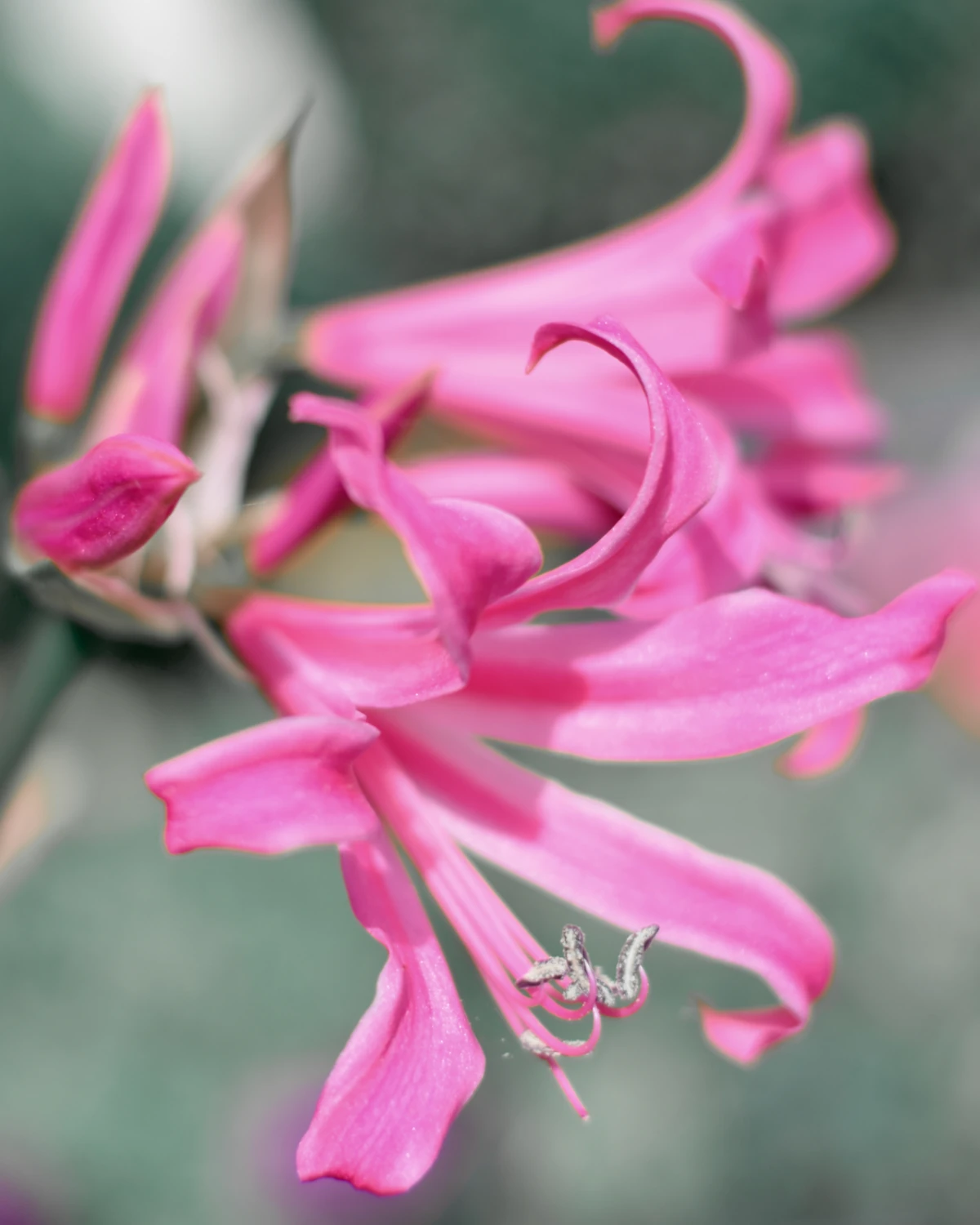 Neon, Lipstick, Fuchsia – whatever you call them – these are the hottest, brightest pinks. Strong and bold, they stand out from the crowd, but can be difficult to place successfully. Set them on their own, backed by foliage, a pot or a wall where they can shine, or combine them with dark purple foliage .
Dahlias come in many colours including bright pinks like these unnamed dwarf bedding dahlias I picked up at the supermarket. Height 30cm, Spread 30cm, May-Dec. If you want something taller try 'El Santo' (75cm), 'Pink Sylvia' (60cm), 'HS Juliet' (60cm)
Cyclamen persica hybrids (autumn bedding cyclamen). Common bedding plants, sold in the autumn, are great for tucking into gaps or filling containers near a door. Available in shades of reds, pinks and white, the brighter pinks really dazzle on grey winter days. Height 15cm, Spread 20cm, Oct-Jan
Nerine bowdenii is a hardy bulb which produces bright pink flowers in the autumn. They can seem incongruous at that time of the year, and are sure to grab the attention. They thrive when planted shallowly in hot sunny soil. When left undisturbed they bulk up and flower more freely. Also good in shallow bowls. Height 50cm, Spread 20cm, Oct-Dec
Softer than the hot pinks – think candy-floss, nougat, bubblegum. The petals contain a little cooling blue, while the stems and calyces are a darker red, producing an effect that is unambiguously pink to the eye.
Saponaria ocymoides (Tumbling Ted) is a vigorous, semi-evergreen mat-forming perennial with narrow pointed leaves and clusters of 1cm diameter pink flowers. Best in full sun in soil that does not dry out. Height 15cm, Spread 45cm, May-Jul
Lychnis dioica (Red campion). A British native, producing tall stems with clusters of candy-pink flowers in summer. Good in full sun or dappled shade. May self-seed prolifically. Seedlings are easy tp remove by hand. Height 80cm, Spread 40cm, May-Jul
Aquilegia vulgaris is available in many shades of pink. In my garden they hybridise freely, self sowing and producing splendid colours like the clump above. Sun or part shade. Self-seeds freely. Height: 80cm, Width: 40cm, July-Oct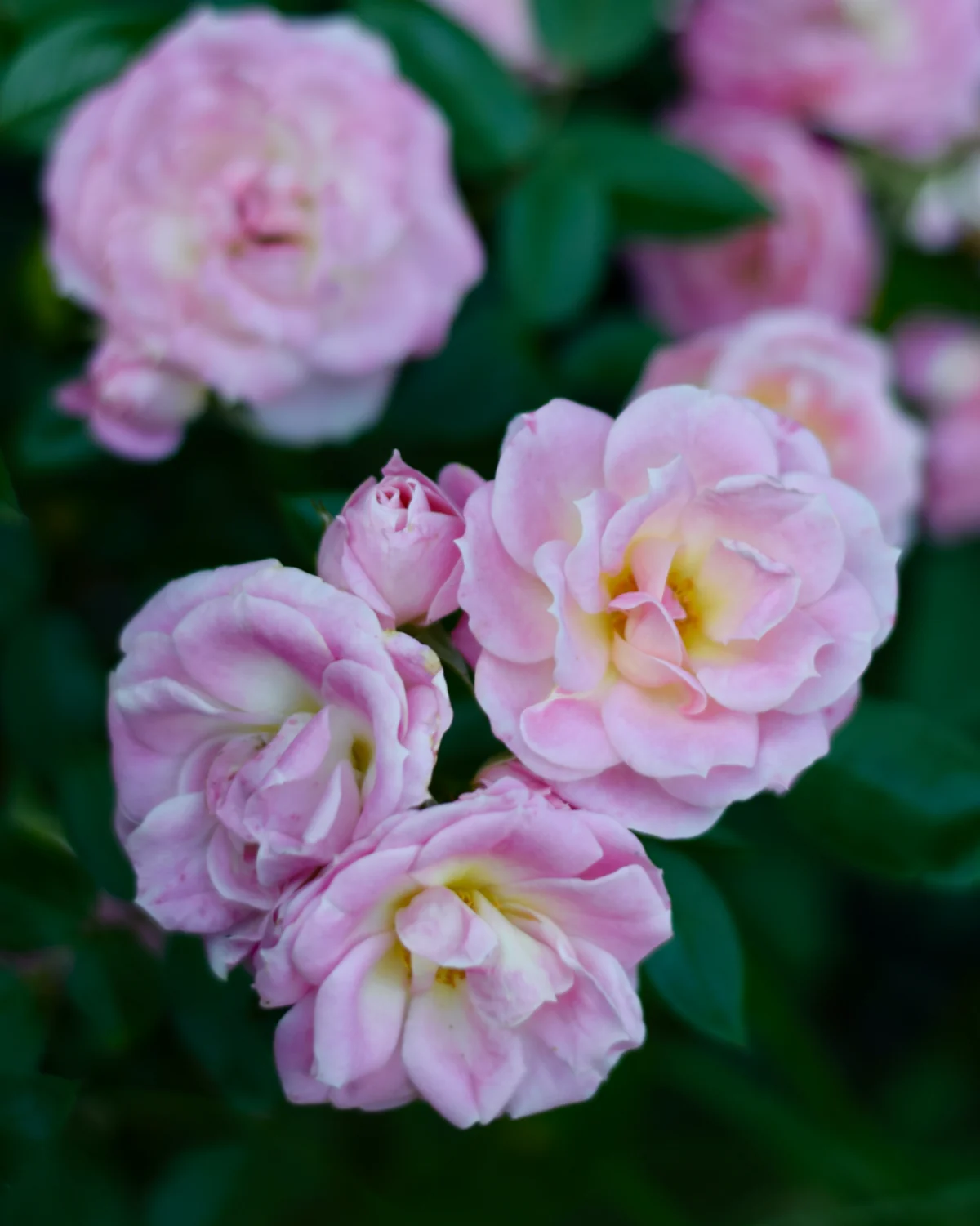 The colour 'mauve' comes from the French name for the mallow flower. These flowers have almost as much blue as red, giving them a cool rosy glow, especially effective in evening light. They looks good alongside misty blue-greens, grey or purple foliage, or paired with deep blue flowers.
Salvia 'Rose Marvel' is one of the few good 'pink' varieties among the salvia nemerosa hybrids. The large flowers are mauve, appearing more pink because of the dark maroon bracts they are seen against. Compact and easy to grow in a sunny free-draining soil. Height 40cm, Spread 40cm, May-Jul+
Dahlia 'Melody Harmony' is closer to a true mauve, especially in the central petals. The overall effect, though is one of pinkness. It has dark purple foliage which complement the flowers beautifully. Good in a large pot or in a free draining soil with a little winter protection Height: 80cm, Spread: 60cm, Jul-Oct
Patio rose 'Carefree Days' produces beautiful clear mauve-pinks which blend effortlessly with their glowing yellow centres. Height 70cm, Spread 50cm, Jun-Oct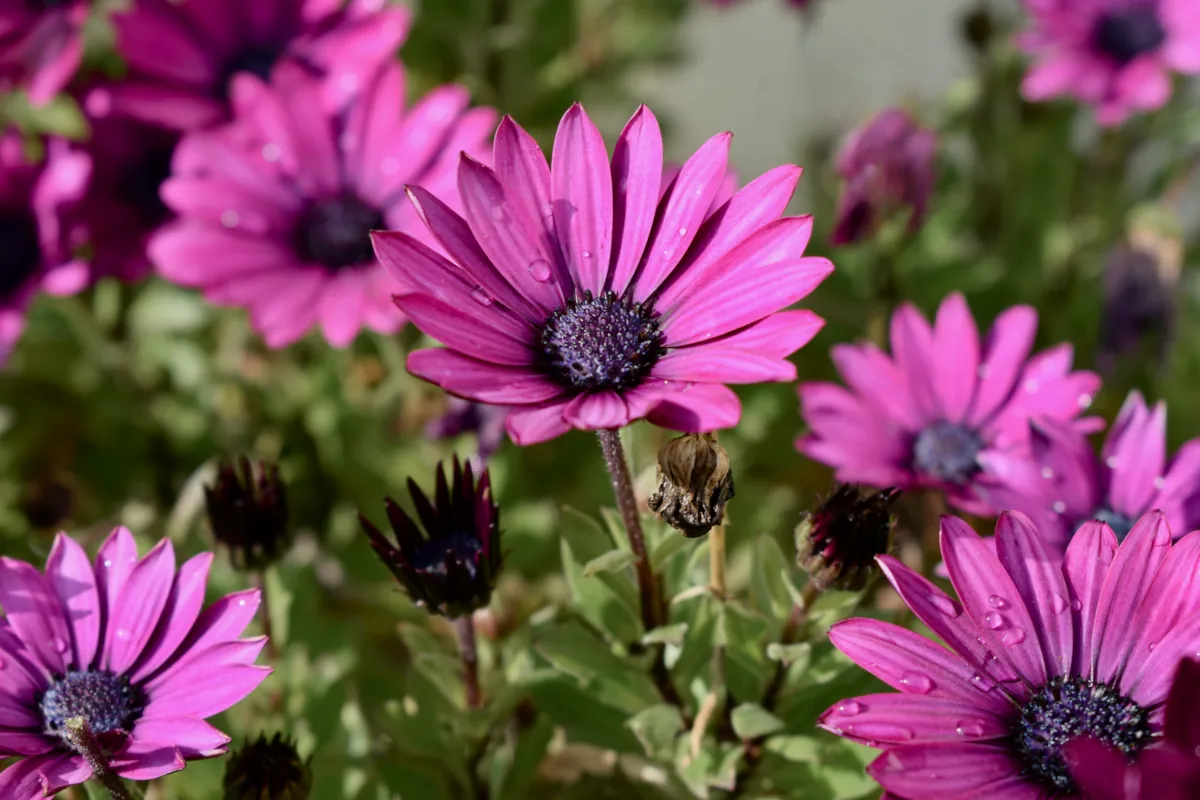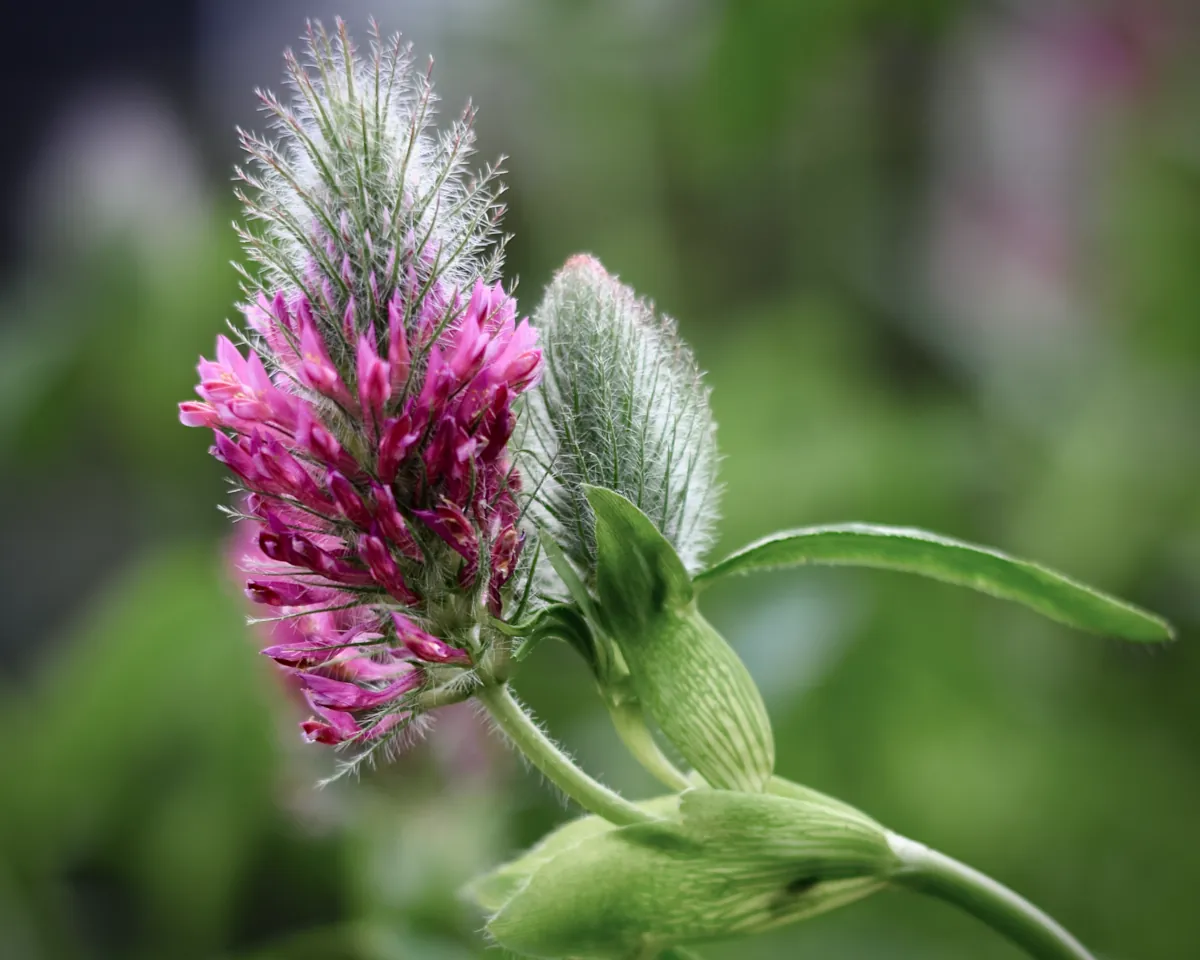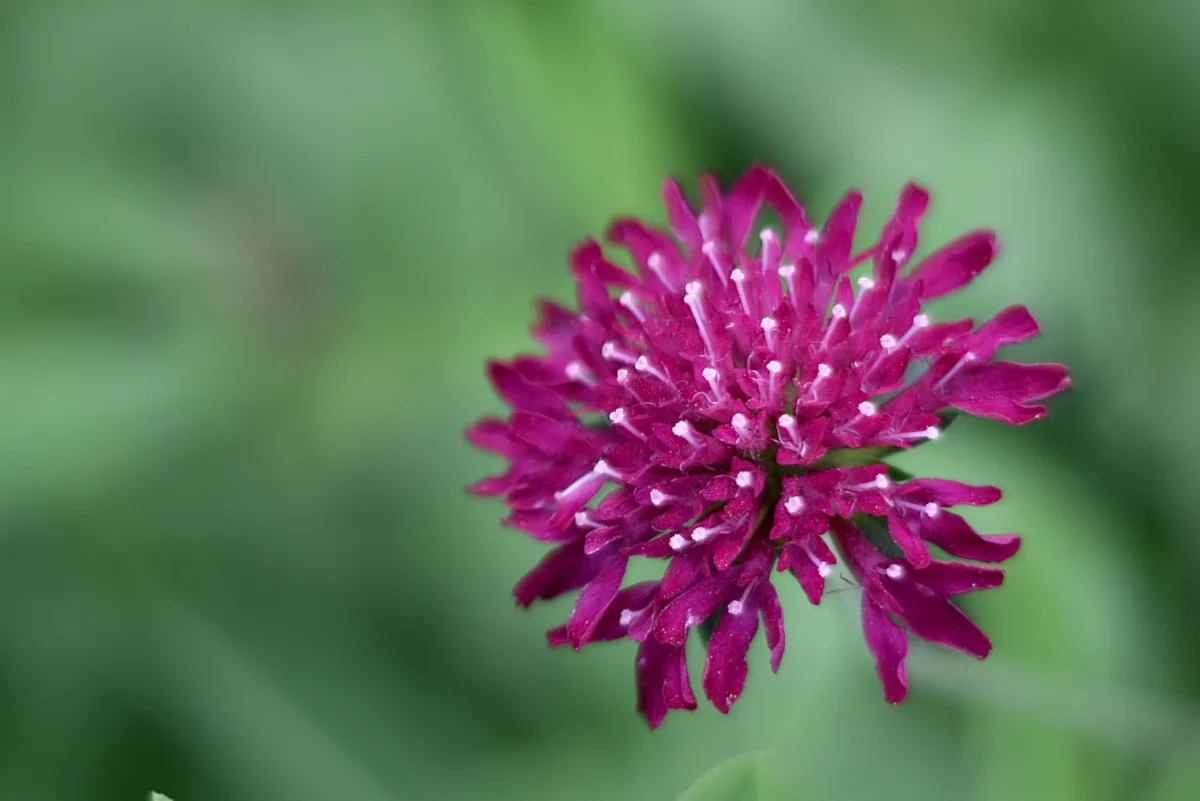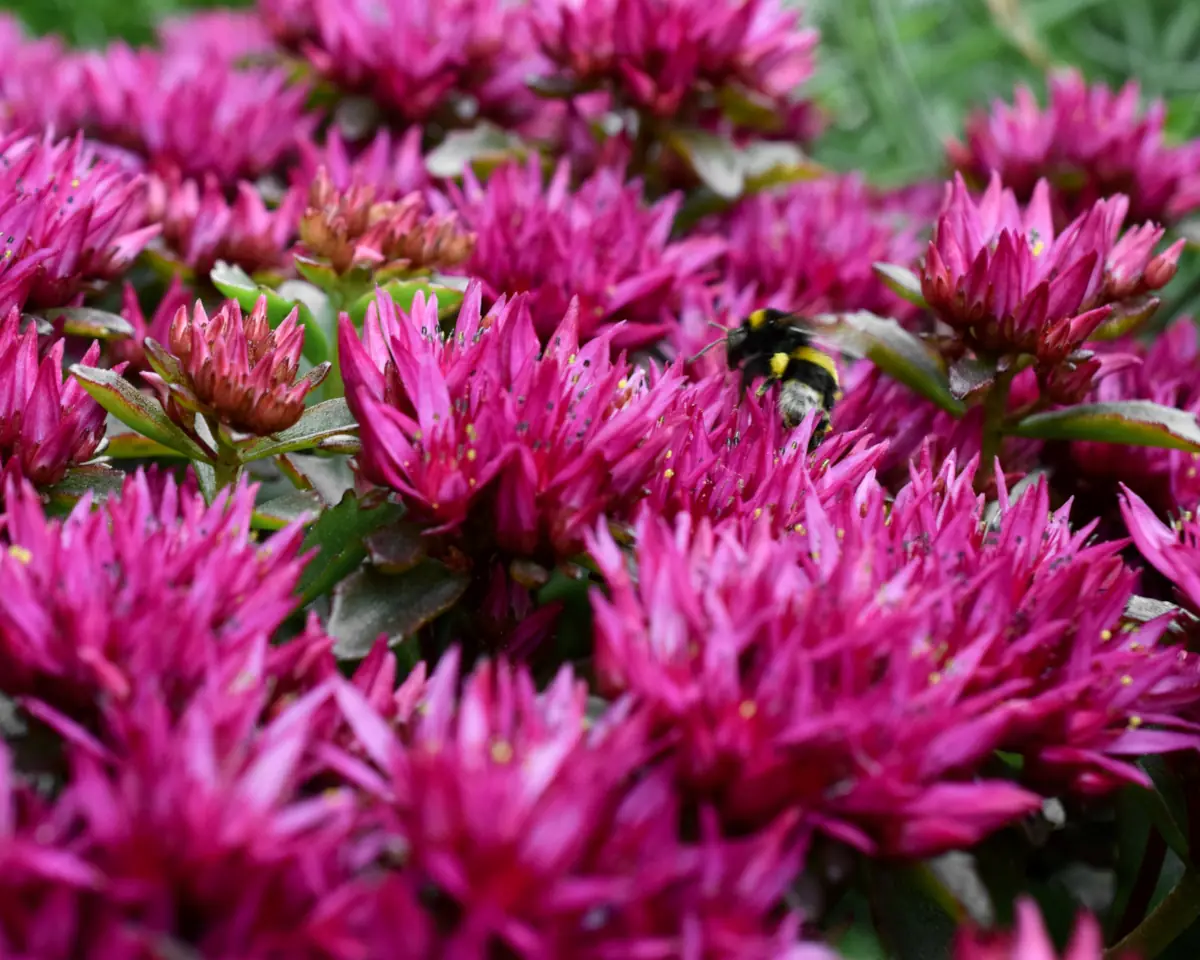 Magenta is a brash, bold flower colour. Being composed of equal parts blue and red it can be hard for the eye to categorise. Blues and purples complement it nicely, while yellows and greens work as contrasting colours. Reds and oranges produce discordant pairings.
Tulip 'Blue Diamond' is not blue, it's magenta. It's just that in the world of tulips it is the closest you will get to a blue. The colour actually contains as much red as blue. Height 40cm, Spread 20cm, Mar/Apr
Osteospermums come in many shades of mauve, magenta and purple. The one in my garden (above) was unlabelled, but as near pure magenta as you might wish for. Height 30-60cm, Spread 40, May-Oct
Trifolium rubens (Ruddy clover) – forms a clump of large pointed clover-like leaves, with stems bearing elongated ruby flowers all summer. Highly appreciated by bees. Height: 50cm, Spread: 50cm, June-Aug
Knautia macedonica – This tall scabious produces a continual succession of crimson pincushion flowers throughout the summer. The stems are branched and rather lax – best where it can scramble through other plants. Height: 80cm, Spread: 50+cm, June-Oct
Sedum spurium 'Spot on Deep Rose' is a creeping succulent that colonises dry sunny areas with mats of fleshy leaved stems. The large clusters of bright flowers are quite extraordinary and unexpected. Loved by bees. Height: 15cm, Spread: 60+cm, July-Aug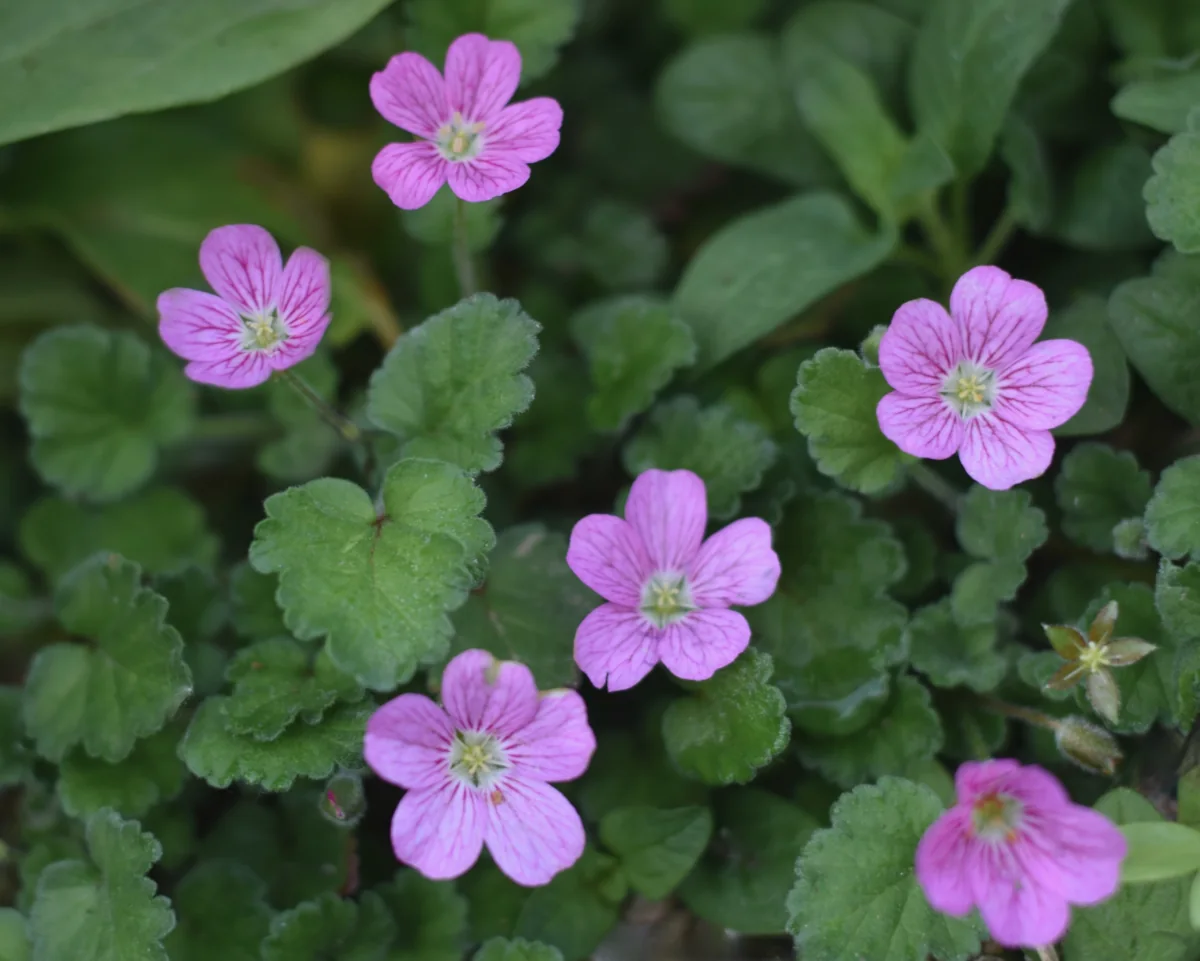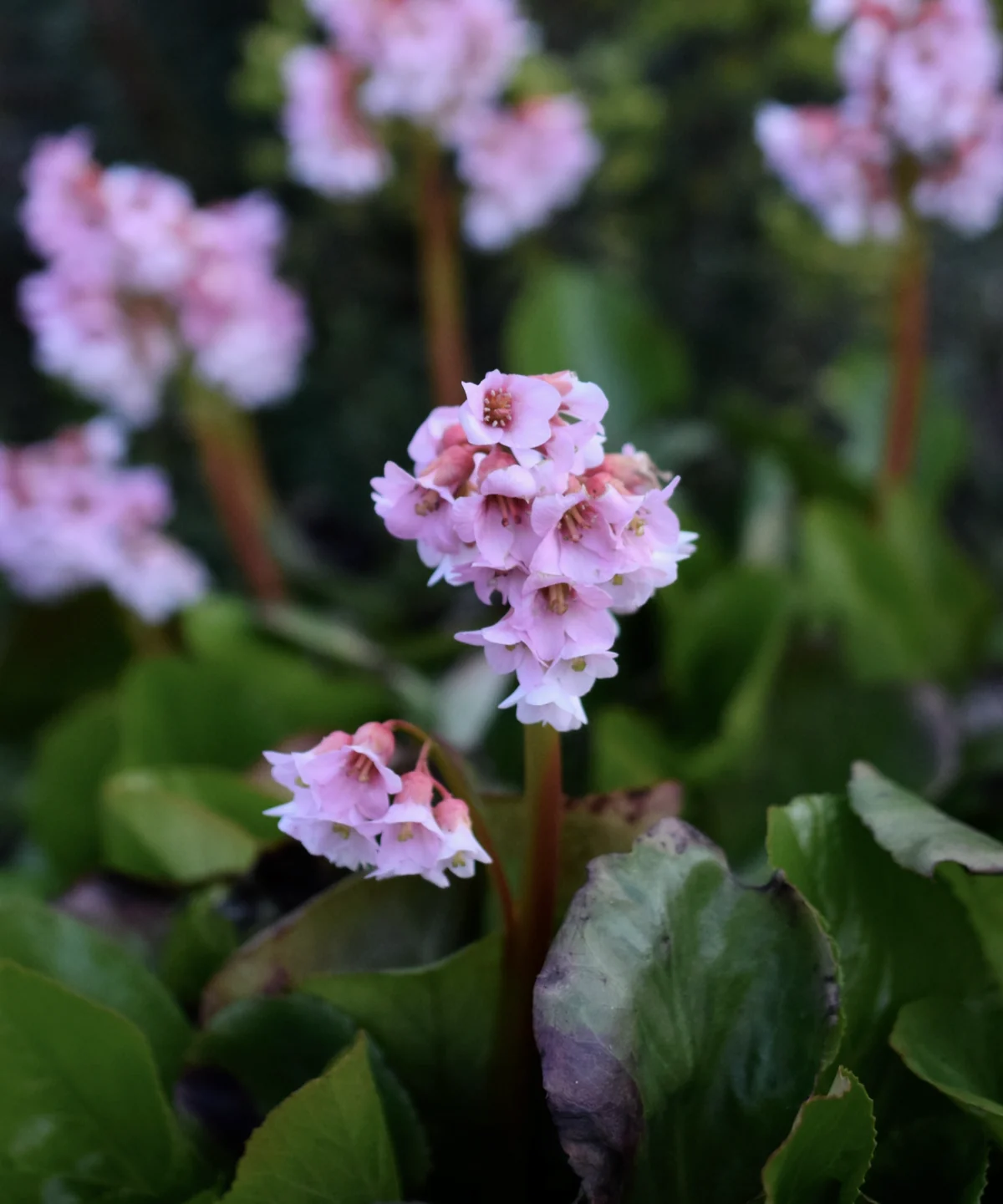 With lilac we arrive at the bluest end of the pink hues. Typically these flowers contain a tad more blue than red, making them hard to classify: are they pink or are they violet? The answer is, it depends. Place them with blues and purples and they look distinctly pink. Against magenta, candy or rose they look blue.
Cosmos peucedanifolius is a perennial cosmos. Borderline hardy, mine has made it through the winter. It grows from a tuberous root, sending up lax stems to 90cm which are topped with a succession of pink-lilac daisies 7cm across . Height 100cm, Spread 50cm, Jun-Oct
Scabious 'Kudo Pink' produces larger-than-average lilac pincushion flowers in profusion throughout the summer above a tight mound of finely divided foliage. Attractive to pollinators. Height 35cm, Spread 35cm, May-Sep
Erodium 'Bishop's Form' is a small, alpine storksbill. It forms a carpet of small soft leaves which in summer is studded with 2cm wide lilac flowers Height: 90cm, Width: 60cm, May-Aug
Geranium palmatum is a dramatic half-hardy perennial. It forms a large plant with beautifully divided foliage from which rise tall stems of purple-pink flowers with red centres. Height 1m, Spread 80cm, May-Jul
Bergenia 'Baby Doll' is a tough perennial with large leathery leaves leading to its common name 'Elephants ears'. Baby Doll is one of the smaller varieties. The flower spikes emerge in April, producing a distinct soft pink effect. Closer inspection shows that the colour is a composite with the bell shaped flowers having mauve and lilac petals, the stems and bracts contribute a rhubarb-red. Height 40cm, Spread 40cm, April-May