"The chief constituent of a garden is the weather"

– Ian Hamilton Finlay
The Scottish gardener-poet Ian Hamilton Finlay — whose enigmatic and inspirational garden Little Sparta I have long admired — has many insightful things to say about gardens. The quote above, for instance, is one I remember from an interview in the 1980's, yet it has stayed with me down through the years, its veracity repeatedly demonstrated in to my own experience.

At one level, of course, the influence of weather is rather obvious: sun and rain not only determine the growth of plants, but drastically affect how we use the garden. Finlay, however, is addressing an altogether deeper aspect of the garden, recognising that the weather contributes much to that indefinable psycho-spiritual aspect of place, mood and moment. Those numerous little epiphanies that raise the importance of the garden above the merely decorative.
---
"Superior gardens are composed of Glooms and Solitudes
and not of plants and trees"
---
Over the last couple of months Finlay's words have returned to me when, on a number of occasions, heavy frost have transformed the garden overnight. Is there anything more magical and rejuvenating in the deathly months of winter, than a hard frost? Doesn't it sharpen the senses and quicken the heart? For me it marks the pinnacle of garden weather (at least in the winter months) being far superior to snow in many ways.

I hold frost such high esteem for its ability to enhance the existing garden patterns and highlight natural forms; in so doing, frost paints the world anew. Snow, for all of its beauty, tends to hog the limelight, smothering features, obliterating detail and drawing the attention to itself. A good frost, by contrast, enhances every plant, twig, leaf and seed head: sharpening details and clothing even the most tired autumn detritus in attire fit for the grandest Pearly King or Queen.

For the photographer, frosts provide endless interest and possibilities. Not only is everything transformed, crystallised and bejewelled, but often the air is luminescent, softer, quieter — especially if it is a little overcast or foggy in the low watery sunlight. The combined effect is that colours are muted, gentle, desaturated, cooler, while shape and structure come to the fore.

Frost opens up a whole new avenue of exploration with a camera. The battered autumn remnants of perennials and the dead twigs suddenly present themselves as brilliant diamond-studded skeletons. Once-dull seed-heads and the last of the faded berries are revivified: dusted with sugar, outlined with light-refracting crystals and icy filigree.

We have had only a half-dozen frosty nights so far this winter (one of the downsides of living so far south) and only three of those mornings remained cold enough for me to get out with my camera before the thaw. But on those days I managed to capture some really good shots (by my standards at least.) In the remainder of this article I'll share some of my favourite pictures and a few more quotations: a photo homage to Finlay and Frost.


⋮
△ The frosty winter stems of Snowy mespilus (Amelanchier lamarkii) are particularly striking against this dark hedge.
▽ This little silver tree is actually a standard gooseberry. It looks rather splendid rising from its clipped box enclosure.
"Formal Gardens are (as it were) statues to Nature."
– Ian Hamilton Finlay
The main garden provided some lovely pastel shots full of pinks and purples. A late rose became crystallised where it hung. Some of the foliage had beautiful frosting.
"Weather is a third to place and time"


– Ian Hamilton Finlay
⋮
The Tundra
The Green Roof on my workshop is its own microcosm. This little 'alpine tundra' is usually at its least interesting in winter as many plants have died back. This year's frost brought it to life again providing some great photographic opportunities
5
⋮
Winter Wanderings
"In the whole of philosophy there is almost no weather."
-Ian Finlay Hamilton
6
⋮
Wistful Wayside
▽ The last of the hedgerow fruits clung to the silver branches like precious jewels. Despite the outward splendour everything was turned in on itself, meditative.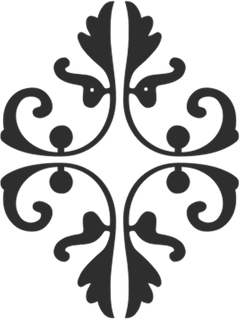 Seed heads were transformed into tiaras. Yesterday they were drab, old, decaying ;Today, they shine as if this was their purpose: what they were made for.
"The dull necessity of weeding arises, because every healthy plant is a racist and an imperialist; every daisy (even) wishes to establish for itself an Empire on which the sun never sets. "

Ian Hamilton Finlay
7
---