Myrtle spurge
Some plants have the ability to just keep giving throughout the season with never a dull moment. The Myrtle spurge (Euphorbia myrsinites) is one such gem having fantastic foliage, flowers and seed pods all with striking colours and forms. Being low and spreading it is great at the front of a border or in a rock or gravel garden setting. Hardy to -10 C.
Height: 4 – 8 in (10 – 20cm) Spread: 1.5 – 3 ft (45 – 90 cm)
Location: Full sun in well drained soil
GEOMETRIC FOLIAGE
One of the first things that strikes you about the Myrtle spurge is its incredible geometric foliage. Its long, unbranching stems are clothed in layered whorls of pointed, shield-shaped leaves spiralling distinctively.
These milky-blue-grey shoots have the look of an exotic succulent and work well alongside Sedums, Alliums, Agapanthus and other plants with a strong, architectural form.
FEBRUARY
Although Myrtle spurge is deciduous, dying down in winter, it gets off to an early start in the spring. In this photo you can see the new shoots that emerged in early February, along with some of the dead shoots from the previous season that have not been tidied up.
Despite it still being officially winter, there are flower buds forming. Other plants in this group include Sedum Dragon's Blood, which is just returning to life, as well as emerging Grape hyacinth leaves.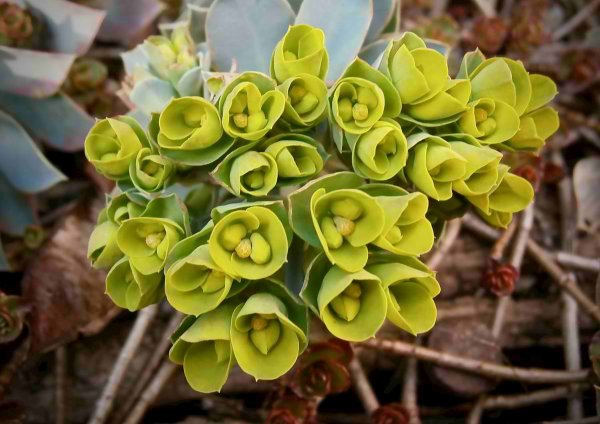 FLOWERS
By mid-March roughly spherical clusters of bright lime-green flowers emerge on the end of the Myrtle spurge's early stems. The flowers are Interesting rather than pretty, but are worthy of close inspection nonetheless. Botanically, these are not true flowers, lacking petals and sepals. Instead the inflorescence is made up of long-lasting bracts.
[Image adapted from Meneerke bloem Wikimedia CC3.0]
MARCH-APRIL
En-mass the lime-green flower heads produce a stunning display which lasts for many weeks from March into April. I have them growing in a gravel area in a green roof, where their zingy colour contrasts with deep violet-blue heads of Grape hyacinths (muscari) which flower at the same time.
This display stands out from a great distance even on the overcast days typical of the English spring.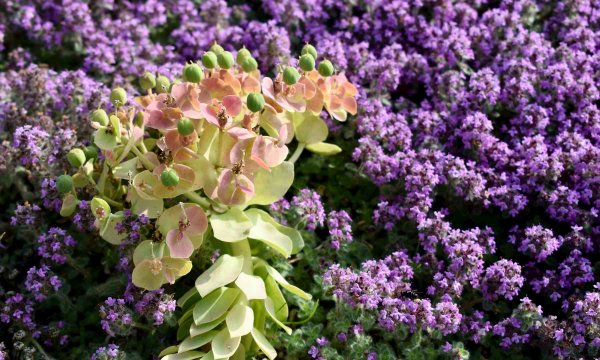 SEEDHEADS
By the end of April the flowers have changed, transforming themselves into branching seed-heads. The bracts take on softer tones of yellow, orange and reds, and green seed pods start to swell.
In this picture creeping thyme (Thymus serphyllum) is at its peak, but the Myrtle spurge continues to contribute so much creating a beautiful colour contribution.

MAY
Throughout May the seed pods swell, creating a striking display of caper-sized glaucous-green pods backed by their fading yellow and orange-tinged bracts.
This photo shows the Myrtle spurge underplanted with red-edged foliage of Sedum Dragon's Blood and silvery-blue shoots of Sedum reflexum, which all manage to live together successfully in the shallow dry soil of this green-roof.
END OF PHASE ONE
As May progresses the seeds fall and the flower heads remain somewhat denuded, but not unattractive. As you can see in this photo, the reddish tinges of the ageing bracts is spreading down into the flowering stems.
This is the end of phase one. The stems that emerged in late January had one purpose: to produce seed. With that stage complete you might expect the season of interest to be over, but no! The Myrtle spurge is just about to shift up a gear and enter its second phase of growth…
JUNE: PHASE TWO BEGINS
By the start of June the Myrtle spurge starts its second phase of vegetative growth, sending strong new shoots out from the base. These fresh new stems job is to photosynthesise and build up the plant's reserves ready for next year.
From the gardener's perspective this means a fresh new stems of geometric foliage to enjoy for the rest of the summer. The new stems spread out across the top of the surrounding fading flowers giving the plant a new lease of life and interest.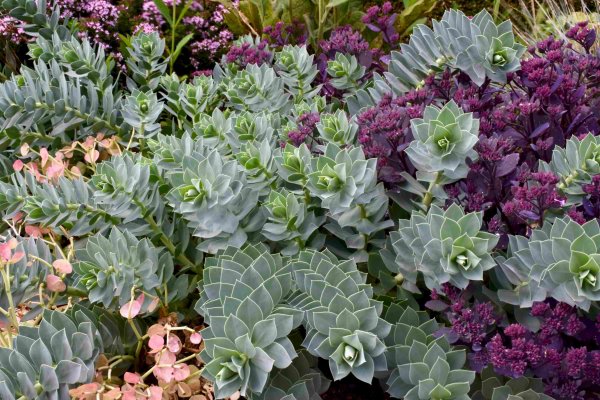 JULY ONWARDS
Here you can see the strong new growth with stems spiralling out in all directions. These shoots are stronger and ultimately will spread further and higher than the first-round flowering shoots.
By August you may want to cut back the flowering shoots. The new foliage will remain handsome until the first frosts. In the winter, the leaves fall off, and the stems die back and can be removed.
SEEDLINGS
Being a wild species (rather than some specialised cultivar) the Myrtle spurge coms true from seed. So, if you are fortunate, you will discover the occasional seedling popping up here and there. In my experience these are always welcome and never a nuisance.
With only one or two appearing each year it is an easy to dig them up if you wish. While young they should be easy to transplant.
WINTER
The shoots that developed in summer persist through the winter months – at least here in the South of England where temperatures rarely drop below -8C they do.
Like many euphorbias, the Myrtle spurge continues to look good throughout the coldest months providing interest and structure in the garden. It looks particularly dramatic rimmed with frost.
Gallery of full sized images