I purchased this bare root, fan trained peach tree (Duke of York) on February 23rd 2020 to train against the south-east facing wall of my unheated lean-to greenhouse.
I had left it rather late to order online finding most suppliers had sold out. But after a bit more internet digging, I came across Southern Fruit Trees. Turns out, they are a fantastic trained fruit tree nursery: a small two man team, growing all of their own stock; knowledgable and dedicated. What's more they are only a 40 minute drive away at Liss, West Sussex. In fact, they are just a stone's throw from Blackmore nurseries where many of my original fruit trees came from. Southern Fruit Trees, it turns out, actually supply Blackmore! I highly recommend this nursery: they are knowledgeable and helpful.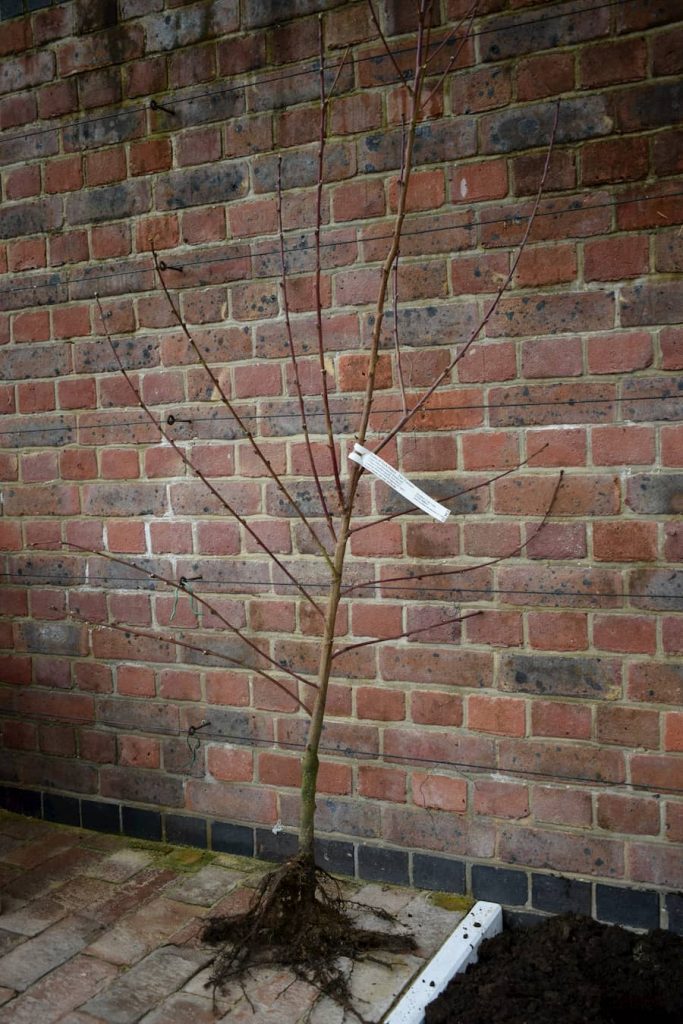 I drove over to Liss and was delighted to find Southern Fruit Trees packed with well grown, and very reasonably priced, fruit trees. A couple of hours later and I was back home with this lithe young fan-trained peach. As you can see it has had excellent initial training with lots of whip branches all laying in a neat fan-shaped plane, ready to plant, prune and tie in.
I dug a good hole, added some Rootgrow mycorrhizal fungi and backfilled with soil enriched with bone meal.
Once in, I cut back each shoot by one third. This stimulates new growth and ensures the framework stays dense. Left unpruned, the new growth would come mainly from the terminal buds leading to a lot of extension growth from the tips of the tree with only weak growth lower down each stem.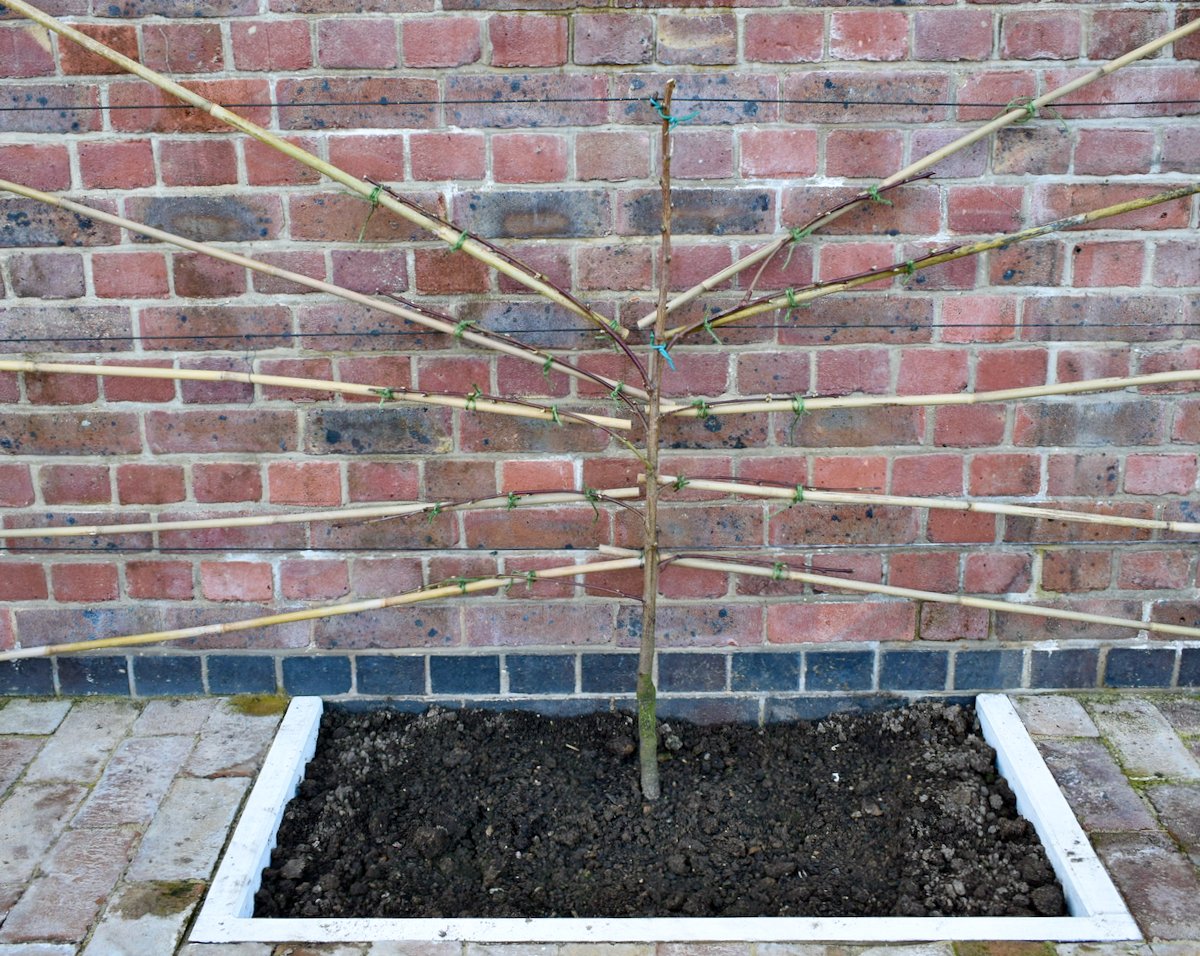 Next, I tied in each shoot to an initial framework of canes. Bending down the branches like this encourages buds to break all along the shoot and ultimately will lead to a bushy and fruitful tree. This early training will set the shape of the tree for years to come.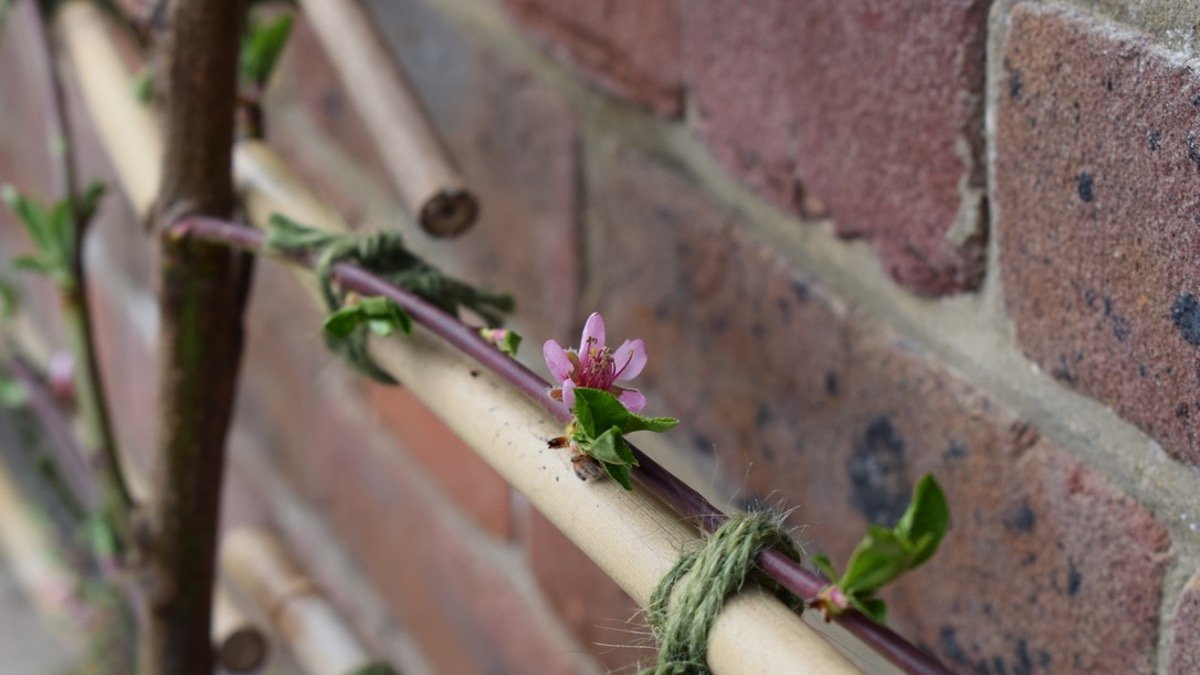 Three weeks later: bud break, and the first flowers appear. If I'm wise I won't let these form fruit this year. But I am tempted to leave a couple.
More to come…
This post will be regularly updated as the peach tree develops and I train it further. Check back regularly!