I purchased this tree as a bare-root, part-trained fan, on February 23rd 2020 to grow against the south-east facing wall of my unheated lean-to greenhouse.
I had left it rather late to order online finding most suppliers had sold out. But after a bit more internet digging, I came across Southern Fruit Trees. Turns out, they are a fantastic trained-fruit tree nursery: a small two man team, growing all of their own stock; knowledgable and dedicated. What's more they are only a 40 minute drive away at Liss, West Sussex. In fact, they are just a stone's throw from Blackmore nurseries where many of my original fruit trees came from. Southern Fruit Trees, it turns out, actually supply Blackmore! I highly recommend this nursery: they are knowledgeable and helpful.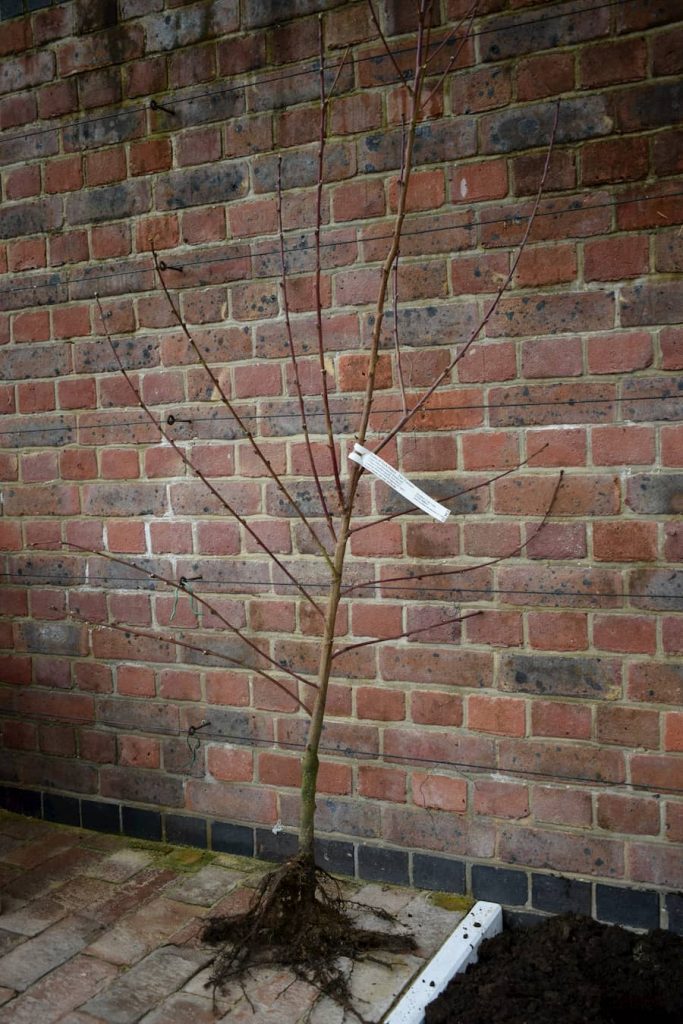 I drove over to Liss and was delighted to find Southern Fruit Trees packed with well grown, and very reasonably priced, fruit trees. A couple of hours later and I was back home with this lithe young fan-trained peach. As you can see it has had excellent initial training with lots of whip branches all laying in a neat fan-shaped plane, ready to plant, prune and tie in.
I dug a good hole, added some Rootgrow mycorrhizal fungi and backfilled with soil enriched with bone meal.
Once in, I cut back each shoot by one third. This stimulates new growth and ensures the framework stays dense. Left unpruned, the new growth would come mainly from the terminal buds leading to a lot of extension growth from the tips of the tree with only weak growth lower down each stem.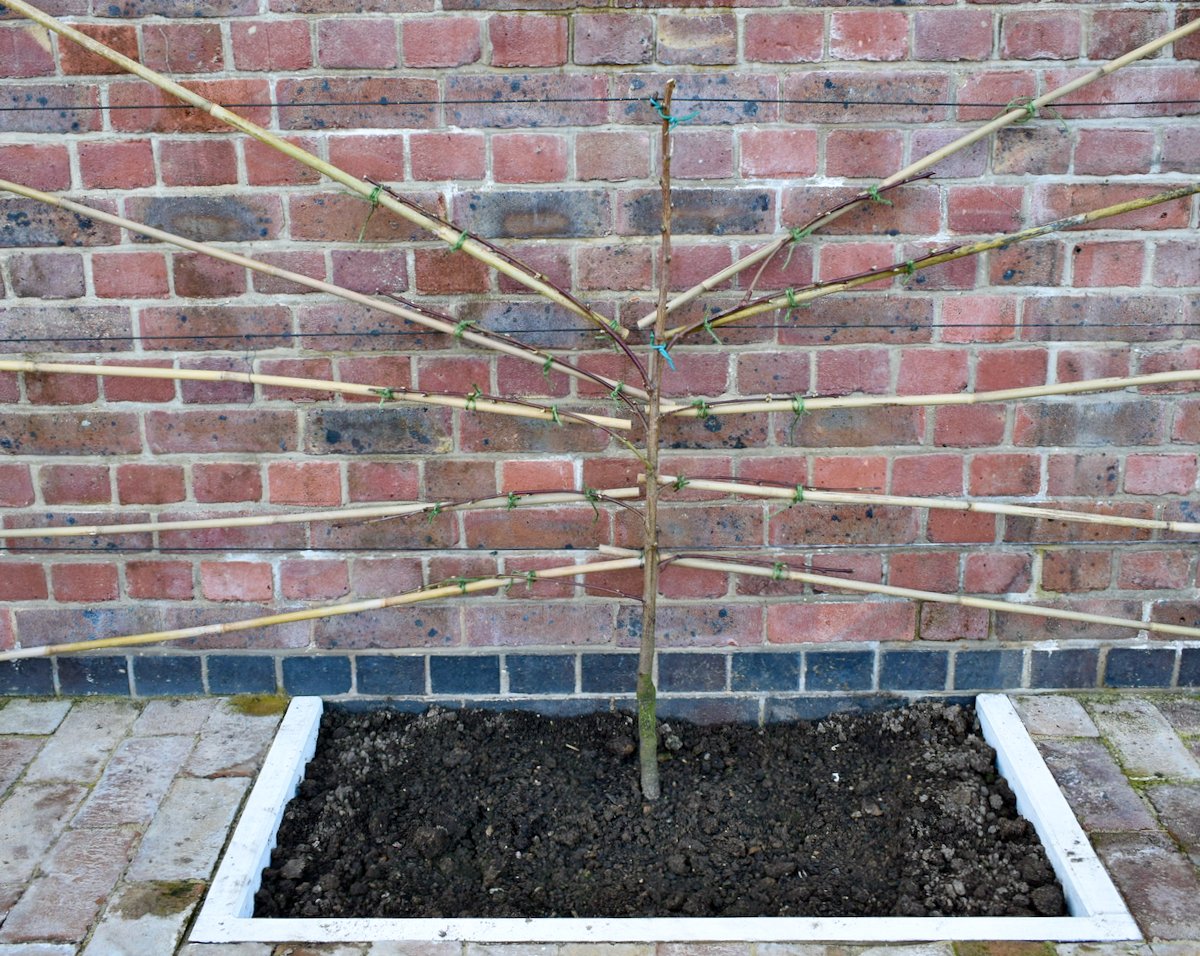 Next, I tied in each shoot to an initial framework of canes. Bending down the branches like this encourages buds to break all along the shoot and ultimately will lead to a bushy and fruitful tree. This early training will set the shape of the tree for years to come.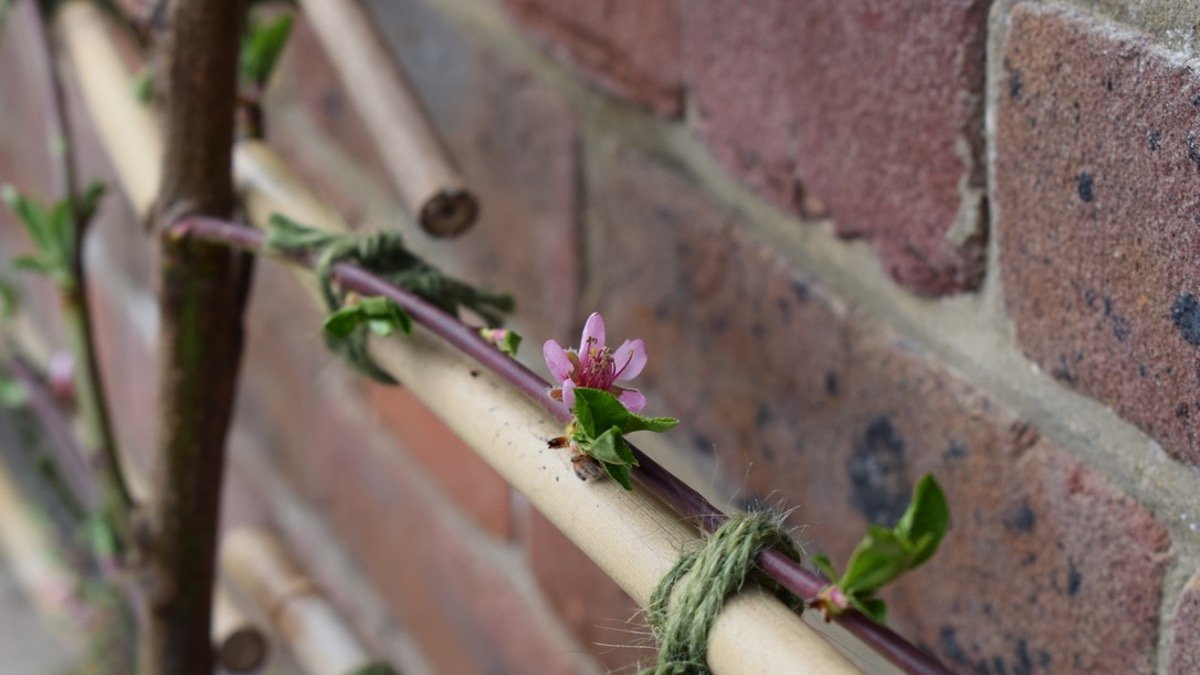 Three weeks later: bud break, and the first flowers appear. If I'm wise I won't let these form fruit this year. But I am tempted to leave a couple.
MAy 2020 [update]
By early May, there were many shoots emerging from the side branches. As expected the strongest shoots come from buds closest to the main trunk and closest to the top. Later, these will need cutting back and/or tying in.
June 2020 [Update]
By mid-June the new shoots were pushing forwards into the greenhouse and the whole thing looked more like a shrub than a wall-trained tree. I cut out most of the long vigorous shoots that emerged close to the trunk, including the new 'central leader' which was trying to take over. It was 3ft long and had many strong side branches! I should have taken a 'before' photo so you could see what I mean, but I didn't think of it at the time, so here is the 'after' photo…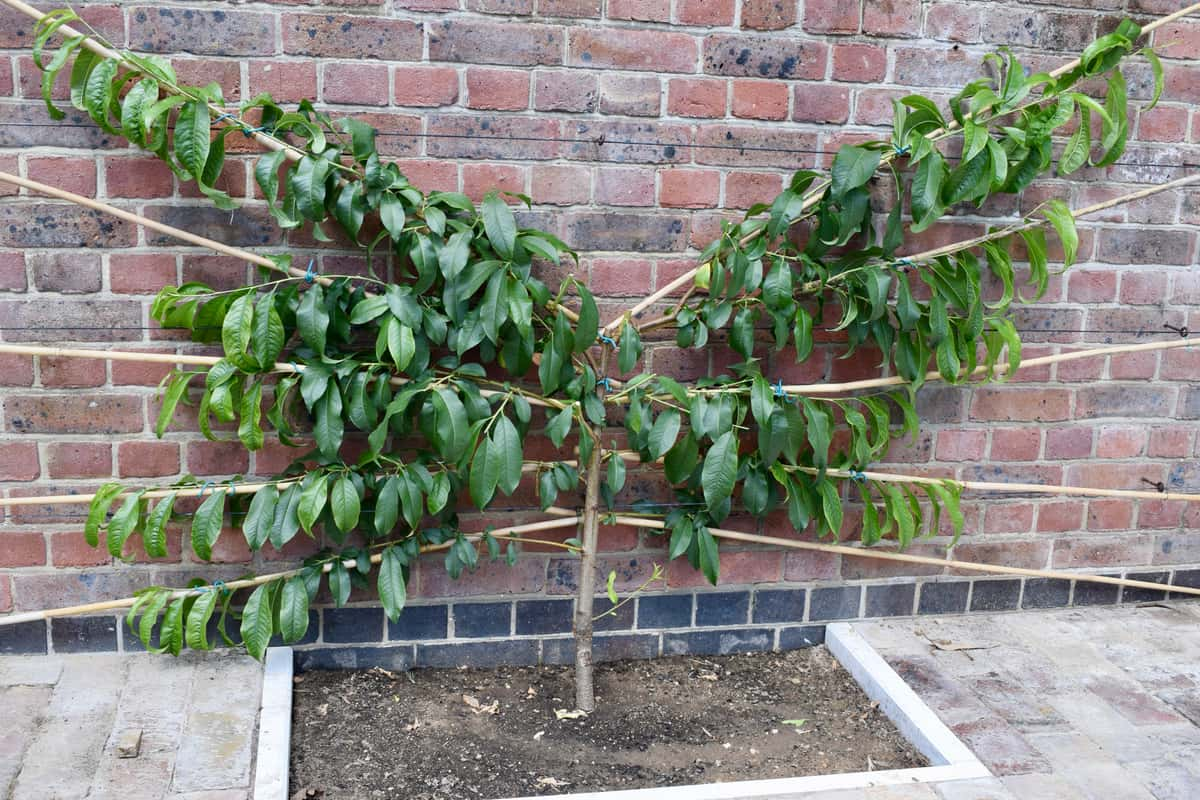 I then tied in the new extension growth that had sprouted from the tips of the shoots that I had previously trained on the canes. Looking at how the fan is developing it is obvious that the bulk of the energy has gone into the top branches, and the lower ones have grown the least. This is why traditional fans start with just two branches — one either side — to prevent the upper branches dominating. Whether this will actually be a problem in the long run, I don't know. To some extent, fruit training is always an experiment, so watch this space!
Peach Fan — pruning plan
Establishing the framework
(first few years)
As explained above, I started with a partly trained fan, which already had several side shoots. I had to make a decision whether to cut this down to just two side branches (one on each side) or to retain more. I opted for the latter, and trained in five branches on either side. This may not have been a good idea – time will tell – as the upper branches will tend to be the more vigorous and in time the lower ones may decline in vigour, potentially leaving unfruitful areas of wall lower down. I tend to counter this possibility by keeping all shoots at a low angle for the first few years to reduce the vigour.
At this stage my aim is to create a well-balanced framework of permanent branches which spread as far to each side as possible. This involves the following steps:
In summer remove any shoots that are growing from the main trunk or from the lower part of side branches close to the main trunk. (These can be cut back to two leaves or taken right back to their base)
Remove any shoots that are growing towards the wall.
Tie in extension growth (shoots that have grown from the ends of the main branches) to the canes.

As the main branches get longer there will be space to create additional framework branches which fork off above and below to use the extra wall space:

Choose strong shoots (e.g. one above and one below the main branch) and tie these in to new canes so that they continue the framework, filling in space between main branches. Aim to keep their angle below 45degrees if possible.
Any remaining side shoots can be tied in as fruiting branches for next year. They can be shortened by one third.
Renewal / Replacement Pruning for fruit
(subsequent years)
Once the main framework is established pruning will switch to 'replacement pruning' which is the method used for peaches. Peaches fruit on last year's shoots, i.e. on one year old wood. Therefore, once a shoot has produced fruit, it is unlikely to do so again. The requirement, therefore, is to remove shoots that have produced fruit and tie in new fresh shoots to replace them.
So the routine will become:
After harvesting, cut out shoots that have produced peaches, cutting them back close to a new vigorous shoot.
Tie the young shoot into the framework in place of the one that had fruited. It will fruit next year.
Late JUne 2020
Well that was a surprise! I was checking the leaves to make sure they didn't have any insect pests… and they didn't… when I spotted this little fella…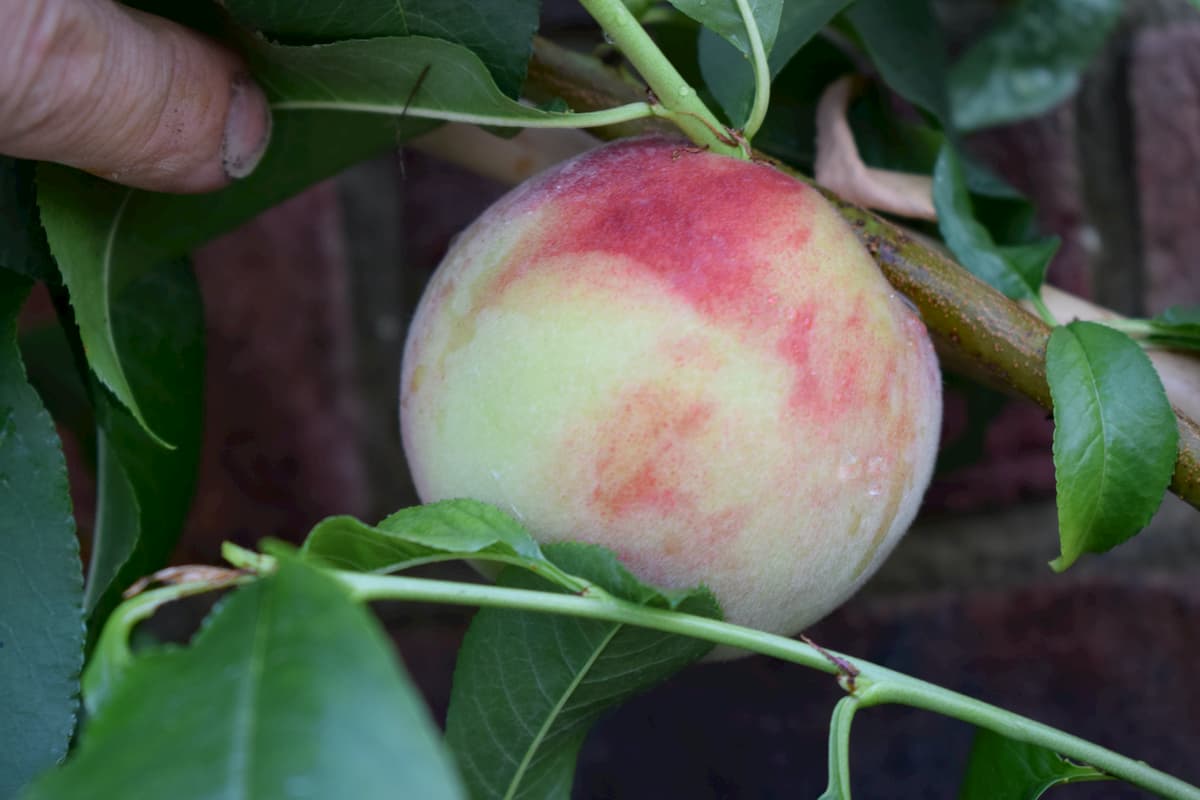 How did I not notice this a couple of weeks ago when I did the summer pruning?
JULY 2020
July 7th: it's ready. So proud… had to take lots of photos…
It proved to be every bit as delicious as it looked. It was very juicy and overall delicious – as good as any shop bought peach. The only negative was that it was a bit uneven with one side being rather over-ripe and the other side being a bit under ripe. I think next year I need to cut or tie back foliage that shades the fruit so the sun can get to it more evenly.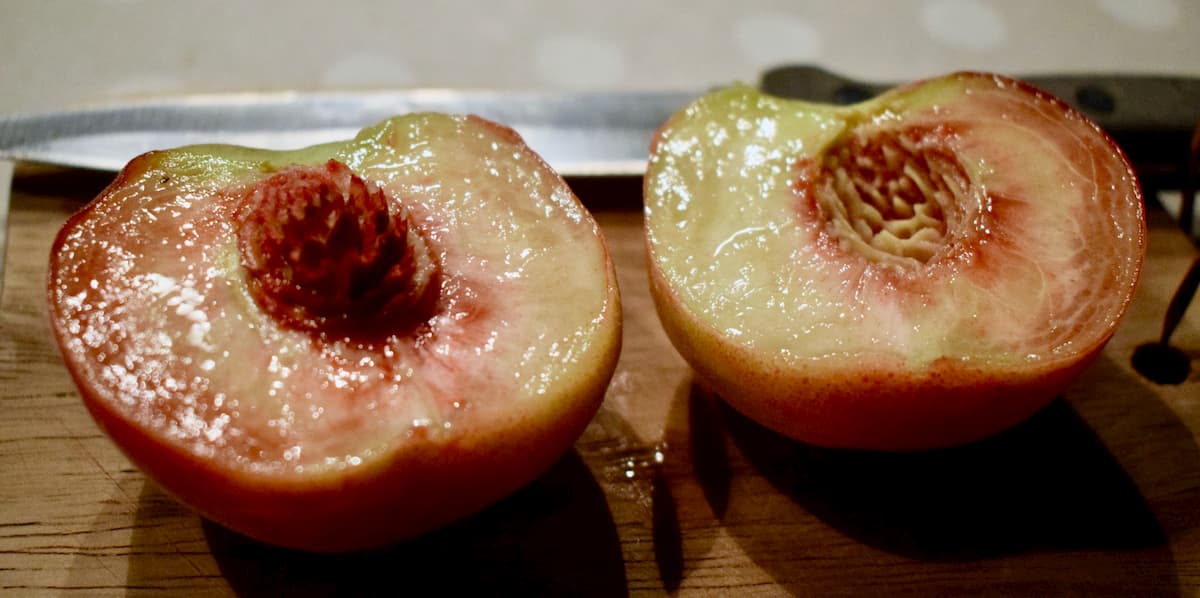 SPRING 2021 [Update]
One year after planting it, here's how it's doing…
March 2021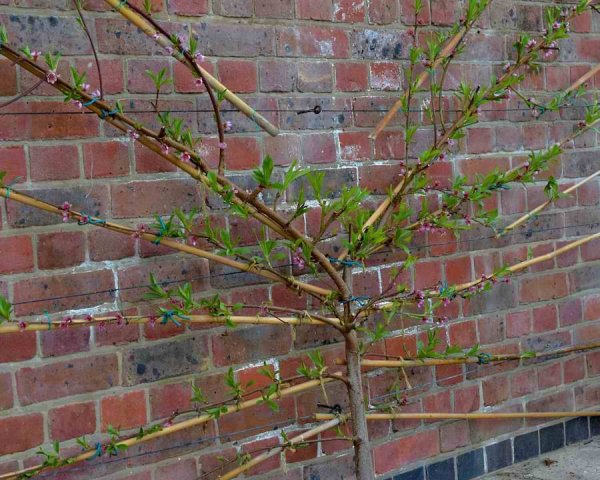 April 2021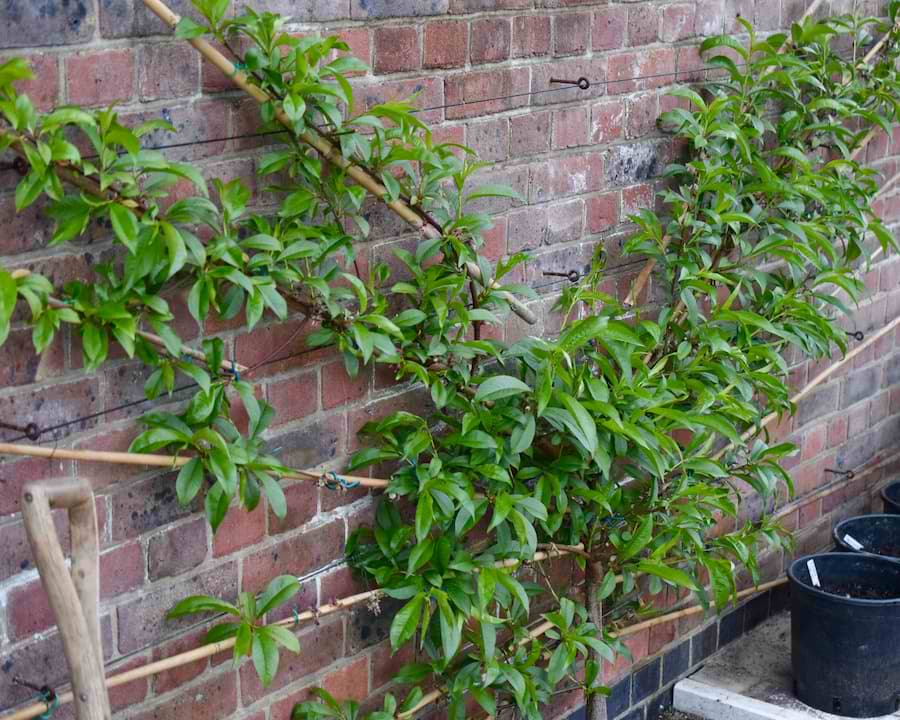 Over the next six weeks the peach put on a huge amount of growth, with shoots projecting forwards up to 3 ft from the wall. You couldn't see the structure and the young peaches were totally hidden.
MAY 2021 – belated pruning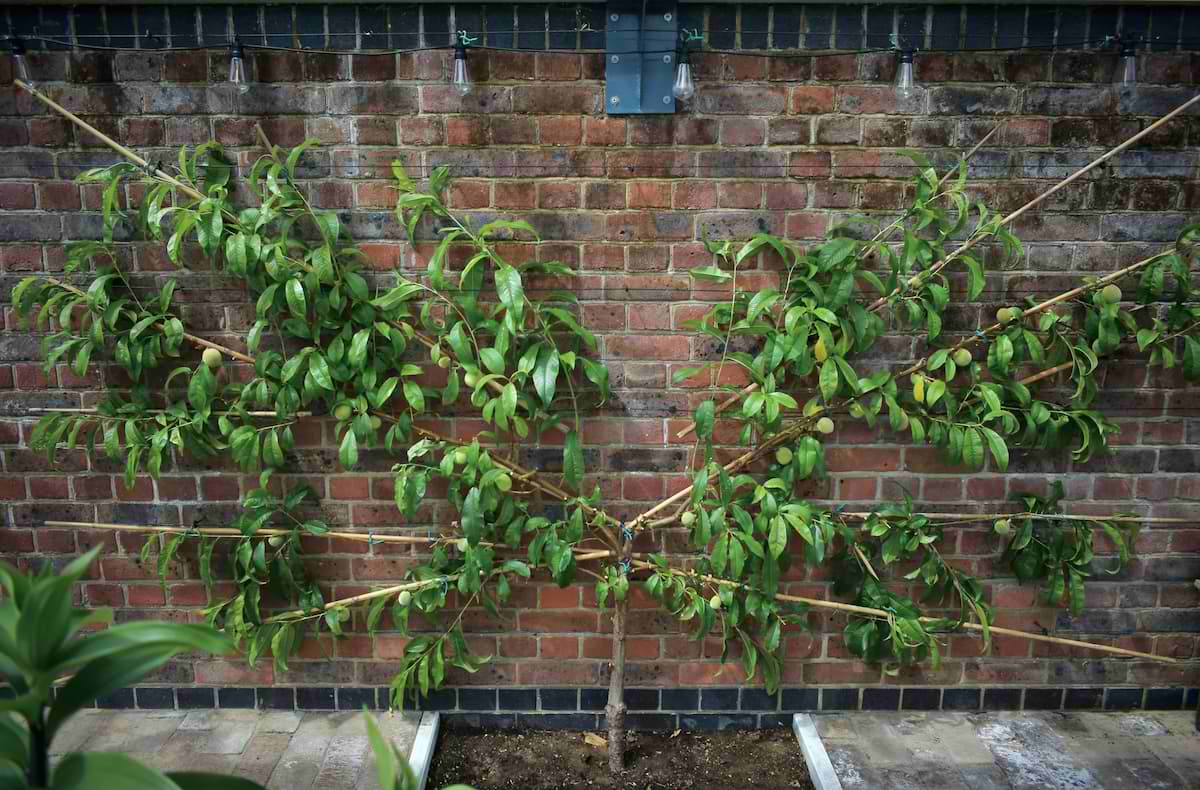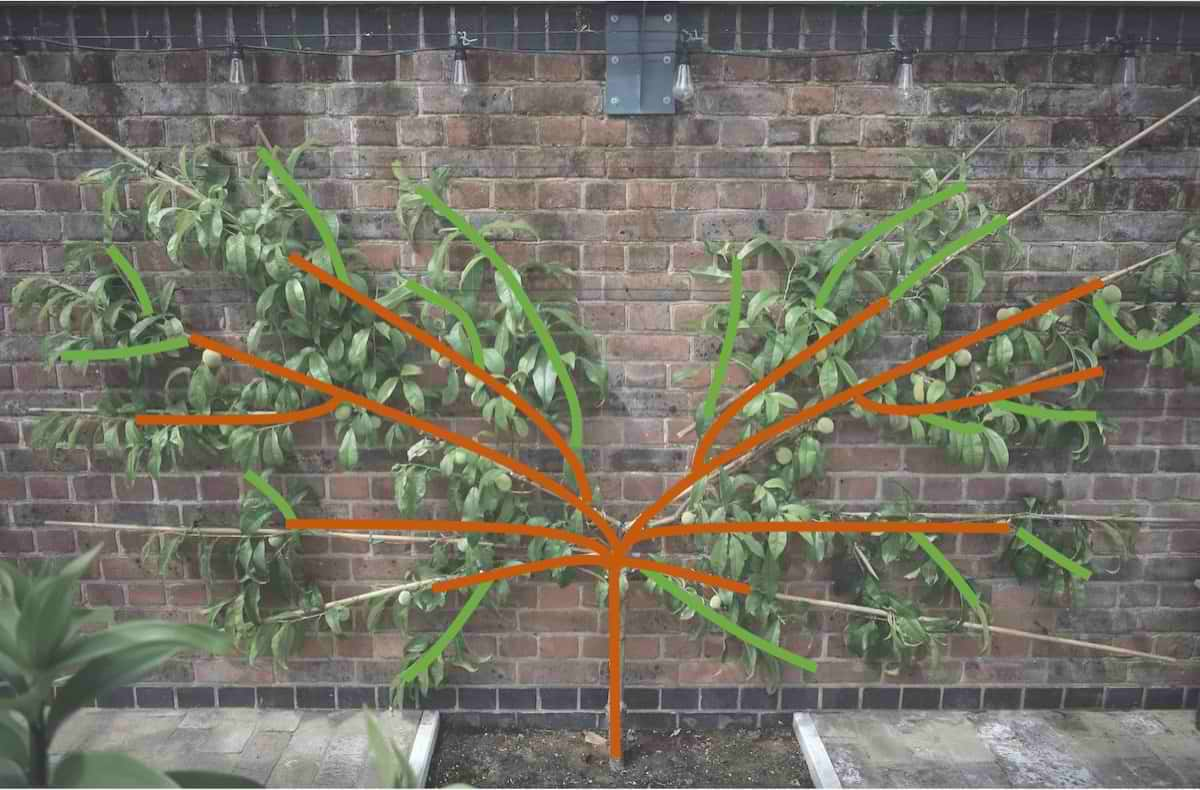 The diagram above aims to explain the pruning logic. The orange branches are what I am planning to keep as the permanent framework. Each year, after harvest, all fruiting branches will be cut back to this framework. The green branches are this year's shoots which were selected in the spring pruning session (all other shoots were removed at that point). These green replacement shoots will produce next year's fruit benefitting from the space created when I remove this year's fruiting branches (ie. the branches not coloured green or orange int he diagram)
July 2021 – Summer Pruning
By July there were many short side shoots that had developed along the framework (orange) and especially on the replacement shoots (green). I reviewed the structure, tied in the main replacement shoots (the green ones in the previous diagram) and cut back all the secondary side shoots to one or two leaves.

July 2021 – HARVEST
The peaches are coming up to harvest. I need to keep checking them every day or two. When they are ready they will separate from the branch easily. (That's the theory anyway!)
More to come…
This post will be regularly updated as the peach tree develops and I train it further. Check back regularly!