Pulsatilla vulgaris
Flowering profusely on my green-roof at Easter this year
The Pasqueflower — Latin name Pulsatilla vulgaris — is a rare wild flower of the UK being found now on just a few chalk and limestone grasslands. Known as the 'anemone of Passiontide', it flowers briefly but dramatically, in April, often at Easter or 'paschal', the feast of passover. In my garden this year it arrived on cue, at was at its best over the sunny Easter bank holiday, producing a glorious display and allowing me to capture some wonderfully detailed photos of it looking its best.
The flowers are large, blousy and ridiculously delicate. Each bud opens from a necklace of fine-fingered, downy foliage, before extending its stem upwards, like a swan lifting its neck. Perhaps this is behind one of its folk-names: gosling.
As it lifts its head, the flower passes through an entire lifetime in a fleeting few days with each bud expanding to the full-flowered two inch egg-cup, filled with golden stamens, before wilting, shrinking and transforming into a papery brown wrapper from which the seed head begins to emerge. You can see it in all of these stages in the photo above.
The dynamism of this plant is remarkable. As well as progressing from bud to seedhead, these wind-flowers (as they are also known), change with the weather, closing when the skies are grey, and hanging forlornly when rain weighs them down. Sun worshipers, they seem to positively beam towards the heavens. In my garden they thrive on the sun-baked green roof where the thin soil (3 in, 8cm) is much like the shallow turf found in their downland habitat.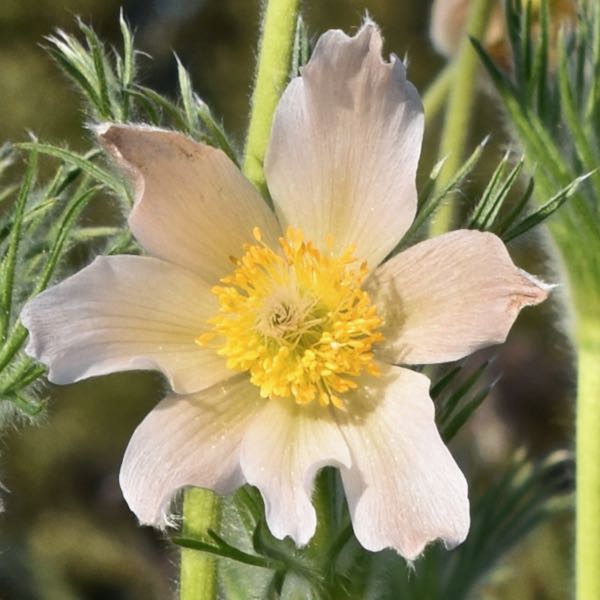 As well as the wild purple colouration, garden varieties of pasqueflower come in white and crimson. Listed as growing to 25cm mine reach 35cm cm and have formed robust clumps up to 60cm across. Despite their brief flowering period I consider them five-star performers in the alpine garden. So happy are mine that they have sometimes put on a second show in August.
Pasqueflower Photo Gallery
There is a pleasing amount of detail in these photos, so I recommend viewing them at full screen on a desktop or Retina display.