This year I have added two herbaceous clematis to my garden. Herbaceous clematis die down each year making them particularly easy to maintain. They are, however, non-clinging, so need support.

Herbaceous clematis range in height from 0.5 to 2.5 metres, and come in many colours and flower forms. As a group they have several garden-worthy characteristics that make them worth considering.
Firstly, they tend to have a long flowering period, from June until September.

Secondly, they are easier to manage than most clematis, having the simplest pruning regimen (group 3)
Most herbaceous clematis grow from a permanent woody base at or below ground level. New shoots sprout from this base each spring, typically bearing flowers from mid-summer onwards. All of these shoots die back at the end of the year.
Pruning is, therefore, a simple matter of cutting back the entire plant to approximately 6 inches from the ground in late winter or early spring (Feb/Mar).
Within the herbaceous clematis group, there are two subgroups. The first are short-growing and suitable for the border, where they behave like large, somewhat sprawling perennials — great where they can lean or weave through adjacent plants and shrubs. These typically grow to a height of around 1m (3ft), depending on the variety.
Then there are the taller herbaceous clematis, which are best used as climbers. These grow to 2m or more, but require tying-in to a suitable support such as wires or a trellis. Alternatively they could be grown through a suitably open shrub or climbing rose which may offer sufficient support.
SHORTER, BORDER TYPE
Clematis tubulosa group (0.5-1 m)
Clematis integrifolia group (1-1.5 m)
Clematis heraclifolia group (0.5-1 m)
Clematis recta 'Purpurea' (1-1.5 m)
TALLER, CLIMBING TYPE
Clematis × durandii (1.5-2.5 m)
Clematis 'Arabella' (1.5-2.5 m)
Clematis 'Alionushka' (1.5-2 m)
Clematis × diversifolia group (1.5-2.5 m)
1
⋮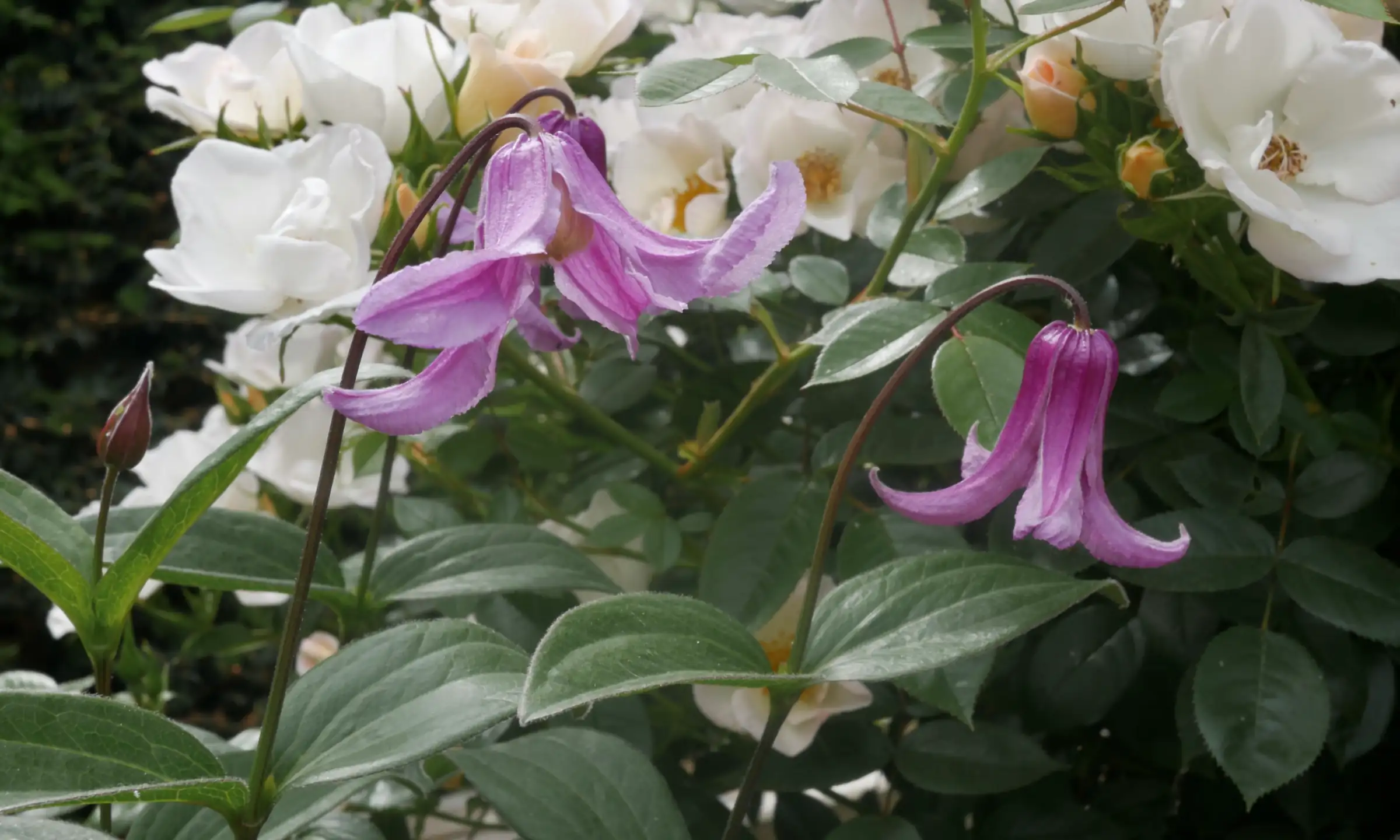 perennial
3ft (90cm)
3ft (90cm)
pink
Jun-Sep
full/part sun
average soil
hardy (-20C)
Clematis 'Pangbourne Pink'
This is a variety of C. integrifolia, which should grow to a maximum height of 1m. The nodding, dark-pink, bell shaped flowers are about two inches across (5cm). These appear on the ends of fairly stiff upright shoots bearing oppositely paired dark green pointed leaves — quite unlike the familiar clematis leaves.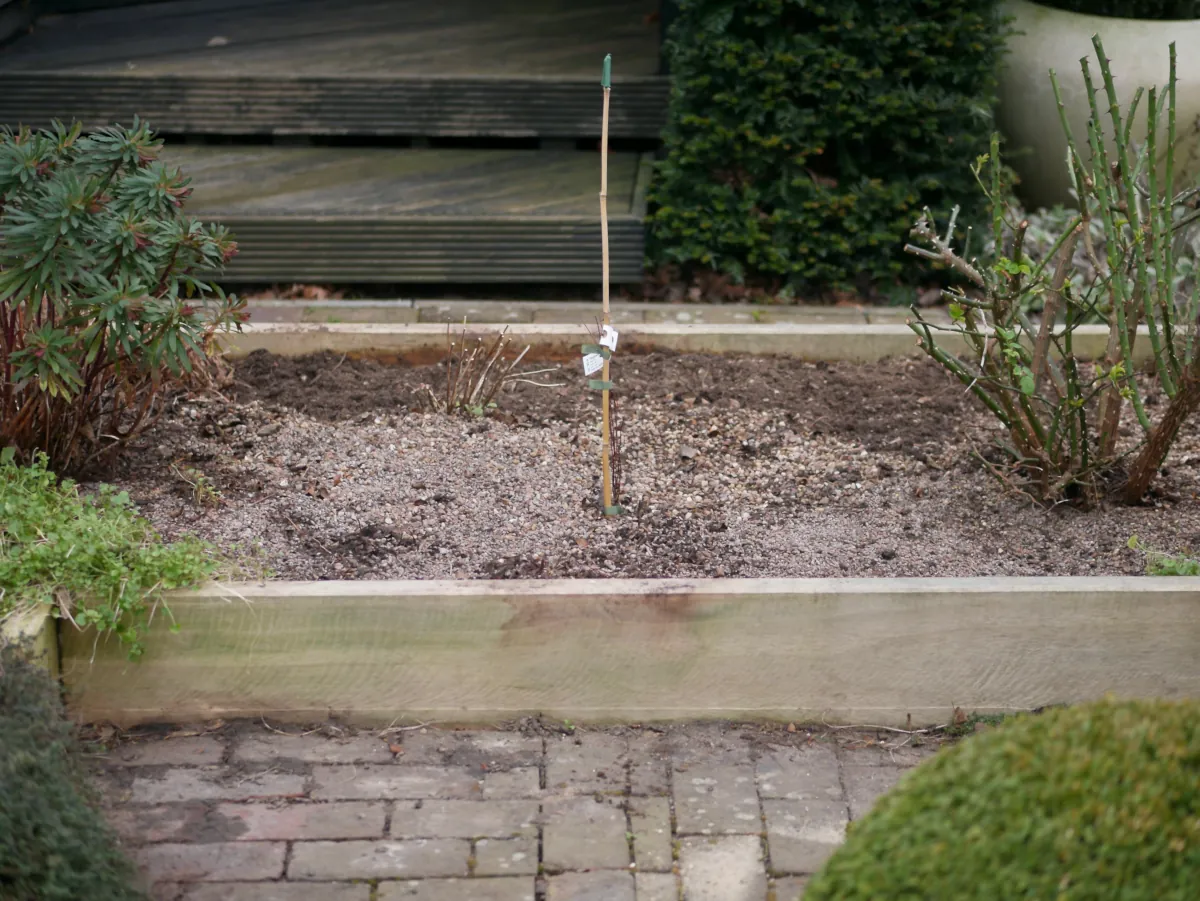 UPDATE: August 2023
Throughout July, the stems continued to grow, branching from either side of the previous flowers. By mid-July a second flush was in flower, continuing for a couple of weeks. As you can see in the first photo, they are flowering at the same time as Aster × frikartii 'Mönch' which they complement perfectly. Also, I added a small chestnut hurdle to act as a support.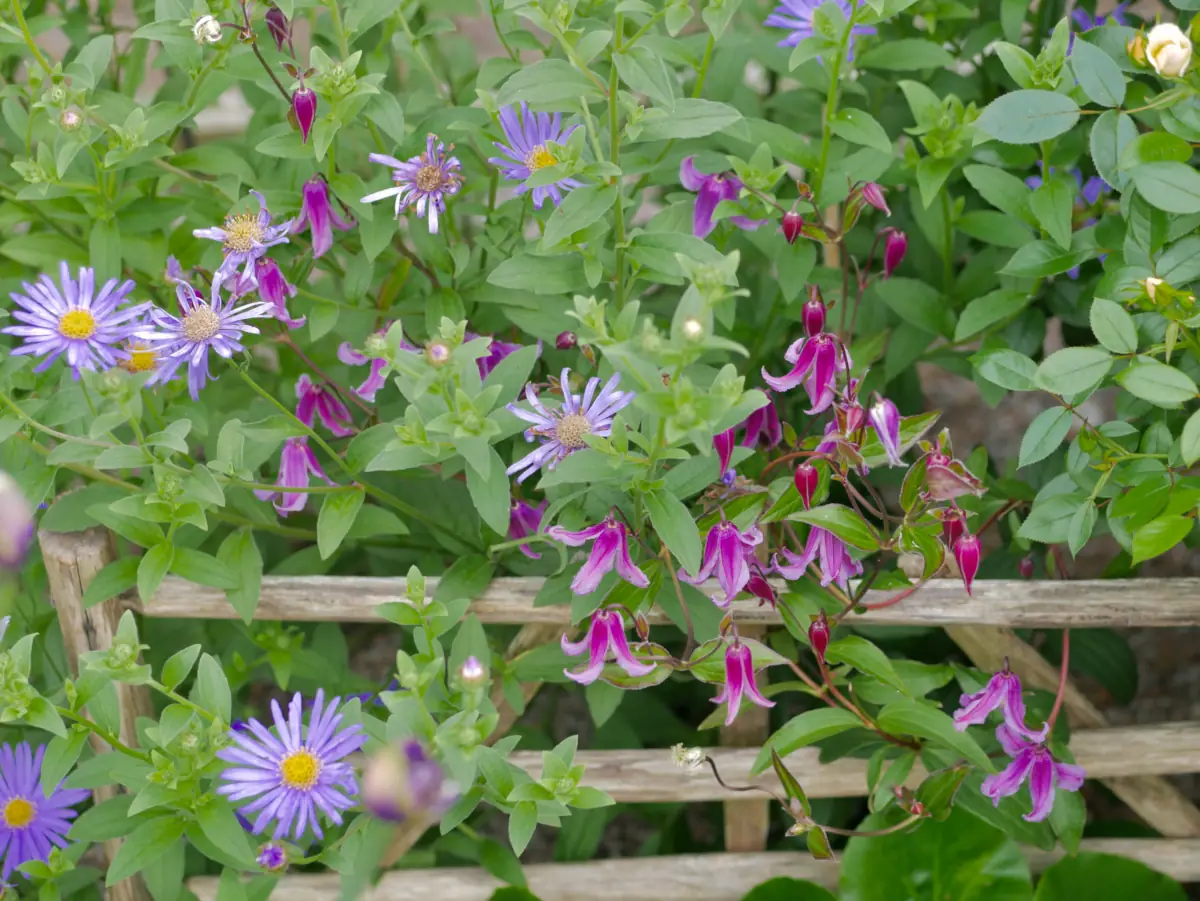 2
⋮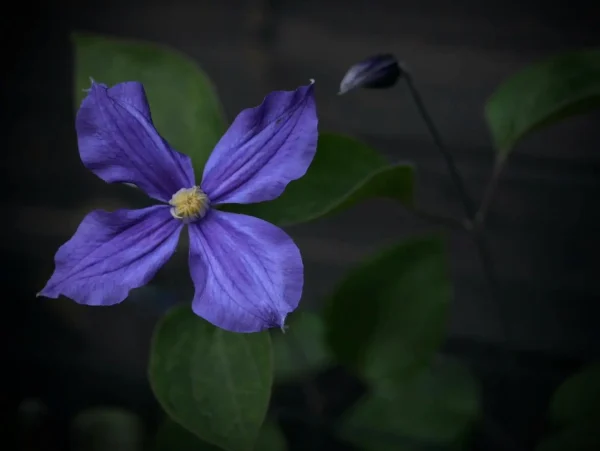 perennial
6 (2m)
3ft (1m)
indigo blue
Jun-Sep
full/part sun
average soil
hardy (-20C)
Clematis x durandii
This herbaceous clematis is the result of a cross between Clematis jackmanii and Clematis integrifolia, gaining the height from the former, and the non-clinging stems of the latter. It should grow to 2m height. I have planted it in a gap on my fence, where I can tie its shoots to the horizontal support wires. Being a young plant, it only reached 2ft high in its first summer, but produced four lovely violet-blue flowers in June. Most of the flowers were four-petalled, but one had five (see below). It contrasts beautifully with the salmon pink rose 'Sweet wonder' which it will grow up alongside.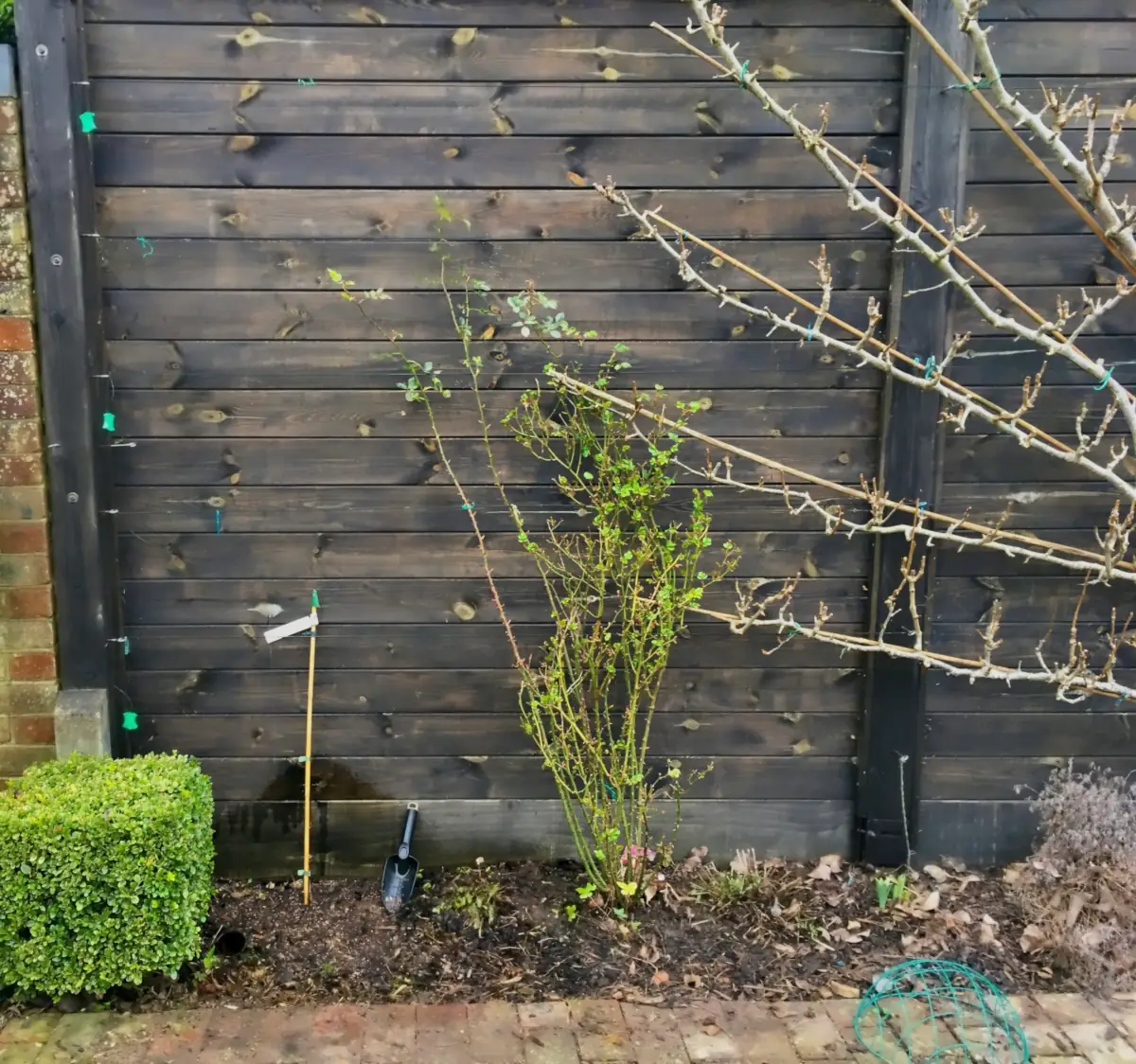 UPDATE: August 2023
Like C. 'Pangbourne Pink' (see above), after their first flush of flowers, the stems of C. Durandii branched and continued to climb. I tied them in as they mounted another three feet. By mid July they were producing a second flush of buds. These opened and flowered for much longer than Pangbourne Pink, continuing throughout August. In the photos below, you can see that they produce four, five and six petalled flowers of a deep violet that looks wonderful with the salmon-pink blooms of Rosa 'Sweet Wonder'.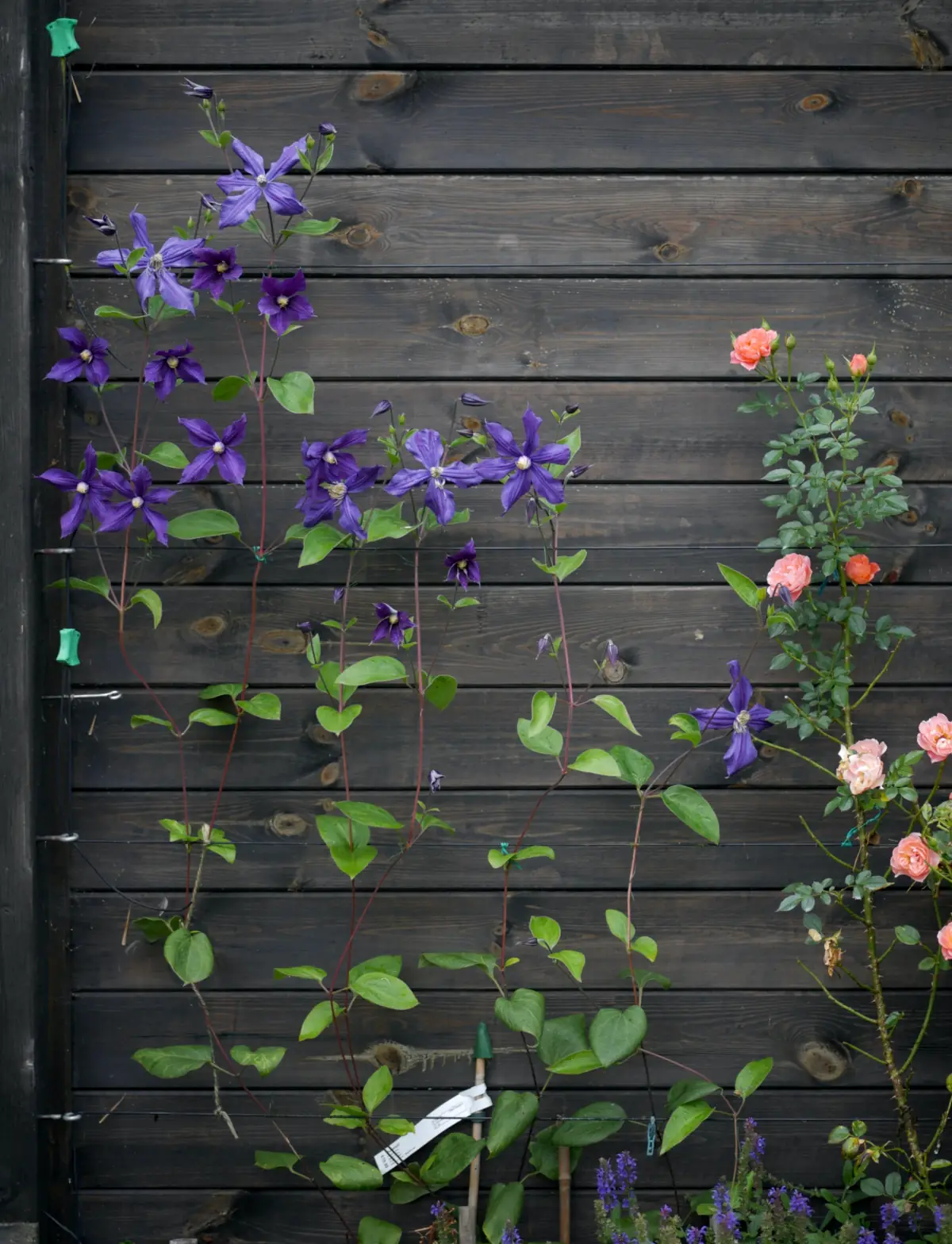 These photos were taken in mid-August, and you can see that there are many new buds yet to open.
3
⋮
This post will be updated as the plants develop