Many popular perennials, such as tulips, foxgloves, peonies, iris, salvia, thyme and tall alliums, finish flowering soon after mid-summer.
Keeping the herbaceous borders looking good through August and September can be a challenge.
Here are 22 late-summer perennials that can help extend the season and keep the garden colourful right into autumn.
All of these plants have performed brilliantly in my West Sussex garden over the last few years.
(All photos from my own garden)
African Daisy
(Osteospermum )
These daisies come in a huge range of colours and produce lots of late season flowers over neat evergreen foliage. Most are half-hardy, so best in pots that can be protected under glass in the winter. There are a few hardy varieties in mauve, pink and white, which form mats on well-drained soils. (↑30cm,↔50cm)
May – Oct ○
Tick seed
(Coreopsis verticillata 'Moonbeam')
A tough but delicate looking perennial that flowers continually from June until late summer. The yellow daisies are held atop fine thread-like stems. The plant has only small basal leaves creating a feathery look. It spreads slowly outwards forming a colony (↑40cm,↔40cm)
Jun | Sep ○◐
Coneflower
(Echinacea 'White Swan')
Echinacea has become deservedly popular for its magnificent display of late-summer daisies with their iconic central cones. It can now be found in a wide range of colours including pinks, mauves, reds, oranges and yellows. I grow a white variety. They need space (hate crowding) and half a day of sun. (↑60cm,↔60cm)
Jun – Sep ○◐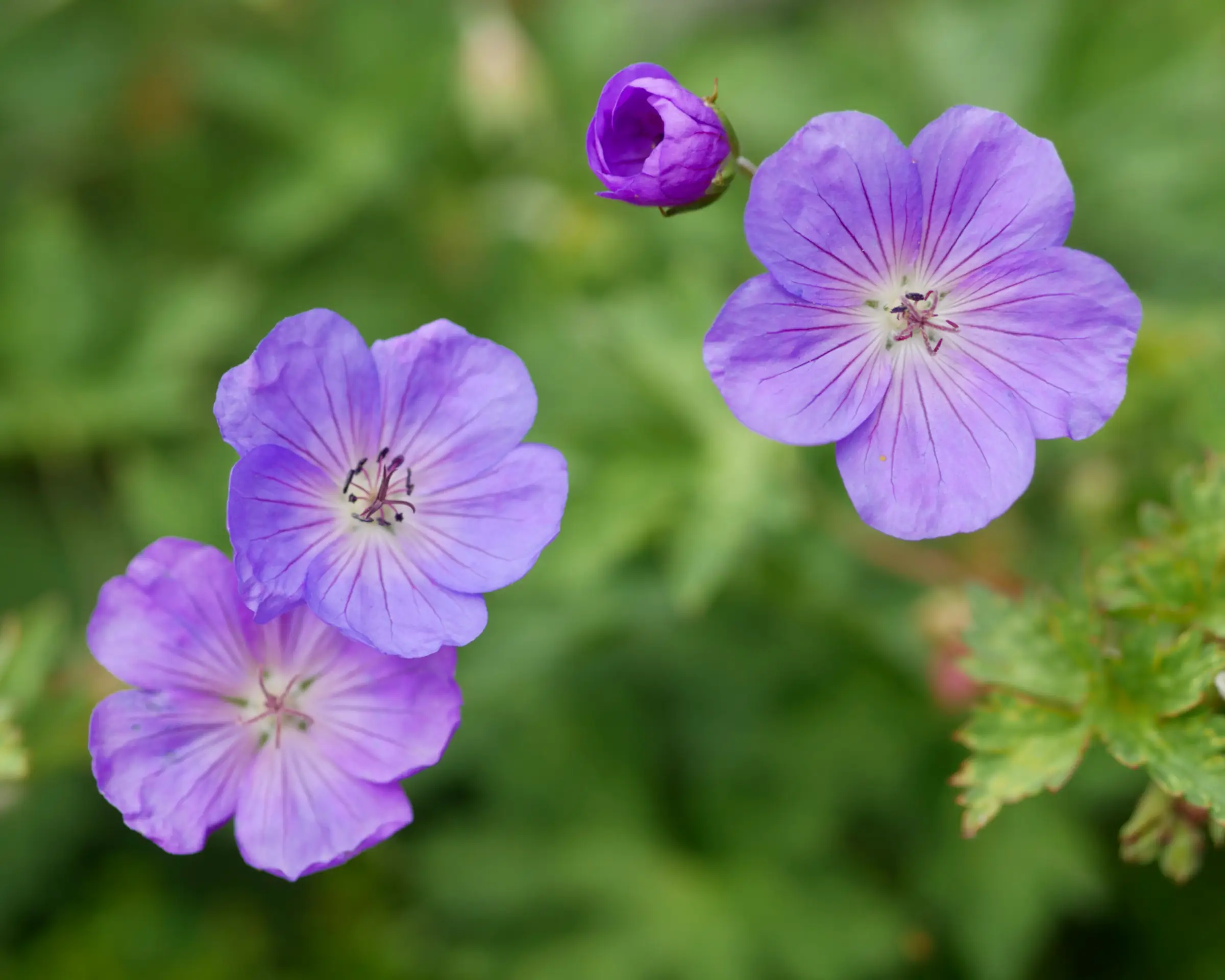 Cranesbills
(Geranium 'Rozanne')
I grow several cranesbills that flower from mid-summer through to Autumn. Violet-blue 'Rozanne', above, is the largest. G. sanguineum striatum (pale pink), G. nodosum has small mauve flowers but grows well in shade, G. pyrenaicum 'Bill Wallis' is a deep purple on thin rambling stems. (↑50cm,↔80cm)
Jun – Oct ○◐
Clematis
(Clematis x durandii)
This herbaceous, non-clinging clematis needs to be grown where its tall, lax stems can be supported or tied in. Given a spot with its head in the sun it will produce flowers throughout late summer and early autumn. These are followed by attractive golden seed heads. (↑220cm,↔80cm)
Jul-Sep ○◐
Cape foxgloves
(Penstemon 'Plum Jerkum')
Long-flowered border Penstemons produce foxglove-like flowers on tall spires above bright green foliage. I have grown the dark maroon 'Plum Jerkin', blue-black 'Raven' and the curious violet-blue 'Sour Grapes'. Unfortunately, they can be rather short lived and winter losses are common. (↑70cm,↔60cm)
Jul – Oct ○◐
Cosmos
(Cosmos peucedanifolius)
Closely related to Dahlia, Cosmos flowers from mid summer. Perennial varieties come in lilac-pink (C. peucedanifolius) or dark maroon (C. atrosanguineus). Then there are the annual bedding varieties which have extra large flowers, available in a range of pastel shades. All are loved by bees. (↑50cm,↔40cm)
Jul-Oct ○
Mönch Aster
(Aster × frikartii 'Mönch')
All of the michaelmas daisies provide late season flowers, but none start as early nor go on for as long as Mönch. I find it fits in with summer perennials better than other asters, appearing more at home and less 'autumnal'. The cheery daisies are loved by bees and butterflies too. (↑60cm,↔60cm)
Jul – Oct ○◐
Slender vervain
(V. rigida 'Santos Purple')
This is a wonderful verbena, flowering for months on end while attracting many pollinators. Not particularly hardy, but like the taller V. bonariensis, it self-seeds reliably in my garden, coming back year after year. Seen here with late flowering Allium senescens glaucum. (↑40cm,↔40cm)
Jul – Nov ○
Society garlic
(Tulbaghia violacea)
A clump-forming garlic relative with leaves like chives but flowers more like a delicate agapanthus. Blooms profusely and continually from mid-summer. Attractive to pollinators. A bit on the tender side, although mine have survived and increased for several years in a well-drained raised bed. (↑40cm,↔40cm)
Jul – Nov ○
Dahlias
(Dahlia 'Melody Harmony')
In the warmer parts of the UK Dahlias can be grown in the ground or in pots. In cooler parts, lift, dry and store tubers in autumn. Replant in late spring. Typically growing to a lanky 4ft (1.2m), the 'melody' series are more compact at 2ft (60cm); Dwarf bedding varieties are even shorter. (↑60cm,↔60cm)
Jul – Nov ○◐
Flowering hostas
(H. 'Undulata Mediovariegata' )
Mainly grown for their striking foliage, some Hostas have beautiful flowers, like the one shown above. Typical shades are mauve or white. Some are scented. Best to see before you buy as some varieties have drab flowers. Will grow in full sun in moist soil. (↑60cm,↔60cm)
Jul – Sep ○◐●
Annuals are great way to keep the summer colour going. I use verbena, fuchsia, petunia, pansy cosmos and snapdragons.
Roses. Many modern repeat flowering shrub roses will keep flowering right up until the frosts.
Late Alliums. Purple Allium 'Millennium' peaks in Jul/Aug, followed by pink A. senescens glaucum in Aug/Sep.
Clematis. Look out for dual-season clematis that flower again in late summer.
Lily turf
(oriole mascara 'Big blue')
Here's one for shade. When it's happy, lily turf throws up dozens of purple spires above evergreen grass like foliage. The flowers gradually fade and fall over many months. The foliage can be cut back in the spring before growth starts to keep them neat. Old clumps should be divided in the spring. (↑40cm,↔40cm)
Aug – Oct ◐●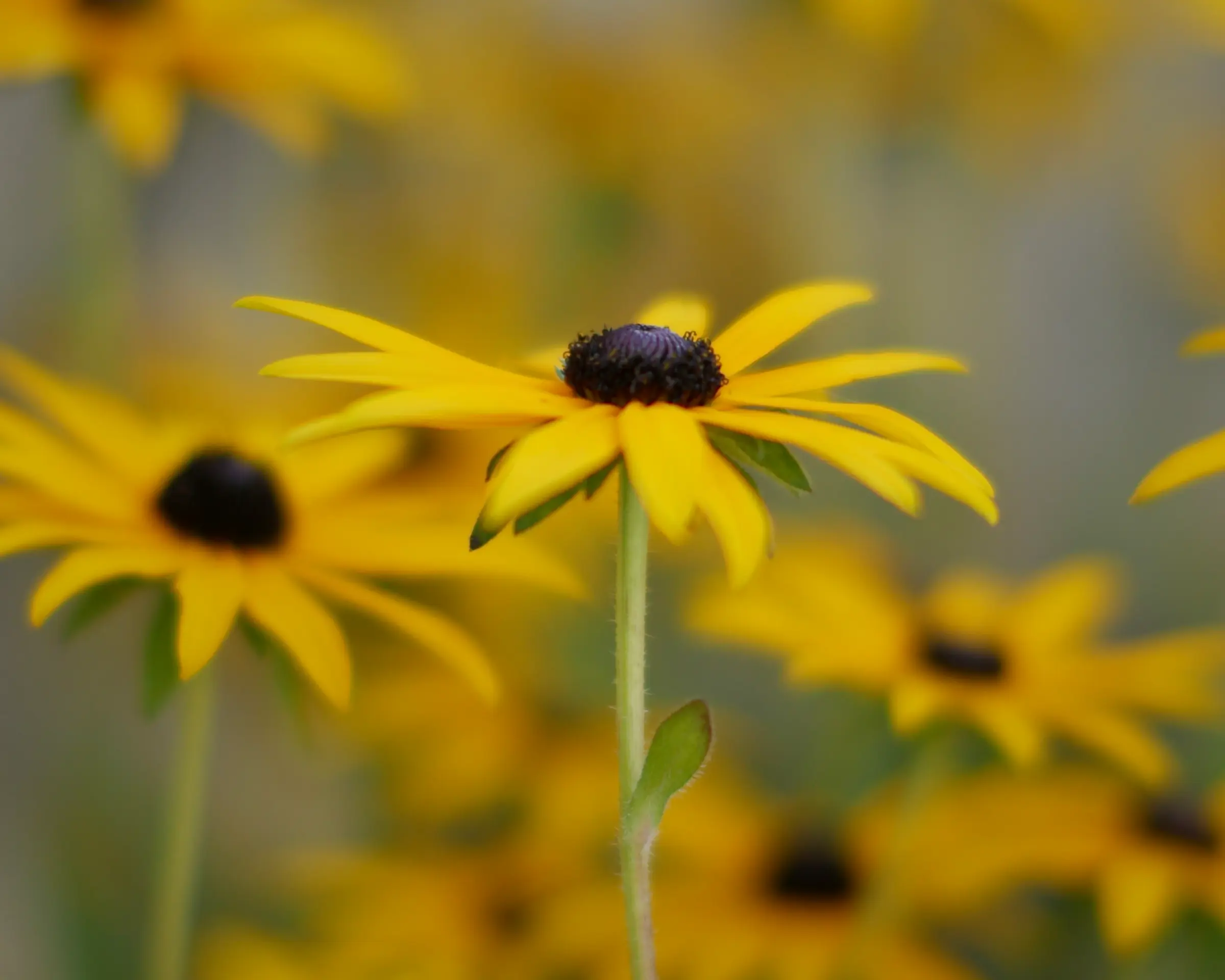 Black-eyed Susan
(Rudbeckia 'Goldsturm')
Rudbeckias produce dense patches of low foliage, throwing up dozens of tall flowers in late summer. Their cheery golden daisies are held aloft on strong stems. Good for cutting. Needs soil that does not dry out. 'Little Goldstar' is a half-sized variety more suitable for pots. (↑60cm,↔60cm)
Aug – Oct ○◐
Japanese anemones
(A.×hybrida 'Königin Charlotte')
Japanese anemones come in shades of pink, white and burgundy, with single or double flowers. They flower for months with plenty of blooms. A harbinger of Autumn, at least to my eye. Take care, because they can spread rapidly at the root. I plant mine in a bottomless bucket. (h140cm,↔60cm)
Aug – Oct ○◐
Balkan clary
(Salvia nemerosa seedling)
There are many species and varieties of sage (Salvia sp.) that flower late in the season. In my garden, though, I have the hardy Balkan sages (S. nemerosa hybrids) which tend to have their main flowering in May/June. Cutting them back hard encourages a second flush from late August.(h40cm,↔40cm)
Aug – Oct ○
Fuchsias
(Fuchsia 'Hawkshead'
There are many Hardy fuchsias from the white 'Hawkshead' to the red/purple 'Mrs Popple' and large double pink/white 'Wendy's Beauty'. They all flower from summer into autumn forming upright or lax shrubs of various dimensions. Best in a sheltered location. (↑120cm,↔120cm)
Aug – Nov ○◐
Stonecrop
(Sedum / Hylotelephium hybrids)
There are many varieties of late-flowering sedums and I have half-a-dozen of various sizes in shades of pink and maroon. Some low and sprawling (e.g. 'Plum dazzled) while others are tall and upright ('Brilliant'). Although not in flower for long, their buds and seedheads extend their interest. (↑40cm,↔40cm)
Sep – Oct ○◐
Ivy-leaved cyclamen (Cyclamen hederifolium)
Growing from corms that are dormant in summer, these hardy cyclamen burst into life in late August or September and often flower for two months or more. Available in pink, mauve and white they establish well in the dry shade under shrubs and trees. Delightful en-mass, especially with dwarf ferns. (↑15cm,↔30cm)
Sep – Nov ◐●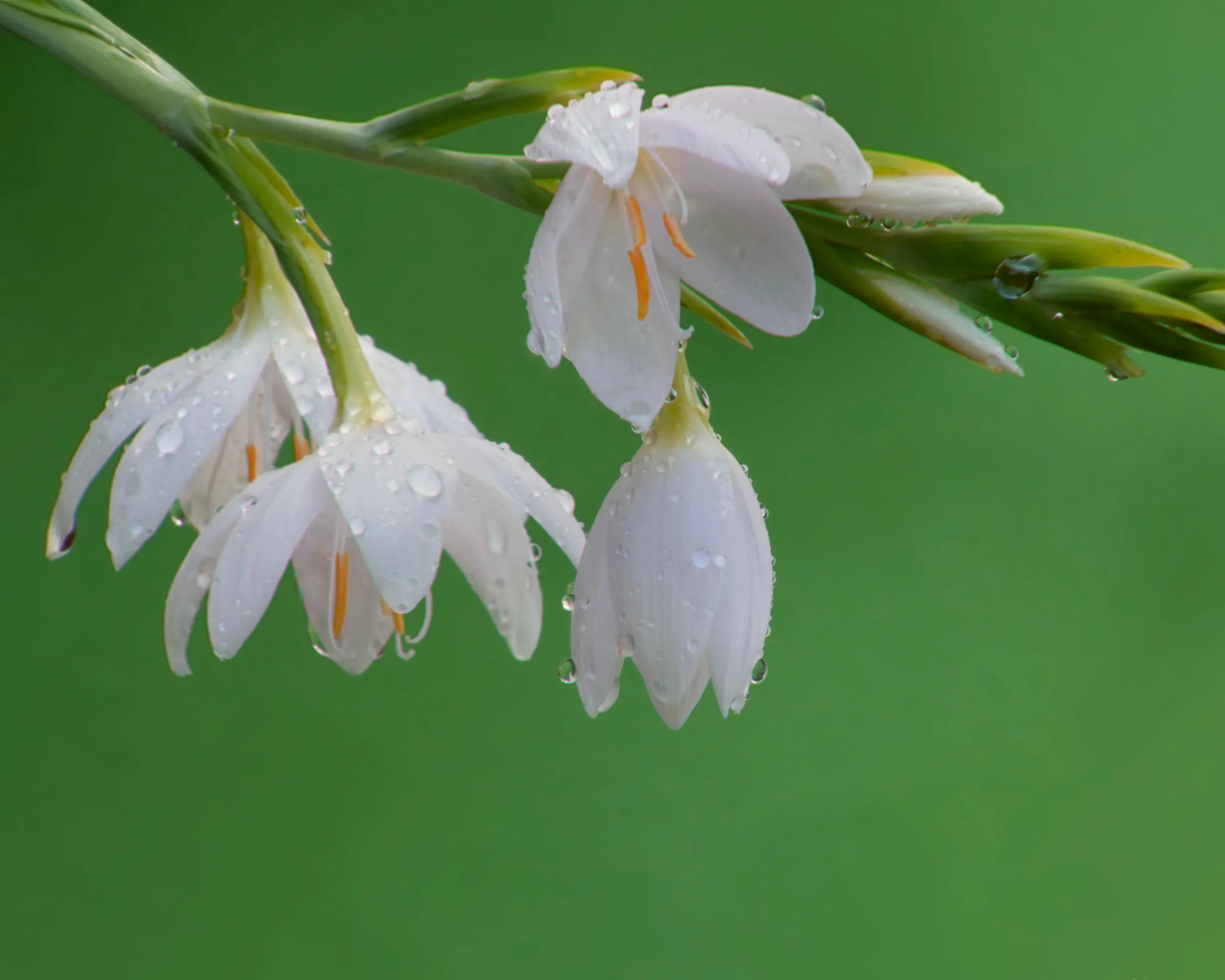 River lily
(Schizostylis coccinea 'Alba')
A loose, clump forming perennial with narrow grassy leaves that produces long, somewhat lax stems with bell-shaped flowers in autumn. Varieties are available in reds, pinks and white. The species has recently been renamed Hesperantha. Keep watered in summer and mulch well in winter to protect the crown from frosts. (↑50cm,↔70cm)
Oct – Nov ○◐
Push back autumn
As the season progresses seed heads accumulate on plants that have finished flowering. Visually, this signals "the season's coming to an end"

Deadheading such plants regularly not only stops them giving that autumn vibe, but may encourage new shoots or flowers to form. Cut back dried stems, yellowing foliage, berries and hips to keep the garden looking fresh.

Avoid the "Autumn" look.
Some plants epitomise autumn. For me these include: cyclamen, Japanese anemones, Asters (except 'Mönch') and any shrubs with red berries (e.g. holly or rose hips). Minimising such cues can keep the summer vibe alive.
More Tips
For The
LAte-SUMMER
Garden
Nerines and Amerines
(Nerine bowdenii and × Amarine tubergenii)
These bulbs flower brilliantly in Autumn, in all shades of pink and white on tall stems. Just about hardy in free draining soil given some protection from heavy frosts, e.g. base of a sunny wall. Also, great in a pot, overwintered in a cold frame, shed or upturned bucket. (↑40cm,↔40cm)
Oct – Nov ○
Hardy Chrysanthemums
(I planted out this white florist's Chrysanthemum five years ago and it proved to be reliably perennial)
Chrysanthemums are the last of the garden border perennials to flower, typically opening in mid-October. A huge range of colours and heights are available but they need staking, and can be quickly spoiled by heavy rain or early frosts. (↑60cm,↔60cm)
Oct – Nov ○